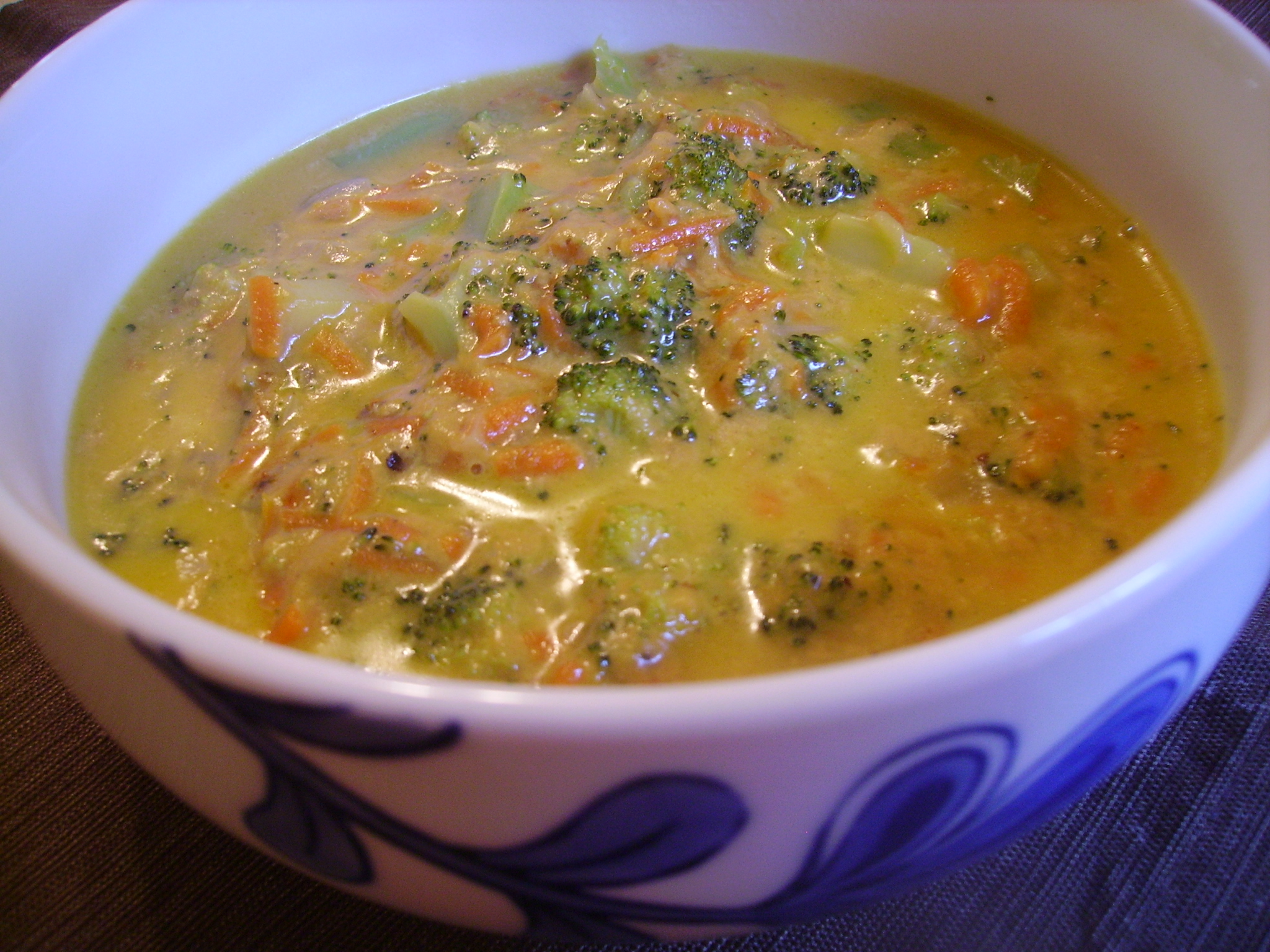 Whoah. I walked out my front door this morning and actually shivered. Fall has officially arrived in my neighborhood!
And as such, it is time to break out the warm, filling soup recipes. I have been wanting to make my own healthier version of broccoli cheddar soup for about a year now, and I am so glad I finally got my act together to do it! This soup is hearty and flavorful, full of sharp cheddar and broccoli. The kicker is that I made it without cream…because who can really justify 2 cups of cream on top of 8 oz. of cheese?
Even without the cream, I thought the flavor was very rich; the only drawback of using milk instead of cream was that the soup was not quite as thick as what you might get from Panera. Next time I might use a slightly higher fat milk (all I had was ½% and skim when I made this), and I will probably increase the flour a bit to help the stock thicken up and bind with the cheese. But over all, this broccoli cheddar was delicious, and I can't wait to eat the next bowlful!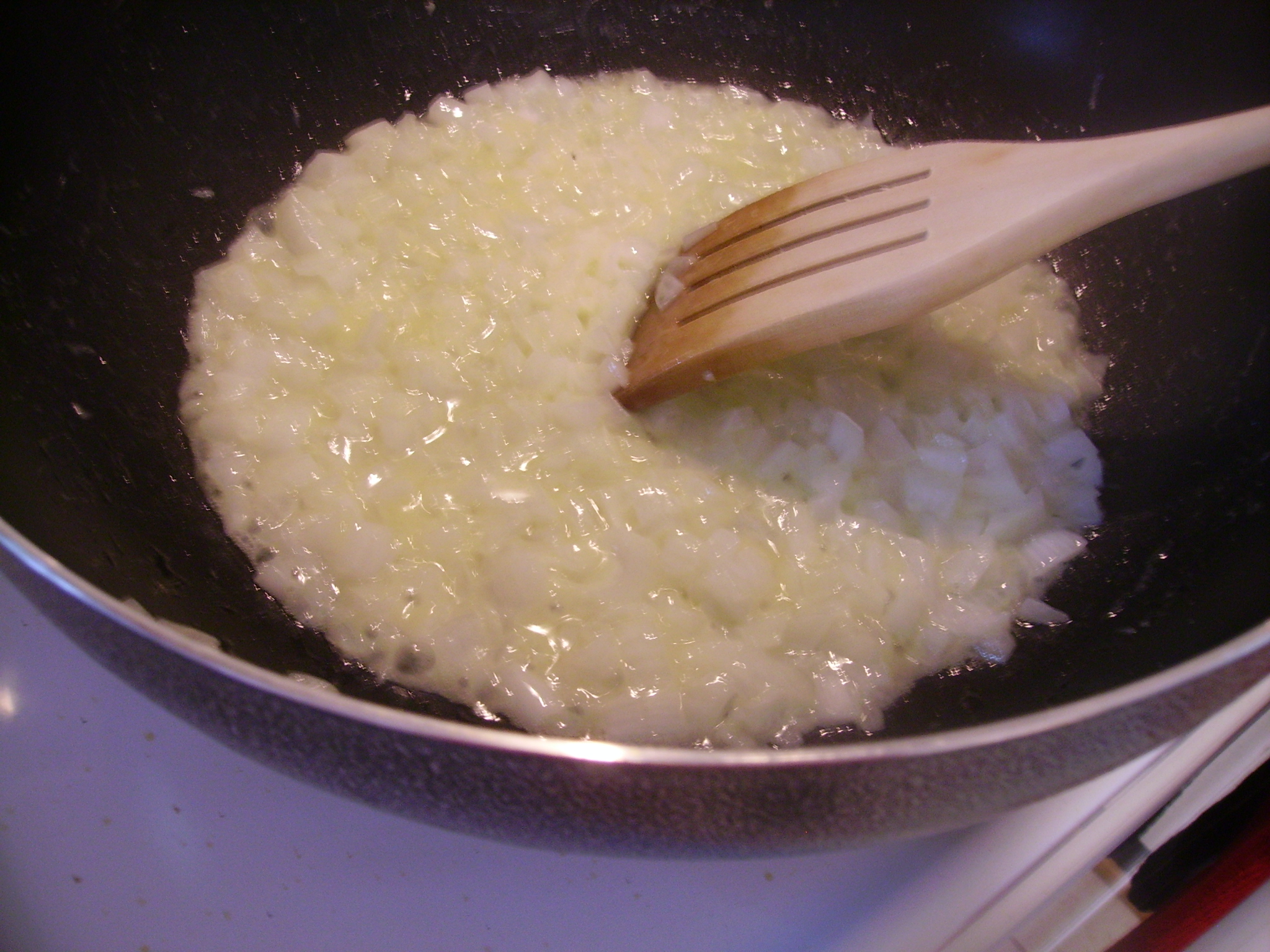 One of the best things about this soup is that you have plenty of time to do all the prep work as you go along. Start by chopping up your onion and tossing it into a large pan with some butter. If you are not using low-sodium or no salt added veggie stock in this recipe, then I recommend you use unsalted butter so that you are not overwhelming the soup with salt. Otherwise, salted is fine!
Cook the onions until they become translucent. Don't let them brown at all! Remove them from the heat and transfer to a small bowl for later.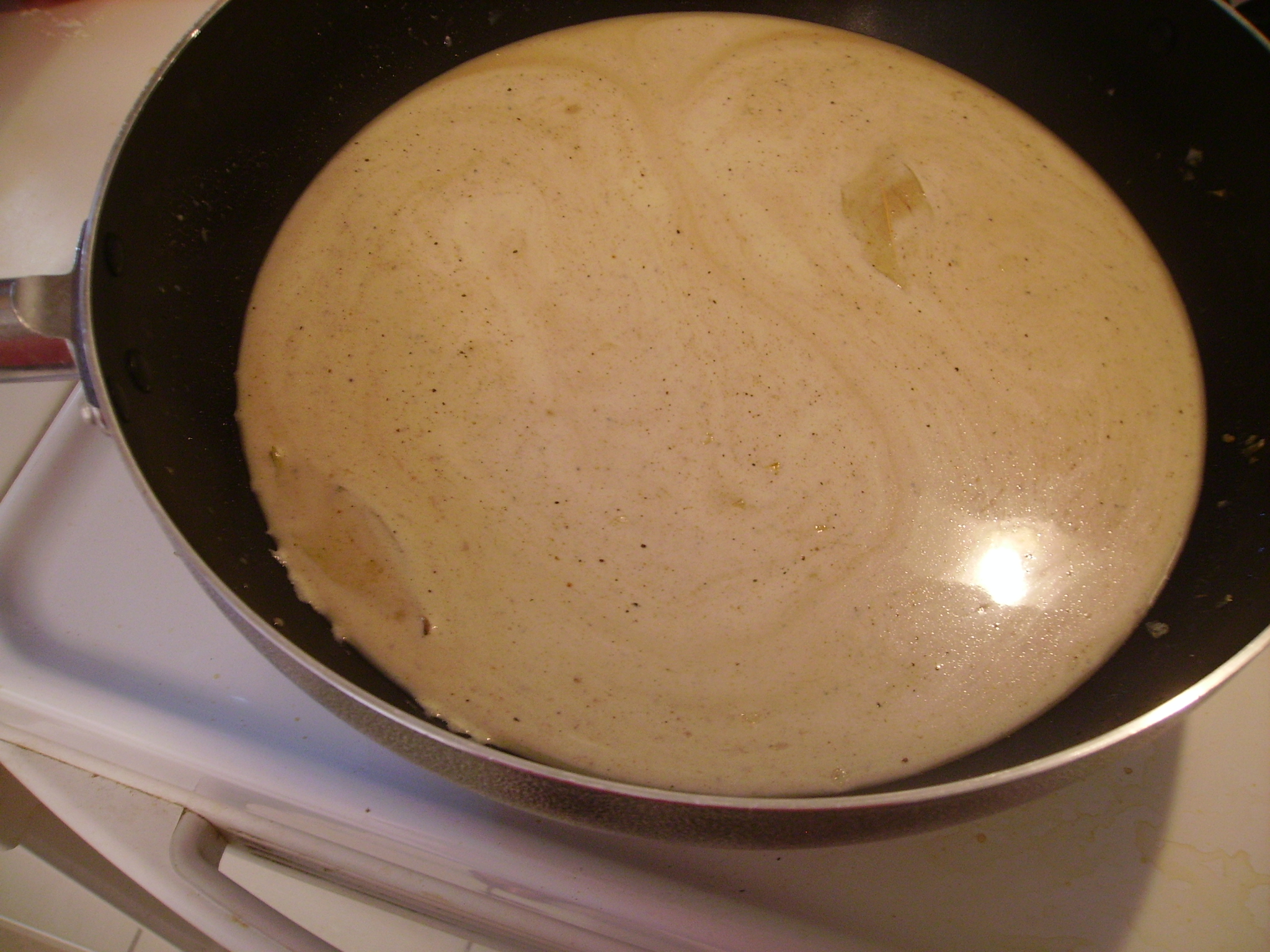 In the same pan, begin to make the soup base. Whisk together your milk and flour (as I said above, I will tweak this next time; in the recipe below, I suggest 2% milk, but I kept the flour amount as is until I can test a different milk:flour ratio). It may be a bit lumpy, but just keep whisking until it smooths out. Mine presented no problems, but I suspect if I had used more flour or a higher fat milk, I may have needed to whisk a bit longer.
Pour in the veggie stock and whisk until smooth. Add in your seasonings and let the mixture simmer and thicken over medium0low heat for about 20 minutes.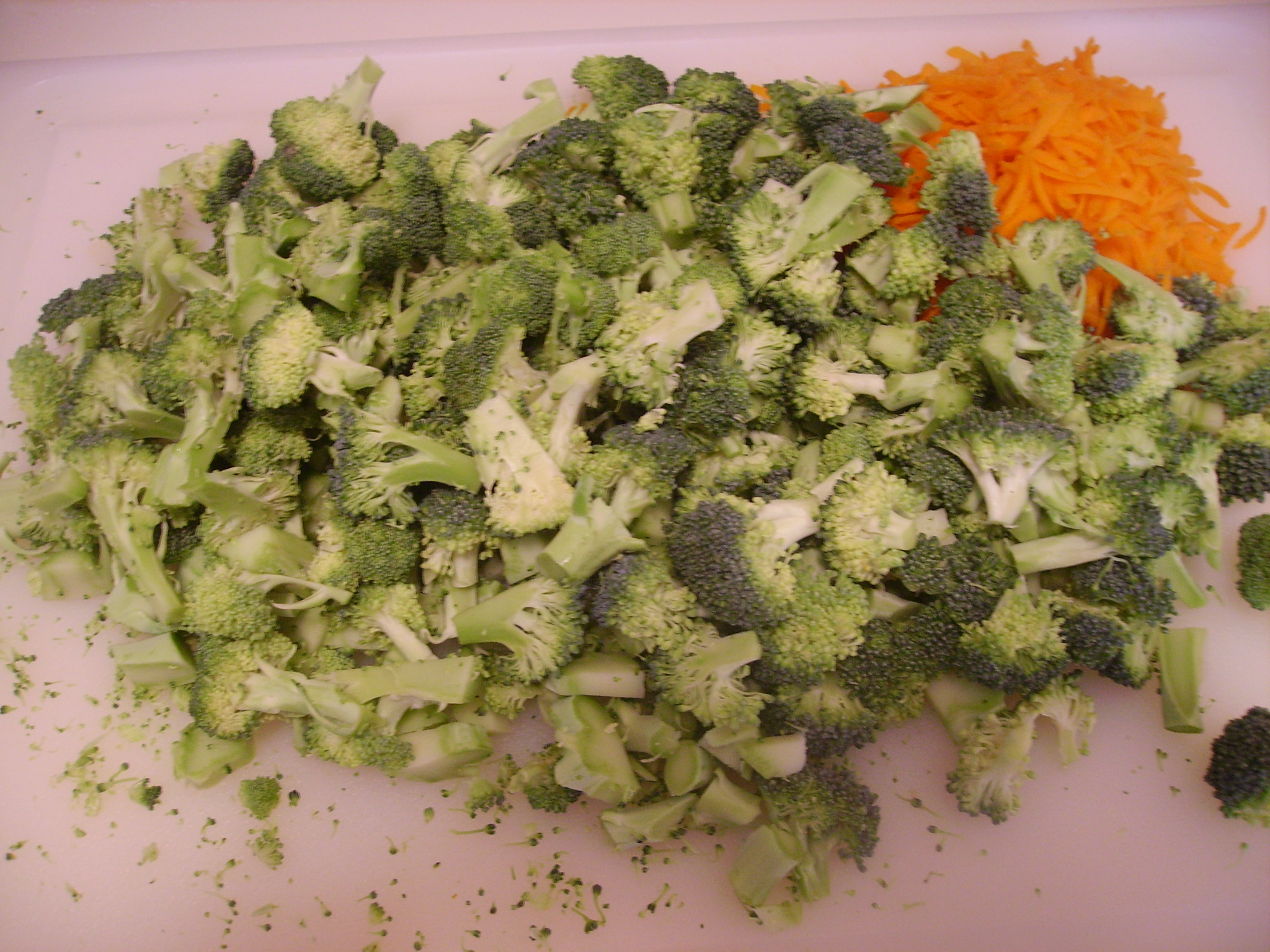 Meanwhile, chop up all of your broccoli! I used 3 smallish heads of broccoli and chopped very small. I think I ended up with more than 4 cups of floret pieces, but as far as I was concerned, the more the merrier! Also, if you aren't using matchstick carrots (which I did to save time and energy), go ahead and chop up 2 carrots into very small pieces.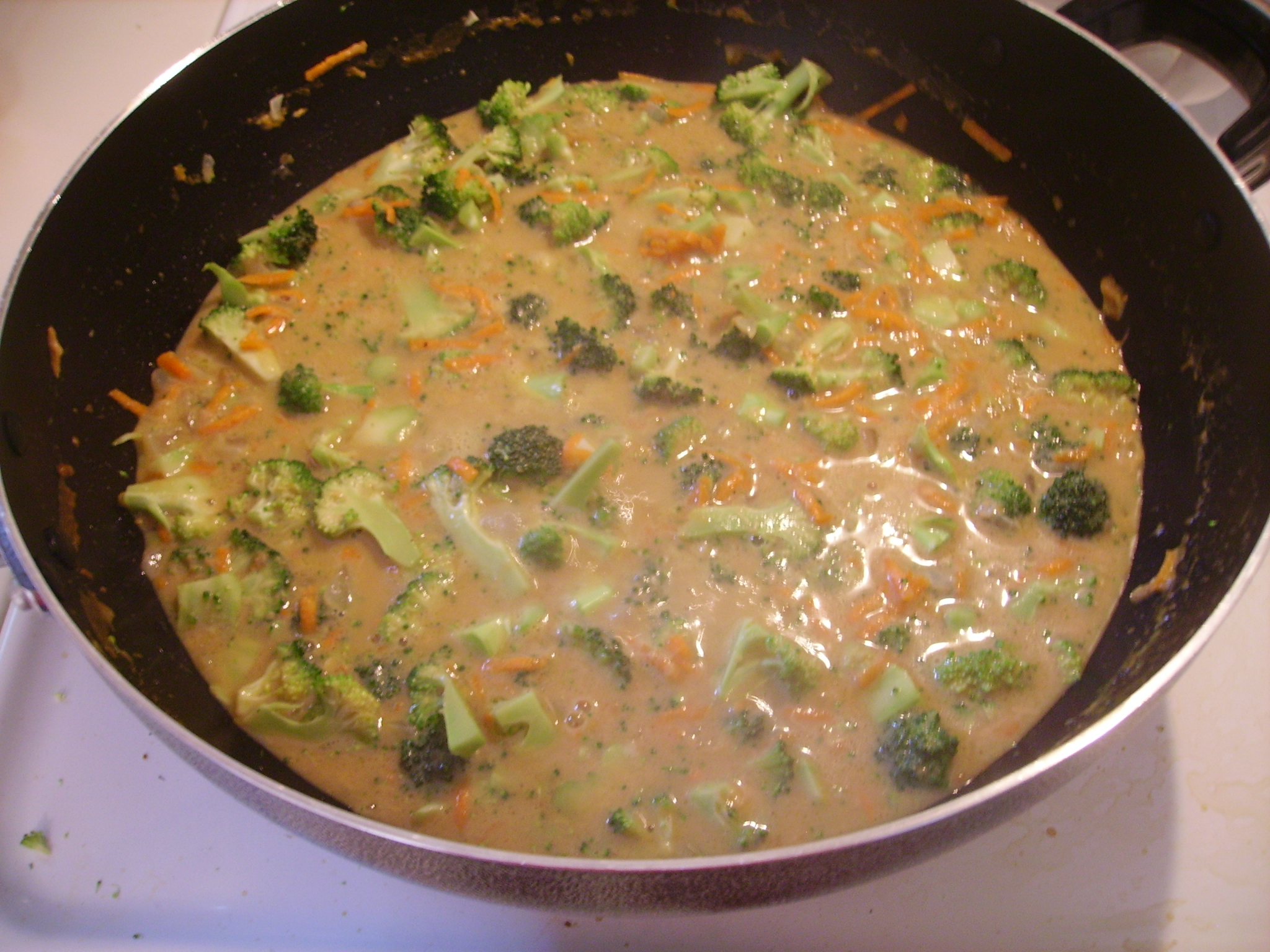 Toss the chopped veggies, including the cooked onion, into the soup. Stir to make sure everything is covered, then continue to simmer for about 20 minutes more, whisking occasionally.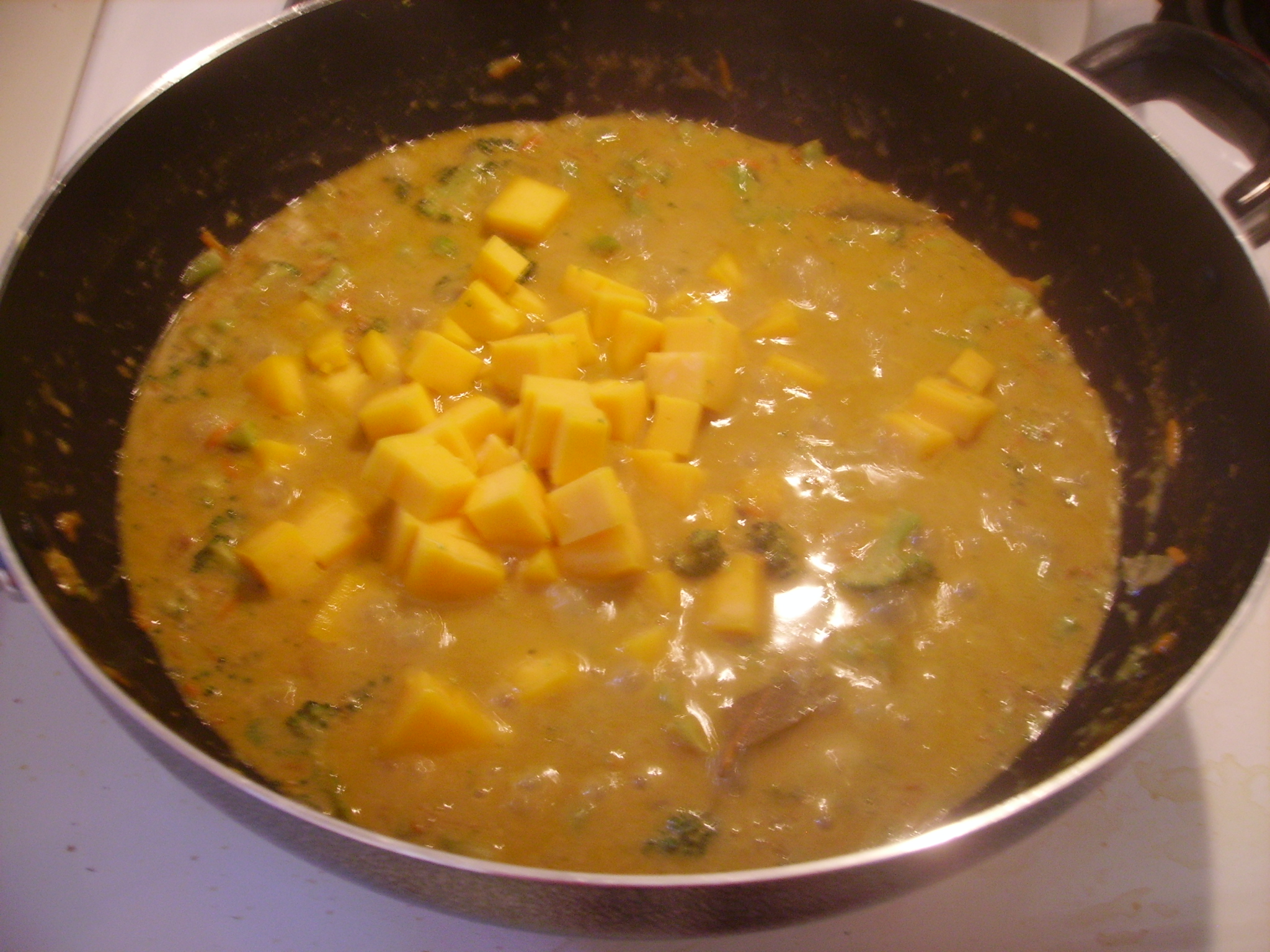 Chop or shred the cheddar cheese while you wait. When the broccoli is nice and soft, toss the cheese into the soup. Stir until the cheese has melted and combined with the soup base.
Let the soup cool slightly before serving with some nice, hearty wheat bread!
Broccoli Cheddar Soup
adapted from The Curvy Carrot
serves 6–8
Ingredients:
¼ cup butter
1 small yellow onion, chopped
¼ cup flour
2 cups 2% milk
3 cups low-sodium vegetable broth, plus extra as needed
pinch of nutmeg
2 bay leaves
salt and black pepper
4 cups finely chopped broccoli florets
2 large carrots, grated
8 oz. sharp cheddar, cubed
Directions:
In a sauté pan over medium-high heat, melt the butter. Add the chopped onion and cook until translucent, about 4–5 minutes, stirring frequently. Remove from heat and set aside.
In a large Dutch oven or sauce pot over medium heat, whisk together the flour and milk. The mixture will be lumpy at first, but it will smooth out eventually with the heat.
Once the mixture is smooth, add the vegetable broth, whisking continuously until it becomes smooth again. Add the nutmeg, bay leaves, and seasonings. Let the mixture simmer, uncovered, for about 20 minutes. Whisk occasionally to prevent the bottom from burning.
Add the cooked onions, broccoli, and carrots, mixing well. Simmer for another 20 minutes, whisking occasionally.
Add the cheese and stir until completely melted, adding more broth if necessary.
Enjoy!