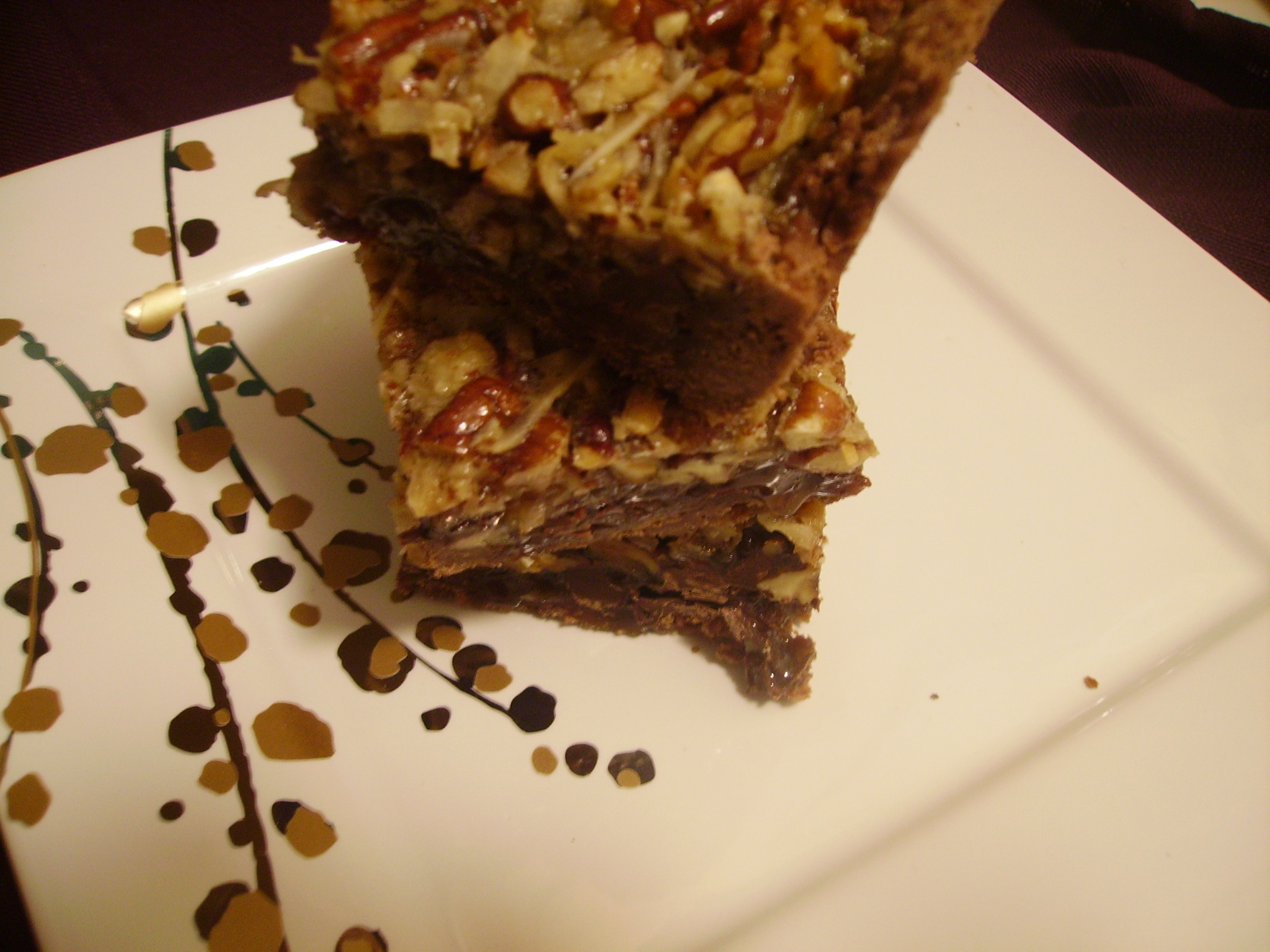 Growing up, I never much liked Thanksgiving. (Gasp!) I just couldn't muster up much enthusiasm for stuffing or gravy or cranberry goop.
But luckily, our family Thanksgiving dinners prized the pie as much as the bird itself. I mean, in my family, there are usually as many pies as there are people at the dinner table. I kid you not…everyone has their own favorite pie, the one dessert that they can't live without on Thanksgiving. (No wonder my sweet tooth is so out of control…) Personally, I can do without the pumpkin pie, but pecan pie and chocolate chess pie spell Thanksgiving.
So imagine my delight when a friend brought us these German chocolate pecan pie bars after Jake was born! They are a perfect storm of Thanksgiving pie amazingness! I knew I had to make them right away and share them with you.
These bars consist of a chocolate shortbread crust, a layer of melty chocolate, and pecan pie filling mixed with coconut on top of that. They are actually a bit similar to magic cookie bars, but they are gooey—almost fudgey—in the center. You will love them. And if you want an alternative to the typical Thanksgiving pie course (or if you are having Thanksgiving dinner this year with a family that, unfortunately, could care less about pie and certainly doesn't need two extras to show up at the table…), these are a winner!
Though each part of this recipe is very simple, there are a lot of parts…and then a lot of chilling time. So you might want to make these the night ahead of when you intend to serve them!
Start by toasting the pecans in the oven. I toasted mine for 8 minutes…my husband said he would like the bars better "if the nuts were a little more burned." Yes, he did say he wanted them burned. If you like darker toasted nuts, then increase the toasting time accordingly.
While the nuts are toasting, you should have plenty of time to make the chocolate shortbread crust! This is a very simple endeavor: just toss the flour, sugar, cocoa powder, and butter into a food processor and pulse it a few times until the butter is incorporated and the mixture looks mealy.
Press the crust mixture into a foil-lined and greased 13″x9″ pan. Yes, it is very dry, but don't worry! It will stick to the sides of the pan! And the heat of the oven will melt the butter and turn the dry-looking flour mix into a lovely chocolatey crust.
Bake the crust for 15 minutes at 350°. As soon as it comes out of the oven, layer the chocolate chips over top. Make sure to do this in a nice even layer, because the chips will start softening instantly, and if you try to move them around, they will take little clumps of crust with them. Let the crust cool and the chips get nice and melty.
When the crust is cool, mix together the pecan pie filling. This is as simple as whisking together melted butter, lightly beaten eggs, Karo light corn syrup (okay…so I ran out of this and had to use some honey to make up the difference! it worked out fine), and brown sugar, then stirring in the pecans and our surprise "German" ingredient, coconut.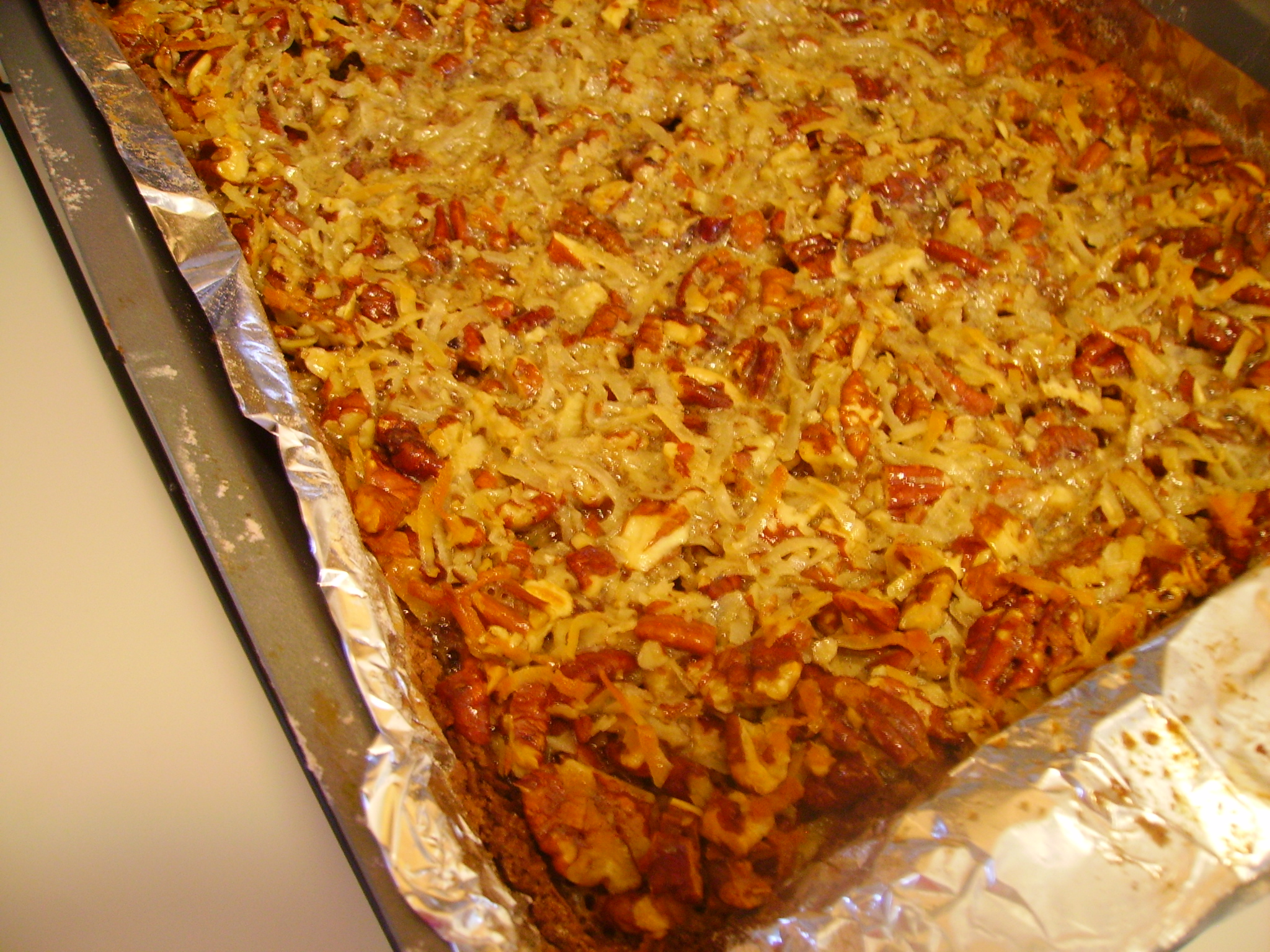 Bake the pie bars for 25 minutes, or until the edges begin to brown.
Now comes the hard part. Waiting. First, cool the bars on the counter for 1 hour, then cool them in the fridge for another hour. Two hours later, you will be dying for a taste of these…and I promise they will not disappoint!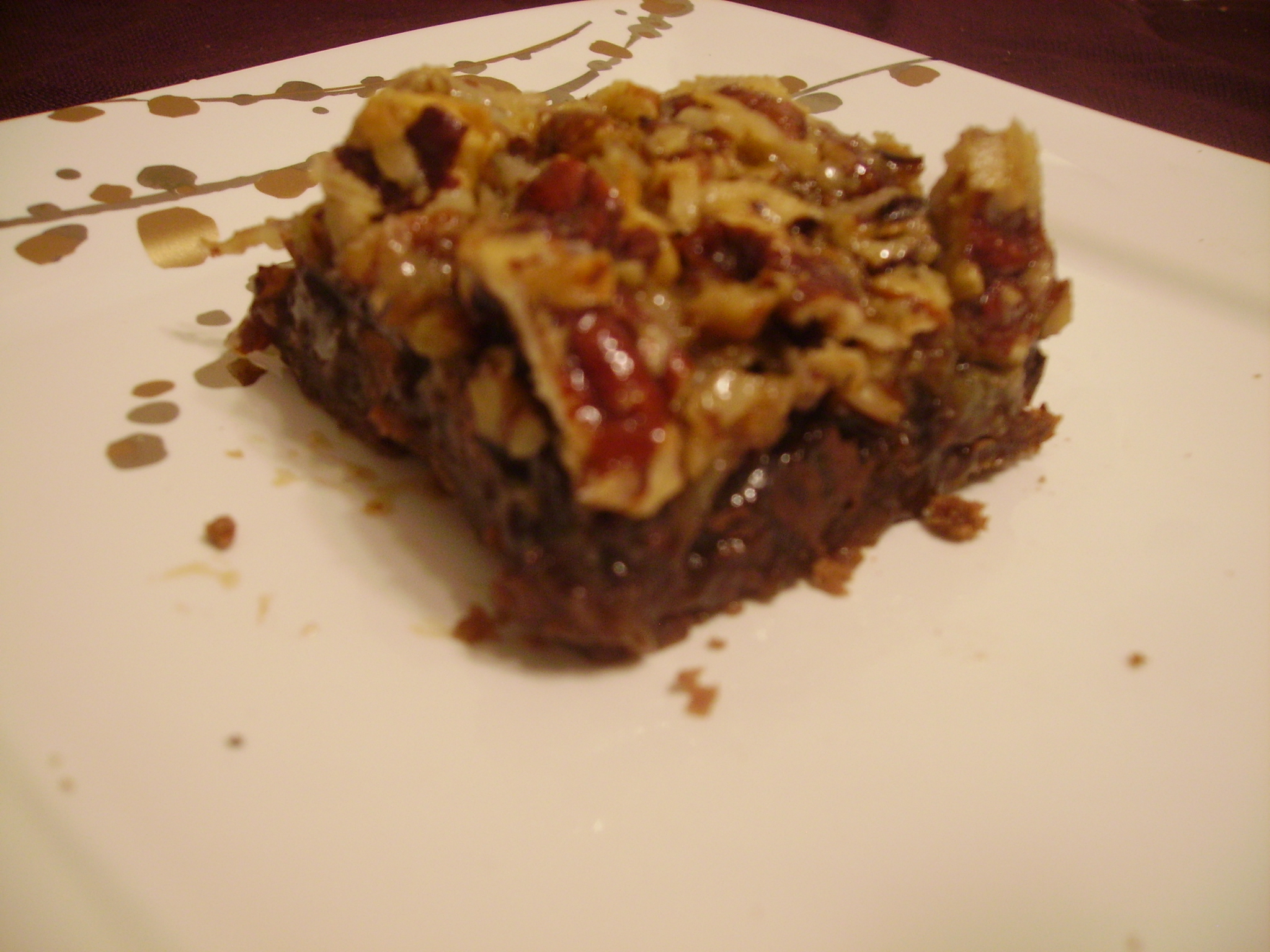 Cut into 24 bars. Try to eat only one at a time…I dare you…
German Chocolate Pecan Pie Bars
from Southern Living
makes 24
Ingredients:
3 cups pecan halves and pieces
1¾ cups flour
¾ cup confectioner's sugar
¼ cup cocoa powder
1 cup butter, divided
1½ cups semisweet chocolate chips
¾ cup brown sugar
¾ cup Karo light corn syrup
3 eggs, lightly beaten
1 cup sweetened flaked coconut
Directions:
Preheat oven to 350°. Line a 13ʺx9ʺ baking dish with foil and grease lightly.
Toast pecans in a single layer on a cookie sheet for 8–10 minutes, stirring halfway through. Immediately remove from the pan and roughly chop.
In a food processor, pulse flour, confectioner's sugar, cocoa powder, and ¾ cup cold butter, cut into pieces, until mixture resembles coarse meal. Press into the bottom and ¾ʺ up the sides of the prepared dish.
Bake crust for 15 minutes.
Remove crust from oven and sprinkle chocolate chips evenly over top. Cool completely on a wire rack, about 30 minutes.
While the crust cools, melt the remaining ¼ cup butter. Whisk together with brown sugar, corn syrup, and eggs until smooth. Stir in coconut and toasted pecans. Spoon the German chocolate pecan topping over the cool crust.
Bake for 25–30 minutes, or until golden and set. Cool completely on a wire rack, about 1 hour, then chill 1 hour in the refrigerator.
Lift the chilled bars from pan and cut into 24 large squares.
Enjoy!