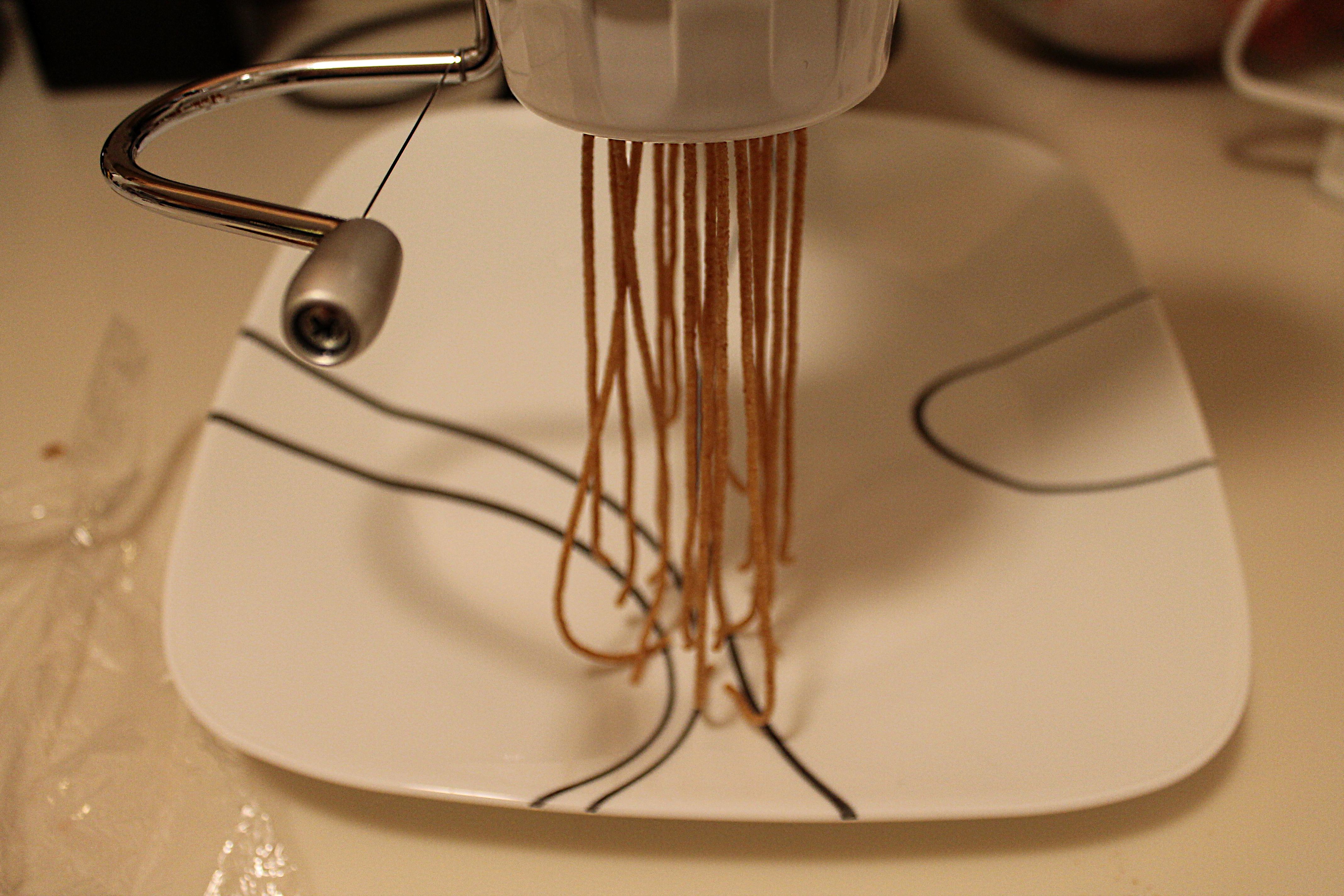 Guess what!?
I got a pasta press for Christmas. (Excuse me, my engineer of a husband says it's called an "extruder." Let's be specific here.)
Let's backtrack. A few years ago, I discovered food writing. One of the first books I read was Heat, after which I developed a snobby obsession with fresh pasta. If we went to an Italian restaurant and I surmised that their starchy strands were the dried, store-bought kind, I mentally dismissed them. "What kind of proper Italian restaurant would use boxed pasta?" I thought haughtily. I was especially offended if the ravioli, my all-time favorite (but more on that later), wasn't made in-house.
It's not that I didn't like dried pasta—believe me, we were still eating plenty of it at home. It's just that I believed fresh pasta was an art worth the extra time. (I also struggle with the idea that most restaurants don't make their own breads or spice rubs, etc.) I just want the people in charge of my dining experience to take their time and take pride in their craft.
So imagine my excitement now! I can make my own pasta! And imagine my delight at discovering how easy it is!
While it does take some extra time (though I imagine each dish will be different), I was able to make most of my pasta at the same time as I was prepping the sauce…so it all evened out. Honestly, you should try this. You won't regret it! Even my husband, who typically eschews whole wheat pasta, said that the version I made was very tasty. Apparently nothing beats fresh made pasta!
Making pasta dough is super simple and requires only about 10 minutes of effort. You do need a food processor, though, because the dough is very stiff.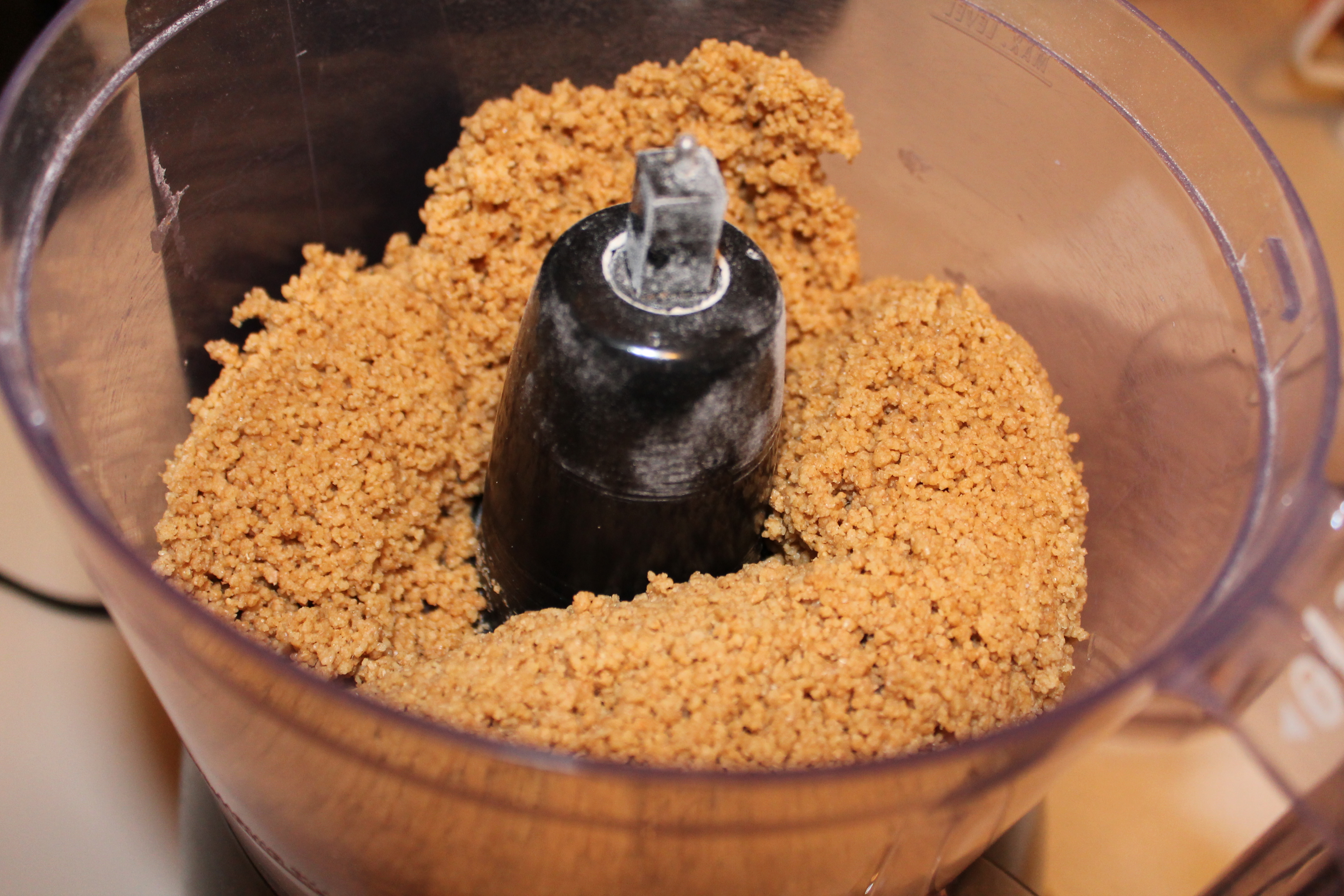 Blend together whole wheat and all-purpose flour and just a pinch of salt. According to the awesome pasta book I got for Christmas, made by the wonderful folks at Cooks Illustrated, a little bit of all-purpose flour is necessary to make the dough soft and pliable enough to press or roll. Whole wheat flours do tend to produce much drier baked goods, so I took their point and included the refined flour. But I'm still going to call this pasta "whole" wheat!
In a separate bowl, beat 3 eggs until lightly foamy and well blended. Add the beaten eggs to the flour mixture and process for 30 seconds or so.
If your mixture resembles a lot of tiny, discreet pebbles, then add water ½ tsp. at a time and pulse. I added a total of 2 tsp. water, and my mixture still resembled pebbles, but they looked a lot wetter and denser by the end. I decided the dough was holding together as much as it needed to for me to knead it, and that it was unlikely to ever form a ball as the recipe suggested. But if yours does form a ball, well bully for you!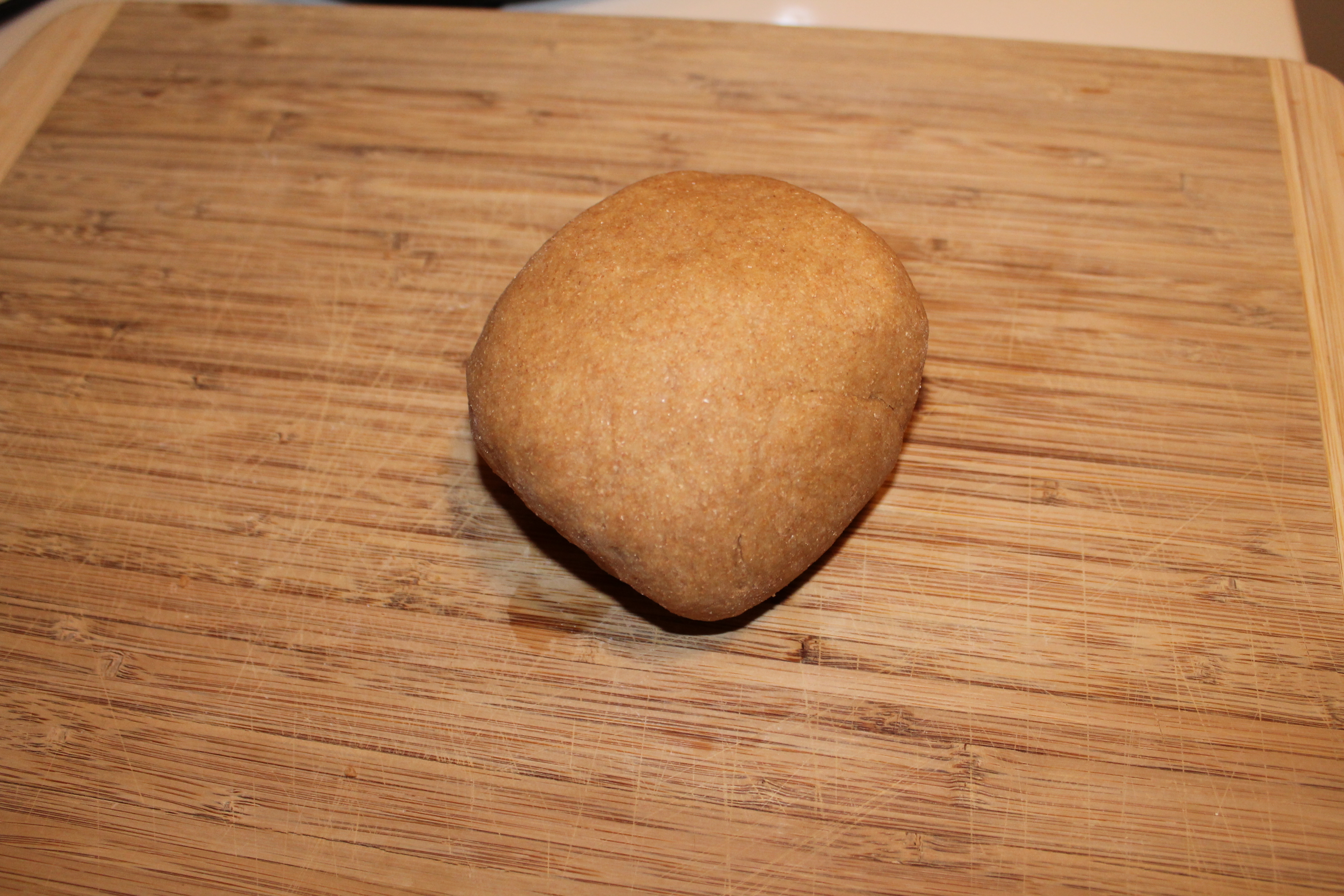 Knead the dough for 3 minutes on a clean work surface. Wrap in plastic wrap and let it sit on the counter for at least 15 minutes or up to 2 hours before pressing. I let mine sit about 45 minutes, and everything turned out perfectly.
So. Let's talk about the pasta extruder. I have a Kitchenaid that attaches to my stand mixer. It worked beautifully, despite the fact that it took me about 10 minutes to figure out how to pull the plate storage container off the top of the press  so I could set it up (but things that are child-proof are usually Melissa-proof as well…so that's probably just a reflects on my awkwardness…). The key, I've heard, to this extruder (and probably any other brand) is to drop very small amounts of dough in and wait a few minutes before dropping in the next little ball, so as to avoid jamming it. Remember, pasta dough is very stiff!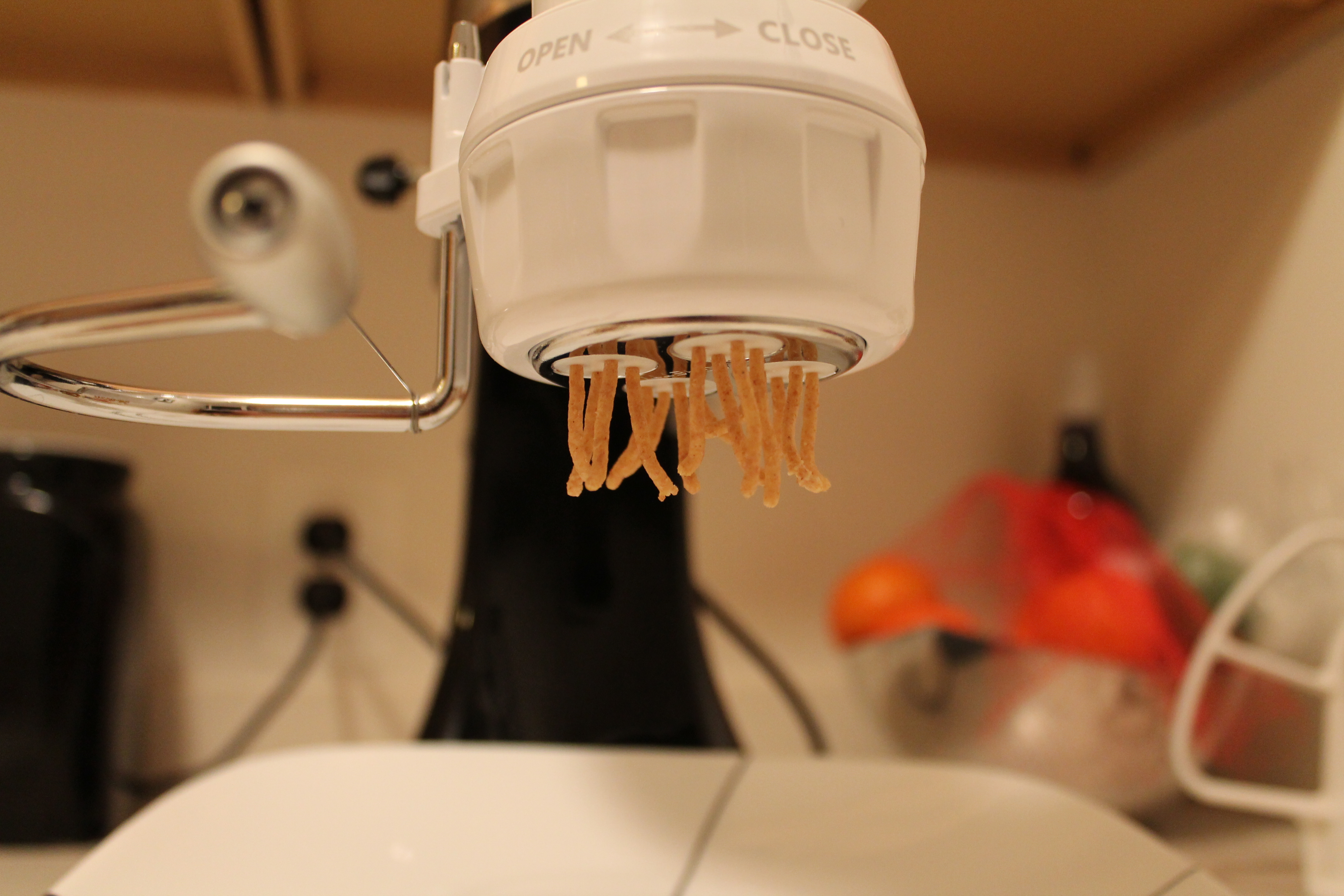 I broke my pasta dough down into about 20 pieces, somewhere between the size of a walnut and a golf ball. After putting in the first piece, I watched anxiously for the pasta to come squirting out the bottom…this actually took like 4 or 5 minutes. But once the pasta started to emerge from the extruder, it just kept coming at a pretty even pace!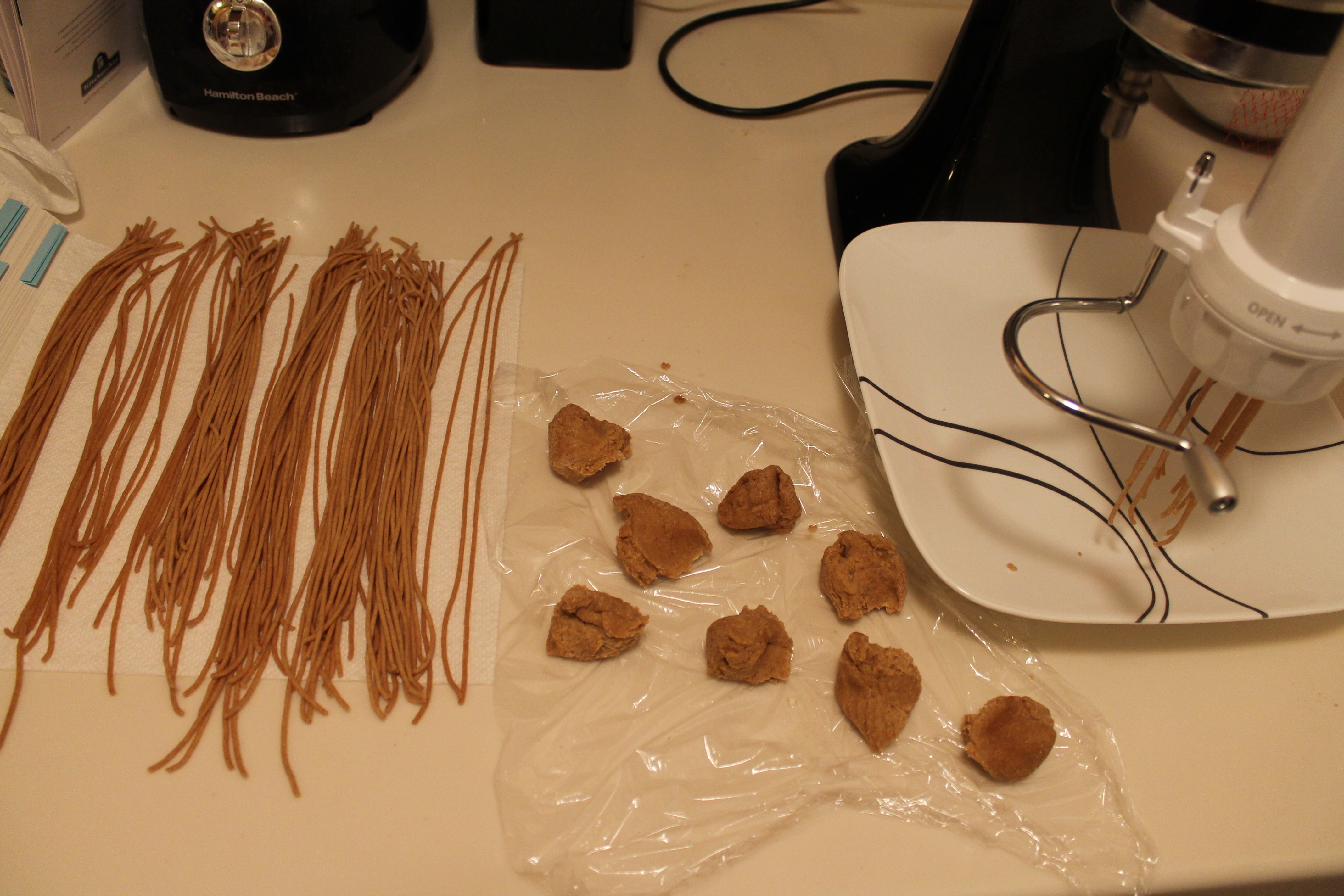 I estimate that it took about 30 minutes to press the whole pound of pasta. I was able to make my pasta sauce at the same time, stopping to cut the spaghetti strands every few minutes and lay them out on a paper towel.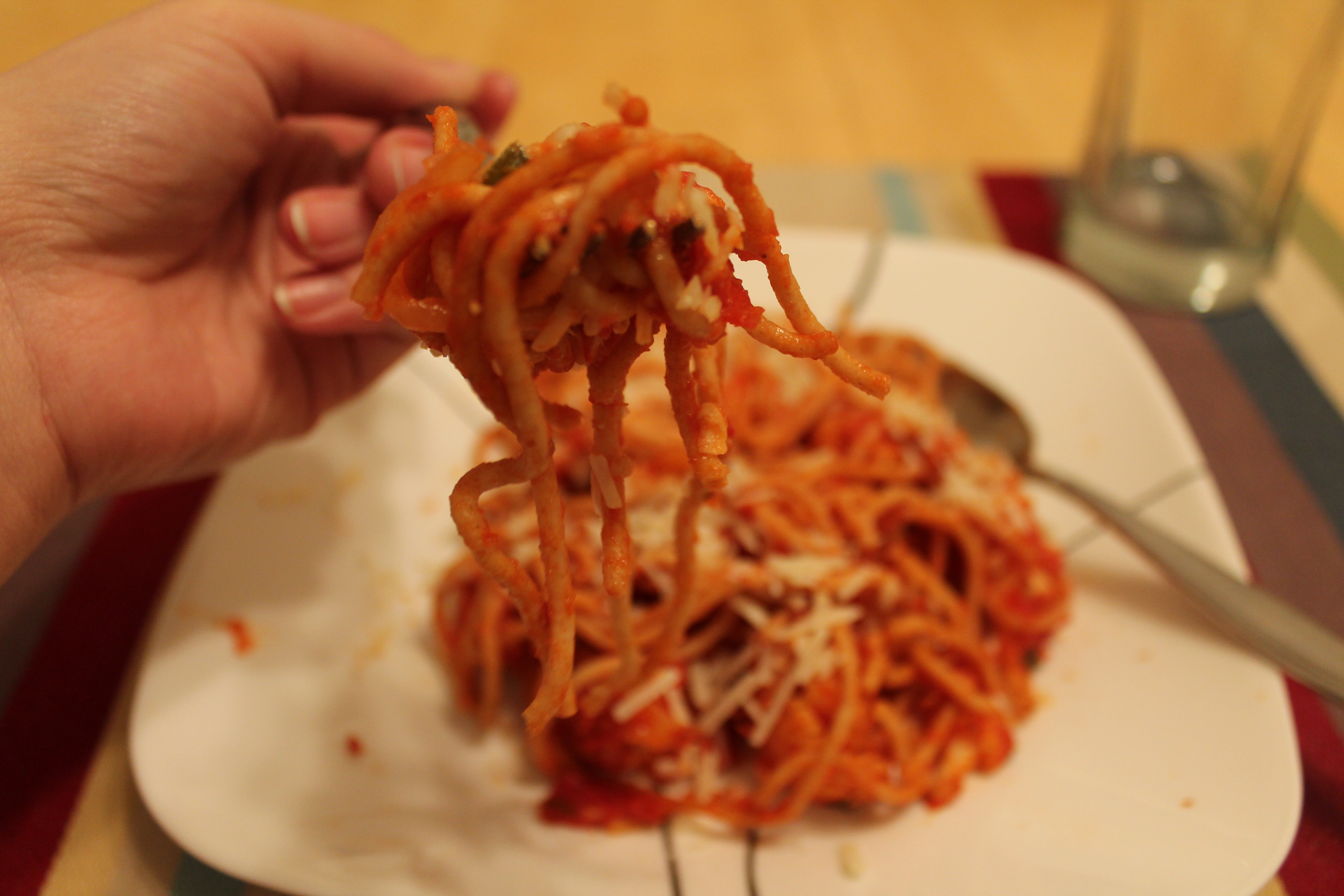 I cooked the entire batch at once (which, of course, was way too much pasta for two people, but I wasn't ready to deal with drying and storing yet). Next time, I may make only a half batch of dough if it's just the two of us. Anyway, cooking fresh pasta is a breeze! Simply drop it into boiling salted water for about 3 minutes, then drain, and presto! Pasta.
Whole wheat pastas go best with strongly flavored sauces, so I recommend going with tomato sauce instead of a butter or cream sauce. Yum!
Whole Wheat Spaghetti
very lightly adapted from The Complete Book of Pasta and Noodles
makes 1 lb. pasta/serves 4–6
Ingredients:
1½ cups whole wheat flour
½ cup all-purpose flour
pinch of salt
3 eggs, beaten
Directions:
Pulse the flours and salt in the work bowl of a food processor fitting with the metal blade to evenly distribute and aerate.
Add the eggs. Process until the dough forms a rough ball, about 30 seconds. If the dough resembles small pebbles, add water ½ tsp. at a time; if the dough sticks to the side of the work bowl, add flour 1 tbsp. at a time, and process until the dough forms a rough ball/
Turn the dough ball and small bits out onto a dry work surface. Knead until the dough is smooth, 3–4 minutes. Cover with plastic wrap and set aside for at least 15 minutes and up to 2 hours to relax.
When ready to press, drop small, walnut-size balls into the pasta extruder. Cut the strands when they measure approximately 10″ long. Lay the spaghetti strands out straight on a clean paper towel while pressing and cutting the remaining dough.
Boil the fresh pasta in salted water for about 3 minutes. Drain and dress with your favorite tomato or olive-oil based sauce.
Enjoy!