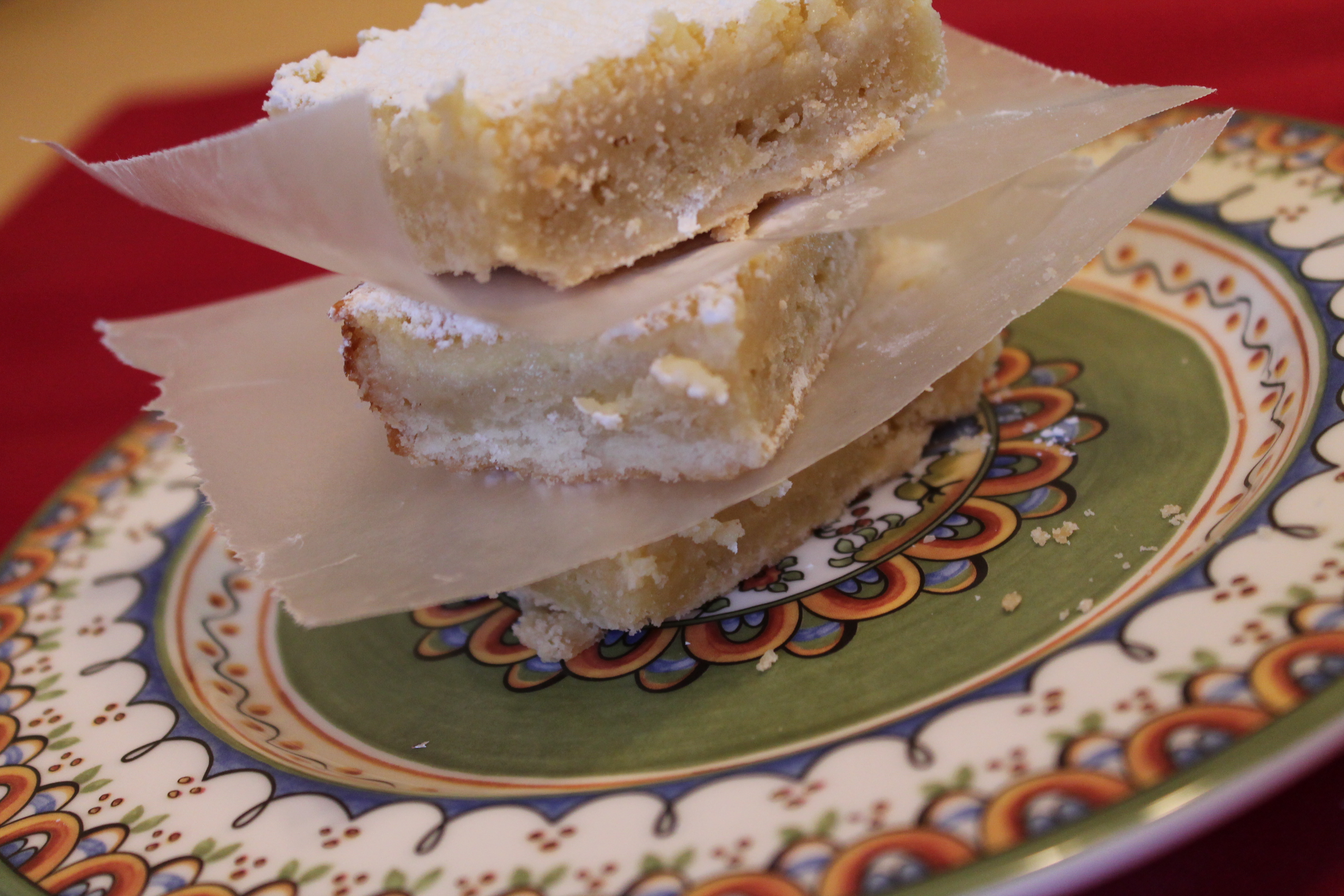 Let me tell you about my darling baby boy. He is the sweetest, most contented baby any mommy could ever wish for. That is, until I step into the kitchen.
I swear that child has a sixth sense for when I'm getting ready to make dinner or whip up a batch of cookies. As soon as I put on my apron or get out my measuring cups, his happy coos turn into screams. As you may imagine, this makes it a little challenging to enjoy (or complete) making a meal.
That's why I have really come to appreciate the simpler side of cooking and baking. If a recipe has several built in pauses, or better yet, just two or three quick steps, it is perfect for me during this slightly chaotic time of new motherhood!
So I was very interested in making these pie bars when I saw them on my assigned blog, Everything in the Kitchen Sink, for this month's Secret Recipe Club swap. I had made buttermilk pie before and loved the sweet, tart flavor of the custard filling. Sarah's recipe included Nutella in the filling, which sounded delicious. But, as I had just eaten the last spoonful of Nutella in my house (and you know I'm in trouble if I buy a whole container of the stuff just to use a few tablespoons in a recipe!), I decided to go for the simple, classic buttermilk custard for my filling. And, as an added bonus, this recipe uses only ingredients that I have on hand all the time, which makes life with baby even easier!
Try these pie bars! Share them with a friend. They taste just like an Entenmann's filled coffee cake, complete with a crumbly crust and a creamy custard—in short, delightful.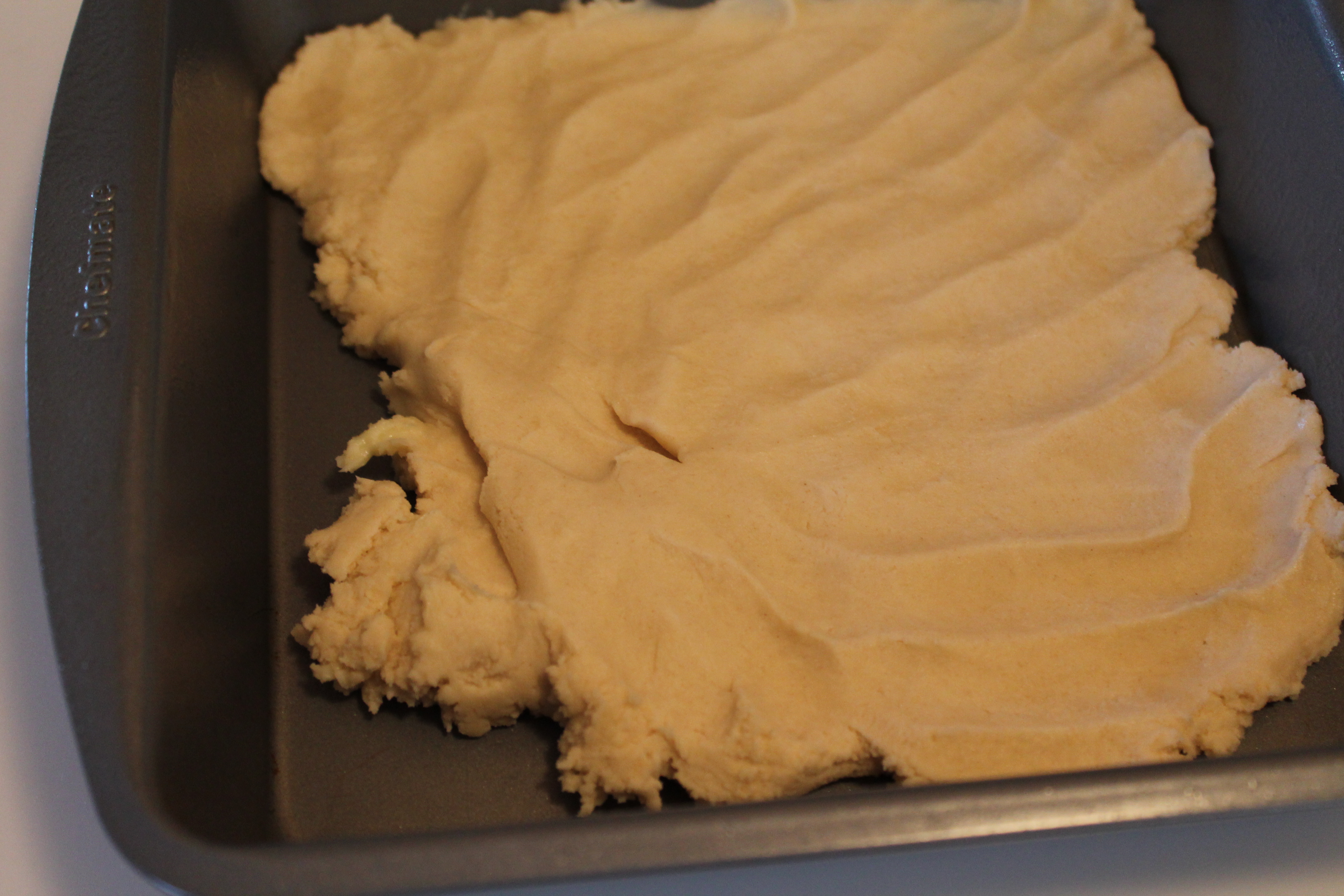 Start by making a smooth, silky shortbread crust. Is there anything better than a shortbread crust? Just cream all the ingredients together (butter, sugar, flour) and you're done!
Press the cookie dough into a greased 8″ square pan and prick with a fork.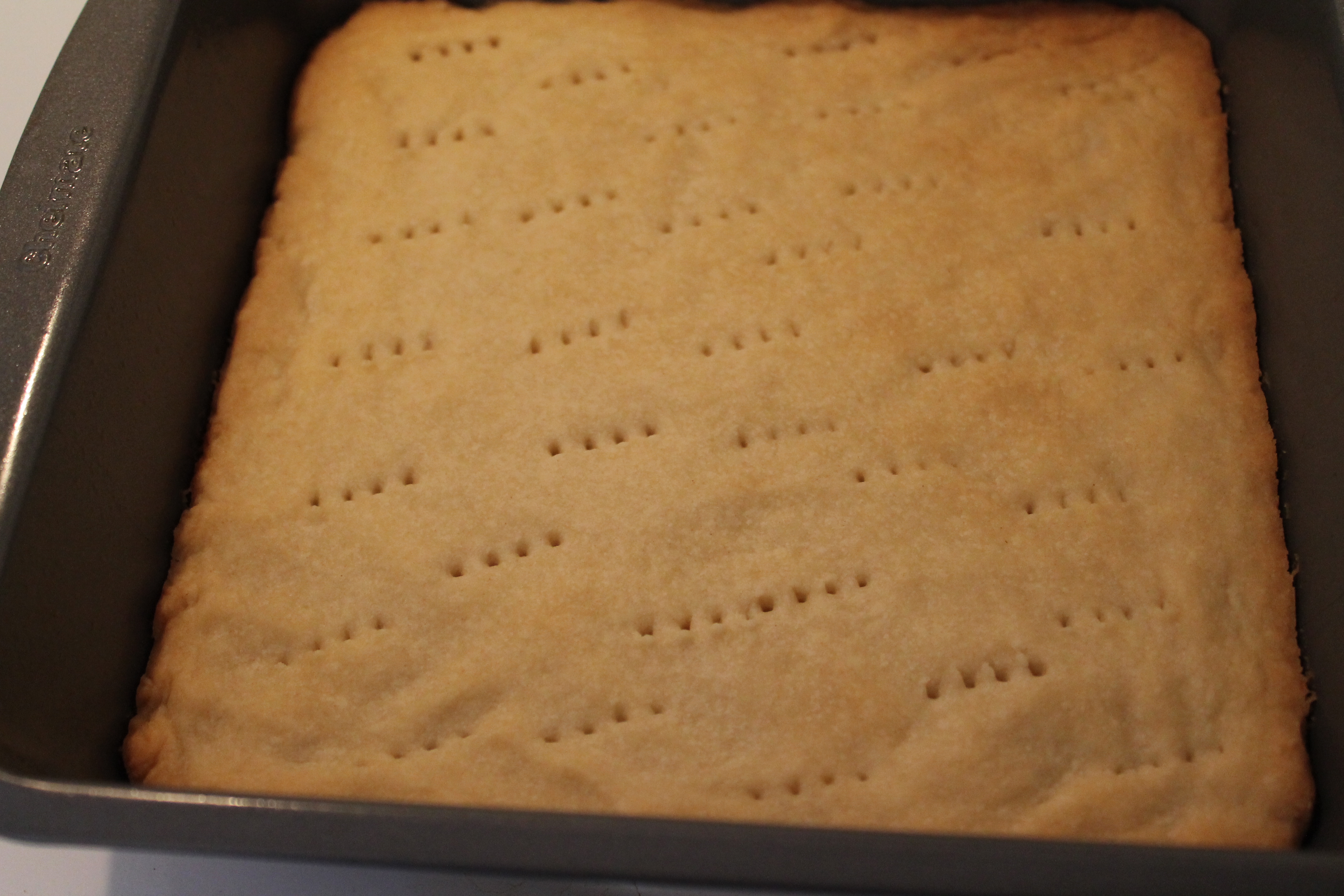 Bake the crust for 18 minutes at 350°, or until the edges are golden and the crust is crisp. Meanwhile, go play with your baby! Er…I mean make the filling…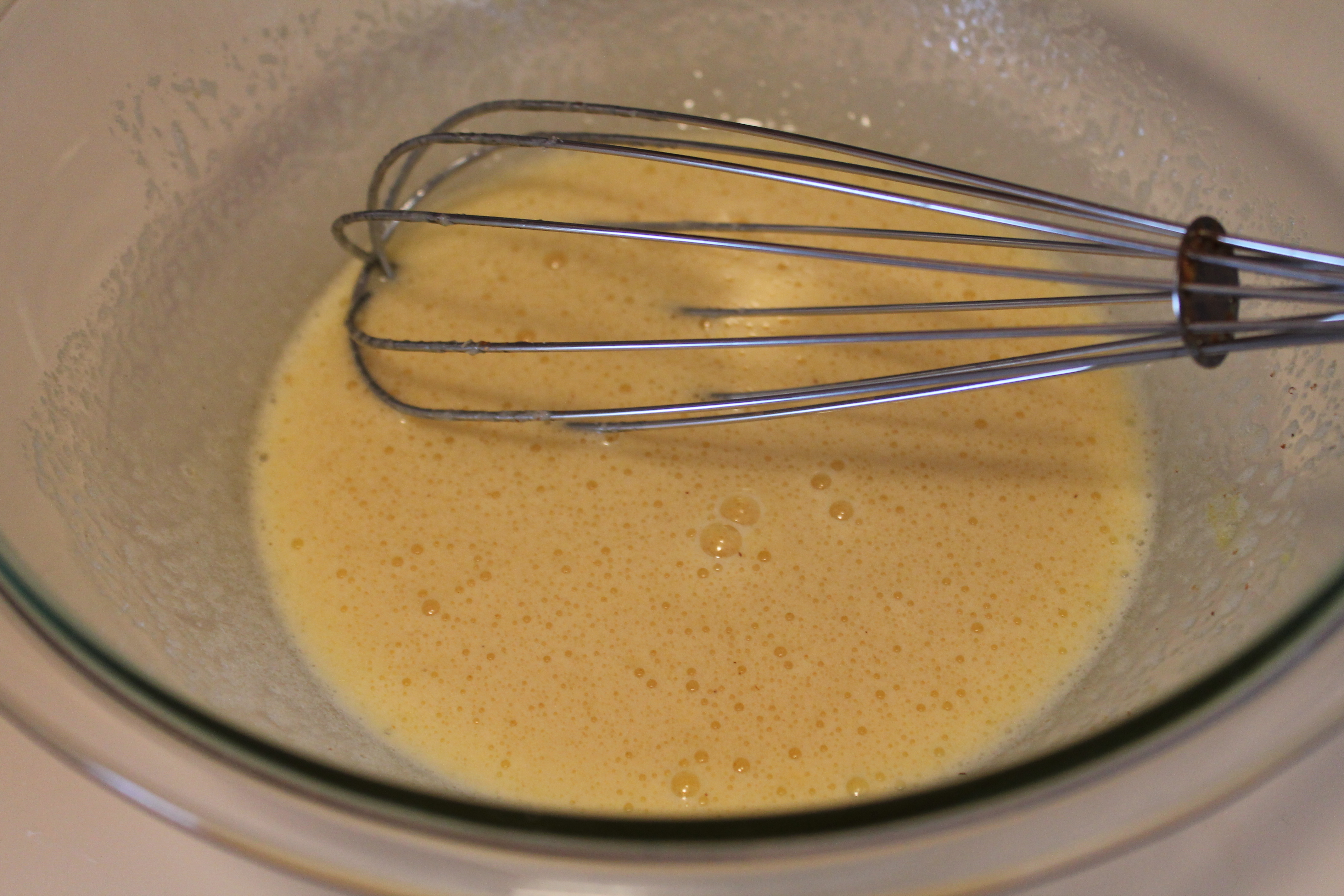 Whisk together the eggs and sugar until the eggs lighten in color. I didn't really have patience to whisk that long by hand…so my eggs were still pretty darn yellow. Maybe you should use a hand mixer. I'm just saying…
Add in the melted butter, vanilla, nutmeg, and cinnamon. I did use fresh nutmeg, because I happen to have some, but you could just as easily use ground nutmeg here! Whisk in the remaining 1½ tbsp. flour, a little at a time. Finally, whisk in the buttermilk.
A brief word about buttermilk: you must, must, must use real buttermilk. None of that powdered "just add water" business. If you are not fortunate enough to patronize a grocery store that stocks prepared buttermilk, then make your own! Just add 1 tbsp. white vinegar to 1 cup 2% milk (or any kind of milk you have, except skim); let it sour on the counter for 5 or 10 minutes, then stir it up and it's ready to go.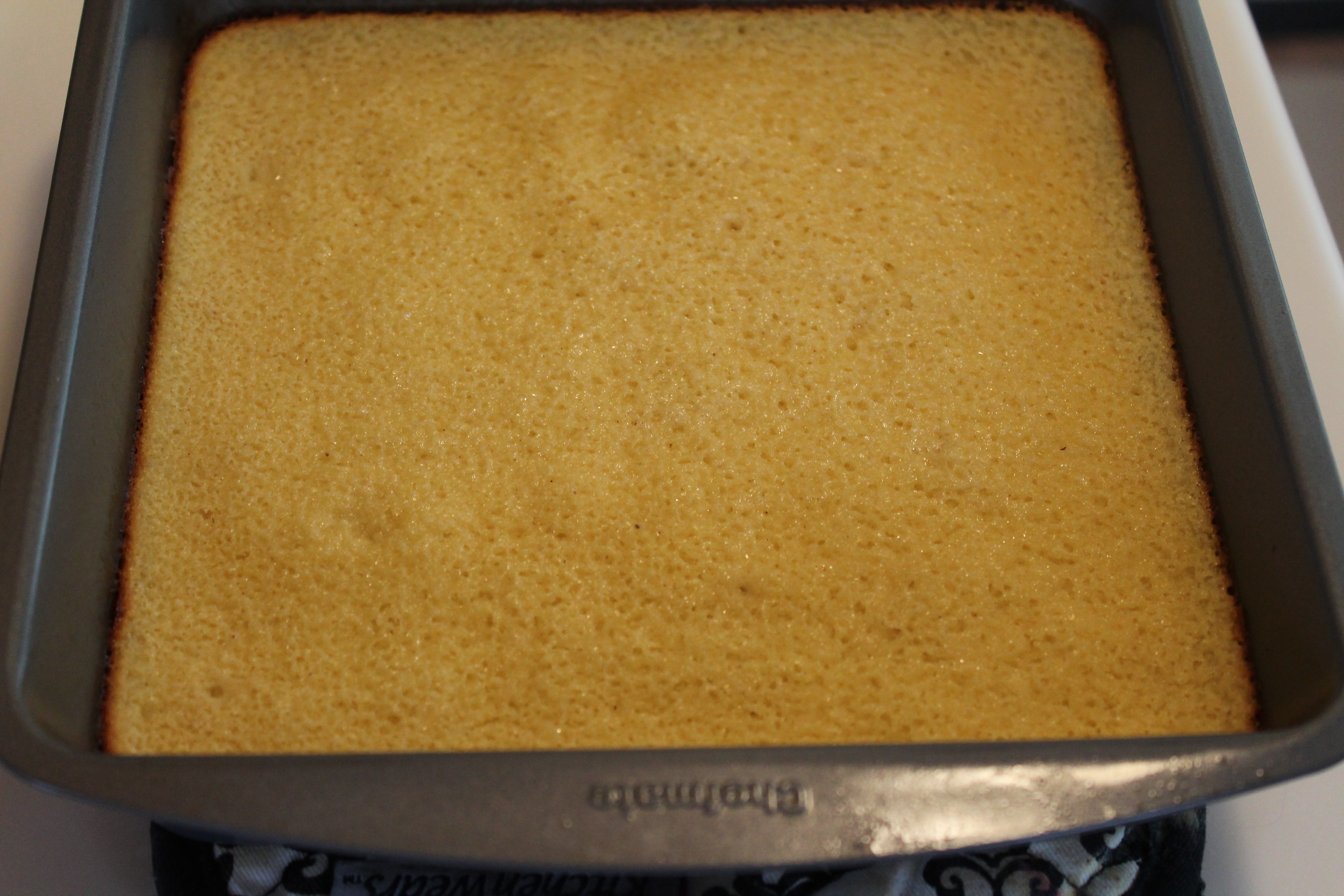 Pour the buttermilk custard over the warm cookie crust and return to the oven for 30–35 minutes, until the center is set.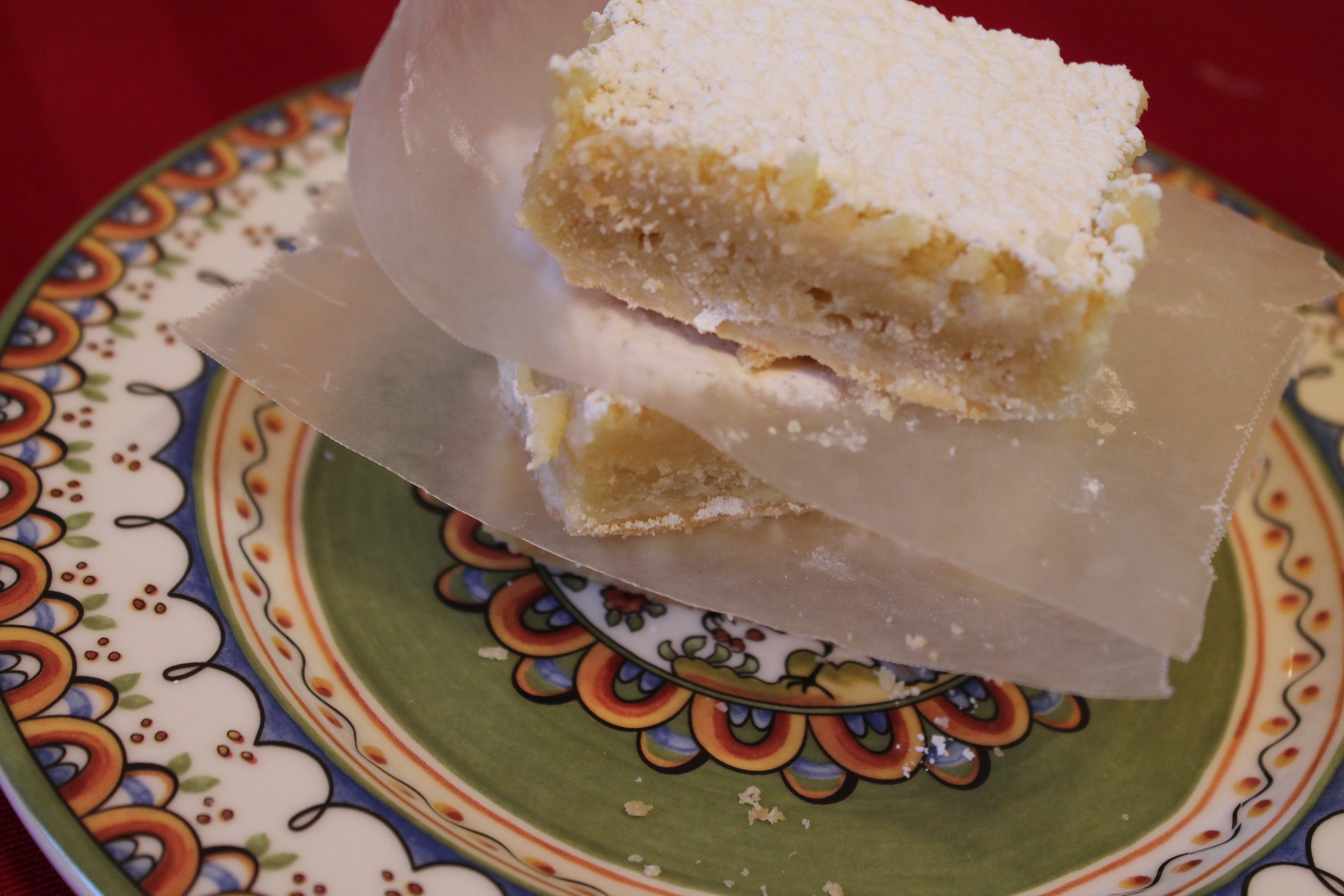 Cool for 10 minutes on the counter, then chill in the fridge for at least 1 hour before dusting with confectioner's sugar, cutting, and serving.
Buttermilk Pie Bars
adapted from Everything in the Kitchen Sink
makes 12–16
Ingredients:
½ cup salted butter, room temperature
¼ cup confectioner's sugar, plus extra for dusting
1 cup flour, plus 1½ tbsp.
2 eggs, room temperature
½ cup sugar
1 tbsp. melted butter
⅛ fresh ground nutmeg
dash of cinnamon
pinch of salt
1 cup low-fat buttermilk
Directions:
Preheat the oven to 350°. Grease an 8″ square pan.
Make the shortbread crust. Cream together the butter and confectioner's sugar. Add in 1 cup flour and mix well.
Press the shortbread into the prepared pan and prick all over with a fork.
Bake 18–20 minutes, until the crust is lightly golden.
Meanwhile, prepare the filling. Whisk together eggs and sugar until they become thick and pale yellow. Add in melted butter, vanilla, nutmeg, cinnamon, and salt. Mix well, then add in the remaining 1½ tbsp. flour. Whisk in the buttermilk.
Pour the filling over the warm crust. Return to the oven for 30–35 minutes, or until the center of the custard is set.
Cool on a wire rack for 10 minutes, then transfer to the refrigerator to chill for at least 1 hour.
Sprinkle with confectioner's sugar, then cut into bars. Serve cool.
Enjoy!