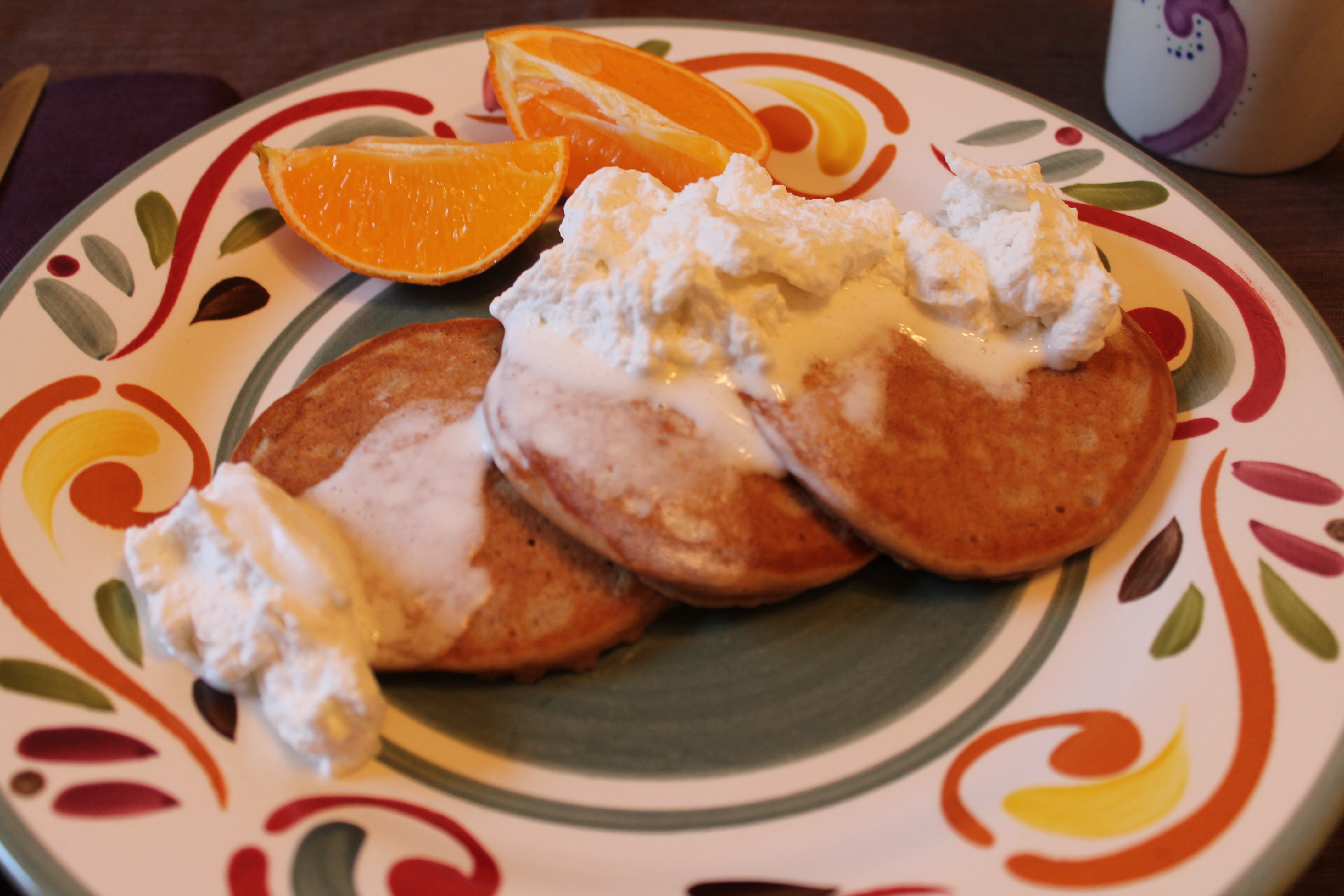 It's gloomy. And cold.
What you need is for your kitchen to smell warm, and your stomach to be filled with sweet spices to keep you cozy from the inside out.
So let's break open our spice cabinets and make chai pancakes! We could maybe even pretend that all those healthy anti-inflammatory and blood sugar–lowering spices make these pancakes somewhat healthy.
But however you choose to rationalize making pancakes and whipped cream in the middle of January (hey, we can't restrict ourselves too much based on all those healthy eating resolutions!…otherwise we will crash and burn), you should definitely add these pancakes into your weekend breakfast rotation.
You will really need a ton of spices to make these. But I think having a well-stocked spice cabinet is always a good thing, so if you are short on some of the spices now, you can slowly add in the lacking ingredients, or even make an abbreviated version of the pancakes while you save up for such extravagances as whole cardamom pods (which are actually fairly cheap at Whole Foods). I definitely recommend visiting an Asian market to track down things like whole star anise and cinnamon sticks, because you will be able to find them inexpensively in bulk.
And if you don't have a mortar and pestle, or prefer to buy all of your spices ground, you can definitely work with that. Try pulsing whole spices in a food processor or Magic Bullet to break them up; or use about ¼–½ the amount called for if you are using all ground spices. But be warned that your flavors will be concentrated differently (so aim for higher amounts of the ones you prefer!).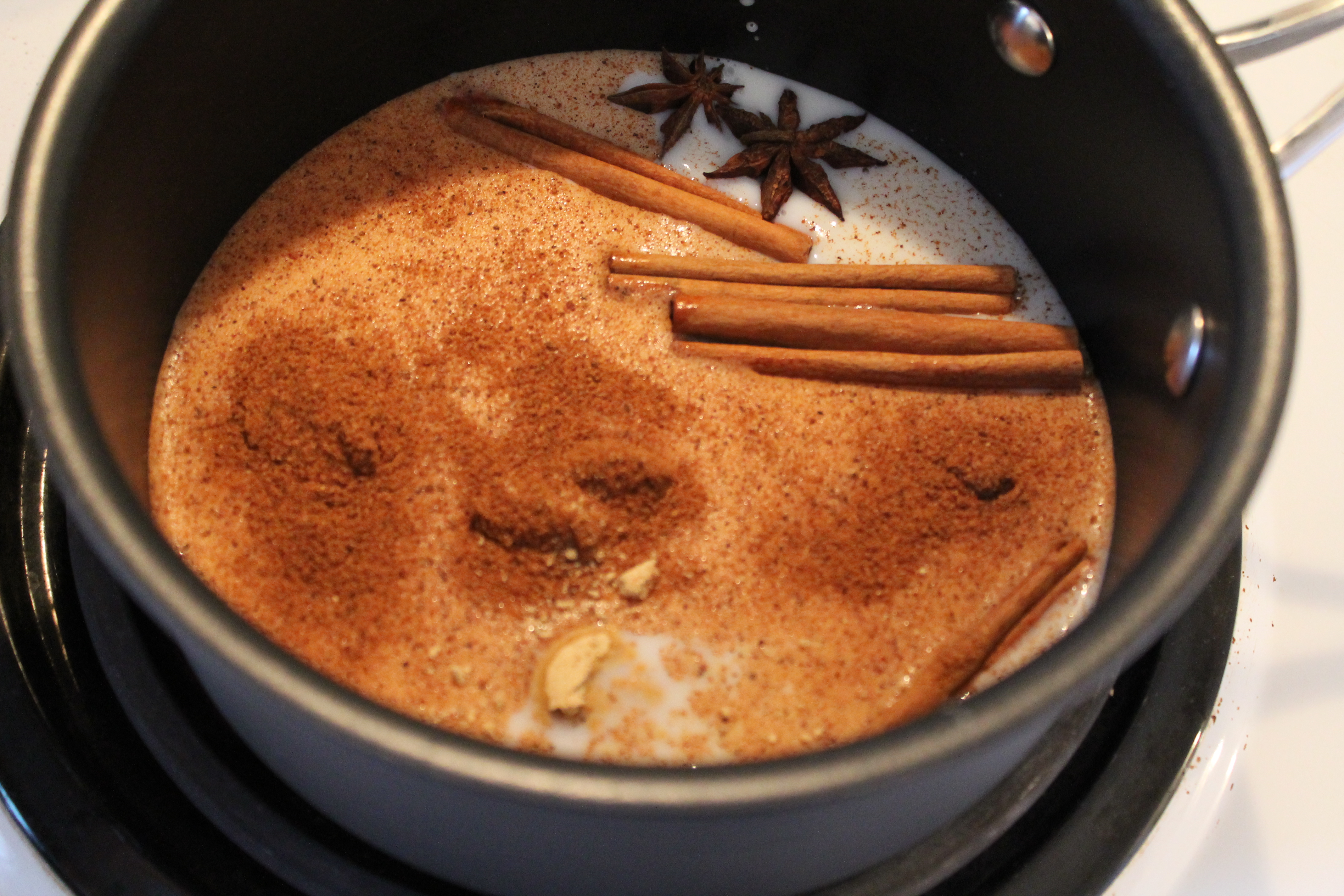 Okay. Let's steep some milk with our chai spices! Toss your ground ginger and nutmeg in with the milk, and leave your cinnamon sticks and star anise whole.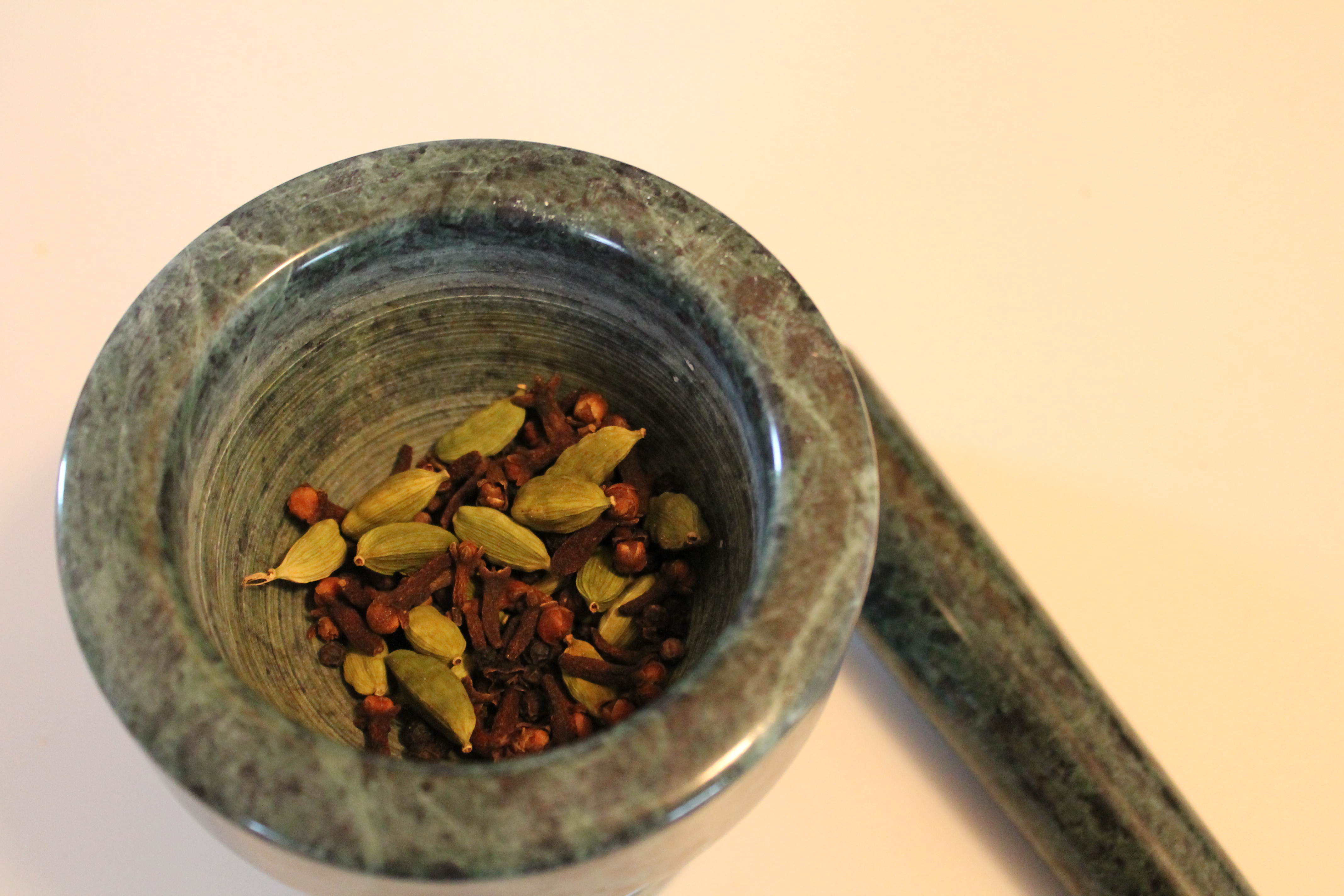 Ideally using a mortar and pestle, grind up the rest of your spices. Add them to the milk.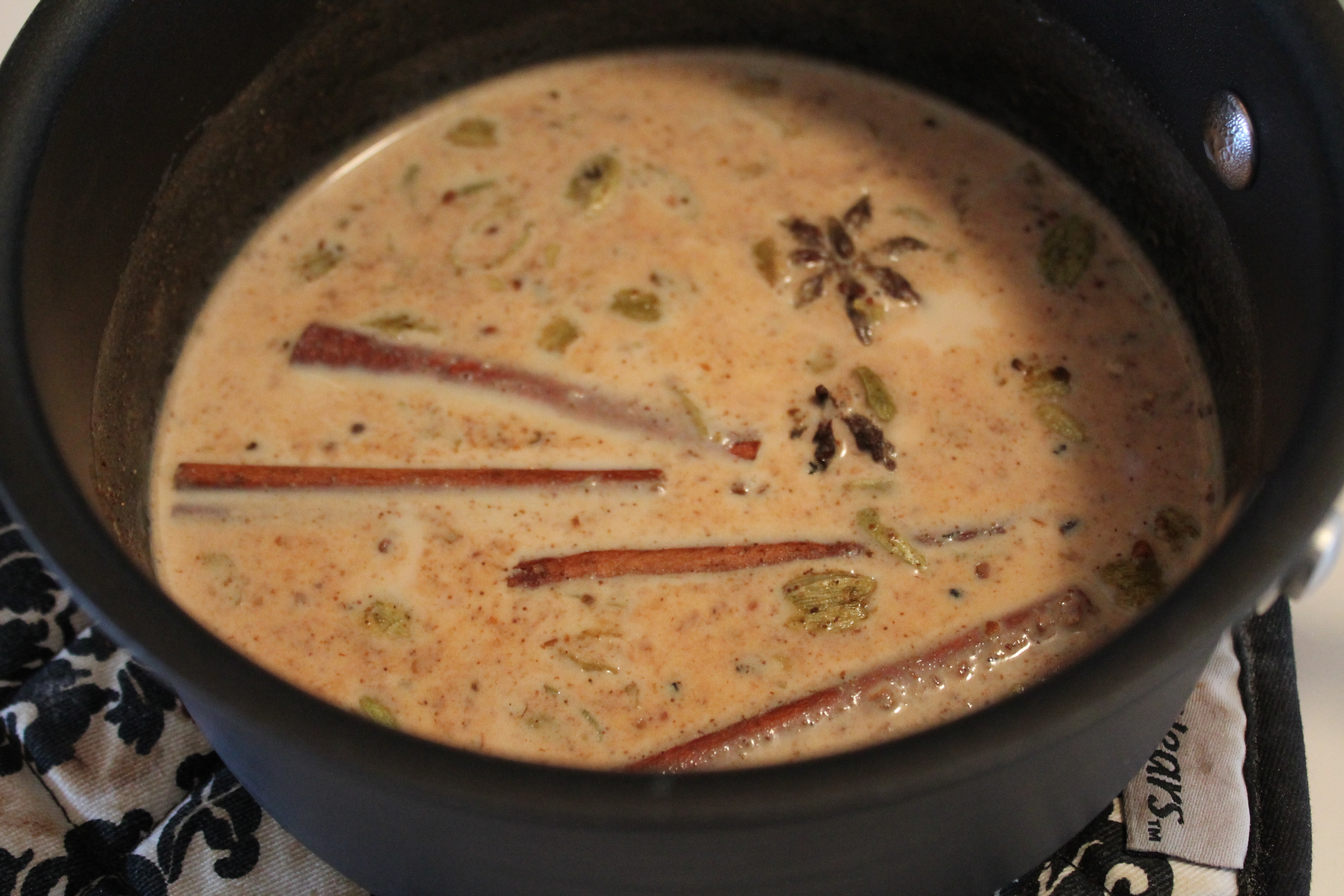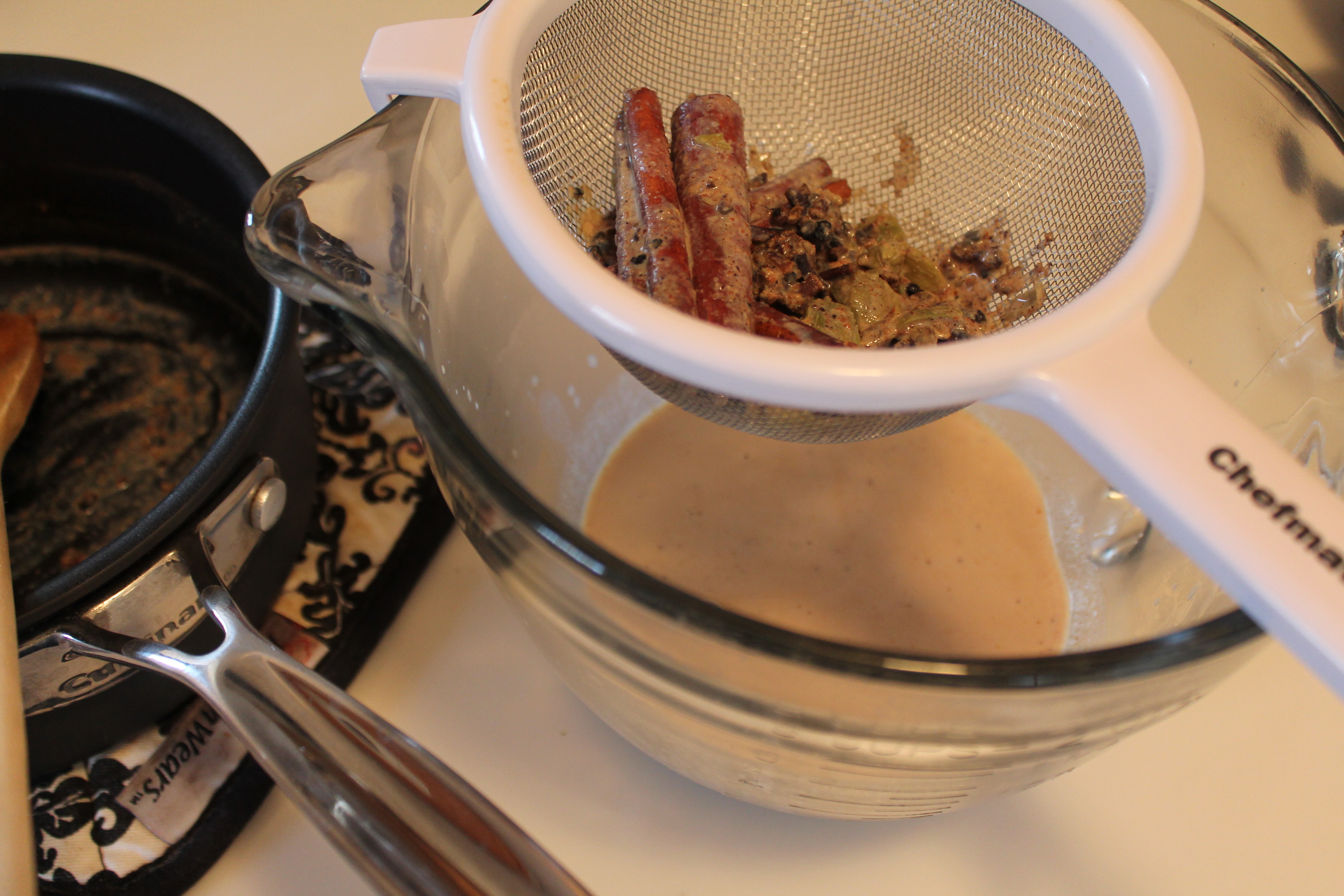 Bring the milk to a low boil, then remove from the heat and cover the pot. Let the milk steep with the spices for 10 minutes, then strain out all of the clumps of broken and whole spices.
Combine all of the milk with your eggs, melted butter, and vanilla. Whisk until the eggs are completely broken down and the combination is slightly foamy.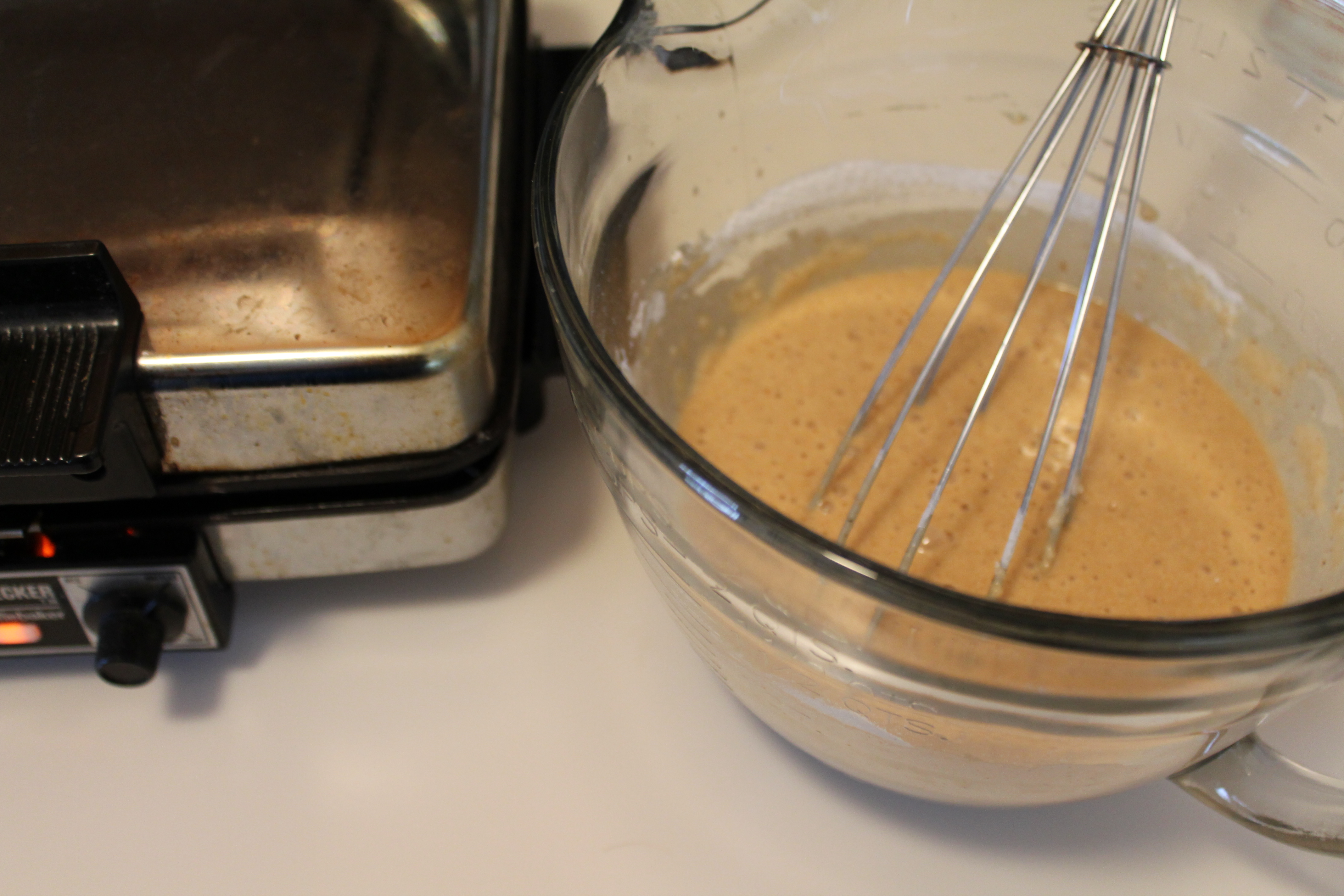 Add the flour, brown sugar, baking powder, and salt to the mixture. Whisk until combined. I let my batter sit for a few minutes so the baking powder would begin to act and the batter would get nice and fluffy before I poured it onto my pancake griddle.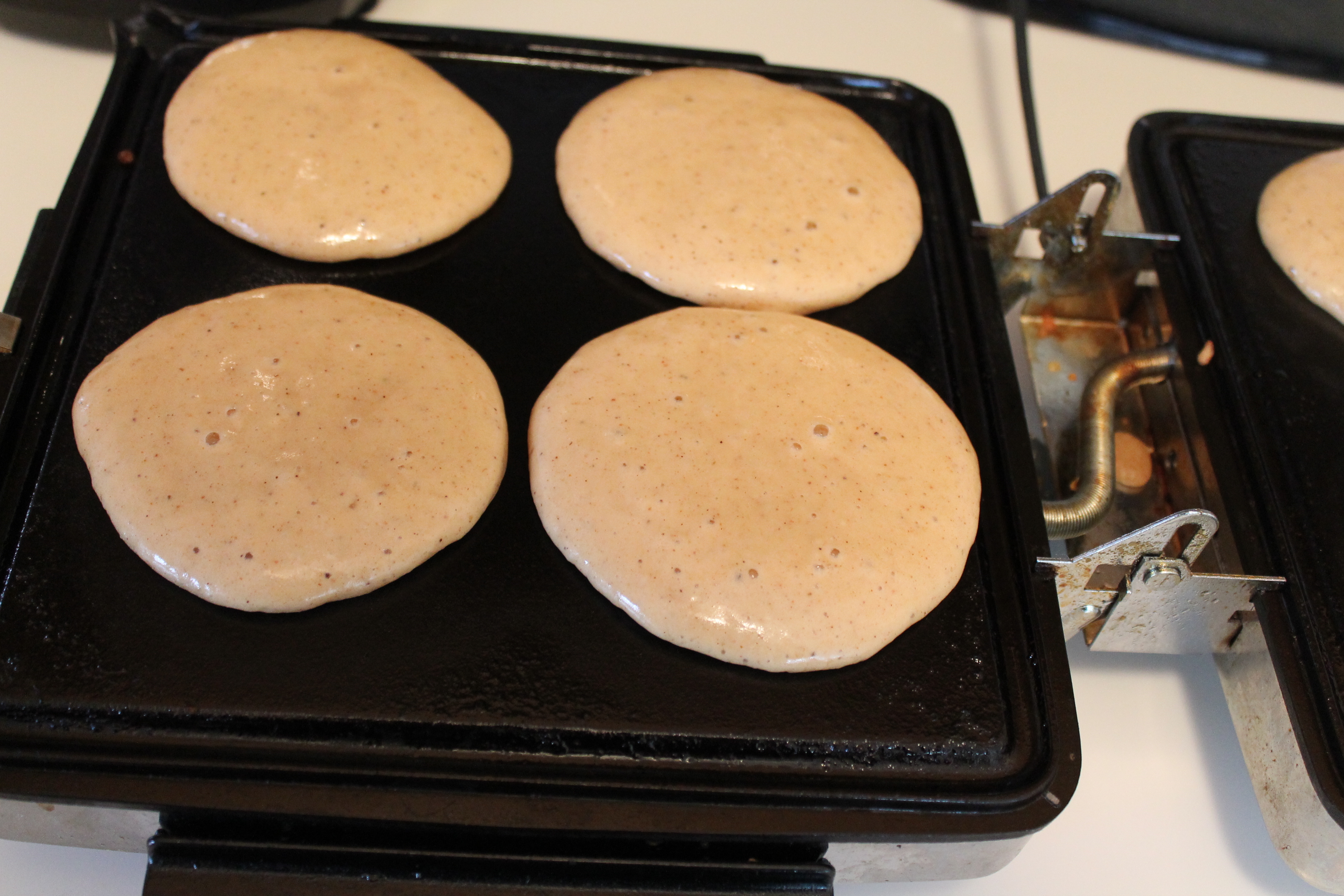 Heat a pancake griddle (or a sauté pan) over medium heat. Grease with cooking spray. When the griddle is hot, but not so hot that the oil steams, pour small dollops of batter (no more than ¼ cup) onto the hot surface. Cook on the first side until the tops look bubbly and the bottoms are pleasantly browned, about 3–5 minutes, depending on how hot your cooking surface is.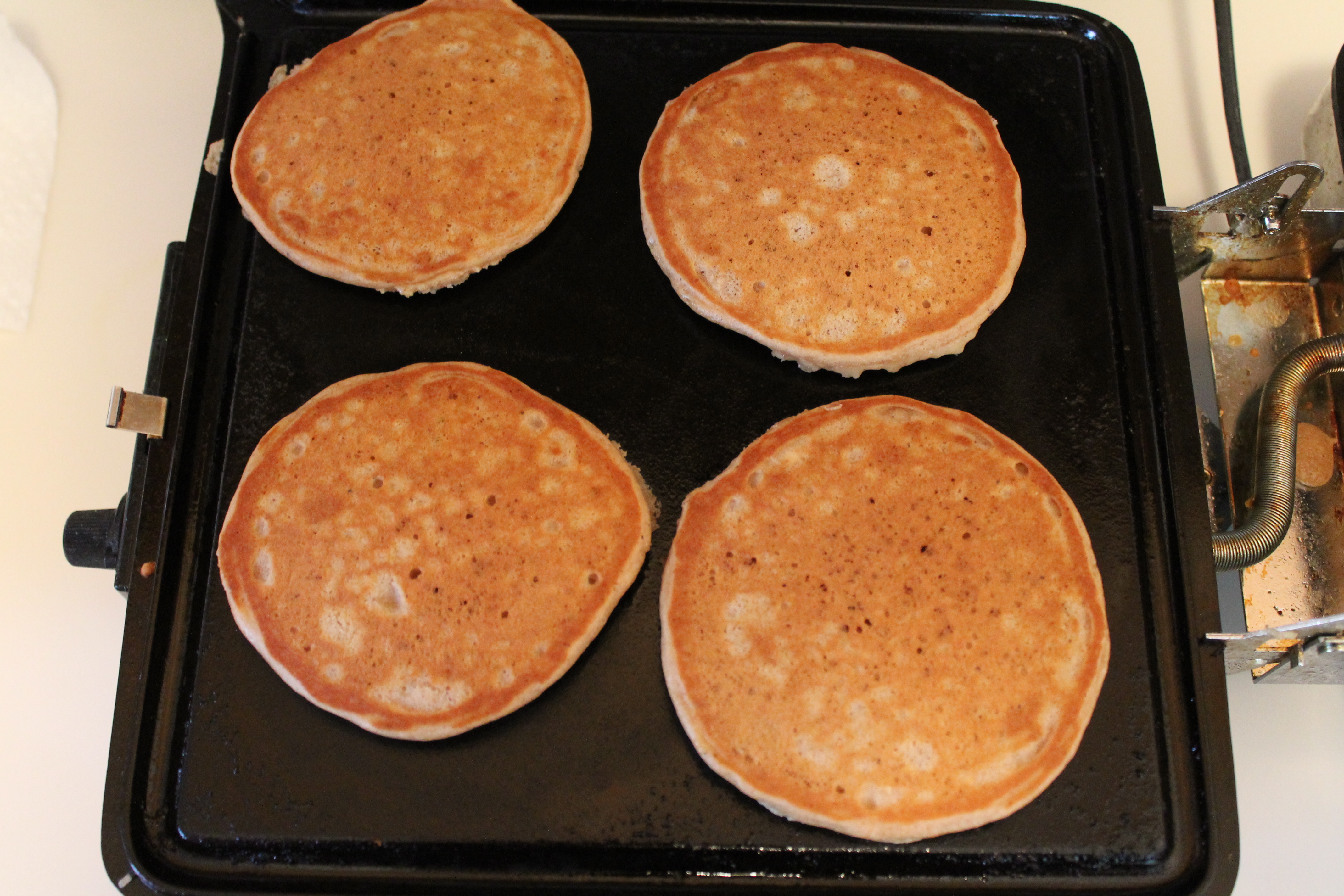 Carefully flip the pancakes and continue cooking another 2–3 minutes, until the centers are no longer gooey.
Transfer the pancakes to a plate and cover with foil to keep them warm while you cook subsequent batches. I was able to get 14 medium-size pancakes out of this recipe, which seemed about enough to serve 3.
While the pancakes are cooking, whip your cream. When the cream forms soft peaks, add in the confectioner's sugar and cardamom.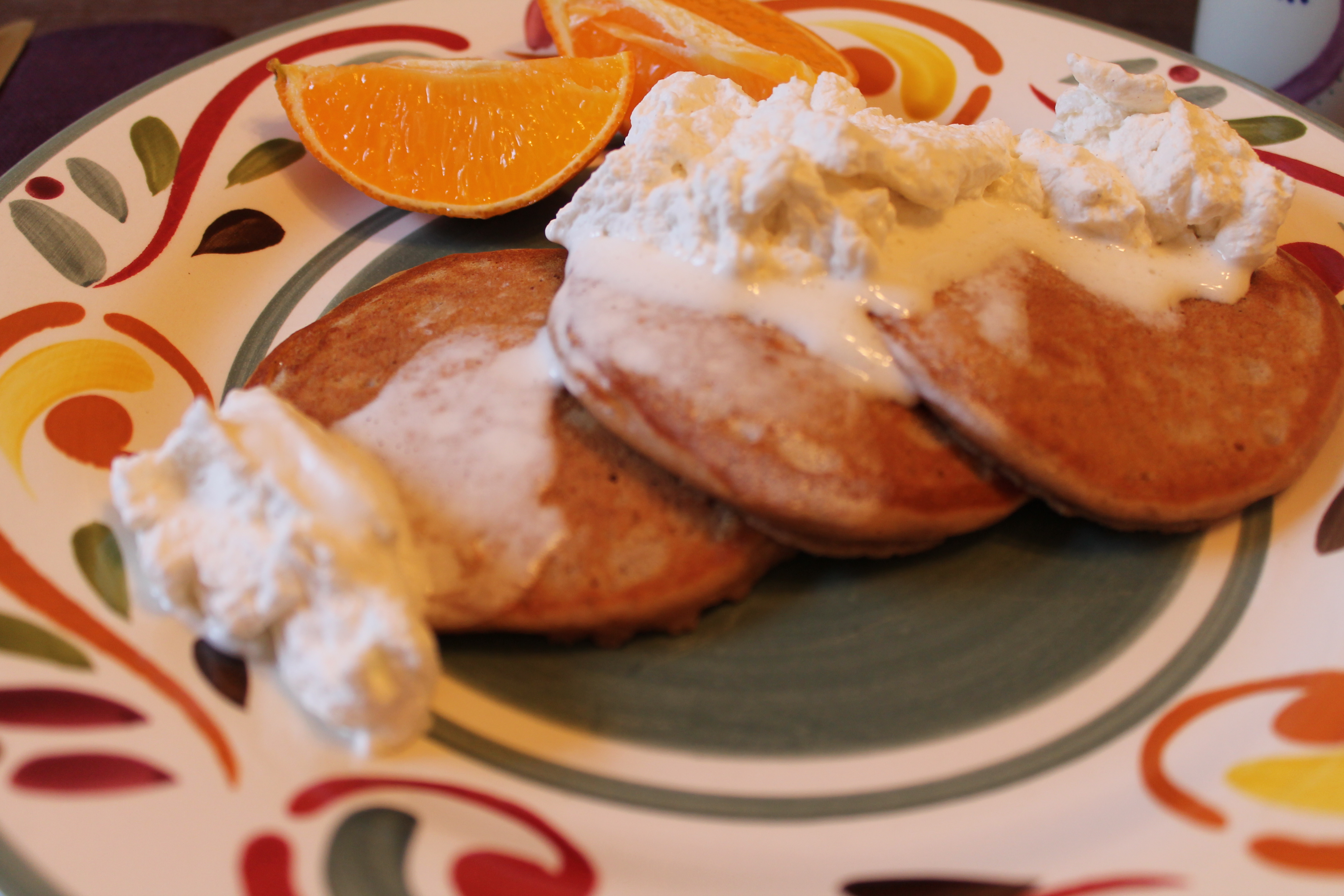 Serve the pancakes warm, topped with the lightly spiced cream. (Or, my husband preferred maple syrup…which I, personally, think would overpower the chai flavors, but what can you do?)
Chai Spiced Pancakes
adapted from Desserts for Breakfast
makes 12–16 medium
Spiced Milk Ingredients:
1 cup milk
2 tsp. ground ginger
4 cinnamon sticks
2 tsp. ground nutmeg
2 whole star anise
2 tsp. whole cloves
2 tsp. cardamom pods
1 tsp. black peppercorns
Pancake Ingredients:
1 cup spiced milk
2 eggs
¼ cup salted butter, melted
1 tsp. vanilla extract
¾ cup flour
3 tbsp. brown sugar
2 tsp. baking powder
½ tsp. salt
Cardamom Cream Ingredients:
1 cup whipping cream
2 tbsp. confectioner's sugar
¼ tsp. ground cardamom
Directions:
In a small saucepan with a tight-fitting lid, combine the milk, ground ginger, cinnamon sticks, ground nutmeg, and star anise.
Using a mortar and pestle, roughly crush the cloves, cardamom pods, and black peppercorns. Add to the milk.
Over medium high heat, bring the milk to a simmer. Cover with lid, remove from heat, and let the milk steep and cool, about 10 minutes. Strain.
Combine spice-infused milk, eggs, melted butter, and vanilla extract in a bowl and whisk thoroughly.
Add the flour, sugar, baking powder, and salt and mix until smooth. Batter should be thick and fluffy (but if necessary, thin with a dash of plain milk or thicken with a few teaspoons of flour).
Lightly oil a medium skillet or pancake griddle. Cook the pancakes slowly over medium heat, flipping when the bottoms are a nice, medium brown. Total cooking time should be about 8 minutes for each batch.
Meanwhile, whip the cream in a mixer bowl fitted with a whisk. When it forms soft peaks, add in the sugar and cardamom. Continue to whip until the cream is quite stiff, to help it stand up to the heat of the warm pancakes.
Serve pancakes with a dollop of cardamom cream.
*Variation: For dirty chai spiced pancakes, add 2 tsp. espresso powder to the batter.
Enjoy!