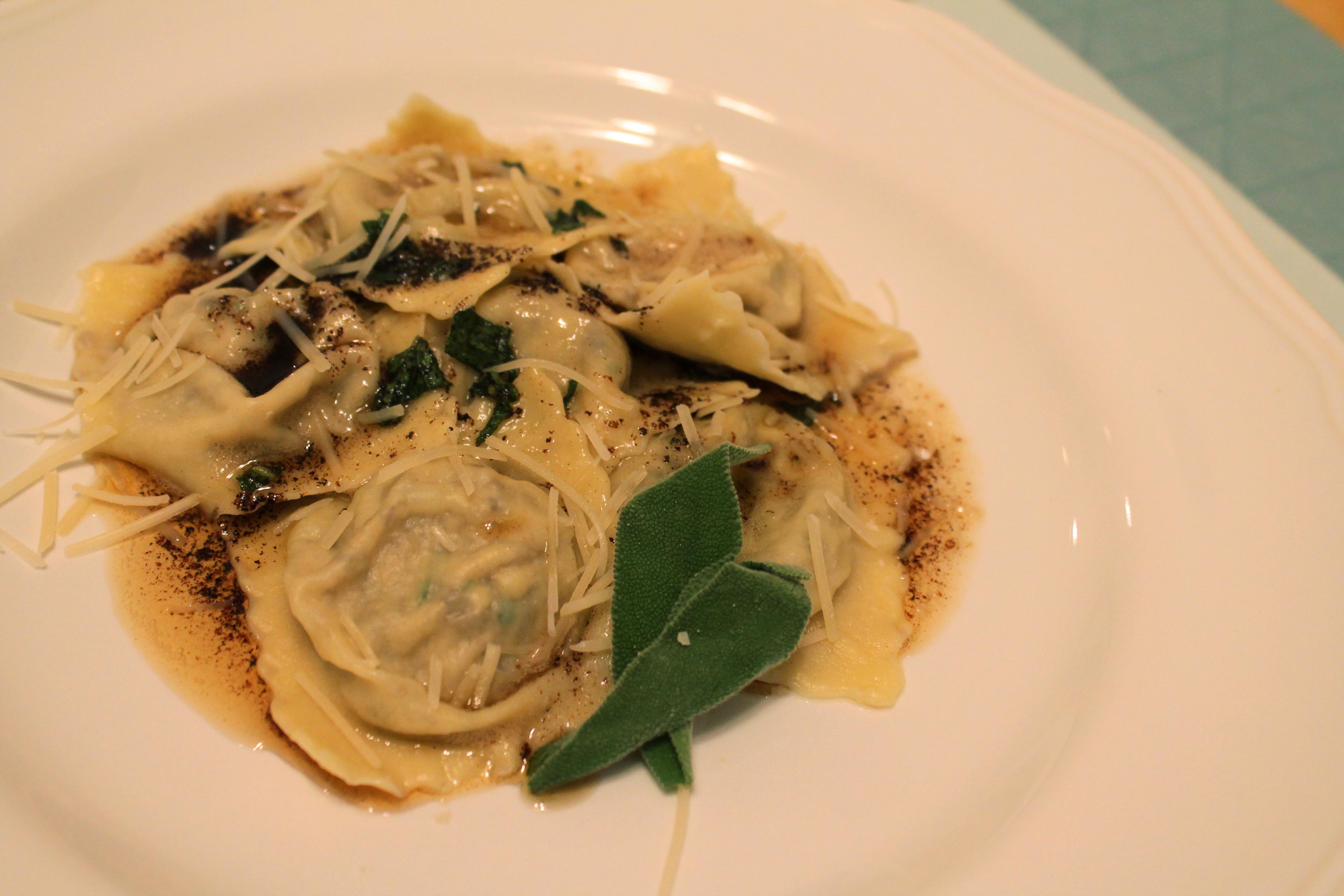 I think homemade ravioli might be my favorite food. That's a pretty hefty statement, you know, because I love food, and I love so many different foods. But homemade ravioli is indulgent without being overwhelming. It requires a bit of dedication and love to make it, and I appreciate the craftsmanship. I love the thin-rolled fresh pasta and the flavorful fillings. I love swiping a bite of ravioli through the sauce. I love everything about fresh ravioli!
So naturally for Valentine's day, my thoughtful husband, who knows me well, requested that I make ravioli with mushrooms (because mushrooms are his favorite).
Before I share this recipe with you, I should warn you that you will never want to eat packaged ravioli again. I should also warn you that ravioli is a multi-step process, and especially so if you don't have a pasta roller, but even then I think it would be worth it!
Let's just say that this ravioli is amazing. And I do not think you should just take my word for it. You must test this dish out immediately! Don't delay! Make yourself and your family and your friends some fresh ravioli. They will adore you. You will lick your plate. The world will be a happy and loving place. Just like it should be every day.
Even with a pasta roller, it can take a while to make fresh ravioli. I have taken to keeping a batch of pasta dough in the freezer at all times, that way I can just pull it out on the day I know I will use it, and thus shorten my prep time a bit. I also like to make the filling a bit early, that way all I have left to do for dinner on the big night is assemble the ravioli.
If you haven't planned quite this far in advance, then maybe you will be having your romantic dinner (because any dinner with fresh ravioli is romantic) a bit late at night. Just tell your special someone/dinner guests that you are taking a page from the Europeans and having a late dinner. Light a few candles. Set out a bottle of wine. I promise they will forgive the delay with the first mouthful.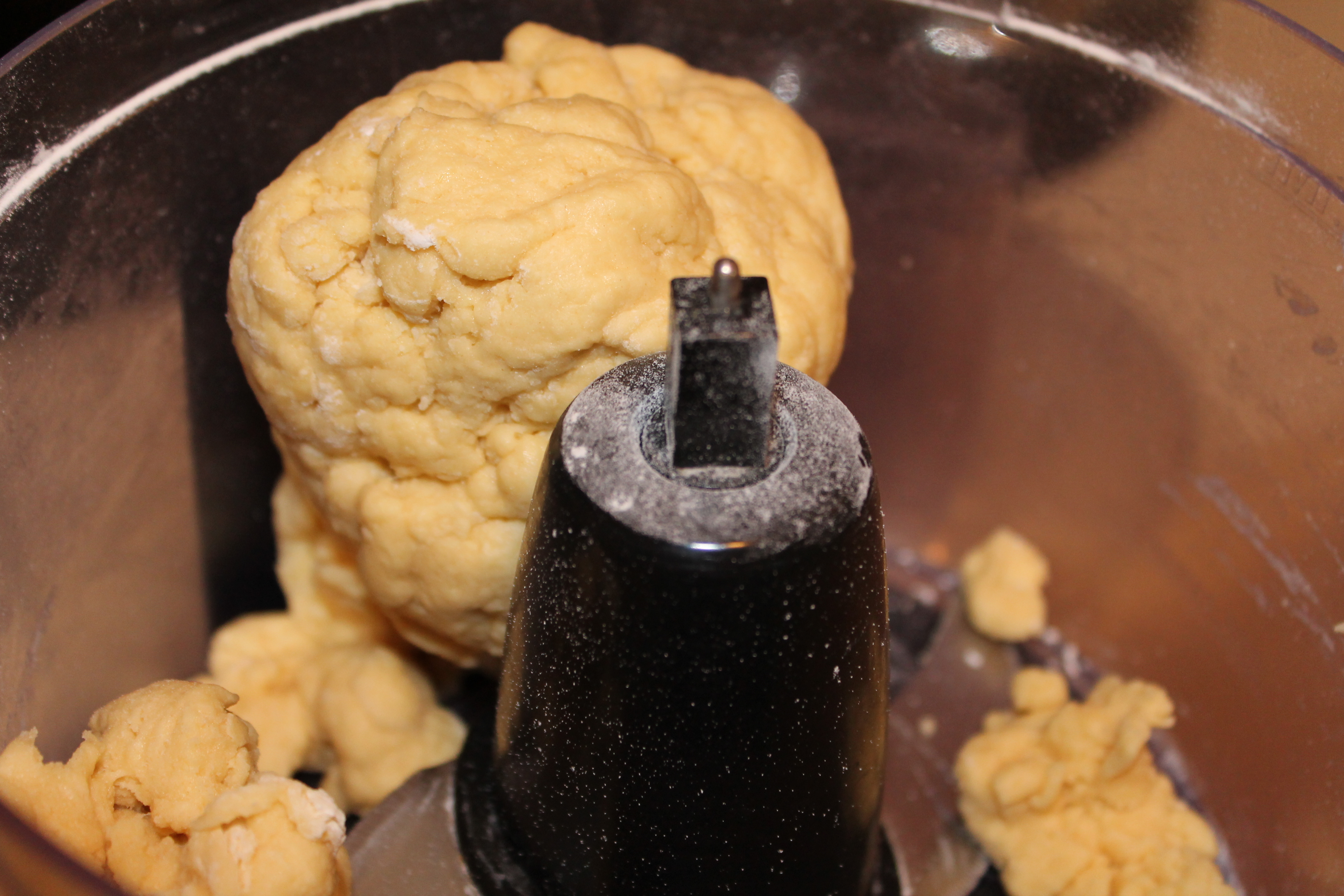 So! Make your pasta dough. Literally the easiest dough I have ever made. In a food processor, pulse the regular, all-purpose flour (which is much more pliable than whole wheat, so I really don't recommend using whole wheat for this) and the lightly beaten eggs until it combines into a soft, slightly sticky ball of dough. Knead it a few times, just to make sure everything is combined well. Wrap the dough in plastic wrap and either set it on the counter to relax for up to 2 hours, or pop it in the freezer until the day you want to make the ravioli. Done!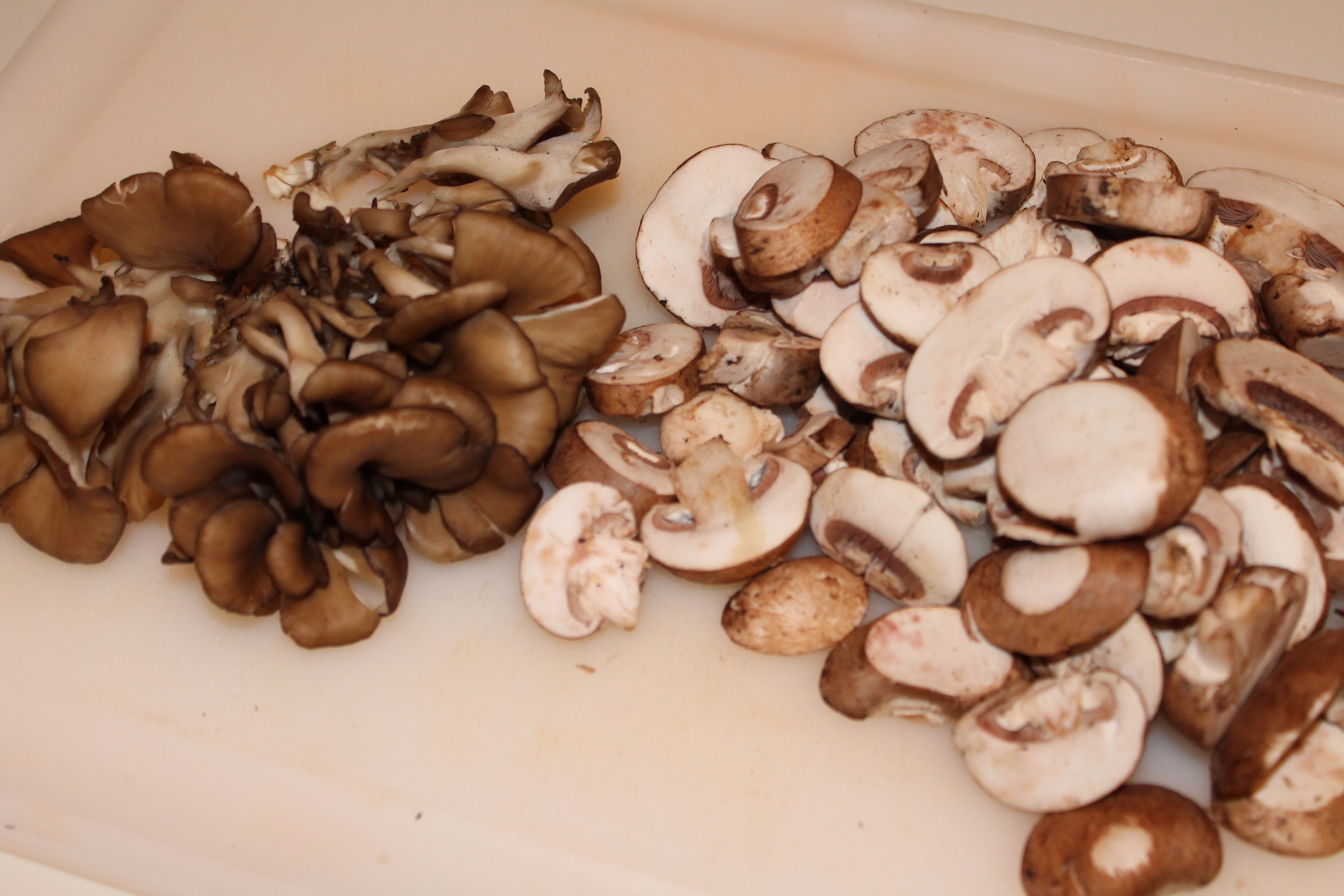 While your dough is relaxing (or thawing…or you can also do this a day ahead of time), make the mushroom filling. Yum! This is also fairly easy.
Chop up 11 ounces of your favorite mushrooms. I, personally, am a big fan of baby bellas and maitakes, so that's what I went for. You could also use fancy wild mushrooms or re-hydrated dried mushrooms, but honestly I wanted to go with something that tasted richly mushroomy and didn't require a lot of extra work or money.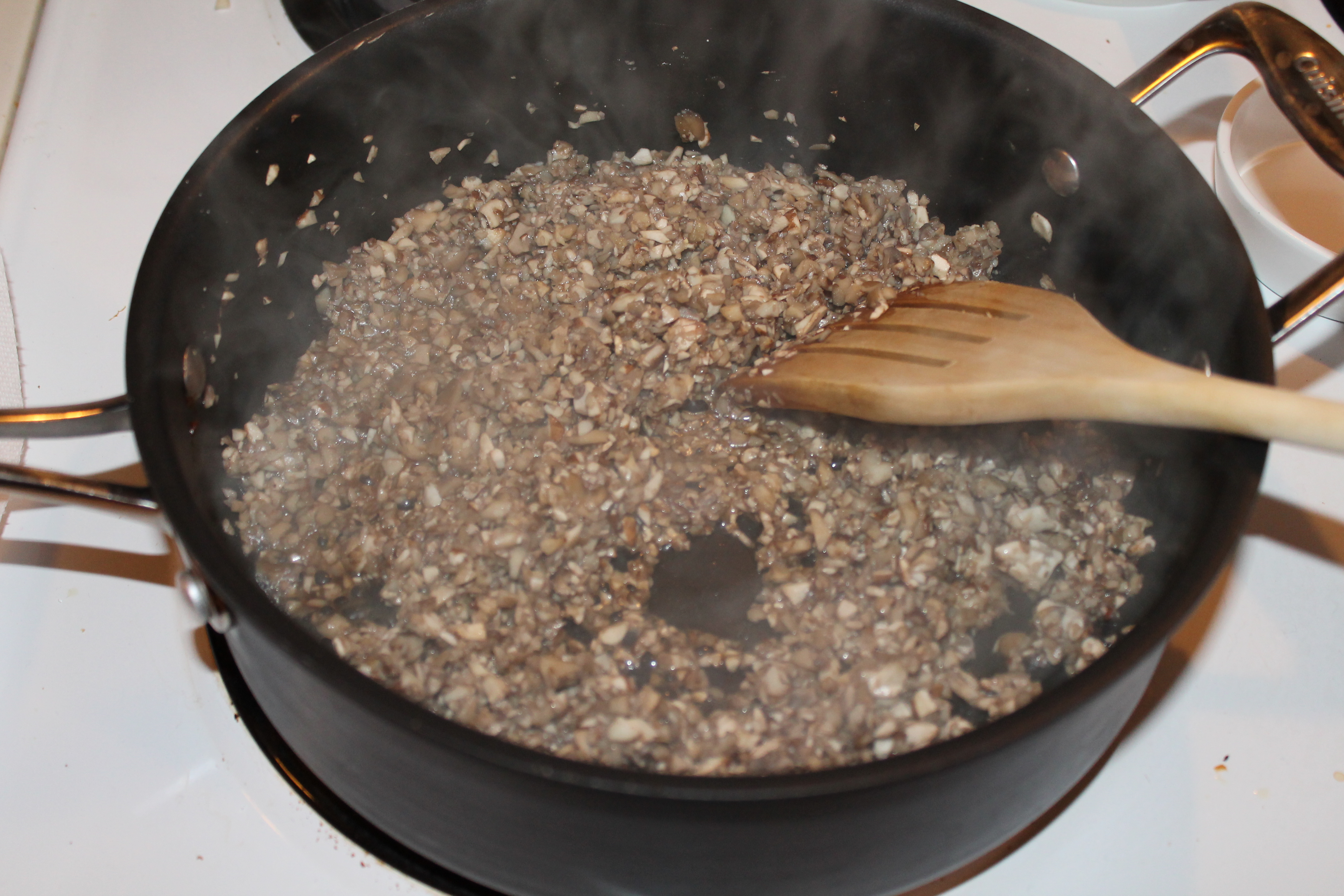 Sauté the finely chopped mushrooms with minced garlic and olive oil. Cook them until they have released most of their liquid, then add in the parsley and sage. Season lightly with salt and pepper.
When all the liquid has dissolved remove from the heat and scoop into a medium bowl. Let it cool for about 5 minutes, until it stops steaming. Stir in the ricotta, parmesan, and egg yolk. Refrigerate until ready to use (but not longer than 24 hours).
Now we are ready to assemble the ravioli! Exciting moments!
[youtube http://www.youtube.com/watch?v=bZlQqq1svRk?rel=0]
You will need a rolling pin, some flour, and a pasta roller (or else a lot of patience). I recommend you check out this Youtube video about rolling pasta before you get started, because it's always easier to see something in action than to interpret written directions (especially if you, like me, have an Italian pasta roller and the English directions are incomprehensible).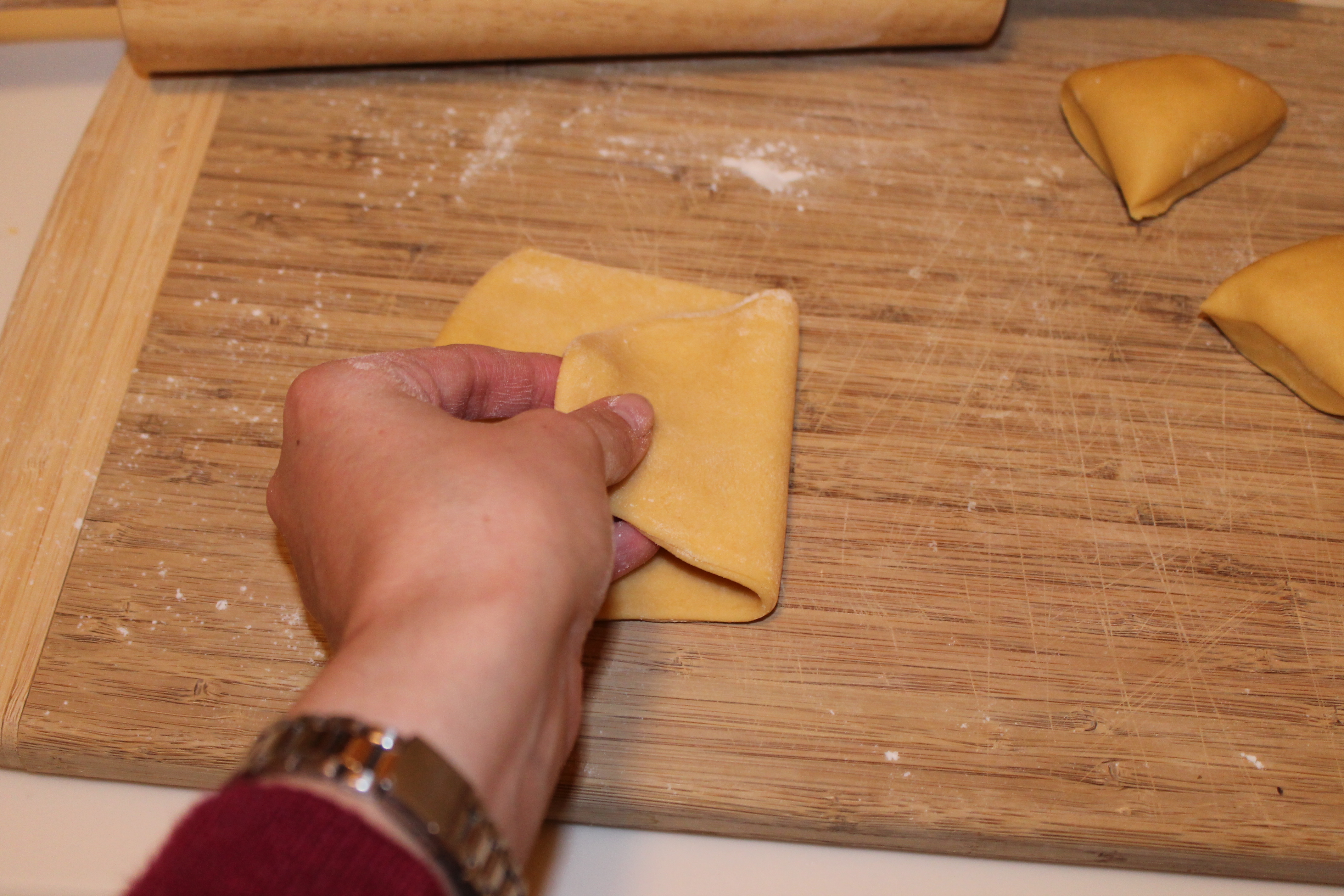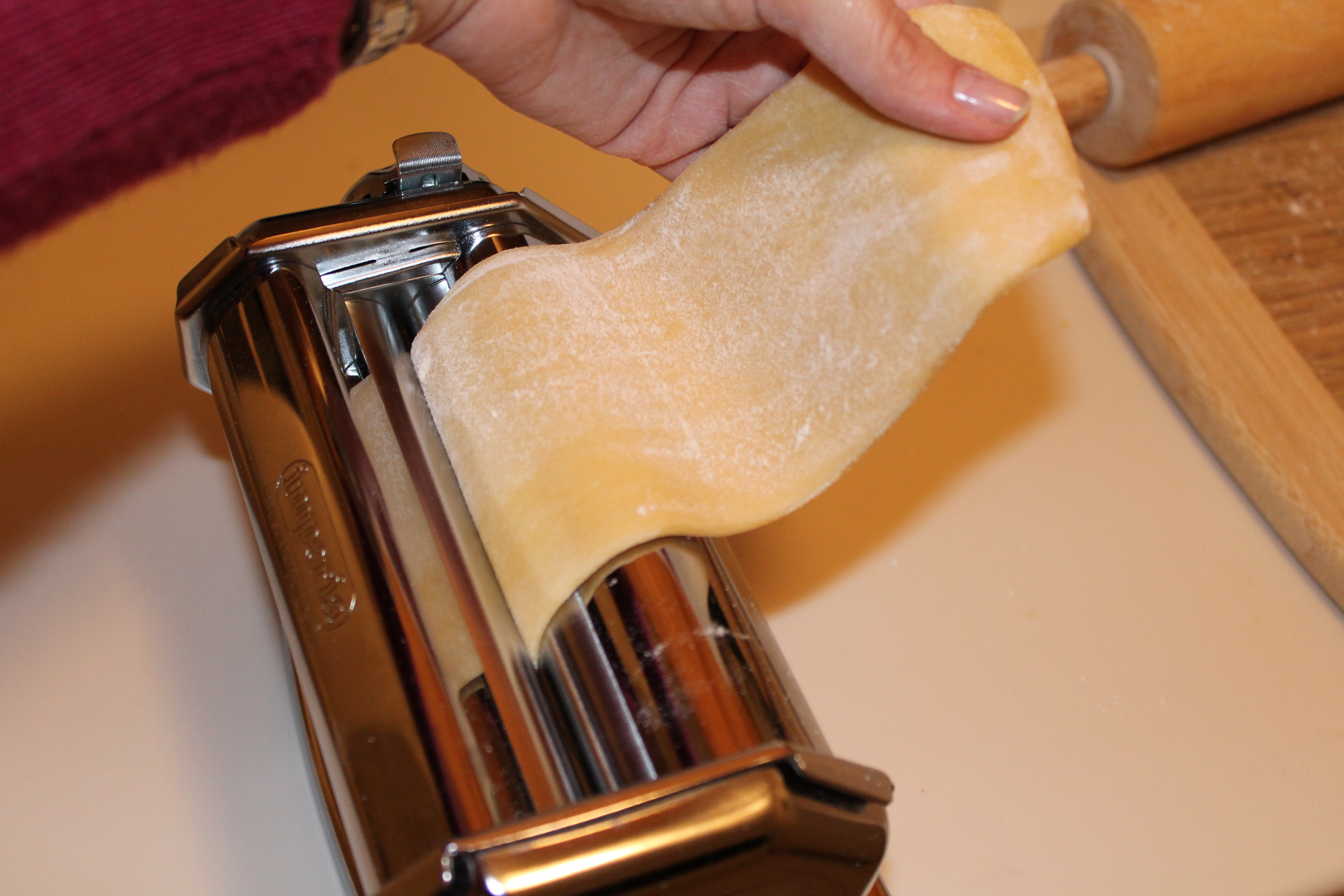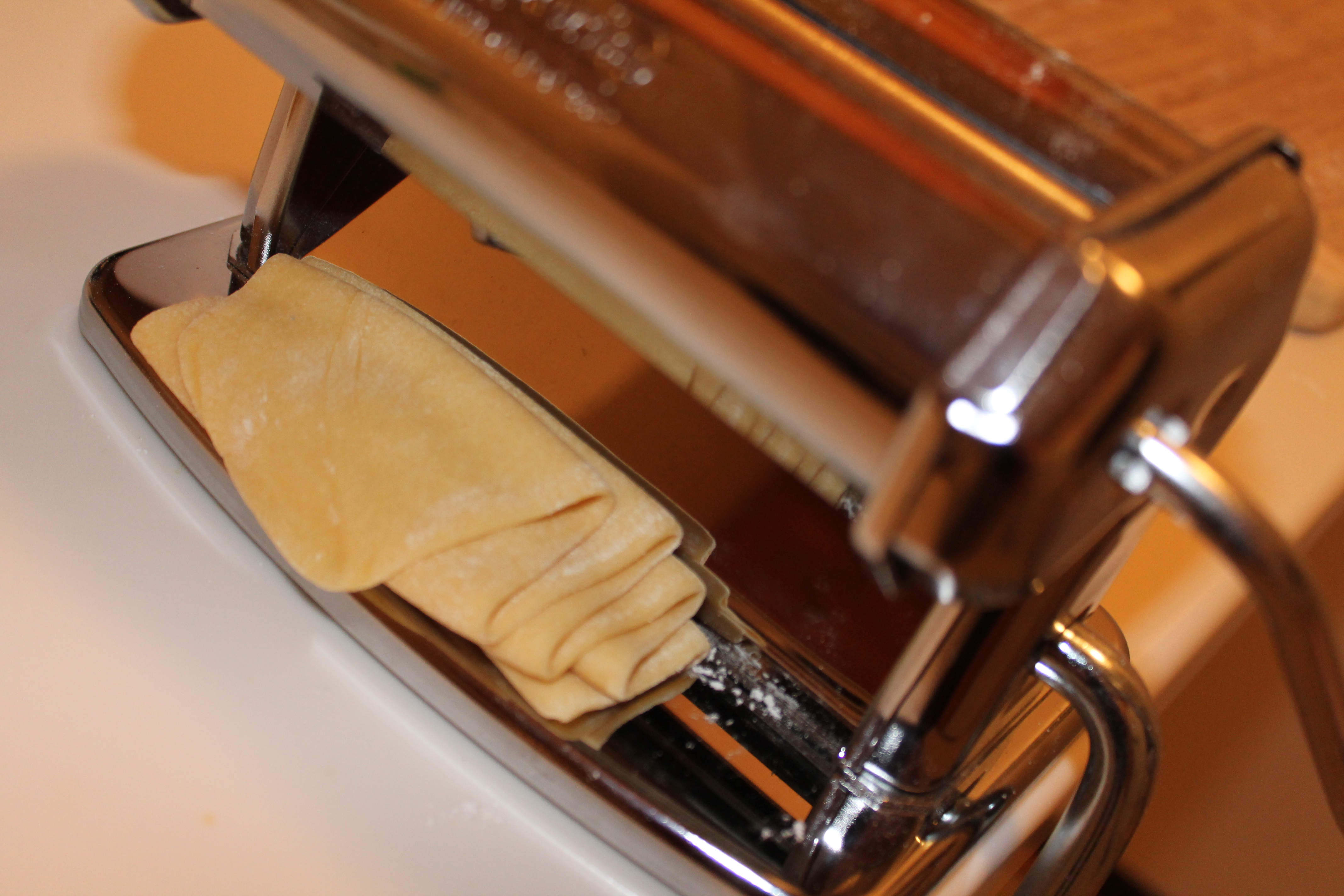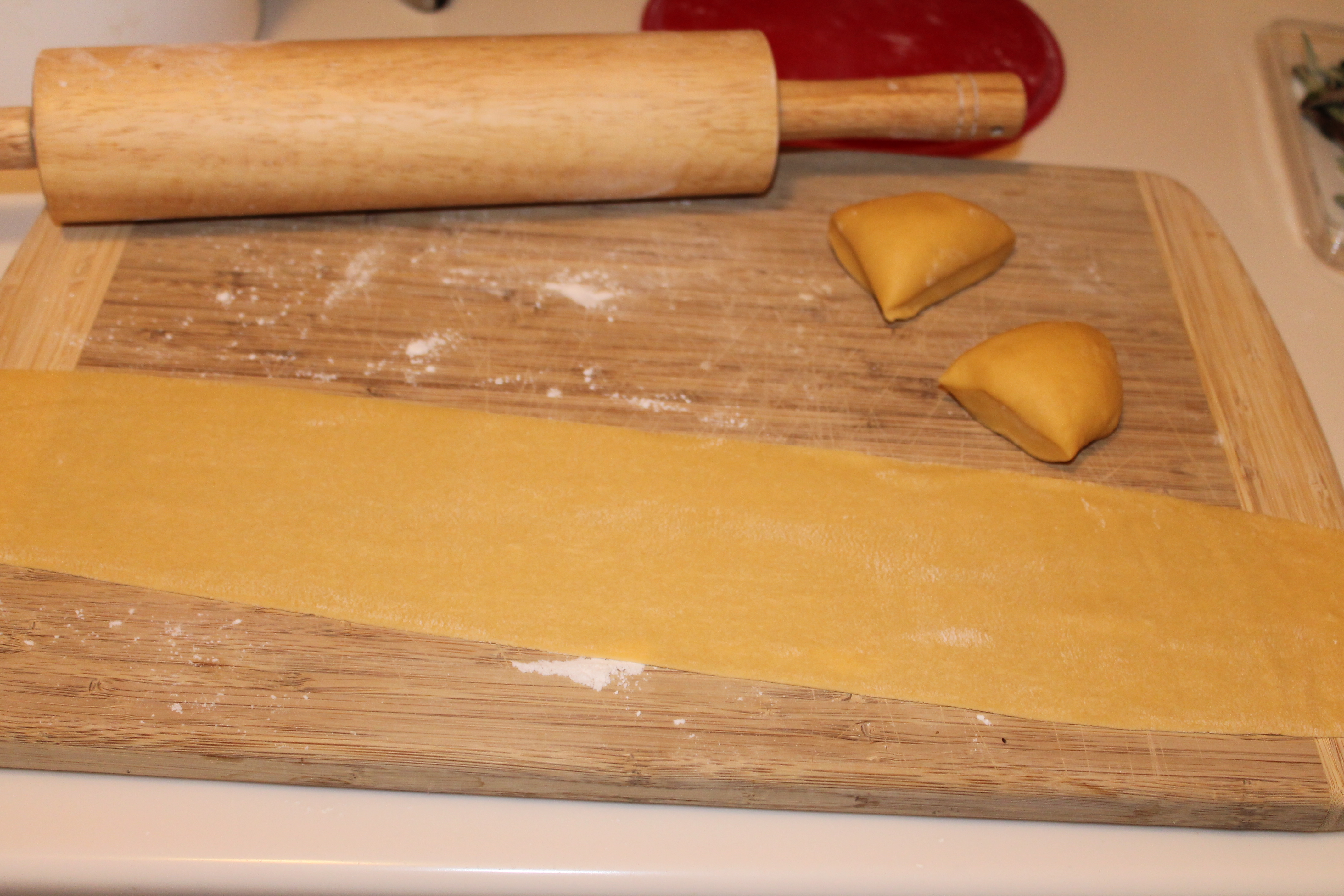 So…follow the instructions of your pasta roller and the video above. Roll the dough out to the thinnest setting on your pasta roller, being sure to rub flour on the sheet of pasta before each pass through the roller (otherwise it will stick to itself and you will have to start over).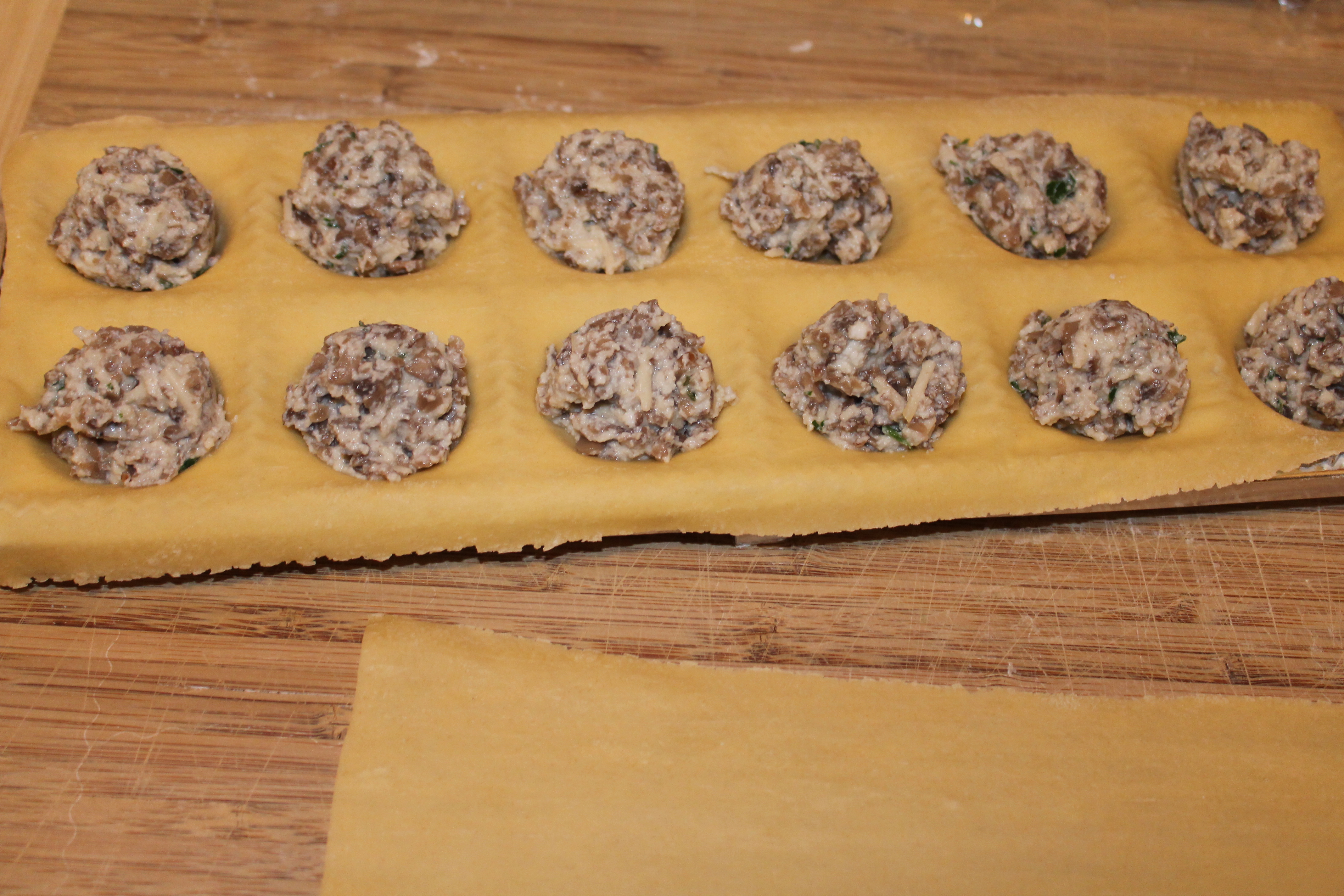 Assembling the ravioli takes a bit of practice. I am still working on it, honestly, but they came out pretty well! I used a ravioli frame, but you can also assemble them flat on the counter. Cut your long sheet of pasta in half, and lay one half out on the counter or set it atop the ravioli frame.
Scoop about a tablespoon of mushroom filling onto the waiting sheet of pasta. If you are using the frame this is easy, because you just aim for the divets. If you are doing this on the counter, then make sure each scoop of filling is at least 1½″ from the edge and from any other scoop of filling.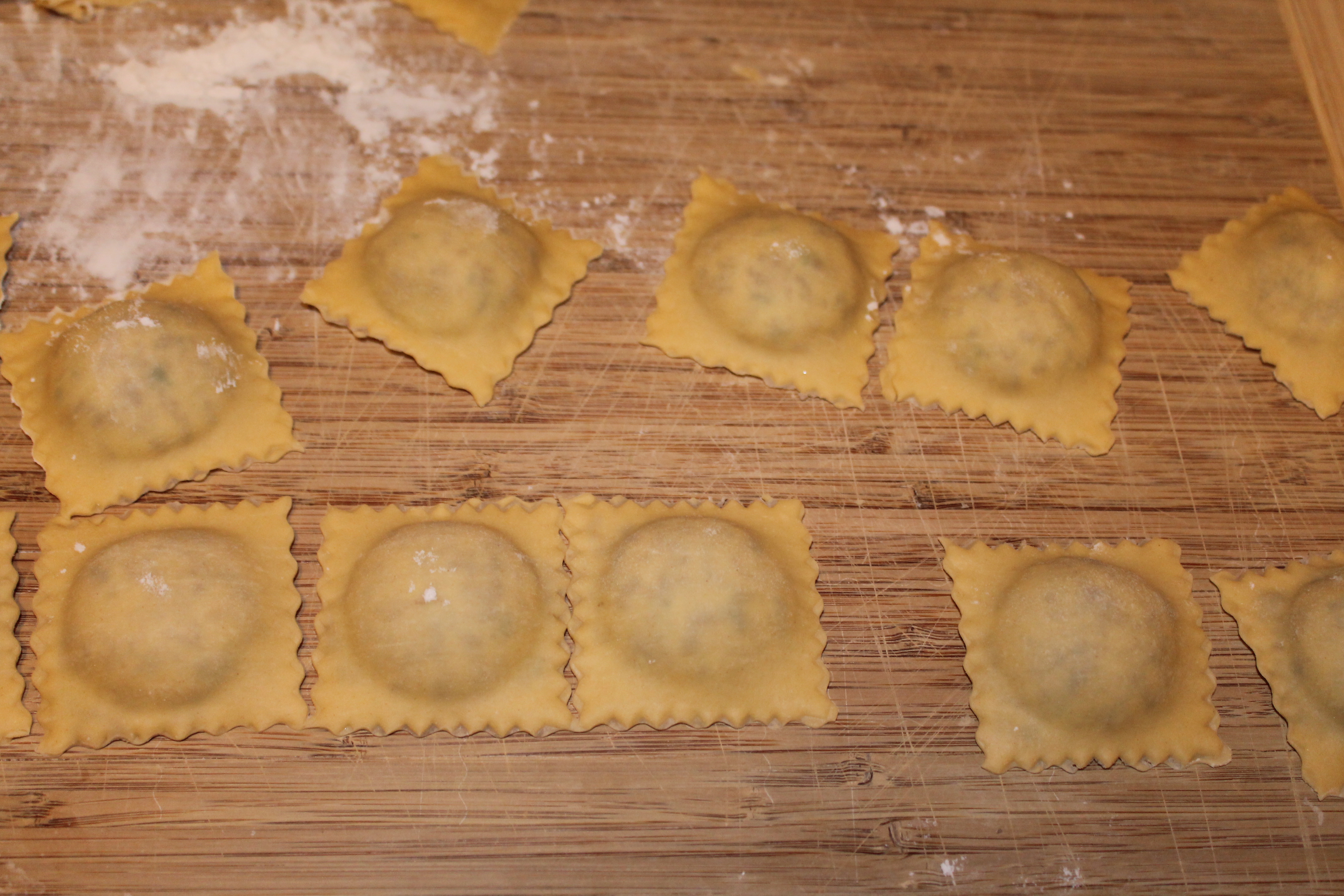 Lay the second half of the pasta you just rolled on top of the filling. Press around the edges of the filling, making sure not to trap any bubbles of air inside the pocket. Use a pizza wheel or pastry cutter to cut out the individual squares of ravioli. Set them aside on a very lightly floured surface. Do not cover them, or the pasta will become sticky underneath the cover! It's okay if they dry out slightly while you repeat the process for the remaining dough and filling.
I have found that one batch of mushroom filling can make about 4 dozen generously filled ravioli, which serves about 4 people (though I don't know if it's normal for one person to consume 6 ravioli while the second person consumes 18…). You will probably have some pasta dough left over, which you can save for another date!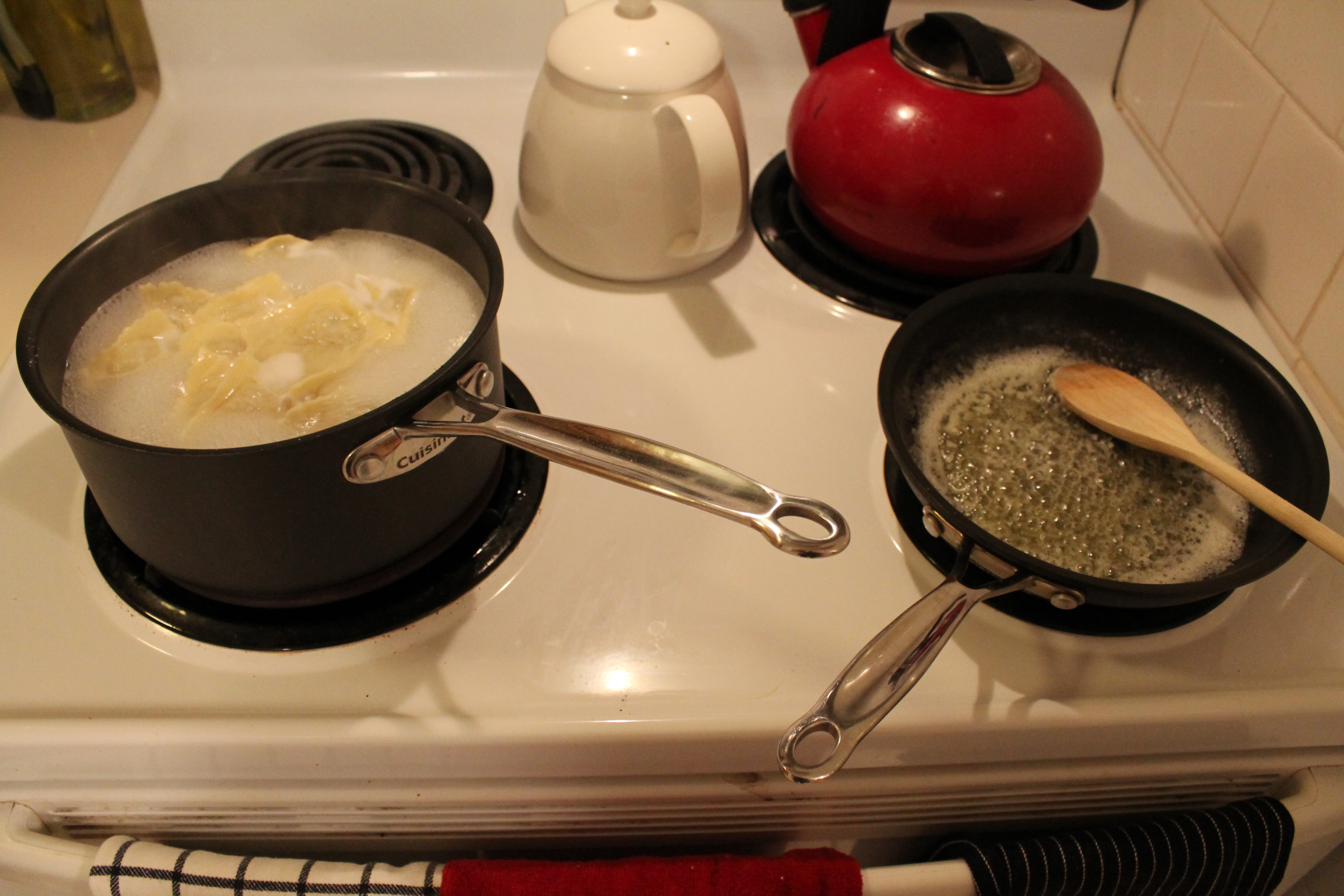 Now boil your ravioli. They will only need about 3–4 minutes in the water. I like to boil mine in batches of 12, that way they are less likely to stick to each other in the pot. Lift them out with a slotted spoon and drain in a colander.
Meanwhile, brown the butter. One stick of butter should make enough to serve four people, but if you are having a romantic dinner for two then I recommend only making half the sauce at a time. Browning butter is easy! Just cut the cold butter into tablespoons, set it into a skillet over medium heat, and stir. Let it bubble a bit and become nutty brown, but don't let it blacken! As soon as the butter is a warm, rich brown, toss in some chopped sage and remove it from the heat. Immediately pour it over the plated ravioli.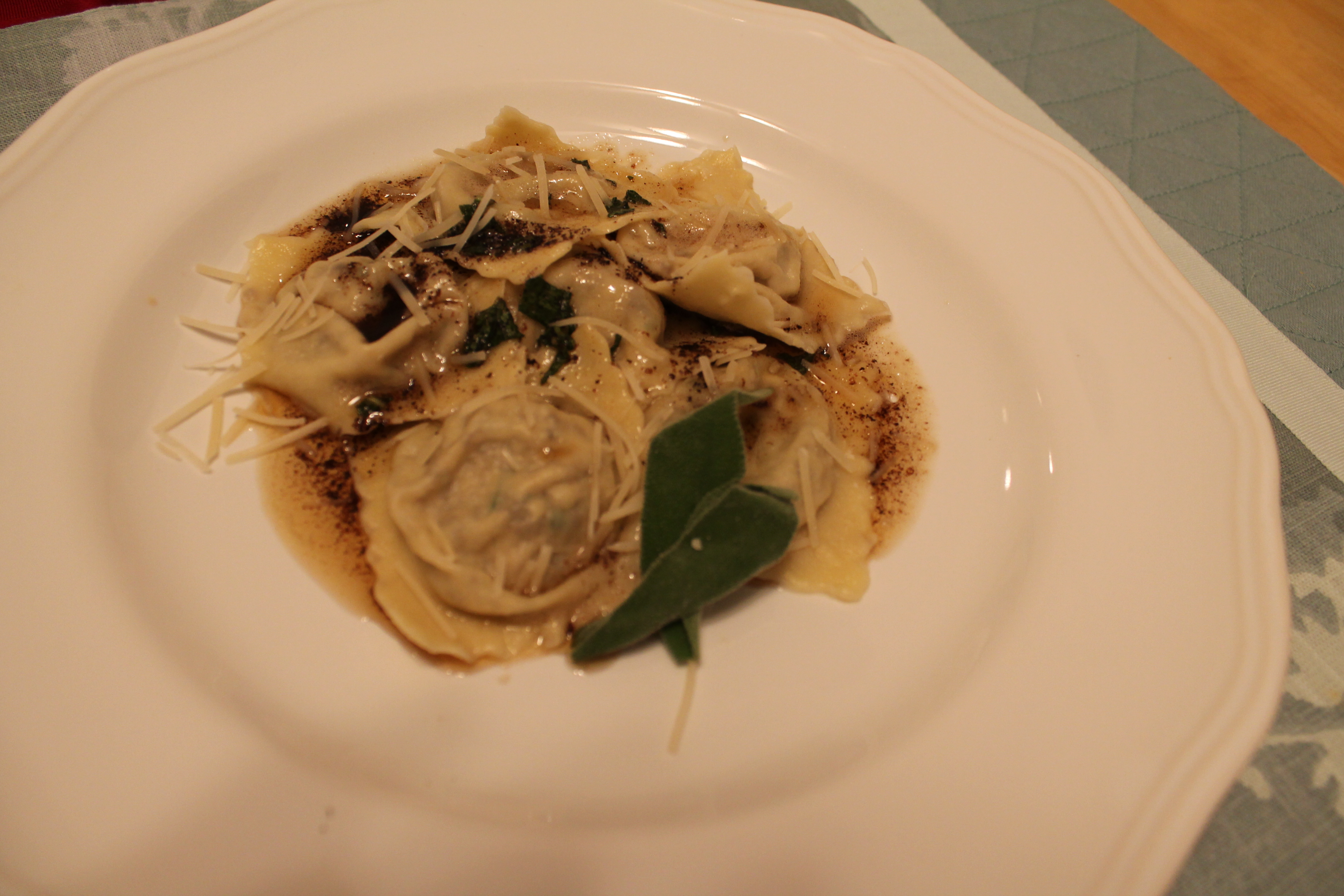 Serve with a light salad and your favorite glass of wine.
Mushroom Ravioli with Brown Butter Sage Sauce
lightly adapted from The Complete Book of Pasta and Noodles
serves 4
Pasta Ingredients:
2 cups flour
3 eggs, beaten
Filling Ingredients:
2 tbsp. olive oil
2 cloves garlic, minced
8 oz. baby bella mushrooms, finely chopped
3 oz. maitake mushrooms, finely chopped
2 tbsp. minced fresh parsley
1 tbsp. minced fresh sage
1 cup ricotta
⅓ cup shredded parmesan
1 egg yolk
Sauce Ingredients:
½ cup unsalted butter
2 tbsp. chopped fresh sage, or to taste
parmesan, for serving
Directions:
Pulse the flour in a food processor to evenly distribute and aerate. Add the eggs. Process until the dough forms a rough ball, about 30 seconds. (If the dough resembles small pebbles, add water ½ tsp. at a time; if it sticks to the side of the bowl, add flour 1 tbsp. at a time.)
Turn the dough out onto a clean work surface and knead until smooth, about 1 minute. Cover with plastic wrap and set aside for at least 15 minutes or up to 2 hours.
Meanwhile, prepare the mushroom filling. Heat the oil in a medium skillet. Add the garlic and sauté over medium heat until golden, about 2 minutes. Add the chopped mushrooms and cook until wilted, about 4 minutes. Stir in the fresh parsley and sage, and season to taste with salt and pepper. Continue cooking until the liquid completely evaporates, about 2 minutes more.
Remove the pan from the heat and transfer the contents to a medium bowl. Cool slightly.
Stir in the ricotta, parmesan, and egg yolk. The filling can be refrigerated overnight or used immediately.
When ready to roll the pasta, cut off about a quarter of the dough and flatten into a rectangle. Rewrap the remainder. On a floured surface, roll out the dough until it is about 4–6mm. thick.
Run the dough through the widest setting of the pasta roller. Bring the ends of the dough together and press down to seal. Run the dough, open side first, through the widest setting again. Fold, seal, and roll again. Without folding, run the pasta through the widest setting 2 times more, or until the dough is smooth. If at any point the dough is sticky, lightly dust with flour.
Continue to roll the dough through the pasta roller, narrowing the setting each time until you use the smallest setting. Lay the sheet of pasta out on a clean kitchen towel and cover with a damp cloth to keep it from drying out while you shape the pasta and/or roll more dough.
Grab a pizza wheel/pastry cutter and (optionally) a ravioli frame to shape the pasta with. Cut the rolled dough into large rectangles about 4″ wide and 12″ long. Drop small balls of filling (about 1 scant tbsp.) onto the pasta rectangle, two wide and six long. Leave at least 1½″ between each ball of filling.
Lay a second rectangle of pasta over the filling layer. Seal the edges around each ball of filling.
Cut into squares with whatever cutter you have available.
Boil the ravioli, about a dozen at a time, for 4 minutes.
Meanwhile, melt the butter for the sauce in a skillet. Cook over medium heat, swirling the pan, until the butter turns brown. Remove from the heat and add in the chopped sage. The butter will bubble up and lightly brown the sage as well. Keep the sauce warm until ready to serve
Using a slotted spoon, transfer the ravioli from the pot to plates. Top with sauce and a sprinkle of extra parmesan.
Enjoy!