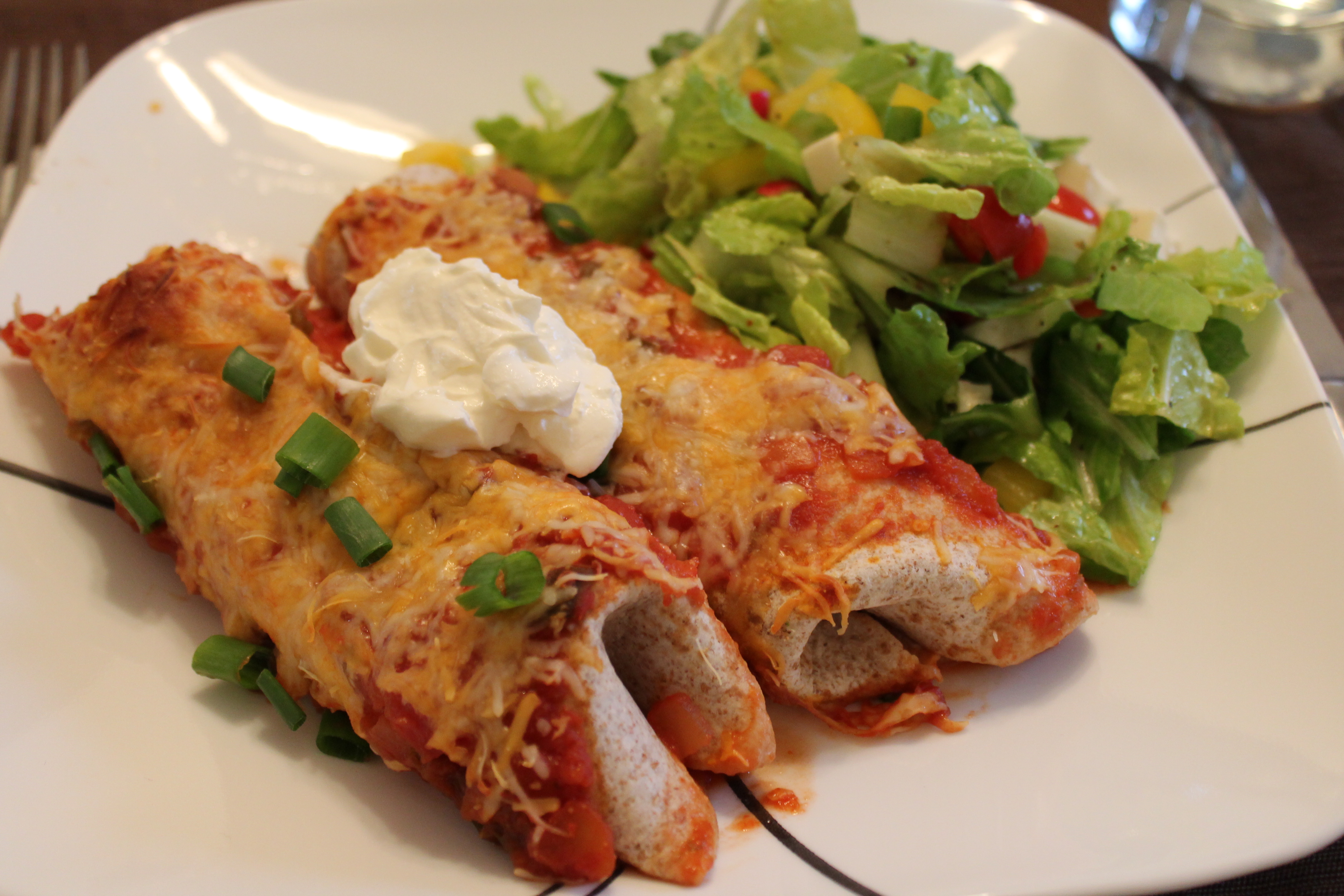 One of the unexpected perks of being a stay-at-home mom is getting to have near-weekly lunches with my foodie friend Sarah of Well Dined!
Often when we get together, we view it as an opportunity to make something complicated (I think we like to show off for each other), or something our husbands would never eat. But a few weeks ago, we were craving something simple, full of veggies, and…yes, let's admit it, cheesy.
Sarah tracked down a recipe for veggie enchiladas, and boy am I glad she did! With a few quick alterations (who has patience for a slow cooker at lunch time?), we were on our way to a delicious lunch.
You can make these enchiladas for lunch or dinner. They are super quick to put together and go well with a salad!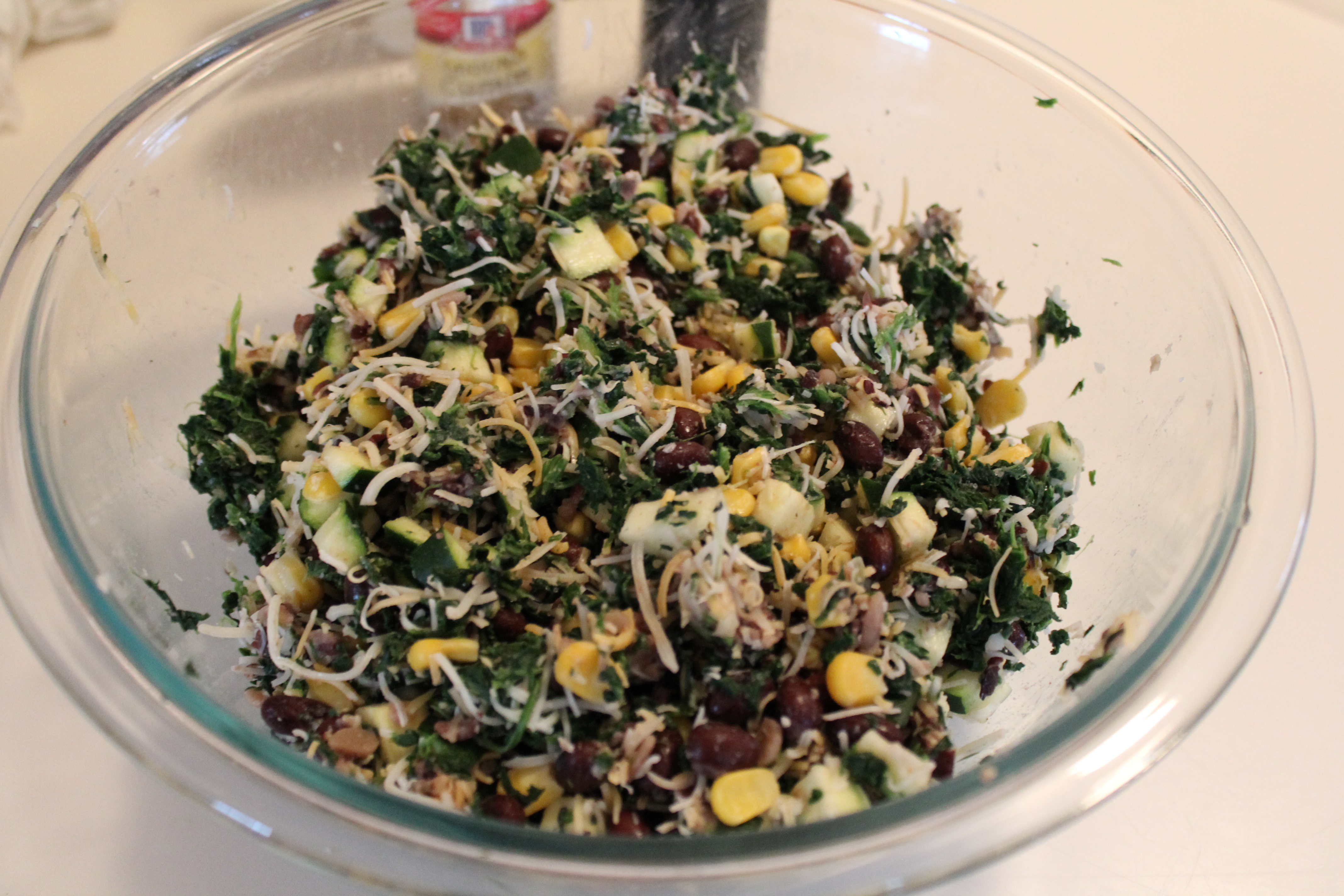 Mixing together the filling is a snap. Just mash up half of the beans with a fork or potato masher, then stir in the thawed spinach, frozen corn, diced zucchini, half of the cheese, and some spices.
Pour half of the salsa in the bottom of a large baking dish. If you want to make it easy on yourself, you could buy two small jars; if you want to save 30¢, you could buy a large jar and just guesstimate. Also, feel free to buy whatever spice level you like best!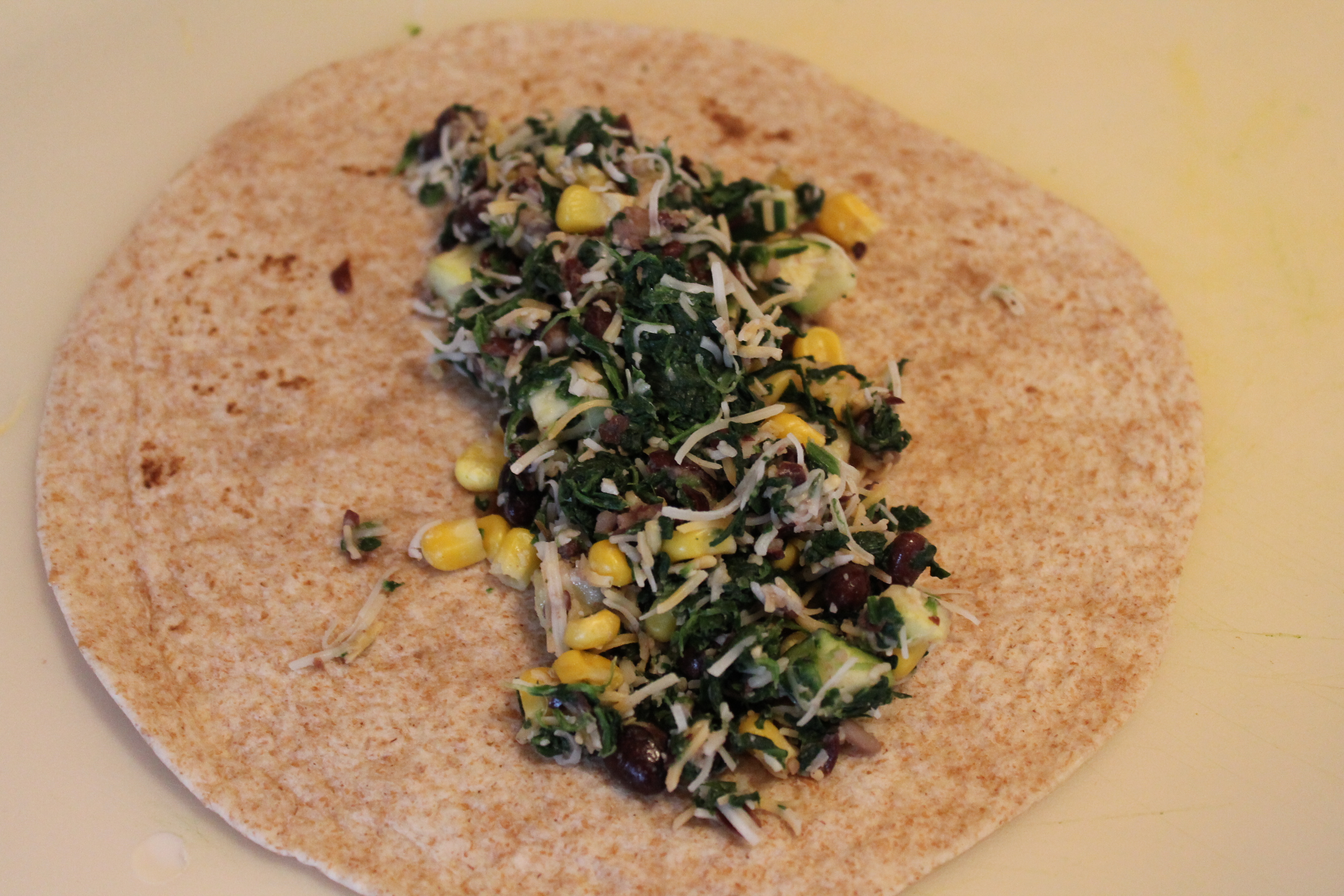 Roll up the filling inside the tortillas. We ended up using 9 tortillas…I guess we were a little skimpy on the filling to start with! To roll the tortillas, make a stripe of filling, then fold the ends over the top and bottom of the stripe. Tuck one side around the filling, then roll over the other side.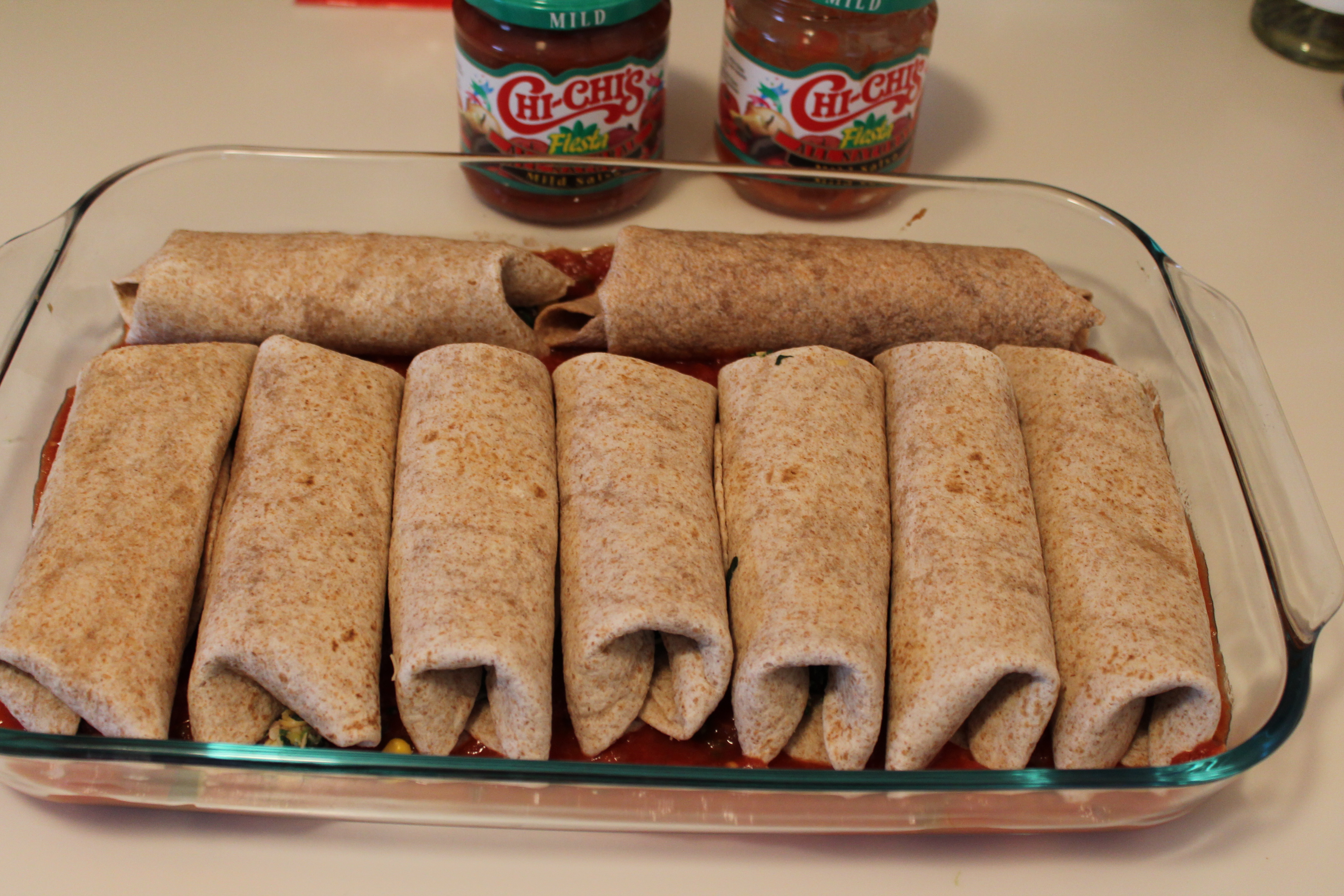 Place the enchiladas seam-side down into the salsa.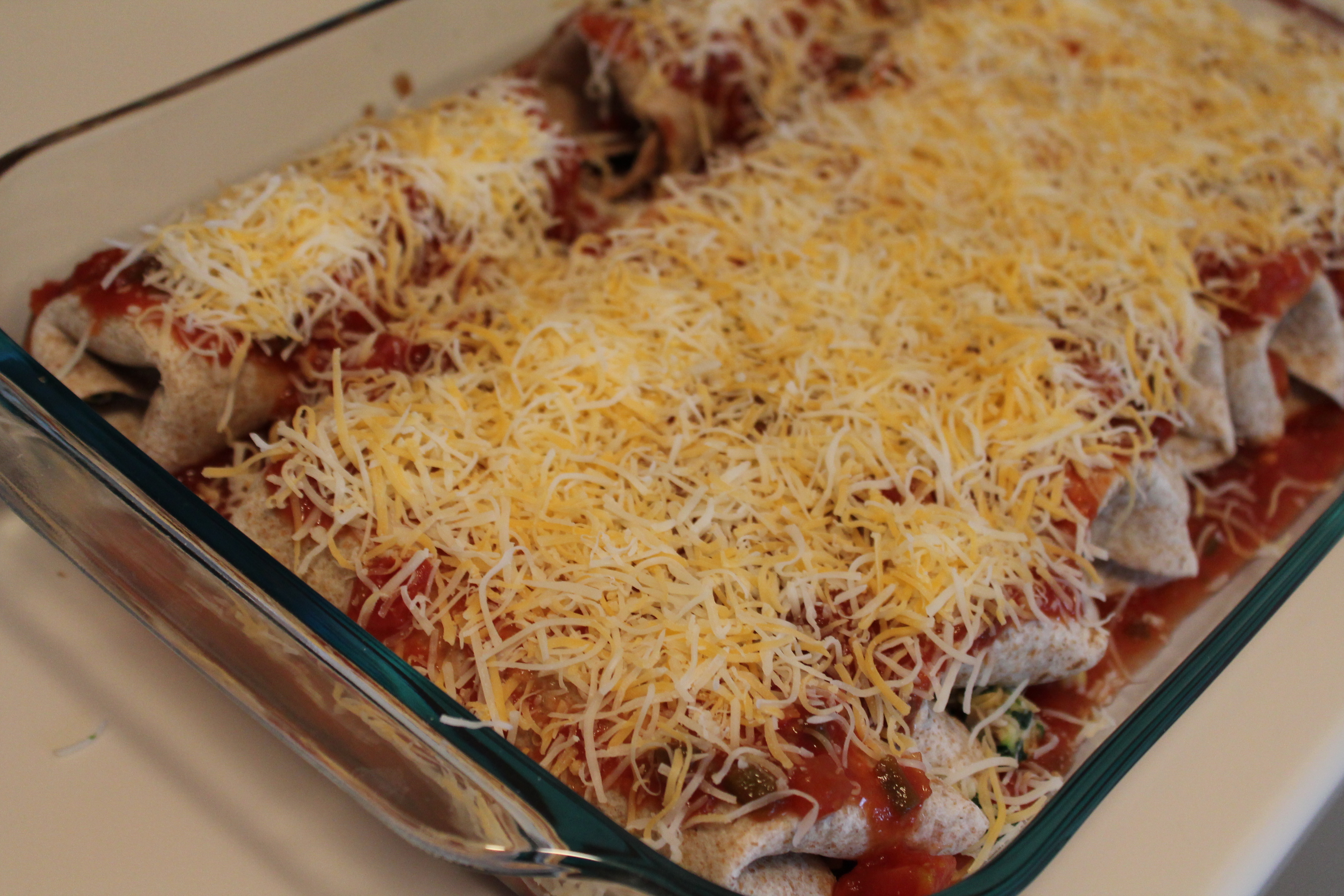 Top with the remaining salsa and sprinkle with the rest of the cheese. We used a fancy Mexican cheese blend that had monterey as well as cheddar.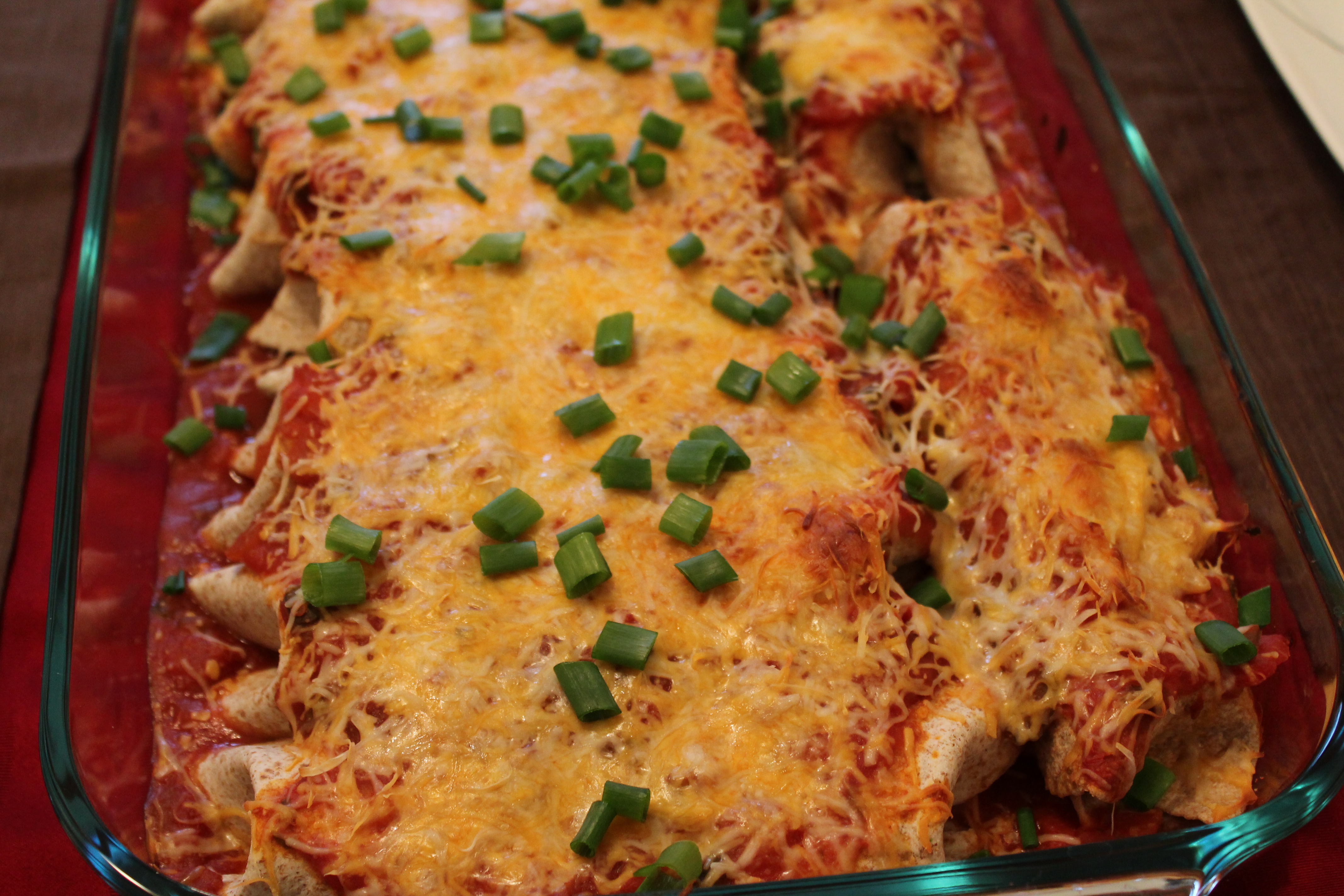 Bake for 30 minutes at 375°, or until the cheese on top is nice and bubbly. Remember that the enchilada fillings don't actually need to be cooked (which is not to say you don't want them hot!…just that there is nothing raw inside there), so you can actually take the enchiladas out of the oven whenever you are ready to eat.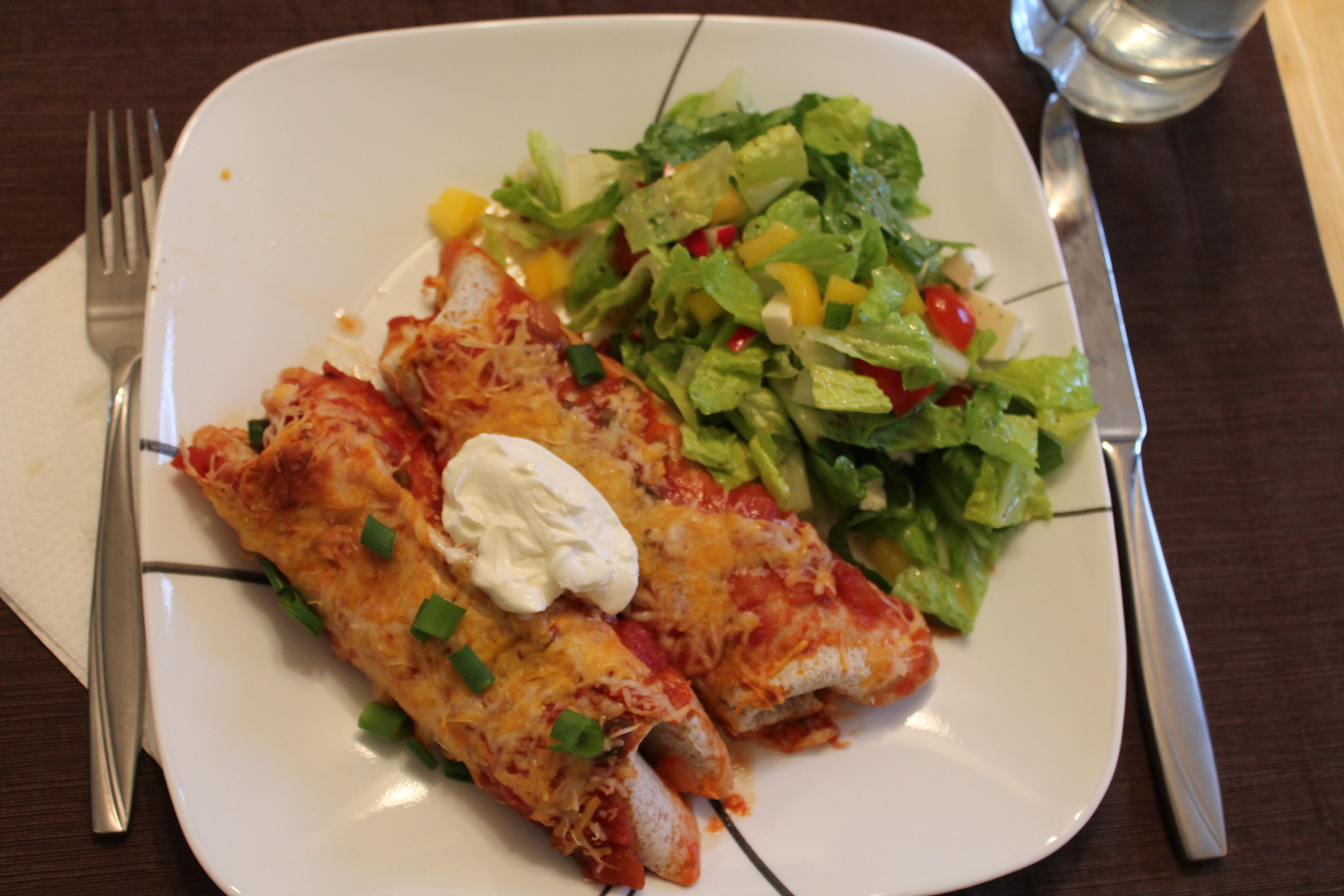 Top with sliced scallions and a hearty dollop or two of sour cream. Yum.
Spinach and Black Bean Enchiladas
adapted from Real Simple
serves 4
Ingredients:
1 15oz. can black beans, drained and rinsed, divided
1 10oz. package frozen chopped spinach, thawed and squeezed of excess liquid
1 medium zucchini, diced
1 cup frozen corn
2 cups (about 8 oz.) grated cheddar or Mexican blend cheese, divided
½ tsp. cumin
½ tsp. salt
¼ tsp. black pepper
2 16oz. jars medium salsa
8 8ʺ whole wheat tortillas
scallions
sour cream
Directions:
Preheat oven to 375°.
In a medium bowl, mash half of the beans. Add the spinach, zucchini, corn, 1 cup cheddar, the remaining beans, cumin, and salt and pepper. Mix to combine.
Spread 1 jar of the salsa in the bottom of a 9ʺx13ʺ baking dish.
Fill each tortilla with about ½ cup of the spinach mixture, then fold up the ends and roll into logs. Place seam-side down in the baking dish. Top with the remaining jar of salsa and 1 cup cheddar.
Bake 30 minutes, or until cheese is bubbly and beginning to brown.
Serve topped with sliced scallions and sour cream.
Enjoy!
One year ago: English Muffins
Two years ago: Mascarpone Brownies