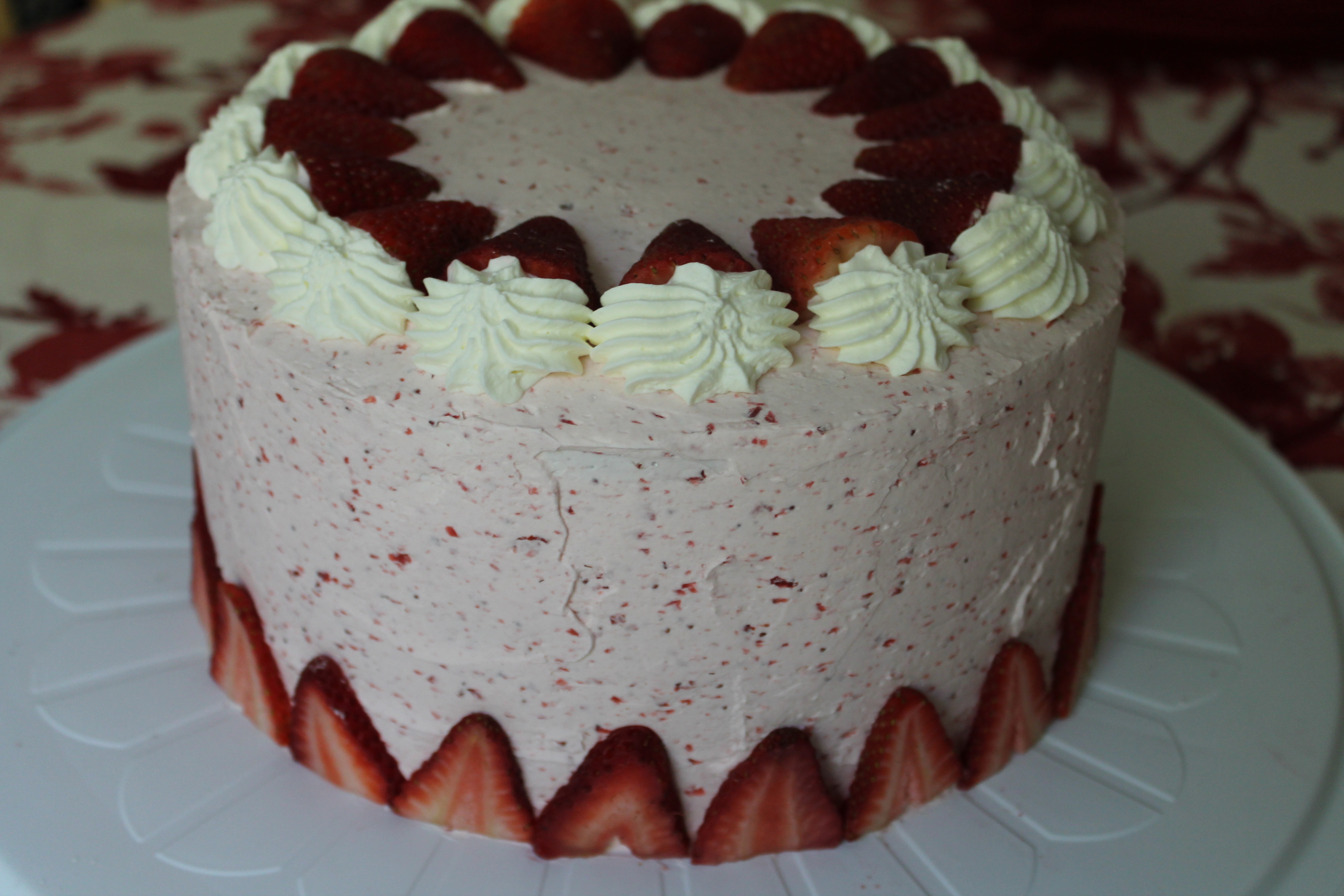 Well by now, you probably all know how much I hate fruit.
But if you ever met my dad, you would seriously wonder how I turned out this way! He never met a fruit he didn't like. In fact, he prefers fruit over chocolate (gasp)!
So this year I got to play the host for my dad's birthday celebration. He requested an amazing meal…none of which I ate. Pork chops with white balsamic glaze, baby potatoes and peas with bacon, applesauce, and strawberry cake. Not the most Melissa-friendly meal, but honestly I was delighted to prepare it for him!
The crowning glory of any birthday meal, of course, is the cake. And I have to admit that even though strawberries are my second least favorite fruit, they sure do make a beautiful cake!
I hear it's strawberry season. You should go buy a few cartons of fresh strawberries at your local farmer's market (yay! they just opened in our area!) and set in on making a towering cake filled with strawberries and cream and frosted with a light strawberry Swiss buttercream. I hear it will be delicious 😉
The base of this cake is Rose Levy Berenbaum's Downey Yellow Butter Cake. Yum! It's light and airy. It has a very mild flavor, which means that it fits perfectly with ripe strawberries and sweet cream.
I have long been searching for the perfect yellow cake recipe…I am not sure that this is it, but it sure is delicious! And honestly, I find it pretty simple to make, despite the fact that it requires separating eggs and using cake flour. It is definitely going to be a repeat cake recipe!
You can watch a great video of Rose herself demonstrating how to make this cake.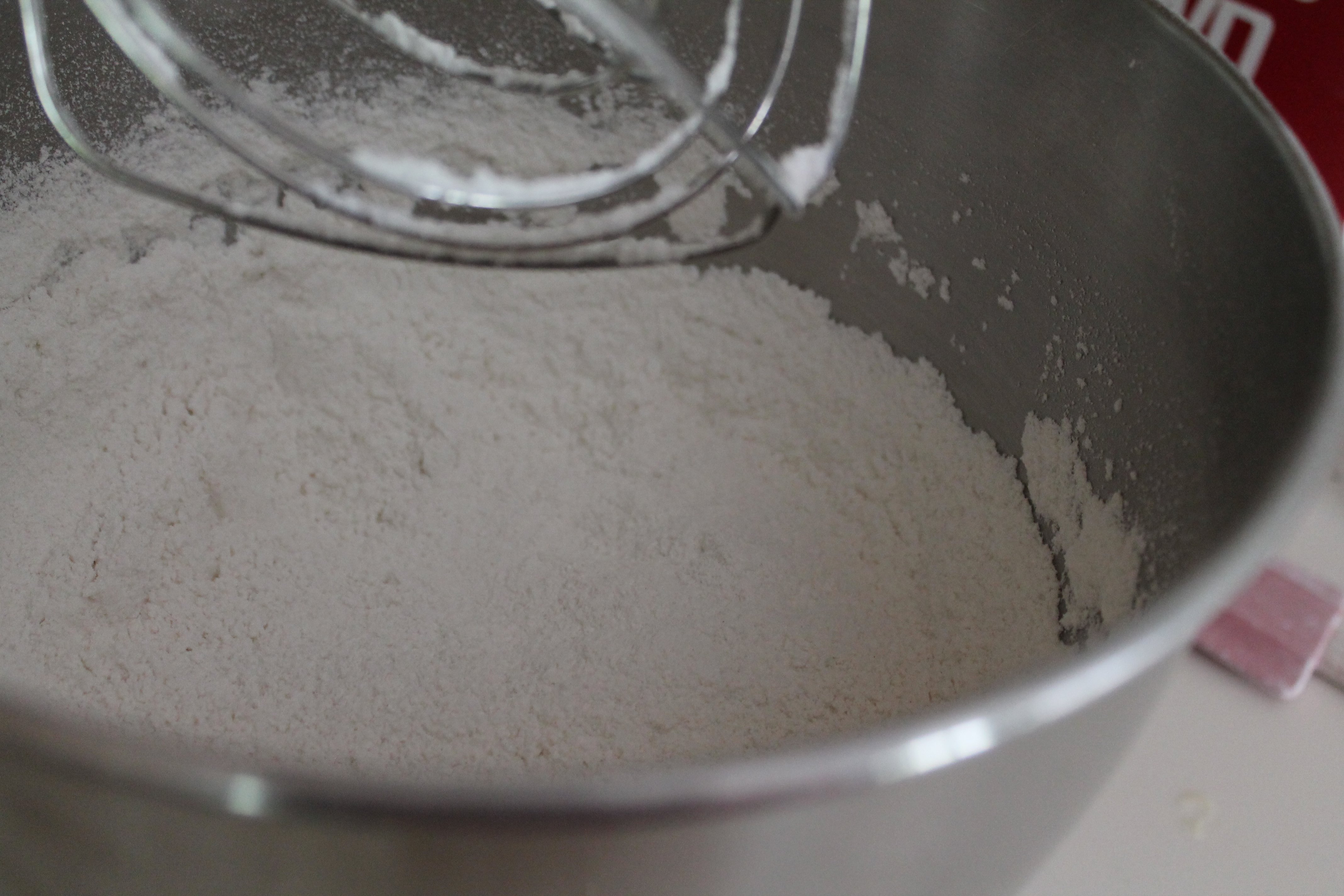 Start by whisking together all the dry ingredients. Have you ever wondered why some cake recipes call for you to sift together the dry ingredients before mixing them with the wet? It's so that the salt and leavening (and cocoa powder, if your cake is chocolate) will be evenly mixed into the flour. Also, it aerates the flour, which allows the cake to be—you guessed it—airy! But in fact, sifting ingredients together does not necessarily mix them evenly. Rose contends that it's better to just whisk them together, which accomplishes both mixing and aerating all at once. Hooray!
Stir the room temperature butter and ¾ cup milk into the flour mixture. You should rather quickly end up with a very dense, almost doughy batter. Continue to beat for 90 seconds to develop the cake's structure. (Alas, I forgot to take a picture of this. Sorry!)
Meanwhile, separate out 6 egg yolks. Save 4 of the whites for your frosting! (Okay, so I made a half recipe of frosting, because my dad is not normally a big fan of lots of sugary sweet frosting on his cakes. If you decide to make a half recipe of frosting, too, then you only need 2 whites.)
Mix the yolks with the remaining ¼ cup milk and the vanilla.
Stir the yolk mixture into the batter in 2 batches. Mix for 20 seconds after each addition and scrape the sides of the bowl thoroughly. Make sure not to leave any of the yolk out of the cake!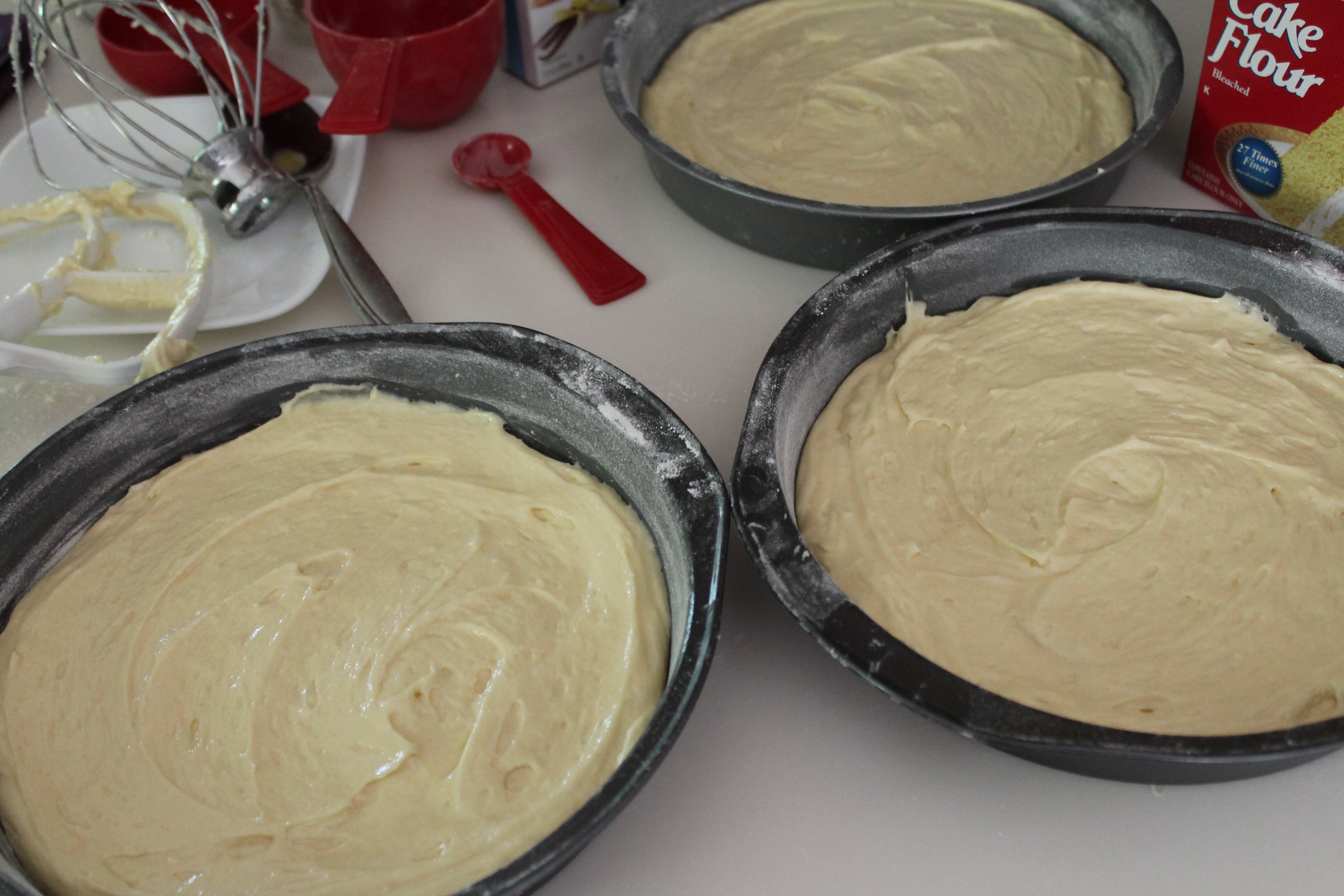 Prepare three 9″ round cake pans by greasing and lightly flouring. Divide the cake batter evenly among the pans.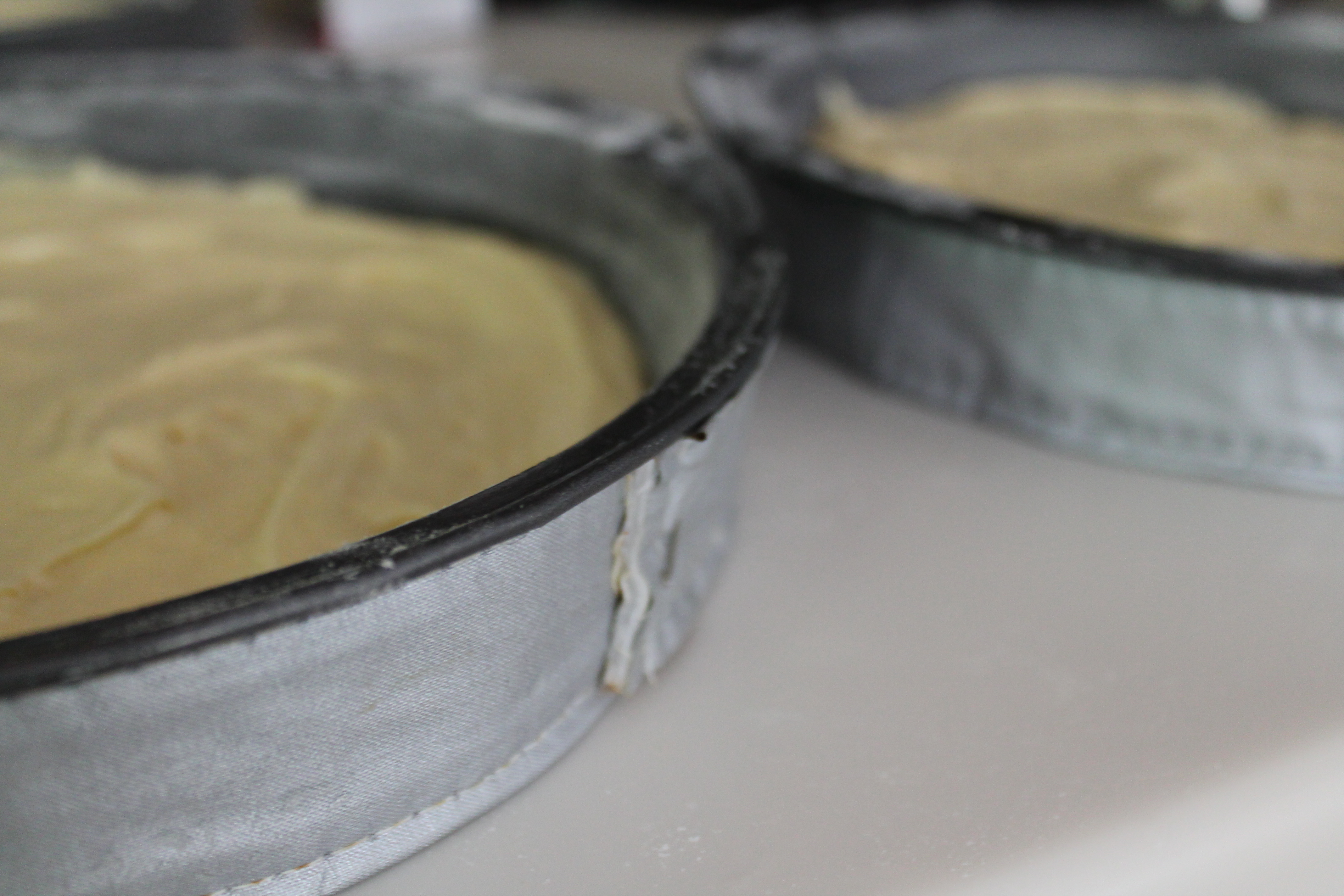 If you have baking strips, go ahead and use them on this cake! It will be so much more beautiful if all the layers are even instead of domed. I actually only have 2, so my top layer was a little bit domed, but it did make for easier stacking and frosting that the other two were flat.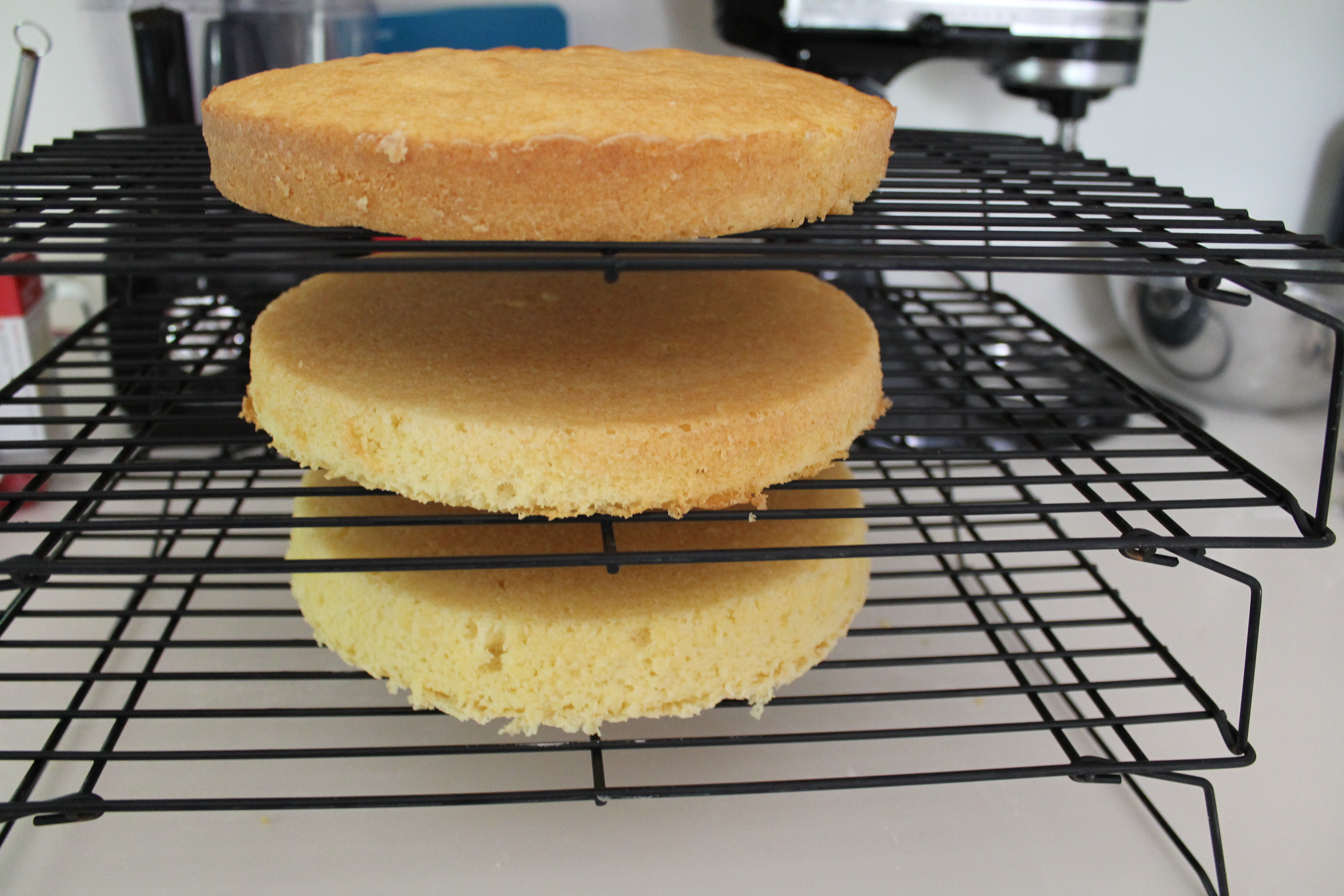 Bake for 20–24 minutes at 350°. Check the cakes with a toothpick to make sure they are done. They should be lightly golden on top, and will begin to shrink away from the edges of the pan slightly as they cool.
Cool 10 minutes in the pan, then run a knife around the edge to release and turn onto wire racks to finish cooling.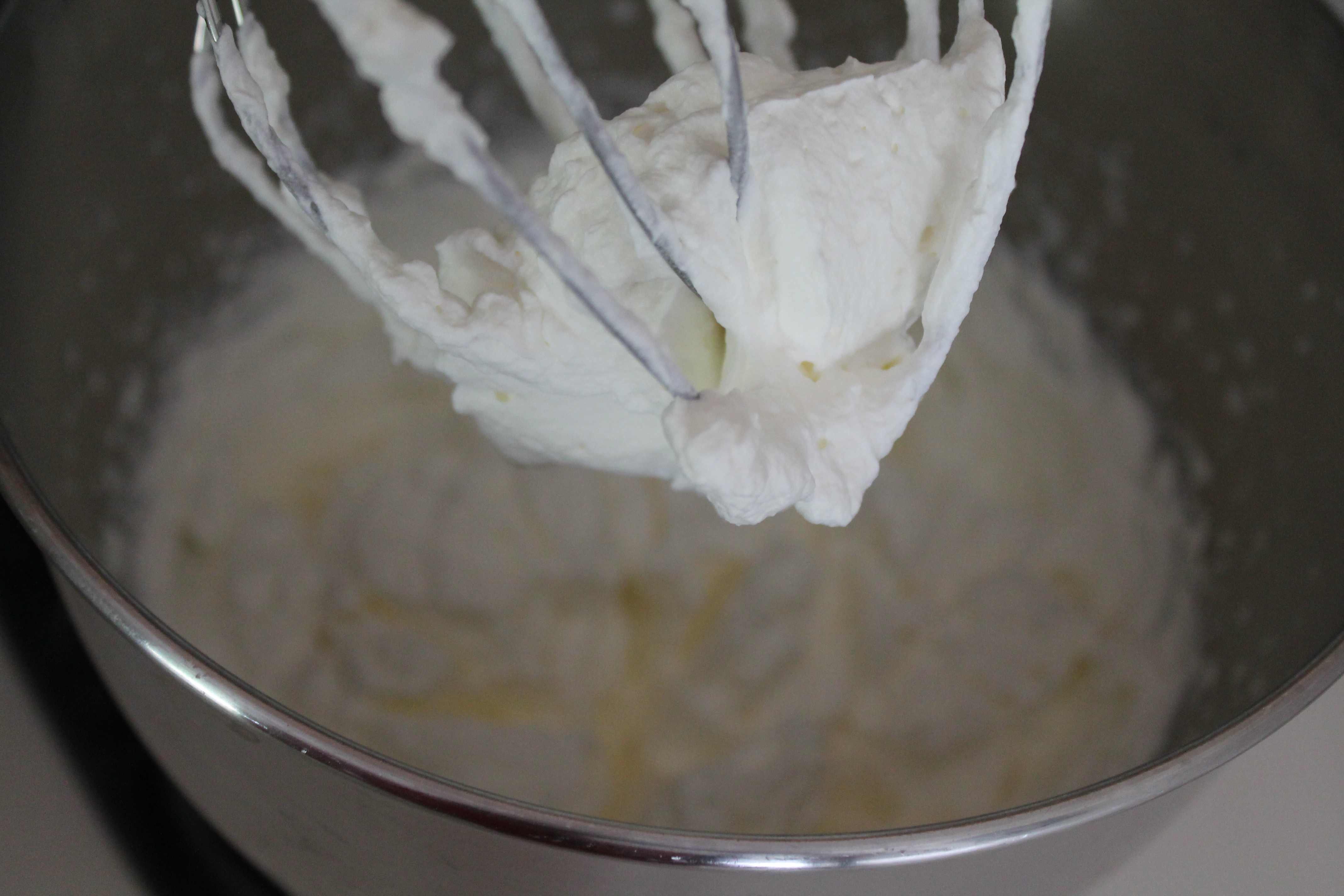 Meanwhile, beat 2 cups heavy cream on high speed in a stand mixer fitted with a whisk attachment. When very soft peaks form, add the sugar (please be brave and go for regular, granulated sugar here! The flavor is better, and I promise the cream will NOT be gritty!). Mix until stiff, almost chunky peaks form.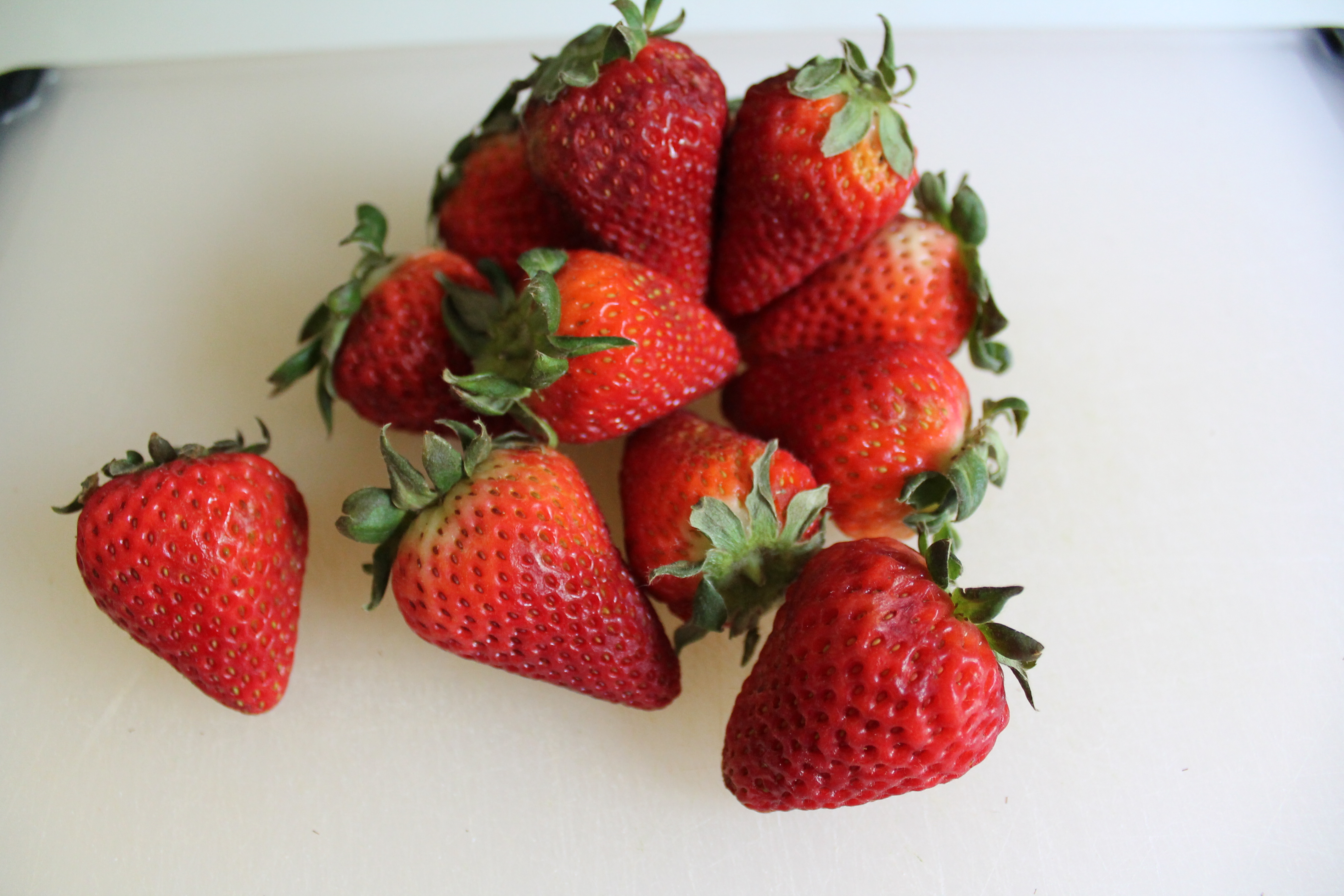 Now, the dreaded strawberries. I bought 4 lbs. of strawberries, which is way too many for this cake, because I was also making sugared sliced strawberries to serve with sweet cream ice cream. And my hubby likes strawberries an awful lot, so I knew he would be very happy to eat the leftovers. But the major advantage of buying so many strawberries was that I could really cull through and select the very best for this cake. You really only need about 1½ lbs. for this cake, even if you make the full frosting recipe.
I started by setting aside about 10 of the prettiest, reddest smaller strawberries to use as decoration on the outside of the cake. Then I divided the remaining strawberries (about 1 lb.) into the very ripest and the somewhat less ripe. It's important to use the very ripest strawberries in the Swiss buttercream in order to get the most vibrant strawberry flavor (and the best pink color!).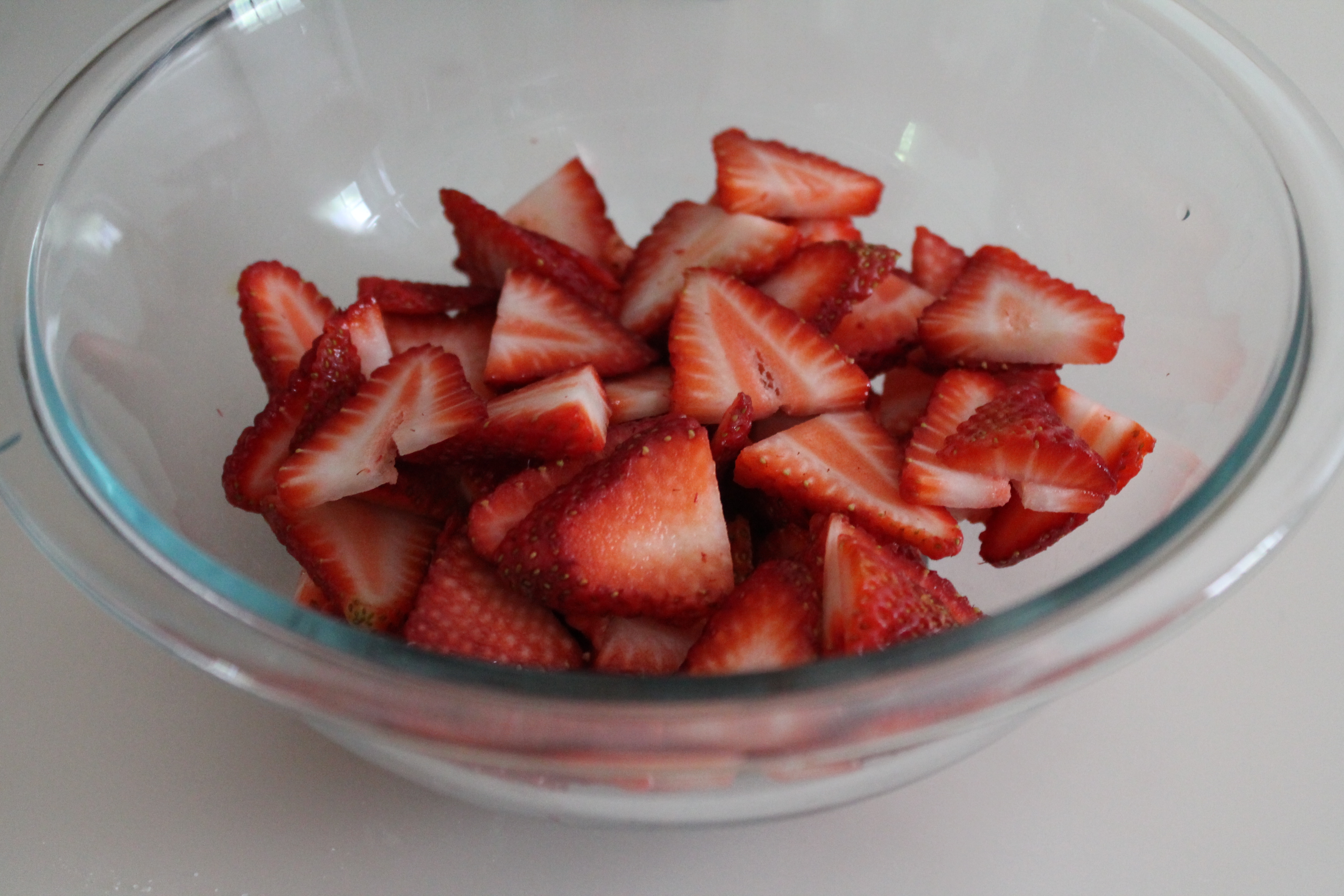 So, grab your pile of less ripe, less beautiful strawberries. Slice off the green tops and then thinly slice each berry.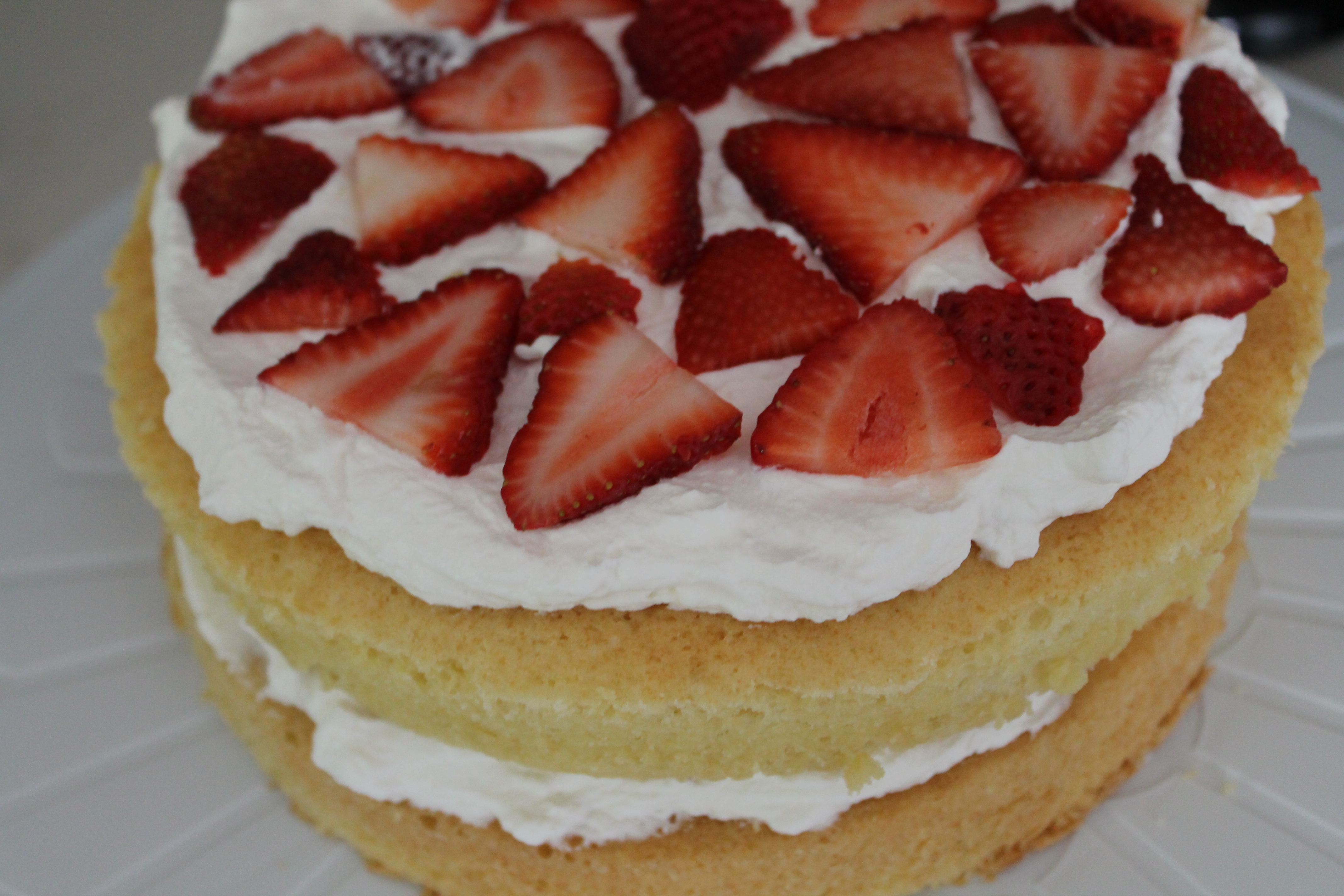 When the cake layers are cool, set the first layer onto a serving platter or cake keeper. Spread a thick layer of fresh whipped cream over the cake, about 1½ cups worth, leaving a little edge of cake visible. Top with about half of the sliced strawberries, placing them as close together as you can.
Repeat with the second layer of cake, whipped cream, and strawberries. You should still have about 1 cup of whipped cream left over for decorating the cake.
Top with the final layer of cake, and then cover the cake so it won't dry out while you are making the Swiss buttercream.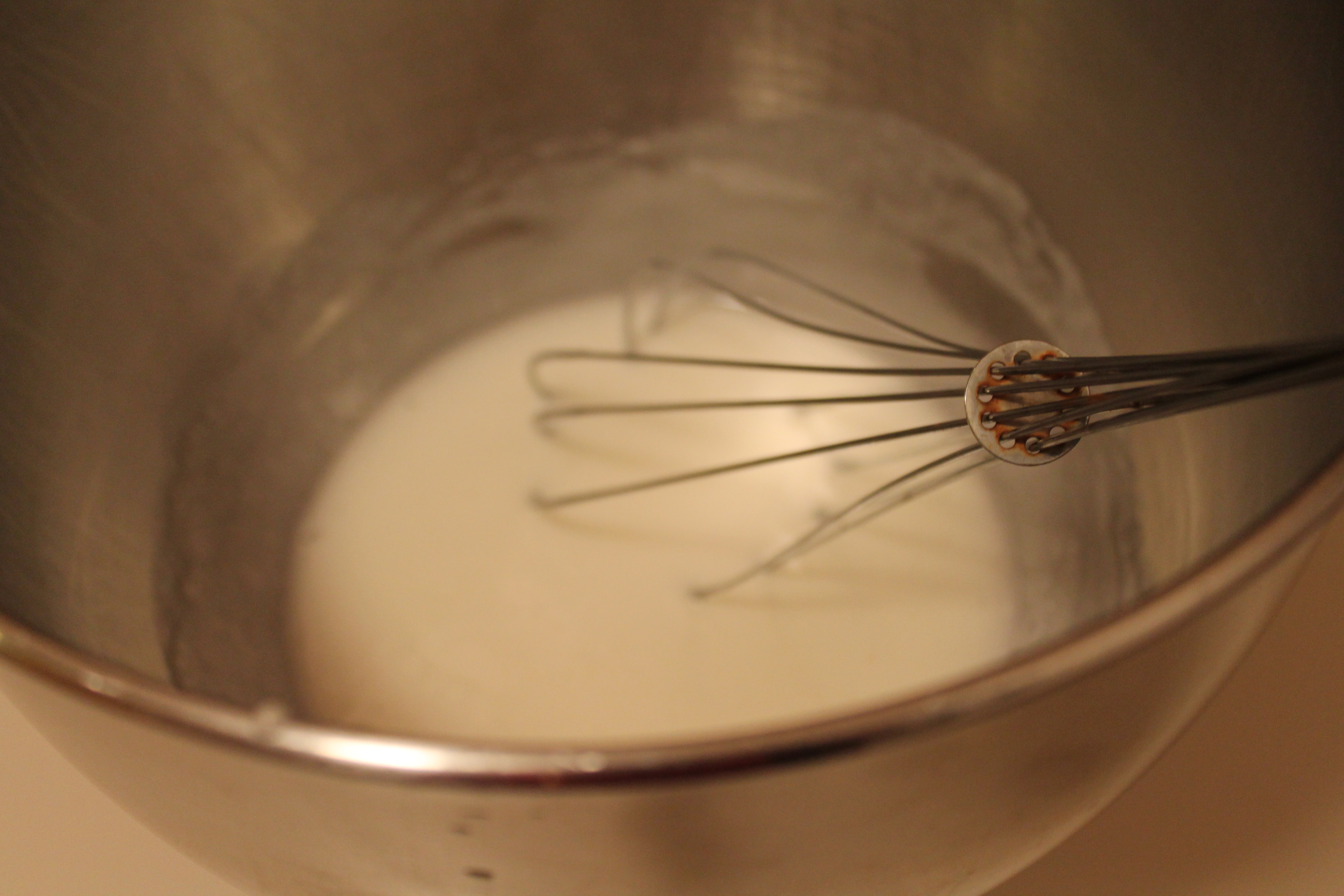 Let's not be scared of meringues and buttercreams. I promise that even though this frosting has several steps, you can do it! And you will be so pleased by the smoothness of the texture and the bright but not too sweet flavor.
First, get out a small pot and fill it with a shallow layer of water. Bring that to a simmer. Then combine 4 egg whites (remember, I only made a half recipe here, so I used 2 egg whites) with granulated sugar in your mixer bowl. Set the bowl over the simmering pot of water and whisk away until the sugar is dissolved. You will suddenly realize that the egg whites feel thinner and the whisking is requiring a lot less effort. This is the point where you take them off the stove!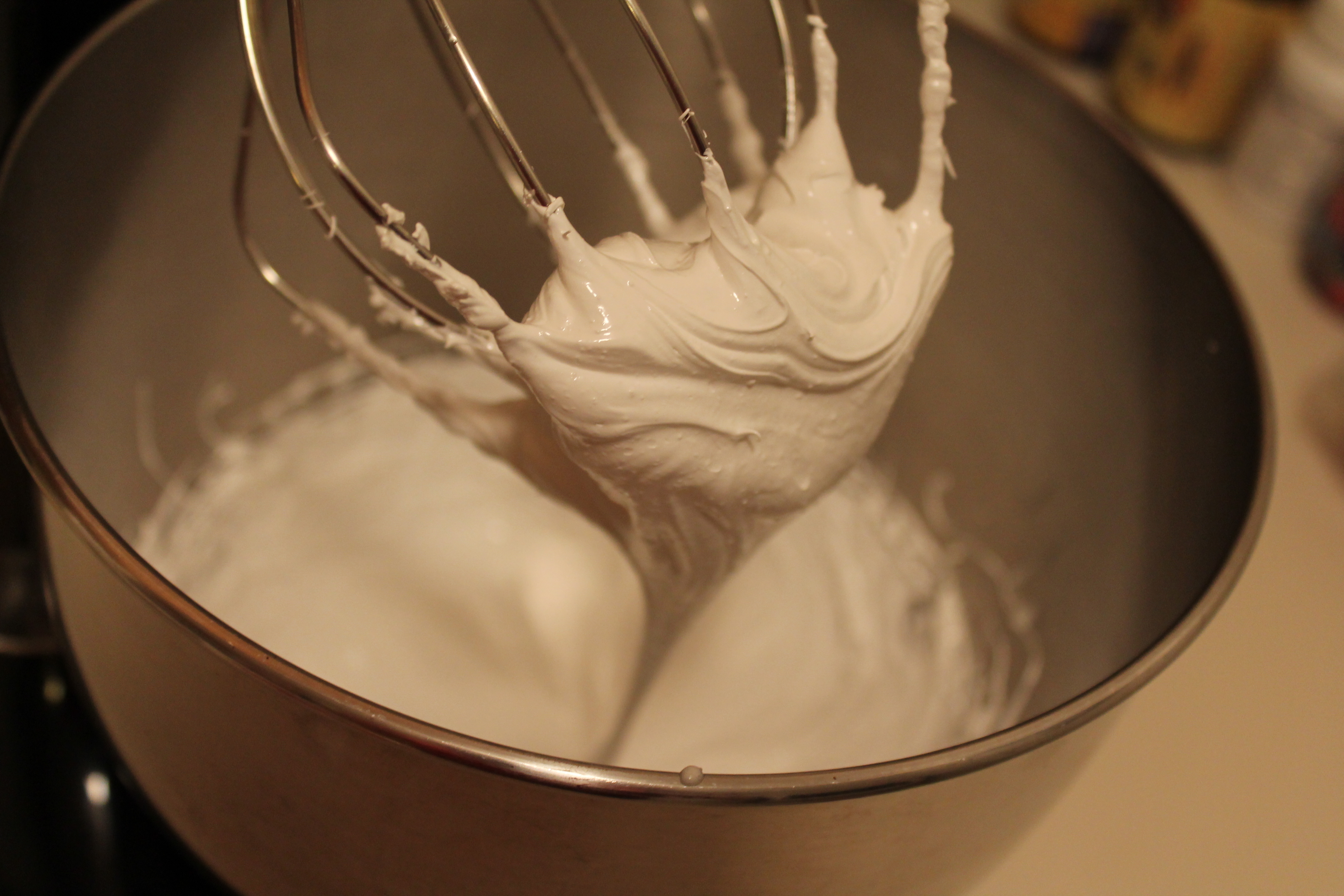 Put the mixer bowl directly into your stand mixer and whisk on high speed for about 8 minutes, until the bowl is cool to the touch and the whites have formed into a silky, glossy meringue. Even if your meringue looks done earlier, be sure to wait until the bowl is completely cool before moving on.
While the meringue is beating, trim the super ripe strawberries and puree them. Really get them as soupy smooth as possible! Set the puree aside for later.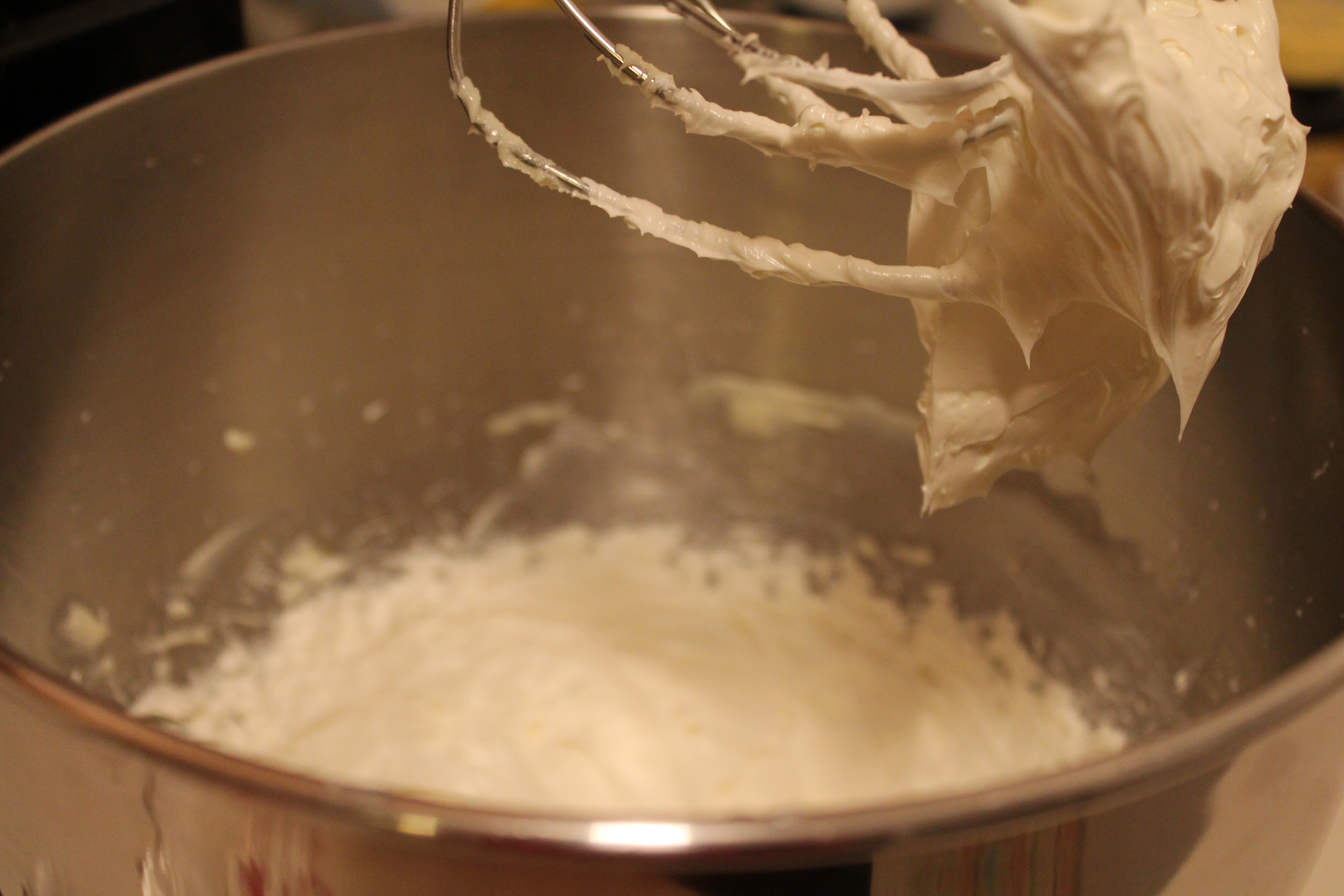 When the meringue is cool, add in the room temperature unsalted butter, about 2 tbsp. at a time. Your frosting may start to look a little weird. Sometimes mine starts to look curdled…sometimes it gets soupy. Don't stress! Just keep adding the butter. Then walk away. Seriously, just walk away for 5 or 10 minutes. You can't really overbeat it, and I promise that whatever weirdness is going on in your bowl will have completely resolved and magically turned into a thick, spreadable frosting when you come back.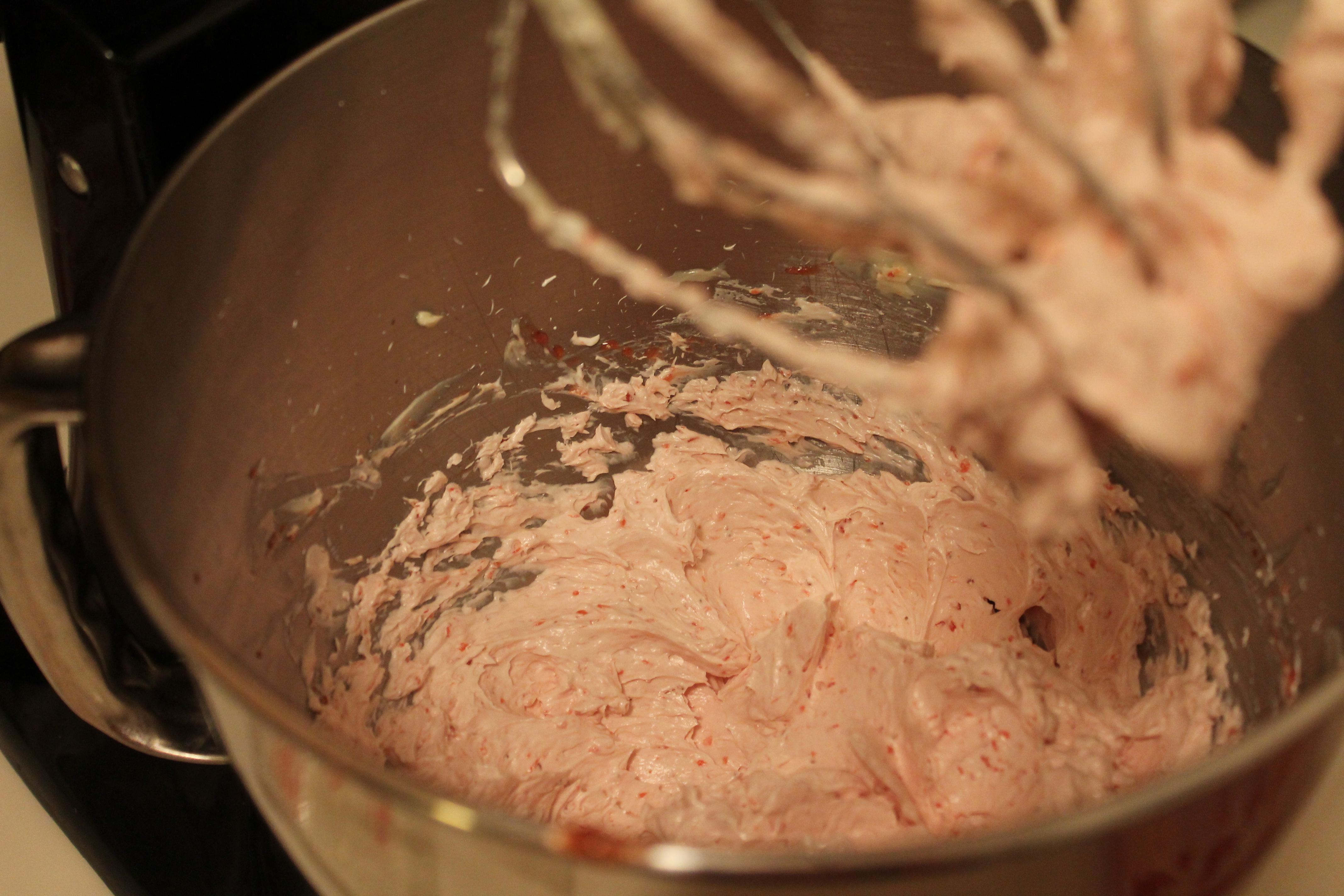 Now that you have a proper frosting, you can add in the strawberries to taste. What I've found is that it's not really possible that you will add so much liquid as to throw off the texture of the Swiss buttercream. Go ahead and add as much as you need to achieve the intensity of strawberry flavor you desire. You shouldn't need more than 8 oz. of very ripe strawberries, but if you have slightly less ripe berries, you may need a bit more. You could also add a smaller amount for a more creamy, pale frosting. Up to you! Just mix well, and you are done.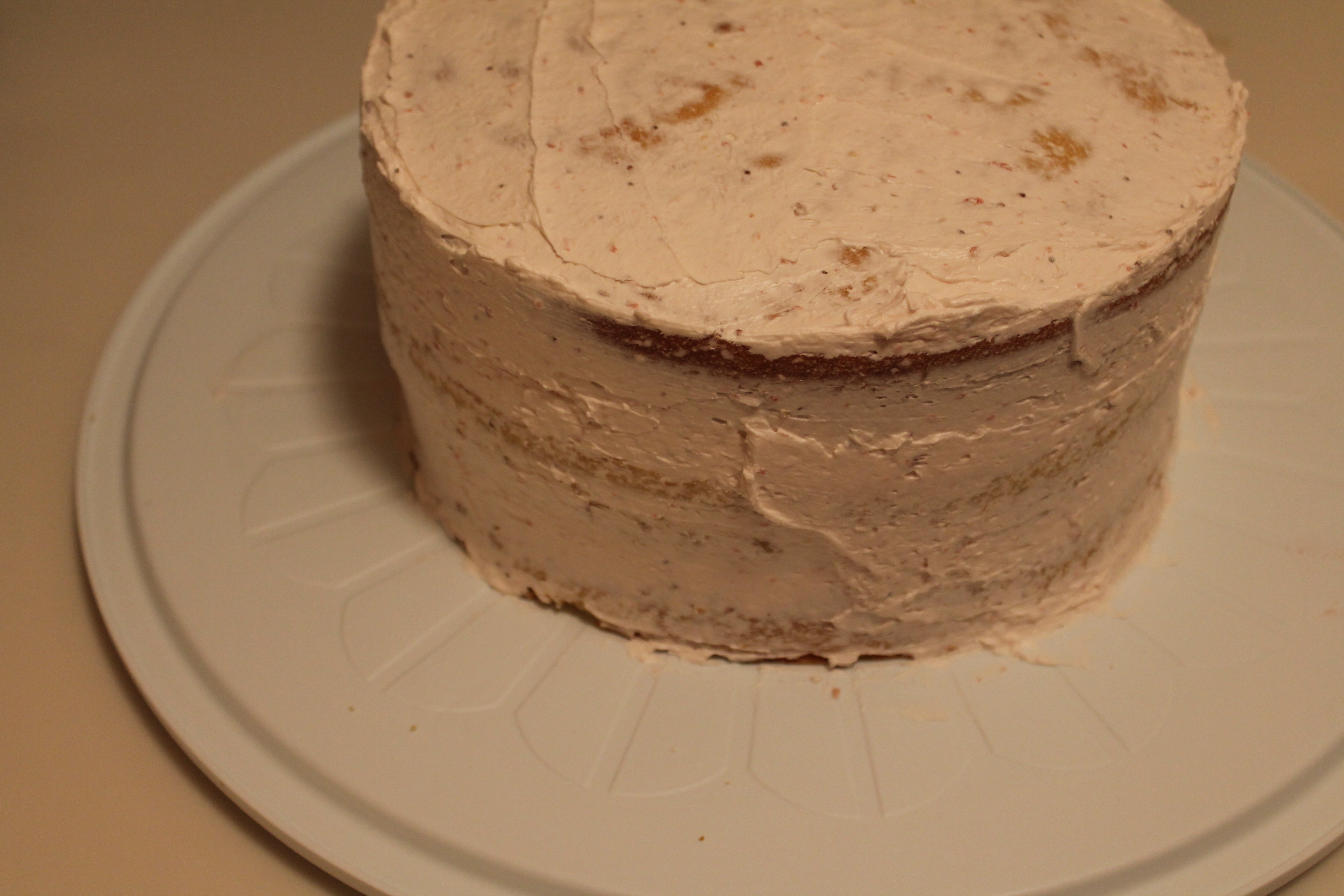 So this cake really could use a crumb coat, which sticks all of the crumbs from the edges of the cake down so that your final cake doesn't look crumby. Plop about half of the frosting into a separate bowl. Spread this separate frosting as thinly as possible over the whole top and down the sides of the cake.
Chill the crumb-coated cake for 10 minutes, just to help set the frosting slightly.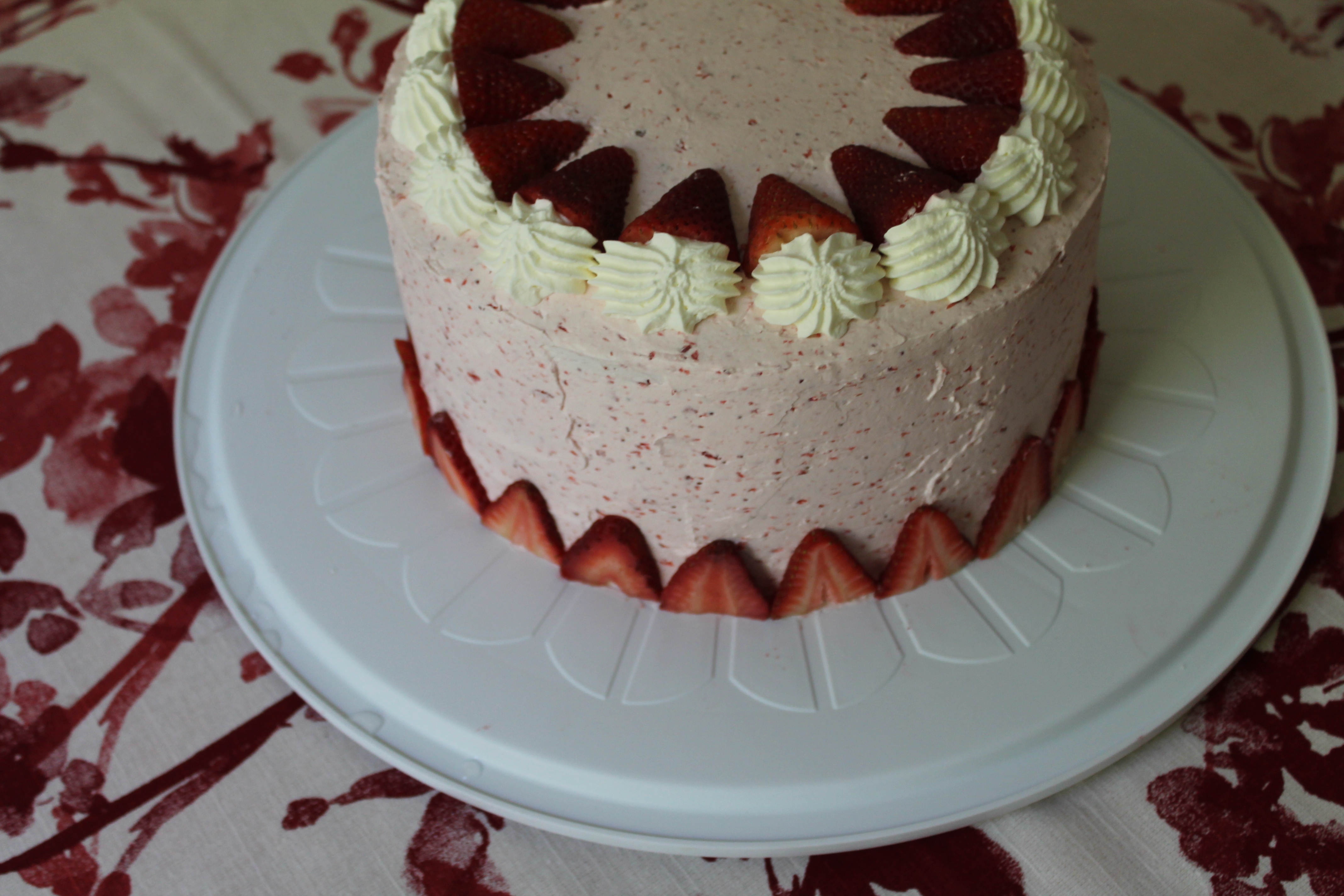 Now frost the cake with the remainder of the frosting, as thickly or thinly as your heart desires.
Grab those beautiful strawberries that you set aside. Trim them and use them to decorate the cake! I went for halves on top and slices at the bottom. With the remaining whipped cream, pipe dollops around the outer edges of the strawberries.
Yep…this cake sure is pretty!
Strawberries and Cream Cake
cake lightly adapted from Rose Levy Berenbaum
strawberry Swiss buttercream from Annie's Eats
makes a 3-layer cake/serves 16
Cake Ingredients:
3 cups cake flour
1½ cups sugar
4 tsp. baking powder
¾ tsp. salt
12 tbsp. unsalted butter, room temperature
1 cup 2% milk, divided
6 egg yolks
1 tbsp. vanilla extract
Filling Ingredients:
2 cups heavy cream
1 tbsp. sugar
8 oz. fresh strawberries, hulled and sliced
Strawberry Swiss Buttercream Ingredients:
4 egg whites
1¼ cup sugar
1½ cups unsalted butter, room temperature
8 oz. very ripe fresh strawberries, pureed
8 oz.  fresh strawberries, for decoration
Directions:
Preheat oven to 350°. Grease and flour three 9″ round cake pans.
In a stand mixer bowl, whisk together the flour, sugar, baking powder, and salt on medium speed for 1 minute.
Mix in the soft butter and ¾ cup milk on low speed until everything is incorporated. Beat for 90 seconds on medium speed to aerate and develop the structure of the cake.
Meanwhile, in a separate bowl, whisk together the egg yolks, vanilla, and remaining ¼ cup milk. In two batches, scrape the egg mixture into the batter and beat for 20 seconds each, scraping the side of the bowl.
Pour the batter evenly into the prepared pans. Spread to edges with a spatula.
Bake for 20–24 minutes, until cakes pass a toothpick test.
Cool 10 minutes in the pans, then run a knife around the edges to release and invert onto wire cooling racks.
While cake layers cool, make the filling. Beat the cream on high until soft peaks form. Add sugar and continue beating until cream becomes very stiff.
When cakes are cool, layer 1½ cups whipped cream and half the strawberries between each cake layer. Cover the cake and set aside to prepare the buttercream.
Combine the egg whites and sugar in a mixer bowl. Set the bowl over a small pot of simmering water and whisk the egg whites vigorously until the sugar dissolves and the mixture reaches 160°.
Set the mixer bowl into the stand mixer and whisk on high speed for 8 minutes, or until the bowl is cool to the touch and the whites have turned into a bright, glossy meringue.
Reduce the mixer speed to medium-low and add the butter, 2 tbsp. at a time. Once all the butter is incorporated, continue to beat on medium-high speed for 3–5 minutes, until the frosting becomes smooth and thick.
Add in the pureed strawberries and beat until combined.
Spread the frosting on the exterior of the cake. Decorate with cut and strawberries and remaining whipped cream.
Enjoy!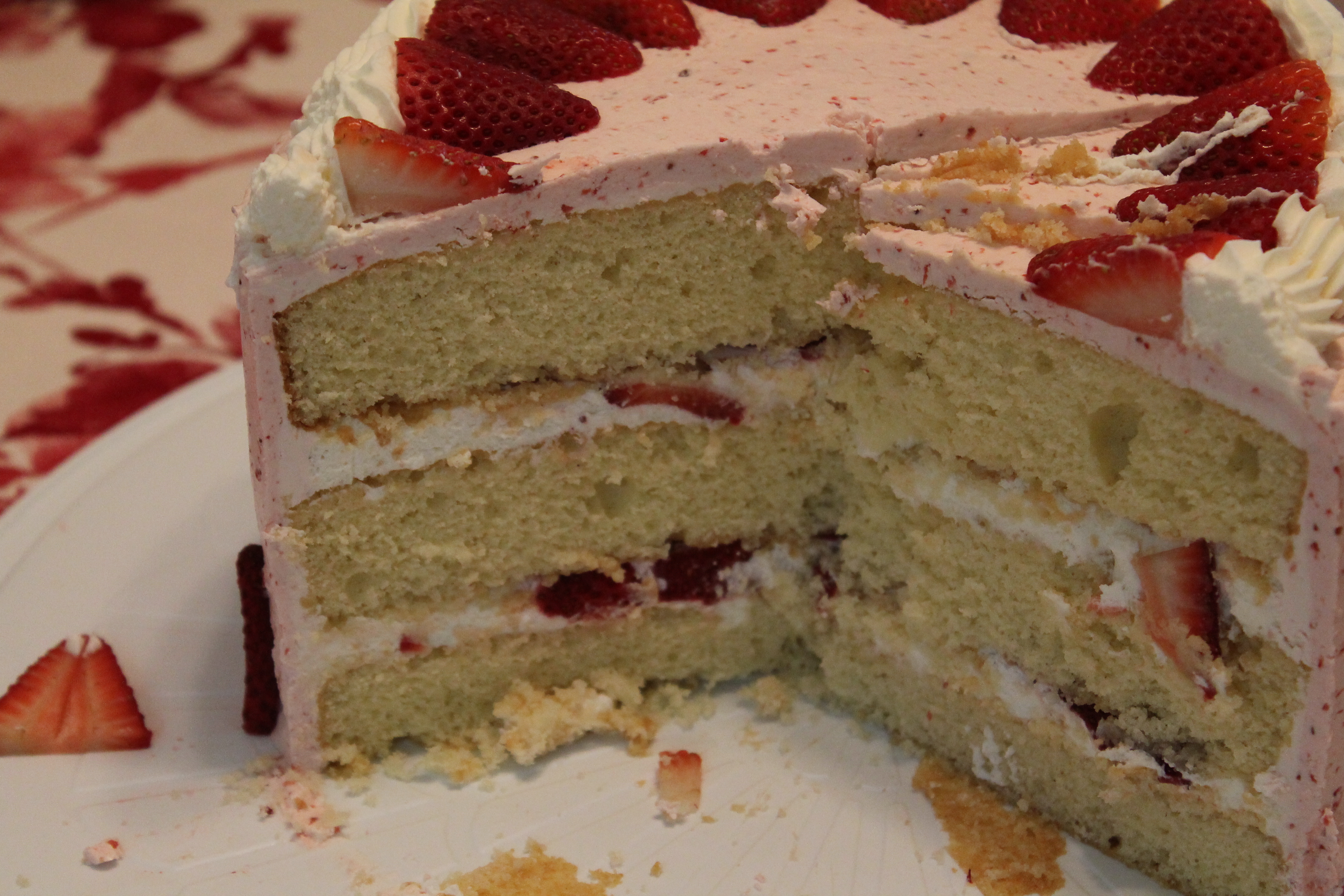 One year ago: Trail Mix Cookies
Two years ago: Creamy Hummus