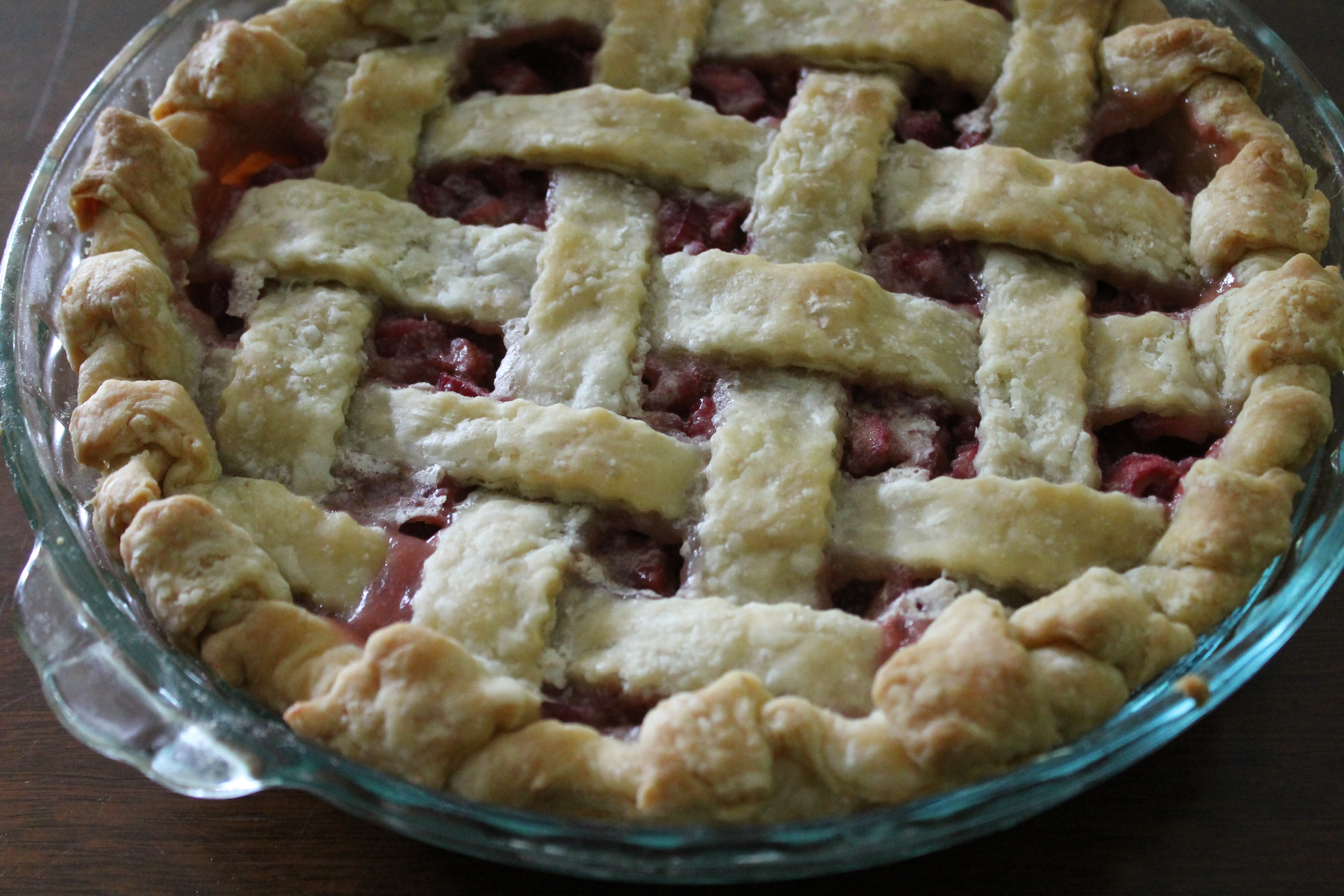 My husband loves rhubarb pie.
When we first started dating, I had never even heard of rhubarb! I, being a quite sensible girl, had tried to endear myself to him by baking him brownies and cookies…and he rather matter-of-factly informed me that if I really wanted to impress him, I should make him a rhubarb pie.
What is rhubarb, anyway? Is it a fruit? Is it a vegetable?
All I know is that it bakes up into a sour-sweet pink pie. Which Dave can eat half of in one sitting.
In fact, Dave's whole family goes crazy for rhubarb pie. Once when I was hanging out with them, one of his brothers mentioned pie—the next thing I knew, I was sitting in the car with my father-in-law, off to buy a huge bundle of rhubarb. They aren't too interested in most baked goods, but wave a rhubarb pie in their general direction? You will feel a whiff of wind whiz by, and then when you look down, your pie plate will just have a few crumbs left on it. Like in a cartoon when something disappears in a puff of smoke.
Not being a fan of rhubarb pie, myself, I went through a bit of a learning curve before I really got it right. For example, the first time I made rhubarb pie, I cut up the rhubarb in great big chunks (per Dave's recommendation). I gather that is the traditional way to prepare it, but it didn't really bake evenly…and shouldn't a pie be supple and oozing with sweetness? Yes. Now I slice the stalks thinly, so each piece will release liquid and absorb sugar and ultimately melt into soft, tart layers.
I also used to fret over whether the rhubarb was completely ripe. I would slice into it and bemoan the fact that the rhubarbs weren't deep red inside. But the one time I managed to find what were, in my opinion, perfect rhubarb, red and juicy the whole way through, Dave said the pie was too sweet. Go figure. He actually likes it better when it's not 100% ripened!
So. Thinly slice your rhubarb. If you don't like a little tart in your pie, you probably don't like rhubarb to begin with. So I recommend not worrying too much about the color of the stalks. Include the reddest parts you can, but if some of the stalks are still green, just toss them in anyway! You can increase or decrease the sugar by ¼ cup to manage the tartness.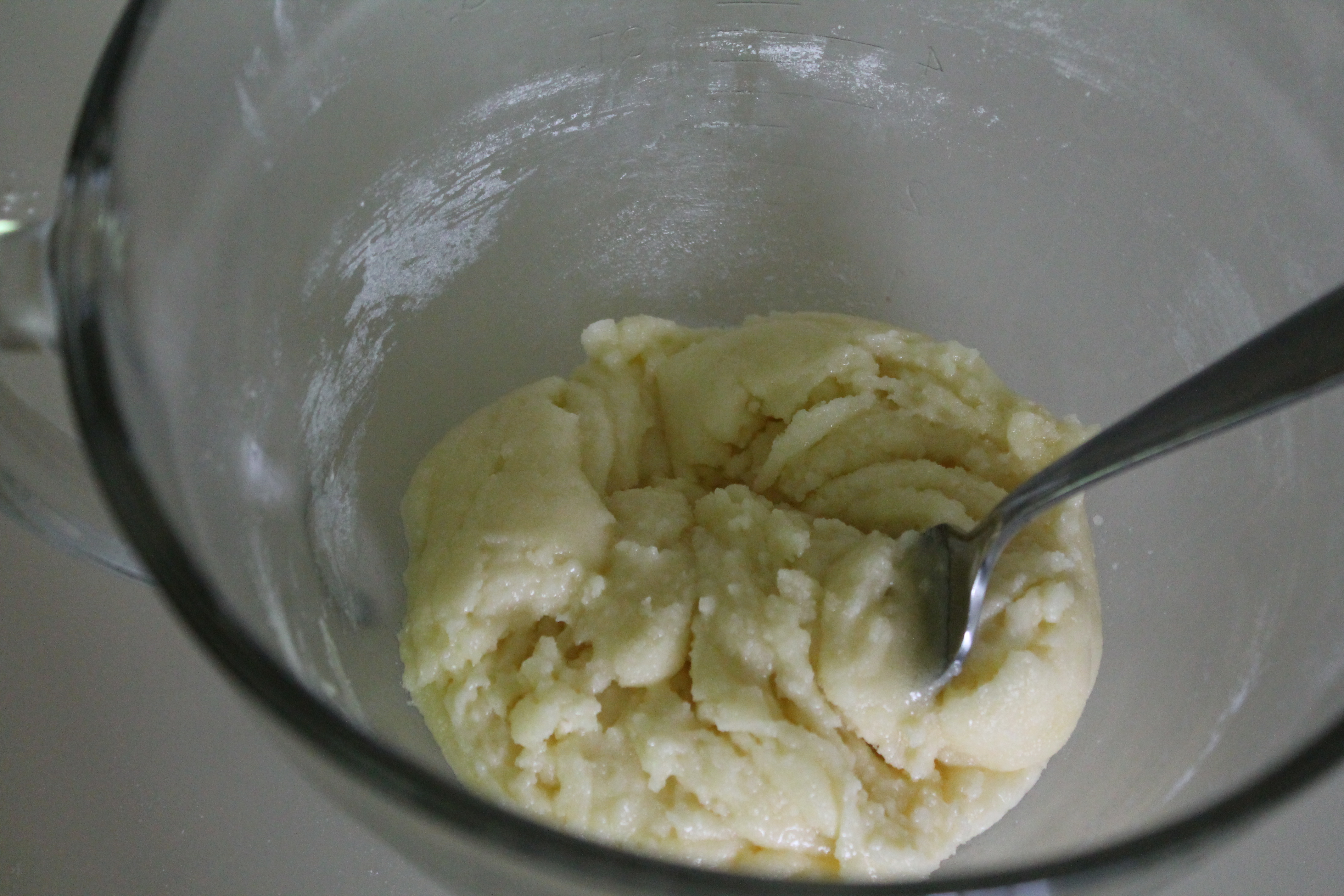 In a large bowl, mix together your sugar, flour, and a pinch of salt. Whisk in a lightly beaten egg. It should look like a thick, slightly gritty dough at this point.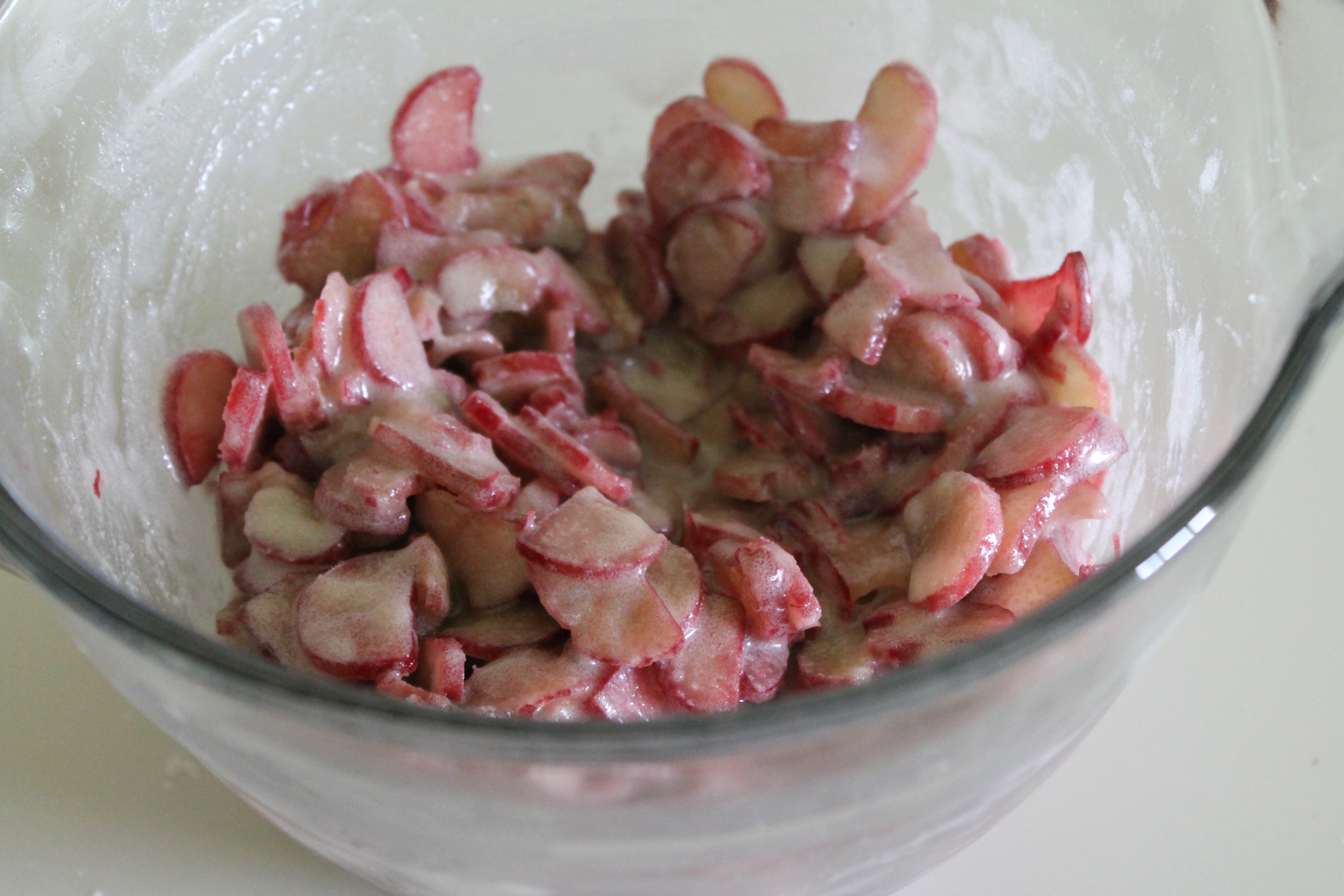 Stir the sliced rhubarb into the sugar mixture. The rhubarb will release liquid and the whole mixture will become gooey and slippery. Set the filling aside and roll out your pie crust.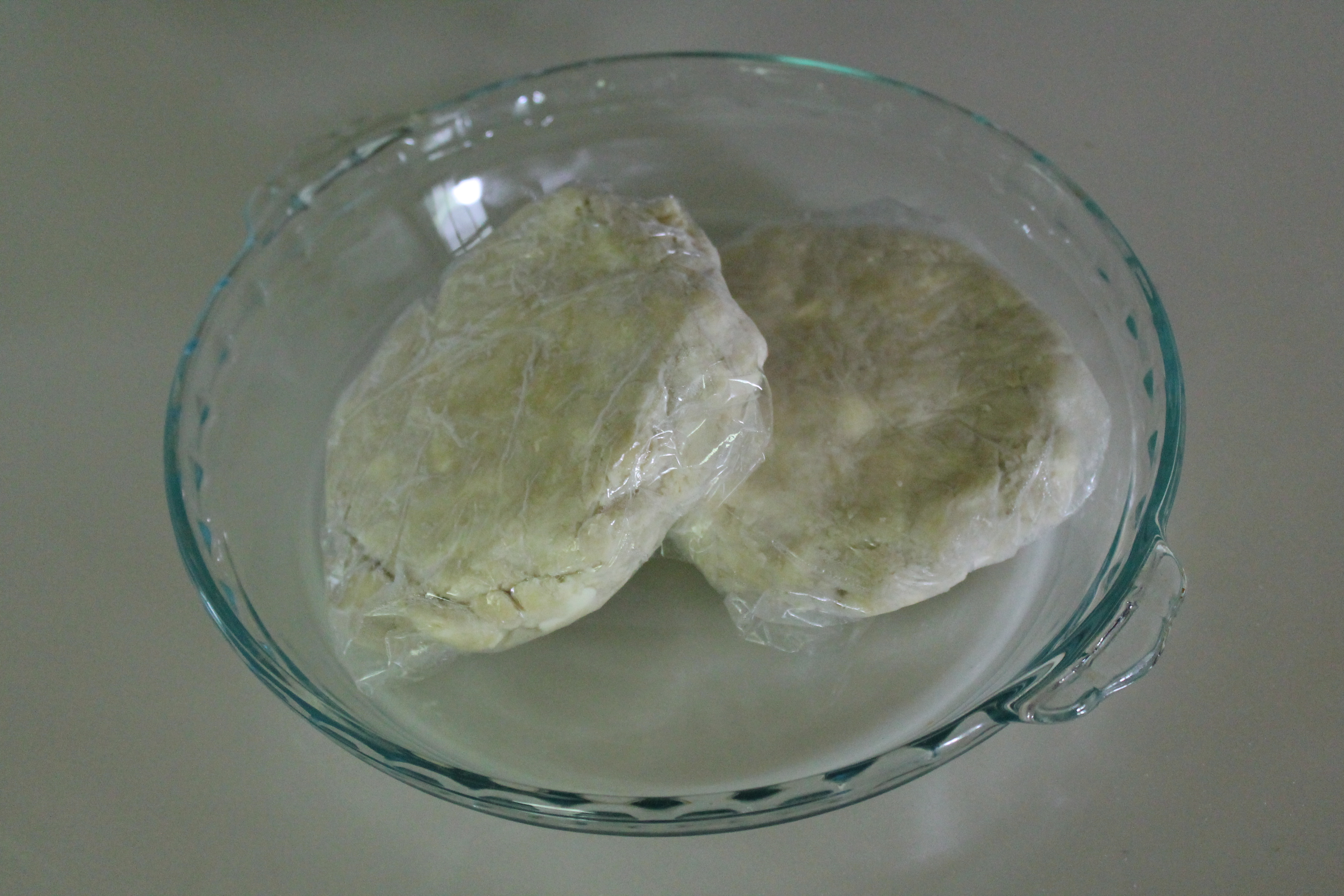 I made my pie crust a day ahead of time. It's easy! Just whisk together flour and salt. Cut in cold butter using a pastry cutter. You don't want to make the butter too small—pea-size is just perfect! Using a fork, toss in enough very cold water for the dough to stick together. There may still be some shaggy bits of flour, but after you knead for a few minutes, everything will come together!
Split the crust dough in two, flatten each half into disks, and wrap with plastic wrap. Store in the fridge for at least 1 hour and up to 3 days, until you are ready to use.
Which, in our case, is now!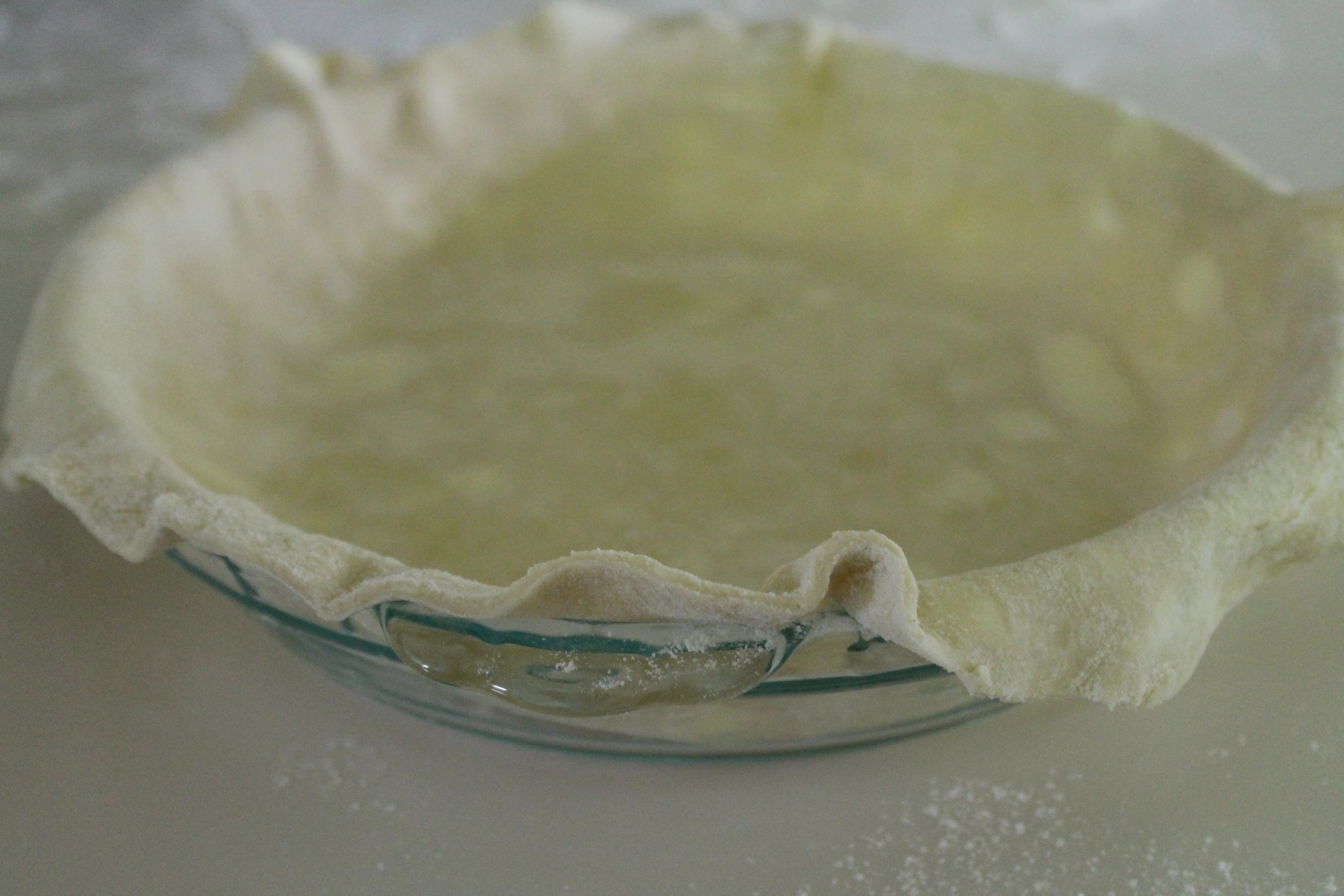 Roll out one of the crusts. Transfer it to a 10″ pie plate. Just let the extra dough dangle over the edge.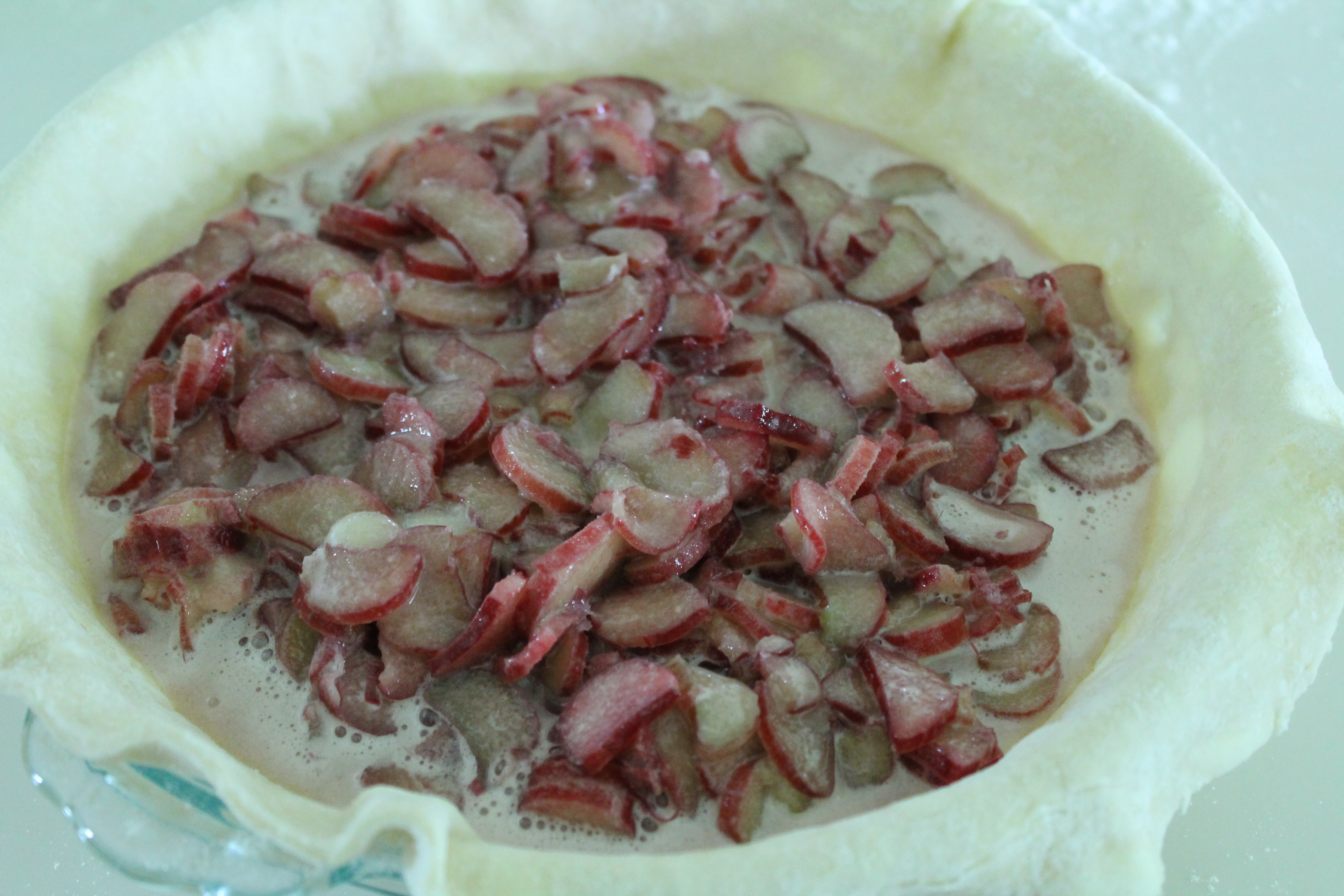 Pour the rhubarb filling into the crust.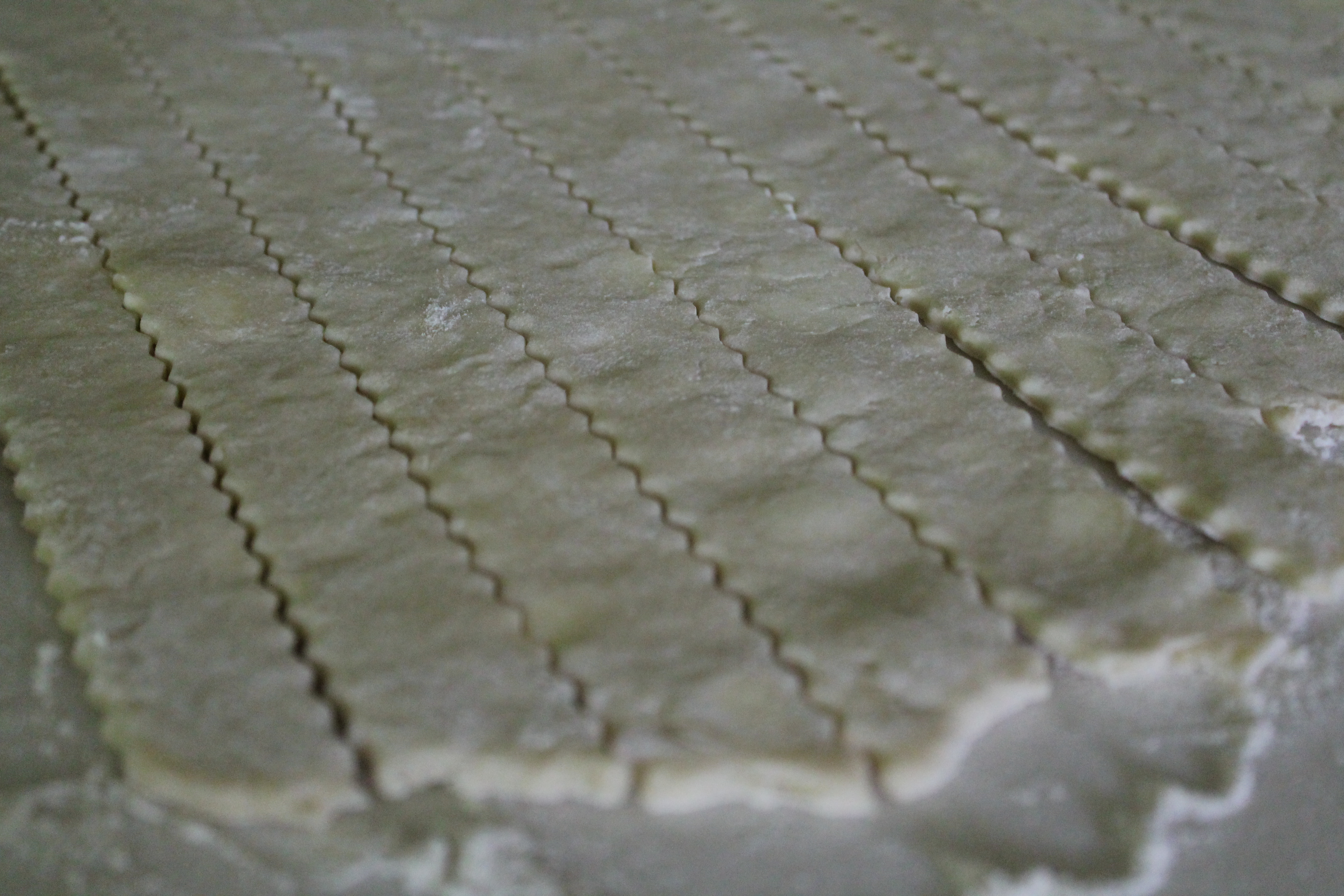 Roll out the second crust. Slice into 8 or 9 strips, 1″ wide, using a crimped pastry cutter (or a straight pizza wheel if that's what you have!).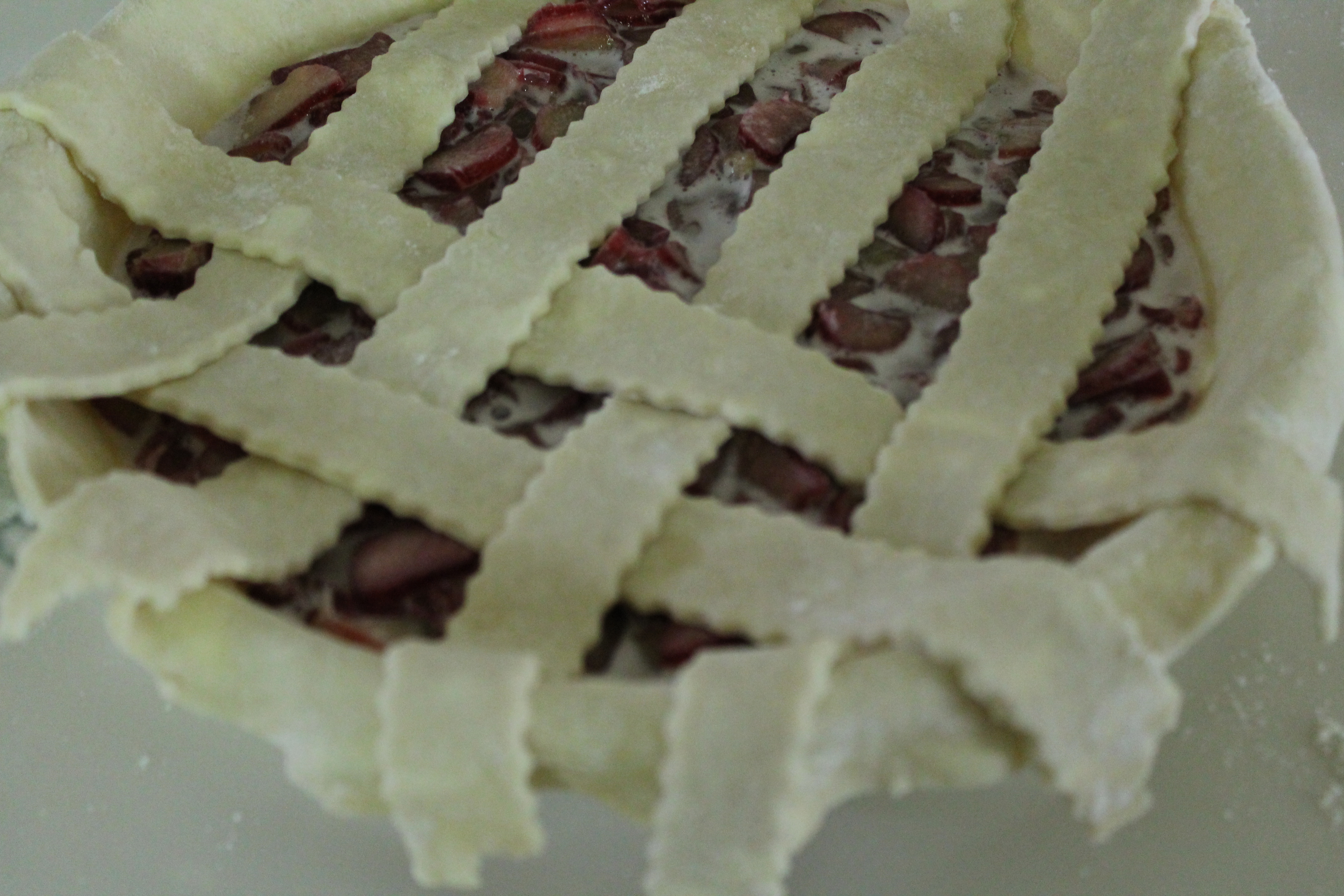 Weave the strips into a lattice over the filling. I do this by laying 4 strips parallel to each other, about 1″ apart. Then I weave the others carefully through, lifting the long ends of every other strip to lay the perpendicular strip underneath.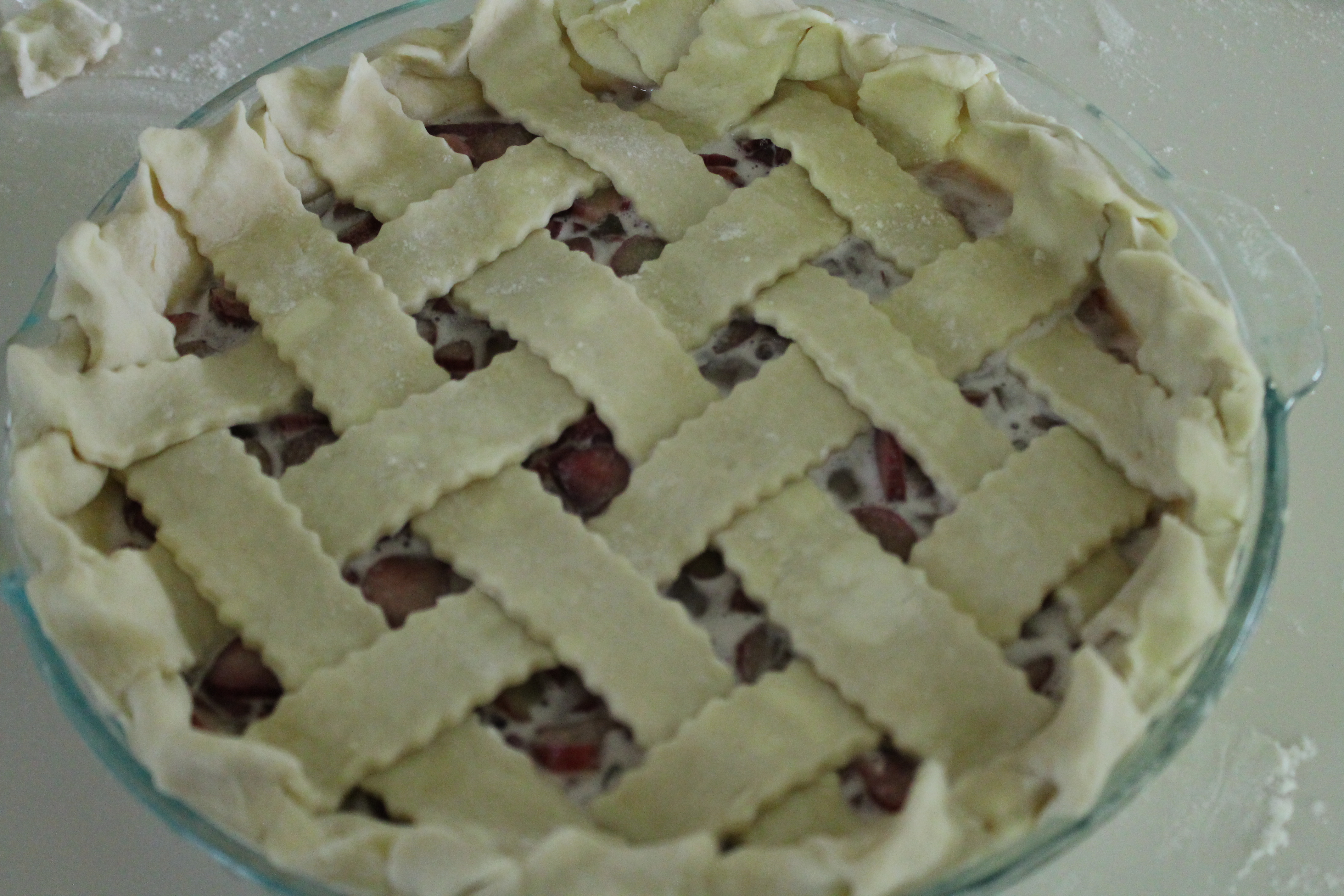 I suppose proper technique would either be to cut the lattice where it meets the bottom crust or tuck it down a little into the filling, but I find it easiest to lay the lattice strips over top of the bottom crust and then tuck everything underneath. Not quite as elegant, but it gets the job done! Crimp the edges together, and your pie is ready to go into the oven!
Bake for 10 minutes at 425°, then lower the temperature to 350° and continue to bake for 40 minutes, or until the top crust is golden and the filling is puffed.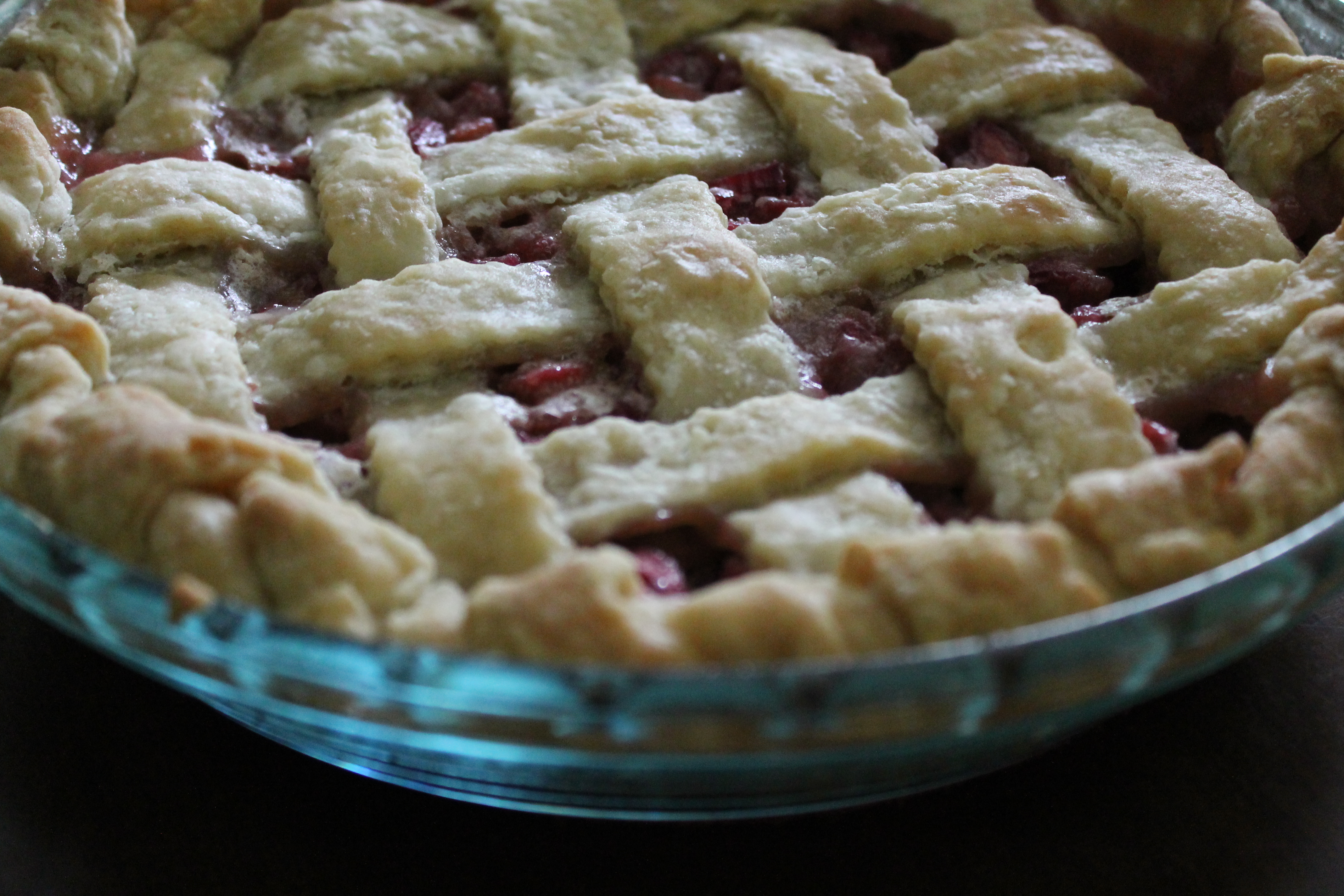 Cool at least 20 minutes before serving.
Rhubarb Pie
filling adapted from Food.com
crust lightly adapted from Smitten Kitchen
serves 12 (or 1 Dave)
Crust Ingredients:
2½ cups flour
½ tsp. salt
1 cup unsalted butter, cold
¾ cup ice water, as needed
Filling Ingredients:
1¼ cups sugar
3 tbsp. flour
pinch of salt
1 egg, lightly beaten
4 cups finely chopped rhubarb
½ tsp. orange or lemon zest (optional)
Directions:
Whisk together flour and salt for the crust. Cut in butter using a pastry cutter. Butter should be about the size of peas, and evenly mixed with the flour.
Using a fork, toss ice water into the flour-butter mixture until it comes together to form a shaggy dough. Do not use any more water than is absolutely necessary!
Turn the contents of the bowl onto a clean surface and knead 4–5 times, until all the extra bits of flour are incorporated.
Divide the dough in half and wrap with plastic wrap. Chill in the fridge for at least 1 hour, to facilitate rolling.
Preheat oven to 425°.
Combine sugar, flour, and salt in a large bowl. Whisk in egg until smooth. Add rhubarb and citrus zest, if using, and toss to coat.
Roll out one half of the pie dough and set it inside a 10″ pie plate. Scrape the filling into the pie shell.
Roll out the second half of the pie dough. Lay it across the filled pie and crimp edges together.
Bake for 10 minutes, then reduce oven temperature to 350°. Continue baking for about 40 minutes or until the top crust is golden.
Allow to cool at least 20 minutes before serving.
Enjoy!
One year ago: Green Onion Potato Salad
Two years ago: Greek Caponata