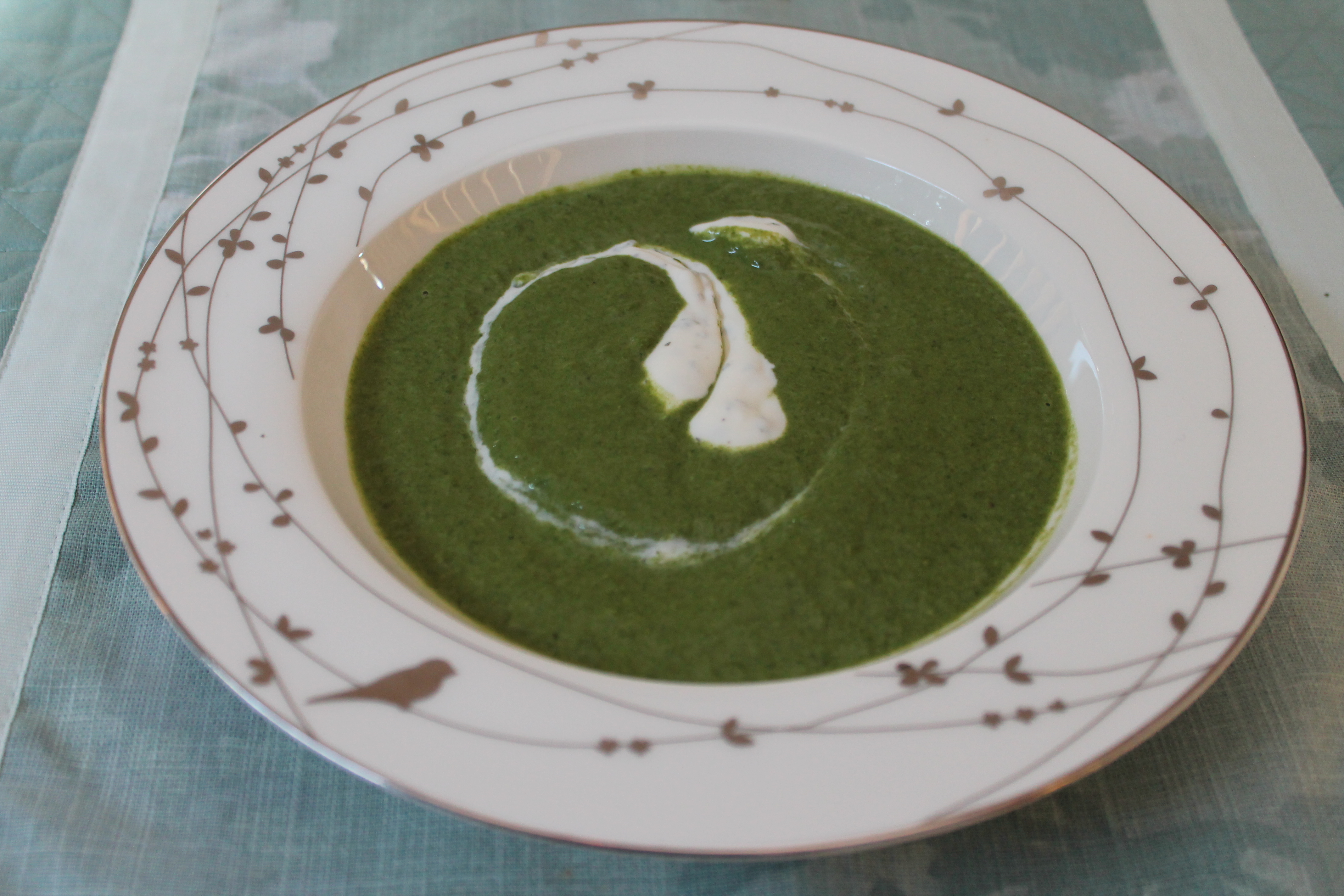 A few days ago, Jake and I wandered outside to drop a few things into the mailbox. My neighbor immediately came rushing over with an armful of mint, freshly snipped from her garden. (And before I made it back inside, I was also gifted a huge handful of oregano and sage! Yay for neighbors who share from their gardens!)
While I stood in my driveway chatting about fresh herbs (mmmmm), regretting my choice not to change out of my pajamas before my quick jaunt outside, my mind immediately began sorting through the myriad ways I could put the mint to good use.
You know what goes great with mint?
PEAS!
(Is it weird that my food choices lately have been influenced by what baby foods I am making for Jake? The kid loves peas, so I definitely have peas on the brain…)
I have always been a little curious about pea soup, so I did a quick search and came up with a recipe that sings out Spring to me. What a perfect way to wind down the season, with peas, spinach, and mint all in one bowl!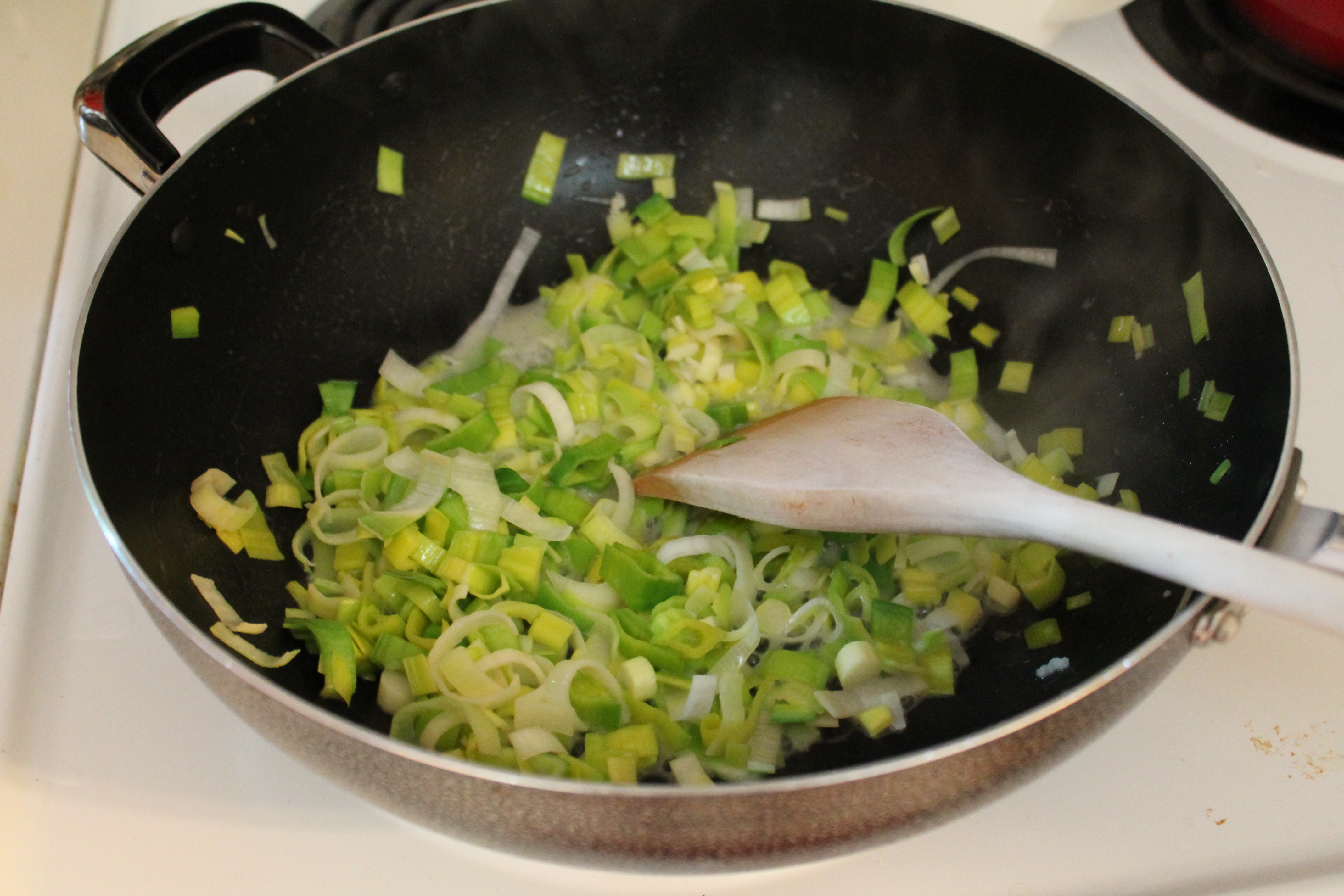 Start by slicing up your leeks. You could use a really huge onion here, but why would you ever avoid leeks unless there is no other option? Leeks are wonderful. Plus, the more green going into this soup, the better, I say!
Rinse the leeks thoroughly to get all the grit off. Then toss them into a very large pan with some butter and minced garlic.
Sauté lightly over medium-high heat. Leeks don't need much cooking time at all to become tender, so don't overdo it at the start!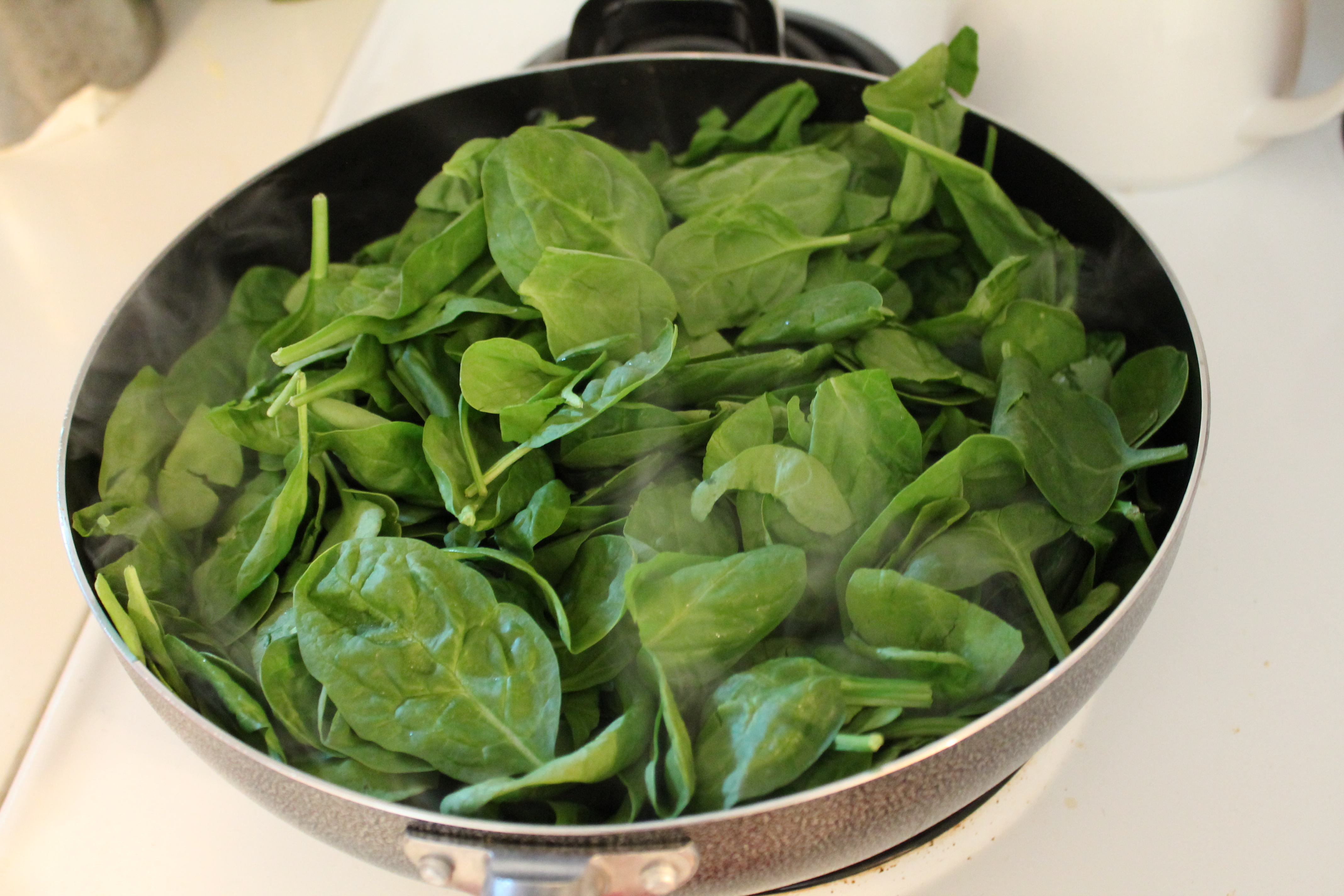 After the leeks have been cooking for 2–3 minutes, toss in the spinach. Yes, this looks like a lot of spinach, but it's going to wilt down into very dense clumps after a few minutes. Stir, toss, and shake to get the spinach and leeks all mixed together.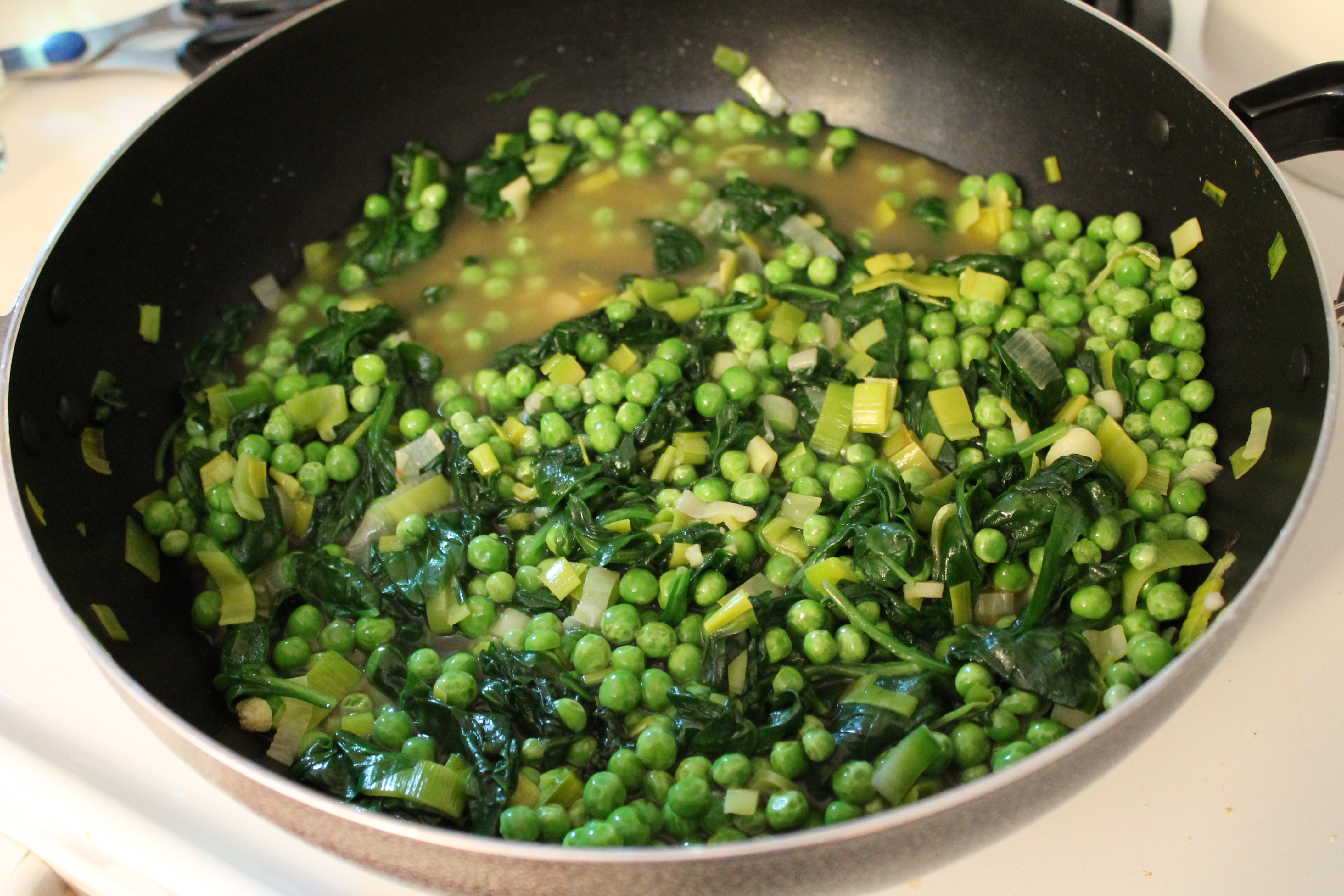 Add in the peas and veggie broth. Make sure you are using a no-salt-added or low-sodium broth so you can control the saltiness of your soup! I wanted a really dense soup, so I only used 2 cups of broth here, but if you like a thinner soup (or need to serve more people), you could use up to 3 cups.
Once the broth begins to boil, lower the heat on your burner to medium-low and let the soup simmer for at least 10 or up to 20 minutes. I was trying to move quickly to appease my crying child, who was literally clinging to my ankles as I was cooking this meal, so I opted for the shorter cooking time. It turned out fine, but I think that the puree would have been smoother with a longer simmer, which would have made everything more tender.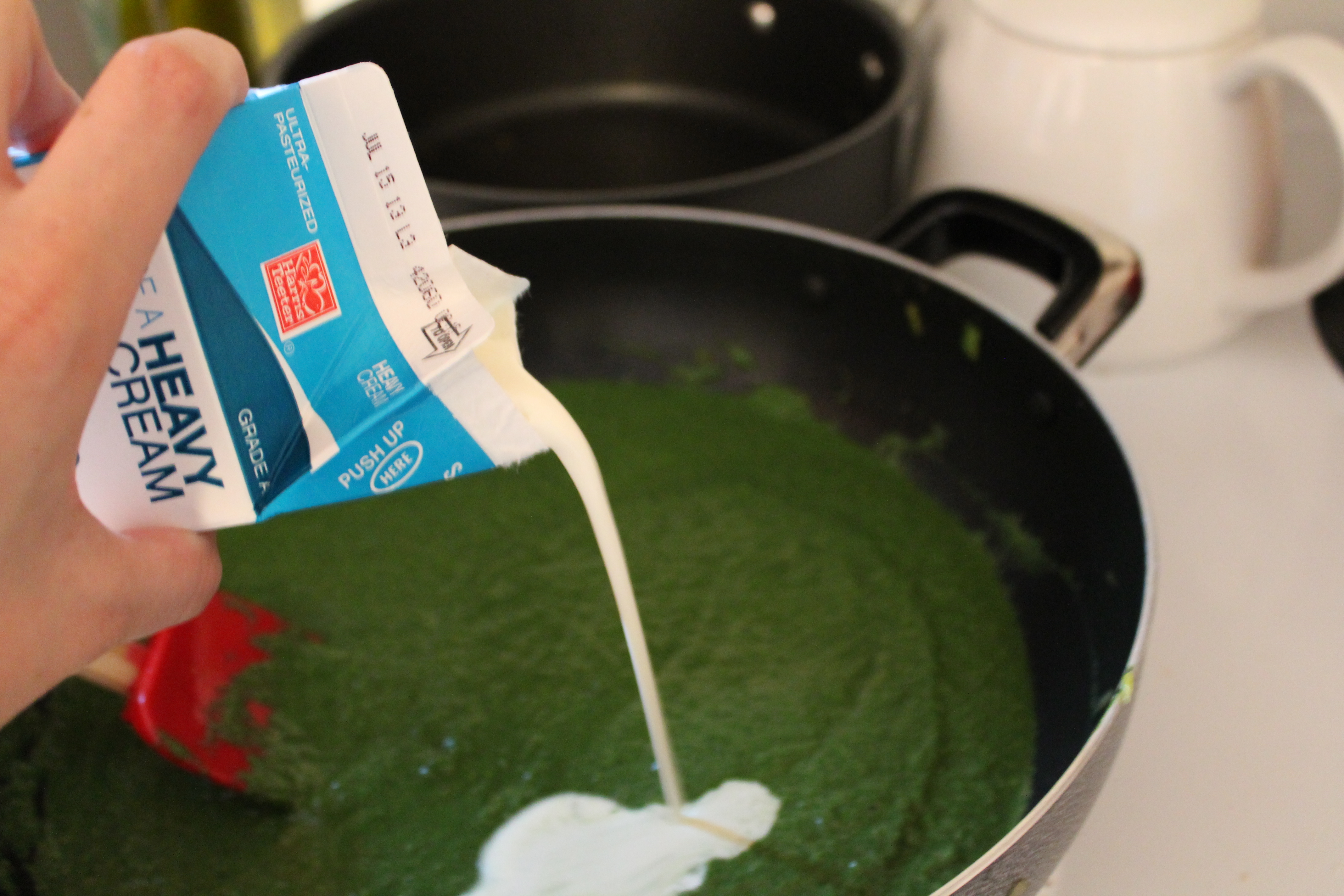 When you are ready, puree the soup in a blender. You can do this in batches, just be careful to get enough liquid in each batch! Also…don't pour the brothy parts all over the floor and the counter. Don't let your son eat escaped peas off of the floor. Don't do these things…they will just make you feel foolish.
Return the puree to the pot. Stir in the cream. Okay, so I swear I bought a half pint of light cream for this recipe. I studied the cartons in the refrigerator section and decided that light cream was what I wanted! But when I pulled my cream out of the fridge to pour into the soup, it had turned into heavy cream! Oh my. How decadent. Naturally, I used it anyway. And it was delightful! So I am not sure how the soup would be with light cream…I imagine it would be slightly thinner and less creamy, but still pretty amazing. You decide, but just know that I quite liked the result from the heavy cream.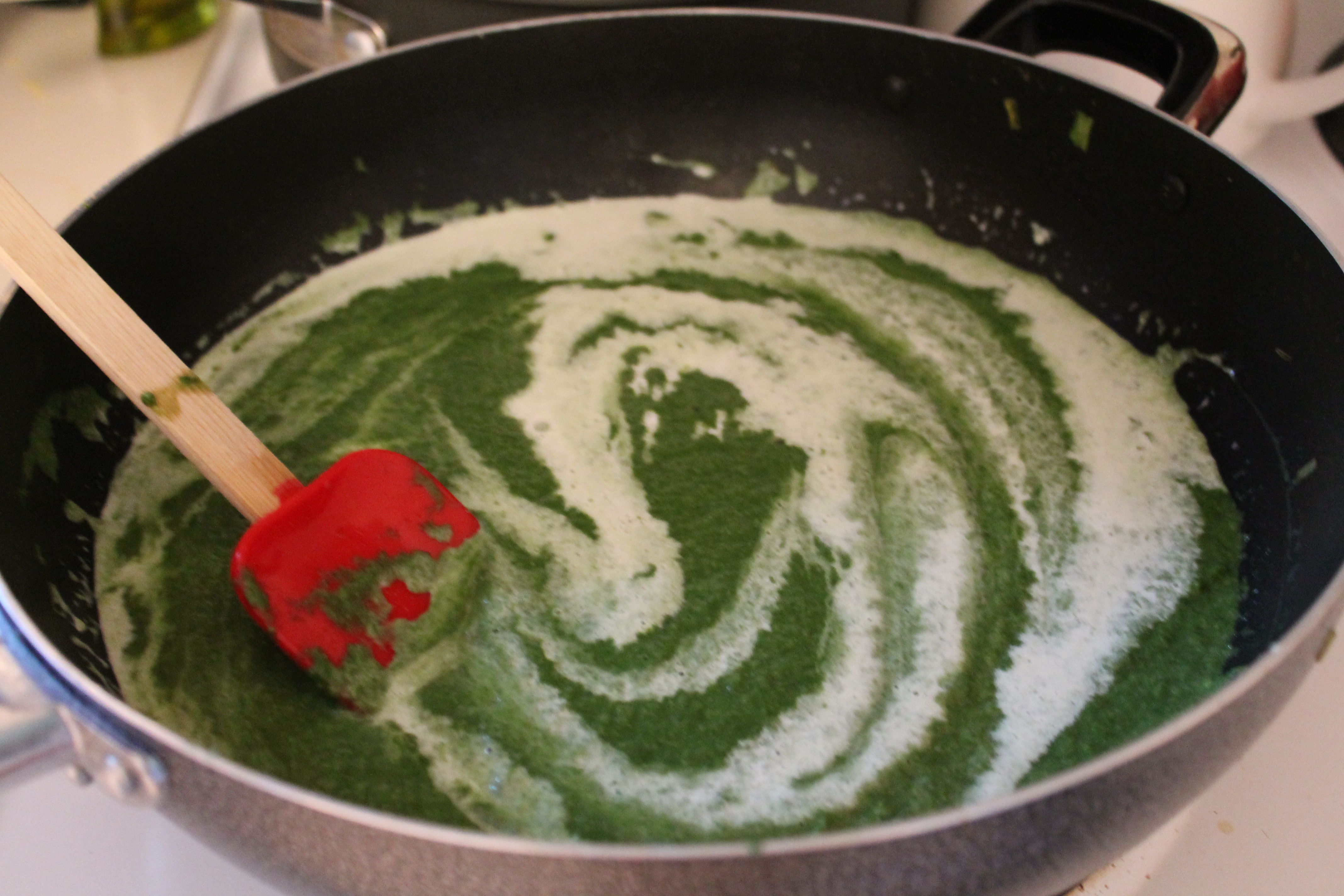 Don't forget to season with salt and pepper. I recommend you go for less salt in this recipe, so the sweetness of the peas can shine. I think I used about ½ tsp., which really isn't a lot given the volume of liquid, but I thought it was perfect.
Let the soup continue to heat on low as long as you like.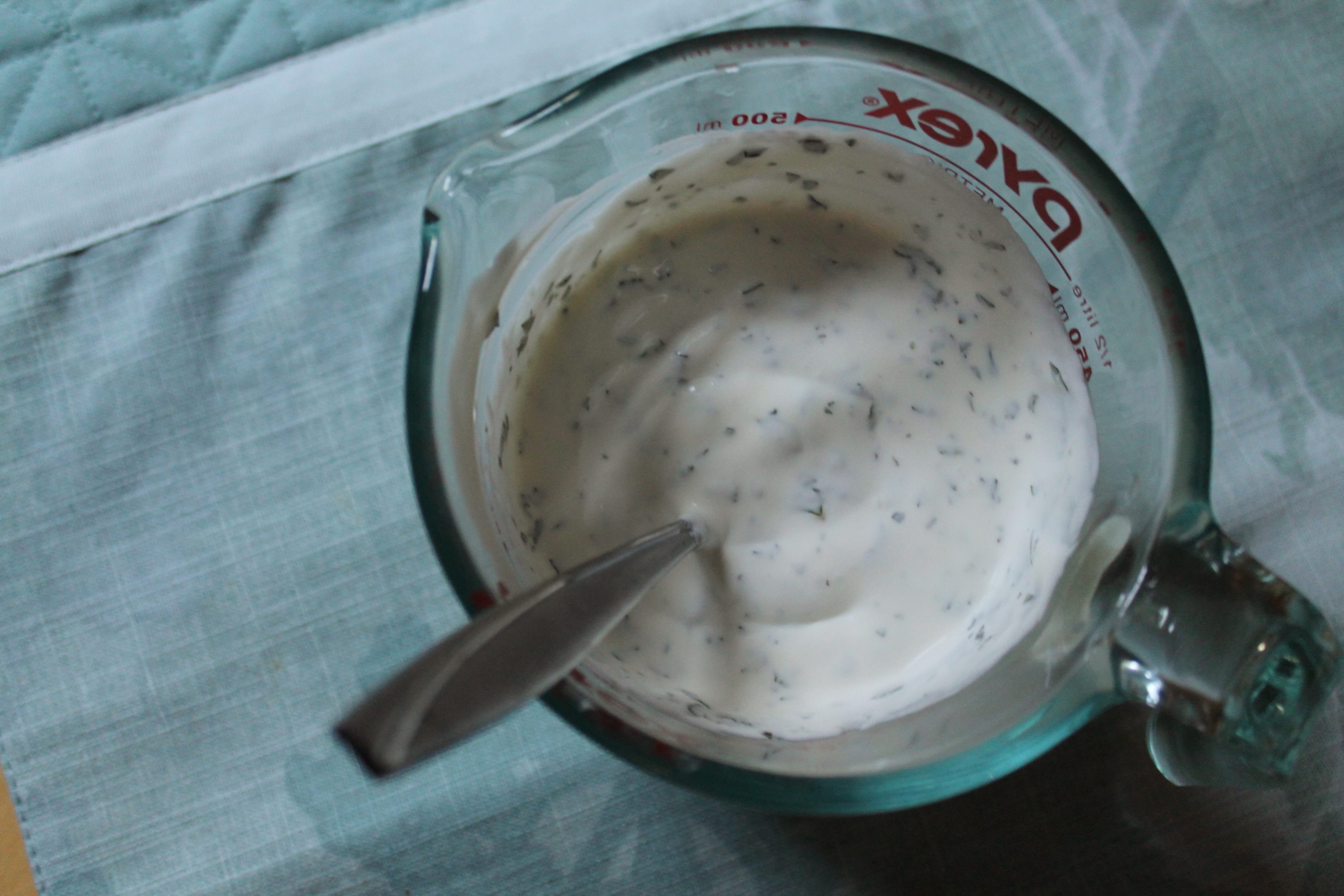 Before serving, stir together the sour cream and remaining heavy (or, er…light) cream. Add in a humongous handful of finely chopped fresh mint. Or, if you prefer a more uniform texture, whiz the whole shebang together in a small food processor. (I couldn't stomach the idea of making any more dishes dirty, but I think a pale green, mint-infused cream would have been awesome!)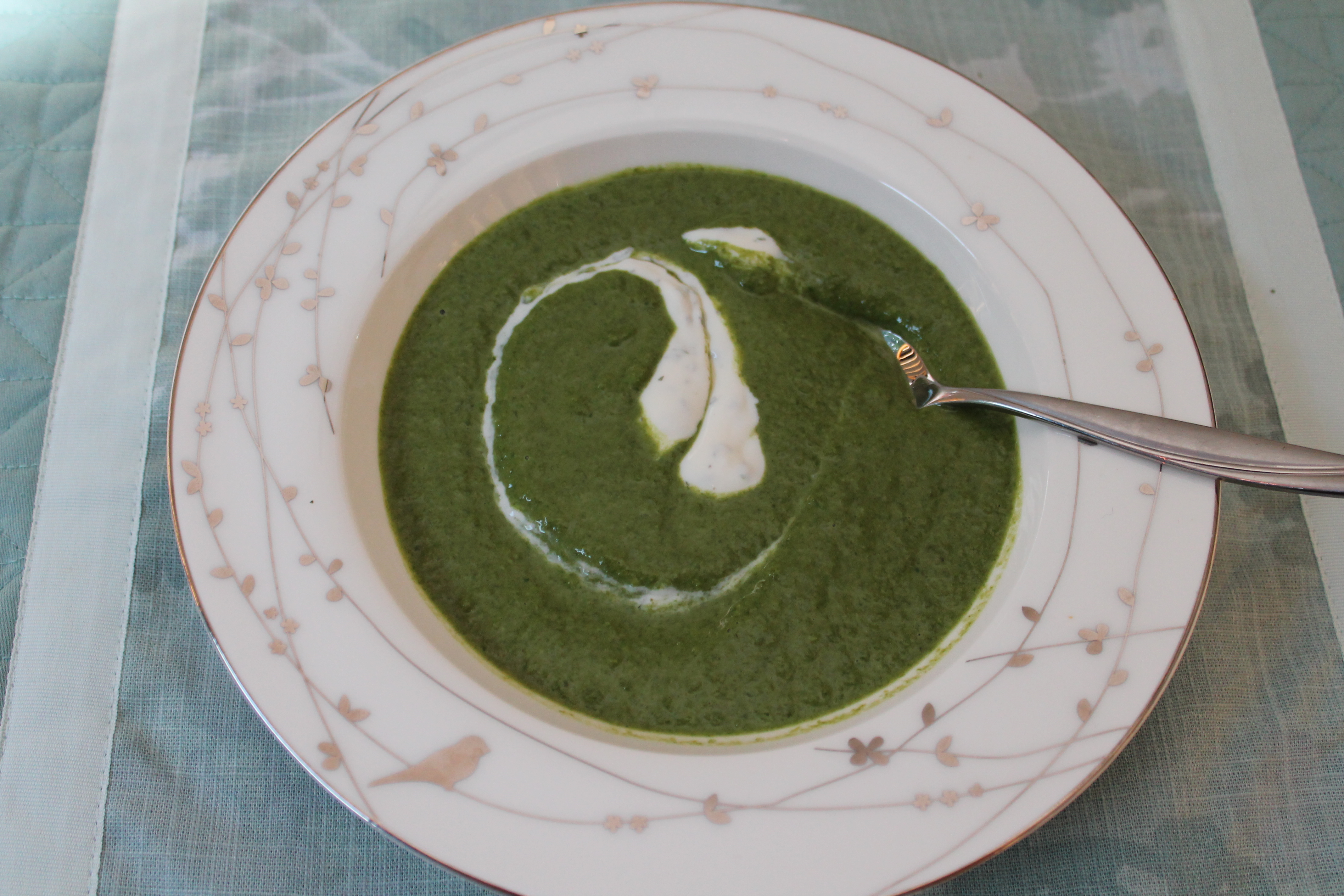 Serve the soup with a generous dollop of mint cream swirled through it. And a buttery, crusty slice of bread. And a glass of wine for your trouble. Mmmm, dinner…
Sweet Pea and Spinach Soup with Fresh Mint Cream
adapted from Food Network
serves 2–4
Soup Ingredients:
3 tbsp. butter
3 large leeks, sliced and rinsed
2 cloves garlic, minced
10 oz. fresh baby spinach, rinsed
1 lb. frozen petite peas
2 cups vegetable stock
½ cup light or heavy cream
salt and black pepper
Mint Cream Ingredients:
½ cup light or heavy cream
1 cup low-fat sour cream
½ cup minced fresh mint leaves
Directions:
Melt butter in a large soup pot over medium-high heat. Sauté leeks and garlic in the butter until just softened, about 3 minutes.
Stir in spinach and sauté until wilted, about 5 minutes more.
Add peas and the veggie stock to the pot. Bring to a boil over high heat. Lower the heat and simmer, uncovered, for 15 minutes.
Remove soup from heat and allow to cool for a few minutes.
Using a blender, puree the soup in small batches. Pour the puree back into pot. Add cream and season with salt and pepper. Bring the soup back to a simmer over low heat. Cook at least 5 minutes more.
Meanwhile, whisk together the ingredients for the mint cream.
Serve the soup with a large swirl of mint cream.
Enjoy!
One year ago: The Baked Brownie
Two years ago: Ricotta Gnocchi