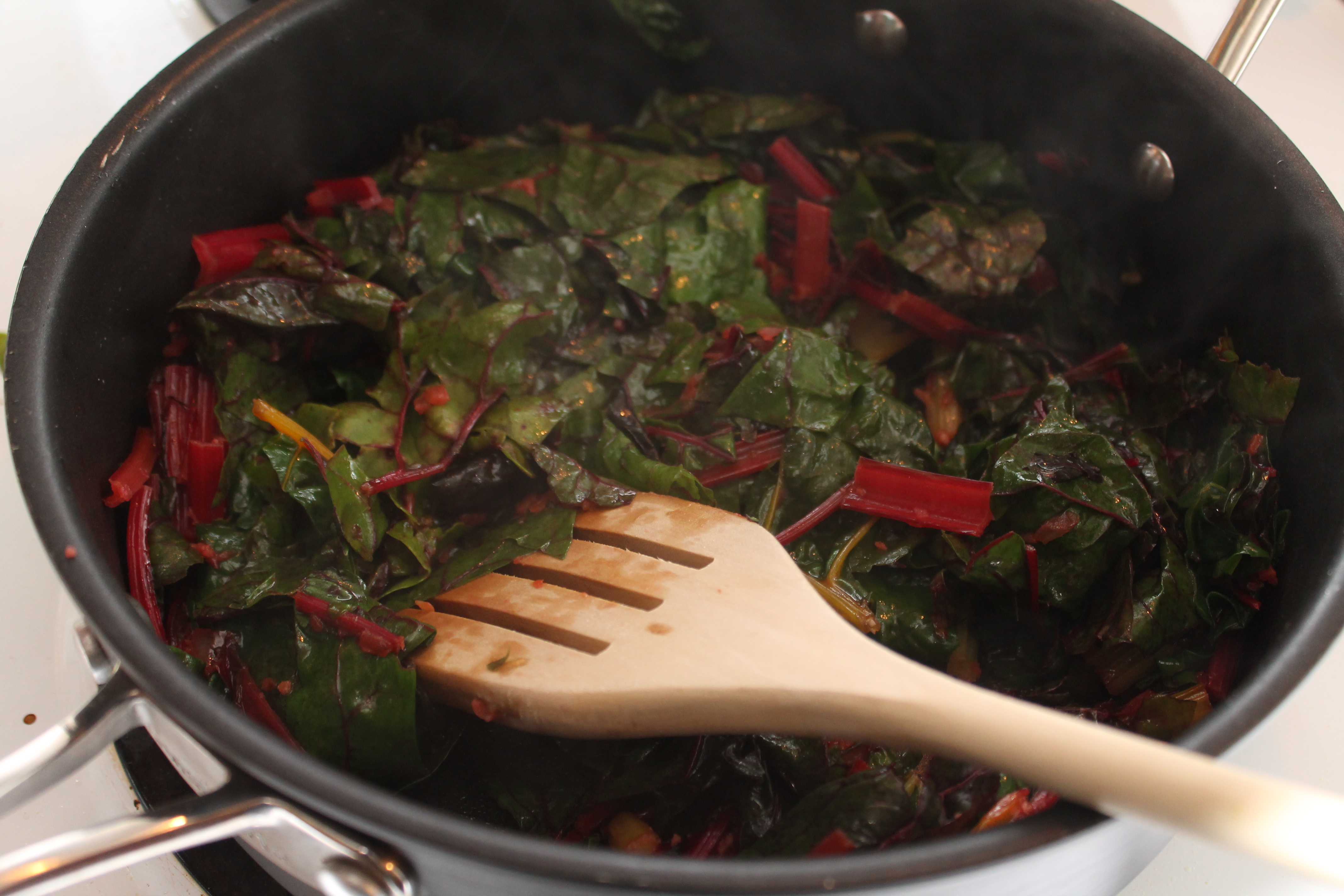 Swiss chard is just beautiful, isn't it? Deep, green leaves shot through with brightly colored veins…
The first time I ever made chard, I combed my favorite sites for a recipe that was sure to be delicious. I rinsed off the chard, dutifully pulled all those bold, red stems off the leaves, and chopped everything up. Then I was suddenly struck with an affliction that prevented me from being able to correctly interpret the written word. The result? I skipped right over the sentence in the recipe about setting the chopped leaves aside..and dumped the stems and leaves into my  pan at the same time.
If you have ever overcooked your greens, you know they turn black and bitter. Such a disappointment!
So before you get started, let me just caution you: Don't overdo the greens! As soon as they are wilted, immediately dump them into a cool bowl, maybe even set that bowl another bowl filled with ice water…just don't waste such a pretty bunch of veg!
I hope I didn't freak you out. This recipe is really quite easy!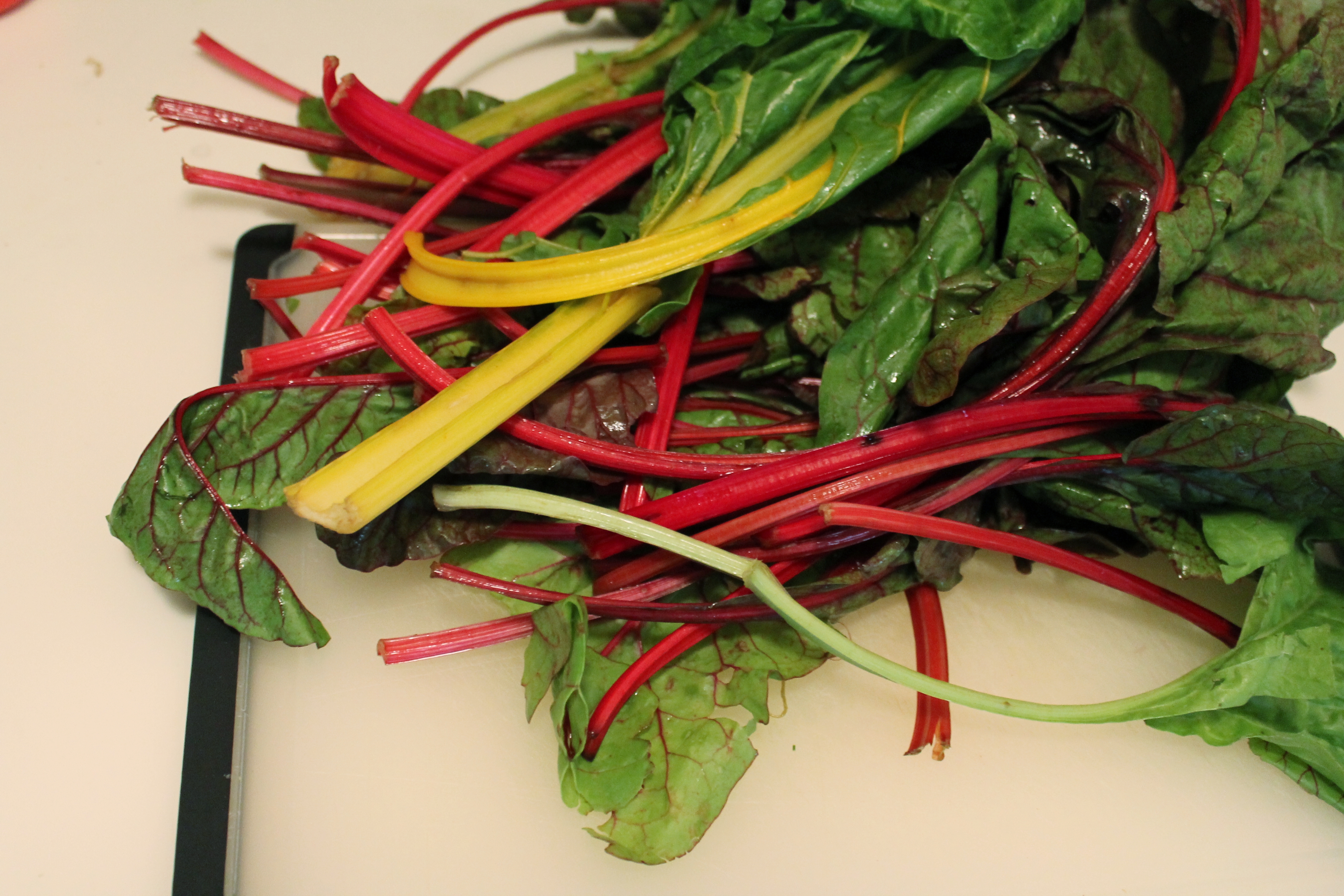 The only time consuming part is pulling all the stems off of the leaves.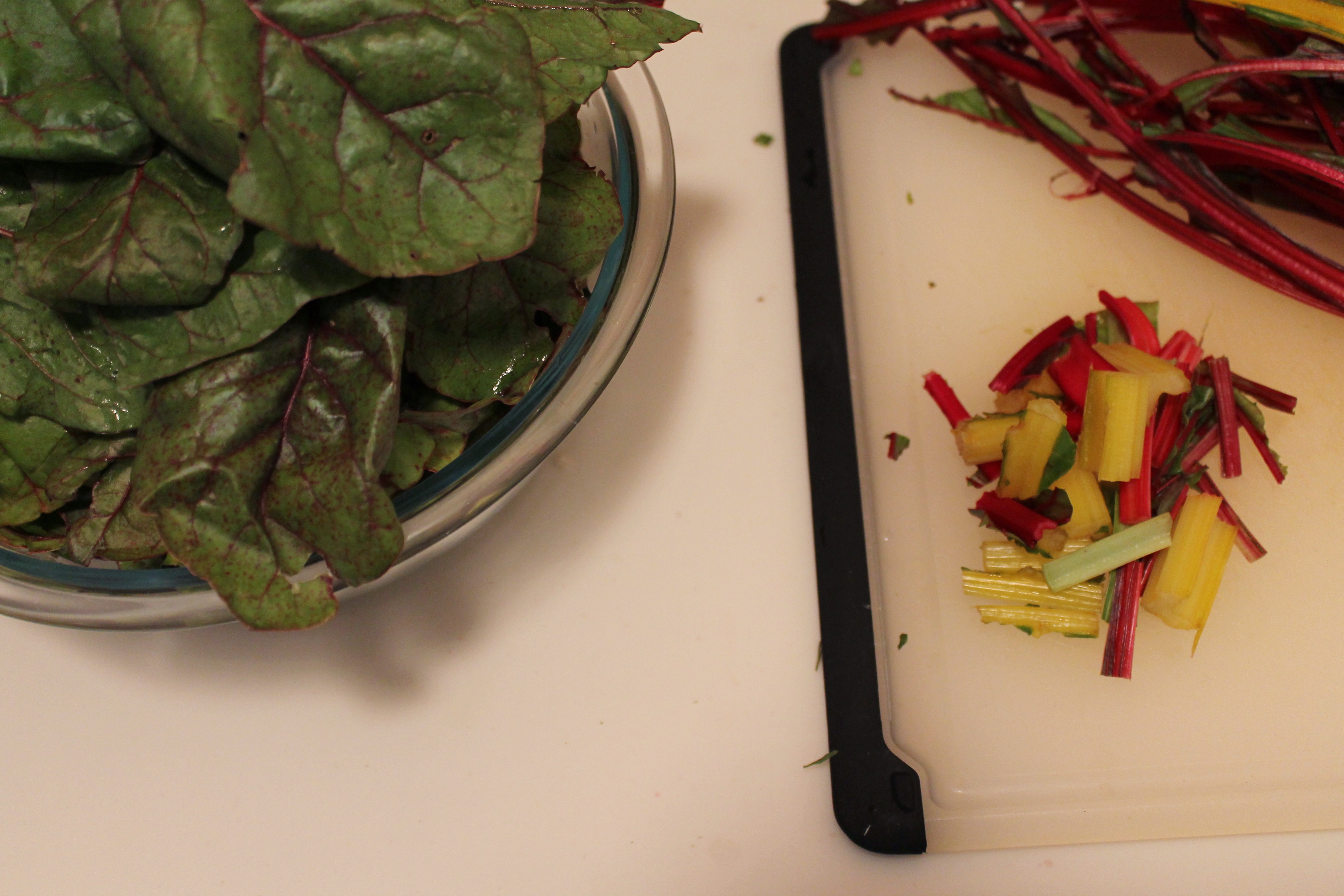 When you've done that, chop up the stems. You can go ahead and chop the leaves, too, but make sure you keep them separate! Now, when I make chard, I don't even chop up the leaves until after the stems are cooking…just in case.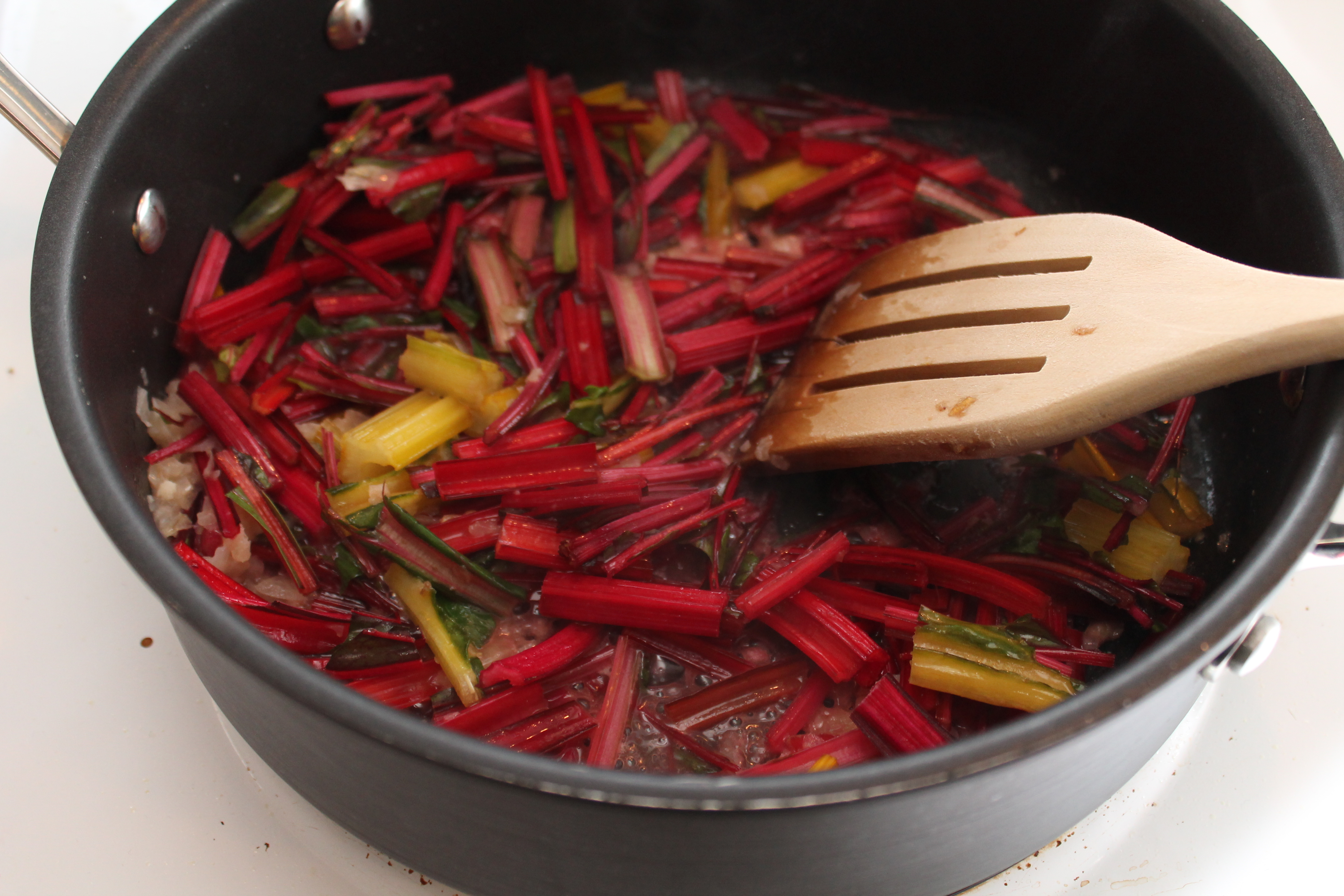 Melt the butter with the olive oil in a large skillet. Toss in your chopped shallot and minced garlic.
When they become fragrant, add in the stems you chopped. Pour in half a cup of white wine, any variety you like. I used Riesling, which is fairly sweet, and I enjoyed the results. I also enjoyed a glass while I cooked. Just an idea…
Cook the stems until they become crisp-tender.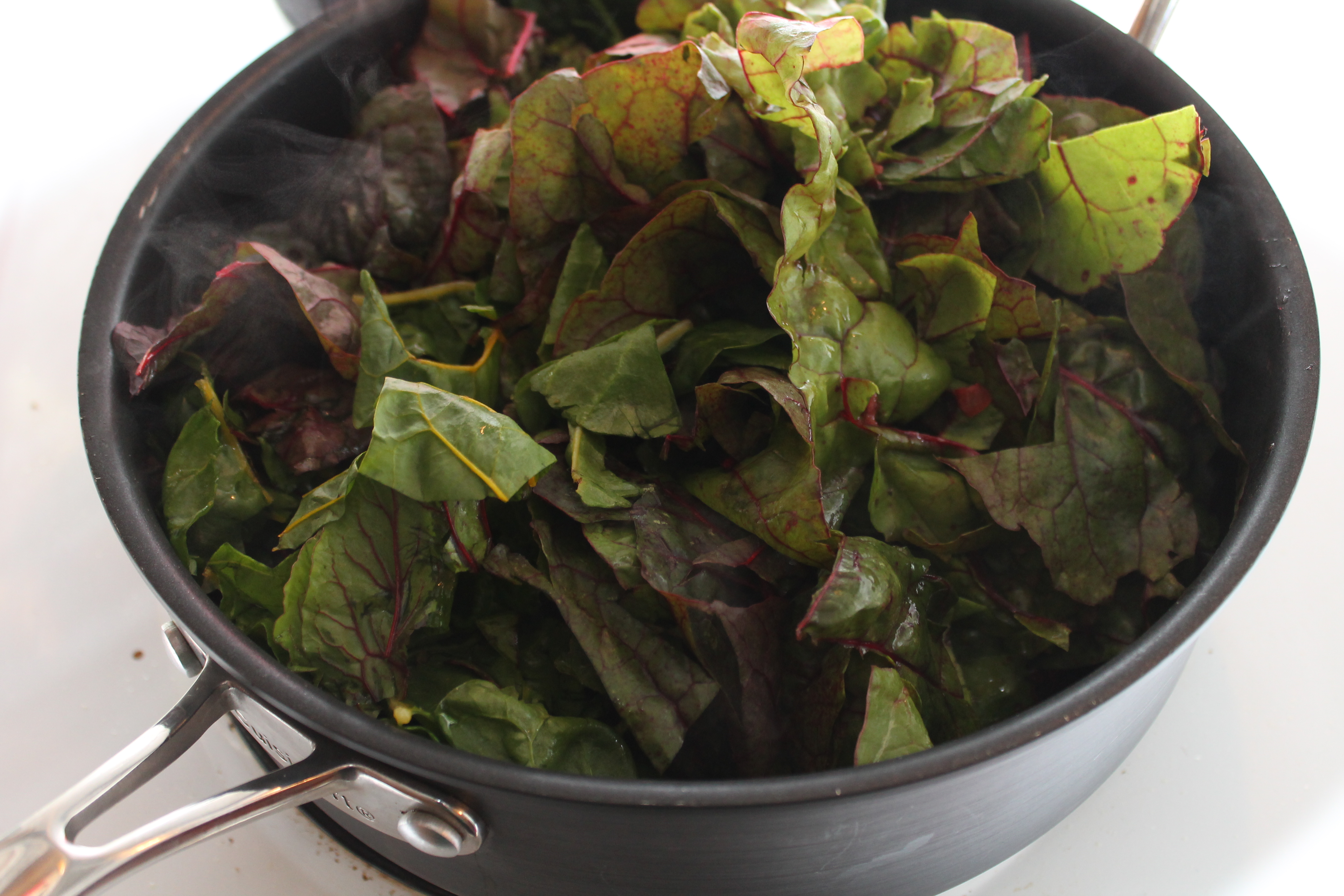 Add in all the chopped chard leaves. Stir and let them wilt slightly. Don't overheat the chard! It has a hearty flavor, but it's fairly delicate. If you let the leaves cook too long, they will become bitter.
Toss the greens and stems with lemon juice and parmesan to taste. Transfer immediately to a serving dish.
Enjoy with another glass of that wine! You know…. If you want.
Sautéed Swiss Chard
lightly adapted from Allrecipes.com
serves 2–3
Ingredients:
1 large bunch Swiss chard
2 tbsp. butter
2 tbsp. olive oil
1 shallot, finely chopped
1 large clove garlic, minced
½ cup wine wine
1 tbsp. lemon juice
2–4 tbsp. shredded parmesan
Directions:
Pull the chard leaves off the stems. Chop the leaves and set them aside. Cut the stems into about 1″ lengths.
Melt butter and olive oil together in a large skillet over medium-high heat. Stir in the garlic and onion, and cook for 30 seconds until fragrant.
Add the chard stems and the white wine. Simmer until the stems begin to soften, about 5 minutes.
Stir in the reserved chard leaves. Cook until just wilted. Toss in the lemon juice and parme. Immediately remove the chard from the heat.
Enjoy!
One year ago: Giada's Bruschetta
Two years ago: Leek Tart