Did I tell you that I've started keeping a dinner diary?
It's an idea I read about in a fun book called Dinner: A Love Story. Basically, Jenny decided that she didn't like spending a lot of time and effort making a meal that just vanished forever. She needed a record of it…something needed to stand witness even after every crumb disappeared.
I really liked the thought of being able to keep notes on my successes and failures each week…plus, after Jake came along, I realized that the kind of family dinners I grew up eating didn't just happen without intention and planning. So my own version of the dinner diary was born. At the beginning of each week, I sit on the couch with my laptop and a slew of cookbooks and try to figure out how to keep us fed in the days that follow.
This isn't really an easy task, I've learned. I'm not talking about the cooking. I'm talking about the planning.
It can be challenging to really figure out a week's worth of meals all at once!
So sometimes I try to enlist Dave's help. Recently he said, "Why don't you make something with horseradish sauce?" He probably thought I would give up and just offer him a classic: steak and horseradish (yes, I still occasionally make meat for my hubby). I'm pretty sure beets weren't what he had in mind!
But thank you, CSA, for putting beets in my box 3 weeks in a row and thus urging me to find interesting uses for them. The combination of beets and horseradish was delicious, and this recipe required less than 10 minutes of effort!
This recipe can easily be doubled or tripled with almost no extra effort! Just lay your hands on some extra beets. Here, I actually took pictures of the beets from CSA week 4, and there were just enough to serve two people.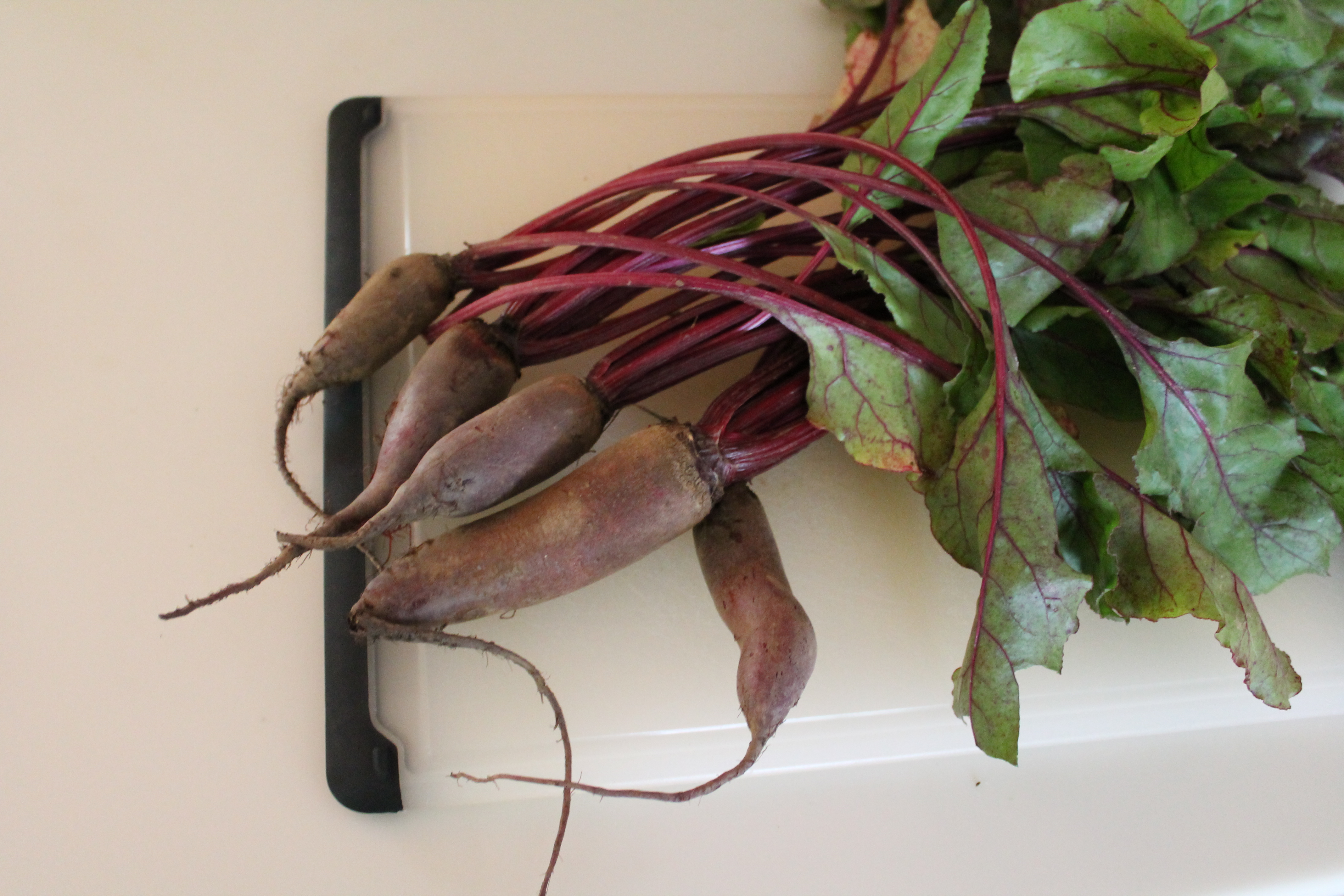 Scrub your beets and trim them. Leave about 1½″ greens at the tops, and whack off the long rat tails.
Wrap them in a double-layered foil packet. No, you do not need to add any oil or seasonings. Just wrap the beets plain.
Roast the beets in the foil at 350° for 1–1½ hours. As you can see above, I had rather skinny beets (these photos are from the beginning of beet season), so I took them out after 1 hour and they were perfect. If you have thicker, more mature beets, you should go for a longer cooking time.
Meanwhile, stir together sour cream, prepared horseradish, and a splash of lemon juice. I used way more horseradish than I originally expected…I think mine had lost some of its kick, and I really wanted that sort of bright, behind-the-nose sharp flavor to come through. Anyway, use as much or as little horseradish as suits you. Mine came out to be about ¼ cup, which I then squeezed dry (maybe 2 tbsp. once dry?).
I like a nice, creamy sauce, so I whizzed the horseradish cream in a blender for a few seconds to break down the horseradish chunks. You don't have to do that, but I think it makes a nicer finish!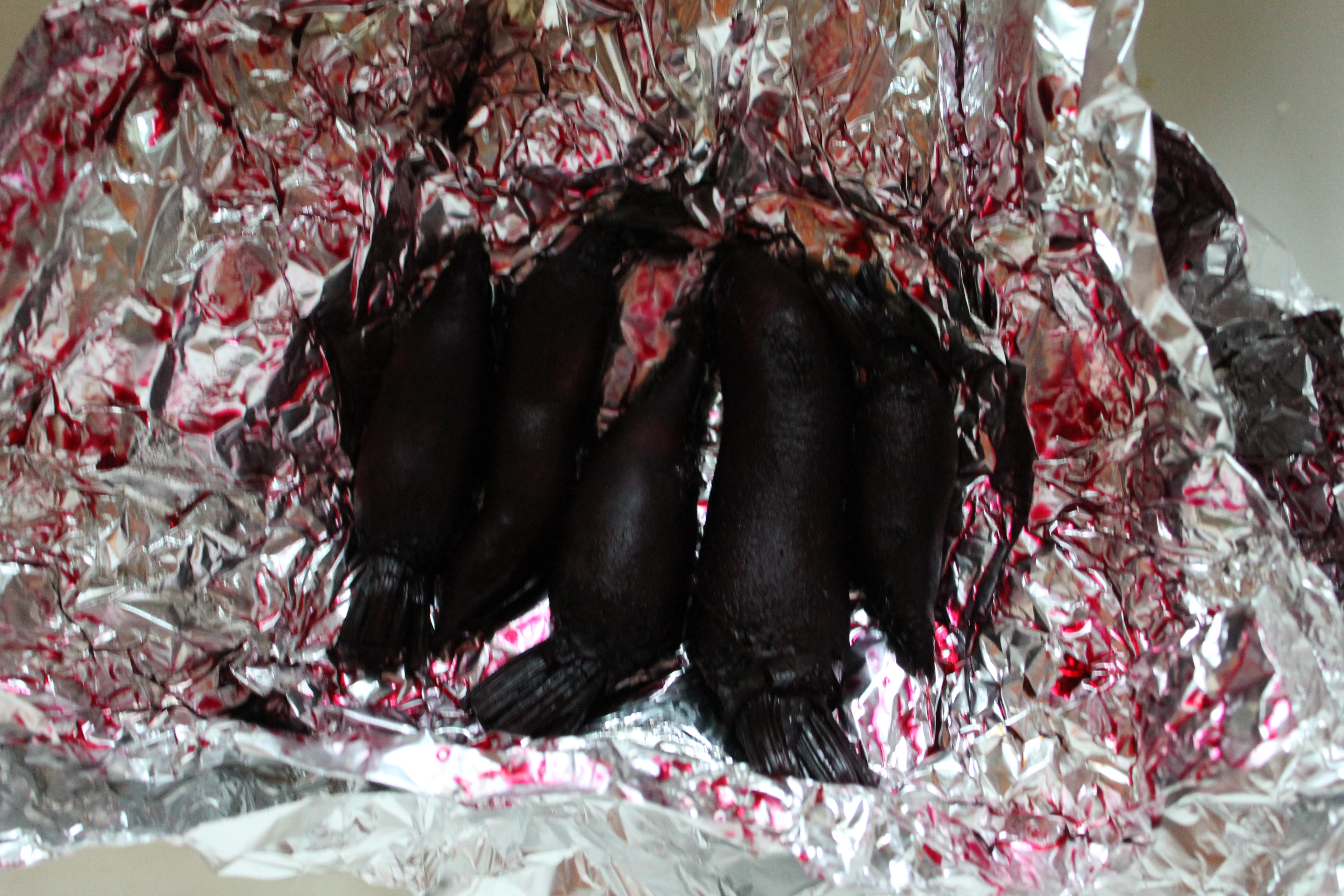 Once you remove the beets from the oven, let them cool until you can stand to handle them bare-handed. For me, this was about 20 minutes.
When you're ready, open up the foil. The beets should be dark, almost black, and very tender. Rub the skins off the flesh. You don't need a vegetable peeler for this; it should basically just fall right off! Pull the tops off, as well.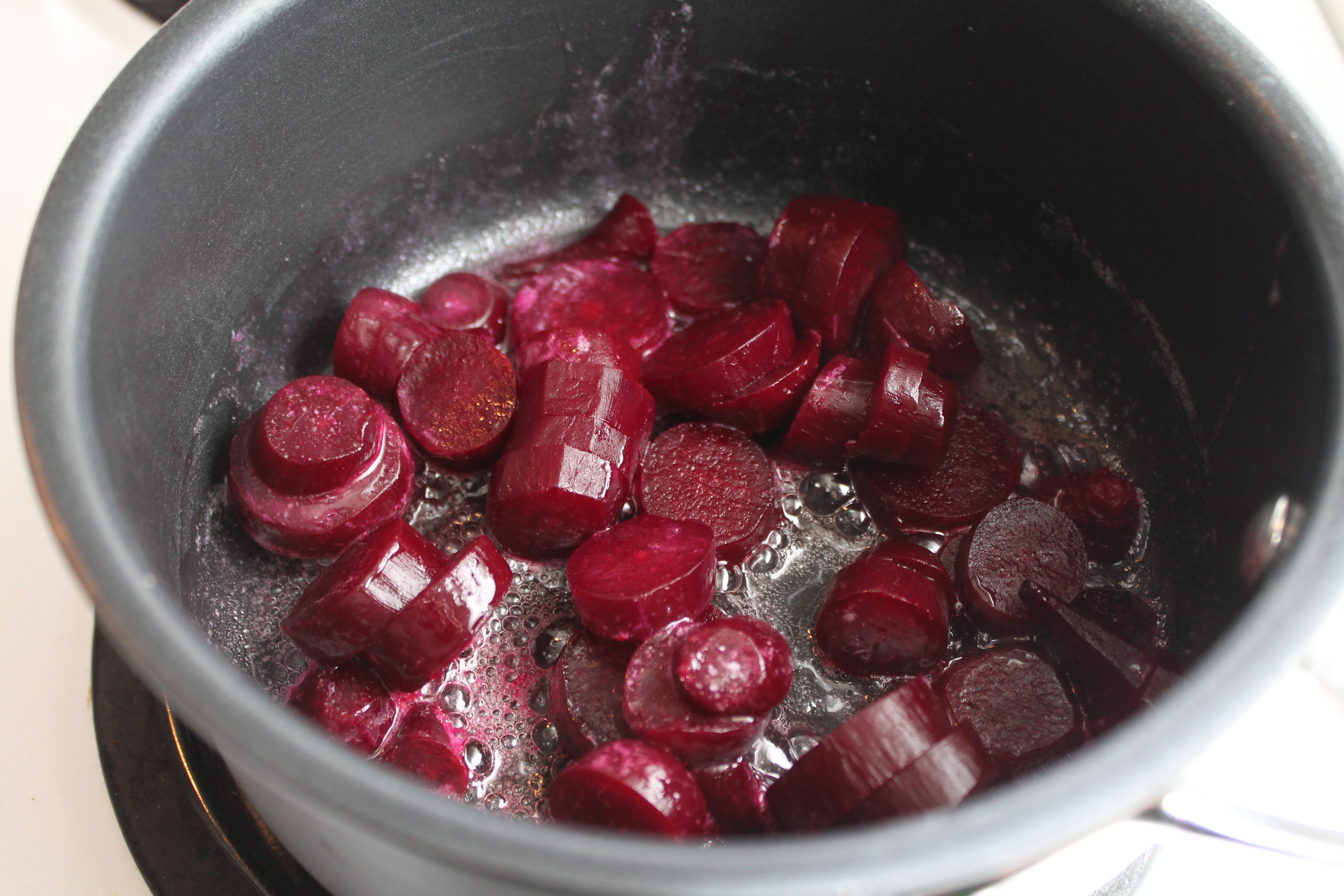 Slice the beets about ¼″–½″ thick.
Transfer them to a pan with about 1 tbsp. butter. Sauté for a few minutes, until the beets absorb most of the butter and are completely fork-tender.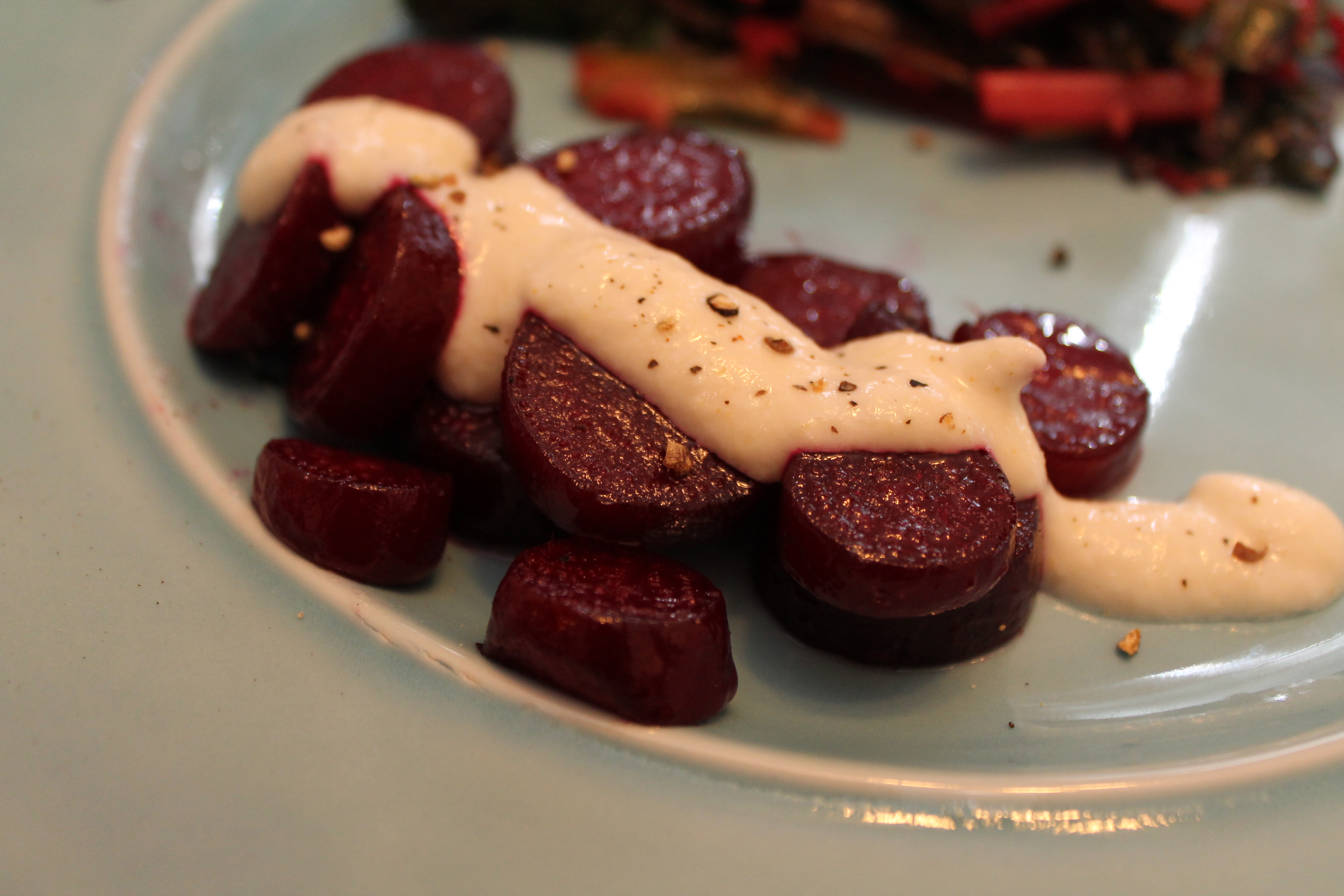 Serve topped with horseradish cream and a few grinds of black pepper.
Roasted Beets with Creamy Horseradish Sauce
adapted from Epicurious
serves 2
Ingredients:
¾ lb. purple beets (bulbs only)
5 tbsp. low-fat sour cream
2–4 tbsp. prepared horseradish, squeezed dry
splash of lemon juice
1 tbsp. butter
fresh ground black pepper
Directions:
Preheat oven to 350°.
Cut the greens from the beets, leaving about 1″ inch of the stems attached. Discard the greens. Scrub the beets, wrap them tightly in 2 foil packages, and roast them on a baking sheet in the middle of the oven for 1–1½ hours, or until tender.
Unwrap the beets carefully, discarding any liquid that may have accumulated in the foil, and let them cool until they can be handled. Peel and cut them into ¼″ slices.
In a small bowl stir together the sour cream, horseradish to taste, and lemon juice.
In a small saucepan, cook the beets with the butter over moderately high heat, stirring constantly, for 2–3 minutes, or until they are hot. Top the beets with the horseradish cream and freshly ground black pepper.
Enjoy!
One year ago: Green, Egg, and Cheese Bagel Sandwich
Two years ago: Artichokes and Hollandaise