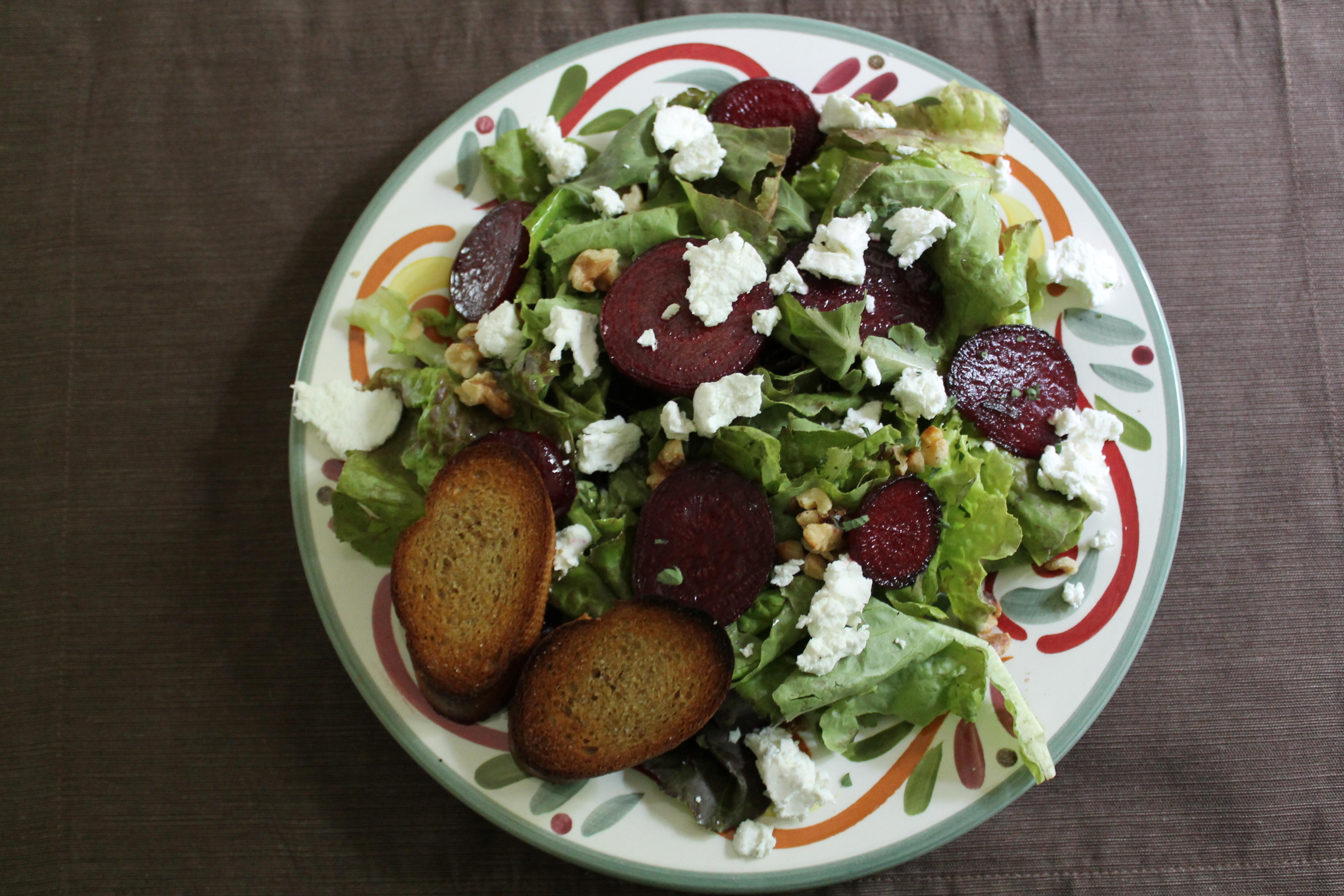 So…we've been getting a ton of beets from our CSA.
In week 6, we also received peaches, snap peas, about a million squashes (yikes!), young broccoli, and a beautiful head of lettuce.
Remember how sad I was that greens season was over? When I saw that lettuce nestled in the corner of my box, I immediately had visions of salads dancing in my head.
This salad is amazing and really easy. But cooking beets takes forever. Don't let that stop you! Any excuse to cover your entire plate (a formerly healthy, low-fat plate piled high with greens, veg, and nuts…) in rich, crumbly chèvre should be welcome. Grab a beet and let's eat!
Because my husband sadly hates beets AND chèvre (yes…sometimes I think he is crazy), I shared this meal with my friend Sarah of Well Dined.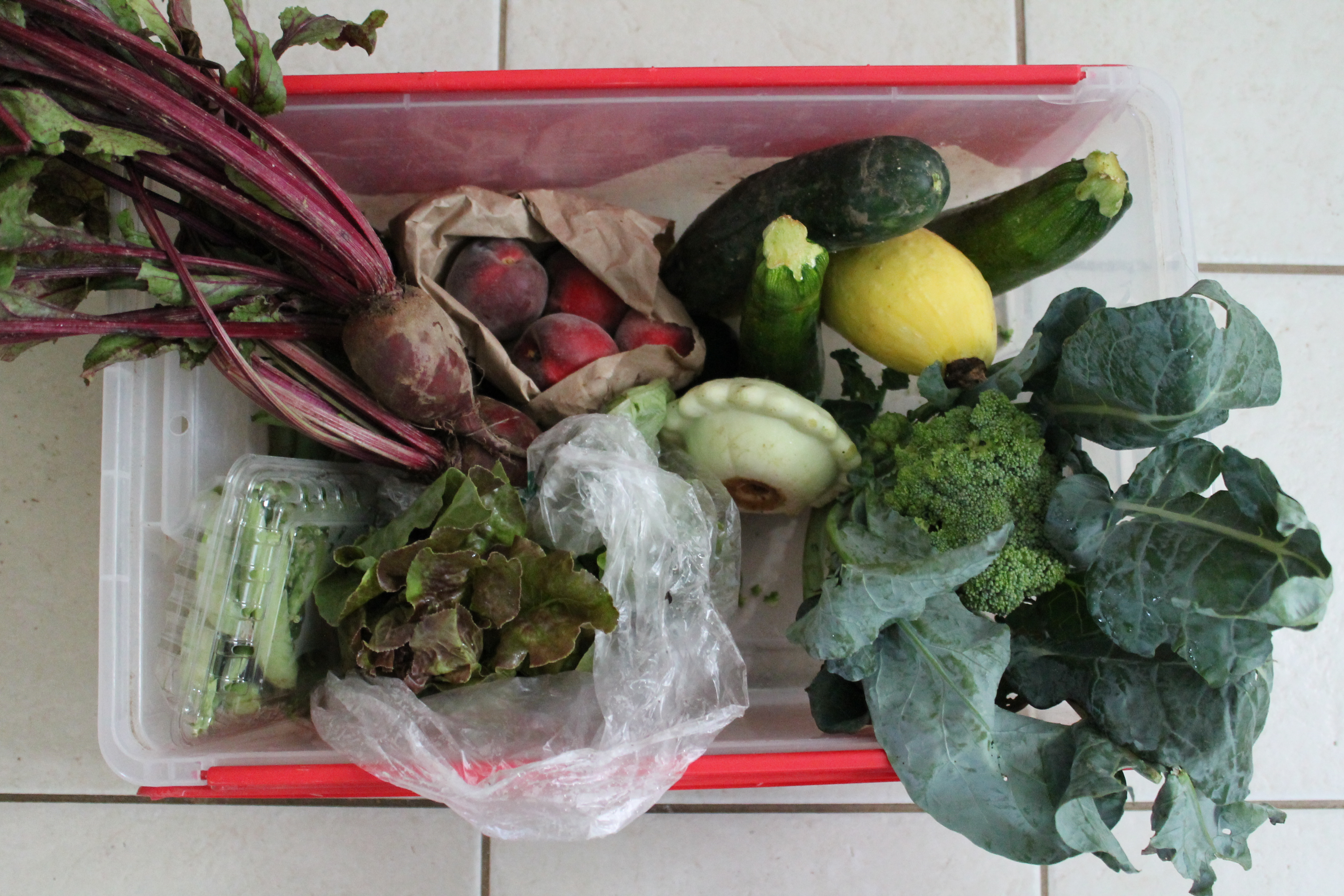 Rinse off your beets and trim off the greens and tails, leaving just about 1″ of greens sticking out of the top. Wrap them tightly in foil and pop them in the oven to roast forever. Literally. Forever.
Okay, maybe you could take them out after about 90 minutes. If you can easily spear them in the center with a butter knife, they are done.
Unwrap the beets and let them cool until you are comfortable handling them, about 20 minutes or so.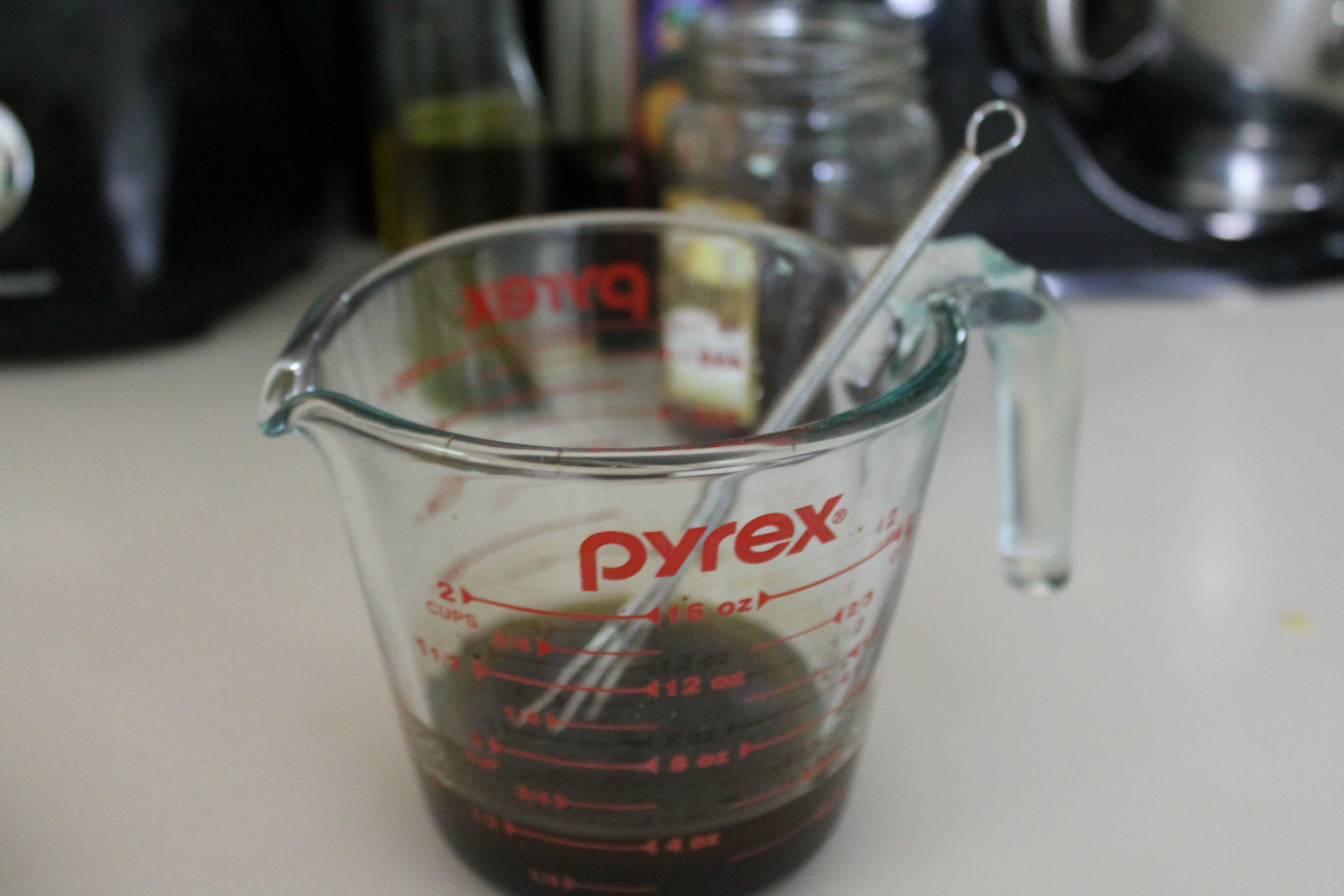 Meanwhile,whisk together balsamic vinegar, oil, and a smidge of honey. This is such a simple dressing! It should have a vinegary bite with a hint of smooth sweetness.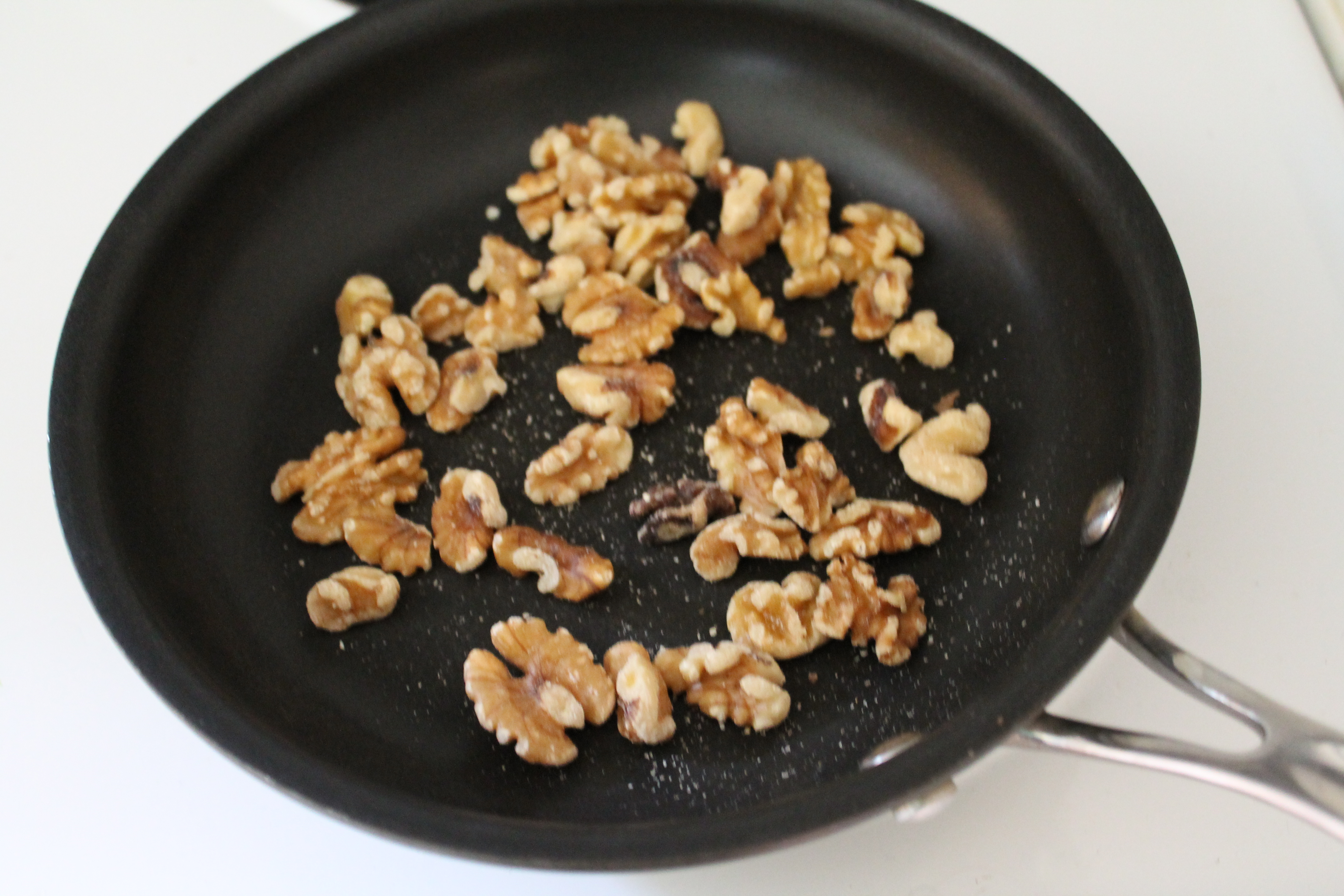 Also, toast your walnuts. I suppose you could skip the walnuts, or substitute pecans or something. If you absolutely have to. Walnuts are delicious!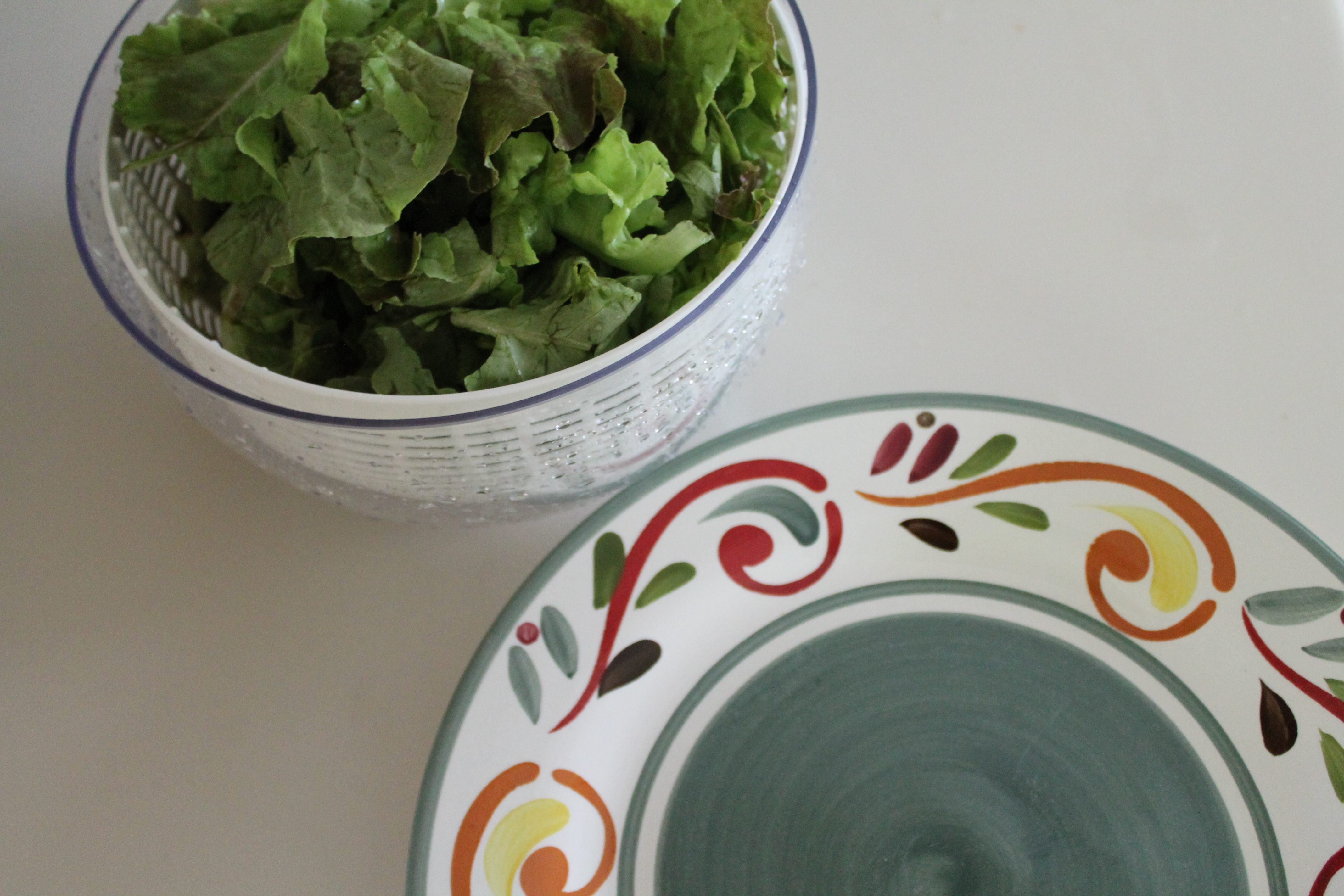 Rinse and rip up your greens. Pile them onto two plates. Top with the warm, toasty walnuts.
Rub the skins off the beets and either slice them into thin pieces or cut into small wedges, whichever you prefer! We went the slices route.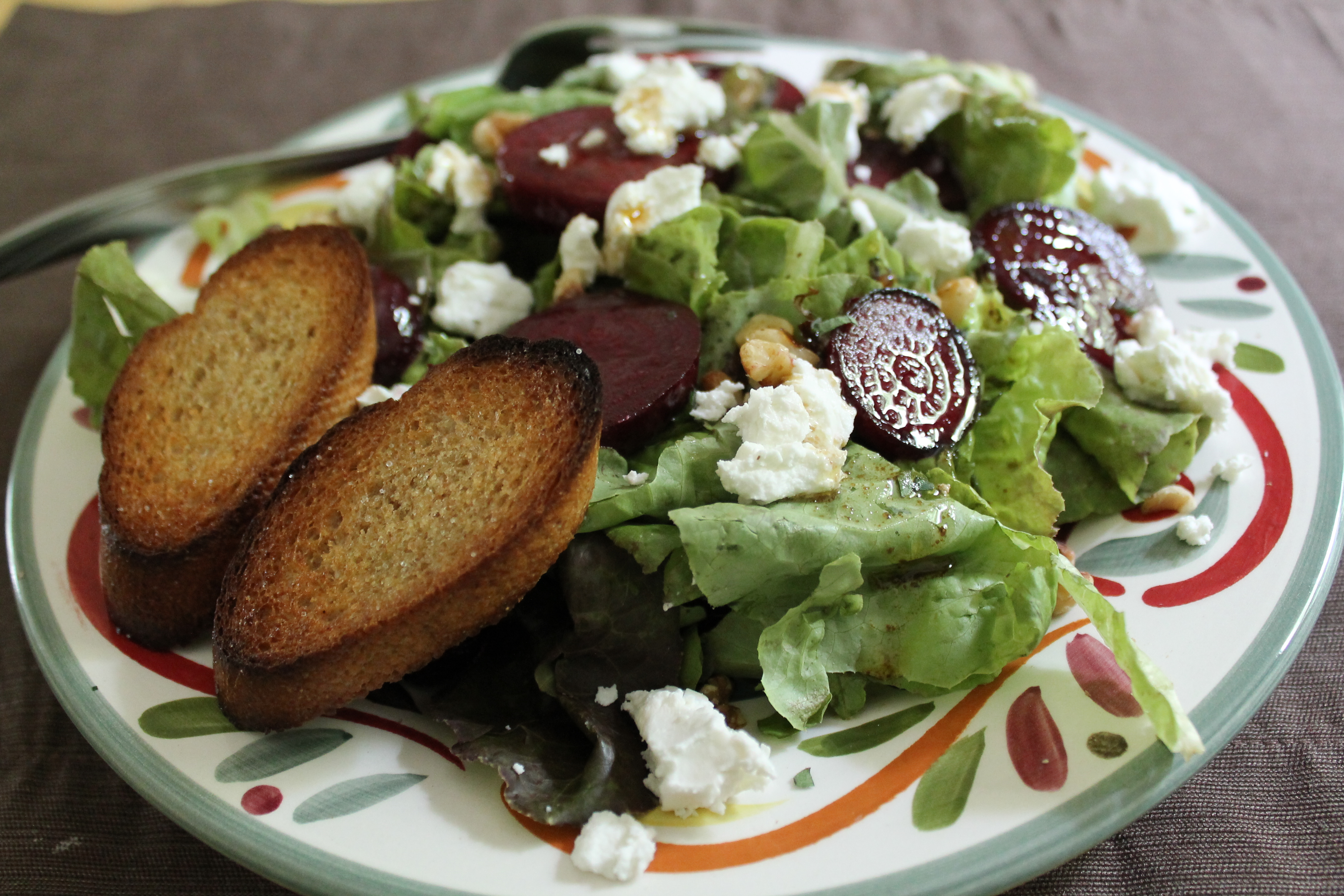 Spread the beets atop the salad. Top generously with goat cheese crumbles and a sprinkle of fresh chopped oregano. Okay…so I must admit something. Sarah and I exercised some restraint with our cheese for the pictures. But as soon as the cameras were down, we both grabbed another huge hunk of cheese and crumbled it all over our salads. Goat cheese is the best! And the tang perfectly complements the earthiness of the beets. Use more goat cheese. I'm just saying.
Drizzle the oil and vinegar dressing over the salad and enjoy!
Warm Beet and Chèvre Salad
adapted from Williams Sonoma
serves 2
Ingredients:
¾ lb. purple beets (about 3 medium)
6 tbsp. balsamic vinegar
½ cup olive oil, plus extra as needed
1 tbsp. honey
salt and black pepper
1 wheat baguette, cut into ¼″ slices
1 medium head lettuce, such as Bibb lettuce or Boston lettuce
⅓ cup walnuts, lightly toasted, chopped
1 tbsp. chopped fresh oregano
4–6 oz. chèvre
Directions:
Preheat oven to 350°.
Wrap the beets tightly in foil and roast them for 1–1½ hours, or until they are soft enough to pierce through the thickest part with a butter knife.
Unwrap the beets and let them cool 10–15 minutes.
Meanwhile, whisk together the balsamic vinegar, honey, and olive oil in a small bowl. Season to taste with salt and pepper. Set aside.
Lightly brush the baguette slices with olive oil and sprinkle with a pinch of salt. Set the slices on a cookie sheet and broil in the oven for 3 minutes.
Rinse and tear up the lettuce. Sprinkle the toasted, chopped nuts and oregano over the greens.
When the beets are cool enough to handle, rub the skins off the flesh. Cut the beets into slices or wedges and sprinkle over the salad.
Top the salad with crumbled chèvre and a drizzle of the oil and vinegar dressing.
Enjoy!
One year ago: Salmon with Yogurt-Chive Sauce
Two years ago: Butter Pecan Ice Cream