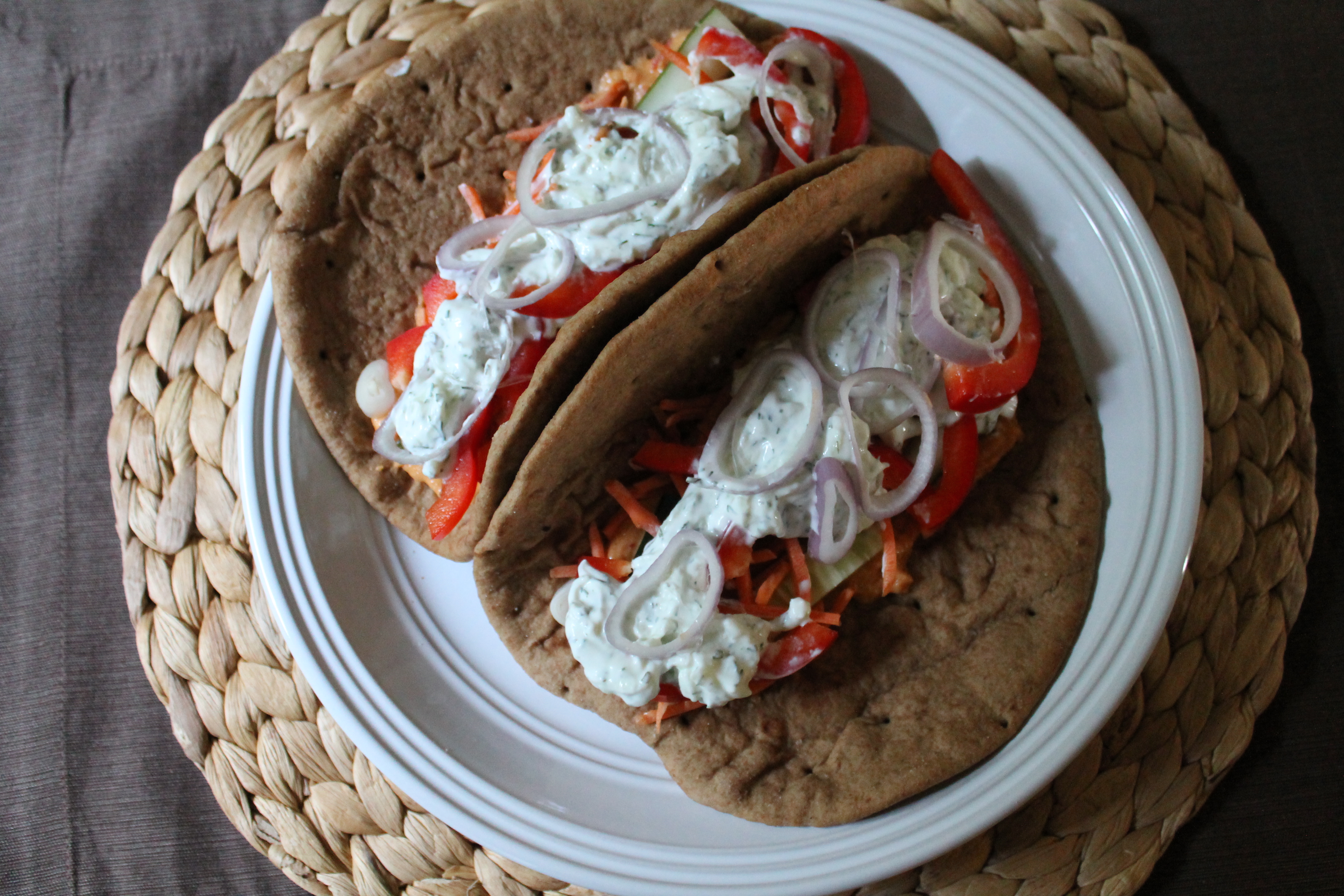 Day 3 of working through cucumbers like they are going out of style.
Which, of course, they aren't. Because there are still 6 of them in my fridge. Eek!
But this combination is one I will be returning to over and over, even when I am not desperate to put an end to a plague of cucumbers. Tangy, herby tzatziki sauce is so easy to make—and much healthier than I realized! It's full of protein from Greek yogurt, vitamins from the cucumbers and herbs, and just a smidge of heart-healthy olive oil. Gotta love the Greeks!
Combined with hummus and a fistful of fresh chopped veggies, this vegetarian wrap (these only vaguely resemble proper gyros…but I like the name anyway) is nutritious and amazing. And delicious! The most important quality.
My carnivore husband has requested that I bring this meal back, and called it an excellent compromise between his culinary wishes and mine. That might sound like a mouthful, but I promise you, it was high praise!
Tzatziki is best made ahead of time, to give the garlic and herbs more time to infuse the yogurt with flavor.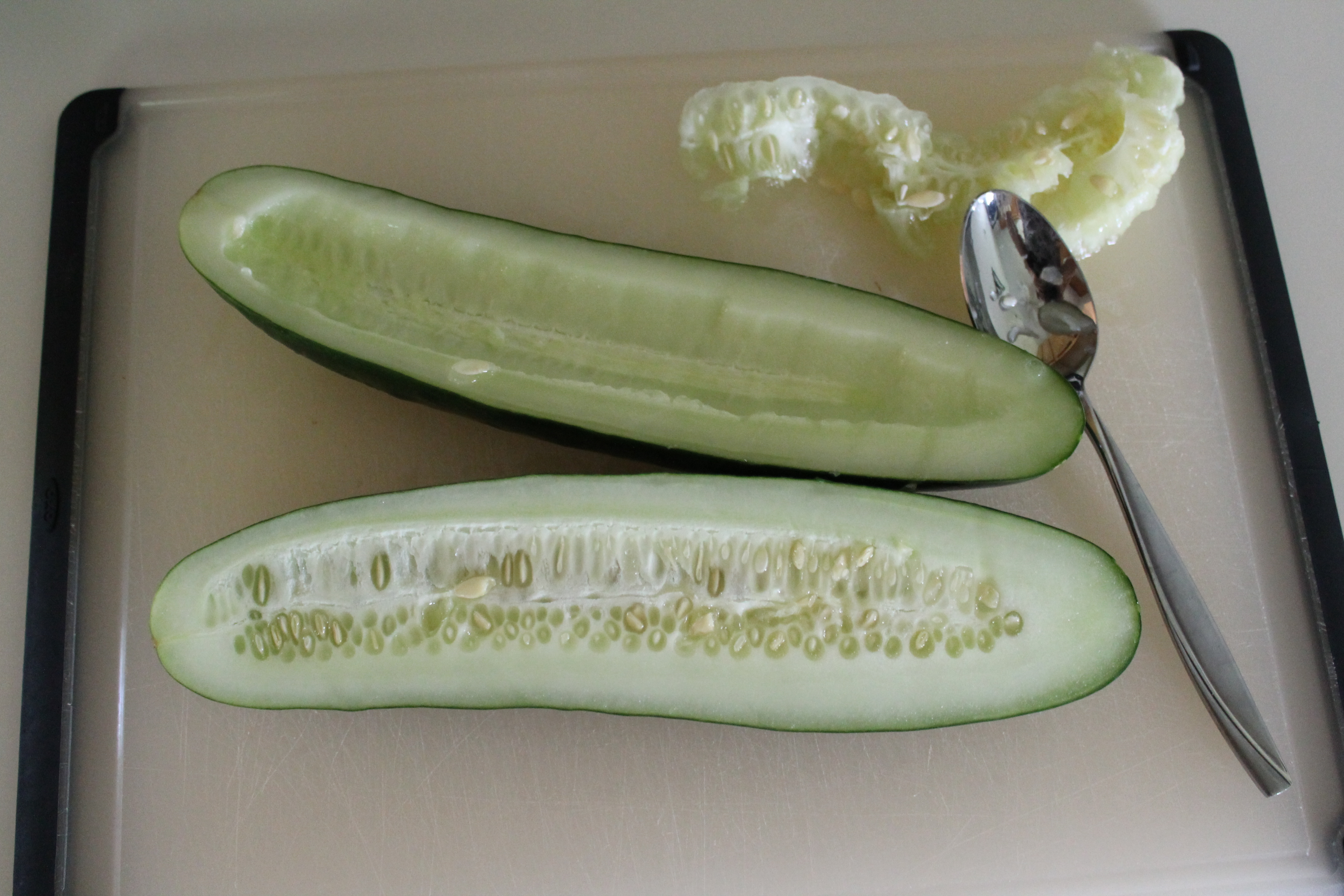 Start by peeling a large cucumber and halving it lengthwise. Using a large spoon, scoop the seeds from the inside of the cucumber and discard them. (And don't worry…if you accidentally forget to peel your cuke, as I did, you can do it after seeding!)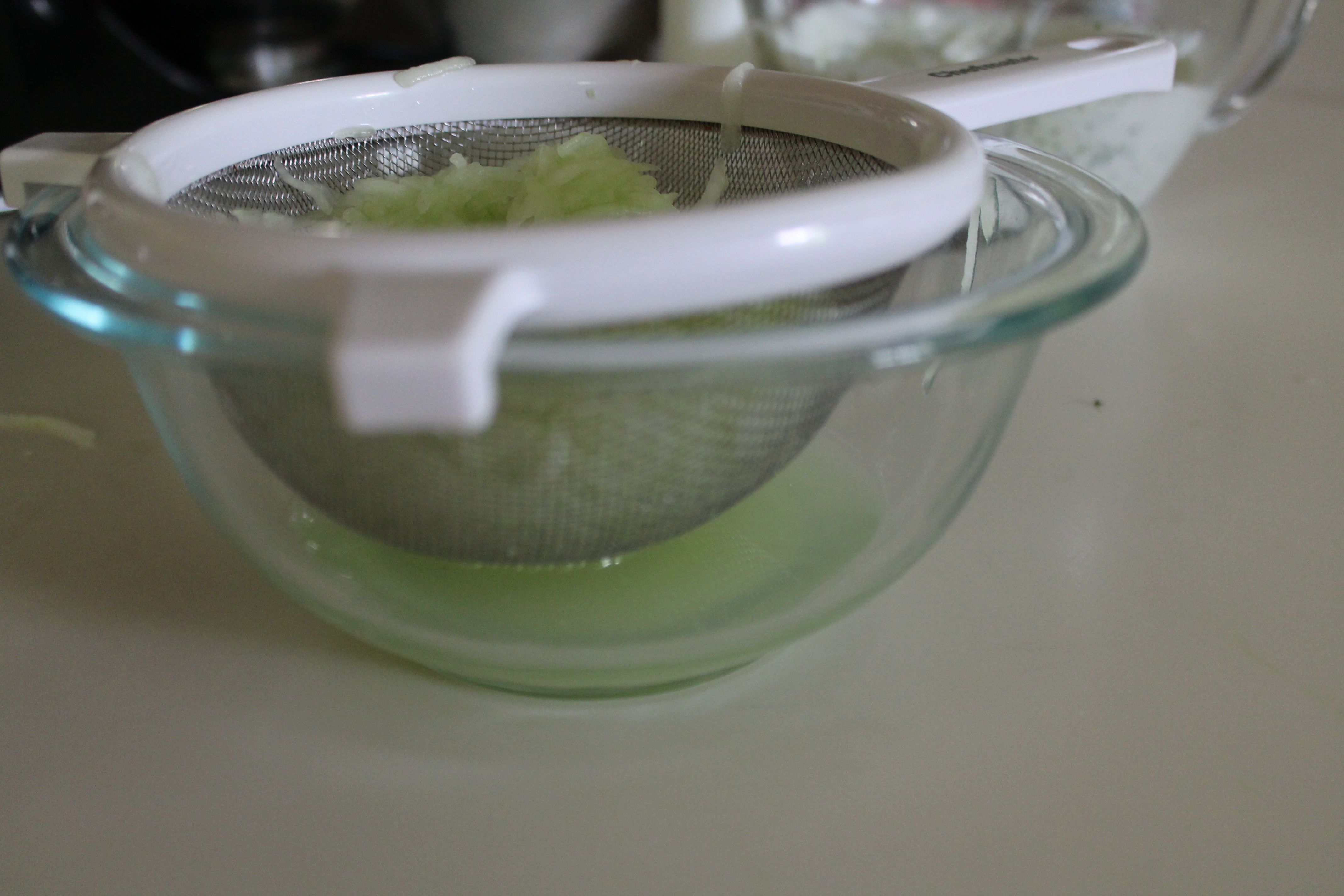 Shred the cucumber, either by running it through the food processor (which I did) or by grating it on the large holes of a box grater.
Toss the cucumber shreds with salt, then set them in a fine-mesh sieve over a medium bowl to drain. The salt will cause the cucumber to release most of its liquid. Let the cucumber sit for 30 minutes, turning a few times with your hands.
After 30 minutes, squeeze the cucumber shreds with your hands to get rid of most of the excess liquid.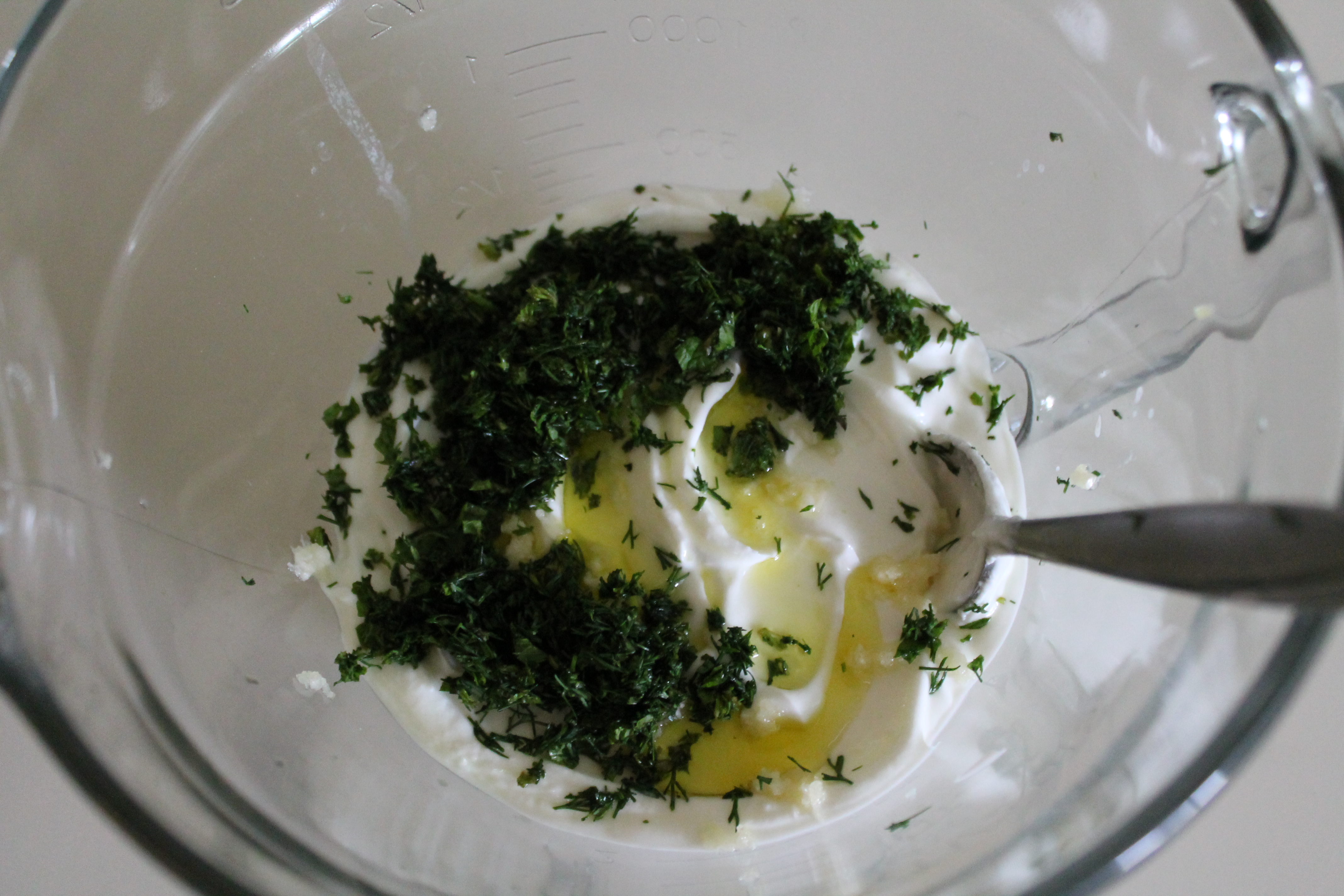 Stir together the shredded cucumber, Greek yogurt, garlic, olive oil, and herbs. You can change the ratio of the herbs to suit you: I used more dill than mint, probably something like 3 tbsp. finely chopped dill and 2 tbsp. finely chopped mint. Normally I don't like dill too much, but it is just perfect in tzatziki!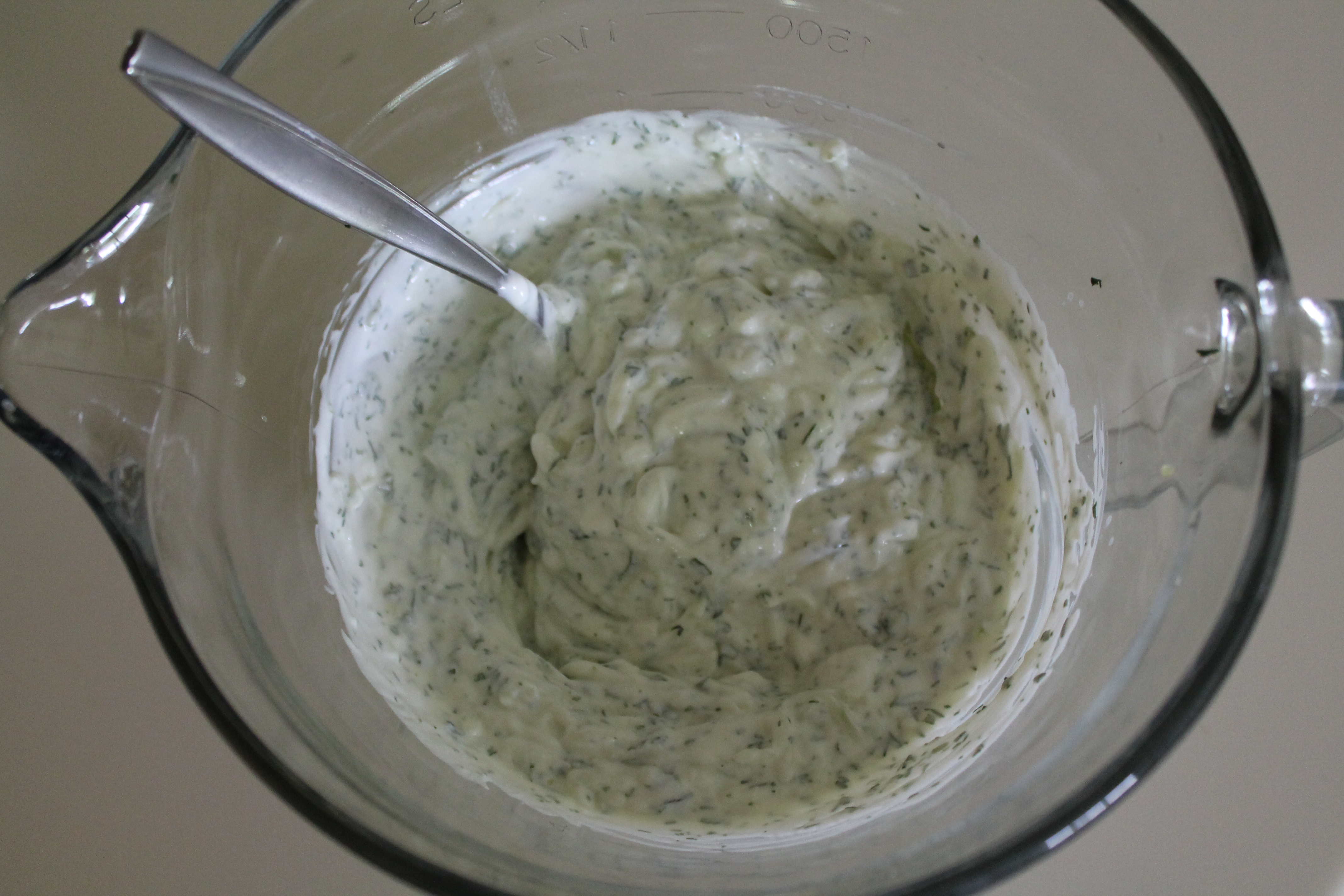 Taste and season with salt as needed. I used just a light sprinkle, probably around ⅛ tsp., and that was plenty!
Cover and refrigerate for at least 4 hours to allow the garlic and herbs to really flavor the yogurt. Yum! You can use tzatziki on these gyros or simply as a veggie dip.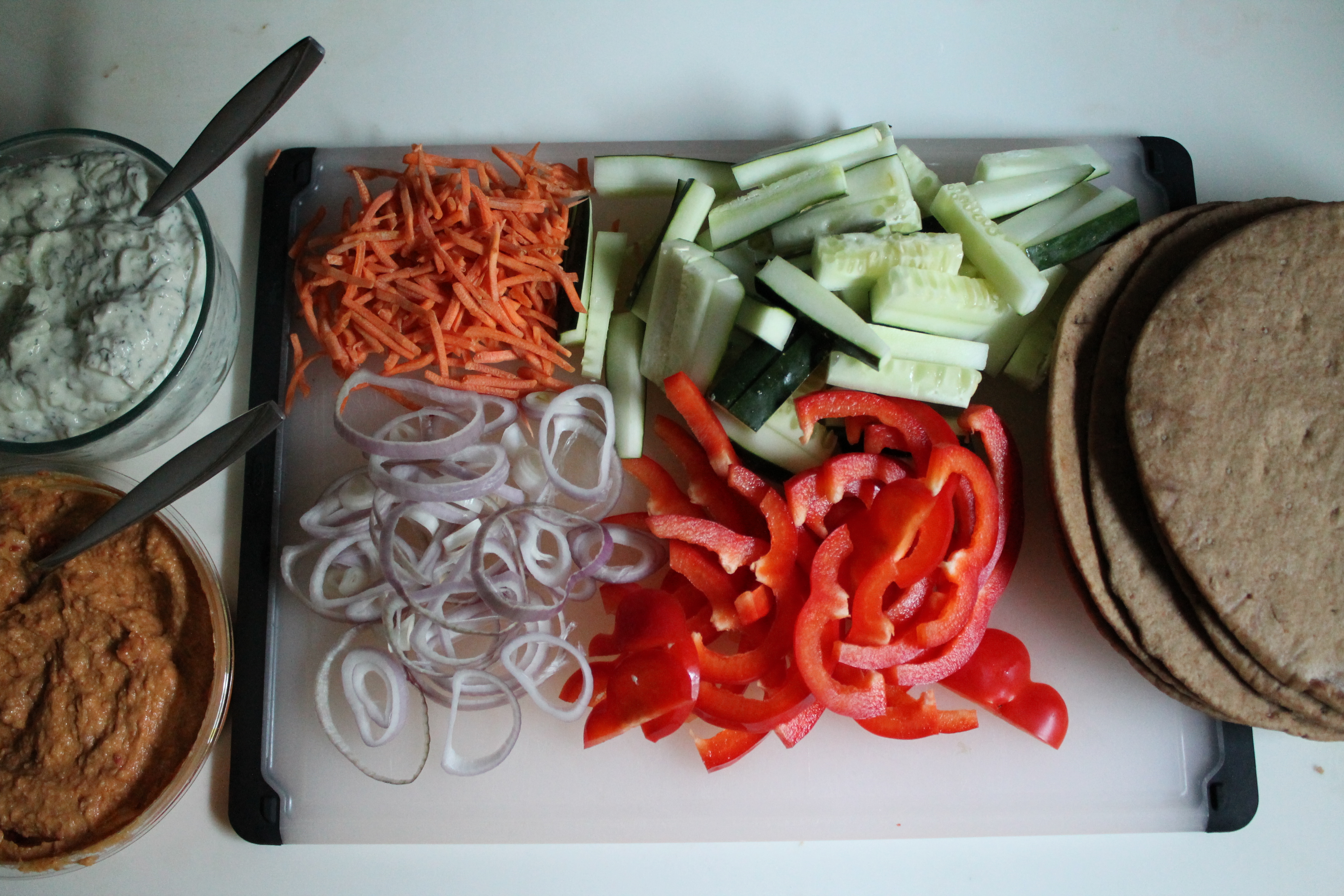 When you are ready to eat, pull out the veggies. Quickly cut the cucumbers into sticks (in retrospect, I wish I had peeled mine first, as the skins were quite tough), shred the carrot, and thinly slice the red bell pepper and onion. I actually used a shallot, because I realized too late that I'd already used my red onion in something else. The shallot was just fine, but I would have preferred the sharper bite of the onion!
Assemble your gyros. Spread a few tablespoons of roasted red pepper hummus  in the center of a whole wheat pita. (I bought both of those already prepared…in an ideal world where I had oodles of free time, I would love to try making my own pitas, but for this season of life, I love the convenience of this dinner, which only took 10 minutes to prepare right before we were ready to eat.)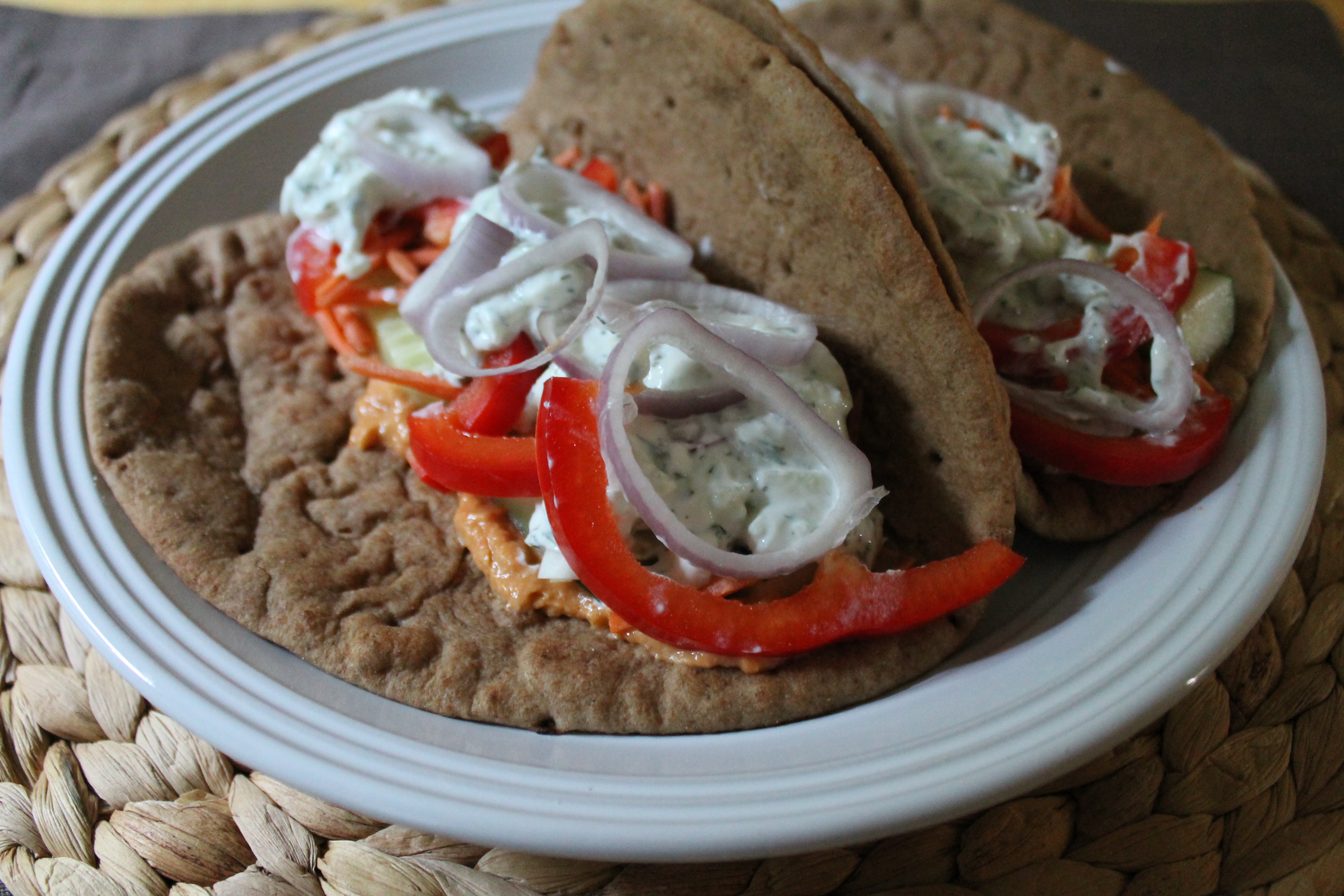 Top with veggies in whatever order or quantity you'd like. Generously spread with tzatziki. And voilà!
Veggie "Gyros" with Tzatziki Sauce
tzatziki from David Lebovitz
serves 4
Tzatziki Ingredients:
1 large cucumber, peeled and seeded
1 tsp. salt, plus extra as needed
2 cups plain Greek yogurt
4 cloves garlic, minced
⅓ cup (total) minced fresh dill and mint
1 tbsp. olive oil
Gyro Ingredients:
4–8 whole wheat pita rounds
10 oz. roasted red pepper hummus
1 large cucumber, peeled and cut into sticks
1 large red bell pepper, julienned
1 large carrot, shredded
1 small red onion, sliced
Directions:
Make the tzatziki at least 4 hours before serving. Coarsely shred the cucumber in a food processor or on a box grater. Combine the cucumber shreds with 1 tsp. salt in a colander. Let them drain for 30 minutes, turning occasionally.
Meanwhile, mix together the yogurt, garlic, herbs, and olive oil.
When the cucumber has released most of its liquid, squeeze it in a dish towel to get out the remaining excess liquid. Stir the limp shreds into the yogurt mixture. Season lightly with salt. Chill for 4 hours.
Assemble the gyros. Layer hummus and veggies in the center of the pita round. Top with tzatziki to taste.
Enjoy!
One year ago: Chocolate Truffle Ice Cream
Two years ago: Tomato-Almond Pesto