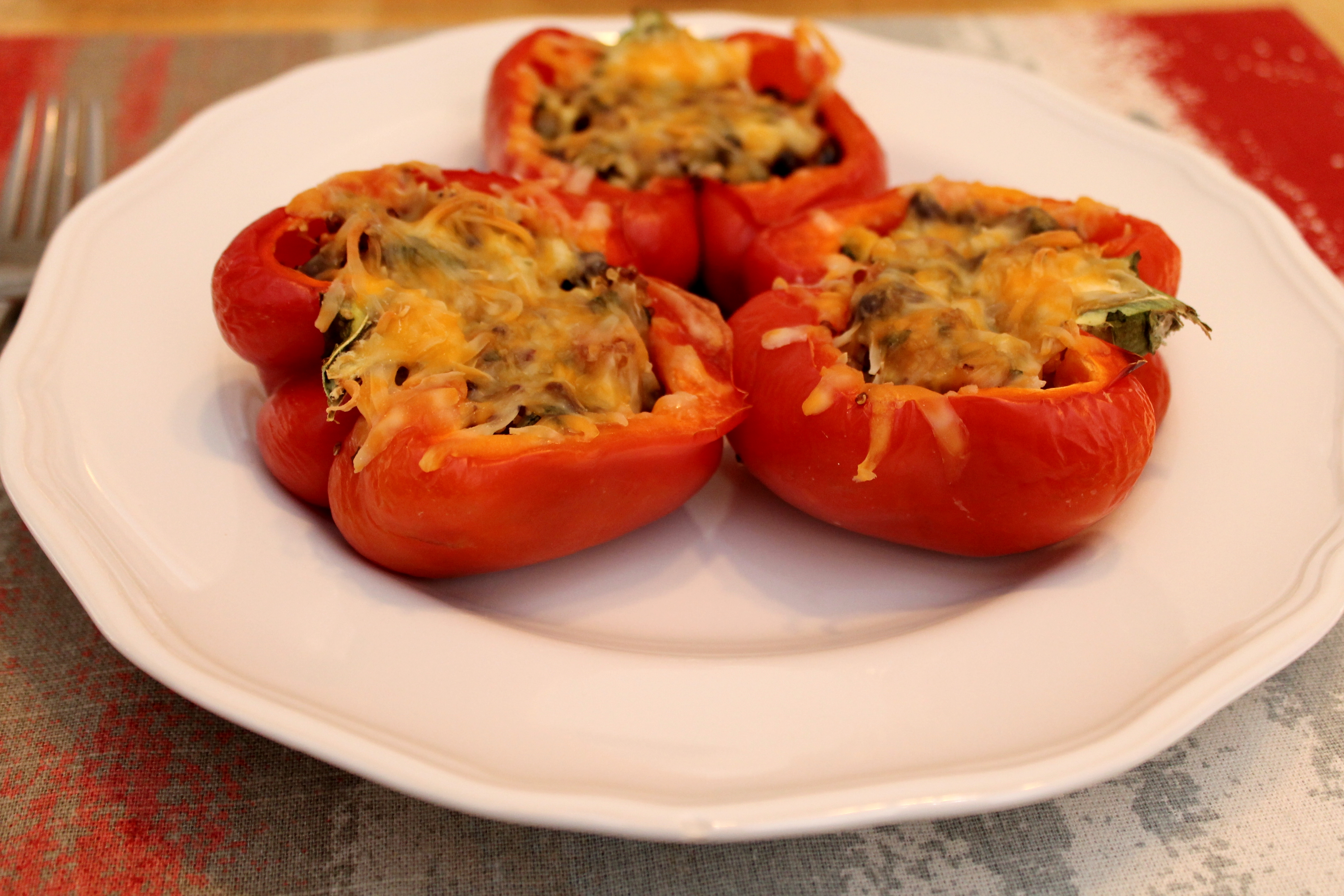 I love food. I especially love good food…stuffed inside of other good food! (No. I am NOT talking about a tur-duck-en. Gross.)
These stuffed peppers are tangy and spiced (not spicy, but full of bold flavors). I used tri-color quinoa, mixed in with corn, black beans, a small chili pepper, and cilantro. I love that this recipe uses sweet potatoes for an unexpected sweetness to contrast with the Southwestern spices. Yum! In short…they are amazing.
I should caution you, however…make sure you rinse your quinoa! I had a rather unfortunate experience with the bulk bin this time, that resulted in somewhat gritty peppers. I have since learned that red and back quinoa are often crunchier and even grittier than white quinoa. I guess the batch I bought hadn't been rinsed at all prior to sale, something I had never experienced before.
Anyway…that doesn't affect the deliciousness of this recipe, and you can learn from my mistake! It's so easy to rinse quinoa: just place it in a deep bowl and vigirously stream water into it. Turn the water off and watch as all the grit rises to the top! Skim it off, and you are good to go.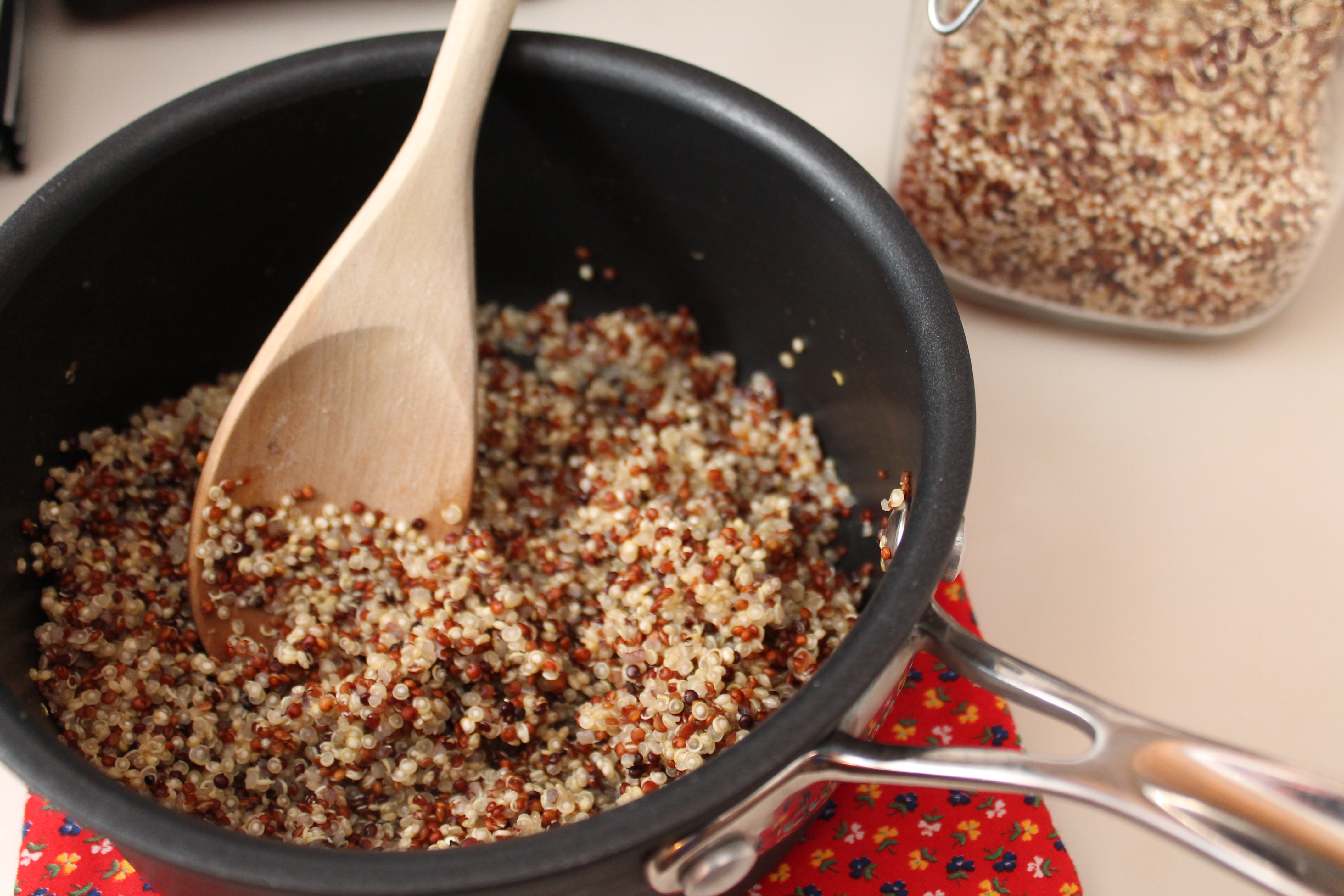 So cook your quinoa.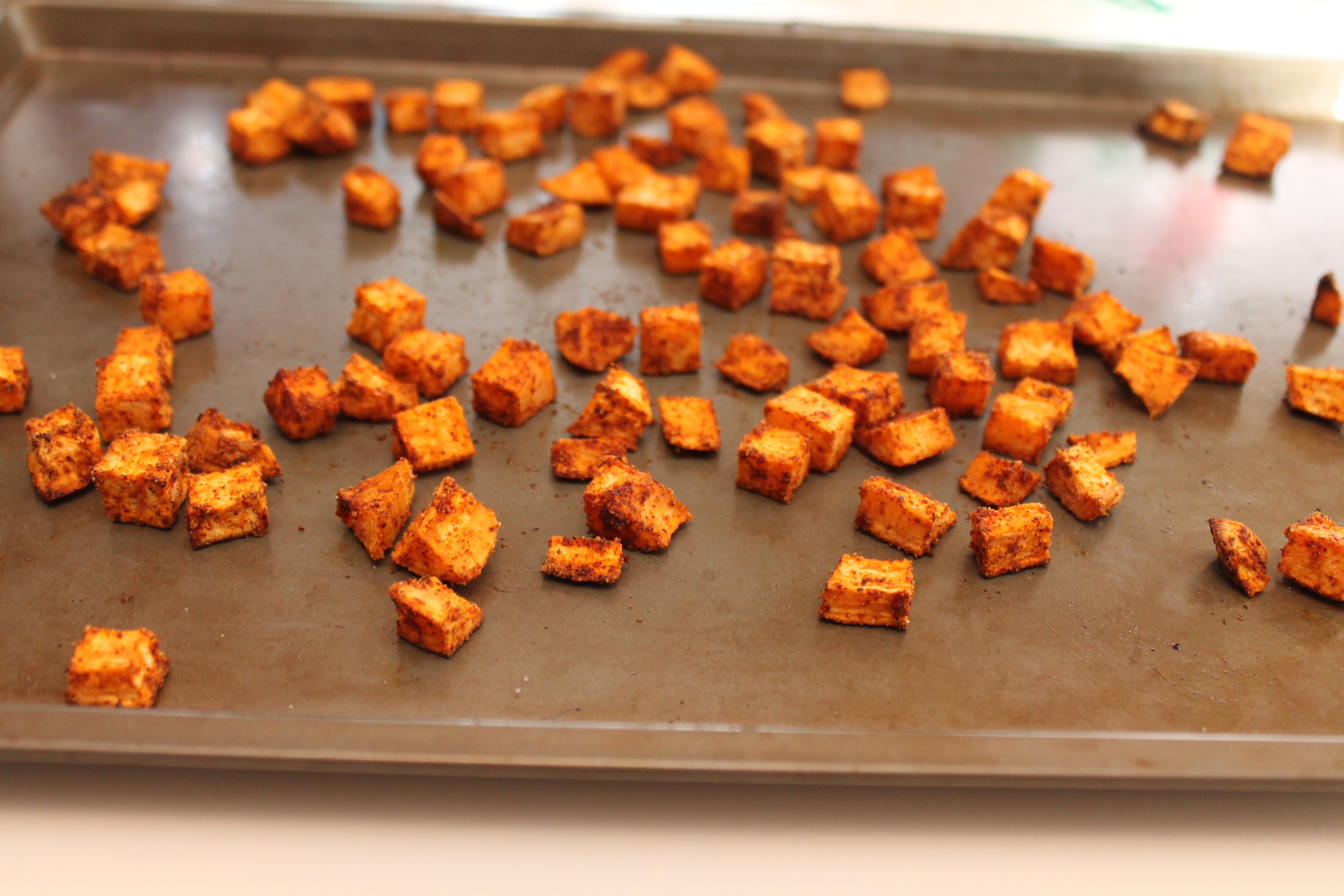 Peel a small or medium sweet potato and cut it into 1″ cubes. Season with cumin, chili powder, salt, and pepper, then toss with olive oil until all the cubes are evenly coated. Set the sweet potatoes on a baking sheet and roast for 20 minutes at 400°.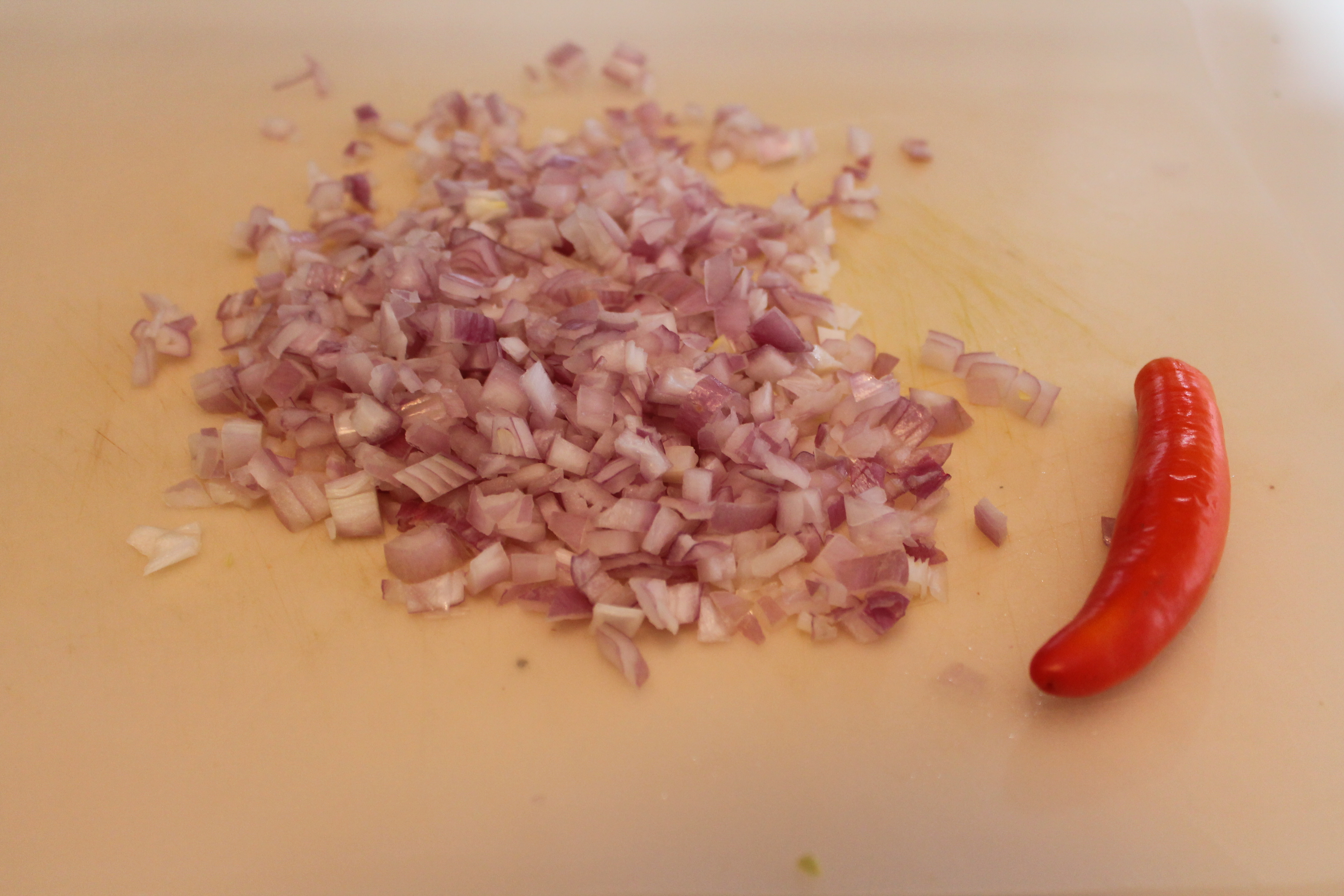 Meanwhile, chop up a large shallot and a small chili pepper. I used a great pepper from my neighbor's garden, but any jalapeño would do! Make sure you remove the seeds and ribs, or your mouth will be on fire.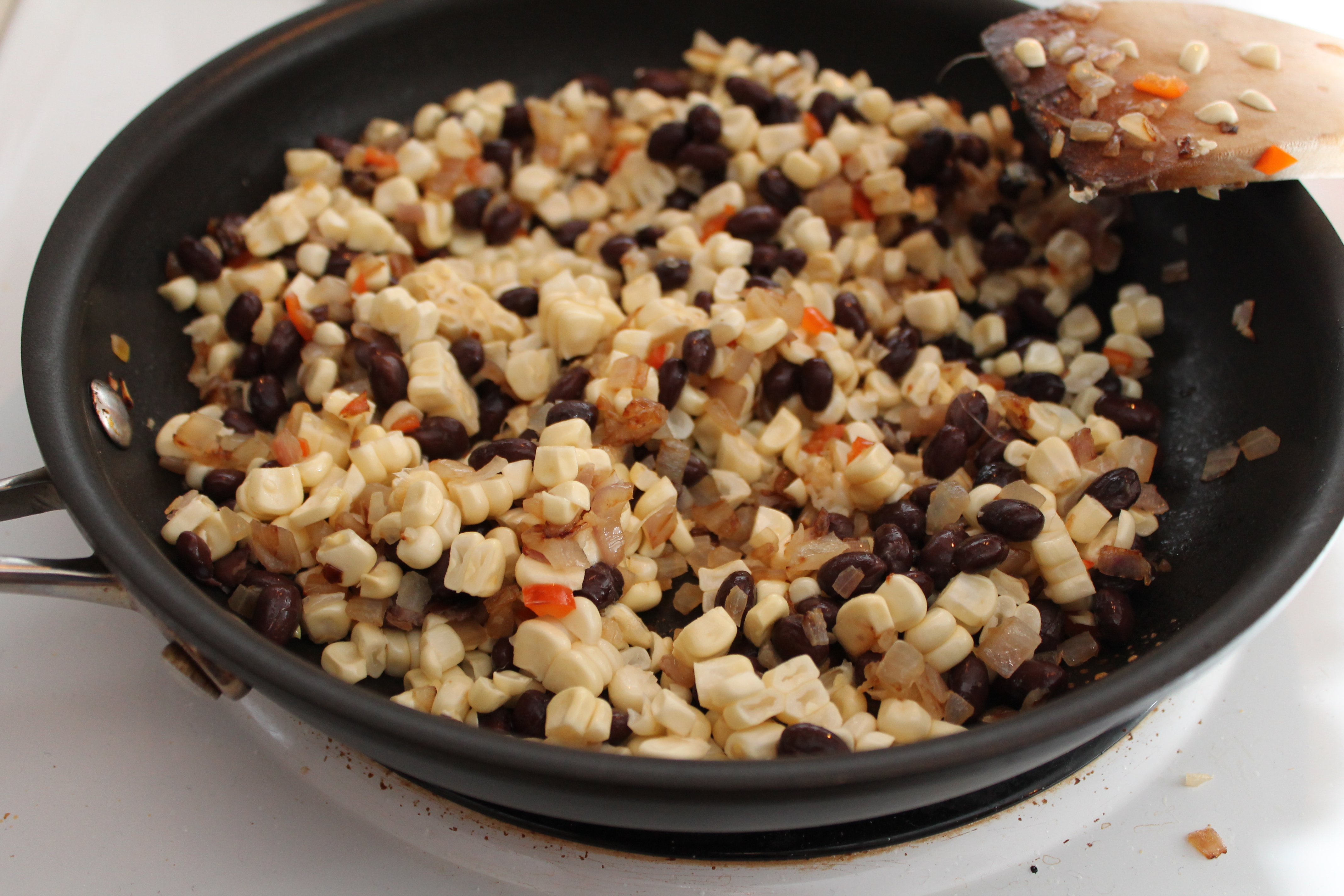 Lightly sauté the shallot until soft and translucent. Add minced garlic and the chili pepper. Cook another minute, until your kitchen smells rich and spicy.
Toss in the black beans and corn. You could use frozen corn if you like, but I used fresh corn, the last of the season. Yum! Warm the corn and beans for a minute or two, then remove the mixture from the heat.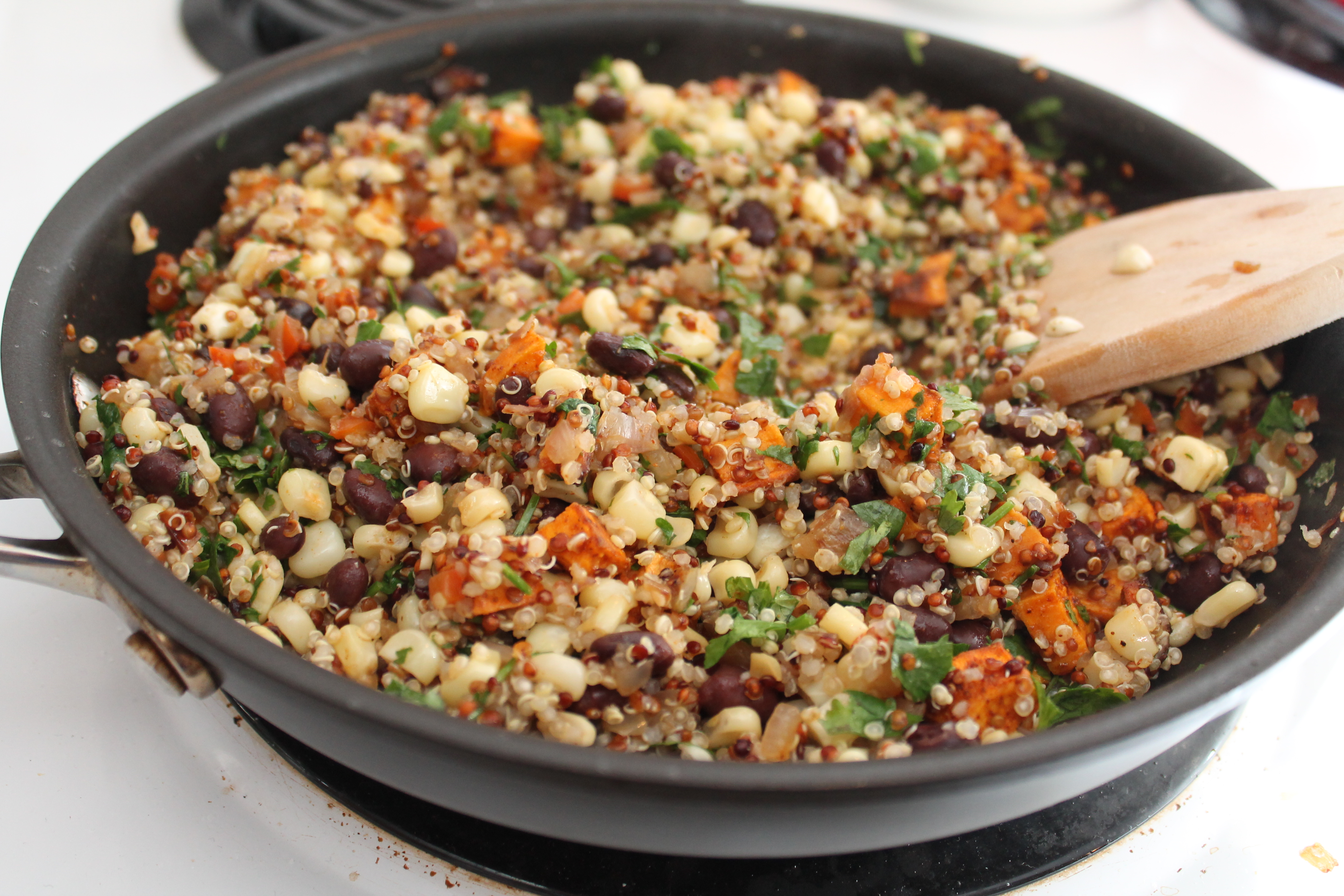 Stir the corn mixture into the cooked quinoa. Add in the roasted sweet potatoes, chopped cilantro, and juice of 1 lime. Season to taste with salt and pepper.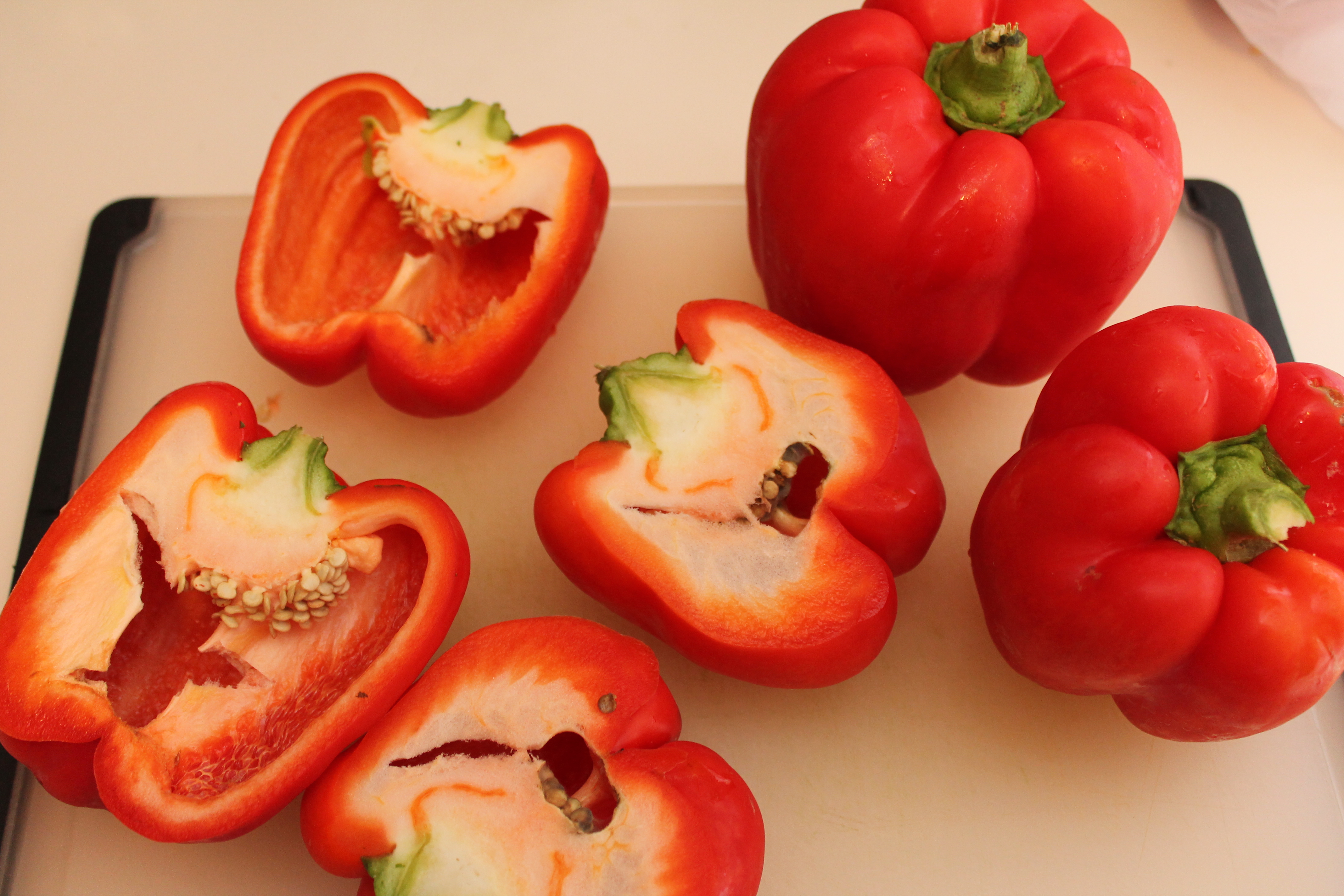 Now it's time to stuff the peppers! I used large red bell peppers I found at the farmer's market. I do recommend going for peppers in the red family (rather than green bells) because they are a little sweeter.
Cut the peppers in half, right through the stem. Carefully remove the seeds and ribs, leaving the outer shells in tact. Set the peppers in a large baking dish.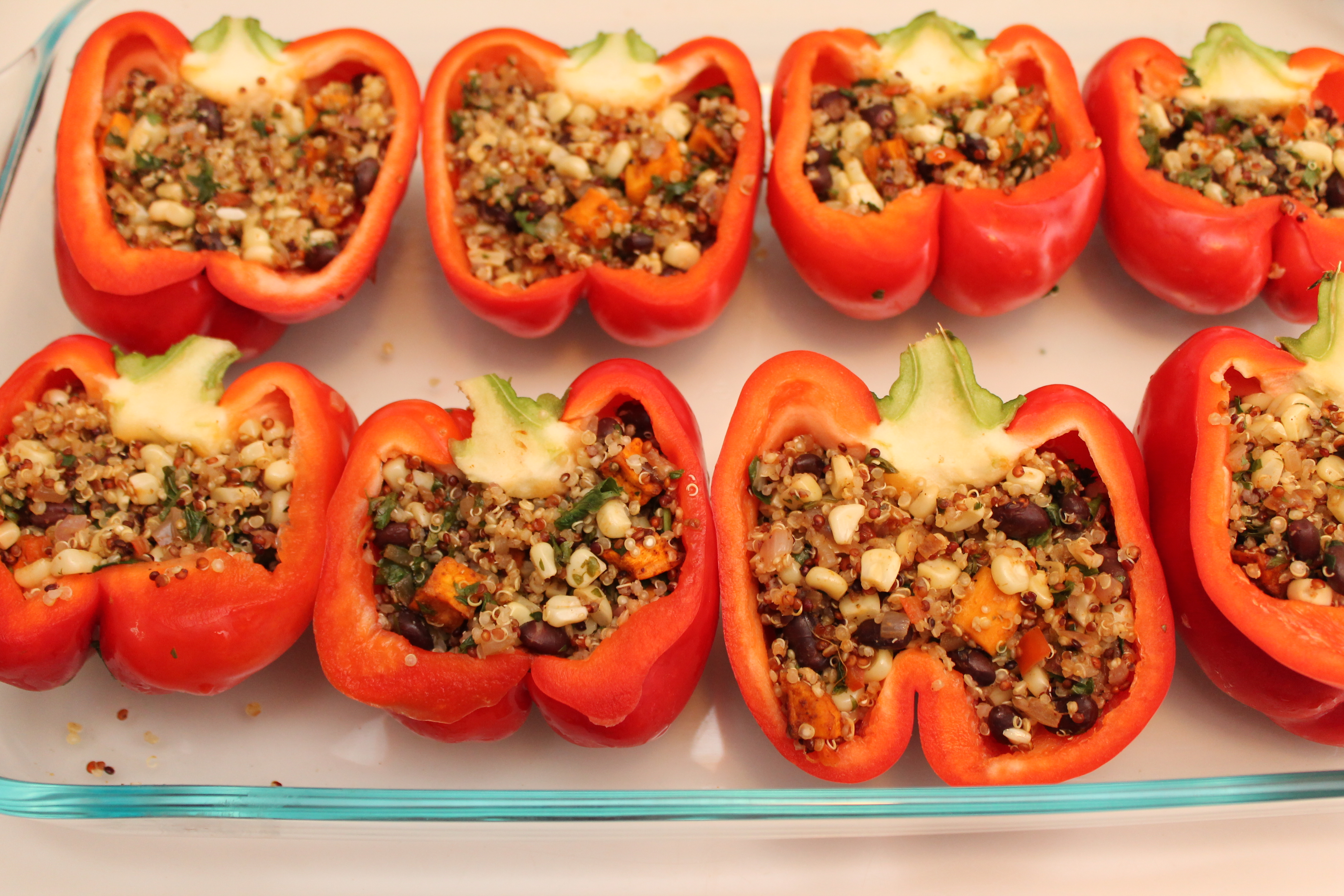 Divide the quinoa stuffing evenly among the peppers.
Top with shredded cheese. I used colby jack, because I had that on hand, but cheddar would work just as well!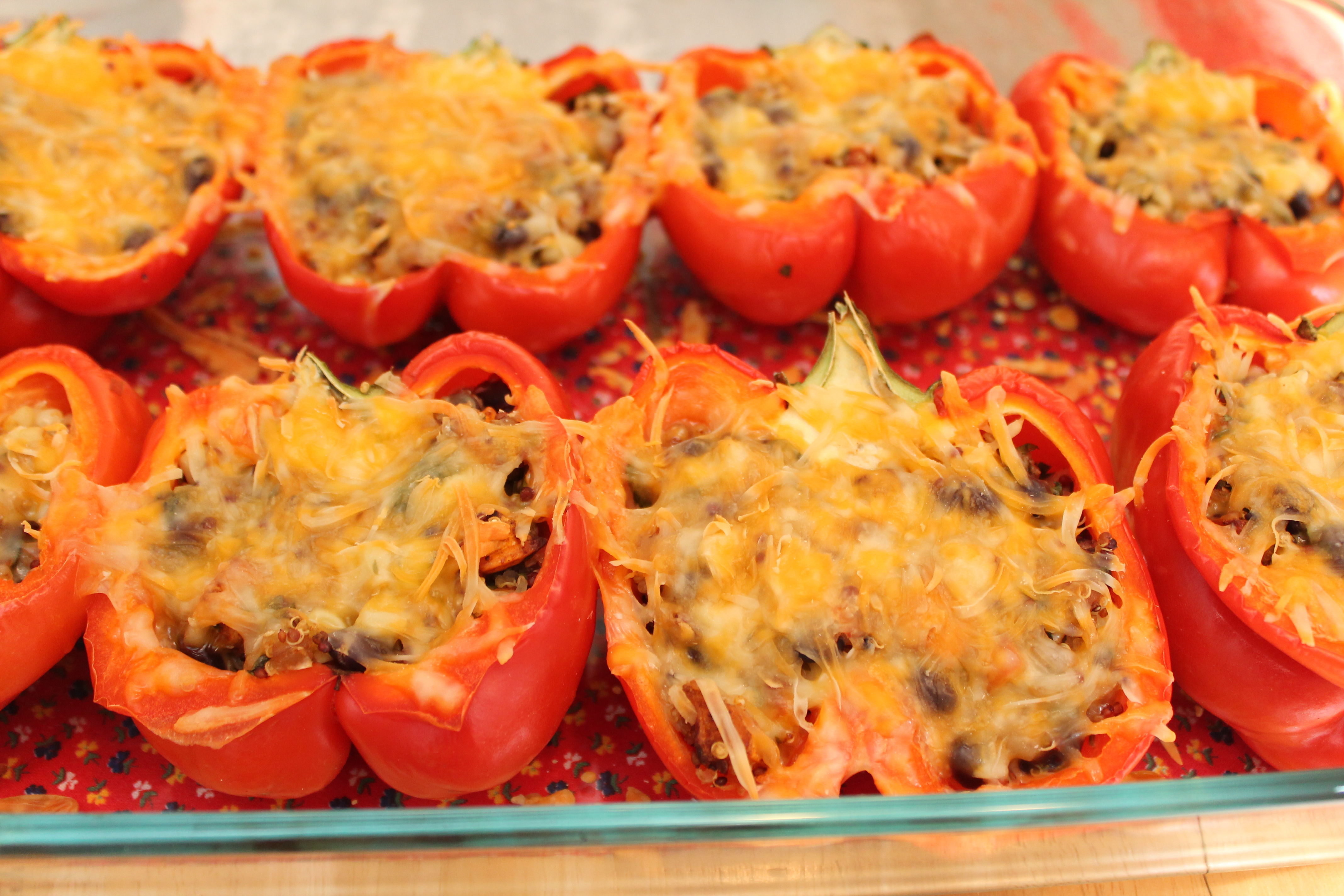 Bake the stuffed peppers at 375° for 30 minutes. When the cheese is melted and bubbly, remove the peppers from the oven.
Quinoa-Stuffed Bell Peppers
lightly adapted from Tablespoon
serves 4–6
Ingredients:
1 sweet potato, cut into 1″ cubes
1 tsp. chili powder
1 tsp. cumin
4 tbsp. olive oil, divided
1 large shallot, diced
1 jalapeño, seeded and diced
3 cloves garlic, minced
1 cup canned black beans, drained
2 ears sweet corn, kernels cut from the cob
½ cup dry multicolor quinoa
1 cup water
juice of 1 lime
½ cup fresh cilantro, roughly chopped
salt and fresh ground black pepper
4 red bell peppers, sliced lengthwise, seeds removed
2 cups shredded cheddar or colby jack
Directions:
Preheat oven to 400°.
Arrange the diced potatoes on a rimmed baking sheet. Drizzle with 2 tablespoons oil and sprinkle with cumin, chili powder and a good pinch of salt and pepper. Toss and roast for 20 minutes.
Lower the oven heat to 375°.
Combine the quinoa and water in a small saucepan and bring to a boil. Reduce heat to medium and cook, stirring occasionally, for 15–20 minutes, until the seeds pop into little spirals. Fluff with a fork.
Meanwhile, heat the remaining 2 tbsp. olive oil in a large skillet over medium-high heat. Add the shallots and sauté until they start to soften, about 4 minutes. Add the jalapeno and garlic; sauté another minute, until fragrant. Add the black beans and corn; cook for 1–2 minutes, until warmed.
Add the roasted sweet potatoes, cooked quinoa, lime juice, cilantro leaves, and a good pinch of salt and pepper to the corn mixture.
Arrange the halved peppers in a large baking dish. Stuff the quinoa mixture into each pepper and sprinkle the cheese on top.
Bake for 30 minutes, or until the peppers have softened and the cheese is melted and starting to bubble.
Serve immediately, garnished with chopped scallions or sour cream, if desired.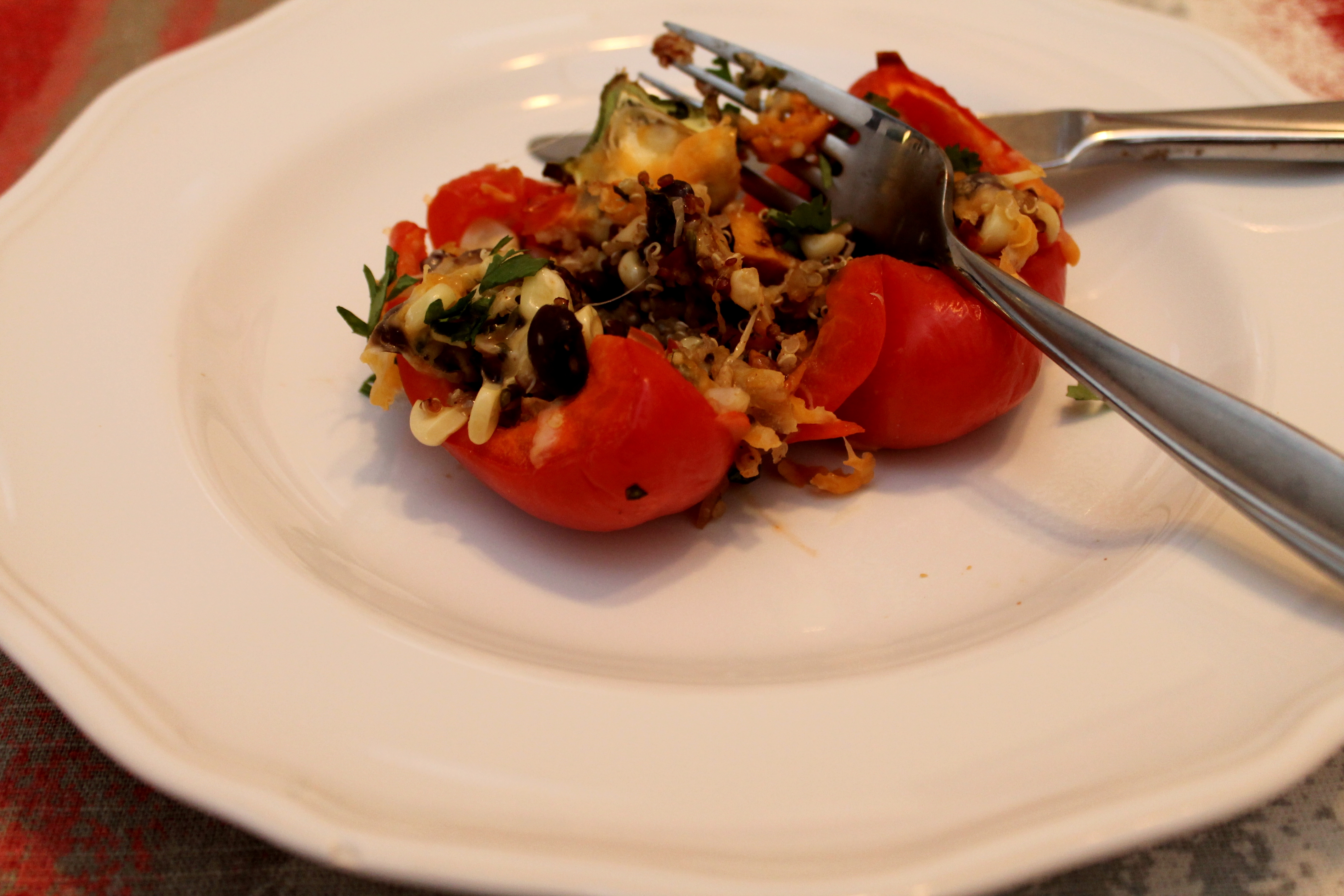 Enjoy!
One year ago: Greek Quesadillas
Two years ago: Cake in a Cup