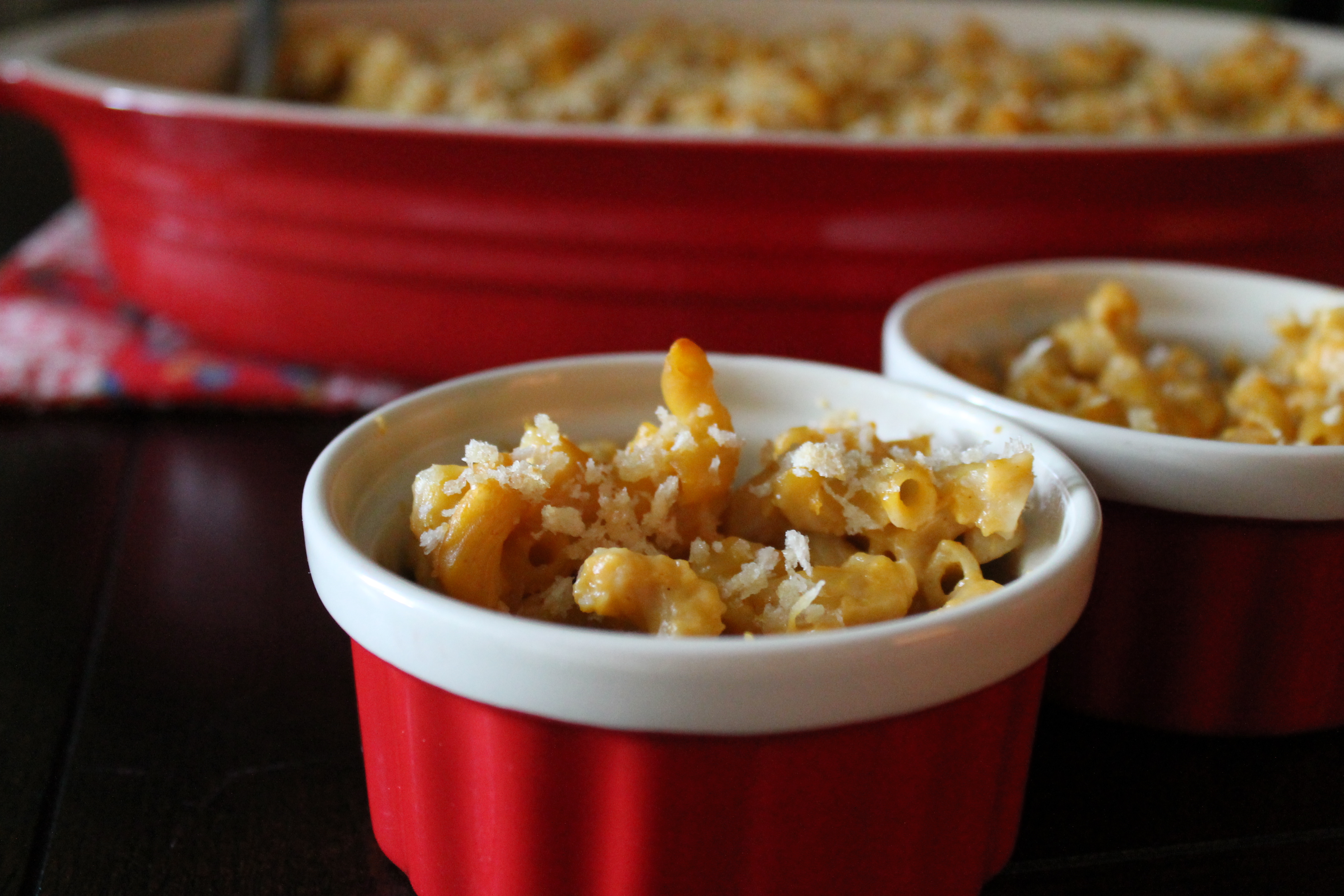 Okay, this post is totally late in coming. But I was a little bit preoccupied. (And yes, it did take me almost a week to recover from throwing the best baby birthday party ever.)
Anyway, from the last week of CSA produce ever (er…at least for this year), I am sharing with you the most delicious macaroni and cheese ever.
Did you know that mac and cheese is one of my favorite foods? And yet, in two and a half years of blogging, I have never once made it for you. That's because I am a mac and cheese snob. That's right. You heard me.
I have spent the last two years trying to perfect the absolute best mac and cheese recipe (gouda, asiago, ad pecorino with a dash of truffle oil…yum). But I realized, this is just like the time I thought there was only one perfect chocolate chip cookie recipe. Which is completely silly! Which, of course, means I have been remiss!
When I found a recipe for butternut squash mac and cheese, which is so trendy and so different from the rich bechamel sauces I had been obsessed with, I was so excited!
This mac and cheese is full of flavor. And the weird thing is it doesn't really taste like squash at all! There is just a tinge of sweetness and warmth from the cayenne and nutmeg. But mostly, the macaroni tastes cheesy and salty from the parmesan and pecorino and just a little nutty from the gruyère.
Super yum.
Enjoy the last week of CSA for 2013!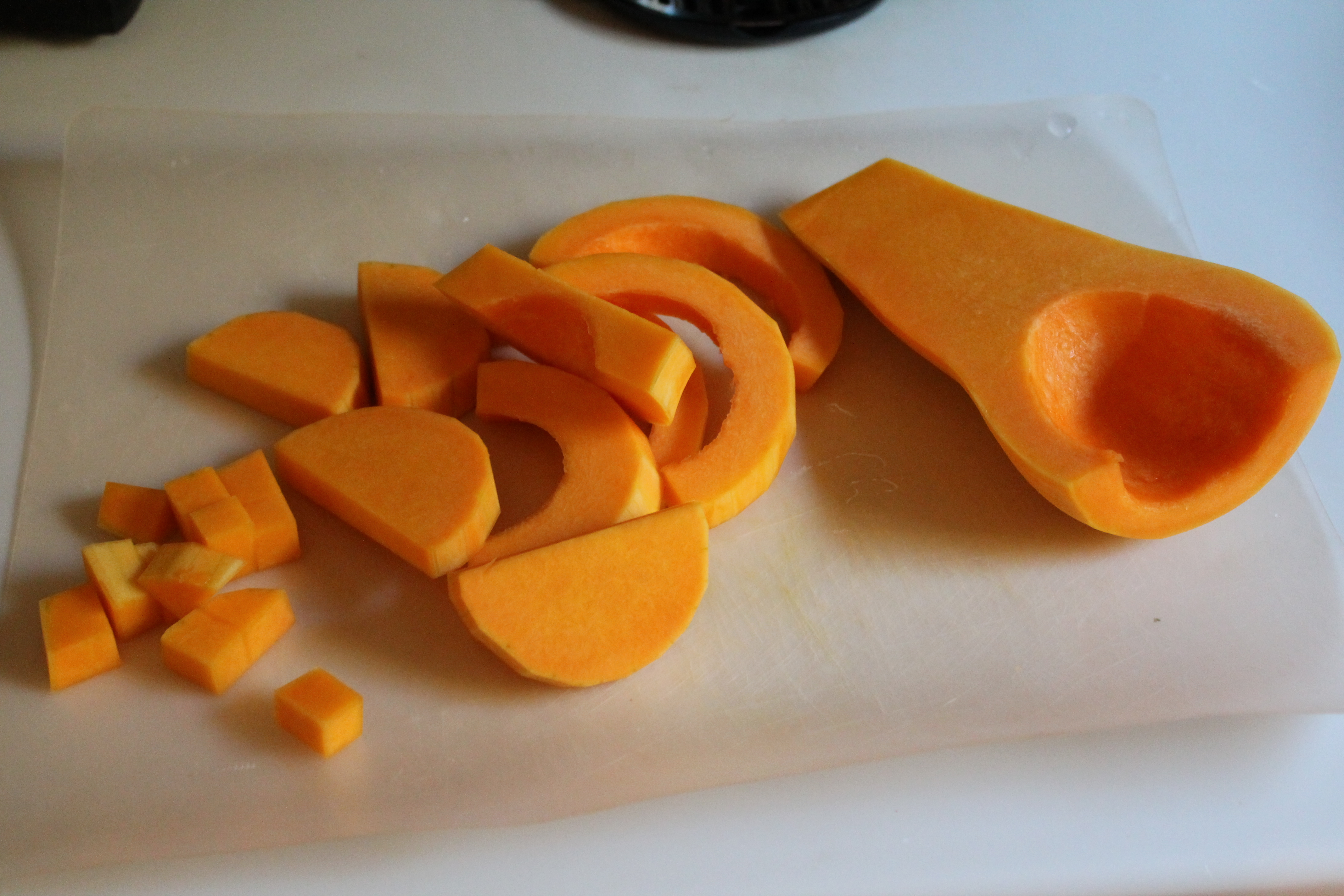 Peel a large (at least 1½ lbs.) butternut squash. Cut it in half and scrape out the seeds, then chop into little cubes. I actually used two small squashes, because that's what I got from CSA. The end goal is to have about 4 cups of cubes. (I had extra, which I turned into puree to mix into Jake's oatmeal!)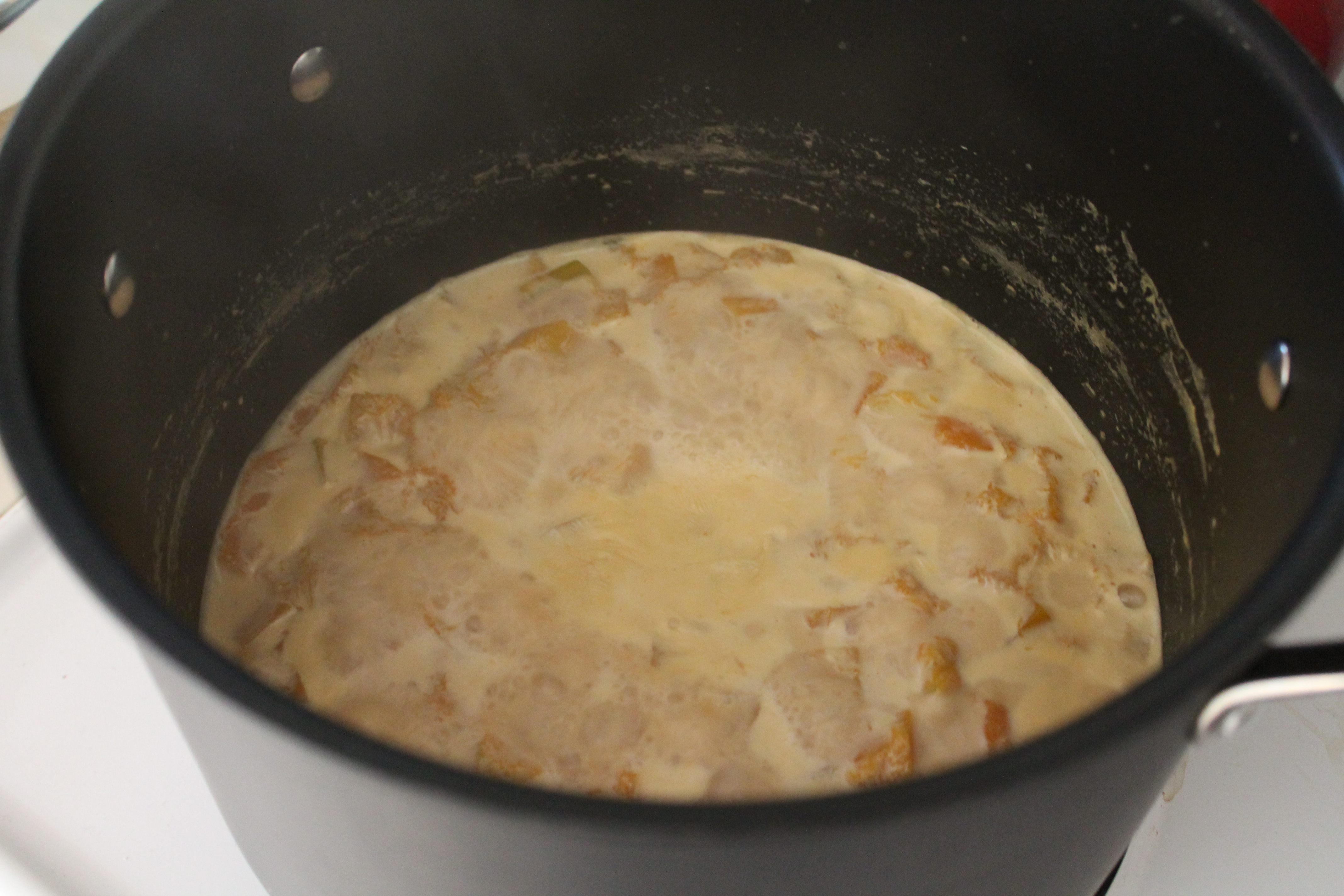 Combine the squash, milk, garlic, and veggie stock in a stock pot. Bring to a boil, then reduce the heat and simmer for 20 minutes, or until the squash starts falling apart and coating the spoon slightly when you stir. I used whole milk in this, because I had a half-gallon I was trying to use up, but the original recipe called for skim. Use what you like!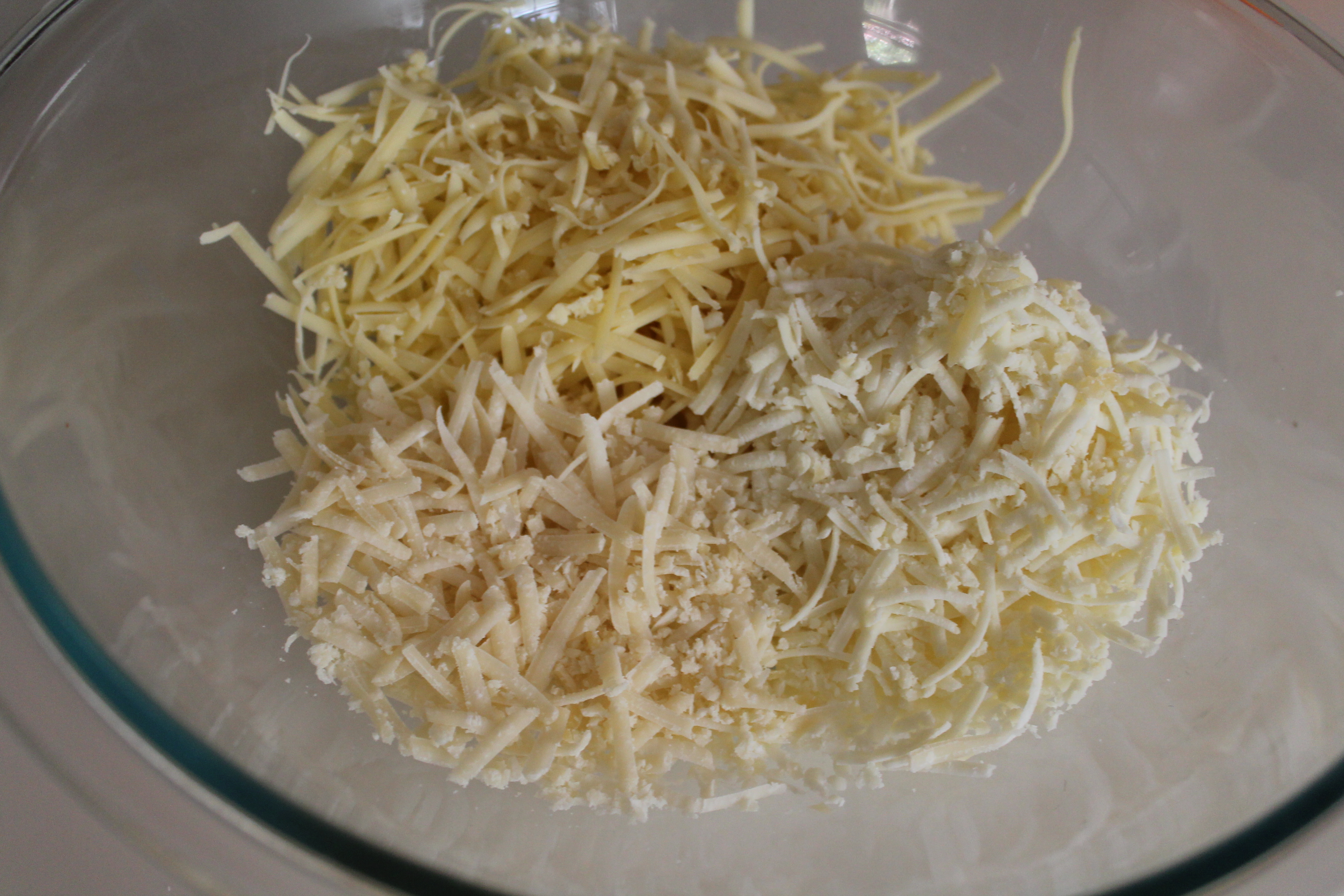 Meanwhile, grate your cheese. You don't need to grate too small. I mean, no need to labor with a microplane here. I used my salad shooter to grate everything, just to save some time, and it makes rather large shreds. In retrospect, slightly smaller would have helped the cheese melt better, but the end product was delicious, regardless!
Also, cook a box of elbow pasta to al dente, according to package directions. This recipe says to use 1 lb. pasta, but I never find a box of elbows that size. I used Barilla plus, for the slight boost in whole grains, and it came in a 14½oz. size, which I thought was a-plenty!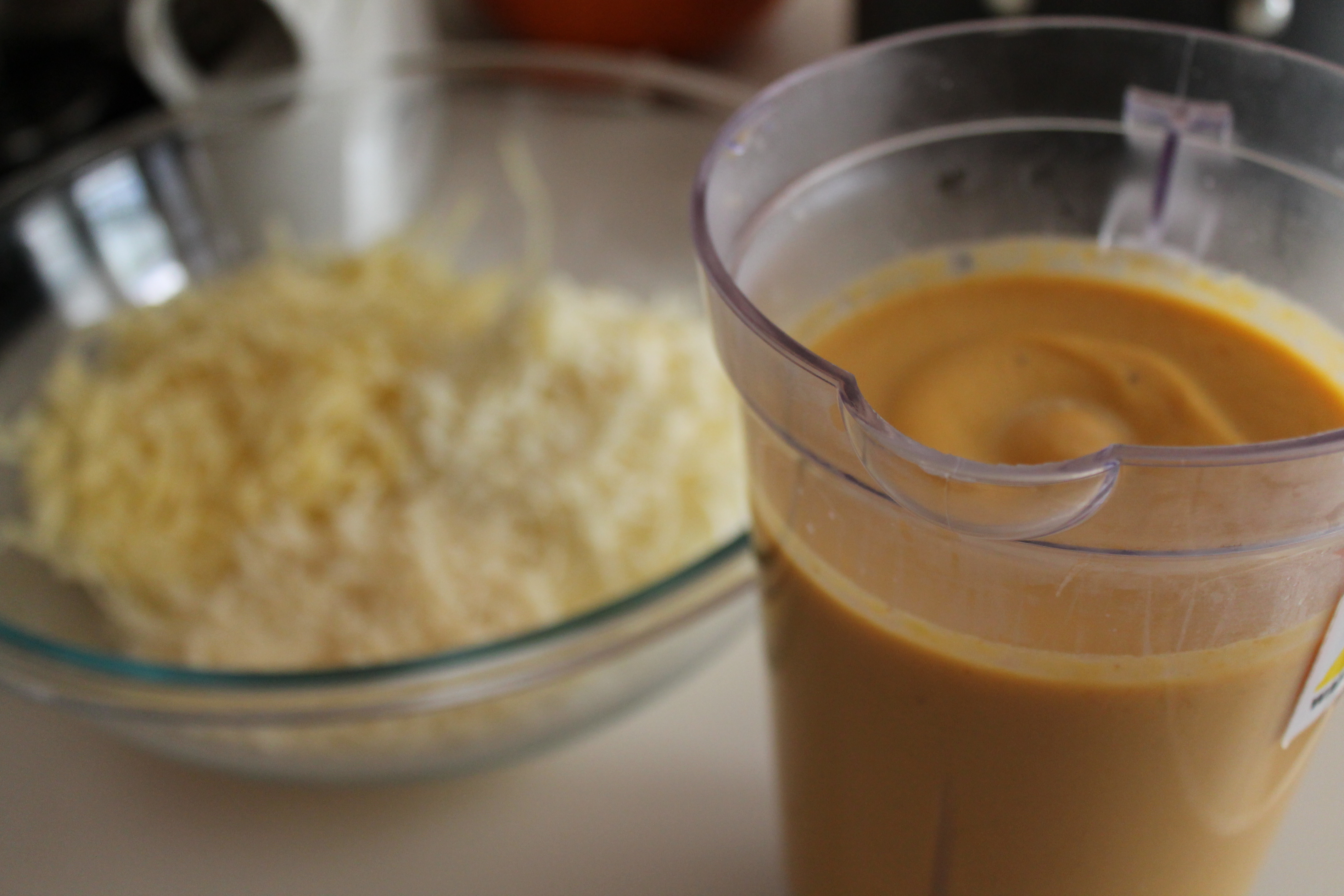 When the squash is tender, transfer the mixture to a large blender. Add in 2 heaping tbsp. Green yogurt, plus the nutmeg and cayenne. I don't recommend salting this mixture, even though the squash is sweet, and here's why: pecorino and parmesan are hella salty cheeses. Also, depending on what veggie stock you used, there is salt in the mix from that, too! I highly recommend you taste everything all together before making a decision about adding salt. And just so you know, I didn't add any at all, because I thought the cheeses did the trick.
Puree the squash mixture until smooth. Scrape into a bowl and immediately stir in the grated cheeses. They should melt into the hot squash puree, though the hard pecorino may not completely melt. That's okay.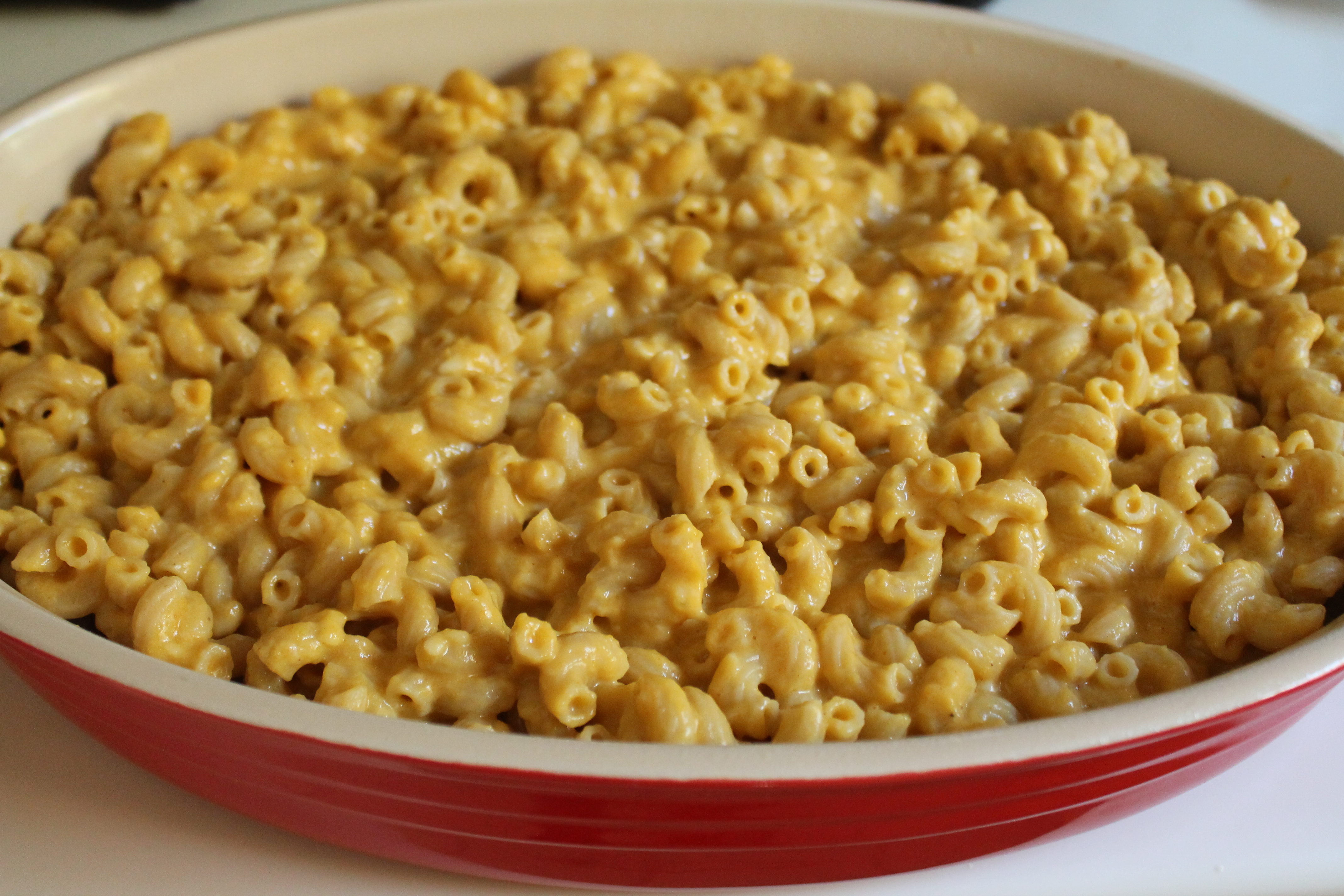 When you stir in the noodles, the cheese will have something to cling to! It will stretch and blend perfectly.
Dump the macaroni mixture into a large, lightly oiled casserole dish.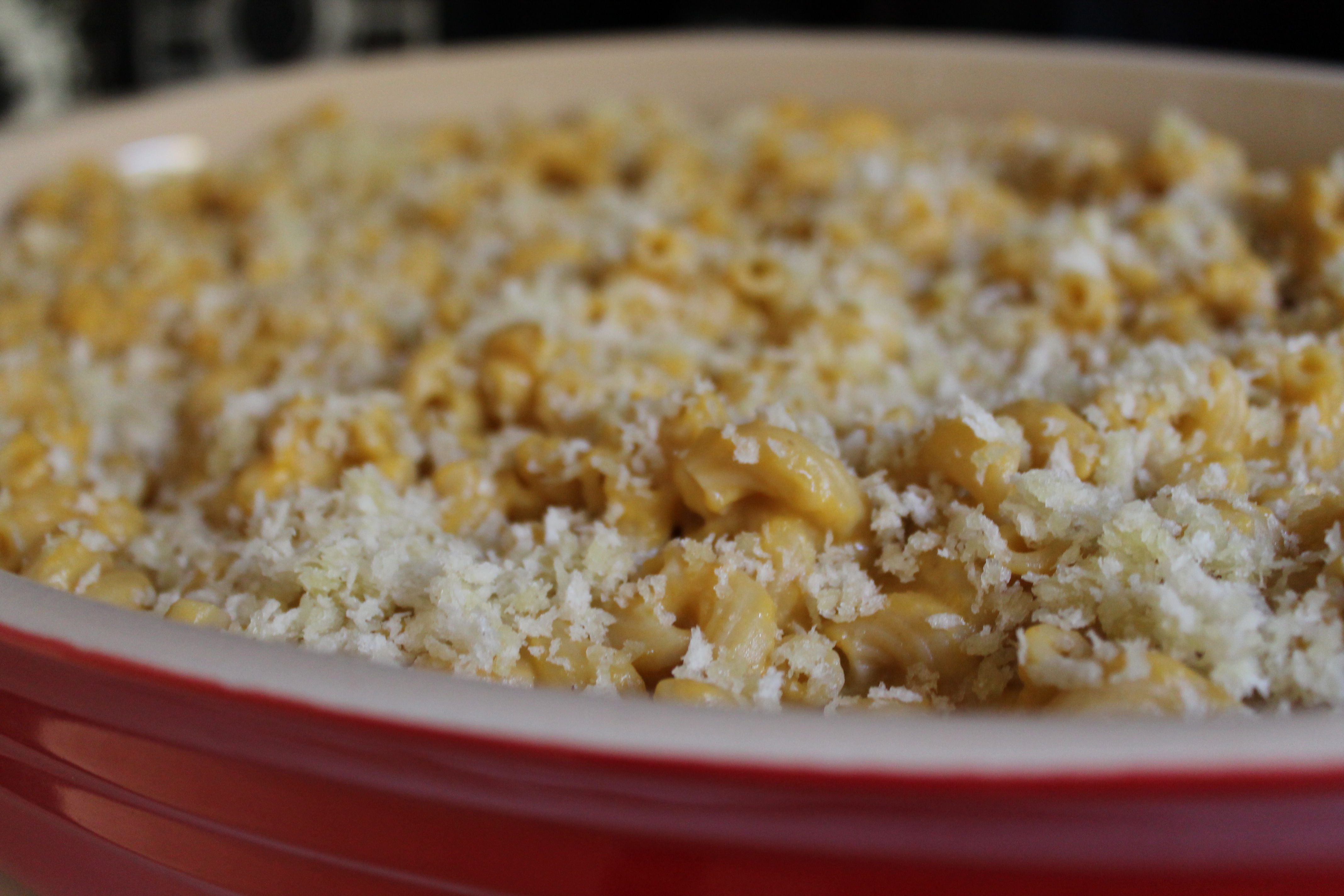 In a separate dish, grate an ounce or so of parmesan with a microplane. Toss in the panko crumbs and a drizzle of olive. Work everything together with your fingers. Sprinkle the crumbs over the macaroni in the dish.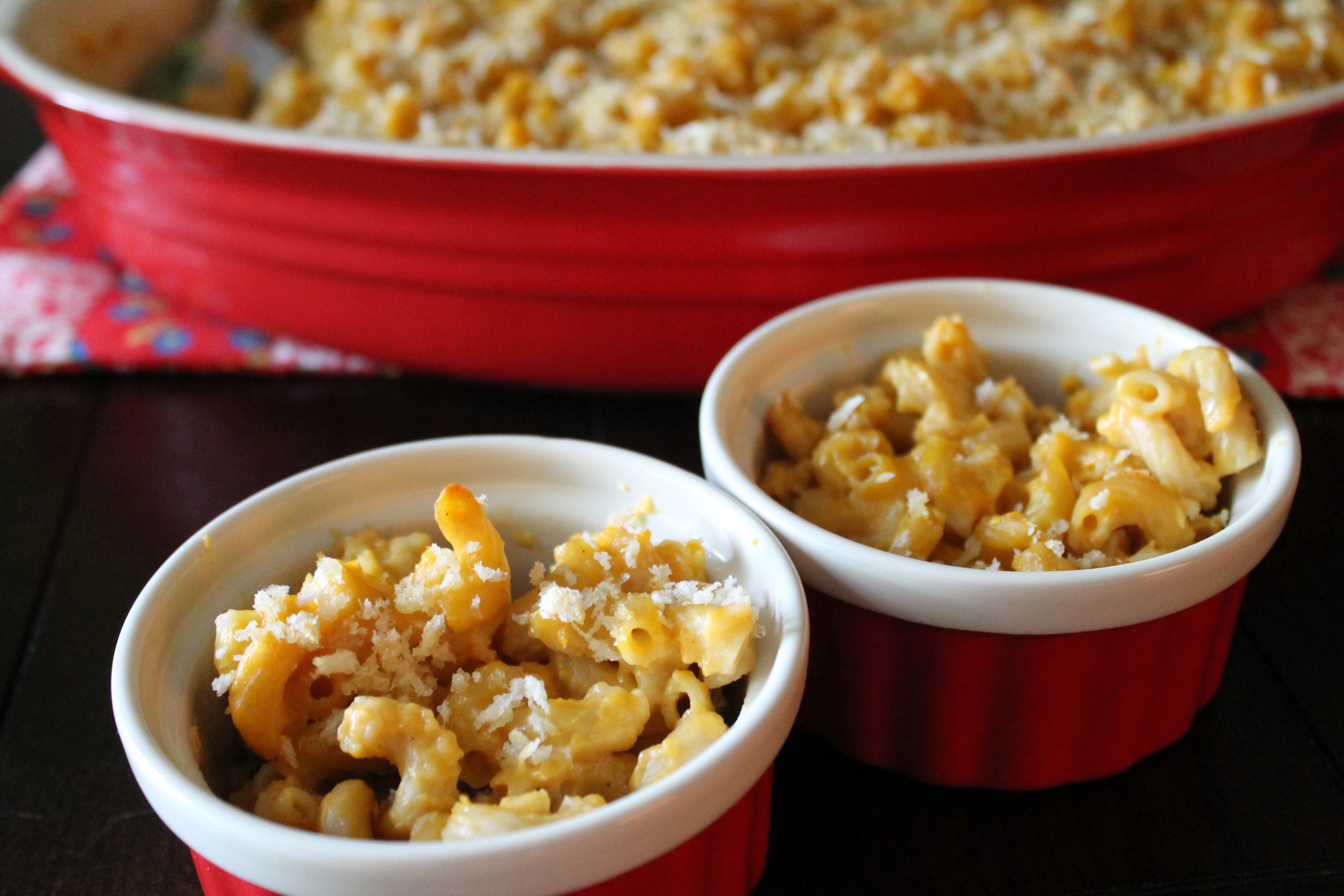 Bake, uncovered, for 25 minutes at 375°. The top should be lightly browned and crusty.
Serve immediately.
Butternut Squash Mac and Cheese
adapted from Cooking Light
serves 6–8
Ingredients:
4 cups cubed butternut squash, from a 1½lb. squash
1¼ cups low-sodium veggie broth
1½ cups milk
2 cloves garlic, peeled
¼ tsp. cayenne
¼ tsp. nutmeg
2 tablespoons plain fat-free Greek yogurt $
6 oz. gruyère, shredded
4 oz. pecorino romano, grated
1½ oz. parmesan, finely grated, divided
1 lb. uncooked elbow pasta
1 tsp. olive oil
½ cup panko crumbs
1 tsp. thyme leaves (optional)
Directions:
Preheat oven to 375°.
Combine squash, broth, milk, and garlic in a medium saucepan. Bring to a boil over medium-high heat. Reduce heat to medium, and simmer until squash is tender when pierced with a fork, about 25 minutes. Remove from heat.
Place the hot squash mixture in a blender. Add cayenne, nutmeg, and Greek yogurt. Remove the center piece of blender lid (to allow steam to escape); secure blender lid on blender. Place a clean towel over opening in blender lid (to avoid splatters). Blend until smooth.
Place blended squash mixture in a bowl; stir in gruyère, pecorino, and ¼ cup (about 1 oz.) parmesan. Stir until combined. Taste and season very lightly with salt and pepper if needed.
Cook pasta according to package directions, omitting salt and fat; drain well. Add pasta to squash mixture, and stir until combined. Spread mixture evenly into a 13 x 9-inch glass or ceramic baking dish coated with cooking spray.
Heat oil in a medium skillet over medium heat. Add panko, and cook for 2 minutes or until golden brown. Remove from heat; stir in remaining 2 tablespoons Parmigiano-Reggiano cheese. Sprinkle evenly over the hot pasta mixture. Lightly coat topping with cooking spray.
Bake at 375° for 25 minutes or until bubbly. Sprinkle with thyme, if using, and serve immediately.
Enjoy!
One year ago: Baby Jake!
Two years ago: Vegetarian Lasagna