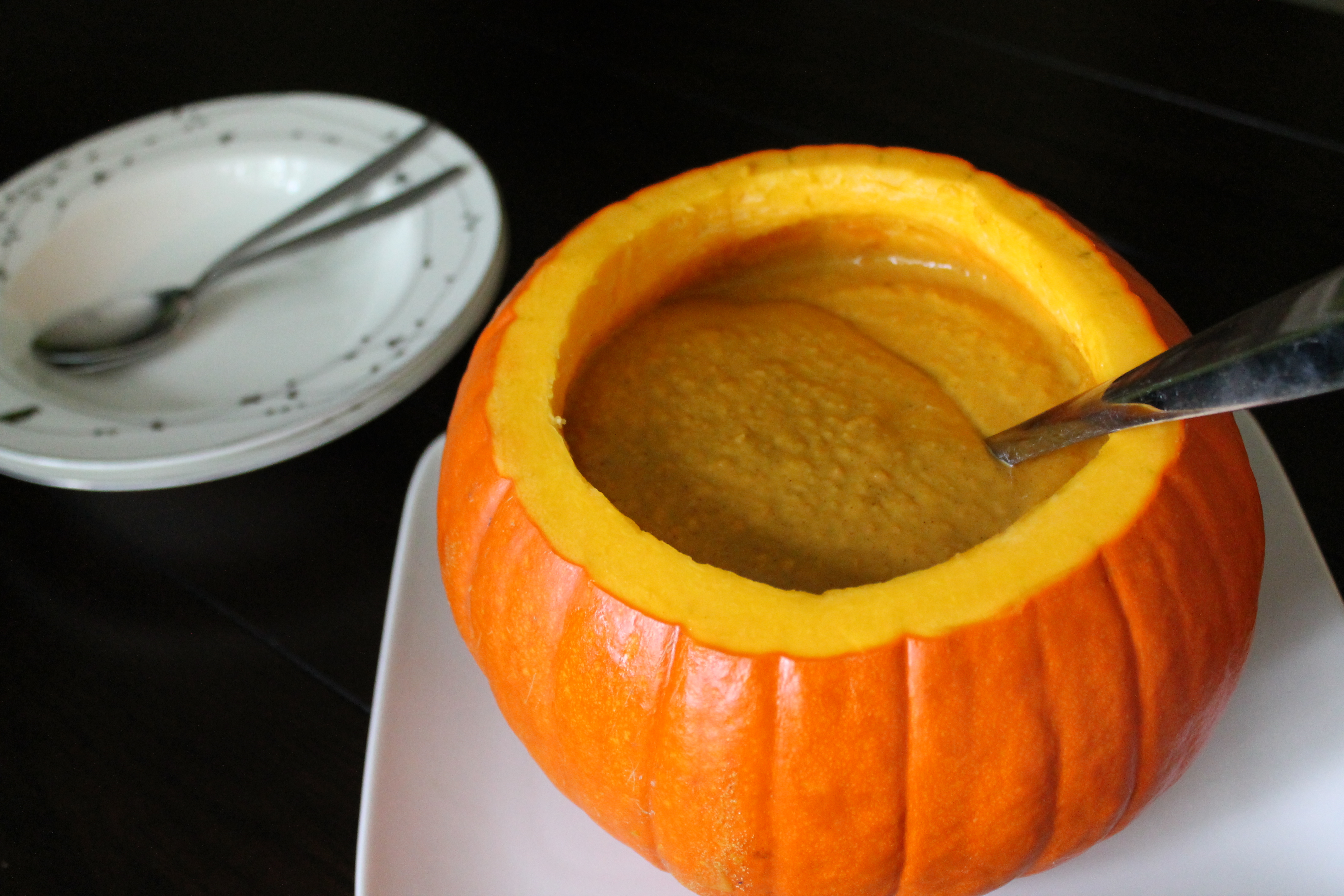 When I stepped outside this morning it was cold.
Like…really cold.
And it smelled like snow!
So I made you some soup.
(By the way, this soup would be awesome for Thanksgiving. Cuz yeah, it's that time of year already! And what the heck, make a pumpkin bowl! Use it as a vegetarian centerpiece. How much more festive can it get?)
This soup is modeled after Au Bon Pain's. I used to eat ABP's pumpkin soup two or three times a week in the Fall when I was working as an editor in DC (oh, the spoils of having cafés right around the corner from the office!), and I sorely missed it when I switched careers. If you've never had it, boy are you in for a treat!
Start by prepping your pumpkin and kabocha squashes (or buttercup, which is what I used, leftover from CSA!). Cut them in half through the stems and scoop out all the seeds and stringy flesh.
I suppose you could use two pumpkins, but adding in the kabocha or buttercup adds some depth to the flavor of the finished soup.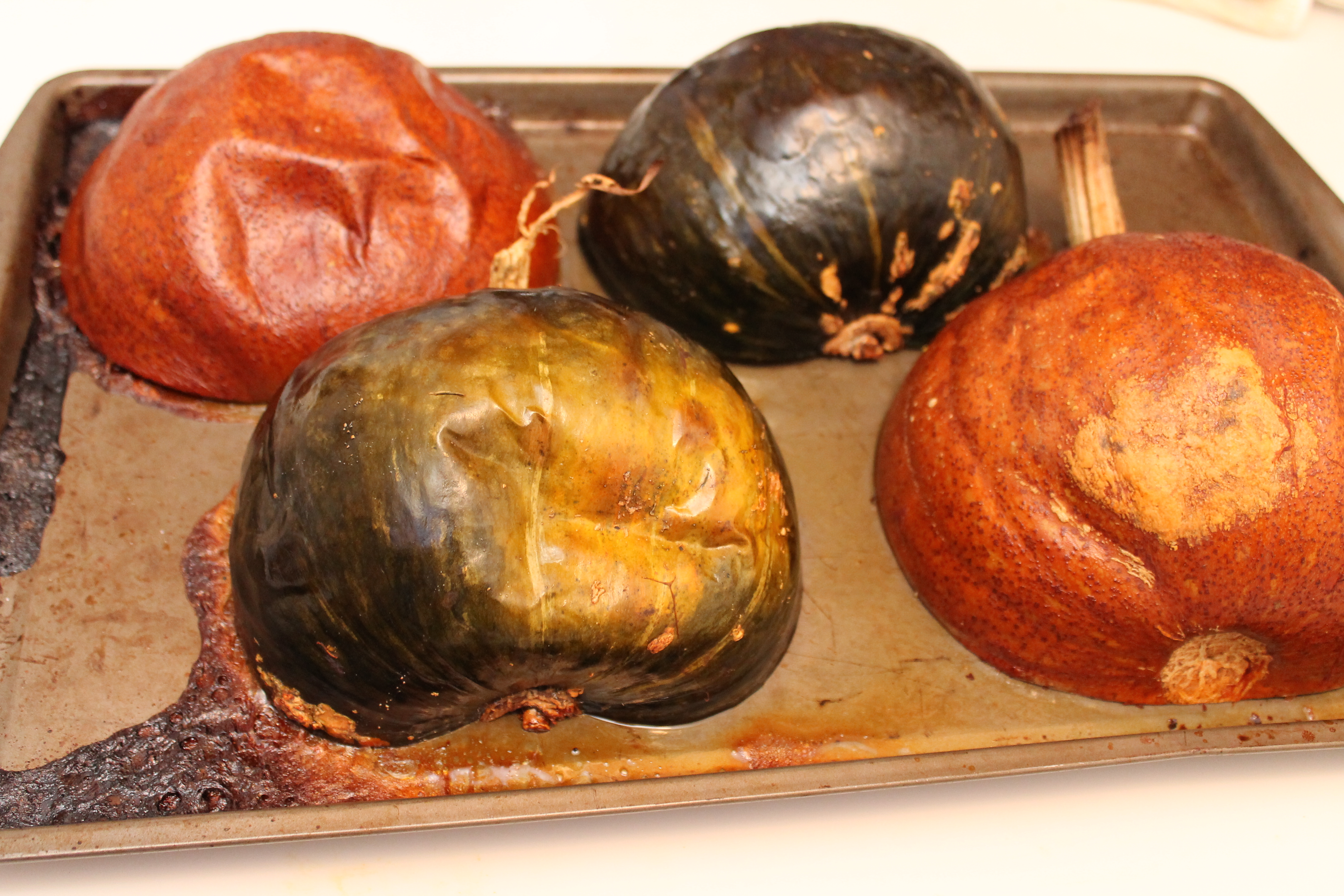 Roast cut sides down for 1 hour at 400°. They may release some juice (which may bubble and caramelize). They may make your house smell amazing. Yum.
Let them cool and then peel the skins off. I generally find that when you roast squash halves with the skins on, the flesh of the squash buckles and pulls away from the skins as soon as they come out of the oven and begin to cool. This usually makes it very easy to pull large swaths of skin off all at once!
I actually scooped the squash flesh into a Ziploc bag and stored it overnight. Because, you know, it's nice to make longer recipes in two or three stages when you have a toddler running around.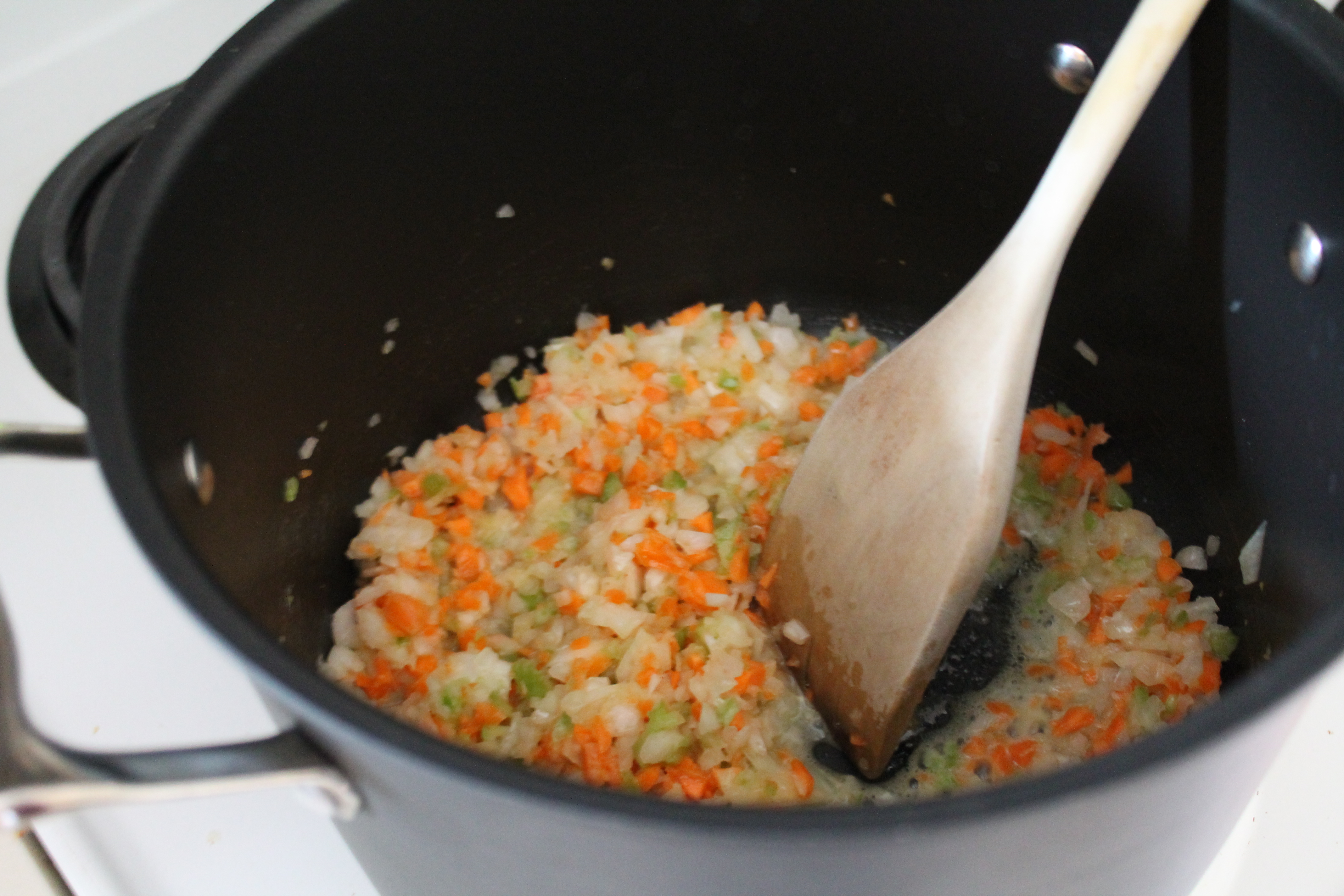 But if you don't want to do that, you can use the baking time to chop up your onions, carrots, and celery!  About 10 minutes before you pull the squash and pumpkin from the oven, start them cooking over medium heat in a hunk of butter, until they soften and the onions become translucent.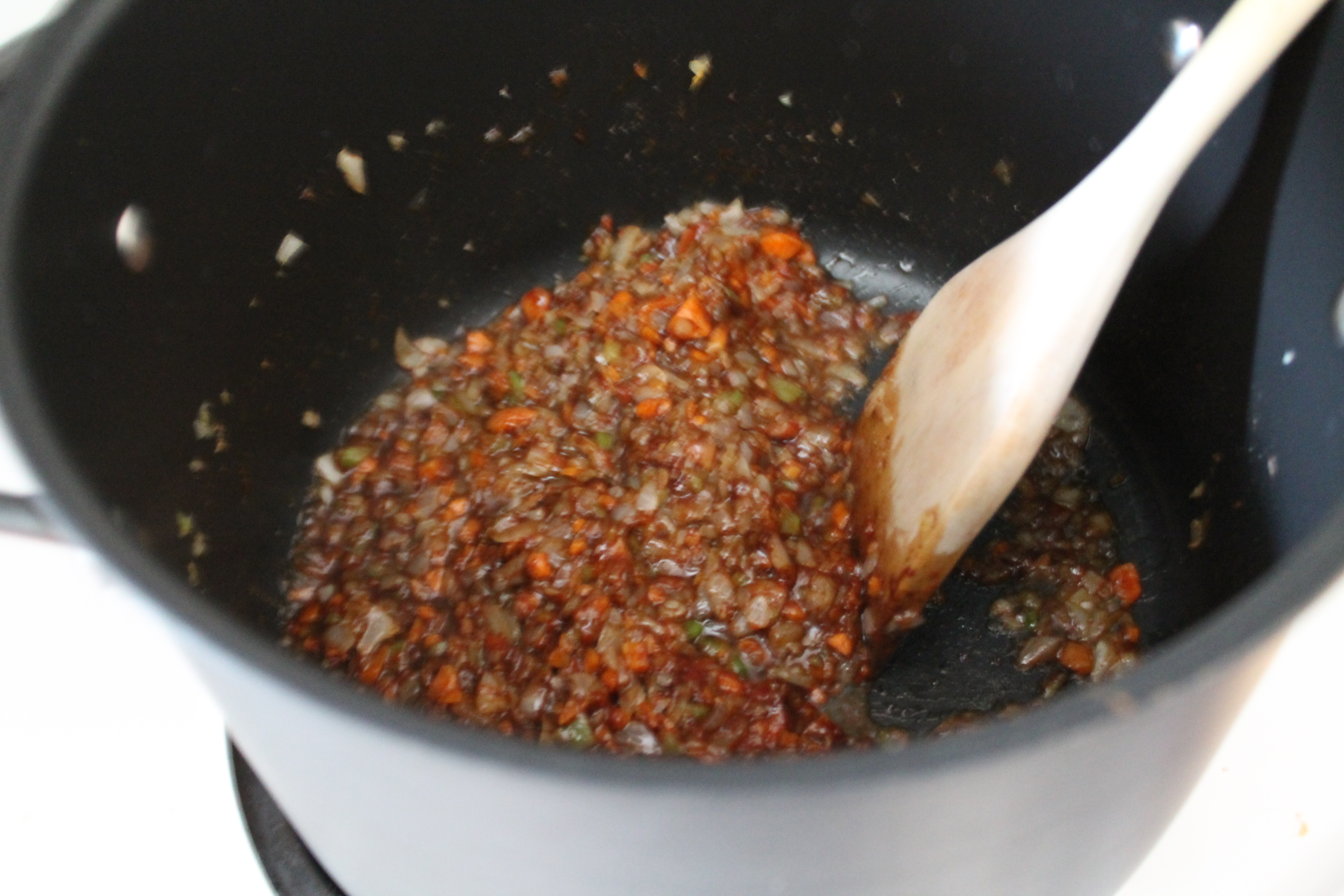 Stir in the tomato paste, cinnamon, ginger, cloves, and brown sugar. Don't worry that adding the warm spices and brown sugar will make the soup taste too sweet! It will still be savory and not at all dessert-like. But what is pumpkin without cinnamon, anyway?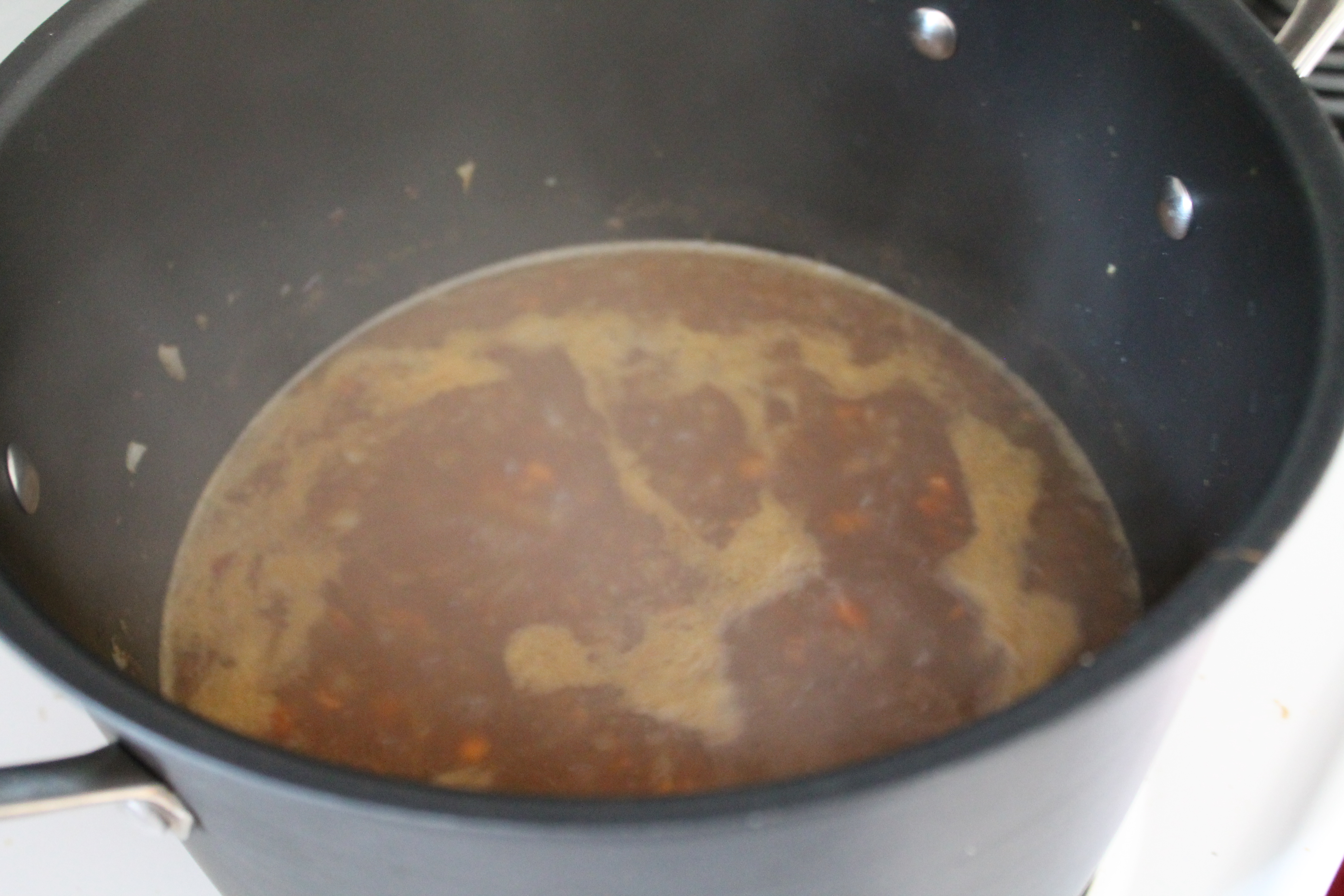 As soon as the sugar melts, pour in the vegetable stock. I use unsalted veggie stock, because I like to control the saltiness of my soups independently. But this particular stock is very dark in color, so it did add a brown tinge to the soup.
Now, you have a little bit of flexibility on the timing here, but hopefully if you are doing this all in one take, your roasted pumpkin and squash are cool enough for you to peel the skins off now. If your squashes are already peeled by this point, forge ahead! If not, lower the heat a little so the liquid will not boil as quickly.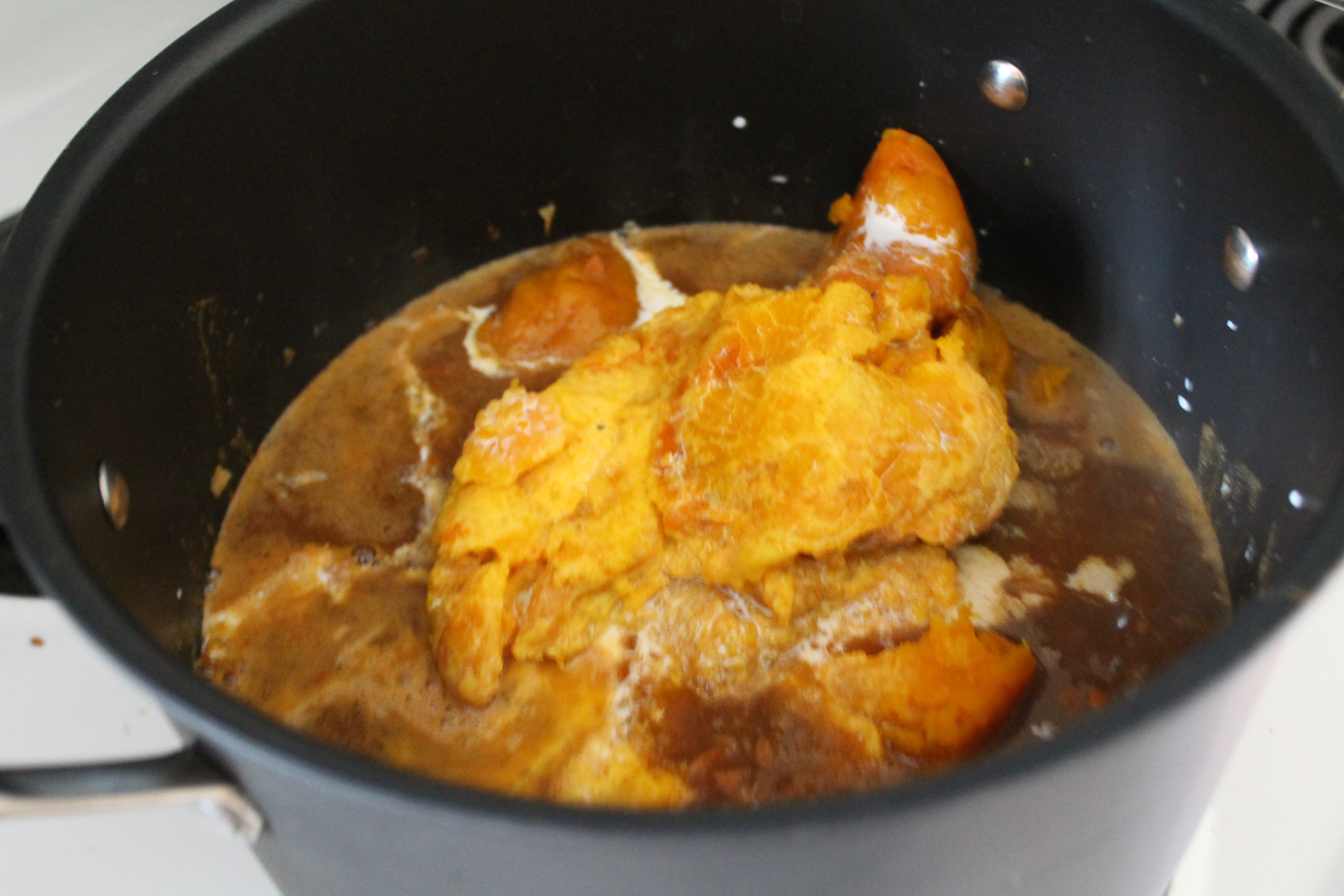 Bring the stock in the pot to a boil and add in the pumpkin and squash flesh. Add in 1 cup half-and-half (you may not need more than this, but my squashes were actually larger than the recipe called for. If you have a similar issue, then adding more half-and-half later will thin the soup down to the right consistency). Bring the mixture back to a boil, then remove it from the heat.
Either using an immersion blender (oh…if only I had one of those) or a regular blender, puree the soup until it is even. If the texture is too thick, add more half-and-half until it becomes soupy.
I will admit that doing this in a regular blender took 3 batches and made an absolutely enormous mess in my kitchen. This soup is the reason "immersion blender" is at the top of my Christmas list.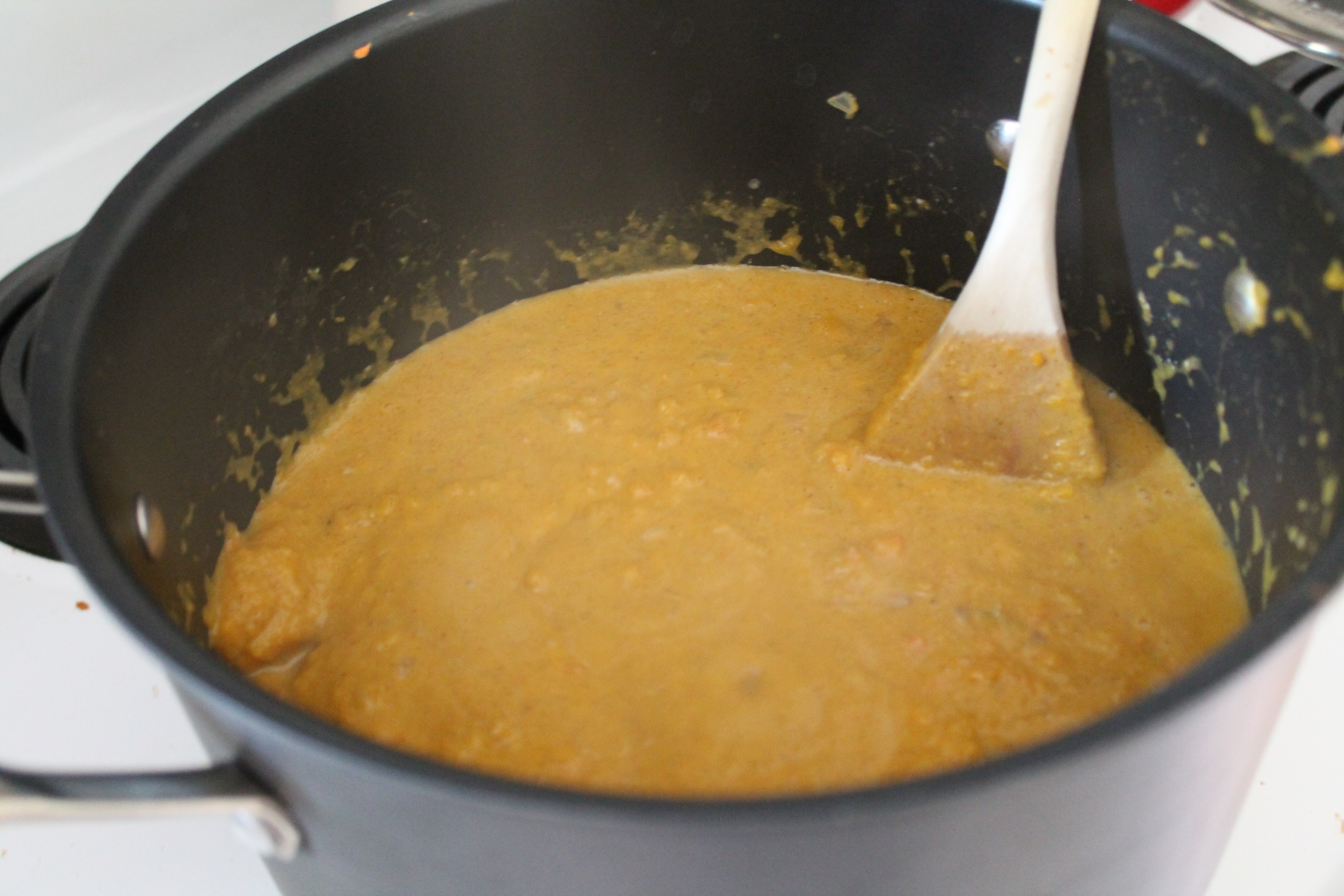 Taste and season with salt and pepper, plus additional warm spices, as needed. You could garnish this with croutons made out of Pumpkin Yeast Bread, toasted pumpkin seeds, or even go crazy and add some fresh, crumbly cheese. Personally, I like it plain with a nice, crusty hunk of bread to dip into it!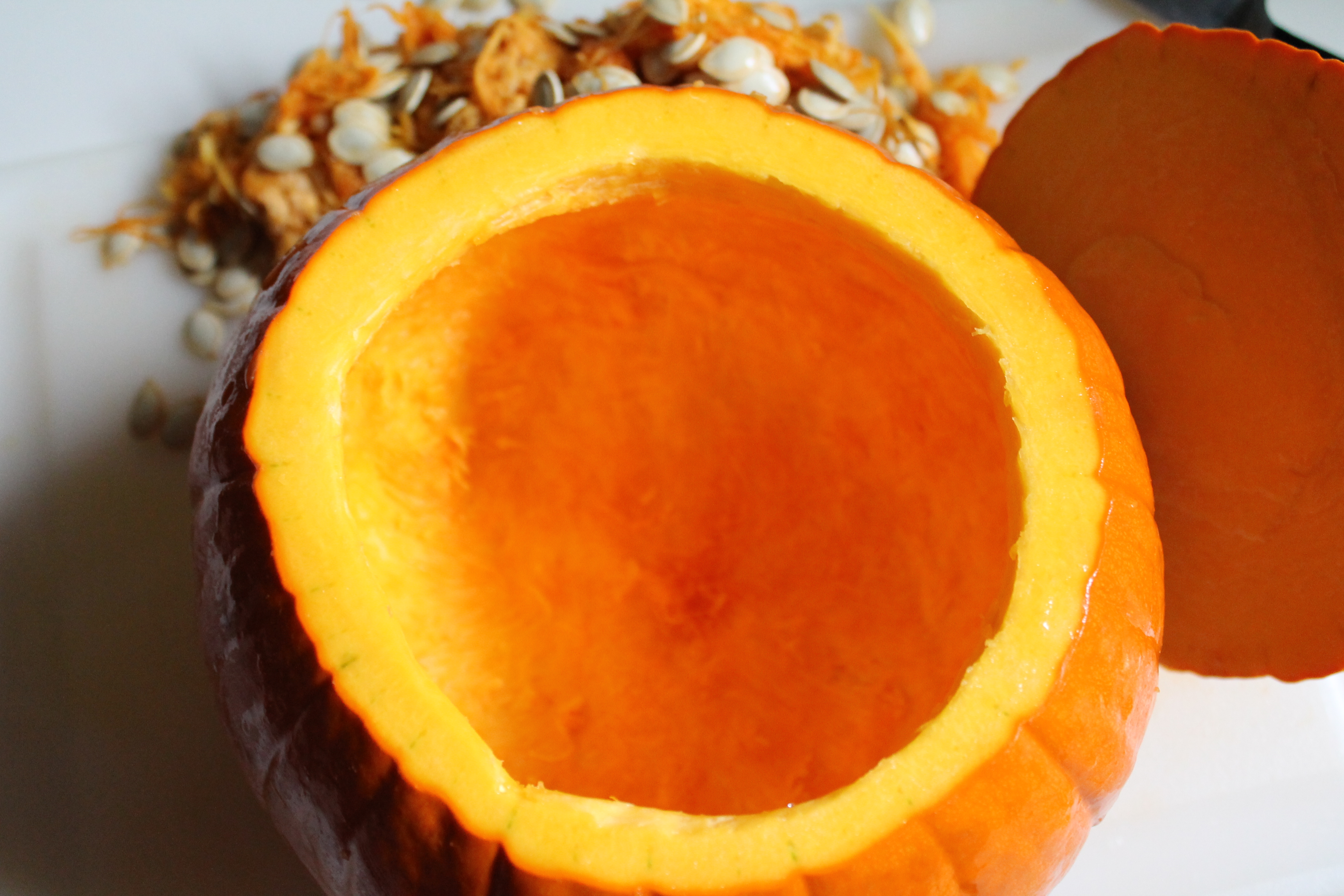 I poured my soup into a hollowed out raw sugar pumpkin. It would be neat to somehow bake the soup right into the pumpkin, stirring in the flesh as it cooked right out of the skin, but that seemed a bit prone to messy explosions for me at this point in my life. Maybe you are braver than me? But I loved the presentation of the soup inside a pumpkin, even though it put a second pumpkin out of commission!
Harvest Pumpkin Soup
lightly adapted from From Ketchup to Chutney
serves 6–8
Ingredients:
1 2lb. sugar pumpkin
1 2lb. kabocha or buttercup squash
salt and black pepper
¼ cup butter
1 medium Spanish/sweet onion, diced
½ cup diced carrots
⅓ cup diced celery
1 tsp. ginger
1½ tsp. cinnamon
dash of cloves
1½ tbsp. tomato paste
¼ cup brown sugar
4 cups vegetable broth
1–2 cups half-and-half
Directions:
Preheat oven to 400°.
Slice the pumpkin and squash vertically and remove seeds and pulp. Season with salt and pepper and roast on a cookie sheet for 45–60 minutes, or until tender.
Ten minutes before the pumpkin and squash are done roasting, in a large stock pot, melt the butter. Add the onions, carrots, and celery and sauté until the onions are soft and translucent. Then add the ginger, cinnamon, tomato paste, and brown sugar. Stir to combine heat over medium until the sugar is dissolved.
Add the vegetable stock and bring the pot to a boil.
When the pumpkin and squash are tender (the pumpkin may be softer than the squash), scoop out all of the flesh and add it to the pot, along with the half-and-half. Return everything to a boil.
Using an immersion blender, puree the soup until smooth. If the soup is too thick, add more half-and-half until desired consistency is reached.
When everything is smooth and heated through, taste and add salt, pepper, or ginger as needed.
Enjoy!
One year ago: Pecan-Crusted Salmon
Two years ago: Thai Red Curry with Tempeh