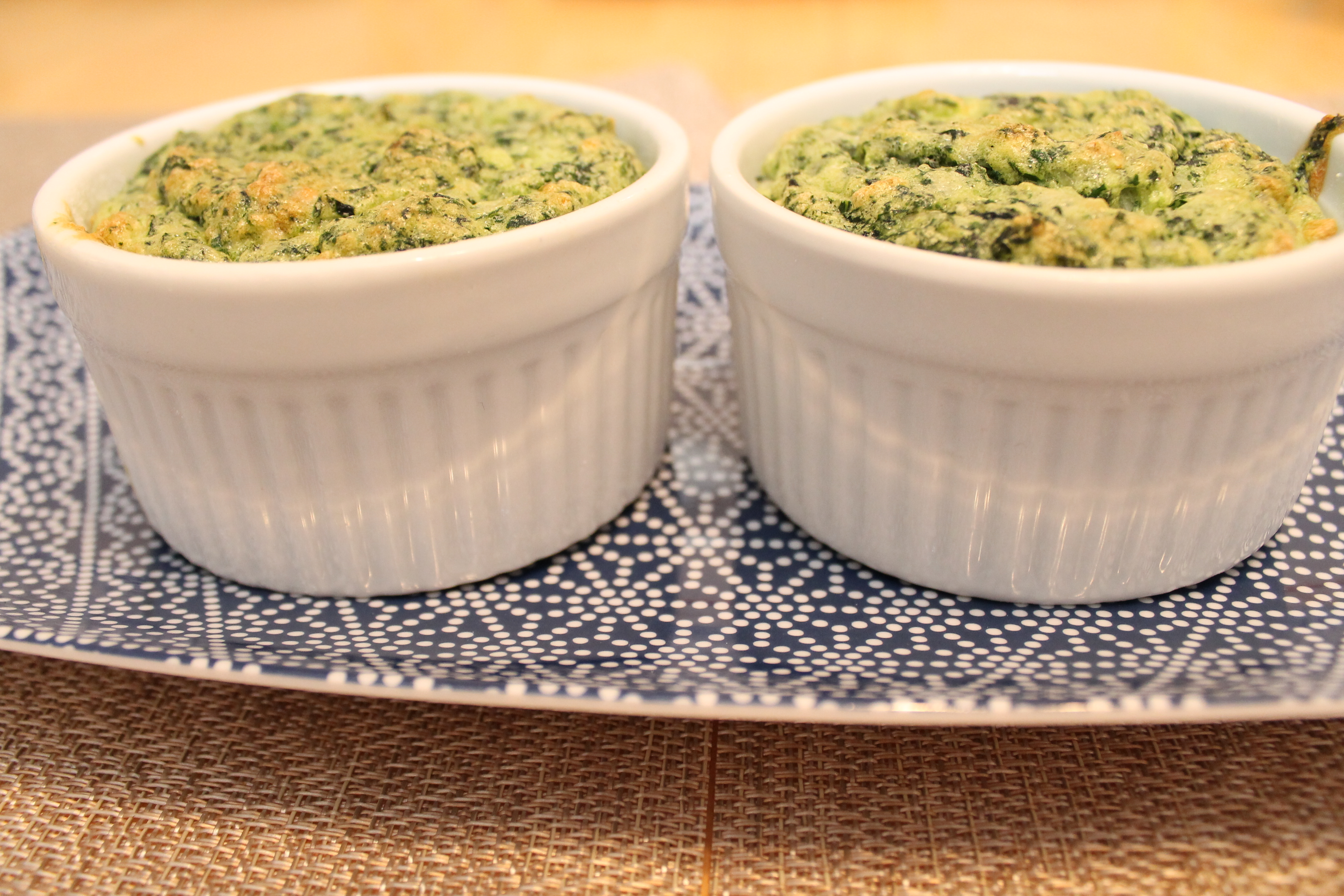 Sometimes I get silly ideas.
Like…let's take this extra bag of kale greens I bought and turn it into soufflé. Easy peasy.
I had never actually made soufflé before. Like any sensible person, I had a deep and abiding fear of soufflé. But then I figured that savory soufflé would be easier than the dreaded chocolate…maybe more forgiving somehow? Kind of like making a really fancy omelet? Plus, I don't have an actual soufflé dish, so I was going to be making individual-size ramekins. Also seems easier, right?
As it turns out, although these soufflés made roughly half the dishes in my kitchen dirty, they were not at all traumatizing to make! In fact, I would totally do it again, because not only did my kale-hating husband enjoy these (thank you, Gruyère and eggs), but my 1-year-old ate almost an entire soufflé by himself (he may or may not have shrieked and begged for more after finishing the last bite)! Success.
After I decided what I wanted to make, I had a tough time tracking down a recipe. The interwebs were not particularly helpful. Apparently kale and soufflé don't seem like they should go together. After eating these, I will tell you why: kale, a very tough leafy green, which stands in stark contrast to the light, airy, almost nothingness of soufflé. So I grabbed a recipe for spinach souffles and used kale instead.
The result was definitely thicker and heavier than its spinach counterpart would have been. But I have to say, I liked this better. It puffed up beautifully in the oven (and sank as it cooled, alas), but it also had substance befitting a light lunch.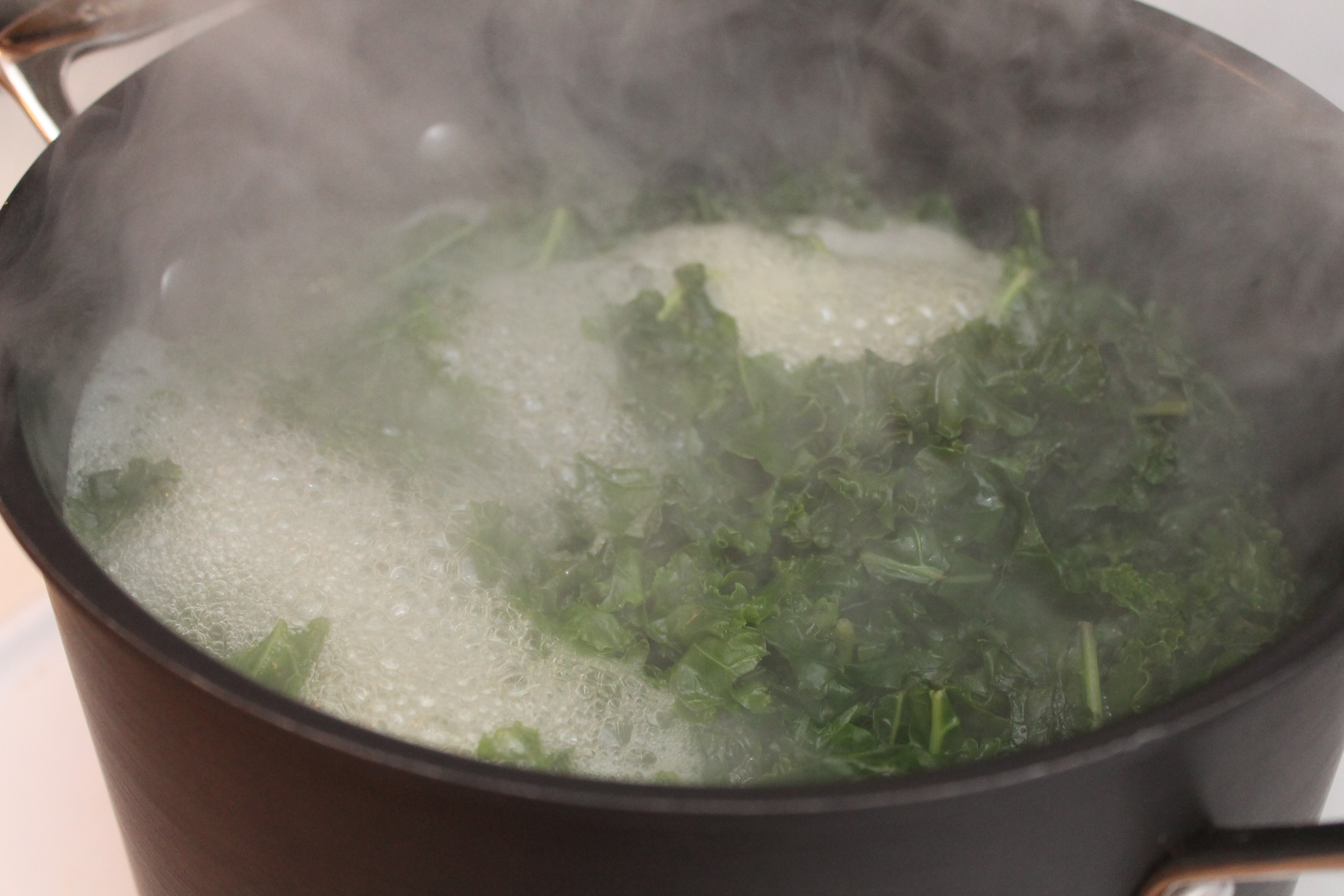 First, you need to prepare your kale. If you buy a bag of greens, then you can skip the whole de-stemming and chopping steps! If you buy whole kale leaves, then you should also buy a little bit more than 1lb, to compensate for the stems you discard.
Blanch your stemmed and chopped kale for 2 minutes in boiling water. It should still be bright green.
Immediately pour it into a colander and run cold water over it, to stop the cooking. When the kale is cool, squeeze all the moisture out of it with your hands. One pound of kale will condense down into a lump slightly larger than a tennis ball!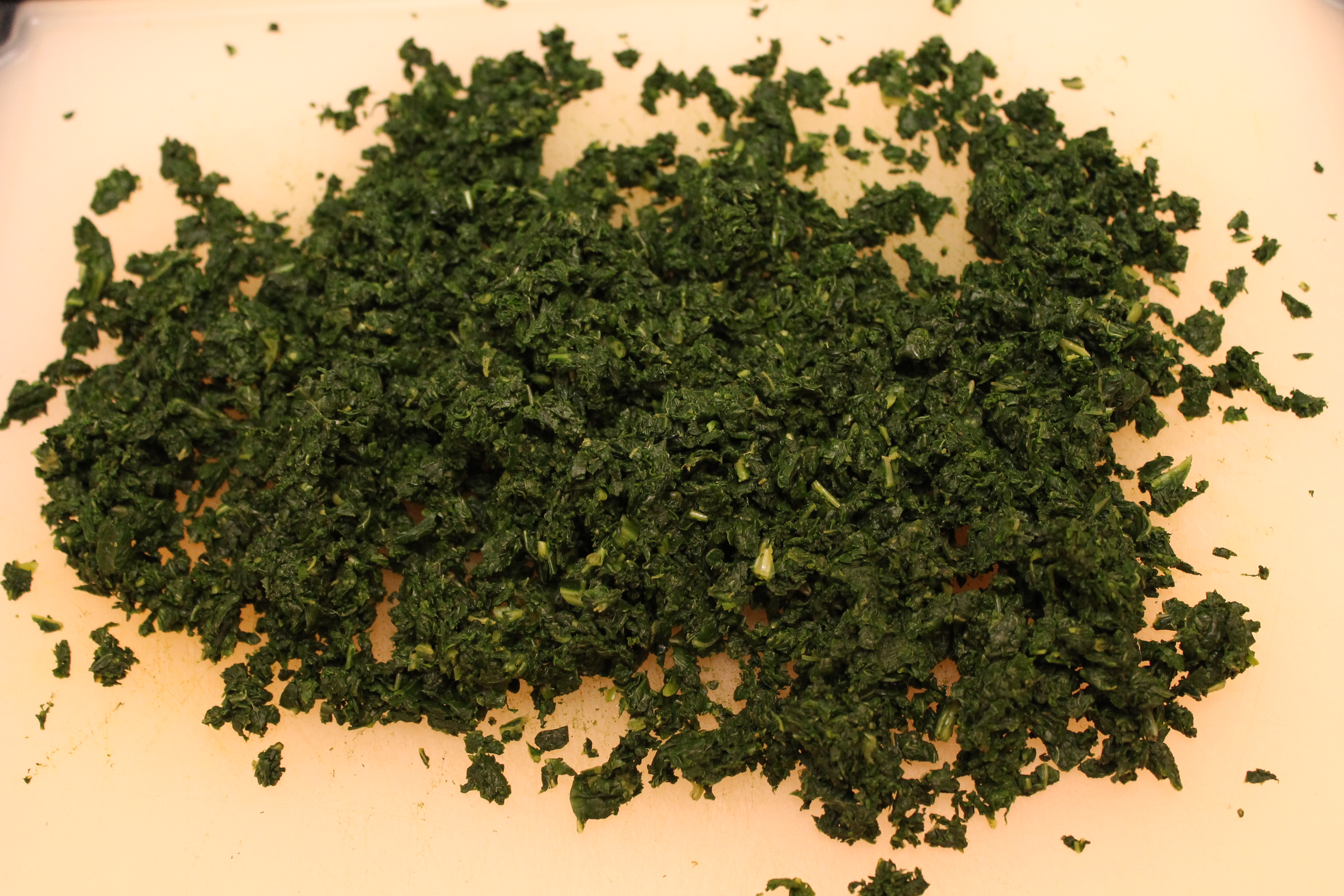 Chop the kale into tiny, tiny pieces. This is a little challenging, because it tends to clump together when it's damp, but do your best!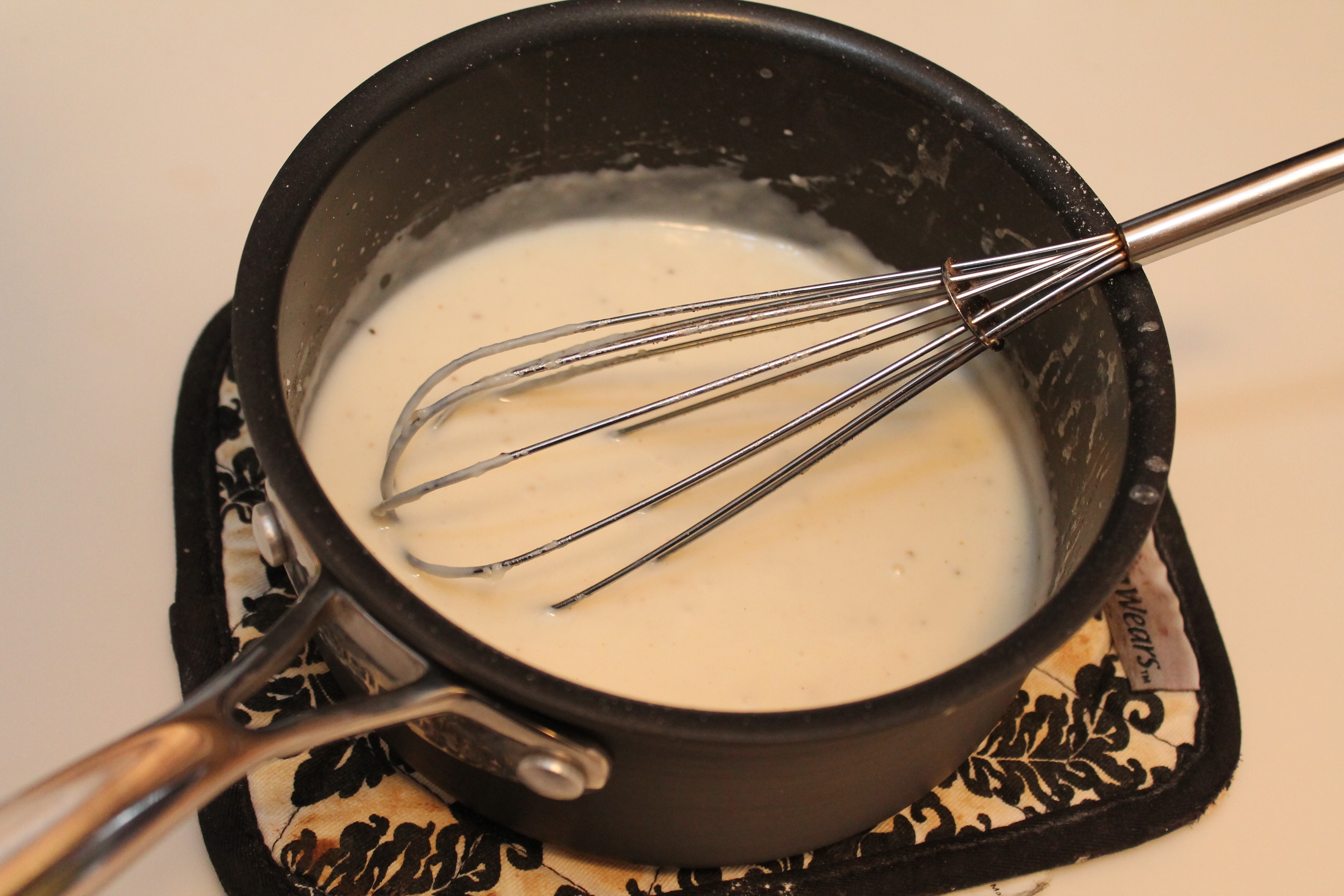 Set the kale aside and make your béchamel. This is really easy! And, it turns out, this béchamel, and by extension the soufflés, are relatively low fat if you use skim milk! Melt butter in a small saucepan and whisk in flour until smooth. Pour in the milk a little at a time so that it makes a smooth, thick white sauce.
Remove from the heat and season with salt, white pepper, nutmeg, and a few drops of lemon juice. Let the mixture cool to warm. You don't want the sauce to be hot when you beat it into the egg yolks later, otherwise the sauce will cook the eggs instead of turning the whole mixture into a fluffy, silky, cheesy delight.
Separate 6 eggs. Dump the whites into a stand mixer bowl, and the yolks into another large bowl.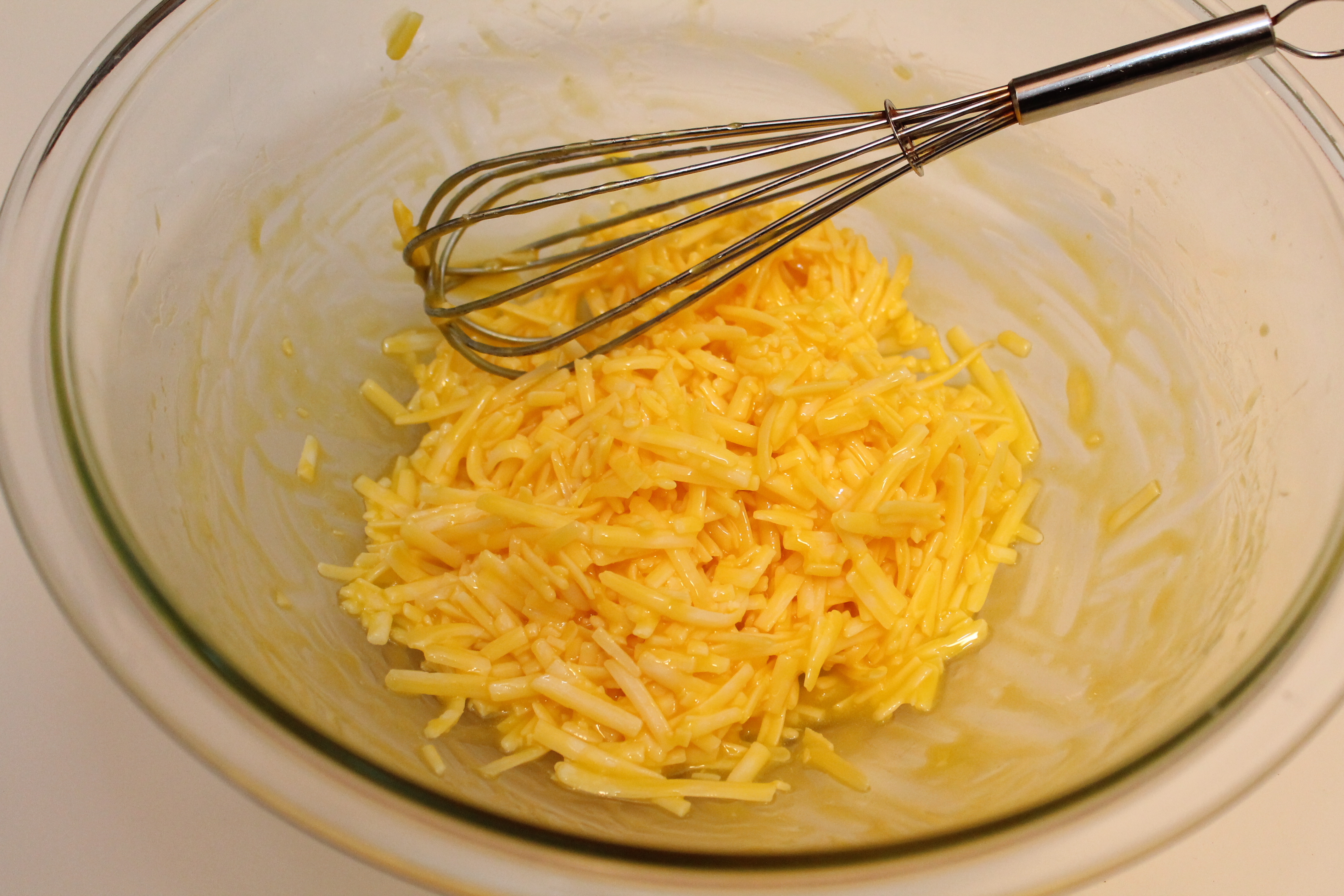 Shred 4 oz. Gruyère into the bowl with the yolks. Whisk together. You may notice that I shredded my cheese rather large…ideally you would make fine shreds, but I used my electric grater, which is about equivalent to the large holes on a box grater. Actually, if you finely shred your cheese, you could even use more! The goal is to have about ¾ cup to mix with the yolks.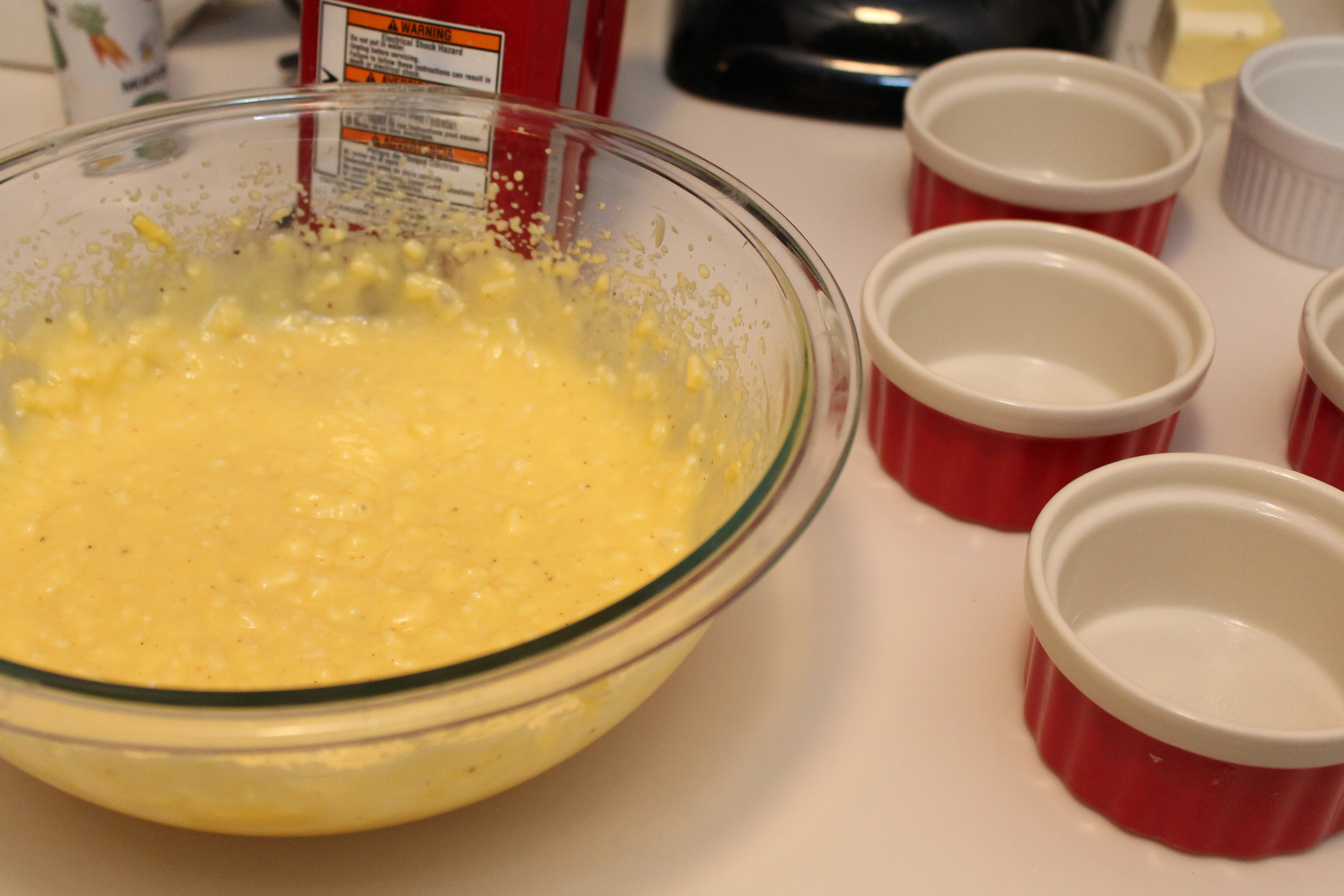 Pour the sauce into the cheese mixture along with some more salt, nutmeg, and cayenne. Beat the mixture until it fluffs up.
Stir in the finely chopped kale.
Now add a pinch of salt to the egg whites and beat them vigorously on high speed until they form stiff peaks. Don't beat so hard that the whites dry out, but make sure they are firm.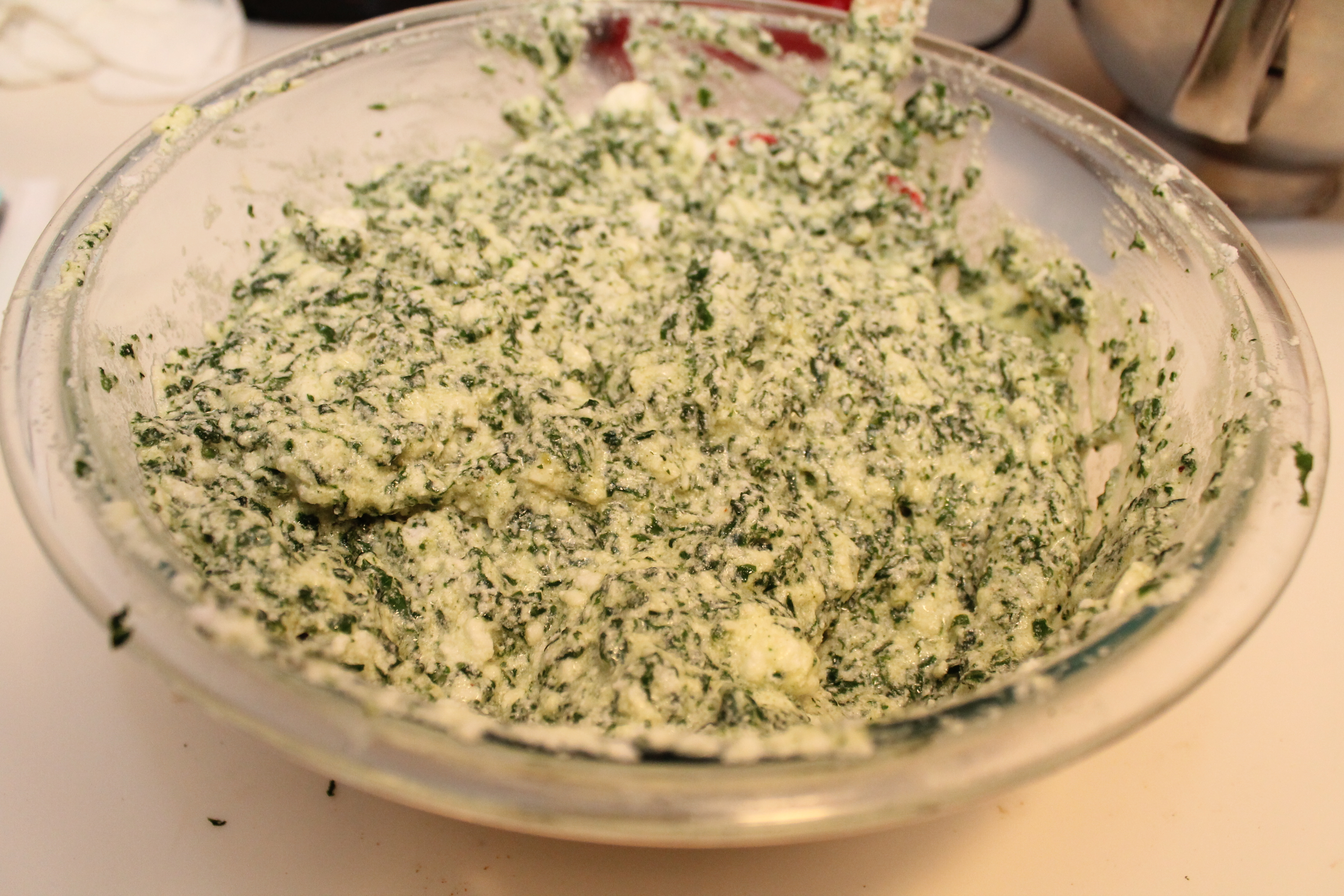 Stir one-quarter of the whites into the kale mixture. Fold in the rest of the whites gently, trying not to deflate them too much.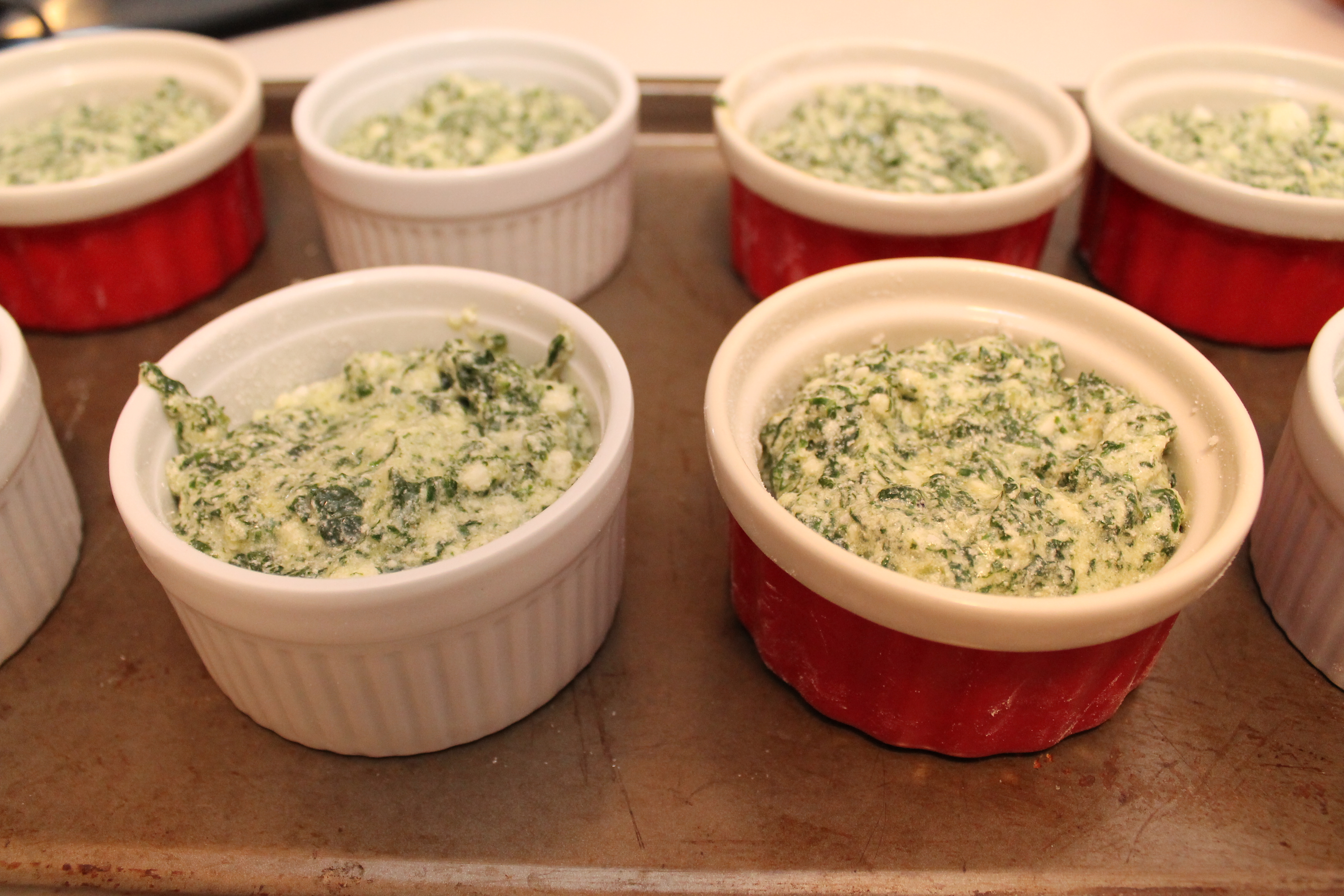 Spoon the mixture into eight buttered and floured ramekins.
Bake for 25 minutes at 350°, or until puffed and golden.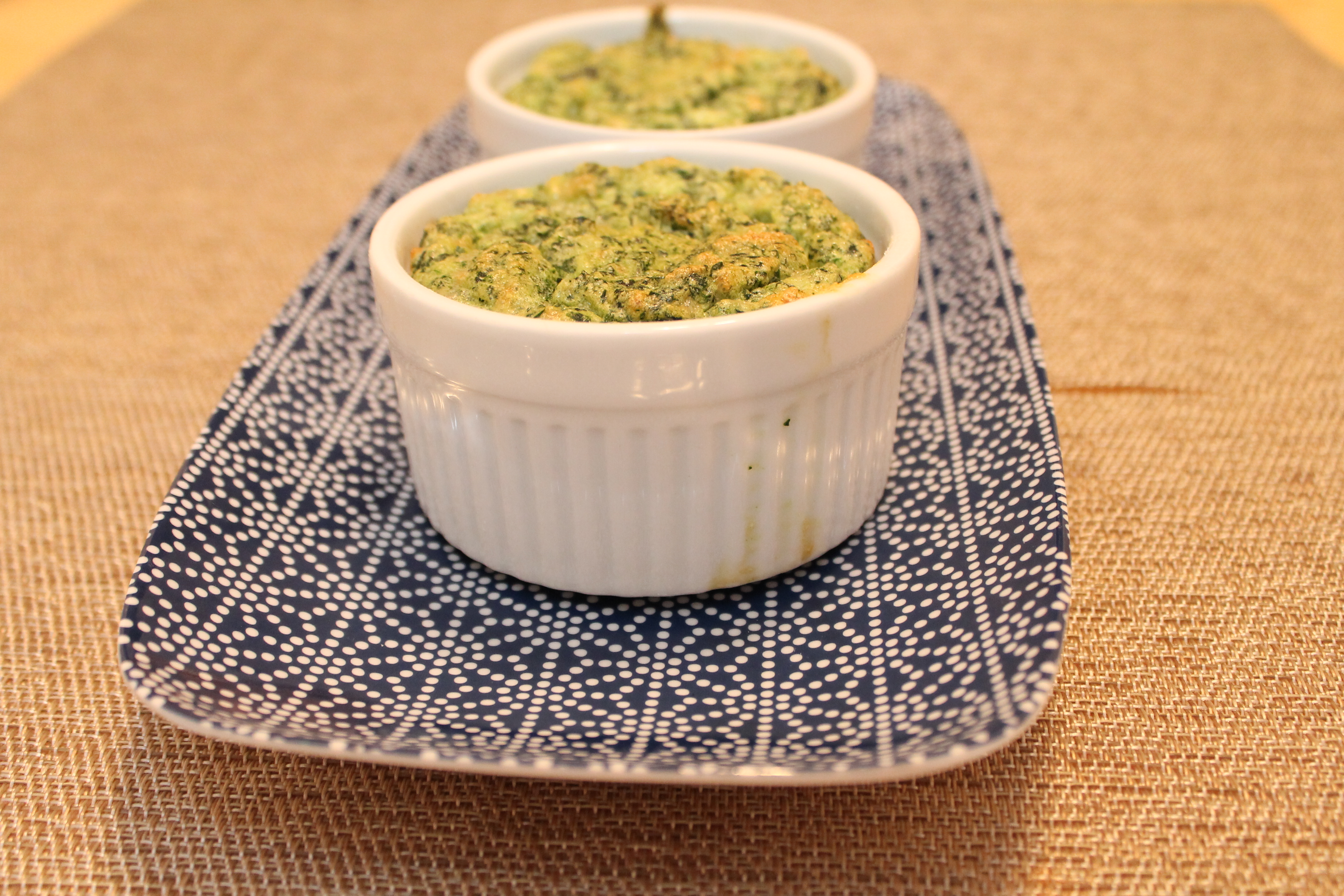 Remove the soufflés from the heat and serve immediately. (The soufflés don't keep great, but if you do have leftovers, they will still be tasty they next day, albeit a bit tougher, if you heat in the microwave for 30 seconds or so.)
Mini Kale Soufflés
adapted from Joy of Cooking
makes 8
Ingredients:
16 oz. kale greens, lightly blanched
3 tbsp. unsalted butter
3 tbsp. flour
1 cup milk
½ tsp. salt
¼ tsp. white pepper
¼ tsp. nutmeg
splash of fresh lemon juice
pinch of cayenne
4–6 oz. Gruyère, shredded (about ¾ cup)
6 eggs, separated
Directions:
Preheat the oven to 350°. Generously butter and lightly flour eight 8oz. ramekins.
Squeeze all of the moisture from the blanched kale and very finely chop. Set aside.
Melt the butter over medium-low heat in a small saucepan. Whisk in the flour until well blended and smooth. Remove the pan from the heat and slowly whisk in the milk. Return the pan to the heat and bring to a simmer, whisking constantly to prevent lumps. Continue to cook, whisking, about 2 minutes, until the sauce is smooth and thick. Season with salt, white pepper, nutmeg, and lemon juice. Cover and let stand 15 minutes, until just above room temperature.
Meanwhile, combine the shredded cheese and the egg yolks in a large bowl. Whisk together.
Add a pinch of salt to the egg whites and whip until stiff but not dry.
When the white sauce is warm but not hot, whisk half into the yolk mixture. Add the remaining white sauce into the yolks and beat vigorously to blend.
Stir in the chopped kale.
Stir one-quarter of the beaten whites into the soufflé base to lighten it, then fold in the rest.
Spoon into the prepared ramekins. Bake until risen and golden brown on top, 20–25 minutes. Serve immediately.
Enjoy!
One year ago: Pecan-Crusted Salmon
Two years ago: Black and White Cookies