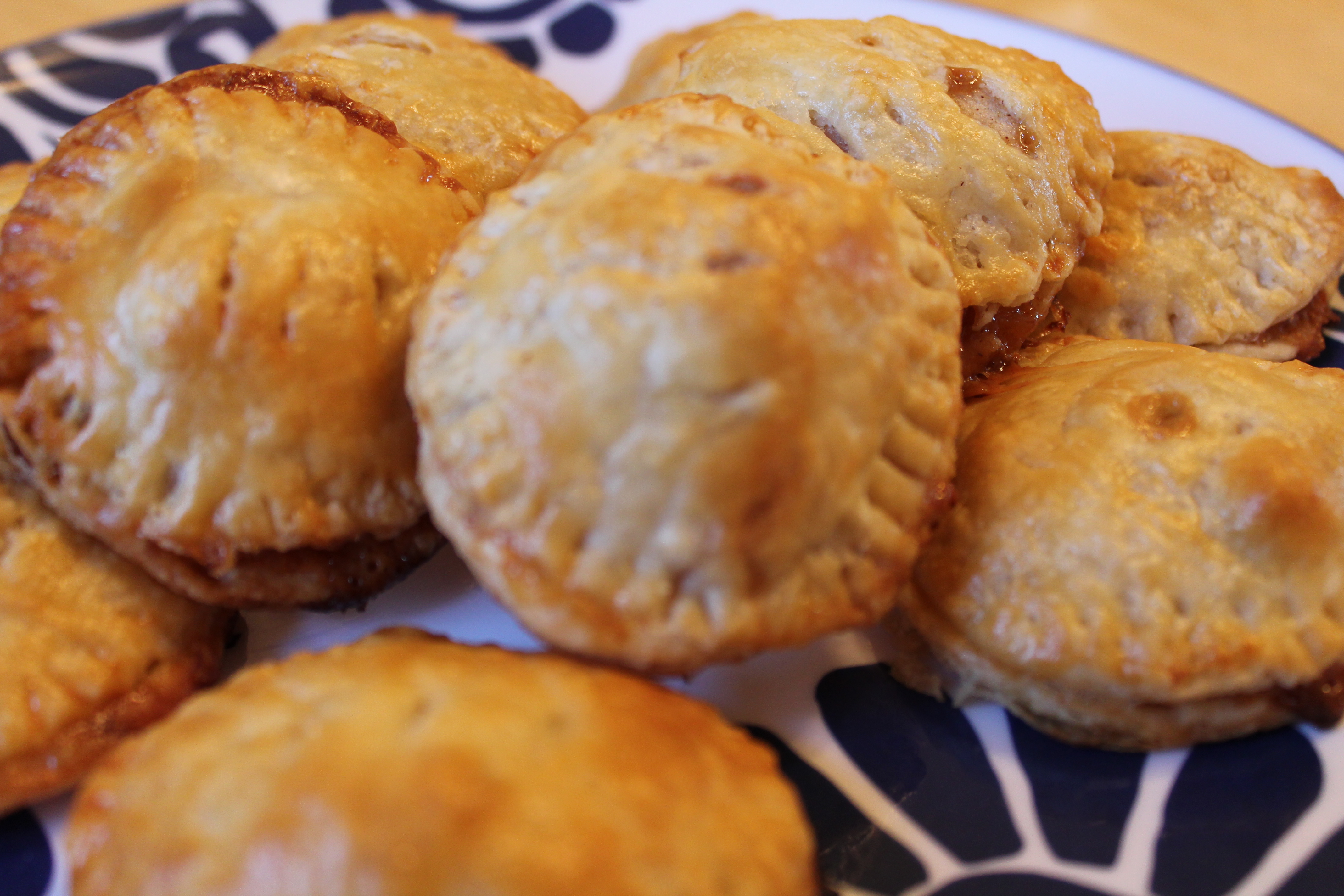 Thanksgiving is over and now it's Christmas season!
Do you even know how much I look forward to what I informally think of as "cookie month"?
Yet…for all the delights of Christmas cookies, sometimes it's a little sad to say goodbye to pie week.
So why not make your pies into cookies? Ease the transition a little.
Plus, these are delicious (okay, that's only hearsay. I don't eat apples. But seriously, they disappeared in a twinkling).
Yes…it is a bit time-consuming to make hand pies. There is a lot of crust rolling involved. But please don't let that stop you! I mean, weren't you already planning to wear out your rolling pin making sugar cookies and gingerbread? Don't lie. You were. So why not throw some delicious hand pies into the mix?
I made my standard pie crust for these, which I originally got from Smitten Kitchen. Here is Deb's excellent tutorial, but really, pie crust is so easy! Just whisk together flour and salt.
Using a pastry cutter, cut in cold butter. It's a great way to work out stress…like from trying to put up Christmas decorations while your toddler tries to take everything down and smash it on the floor. Just work the cutter kind of like kneading until the butter is about pea-size and mixed together with the flour.
Now grab a fork and pour in some ice water, a little at a time, fluffing with the fork. I usually add somewhere between ½–¾ cup ice water (um, don't add the ice, okay?) for this recipe, which is enough to make two regular pie crusts or a heck of a lot of hand pies (okay, only about 24)! Knead the dough a few times in the bowl, then wrap it up in some plastic wrap and chill it.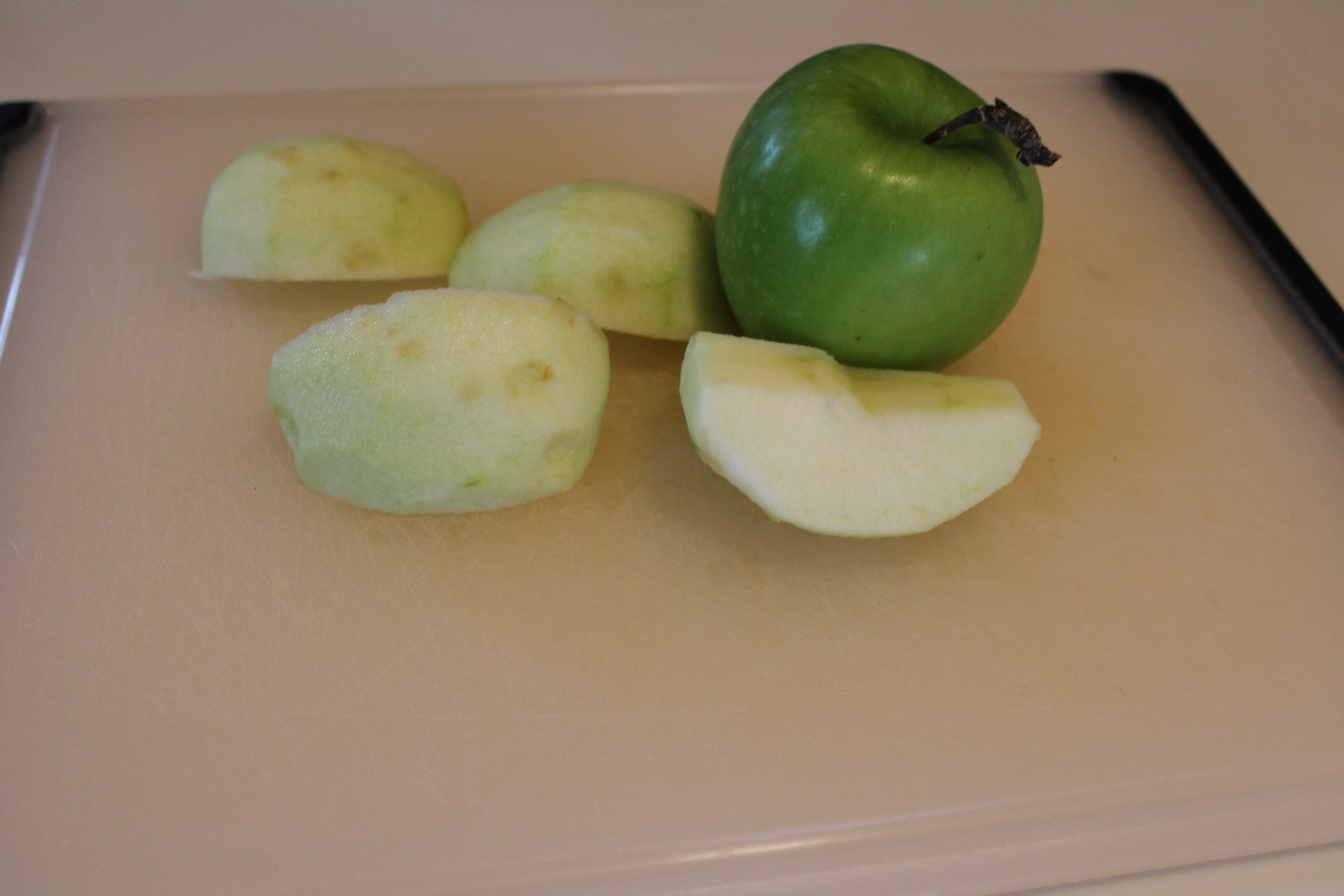 Meanwhile, slice your Granny Smith apples just the way you would for apple pie: in nice, thin slices. Of course, we are making hand pies, so you don't want long, flat pieces. I usually cut my apples in quarters or eighths, depending on how large they are, and then slice cross-ways instead of long-ways.
So, I did peel my apples, but it's not strictly necessary. You could make your pies a little lower maintenance, if you want. Or not.
Toss the apples with cinnamon, sugar, lemon juice, and flour. Set them aside to juice.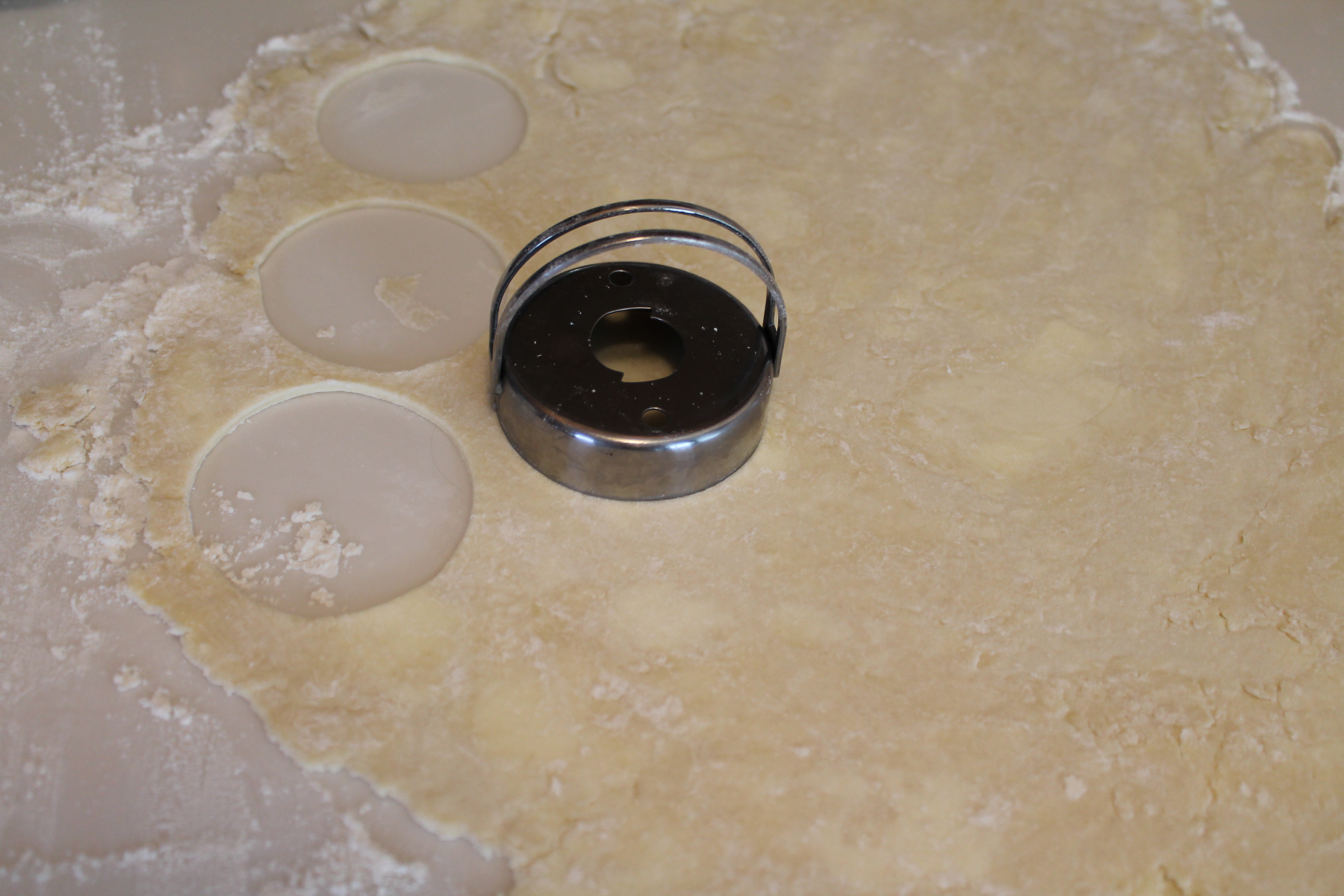 Now roll our your pie crust, either all at once or in smaller batches, as thin as you can. Make sure you have floured your counter very well before you do this!
Grab a large circular cutter (I used a 3″ biscuit cutter) and cut as many circles as possible.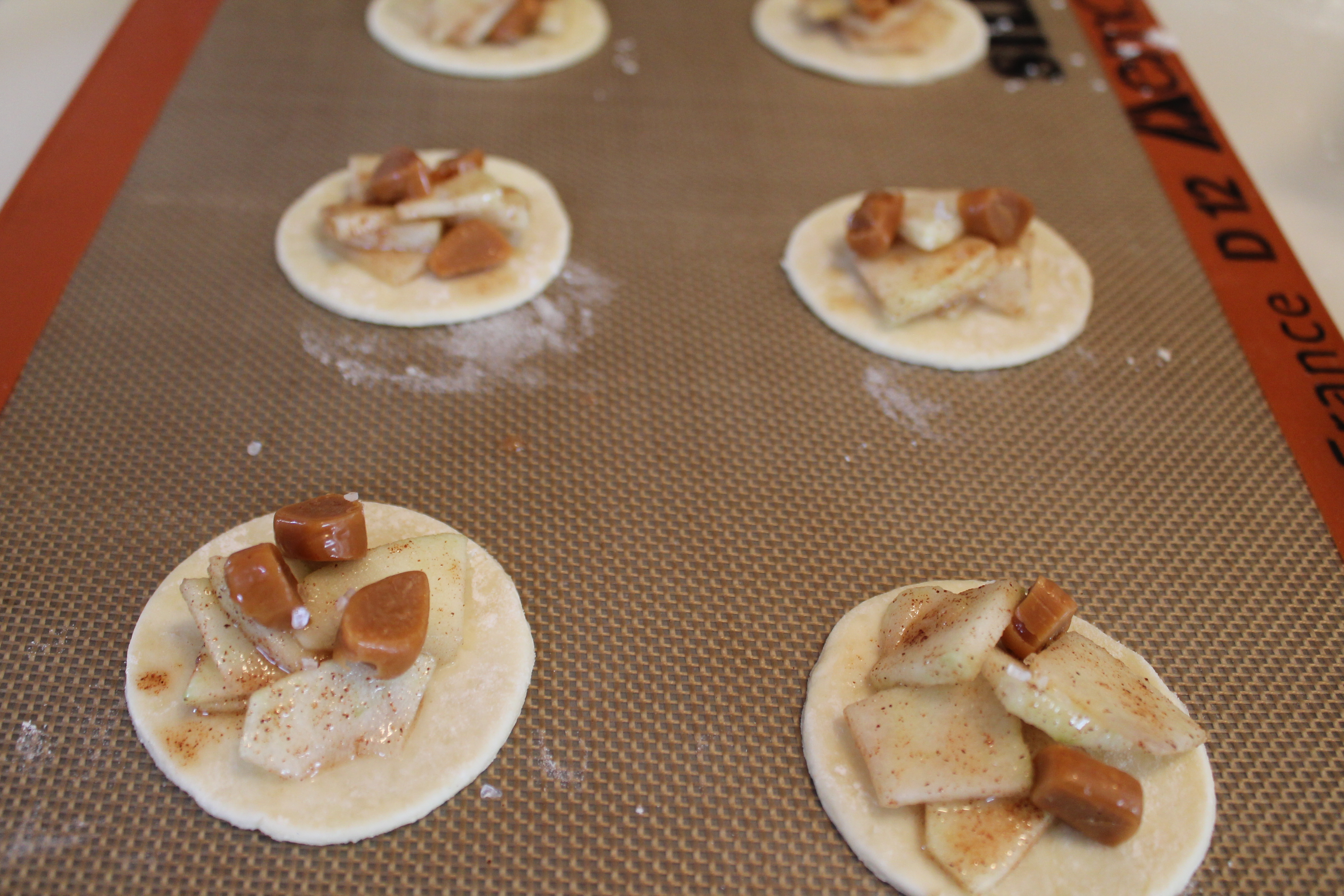 Lay 6 or 8 of the circles (however many fit) on a Silpat- or parchment-covered cookie sheet. Spoon 1–2 tbsp. apples into the center. Make sure you leave enough of an edge to seal the top crust later!
Cut up some soft, chewy caramels. I used about 9 Werther's, cutting each one in about 6 pieces with a very sharp knife. Yes, this was a little challenging.
Drop 3 or 4 pieces of caramel over the apples on the crusts. Drop a pinch of coarse sea salt over the caramels.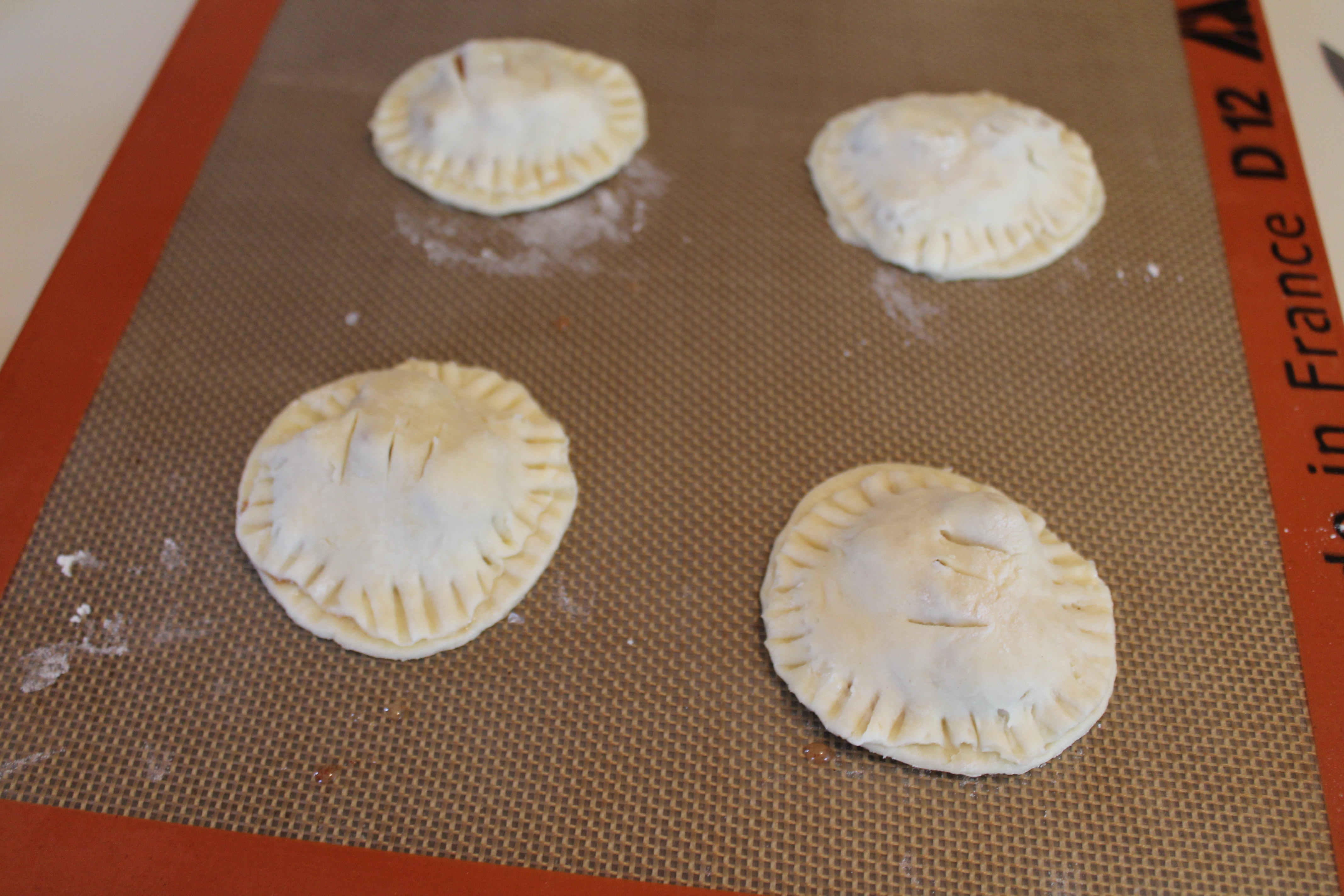 Now top each pie with a second crust. Use a fork to press all around the outer edges, crimping them together. Cut several slits in the top of each hand pie.
Whisk together 1 egg and 1 tbsp. water. Using a pastry brush, lightly brush the tops of the hand pies with the egg wash.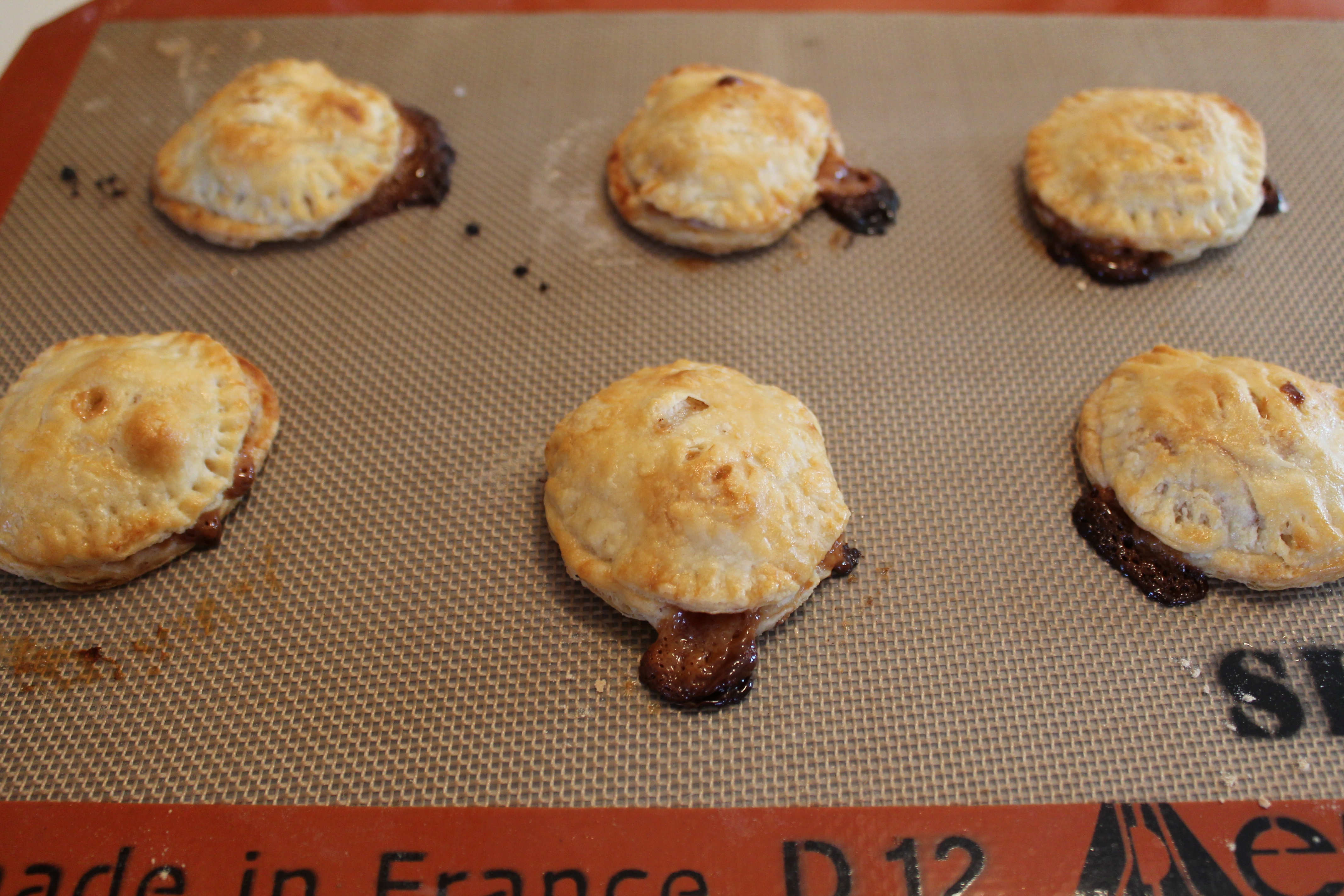 Bake for 15 minutes at 425°, until the crusts are flaky and golden and the apple caramel filling begins to ooze a little. Mmm, smells heavenly!
While the first batch bakes, continue on making the rest of the pies. Be sure not to work too hard to recombine the crust dough when it's time to roll it out again! The more you work the dough, the less flaky it will be.
And enjoy! With a sprinkle of raw sugar, if you'd like. And maybe a glass of milk or some ice cream. Hand pies à la mode!
Apple Caramel Hand Pies
lightly adapted from Just a Taste
crust from Smitten Kitchen
makes about 1 dozen
Crust Ingredients:
2½ cups flour
1 tsp. salt
1 cup unsalted butter, cold
½ cup ice water, plus ¼ cup as needed
Filling Ingredients:
2 small Granny Smith apples, peeled and sliced thin
juice of 1 lemon (about 2 tsp.)
½ tsp. cinnamon
pinch of ginger
¼ cup sugar
1 tbsp. flour
9 Werther's soft caramels, roughly chopped
coarse sea salt
egg wash (1 egg lightly whisked with 1 tbsp. water)
Directions:
Combine flour and salt. Cut in butter until uniform and fine. Sprinkle water over mixture a few tbsp. at a time, tossing lightly with fork. Knead the dough until it is fully combined, about 4–5 times.
Divide dough in half. Flatten each half into a disc about 5″ in diameter and wrap in plastic wrap. Refrigerate at least 30 minutes.
In a small bowl, combine the apples, lemon juice, cinnamon, ginger, sugar, and flour, stirring until thoroughly mixed. Set aside.
Preheat the oven to 425°.
Remove the dough from the refrigerator and roll it out on a well floured surface, until about ¼″ thick.
Using a 3″ circular cookie or biscuit cutter (or a cup), cut out as many circles as possible. Re-roll the scraps and continue cutting out circles until all the dough is used up (but do not stack them, lest they stick together as the butter comes down to room temperature). There should be enough dough for about 2 dozen circles.
Place 6 dough circles on a Silpat- or parchment-lined cookie sheet. Spoon a small portion of the apple filling into the center of each circle, leaving a ½″ border around the filling. Top the apple filling with a few pieces of chopped caramel and a pinch of sea salt.
Cover each pie with a second dough circle. Using a fork, crimp the edges together, sealing each pie. Brush each pie with the egg wash, and cut 2–3 vents on the top of each pie with a sharp knife.
Bake the pies for about 15 minutes, or until golden brown.
Remove the pies from the oven and allow them to rest at least 10 minutes before serving. Repeat with the remaining dough circles and filling.
Enjoy!
One year ago: Butternut Squash Galette
Two years ago: Russian Teacakes