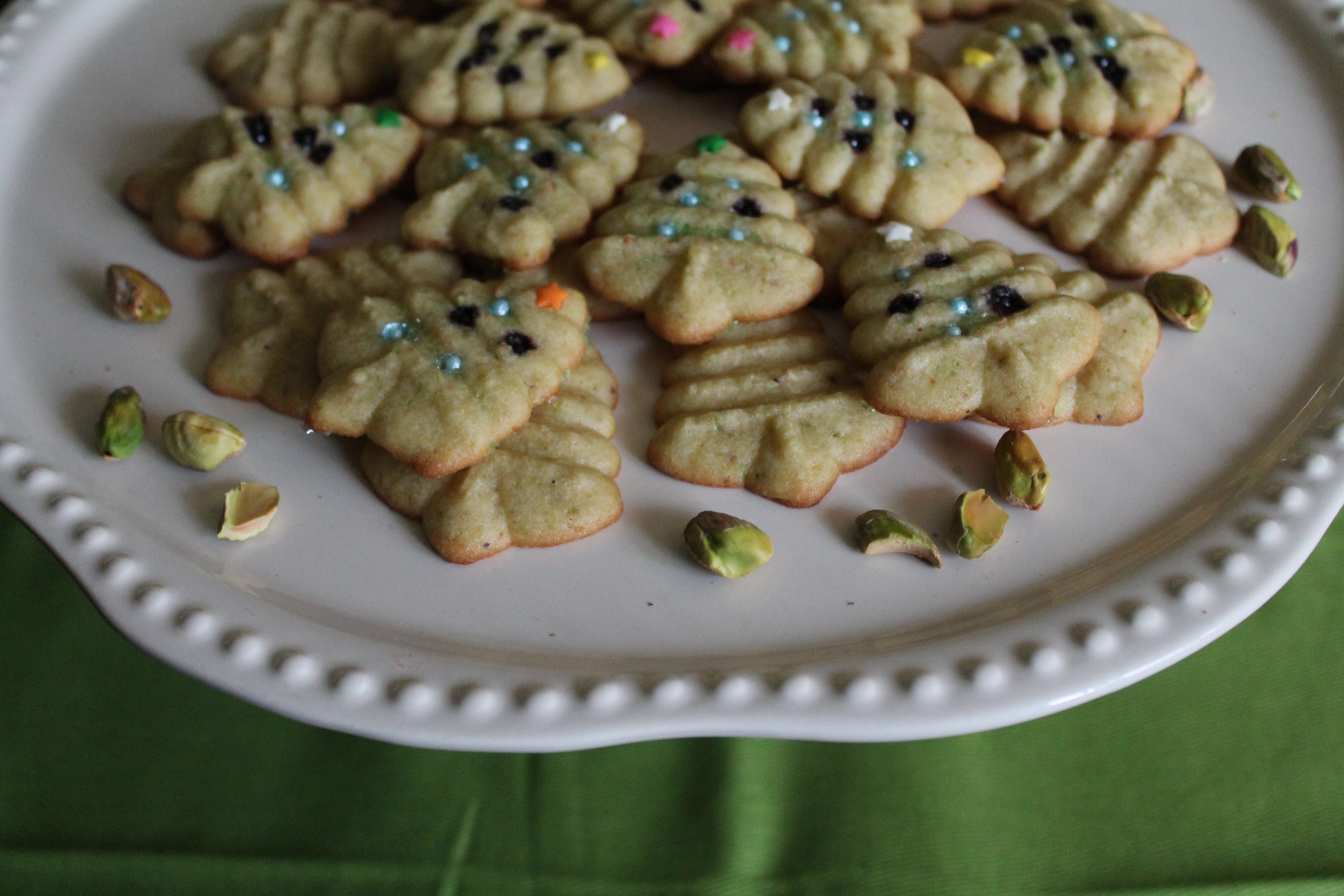 I have to confess something…something that makes me feel a little embarrassed this time of year.
I dread making sugar cookies.
Don't get me wrong, I love eating them! But rolling and cutting out cookies is simply not my thing. Sure, I have plenty of fond childhood memories of making sugar cookies with my mother. My mom would let me position and press the cutters into the sweet dough and go wild with the colored sugar (even though I actually think plain sugar cookies taste the best. But that's less festive, isn't it?). But now this just seems like an odious task that takes forever and usually yields slightly lopsided cookies.
I feel like this is a real weight around my neck. After all, Christmas cookies are mostly decorative! (That is, they are mostly variations on the same recipe, dressed up to be super cute.) How can I call myself a baker if I eschew making cut-out cookies? If there was ever a time of year that the balance between tasty and pretty shifts more toward the pretty side, it's Christmas. Decorating cookies is simply a must.
So last year (also known as year 1 of motherhood), I dyed my favorite cookie batter green and stuffed it into a cookie press. Voilà! Festive cookies that require no rolling or cutting.
This year I am following suit, but adding pistachios. Because nuts are wonderful. And, just for you (and because somehow I have a whole basket full of decorative sugars and sprinkles, even though I prefer plain cookies…), I prettied those little Christmas trees up. Because that's what Christmas baking is all about.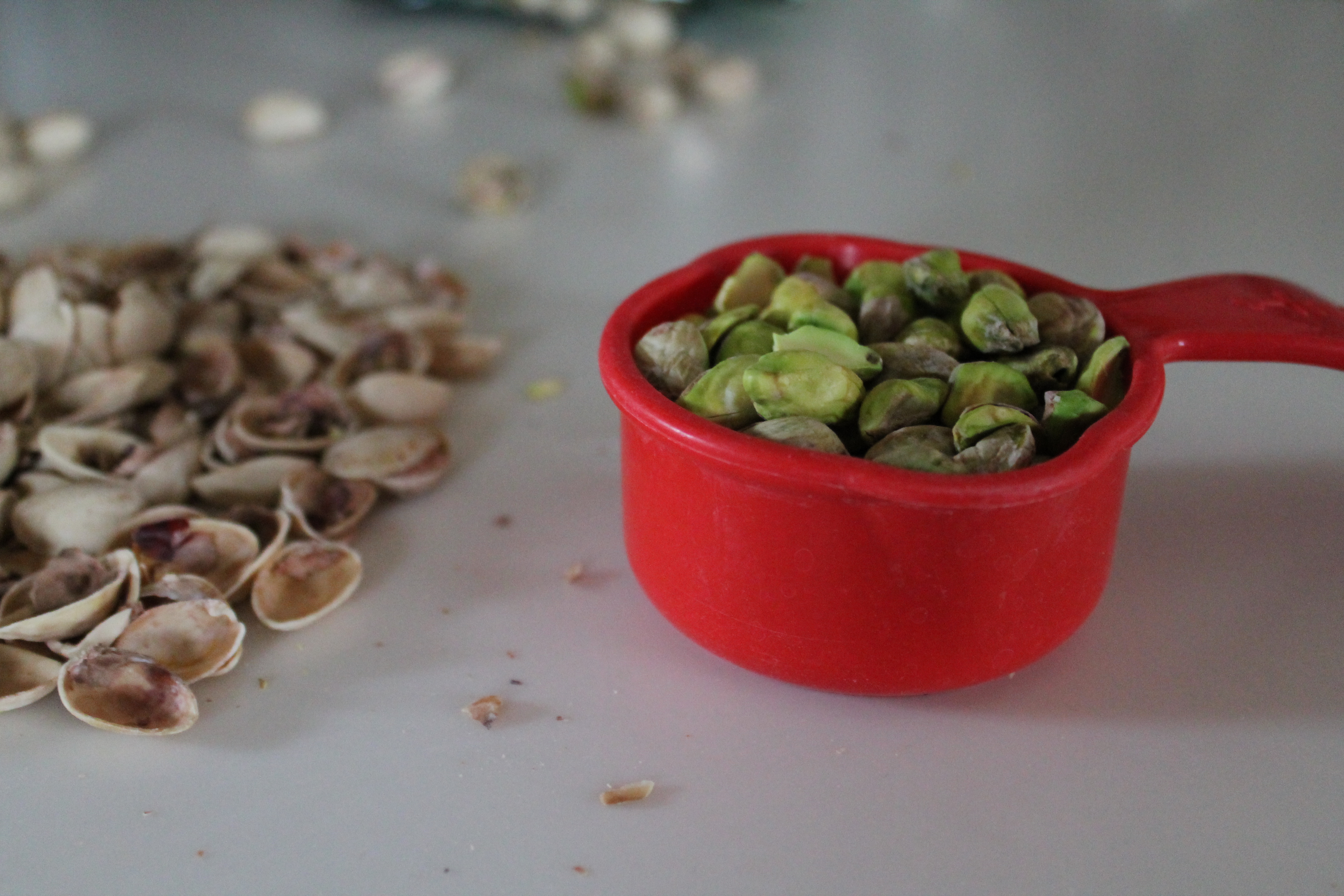 This recipe calls for pistachios. Pistachios, while delicious, are rather annoying. I have yet to find raw pistachios in a grocery store (yes, I did check the health food sections and the bulk bins), and (ooh, wouldn't this be nice?) it's also impossible to find pre-shelled pistachios. So if you are going to make these cookies with me, just get geared up for slightly sore thumbs.
I just used the most run-of-the-mill pistachios for these cookies: roasted with sea salt. If, by some miracle, you find raw or unsalted pistachios, that would also be lovely! Just don't forget to increase the salt slightly to compensate for what you won't get from the pistachios.
You could change up the nuts, if you'd like. I was pretty excited about the pretty pistachio green (although you really don't see it in the final cookie), but hazelnuts or almonds would also be pretty delicious. Almonds have the added bonus of being sold pre-ground (as almond meal or almond flour) in most grocery stores these days, so that would really save you some time!
Anyway. Shell your pistachios and rub the little skins off. Don't go crazy with that last part, but this just reveals more of the green nut inside.
Combine the pistachios and 1 tbsp. sugar in a food processor. Grind until the nuts form a fine meal. This actually took me several rounds: I processed the nuts for a minute or so, then sifted with a fine mesh sieve, then repeated. You don't want to turn the nuts into pistachio butter, so you do need to be a bit careful. I actually started adding the flour to the food processor as well. Anything that can dust the nuts and keep the oils from releasing will help here.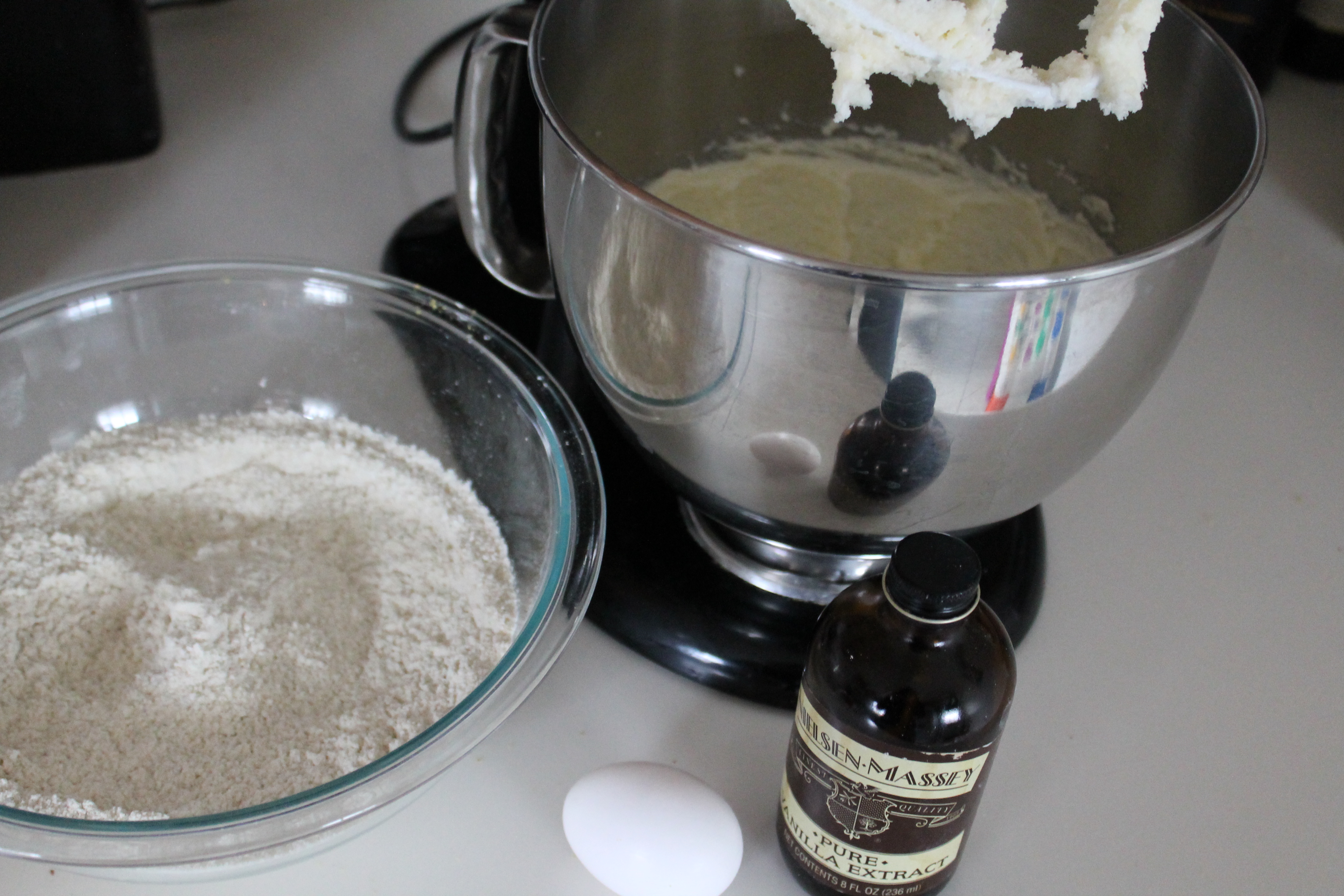 Now whisk together the nut flour, regular flour, and a pinch of salt. Set that aside.
Cream the butter (make sure to use unsalted!) and sugar until light and fluffy. Add the egg and vanilla and mix thoroughly.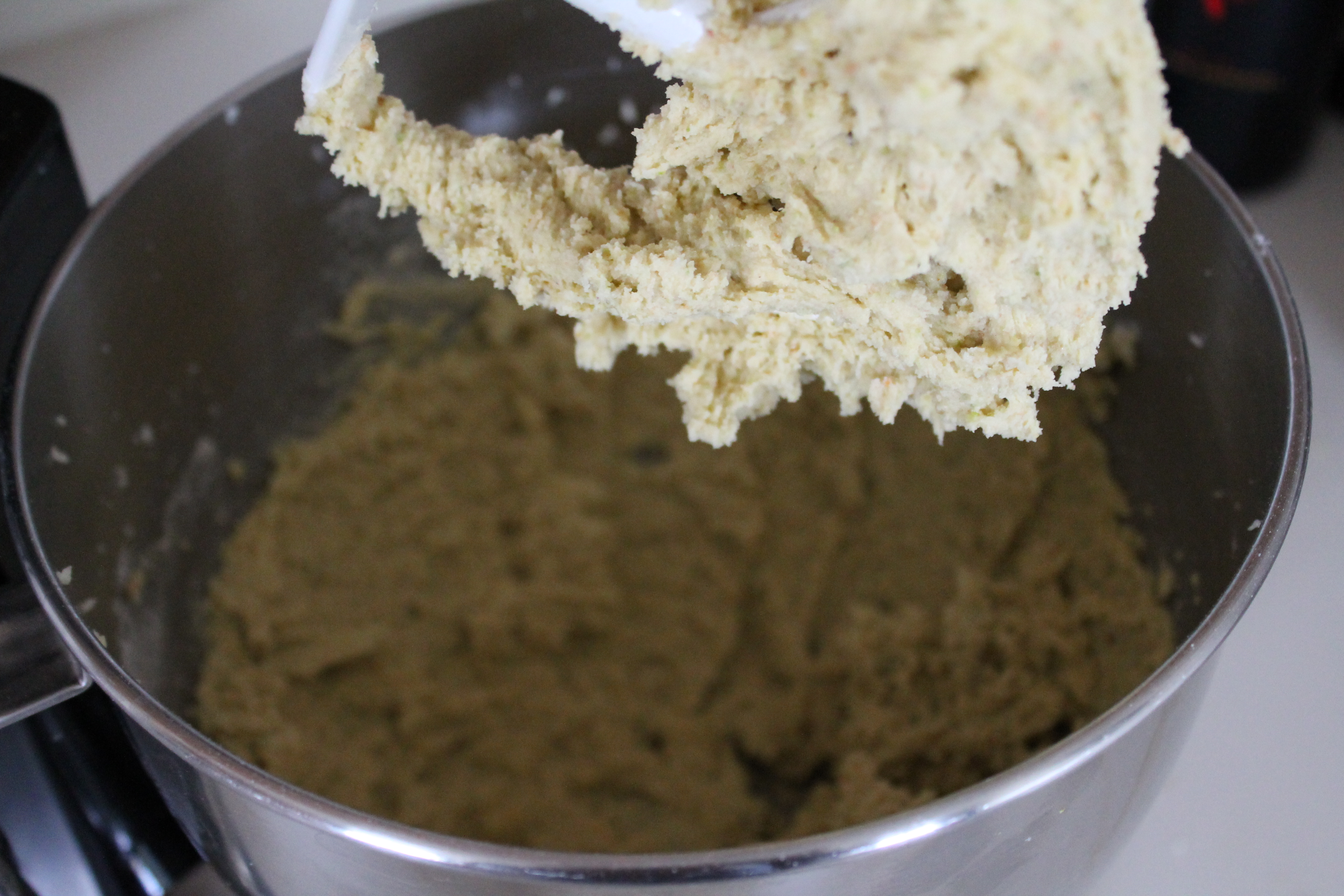 Add in all of the flour mixture and beat until completely incorporated. If you want to, at this point you could add in food coloring. I left my cookies plain in hopes that some of the pistachio green might be visible. It wasn't. 🙂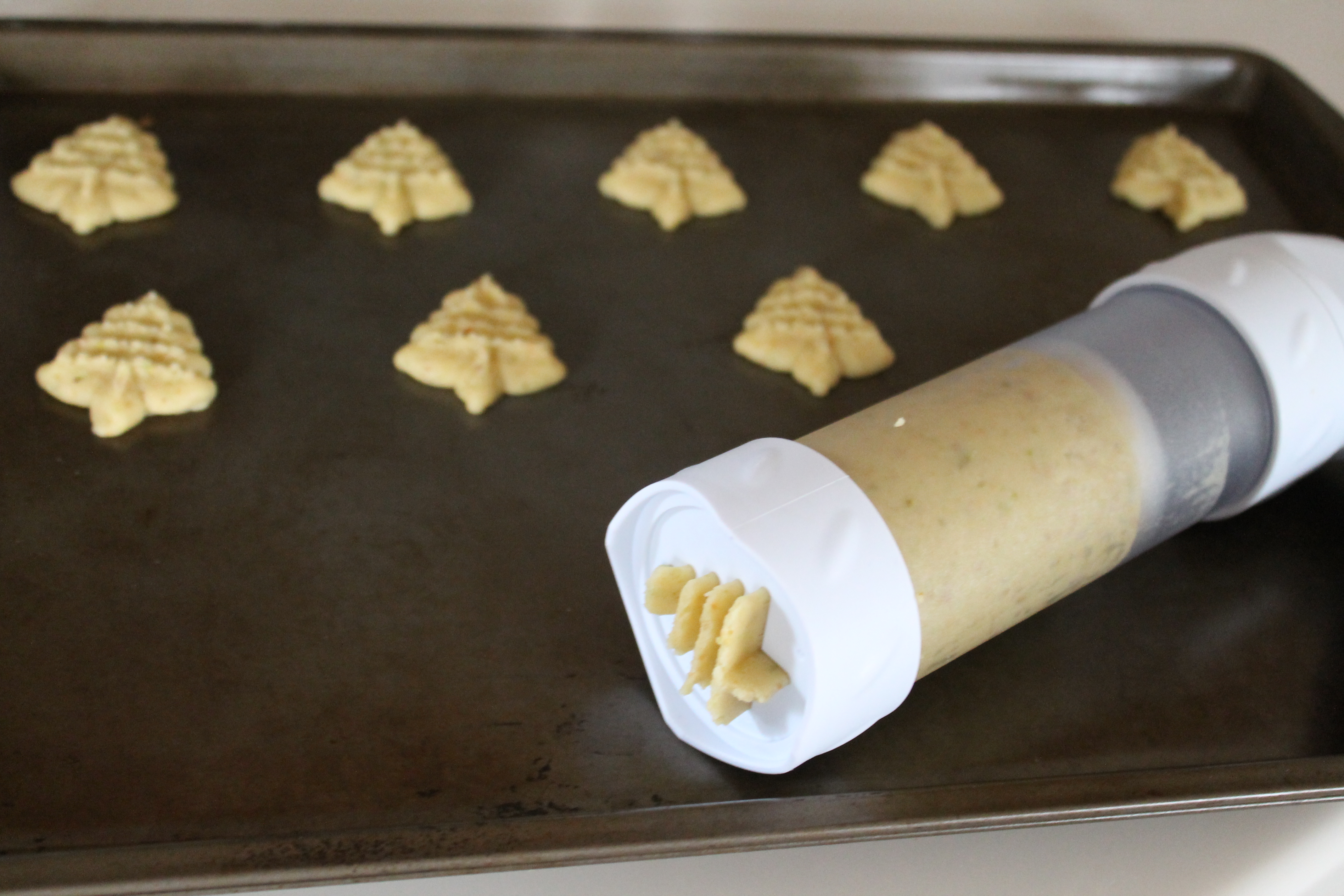 Now comes the fun part! Fill your cookie press with dough (FYI: I have a lower-end Wilton press). Fit the end with whatever shape you'd like. I recommend the Christmas tree or the wreath for this time of year, though you can certainly make spritz cookies during other seasons or for no reason at all!
Press the cookies onto a nonstick cookie sheet. Don't worry about leaving too much space between them; they really don't spread very much during baking.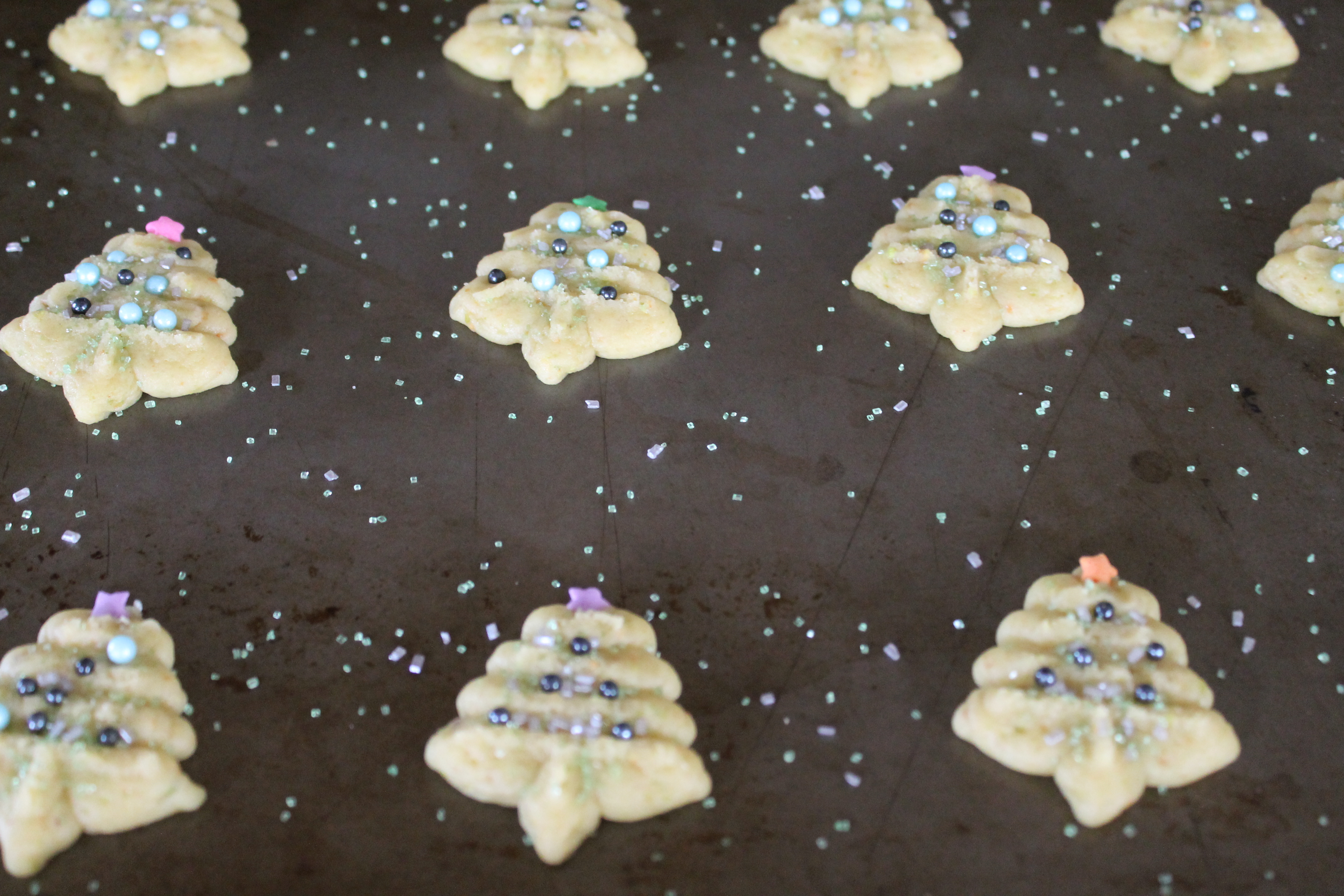 Decorate the pressed cookies with sugars and sprinkles as desired. (Bummer, my green sugar was barely visible! Silly trendy lime green…)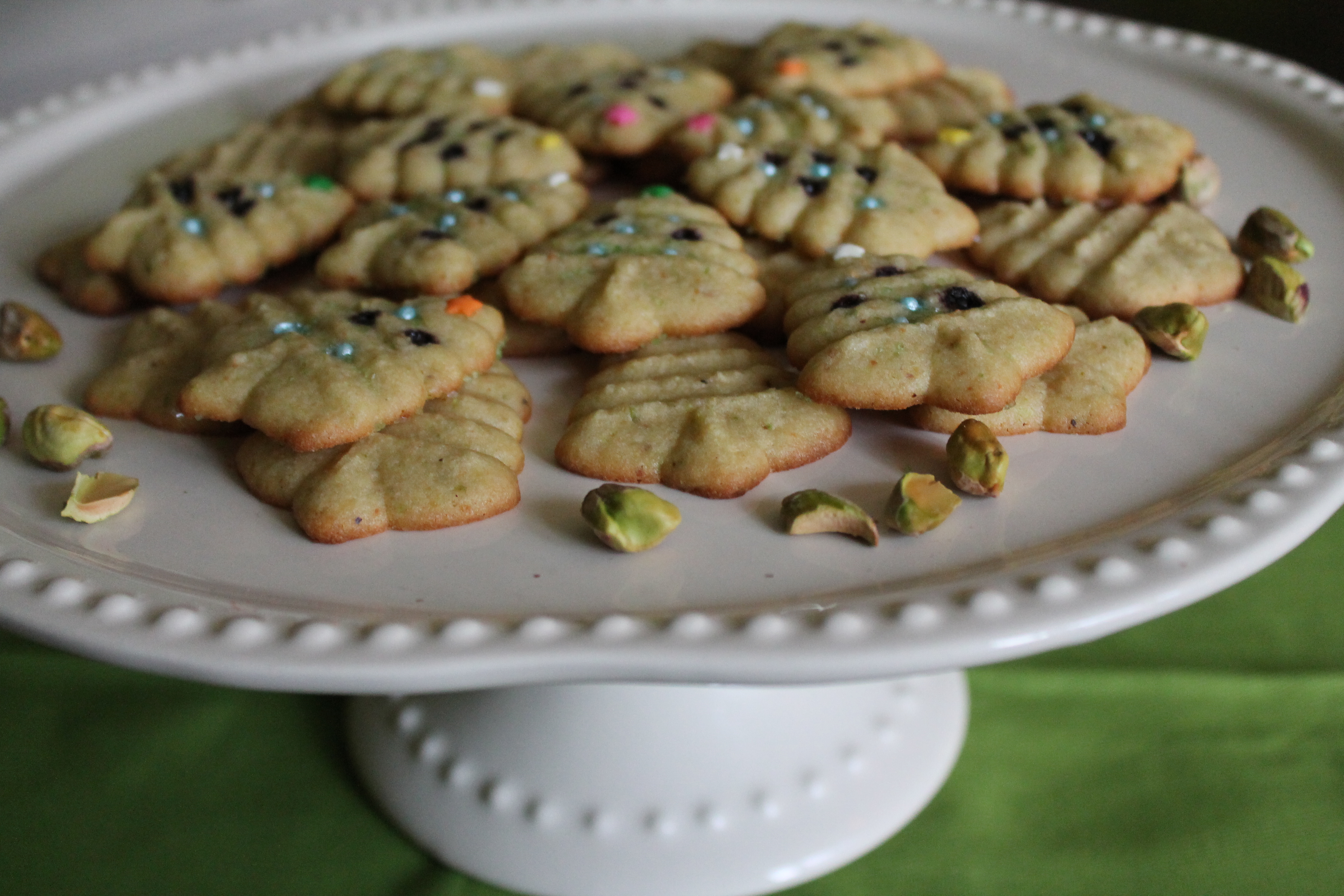 Bake at 350° for 5–7 minutes. I found that 6 minutes was absolutely perfect: very barely browned, but baked through completely.
Pistachio Spritz Cookies
barely adapted from Food Network Magazine, December 2013
makes about 84
Ingredients:
½ cup shelled roasted, salted pistachios
¾ cup sugar, plus 1 tbsp.
2 cups flour
pinch of salt
12 tbsp. unsalted butter, room temperature
1 egg
1 tsp. vanilla extract
sanding sugar and sprinkles (optional)
Directions:
Preheat oven to 350°.
Pulse the pistachios and 1 tbsp. sugar in a food processor until the nuts are finely ground and powdery. Sift with the flour and salt into a medium bowl. Set aside.
Cream the butter and remaining ¾ cup sugar in a mixer bowl until light and fluffy, about 3 minutes. Add the egg and vanilla and beat until combined.
Reduce the speed to low and add the pistachio mixture. Stir until completely incorporated, scraping the sides of the bowl as needed.
Fill a cookie press with dough according to the manufacturer's instructions. Press cookies onto ungreased (preferably nonstick) baking sheets. Decorate with sugar and sprinkles as desired.
Bake 5–7 minutes, until set and lightly golden, but not crunchy.
Let the cookies cool 3–5 minutes on the baking sheets before transferring to a wire rack.
Enjoy!
One year ago: Hazelnut Kisses
Two years ago: Portabella Burgers