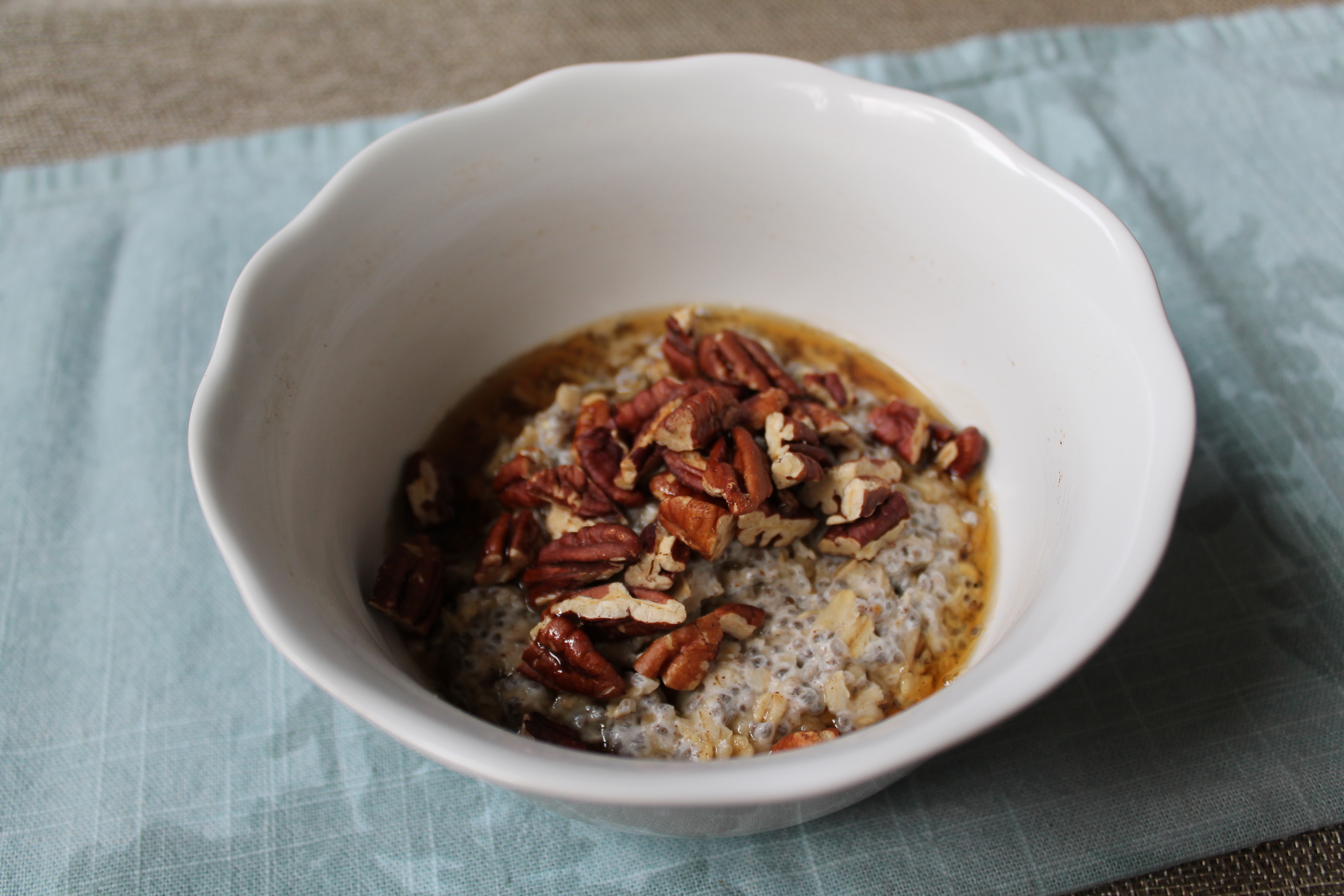 So far, the biggest challenge I've faced in giving up refined sugar has been figuring out what to eat for breakfast. (Surprise!)
You see, I've been eating Frosted Mini Wheats almost daily for years. I love the chewy wheatiness and the fact that the sweet, frosted side isn't overwhelming and does not dissolve into the milk in the bowl. I love that if I have to step away from my bowl (to, say, clean up something my son has strewn on the floor), the mini wheats do not turn into mush or breakfast cement in my brief absence.
But, as I'm sure you have guessed, Frosted Mini Wheats are not on the menu anymore. They aren't as bad as most sugary cereals, but they certainly aren't skimping in the sugar department.
So I decided, given that it's the middle of a freezing winter, that instead of making eggs every morning or finding another cold cereal that has less sugar, I would turn to oatmeal.
This is a healthy, filling breakfast; it's tasty, it takes very little effort to prepare, and I can really feel good about eating it!
First of all, I should note that this is a breakfast for one. Around my house, weekday breakfast is a fend-for-yourself kind of meal. But if you are making breakfast for the whole family, this is still very easy! You can either prepare the number of individual bowls you need in the microwave, or toss all of the oats and chia seeds together over the stove and make the oatmeal in the traditional way.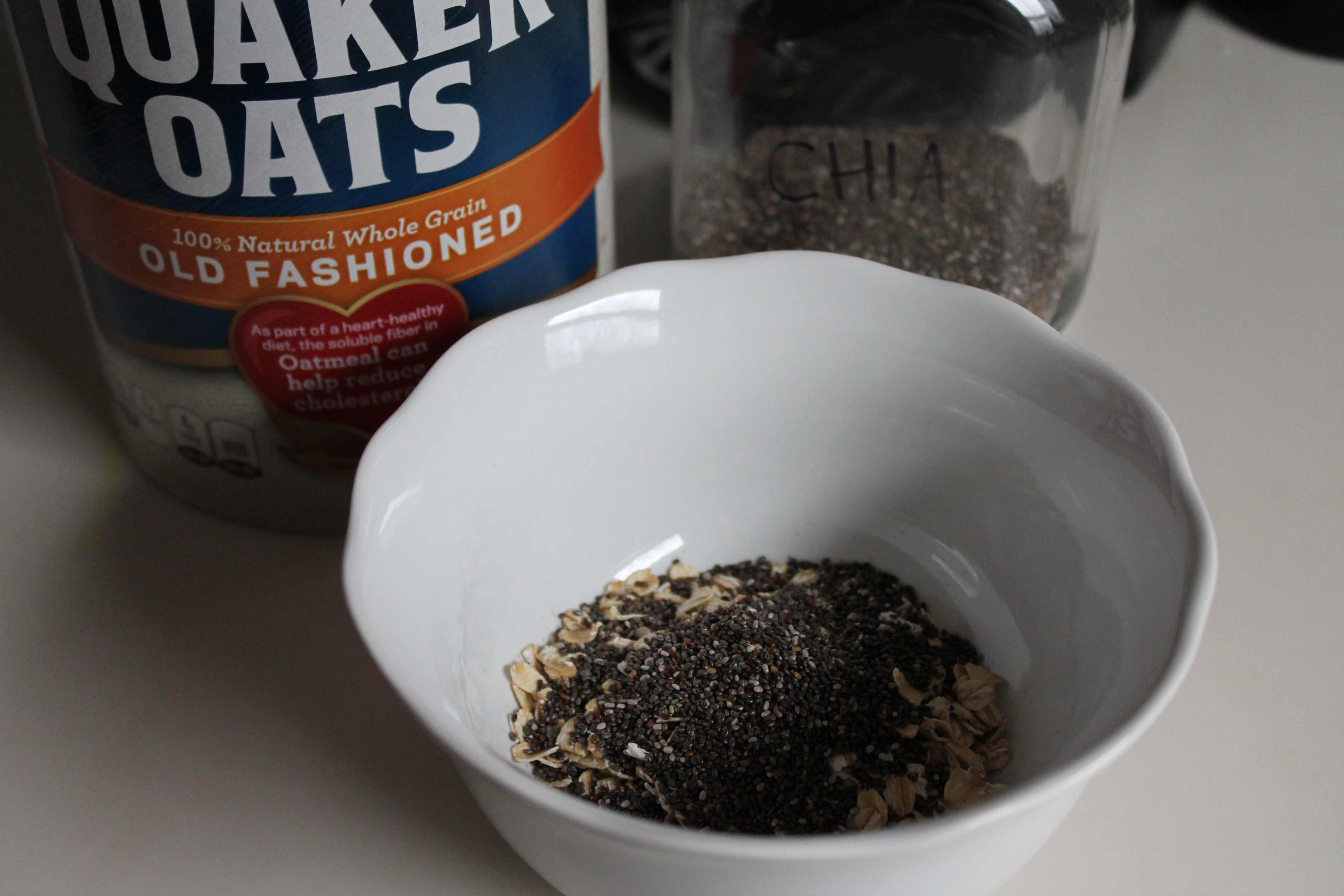 I use old-fashioned oats in this porridge. I think old-fashioned oats are best because they are actually a whole grain and have undergone far less processing, and thus contain more nutrients than instant or quick-cooking oats. You certainly can use instant oats here instead, but I urge you to give the old-fashioned version a try!
But hey, we are busy. We don't have 15 minutes to stand in front of the stove every day, stirring oatmeal.
The easy solution is to soak the oats for about 10 minutes. Oats will absorb liquid and become tender while sitting on the counter. In fact, it's super trendy right now to eat your oats raw, soaked overnight in a mixture of yogurt and milk. So we are simply borrowing from that to make our breakfast healthier for a bit less work—and still hearty and warm in our tummies!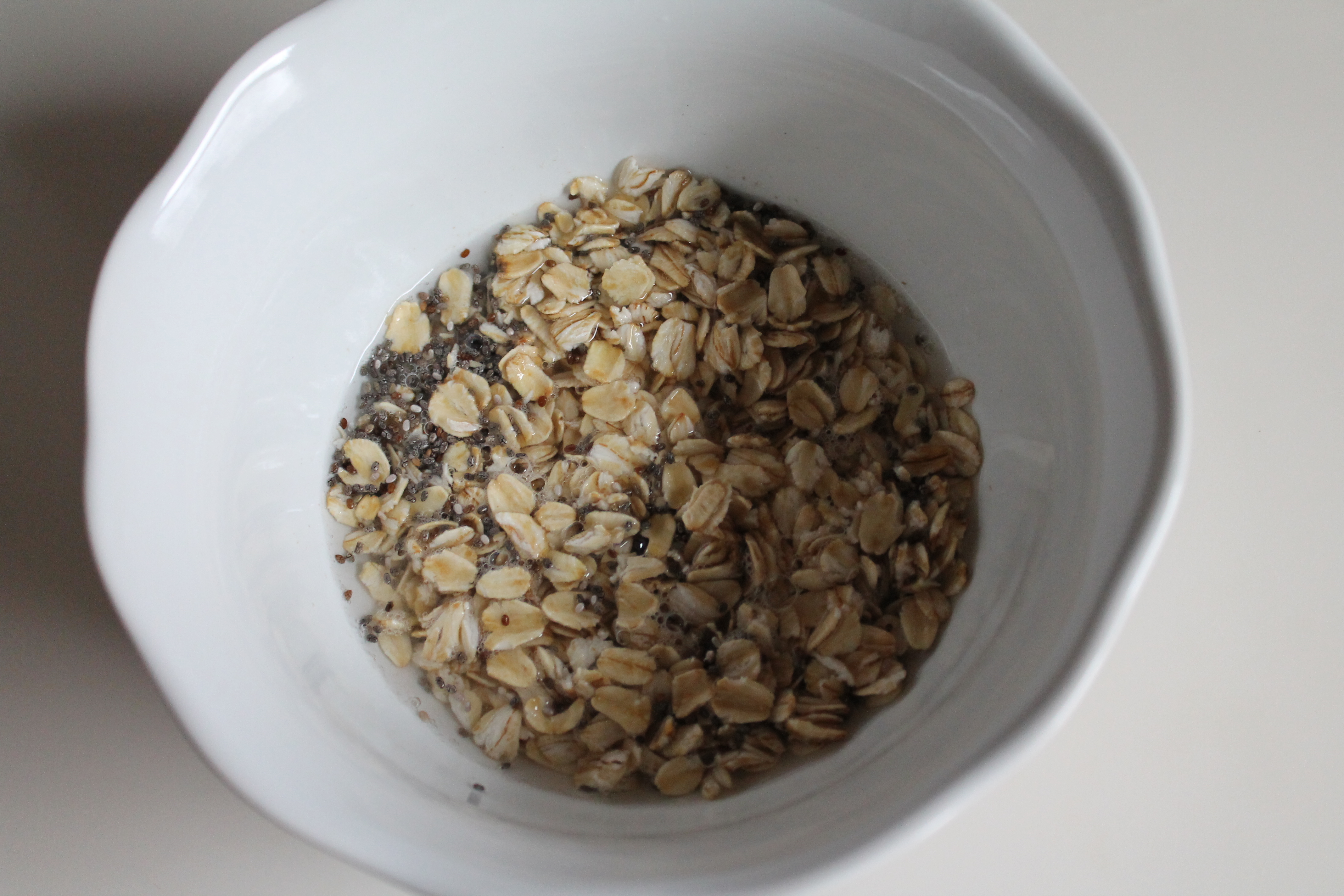 Stir together oats and chia seeds in a microwave-safe bowl. I like chia seeds because they are packed with fiber and omega-3s, but they don't have any flavor and don't make a huge textural change to the porridge when it's done.
Add in the water (I find the best ratio is 1½:1, water:oats) and let the bowl sit for 10 or 15 minutes. You can get dressed, do your hair, read a chapter of your book, skim Pinterest, feed your toddler…whatever you want!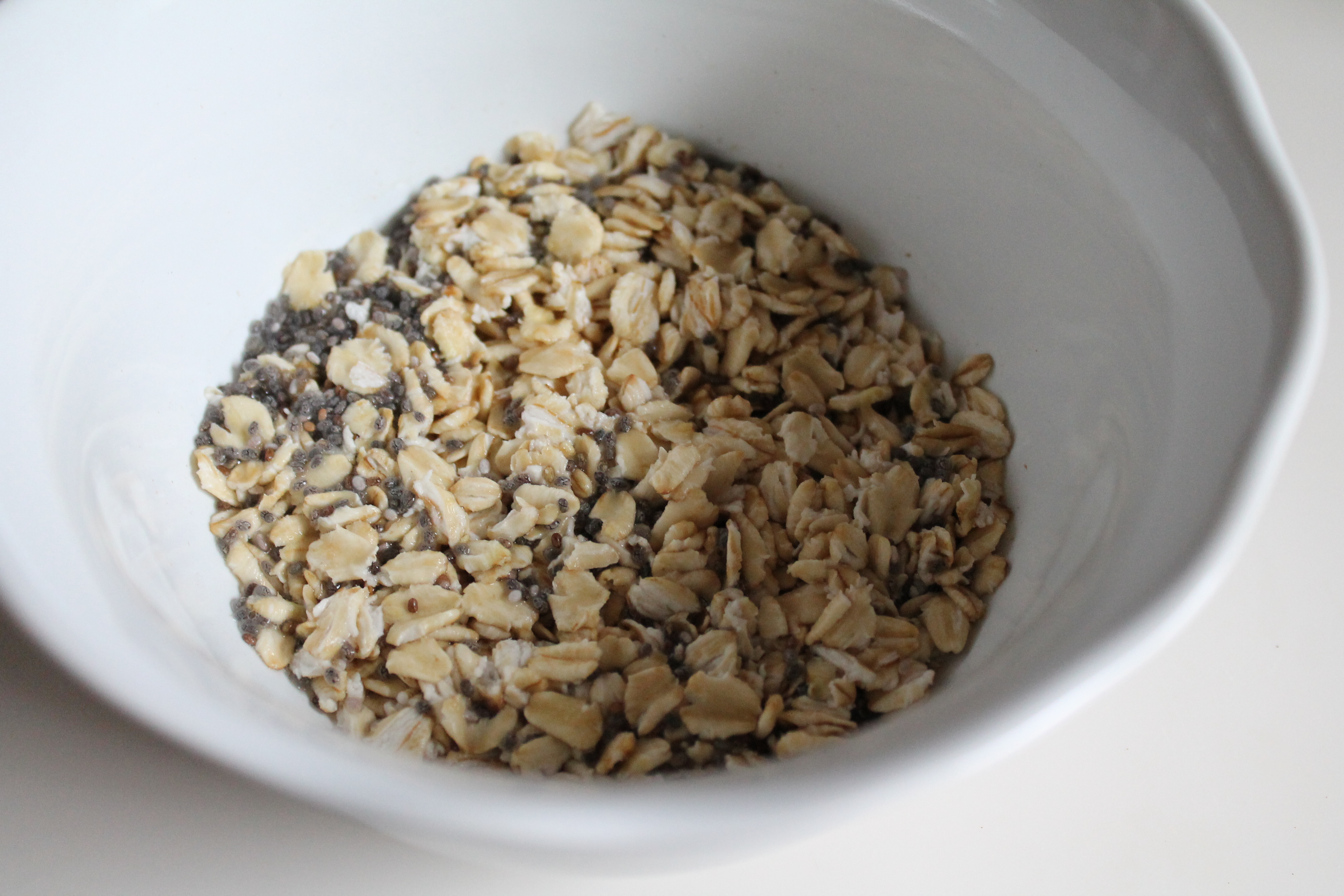 When you come back, the oats will have swelled, but there should still be a bit of loose water at the bottom of the bowl. If there isn't, add about 1 tbsp. extra water.
Microwave the bowl on high for 30 seconds. If there is still any water at the bottom of the bowl, stir and microwave another 15 seconds. When I do this, my goal is both to help the oats become completely tender and to absorb all of the water, making the oat mixture rather solid. (I don't like runny oatmeal at all—someone once told me not to eat things that look like they've previously been eaten….) But this isn't the end! We are about to add in other things to give the oats flavor and loosen the mixture up. Even if you do like runny oatmeal, go ahead and microwave until it is very thick; you can add milk to your oats after they are cooked completely.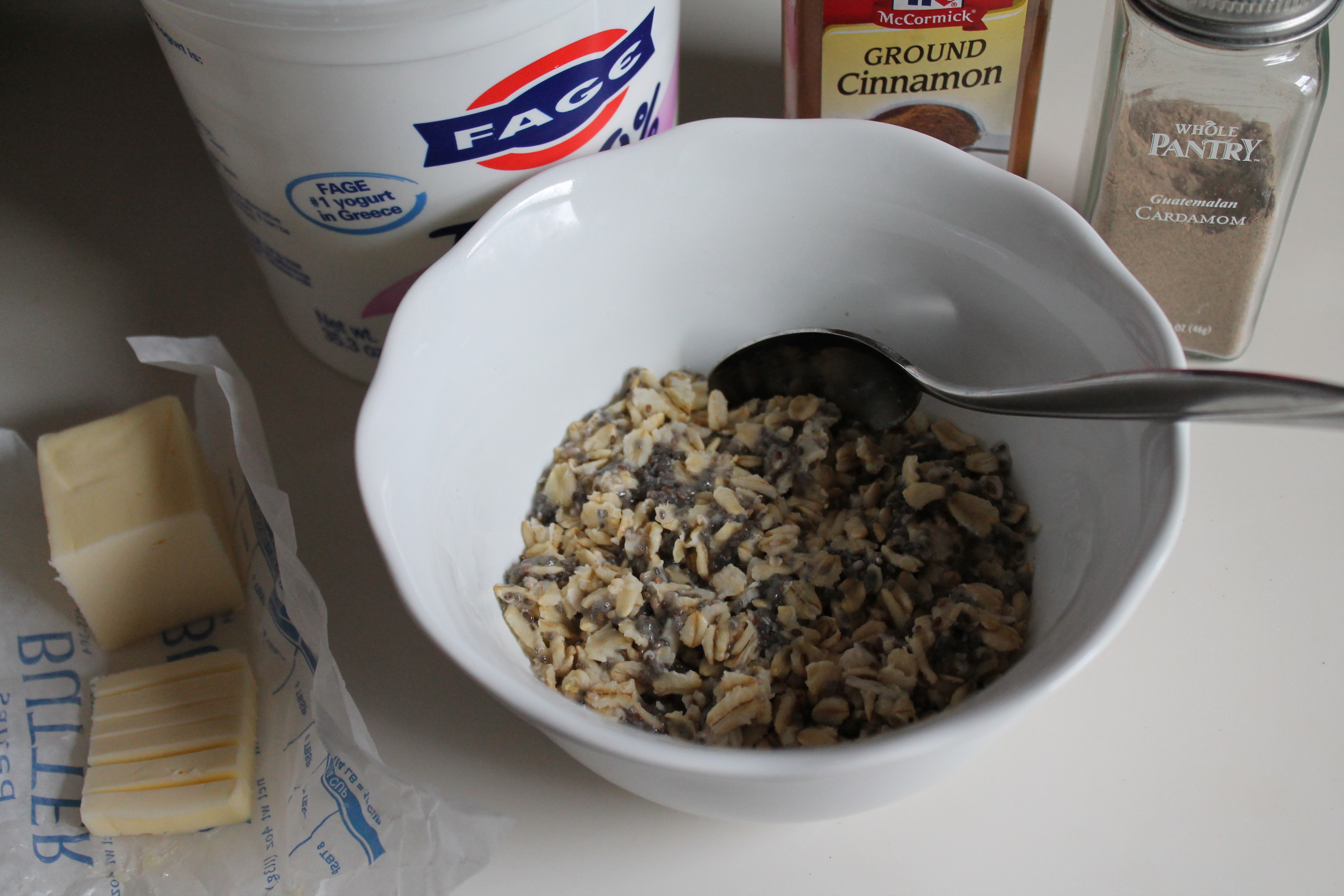 Now that the oats are cooked, we need to flavor them. You can take some creative license here, but I have found that the best combination is two large dashes of cinnamon, one dash of cardamom (I found ginger too sharp, but you could sub that if you prefer), and one dash of nutmeg. The spices are warming but not overwhelming. It's best to add the spices first, because the heat of the oats will help the flavors to bloom a little.
We also need to loosen the oats up. Add in half a tablespoon of salted butter for creaminess and a heaping spoonful of plain Greek yogurt for protein. Stir, stir, stir until the butter melts!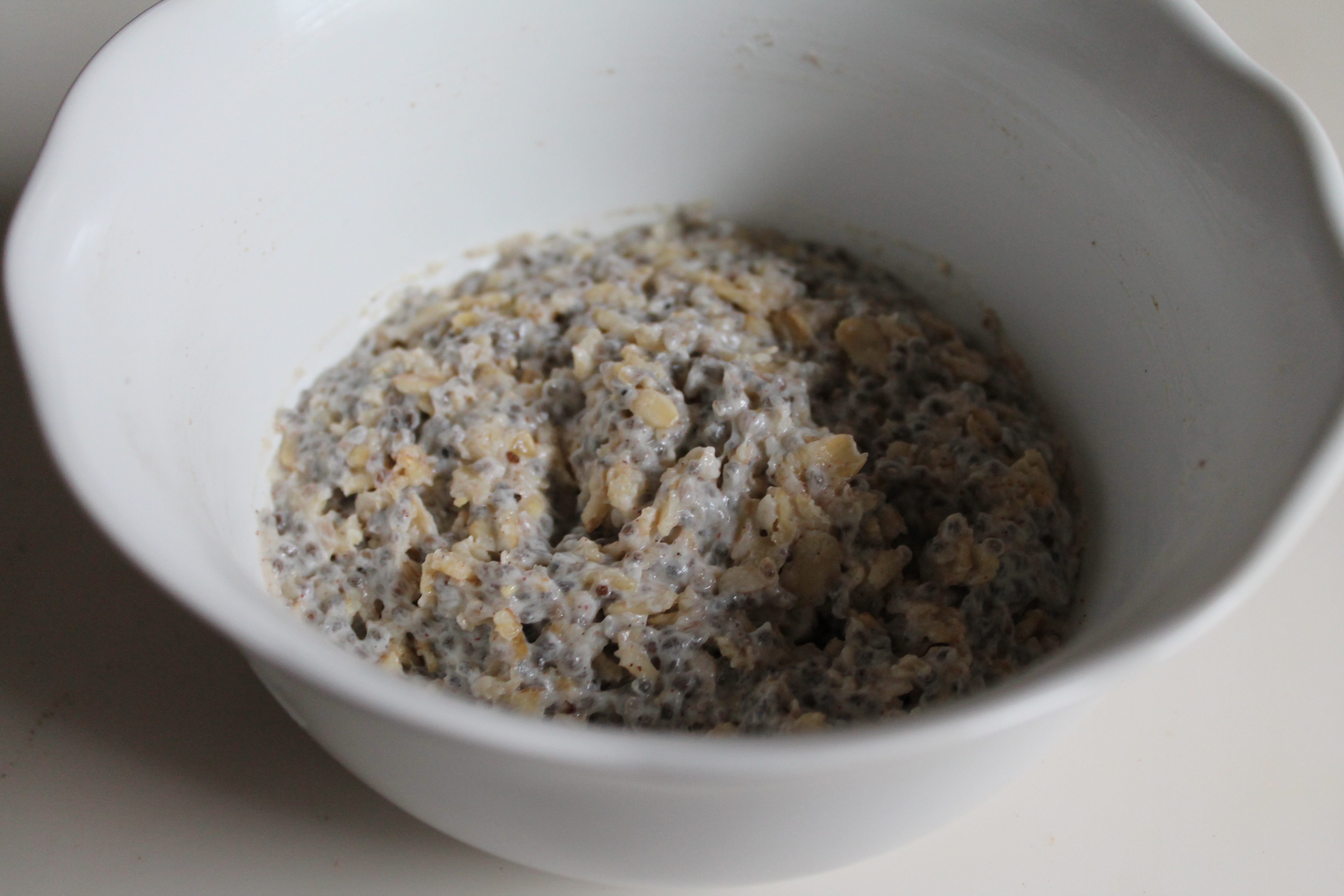 If you like your oats quite loose, add milk as well, a few tablespoons at a time, until you reach the right texture. If you are anti-butter, or anti-dairy more generally, add a pinch of salt in place of the butter and substitute your favorite non-dairy milk and/or yogurt, or even fruit purees such as unsweetened applesauce! My son loves this oatmeal with applesauce and crushed raspberries.
I have found, since giving up refined sugar, that a lot of things I never knew about are naturally sweet! For example, raw, unsalted nuts have a sweetness to them. Even milk is a bit sweet.
And what is breakfast porridge without a little sweetness? I love to add a handful of chopped, dry-toasted pecans. Nuts are great for you, and they add a pleasant crunch to the bowl. Of course, if you are allergic to nuts or just don't like them, you can skip this or add in something else, like unsweetened coconut or chopped dried fruits.
Now, let's talk about maple syrup. Just because we aren't using refined sugar doesn't mean we have to abandon all sweeteners. Pure maple syrup (unlike cane sugar) is actually high in nutrients like manganese. It packs a bit less of a flavor punch than raw honey (also good for you), so I like to add about a tablespoon of 100% maple syrup to my oatmeal. It sweetens, but doesn't do the same kind of damage to your metabolism that sugar does.
And we're done! Delicious and ready in a flash.
Quick Breakfast Porridge
a Melissa original
serves 1
Ingredients:
¼ cup rolled oats
1 tbsp. chia seeds
6 tbsp. water
2 dashes cinnamon
dash of cardamom
dash of nutmeg
½ tbsp. butter
2 tbsp. plain Greek yogurt
1 tbsp. 100% maple syrup
scant ¼ cup chopped toasted pecans or other soft nuts
Directions:
Combine the oats, chia seeds, and water in a microwave-safe bowl. Let stand on the counter for 10–15 minutes.
Heat in the microwave on high for 30 seconds, or until completely solid (the oats should not move at all if the bowl is turned upside down).
Stir in spices, butter, Greek yogurt, and maple syrup. When butter has completely melted, sprinkle with chopped pecans.
Eat immediately.
Enjoy!
One year ago: Buttermilk Pie Bars
Two years ago: Mexican Hot Chocolate Crackle Cookies