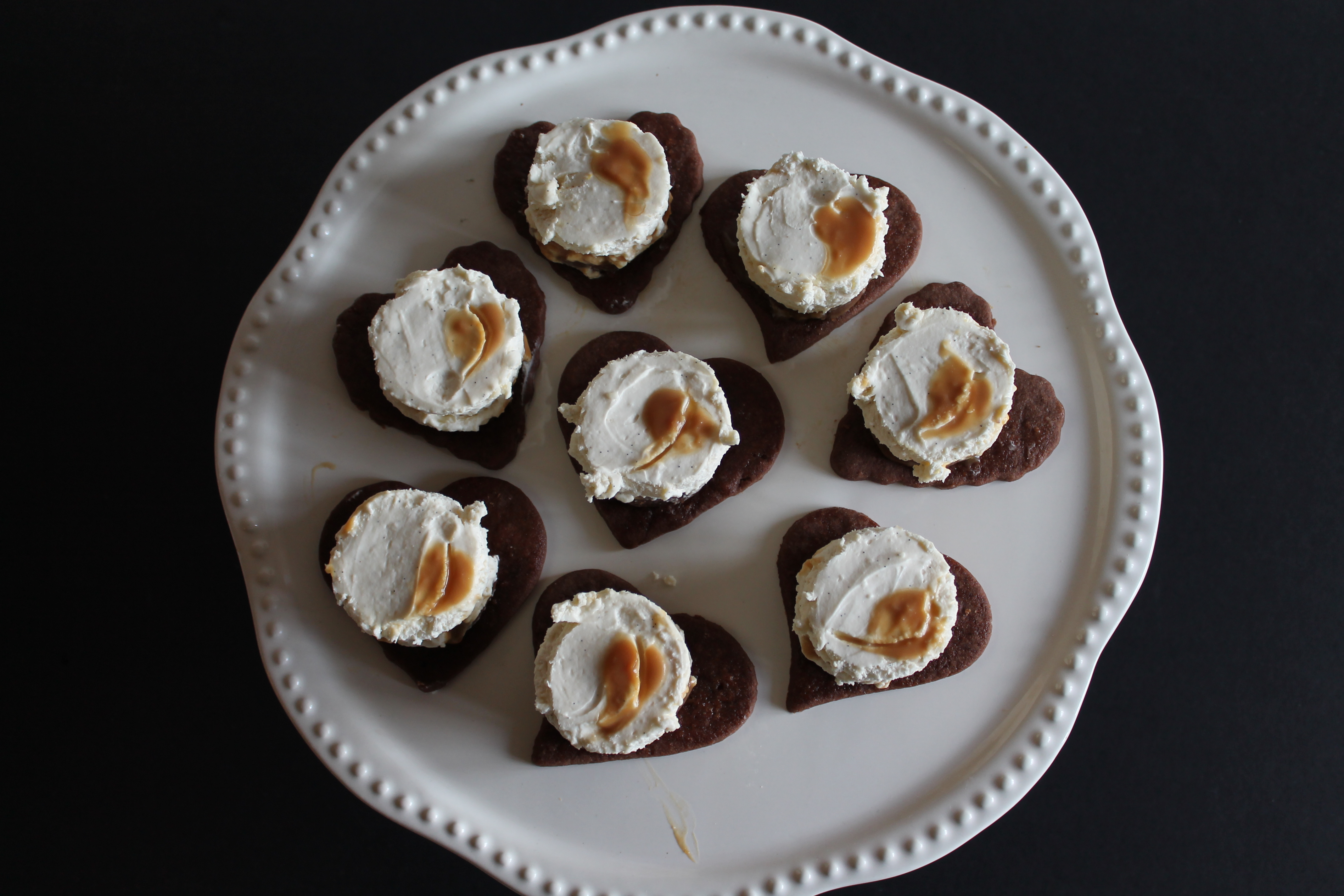 It's almost Valentine's day. And if there were ever an occasion that just screamed for a delicious dessert, it's a day centered around honoring your sweetie, right?
(Not that we really need an excuse to want dessert…)
Last week I was telling you about the valentine-themed cooking challenge I participated in. The mystery ingredient was honey, which I have never really liked. Honey is just way too sweet for me…and I really like sweets, so wrap your mind around that one. But I am super competitive, so I dug my heels in and determined to make the best gosh-darn honey dessert ever.
As I sat on my couch, examining my copy of the Flavor Bible, trying to figure out what kind of dessert I could possibly make that featured honey prominently but was well balanced, I suddenly realized that cheesecake would do the trick! Cheesecake is naturally tart, and the salt in cream cheese seemed like the ideal complement to the flowery saccharine flavor of honey.
These cheesecakes have several components (hey, it was a competition!), but in the end each piece is quite easy to carry out. They were so delicious, highlighting honey but also bringing in other strong flavors so the honey wouldn't overwhelm. And guess what? I won the award for creativity!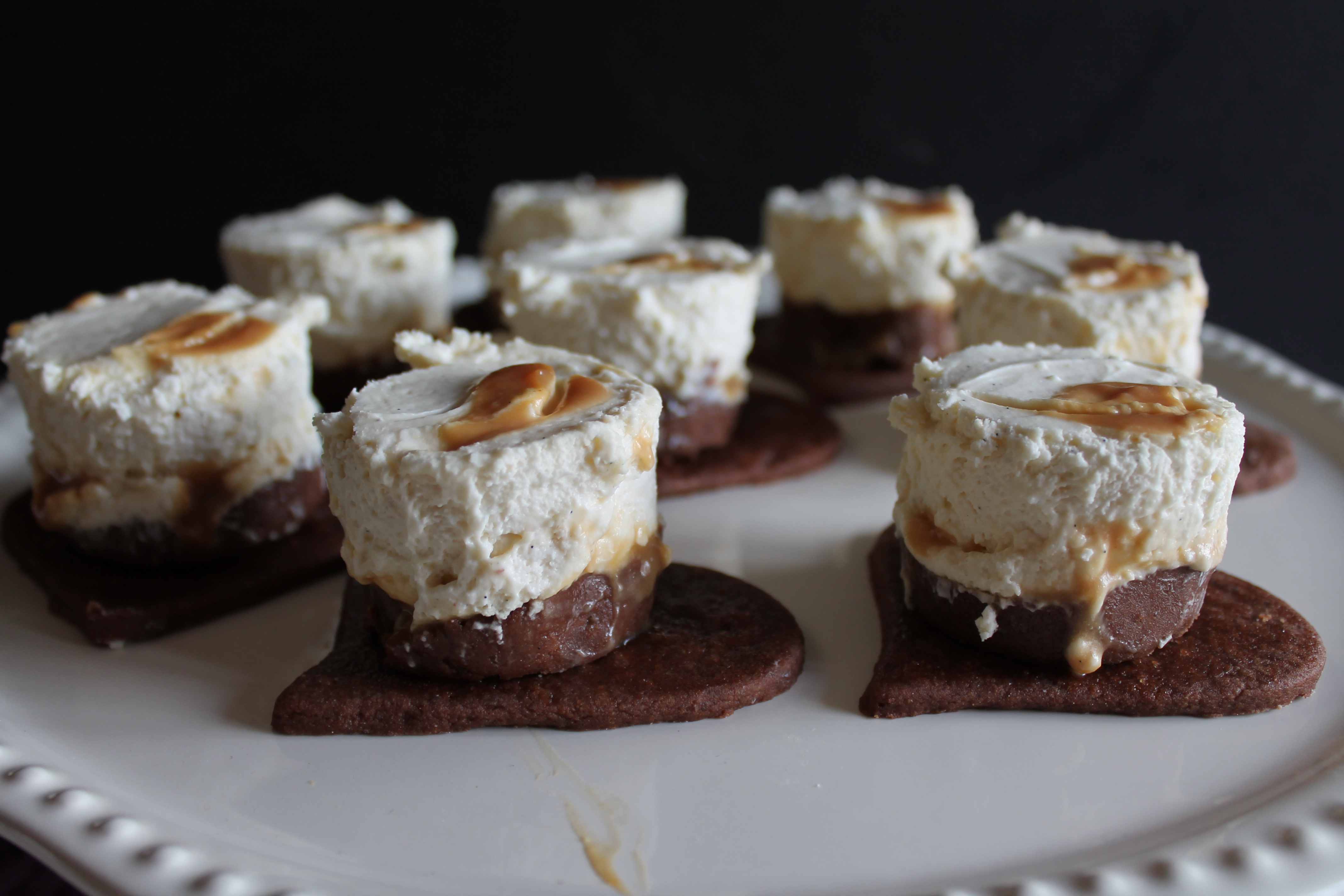 Well, when you are trying to pull off a dessert starting with a concept rather than a recipe, things can get a little tricky. I tried three cheesecake recipes before I settled on the one I am sharing with you. And I have to make a confession: it is not a vegetarian recipe. That's right, this is a no-bake cheesecake, and it contains gelatin. So sorry. The gelatin was a last resort, but totally necessary in order to achieve a balanced flavor and proper consistency. Of course, you are welcome to try the recipe without the gelatin! Just be aware that the cheesecake will not set as firmly, and it may be a bit droopy when you release it from the pans.
Moving on. Set your cream cheese on the counter. You need the cheese to be at room temperature before you can mix together the cheesecake.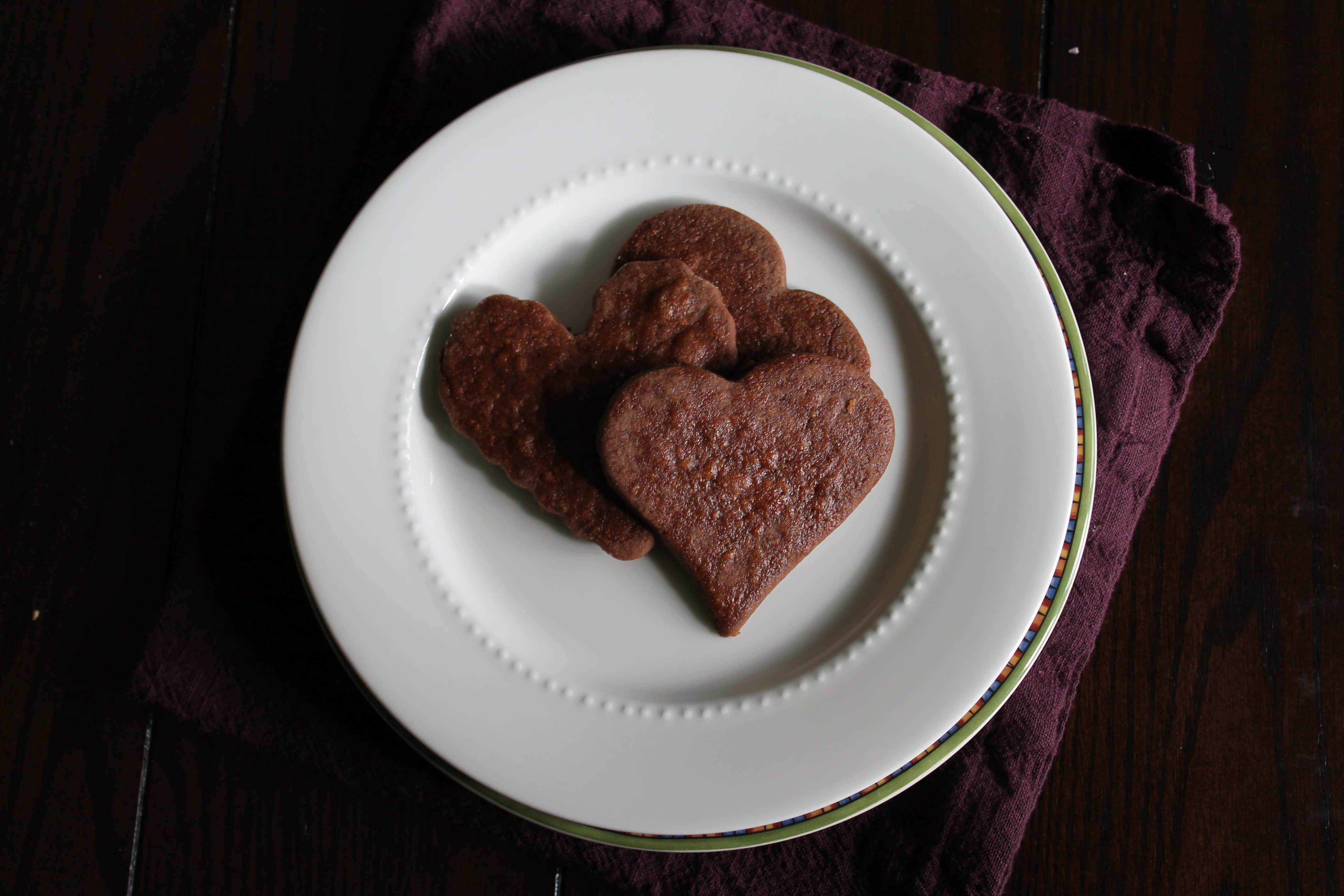 Did you make your chocolate honey shortbread yet? No? Okay, I'll wait. You're going to want those to be baked and cooled before you make the cheesecake mixture, because you will be crushing up about half of the cookies to turn into crust. (Alternatively, if you are against the idea of making cookies for your cheesecake crust, I recommend crushing up a combination of Teddy Grahams or Oreos and honey graham crackers. You will lose a bit of honey flavor, not to mention the cute hearts to use as decorations, but if you aren't entering your cheesecake in a friendly competition then you might not care about that.)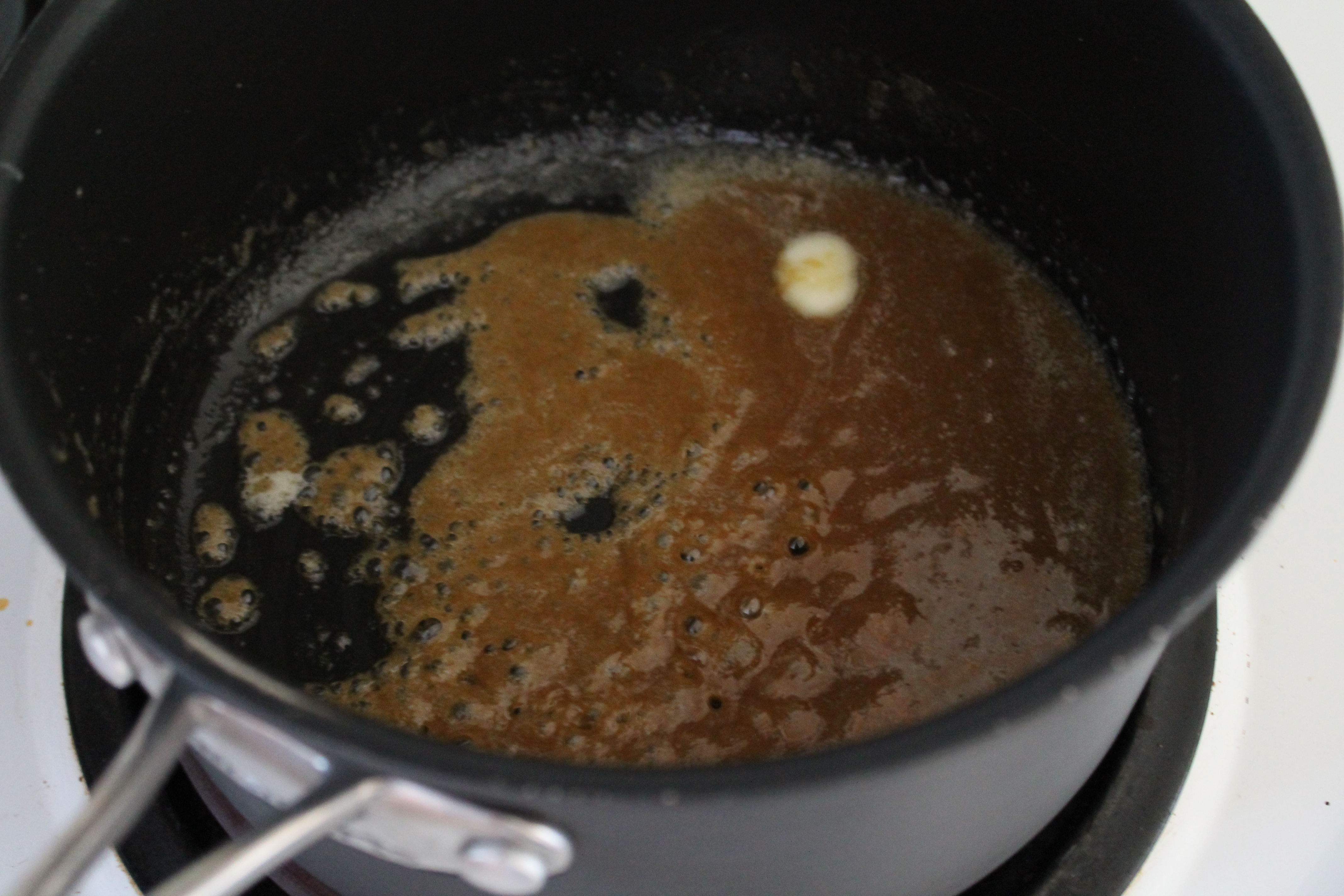 Okay, let's make the caramel sauce. This sauce is the lynchpin that makes the whole dessert amazing. It tastes like toffee candy, and it stays liquid at room temperature because of the high ratio of honey! This is super important; if you try using a caramel that becomes firm and chewy at room temperature, then the cheesecake will be difficult to eat (crumbly cookie + soft cheesecake will make a huge mess on your plate while you wrestle with the solid caramel).
This sauce, much like its less liquidy friend, is super simple to make. First, combine brown sugar and butter in a medium saucepan. We want the sugar to liquefy before we add in the already syrupy honey, otherwise the sugar may stay in crystal form. Gritty caramel is no good.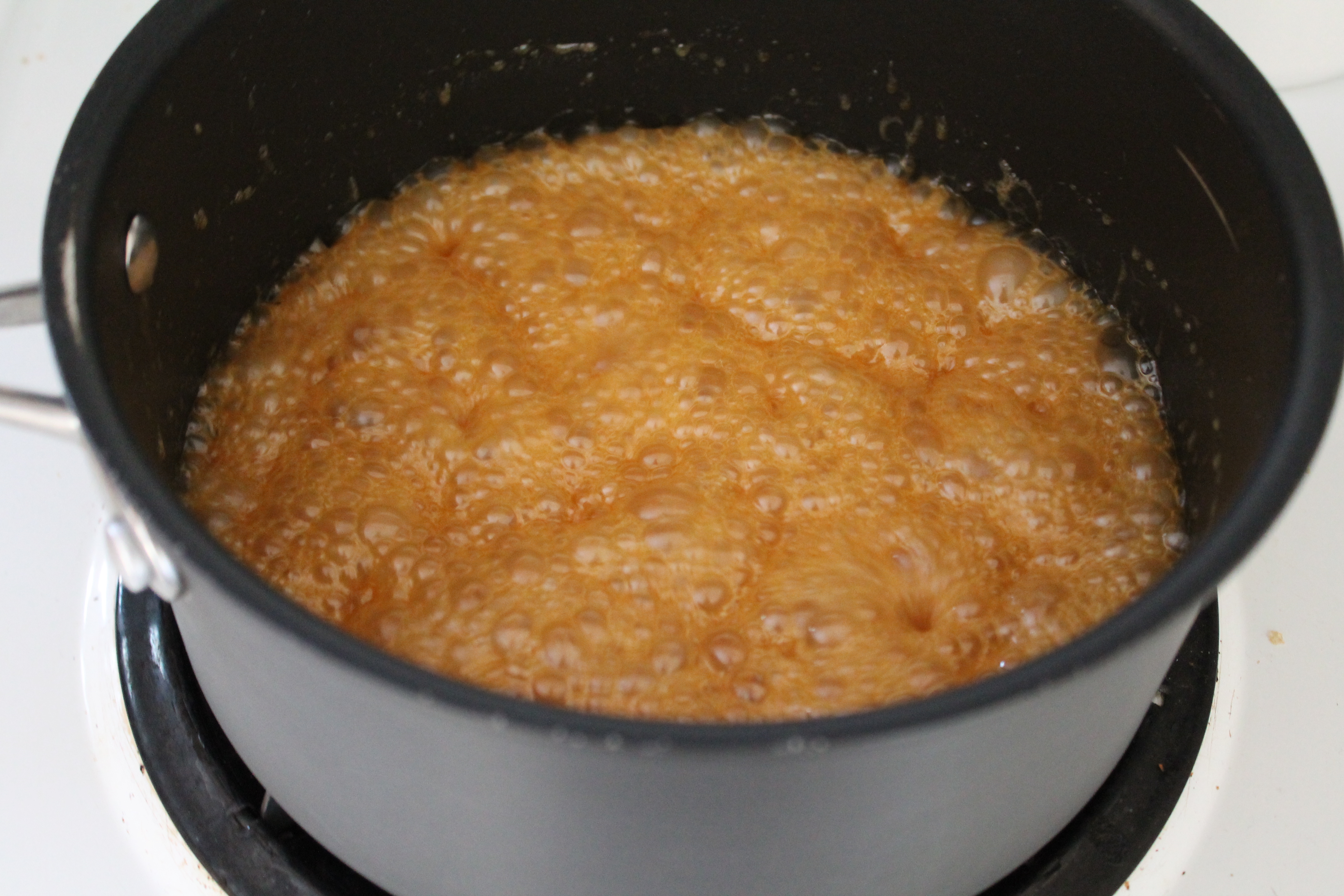 Once the sugar is melted, add in the honey and sea salt. Sea salt helps balance the sweetness of the honey. Stir for about 5 minutes, until the mixture begins to thicken slightly. You don't want to turn this mixture into caramel candy, however, so please remove it from the heat before it becomes sticky!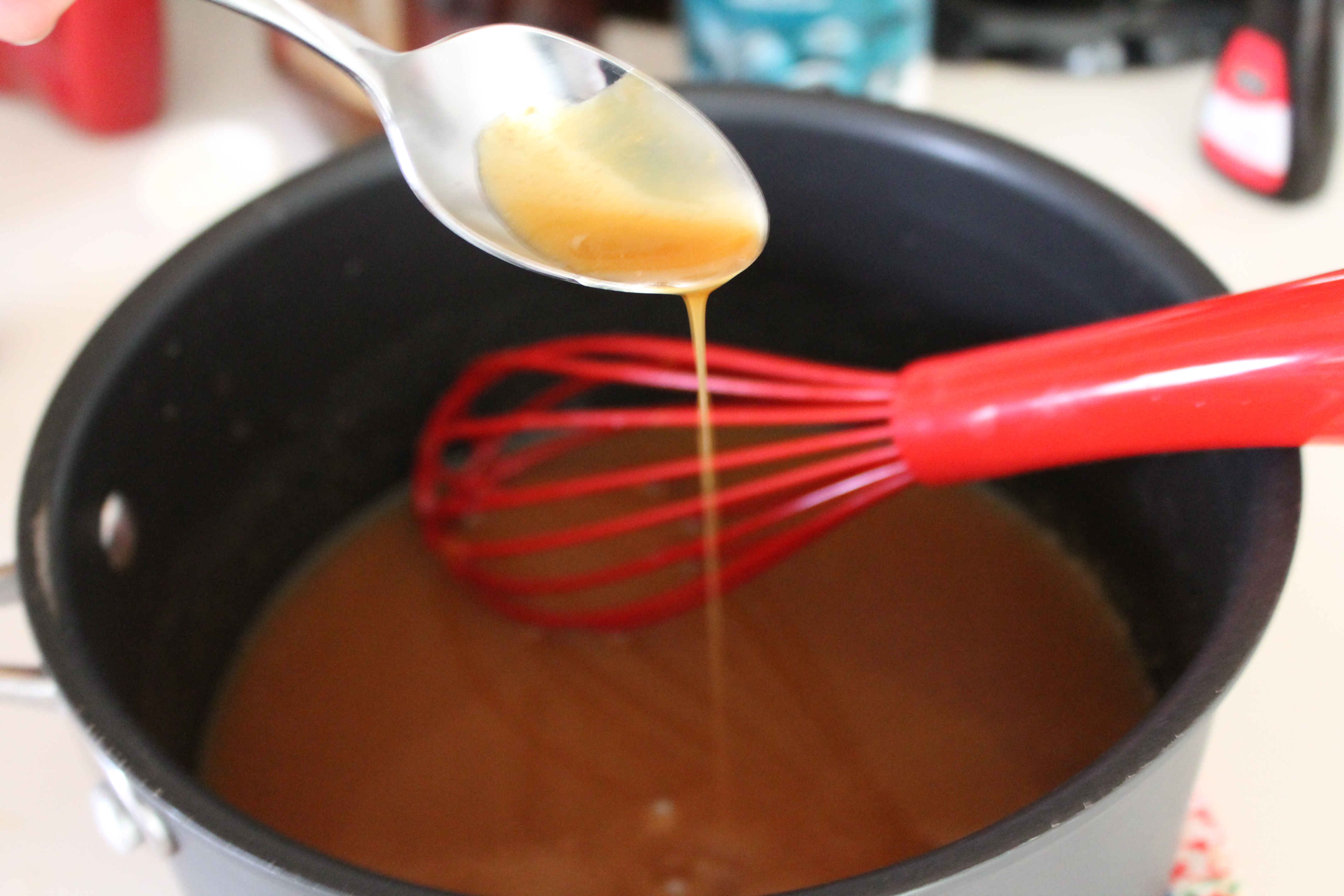 Pour in the cream, vanilla, and brandy. Stir until well combined, then set aside to cool to room temperature. And we're done! Just a little bit of stirring, nothing dramatic.
It's time to talk cheesecake. It was an interesting process for me to arrive at this particular recipe. I tried making a classic, baked cheesecake, subbing honey for the sugar, but the chemistry of it didn't quite work and the flavor was a bit bizarre. I realized I needed a creamier flavor, with a little less tartness, and that I may need to use some refined sugar in addition to honey in order to make the dessert work. I also realized that if I wanted to make cute caramel hearts on top of my cheesecakes, I would have to make no-bake cheesecake.
The baker in me was a little horrified. Oh well.
I tried a few recipes, one that included Greek yogurt instead of whipped cream (and also didn't taste enough like honey) before I realized that the only way the cheesecakes would set firmly was if I gave in and used gelatin. I knew I just couldn't serve a puddle of cheesecake filling at the competition party. So there you have it.
I suggest, if you are against gelatin and have a bit more freedom in terms of serving time/method than I did for this particular venture, that you just skip the gelatin step listed below and instead freeze the cheesecake after you've gotten it all set up. Frozen cheesecake is delicious, kind of like eating a slice of ice cream. Let it thaw for 10 minutes before serving; I bet you and your guests won't even mind if it droops a little on the plates.
Forging ahead! Making some honey cheesecake! This recipe is sweetened only with honey (victory!), and it is so light and creamy thanks to the whipped cream. I never thought I would enjoy a dessert focused around honey, but it was truly yummy.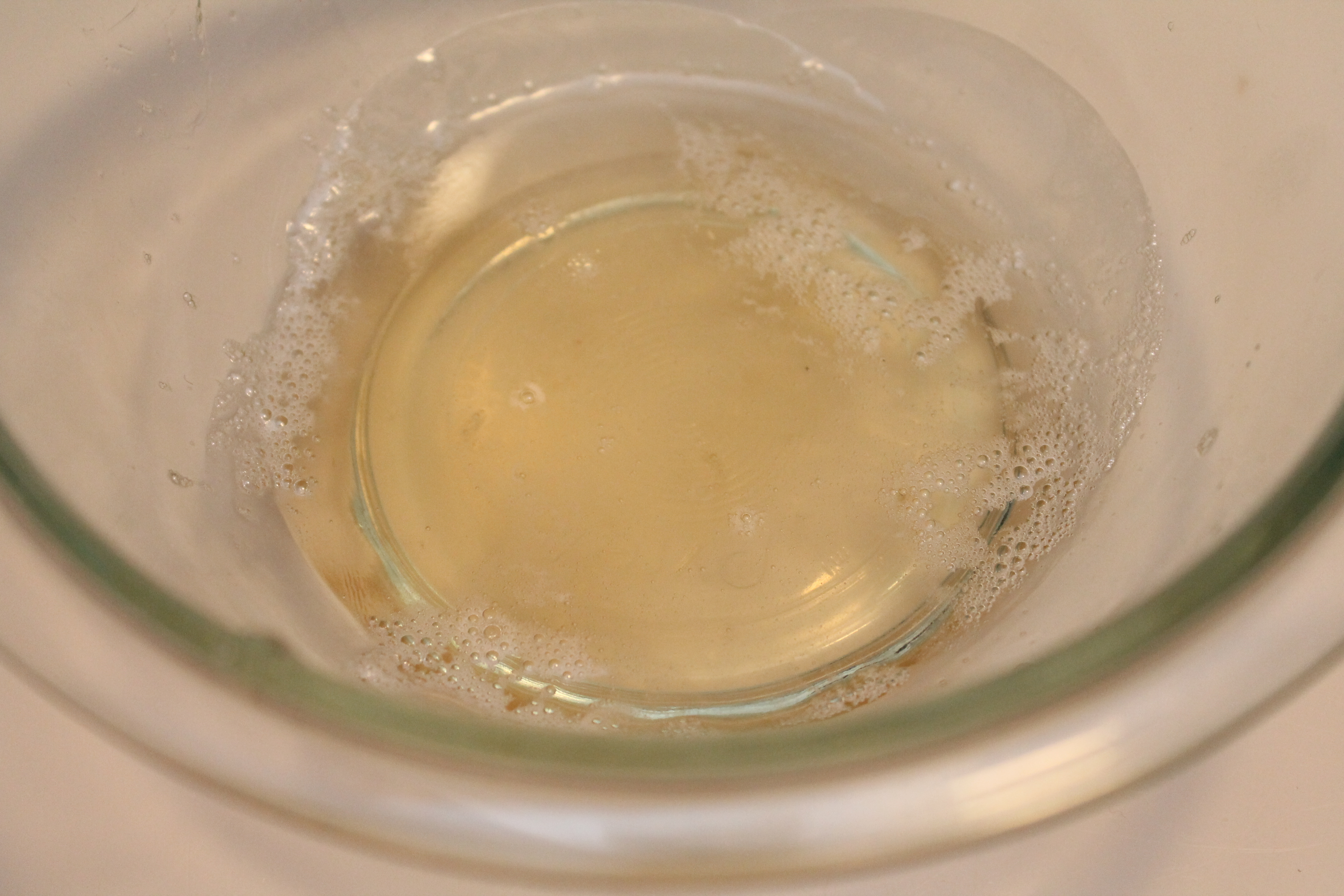 No-bake cheesecake, it turns out, is high in dirty dishes, but very low in stress. First, let's get the gelatin going. Sprinkle the gelatin over the water and let it stand. It can just hang out while you mix the cream cheese base.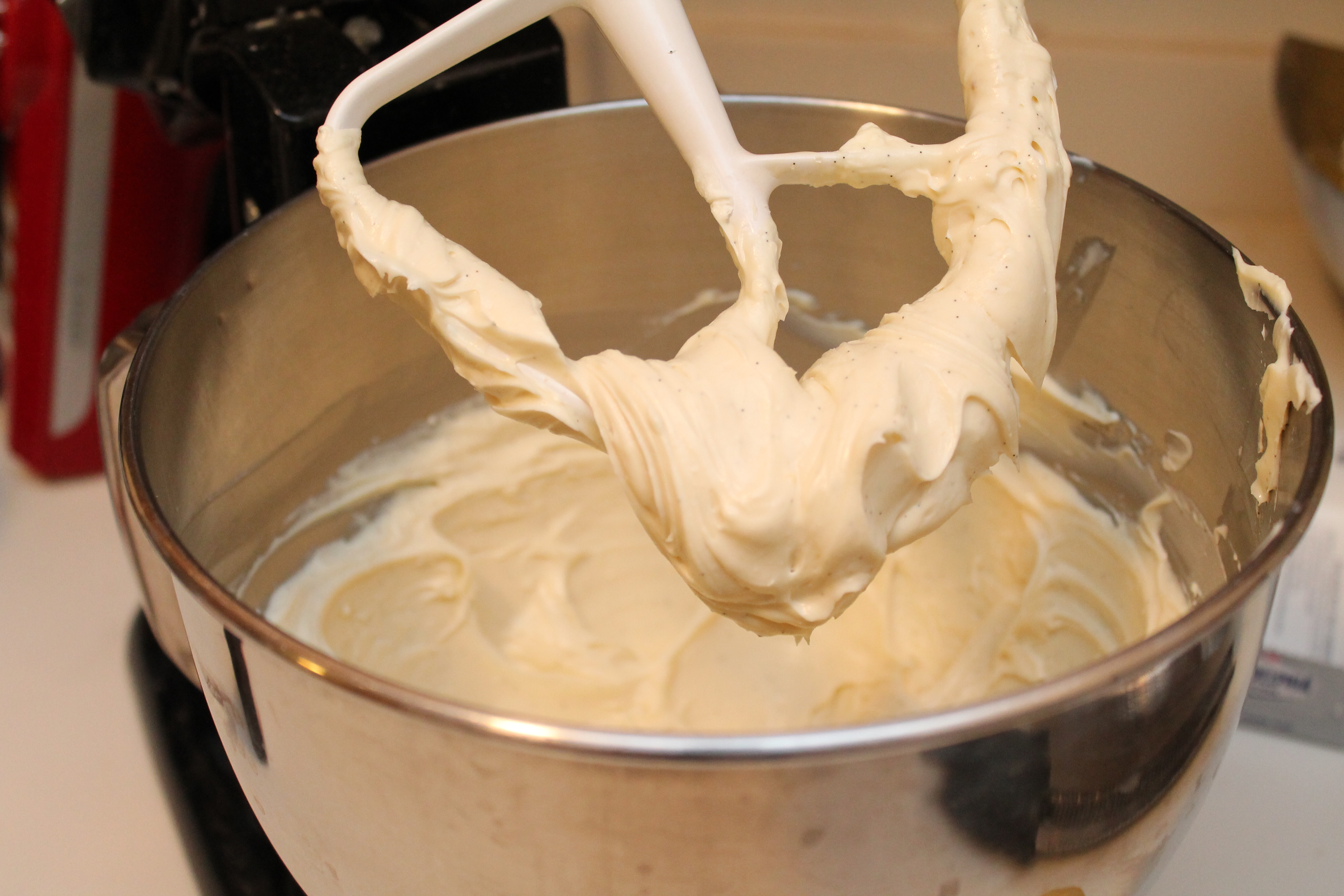 Mix the room temperature cream cheese, honey, ginger, salt, vanilla, vanilla bean seeds (if you don't have a vanilla bean, no problem!—just double the vanilla extract), and lemon zest in a large bowl. Get everything good and creamy.
Now back to the gelatin. Warm the mixture in the microwave for 10 seconds, then stir. Repeat until no little blobs of gelatin remain. Please, please try not to smell this stuff. It smells terrible. But I promise it won't affect the flavor of the cheesecake at all. Set it aside to cool just slightly. Do not put this in the fridge (yeah…remember Jello?).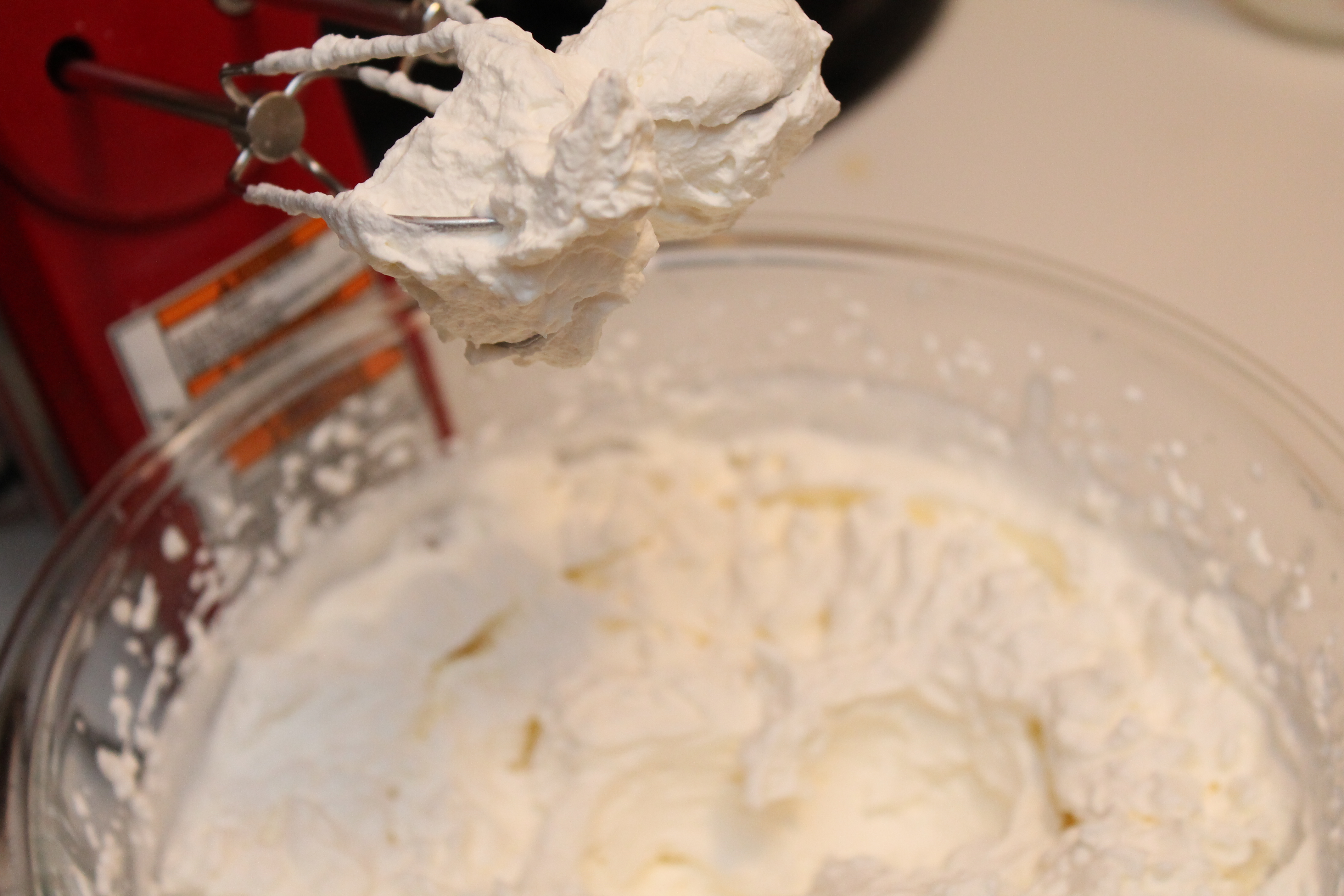 Meanwhile, we whip a ton of cream! Whip, whip, whip, until stiff peaks form.
With your mixer running on low, pour the warm gelatin into the cream cheese mixture and whip until it is completely combined.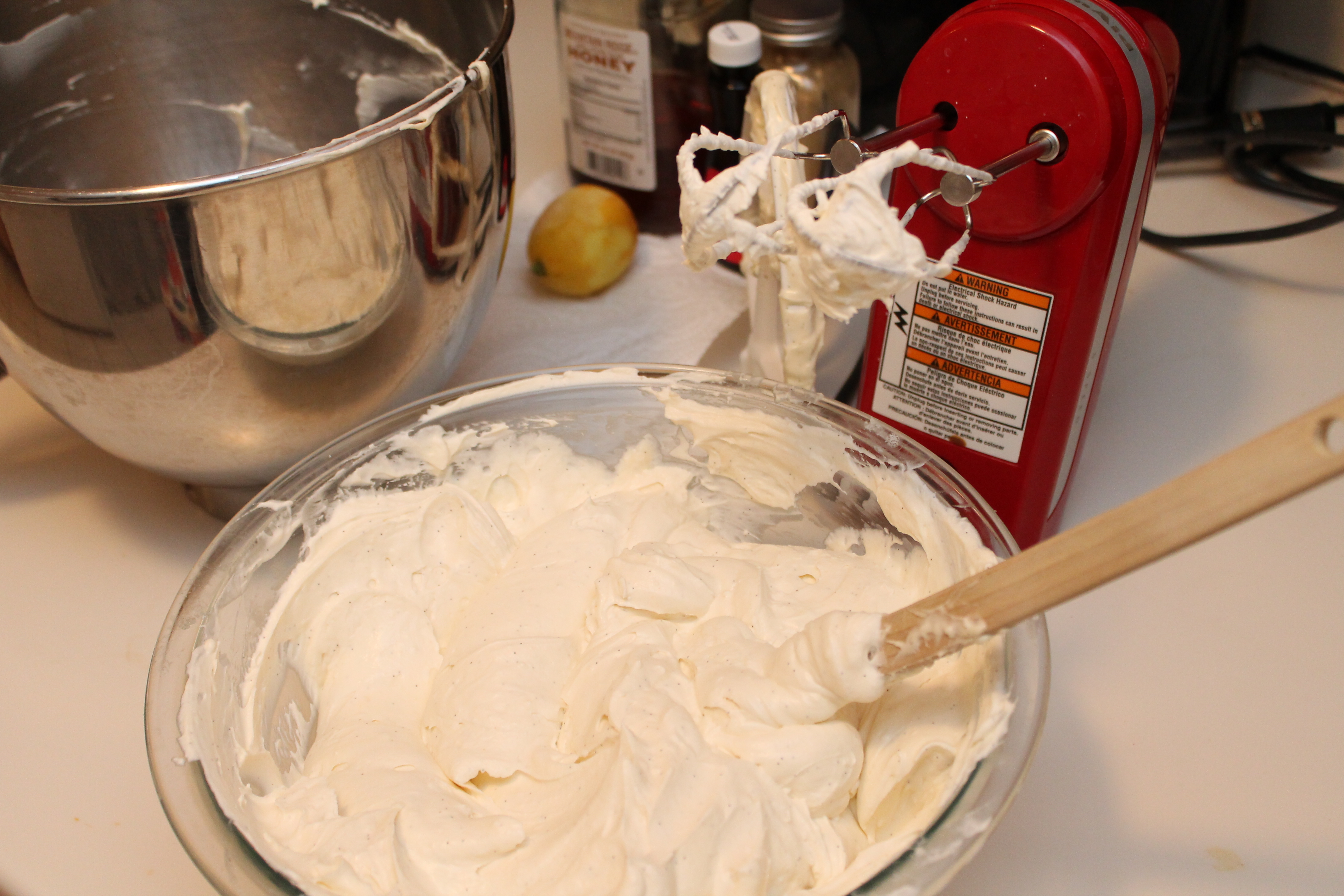 Add the cream cheese mixture into the whipped cream, one large spoonful at a time, folding until completely combined.
Hey, remember those chocolate cookies? Crush up enough cookies to make about 2 cups of crumbs. Combine with 4–6 tbsp. melted butter, enough to moisten the crumbs and cause them to stick together.
Spread the crumbs in the bottom of a 9″ springform pan. Or, if you want to make mini cheesecakes, put 1 tbsp. in the bottom of each mold. This recipe makes way more cheesecake than can fit into a mini cheesecake pan, so if you are going that route, you will also be able to make a small, 6″ cheesecake. Spread the remaining crumbs in the bottom of a 6″ springform pan. Press the crumbs with the back of a spoon or your hands to form the crust.
Top the crust(s) with a thin layer of the cool honey caramel sauce. You don't need too much here, or it will spread and ooze up the sides of the pan(s) when you add the cheesecake filling. I recommend leaving a dry border around the edges of the crust; the caramel will spread on its own.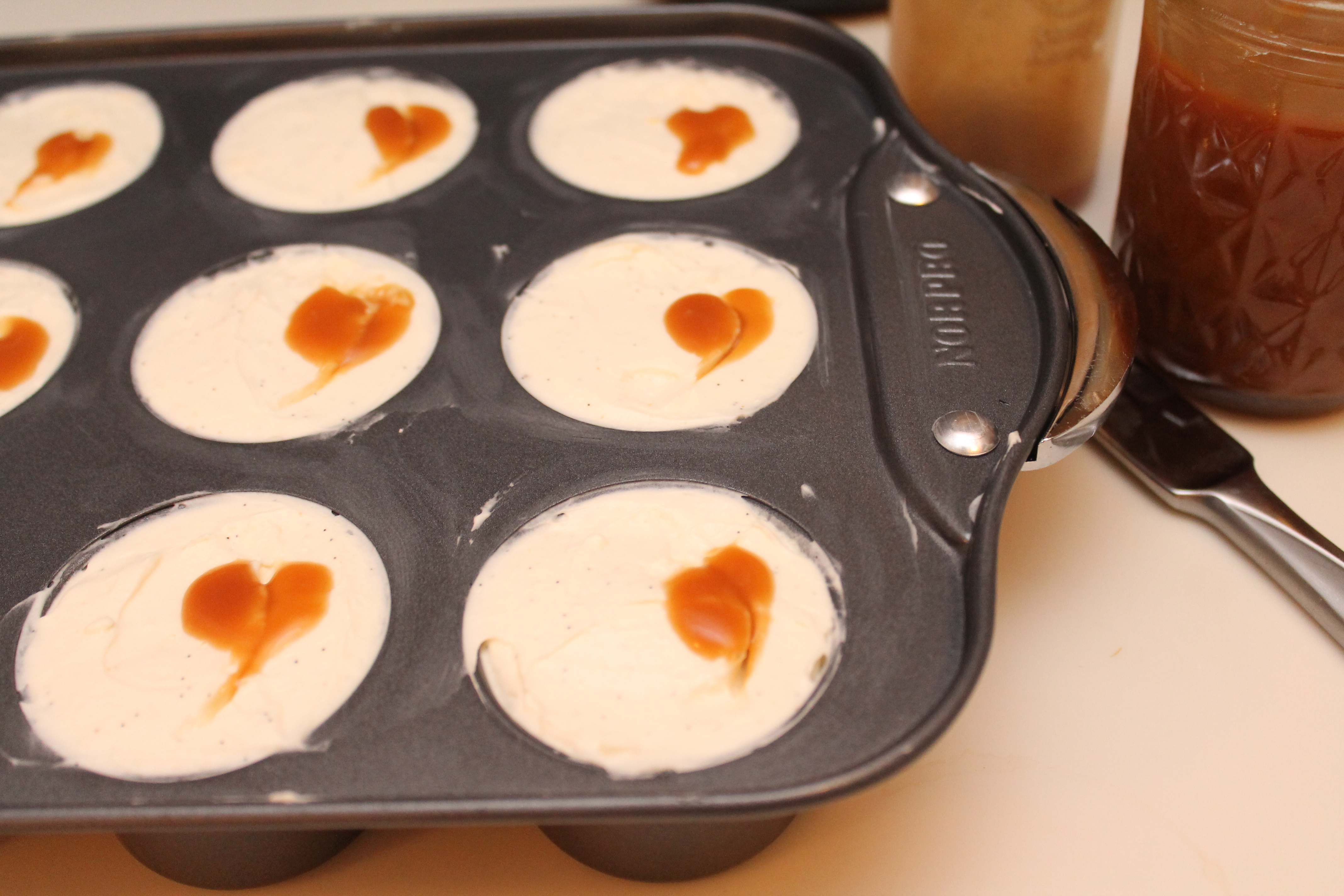 Now top the crust(s) with the cheesecake filling! Smooth the tops.
For a special touch, pipe or spoon small dots of caramel onto the tops of the cheesecakes. Drag a butter knife through the center of each dot to pull it down into a heart. (I found that this was easier said than done for the mini cheesecakes, and I had to do a little bit of creative swirling, but it went very smoothly on my larger cheesecake.)
Chill the cheesecakes for at least 6 hours before serving.
No-Bake Honey Ginger Cheesecakes with Honey Caramel Hearts
cheesecake filling adapted from Bakers Royale
caramel sauce by Melissa
makes one 9″ cheesecake or 24 mini cheesecakes
Honey Caramel Sauce Ingredients:
¼ cup brown sugar
2 tbsp. butter
½ cup raw honey
½ tsp. sea salt
½ cup half-and-half or heavy cream
1½ tbsp. brandy
½ tsp. vanilla extract
Cheesecake Filling Ingredients:
1 tbsp. unflavored gelatin
¼ cup warm water
16 oz. cream cheese, room temperature
½ cup raw honey
¼ tsp. ginger
scant ¼ tsp. salt
½ tsp. vanilla extract
seeds from ½ vanilla bean
⅛ tsp. lemon zest
2¼ cups heavy cream
Crust Ingredients:
2 cups cookie crumbs (either from Chocolate Honey Shortbread Hearts or a combination of storebought cookies)
6 tbsp. unsalted butter, melted
Directions:
For the caramel, combine the brown sugar and butter in a medium saucepan over medium heat. Stir occasionally until sugar liquefies and butter melts completely. Add honey and sea salt. Cook, stirring occasionally, until the mixture thickens and begins to darken, about 5 minutes. Remove from heat. Stir in half-and-half, brandy, and vanilla. Cool to room temperature.
Make the cheesecake filling. Sprinkle the gelatin over the warm water and set aside.
In a large bowl, beat the cream cheese with the honey, ginger, salt, vanilla, vanilla bean seeds, and lemon zest.
Warm the gelatin mixture in the microwave for 10 seconds. Stir until all the lumps are dissolved. Pour the gelatin mixture into the cream cheese and beat until well combined.
Whip the heavy cream into stiff peaks. Fold the cream cheese mixture into the whipped cream about 1 cup at a time. Make sure to mix everything together evenly.
Combine the chocolate cookie crumbs and the melted butter for the crust. Press into the bottom of a 9″ springform pan or 12 mini cheesecake molds and a 6″ springform pan.
Top the crust(s) with a small amount of the cooled caramel sauce, leaving a 1–2cm. border around the edge of the crust(s). Spread the cheesecake filling over the crust(s), smoothing the tops.
Drop small dots of caramel sauce over the top of the cheesecake filling. Drag a knife through each dot to form a small heart.
Chill the cheesecake(s) for at least 6 hours before serving.
Enjoy!
One year ago: Mushroom Ravioli in Brown Butter Sage Sauce
Two years ago: Moo Shu Vegetables