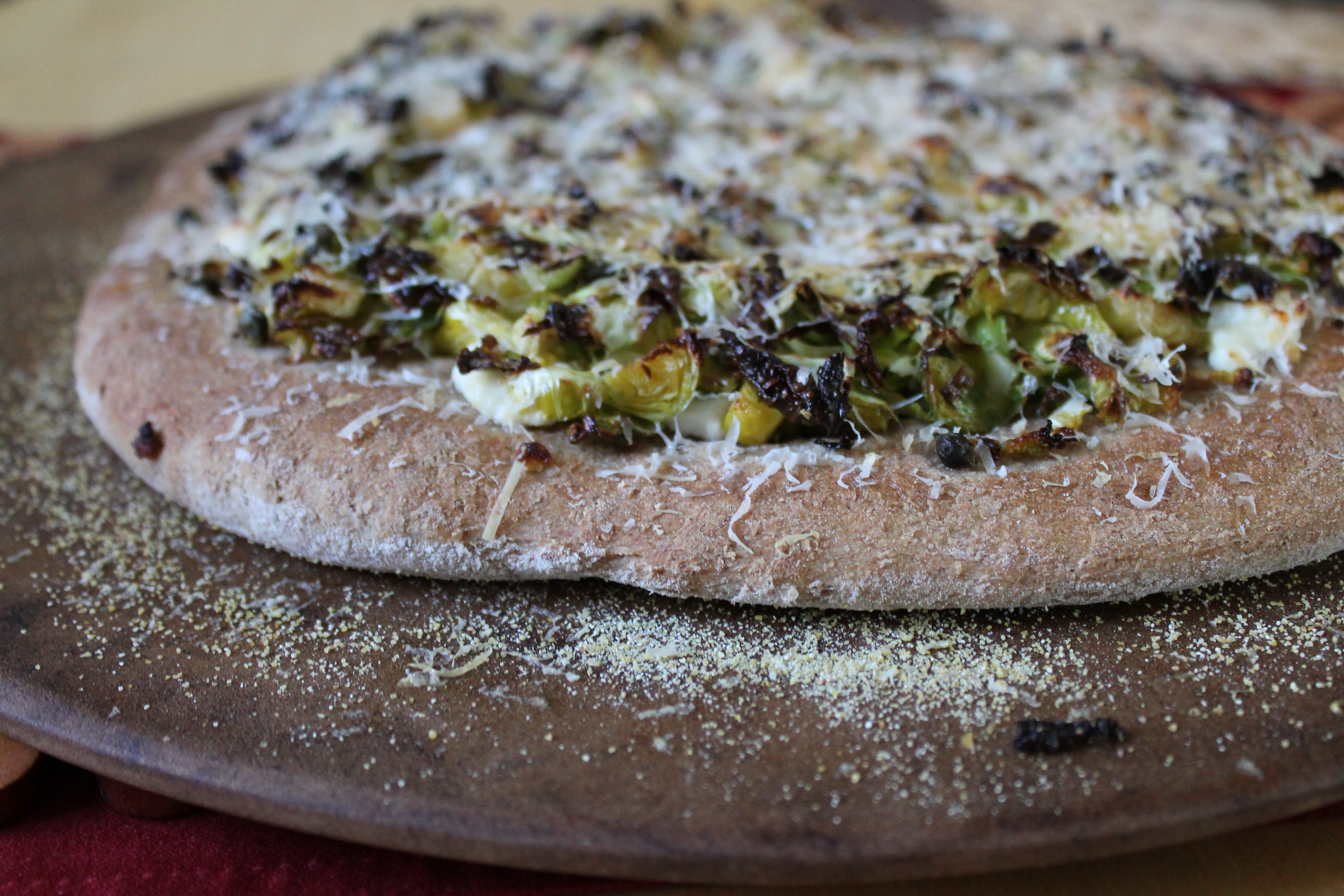 Dave says I need to stop calling things pizza that don't have tomato sauce.
But he also said this pizza (er…flatbread?) was very tasty, despite the fact that it features a vegetable he isn't such a big fan of. I may win him over to brussels sprouts yet!
And let me just say, lest you think you hate brussels sprouts, that it is truly worth it to give old nemeses a try every now and then. I just read an article about how everyone's palates change with age, and often foods that were previously despised can become favorites if experienced in the right way.
What better way to enjoy delicious brussels sprouts than in the familiar and heartwarming vehicle of pizza? What's not to like? Goat cheese, garlic, parmesan, fresh rosemary, capers (which I used to push to the side of my plate, but have recently realized I could happily eat by the spoonful…see!? it's totally true).
I probably will make some classic, saucy pizza for my hubby some time soon. But for now, we will both be enjoying this…flatbread.
This pizza does actually require several steps. Sorry. I could lie to you, but you would still have to hash brussels sprouts. I, personally, find this task odious, but I love the results so much that I just can't stop making hashed brussels sprouts. Oh well.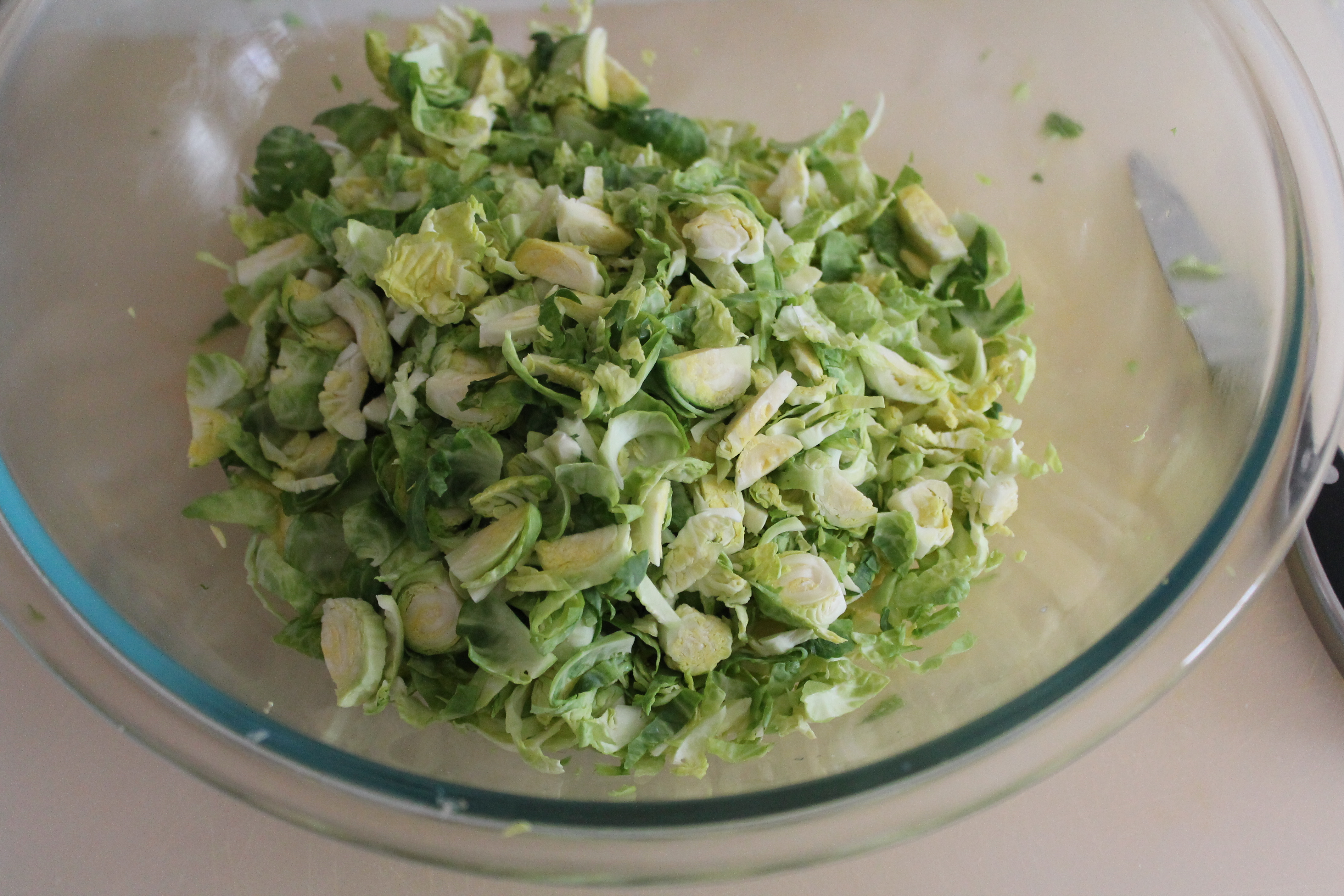 So. Hash your brussels sprouts. If you haven't done this before, here's what I do: trim the woody ends off of each sprout and peel off any slimy or yellowed leaves; cut the sprouts in half vertically; turn them 90° and make thin slices, about 5 per sprout unless it is particularly small or large. I like to do steps like this ahead of time, that way when it's close to eating time I do not have to spend 30 minutes finely slicing things before I can start cooking. Prep work. Le sigh.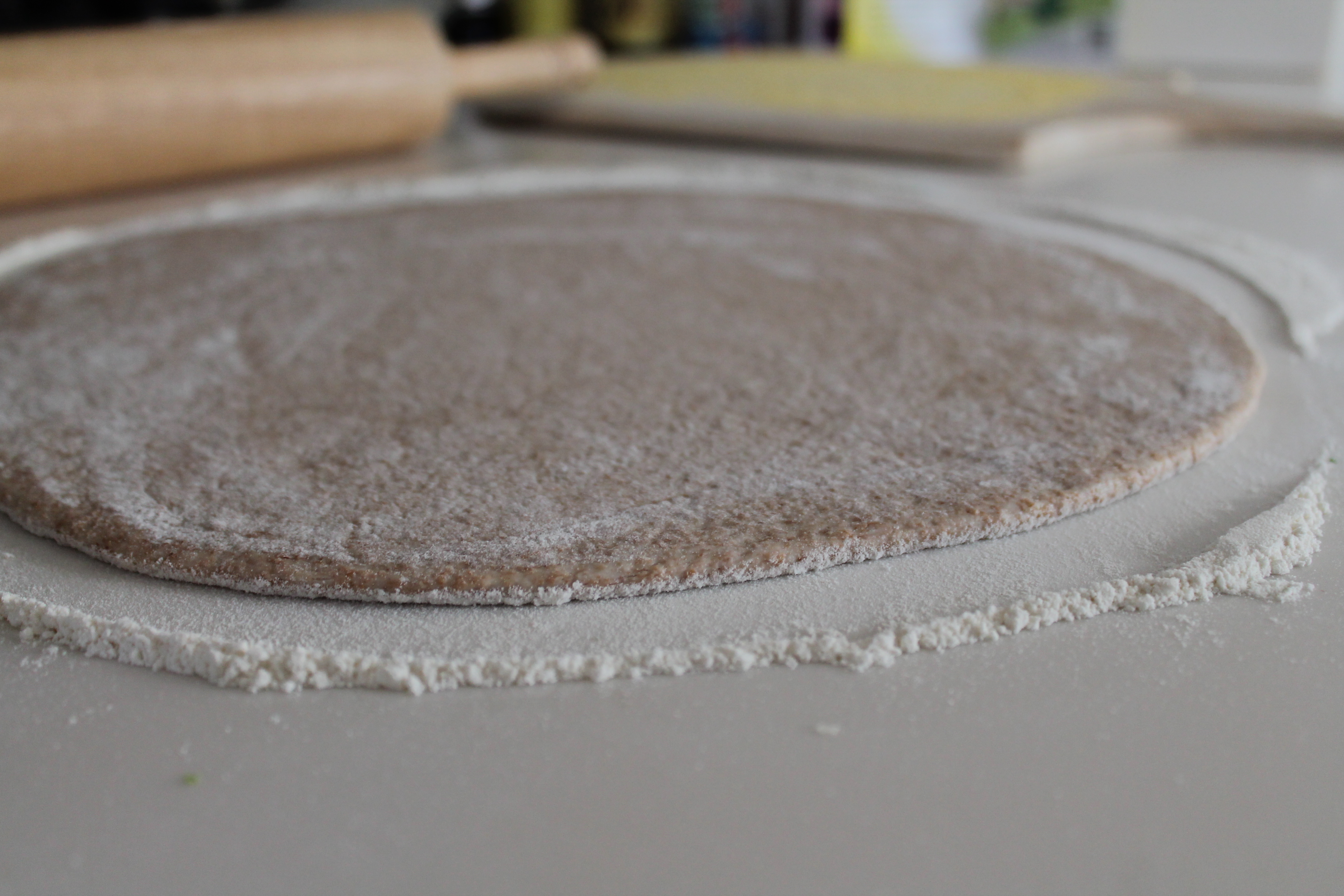 By the way, it is really not challenging to make your own pizza crust! If you have the time to let it rise, then I highly recommend making this crust recipe, which uses half whole wheat flour and half white. This makes it slightly healthier, while not overpowering in terms of flavor, and still pliable rather than dry.
When the pizza crust is done with its second rise (or whatever store dough you favor is completely thawed), roll it into whatever shape you'd like (I favor a 14″ circle) and transfer to a cornmeal-covered pizza peel. Get a pizza stone or cookie sheet heating in the oven so the bottom of the crust will crisp up during baking.
Now start cooking the sprouts!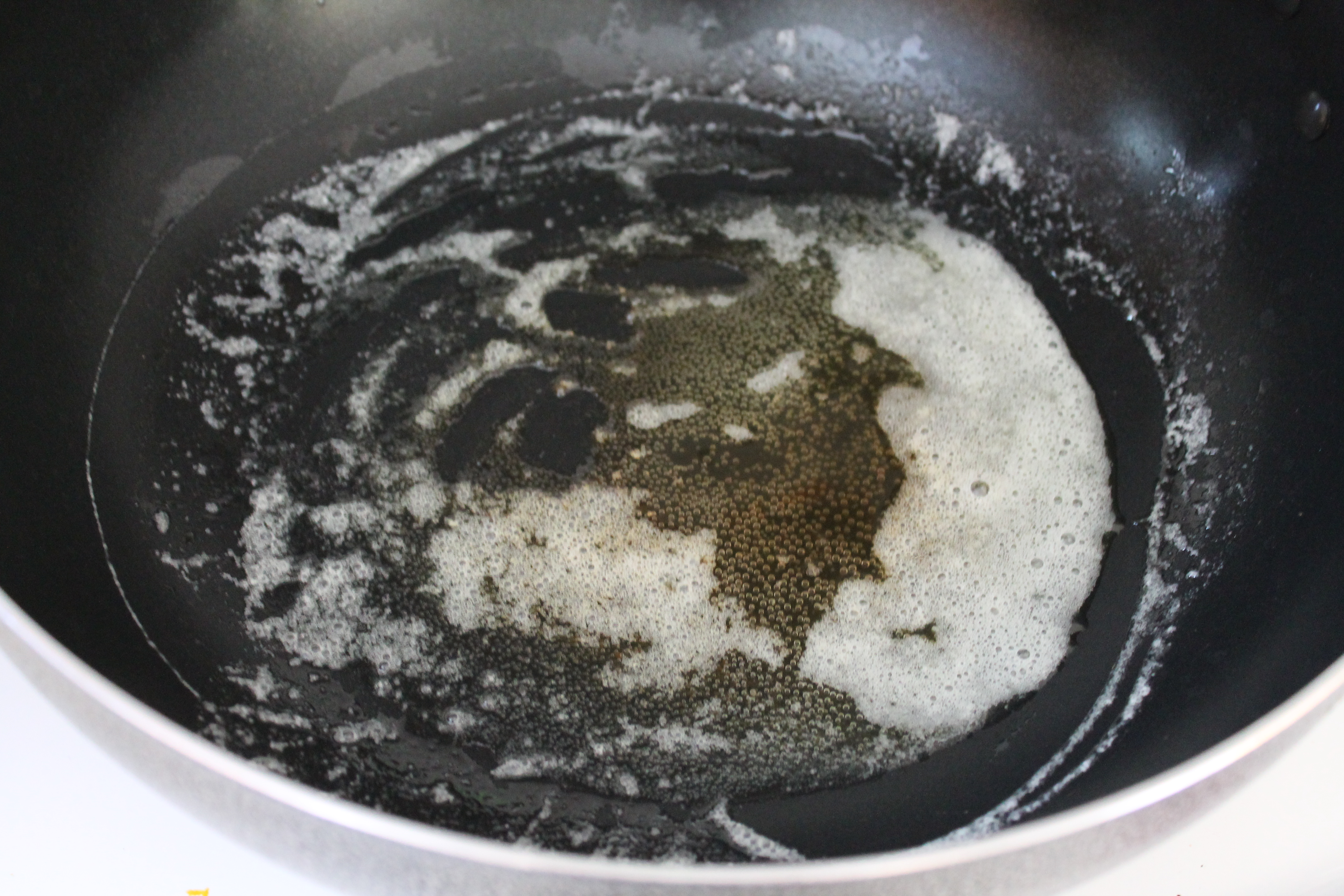 I like to start with some nice, browned butter. Because who doesn't love brown butter? (I mean, you could also use olive oil, which would save you about 2 minutes, but is that 2 minutes really worth it? I think not.) Just throw a few tablespoons of butter into the pan and let it melt and brown, swirling it occasionally until it becomes medium-dark.
Toss in the hashed sprouts. Let them cook, turning every minute or so, about 3 minutes. Add in the capers with a little of their brine (maybe a teaspoon or so), cider vinegar, and garlic. Oh my gosh. Don't the capers give off the most amazing aroma as they start to heat up!? I almost started picking them out of the pan to eat them right then and there.
Right about now is when you want to carefully slide the pizza crust into the oven and let it bake for 5 minutes, to get a little puffed and to crisp up the bottom.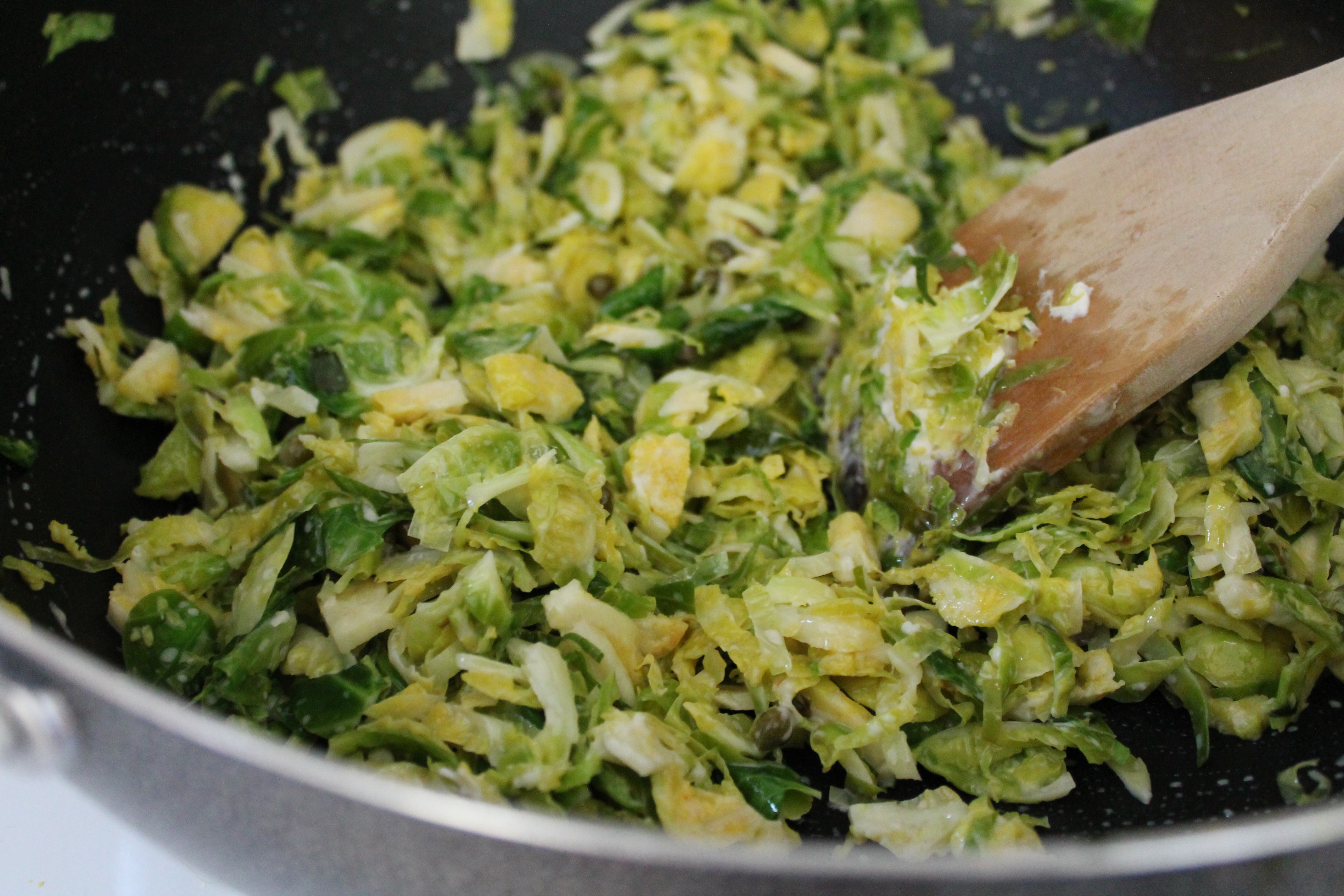 Back to the sprouts. Stir in about 1 oz. of the goat cheese and 1 oz. of the parmesan. This is actually optional; you could totally just sprinkle these on the pizza and not lose anything. But I wanted the sprouts to be a little richer and a little less like a salady mound on top of the pizza crust, so I added cheese to the brussels sprouts directly.
Taste and season very lightly with sea salt and black pepper. Very, very lightly, as the parmesan and capers already add salinity!
Okay, remove the sprouts from the heat. The crust should be just about ready to come out of the oven as well.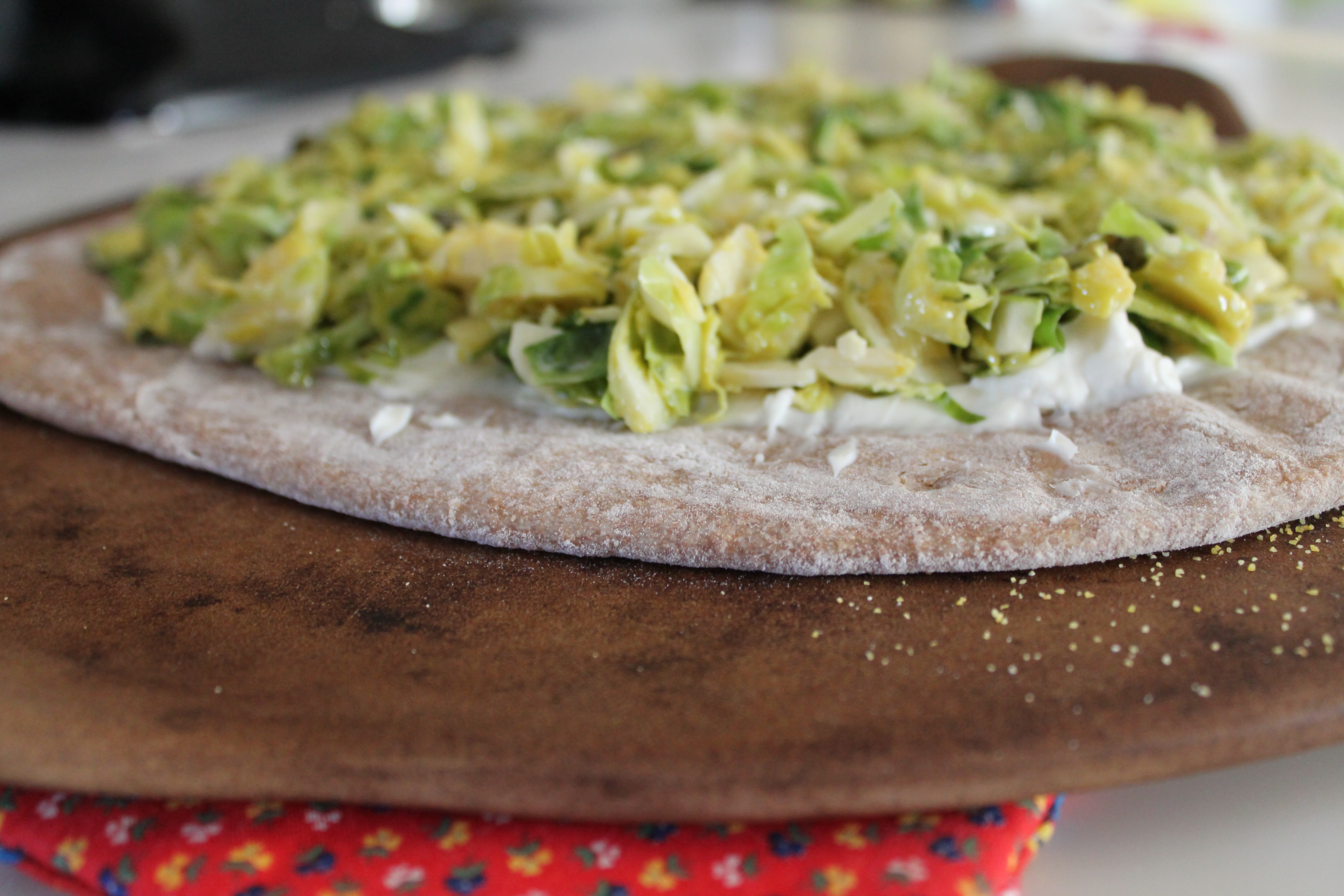 You can take a little creative license with the pizza toppings here. Start with the goat cheese: you can either crumble it over the crust or spread it. Here I spread, but I think I may actually prefer crumbling (it's less work, and you get the benefit of more intense bites of goaty goodness). Now, grate about half of the remaining parmesan over the goat cheese using a microplane grater.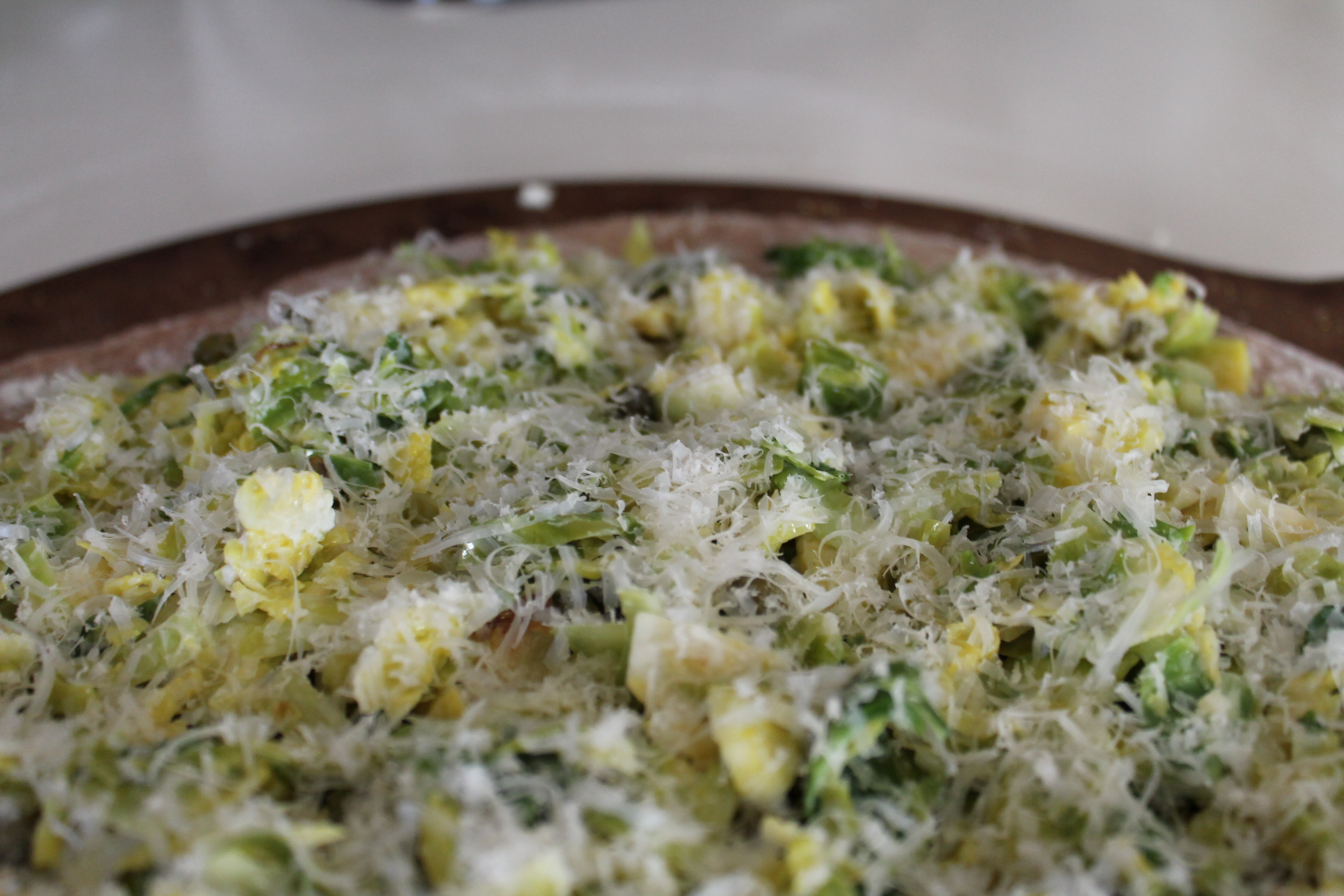 Top with the brussels sprouts–capers mixture, and finish off with about half of the parmesan. You should still have parmesan left here, and here's why: in the oven, it will melt and brown into almost a crust on top of the sprouts. This will make it a little challenging to cut the pizza and leave all of the toppings in place. So I like to finish grating the parmesan directly onto the hot pizza. This still allows me to have a deliciously melty, cheesy pizza, but it is a little neater in the end.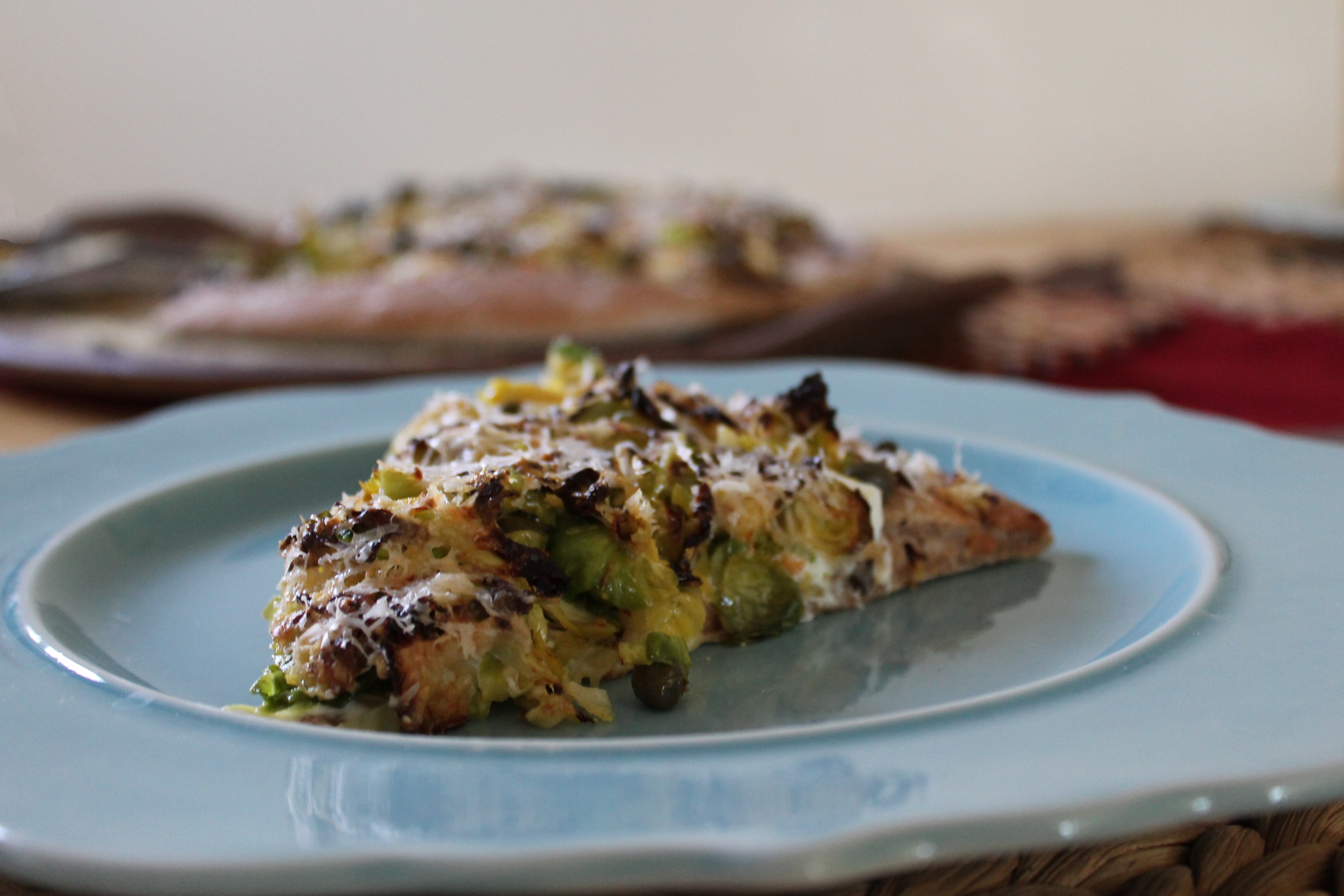 Bake the pizza for 10–12 minutes at 450°, until the edges of the crust and the parmesan are lightly browned. If the cheese isn't browning, you can turn on the broiler for just 2 minutes (which I did, and it crisped a few of the sprouts, as well).
Sprinkle chopped rosemary over the crust and shave the remaining parmesan over top. Serve with garlic butter, if desired!
Brussels Sprouts and Capers Flatbread Pizza
a Melissa original
serves 3–4
Ingredients:
½ recipe Light Wheat Pizza Crust, or other pizza dough
cornmeal
3 tbsp. unsalted butter
12 oz. brussels sprouts, trimmed and very thinly sliced
2 tbsp. drained nonpareil capers, plus 1 tsp. brining liquid
1 tbsp. cider vinegar
1 clove garlic, minced
4 oz. goat cheese, divided
3 oz. parmesan, divided
sea salt and fresh ground black pepper
1 sprig fresh rosemary
Directions:
Place a baking stone or heavy-duty cookie sheet inside the oven. Heat oven to 450°.
Roll out the pizza dough to a 14″ round. Transfer to a cornmeal-covered pizza peel or cookie sheet. Set aside.
Melt the butter in a large skillet. Swirling the pan gently, let the butter brown. Add in the thinly sliced brussels sprouts, stirring to coat with the butter. Cook for about 3 minutes, until beginning to soften.
When the oven and pizza stone are nice and hot, carefully slide the crust off the pizza peel onto the hot stone. Par-bake the crust for about 5 minutes.
Meanwhile, to the sprouts in the pan add the capers, brining liquid, cider vinegar, and garlic. Cook, stirring regularly, another 2–3 minutes, until bright green and very fragrant. The sprouts should be easily pierced with a fork, but should still have a bite to them.
Stir in about 1 oz. goat cheese and 1 oz. finely shredded parmesan. Taste and season lightly with salt and pepper, if needed. Remove the sprouts from the heat.
Assemble the pizza. Crumble the remaining goat cheese over the crust. Shave half the remaining parmesan over the goat cheese. Top with the warm sprouts and about half of the remaining parmesan.
Carefully slide the pizza off the pizza peel onto the hot stone in the oven.
Bake for 10–12 minutes, until the parmesan is golden brown. Meanwhile, remove the leaves from the rosemary and roughly chop or tear them.
Remove the pizza from the oven and top with the remaining parmesan and the chopped rosemary.
Slice and enjoy!
One year ago: Veggie Fried Rice
Two years ago: Vanilla Bean Risotto Pudding