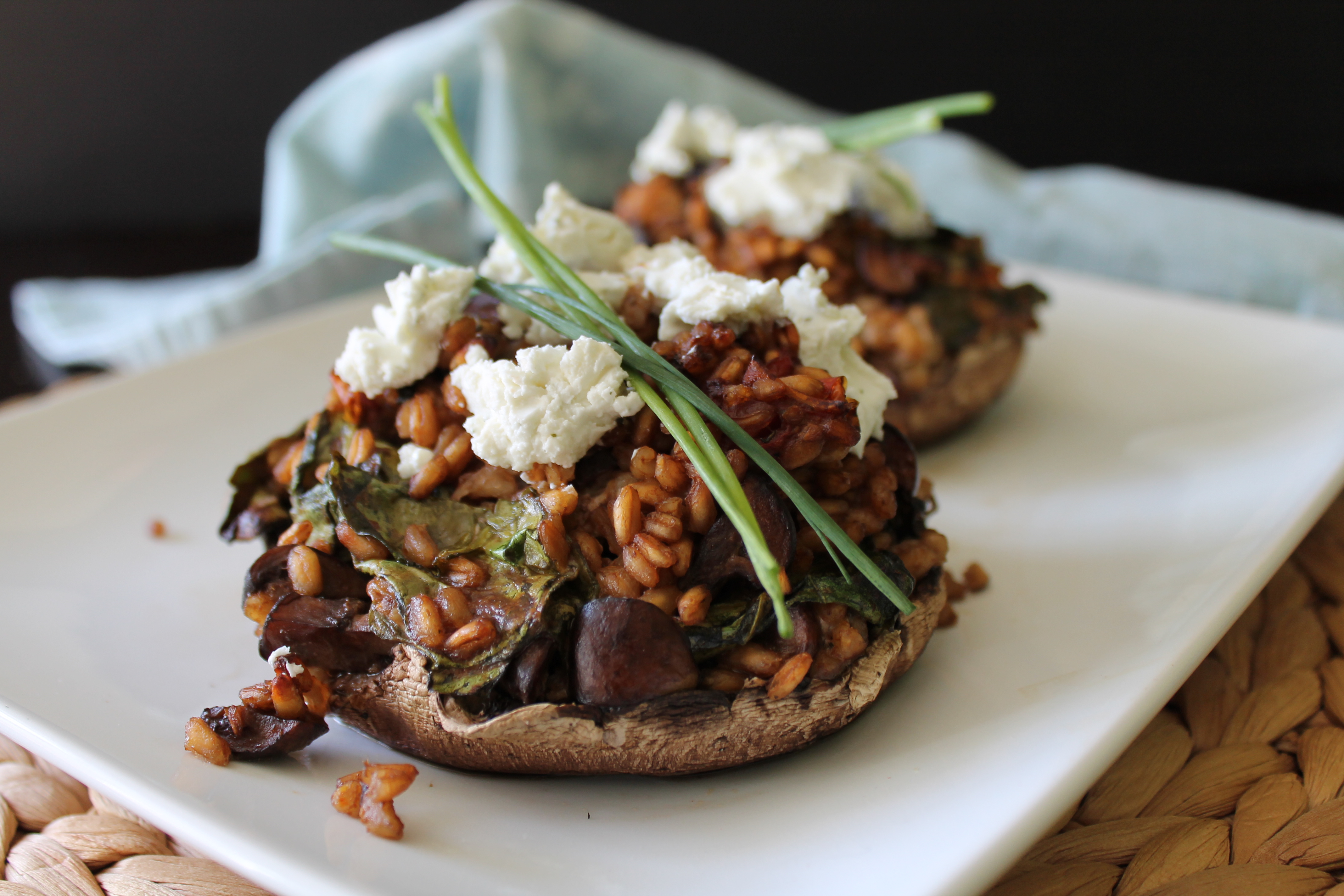 When I was a kid, I remember hearing this fantastical tale about neighborliness. You know the one I mean. About knocking on their door and asking to borrow a cup of sugar?
I was always sure this kind of thing could never happen in the modern world.
Until I met a fantastic young mom who lives down the block from me. She went grocery shopping for me after Jake was born. We take our kids on walks together. And…we totally raid each other's kitchens. She borrows a lemon, I borrow 7 cups of flour (yeah, yeah…); she buys farro to serve her family at my suggestion, she promptly gives the rest of the dry farro to me after her family rejects it…you know. Real neighborly stuff!
My friend Sarah from Well Dined decided to help me use up some of this farro (guys, there's like two pounds…good thing I like grain salads), and we got very excited about roasting up some mushrooms, stuffing them inside of more mushrooms, and topping it off with our very favorite: goat cheese.
This lunch did take a whiiile, what with all that roasting. But luckily it was a low input, high output kind of meal (a.k.a., minimal hands-on work, maximum flavor).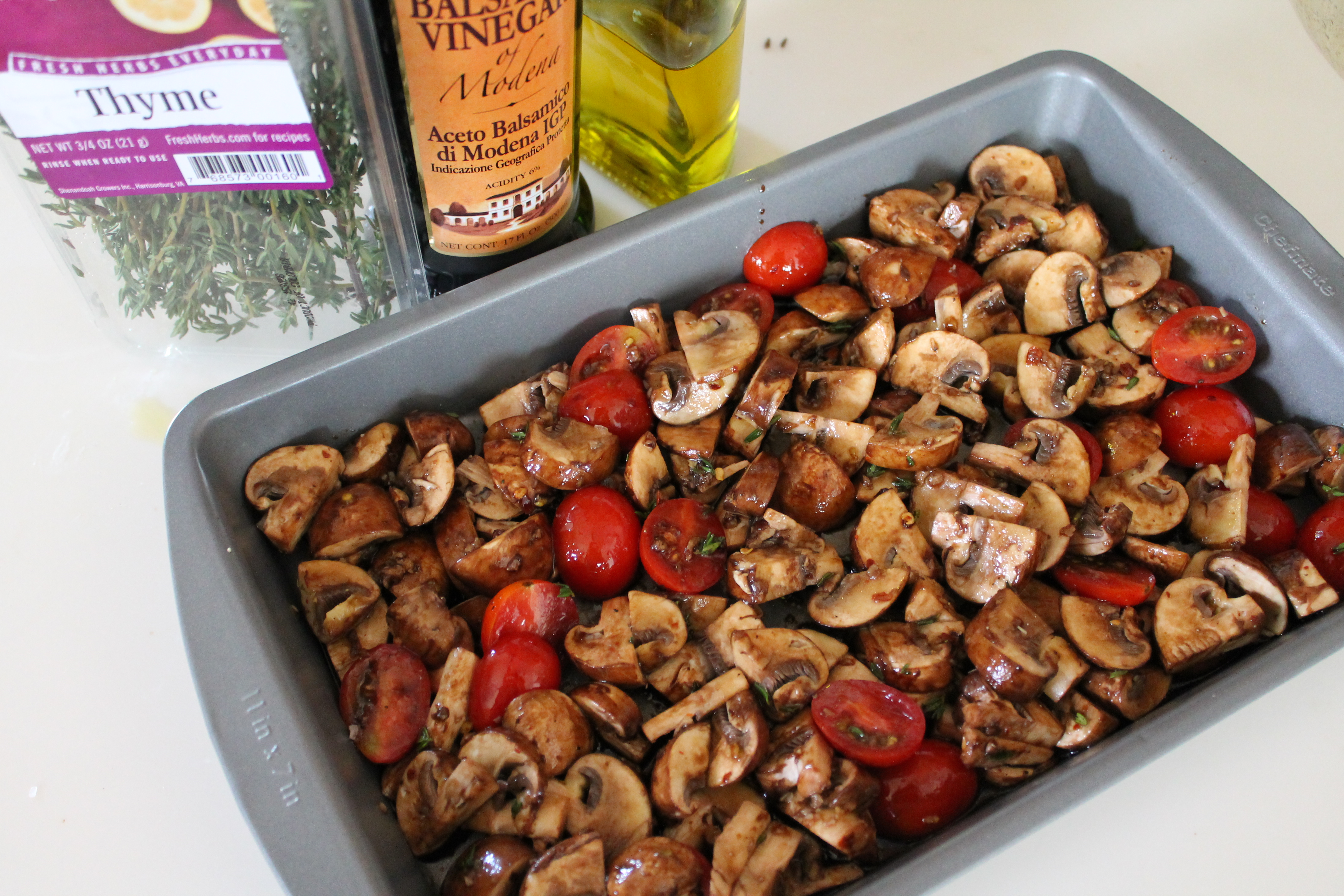 Start by cleaning the baby bellas with a damp paper towel and cutting them into quarters. Cut a handful or two of grape tomatoes in half, as well.
Toss the mushrooms and tomatoes with balsamic vinegar, olive oil, garlic, and spices. Lay them in a single layer in a baking dish (with all that deliciously spicy sauce, of course) and roast them until tender, about 20 minutes at 400°.
Meanwhile, let the farro plump up. If you keep the heat on low, it will cook in about the same amount of time as the mushrooms in the oven, and you only need to stir every 5 minutes or so to make sure the bottom isn't sticking. (FYI, you could use rice or barley or even orzo and achieve much the same effect, if you can't find/don't have farro.)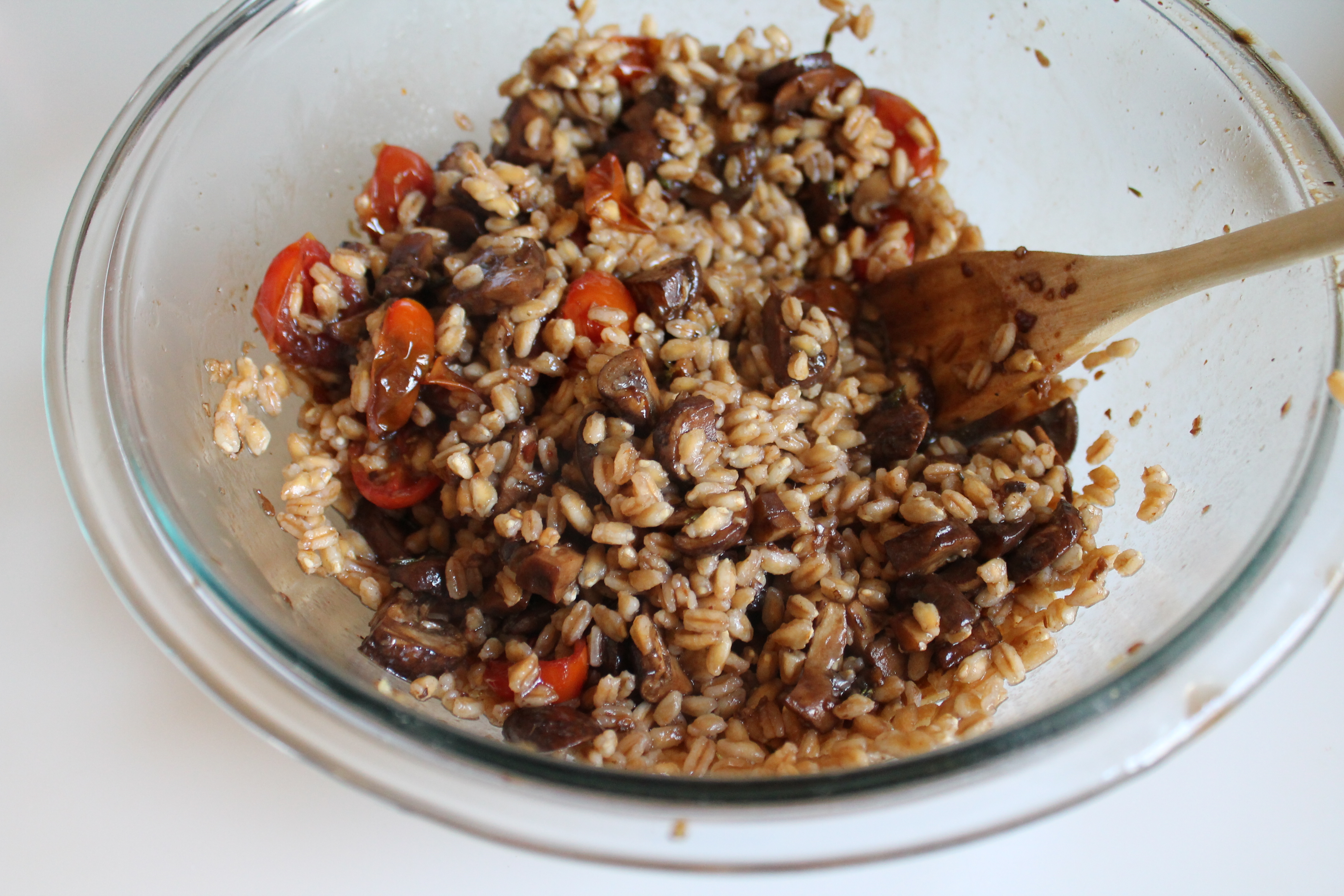 When the mushrooms are roasted and the farro is al dente, combine both in a large bowl. Add some spinach leaves and about half of the herby goat cheese (gosh! Sarah and I just keep adding goat cheese to everything. Our brainstorms usually go something like this—me: "What else? Is it missing something?" Sarah: "This would be great with goat cheese crumbled on the top!" me: "Ooooh! Goat cheese!"). Stir everything together.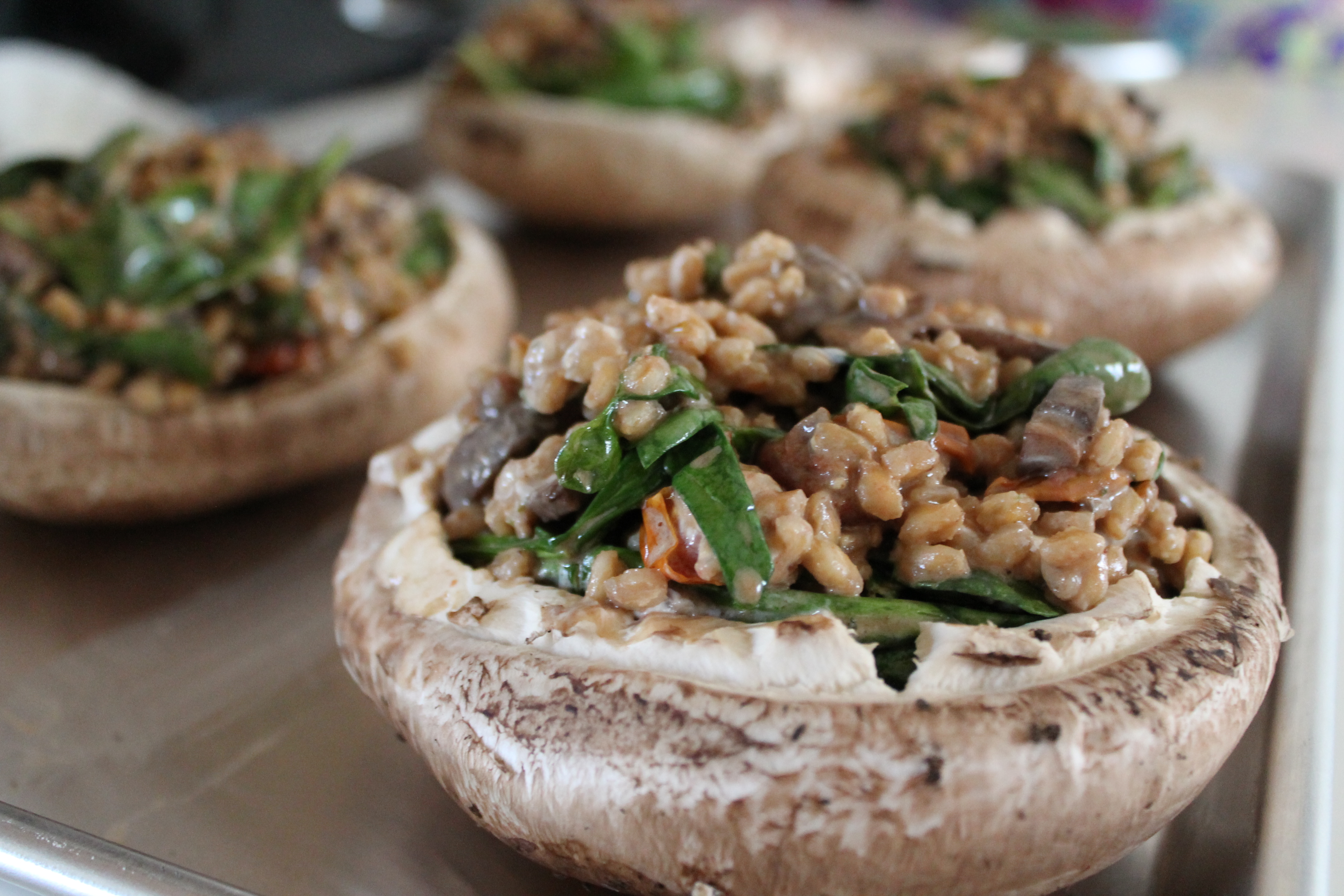 Spoon the farro mixture into the portabella caps.
Bake for 20 minutes or so, until the farro is set and browned and just lightly crisped on top.
Top, naturally, with more goat cheese. Depending on how much crushed red pepper you added to your roasting baby bellas, your farro might have quite a kick, so don't be shy about the goat cheese! It is tangy and delicious and really accents the balsamic, as well as cools the red pepper.
Farro-Stuffed Portabellas with Balsamic and Goat
roasted mushrooms from eCurry
serves 4
Ingredients:
8 oz. cremini mushrooms
10–12 grape tomatoes
5 cloves garlic, minced
¼–½ tsp. crushed red pepper
1 tsp. fresh thyme
1 tsp. coarse sea salt
¼ tsp. black pepper
3 tbsp. balsamic vinegar
3 tbsp. olive oil
1 cup dry farro
2 cups water
2 cups baby spinach leaves
4–6 oz. herbed goat cheese, divided
4 portabella mushrooms, stems removed and discarded
chopped chives, for garnish
Directions:
Preheat oven to 400°.
Clean and roughly chop the creminis. Cut the grape tomatoes in half.
Combine the creminis, tomatoes, garlic, red pepper, thyme, salt, pepper, vinegar, and oil in a medium bowl. Toss well.
Transfer to a baking dish and distribute in a single layer.
Roast the mushrooms for 20–25 minutes, until sizzling and tender.
Meanwhile, cook the farro in simmering water until al dente. Drain any extra water.
Combine the cooked farro, roasted mushrooms, spinach, and 2 oz. goat cheese. Stir until well mixed.
Scoop the farro mixture into the mushroom caps, distributing evenly.
Bake for 20–25 minutes, until the portabellas have released their liquid and the top of the farro has crisped.
Top with extra goat cheese crumbles and sprinkle with chopped chives.
Enjoy!
One year ago: Espresso Ice Cream
Two years ago: Rotini with Asparagus and Goat Cheese