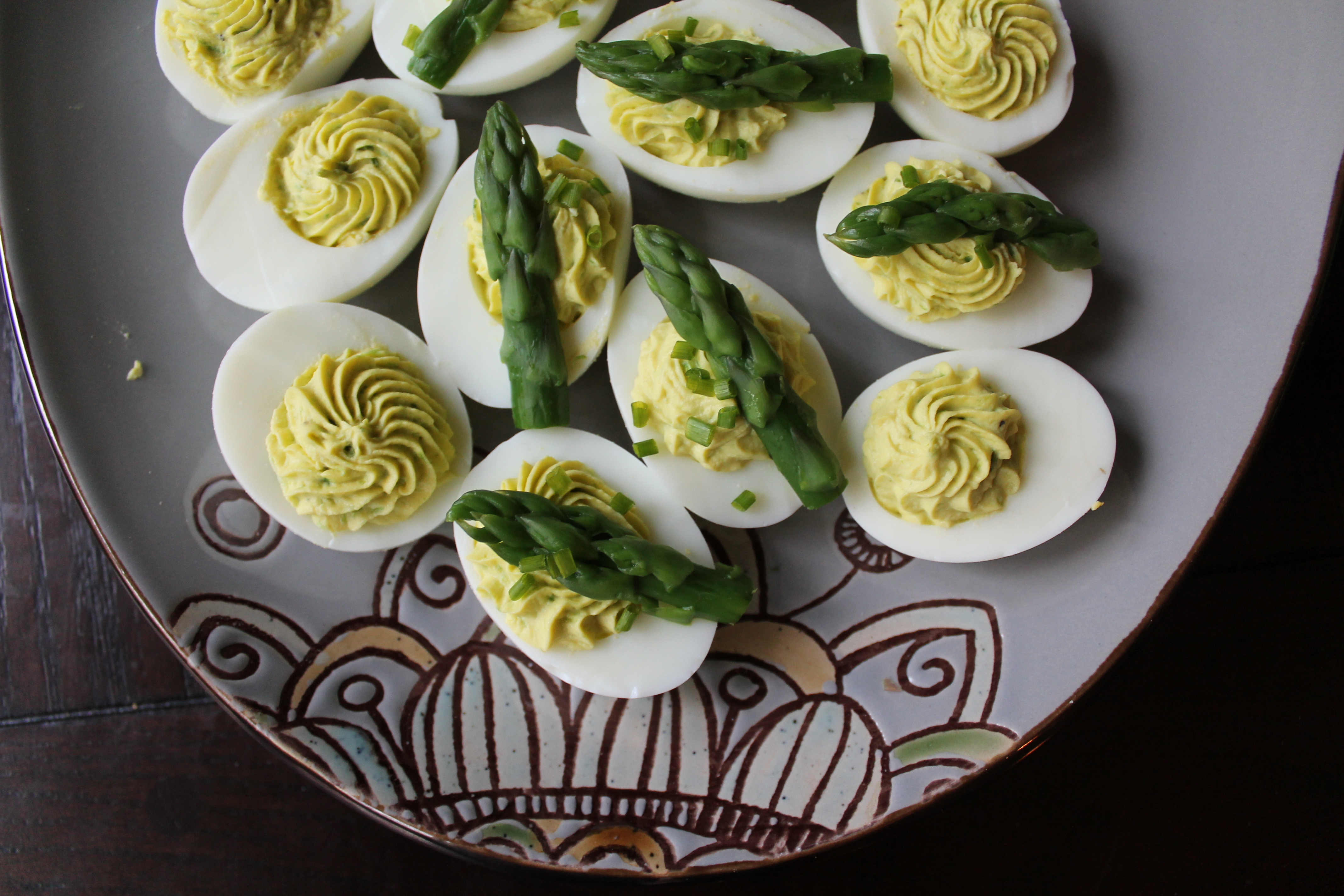 It is so Gloomy today. Gloomy with a capital G. The sky is bleak and gray, the air is frigid, and it's raining. Not even a nice, steady rain, but pouring (which I admit, I find somewhat pleasant) for 5 minutes—long enough to make humongous puddles on the sidewalk and drown my new flowers—then spitting and dripping for an hour…then starting over.
Plus, I am in the middle of Spring cleaning, and today is curtain washing day. So even the inside of my house looks a little depressed.
On days like today, I really need to remind myself that Spring is a good thing. That I like Spring.
On days like today, I just need asparagus.
These deviled eggs do require a little more effort than my favorite classic version. But they are fresh and tasty and, you know, a little less guilt-inducing than their mayo-filled friends. (Ooh, and by the way, they would be the perfect green eggs for a Dr. Seuss party…)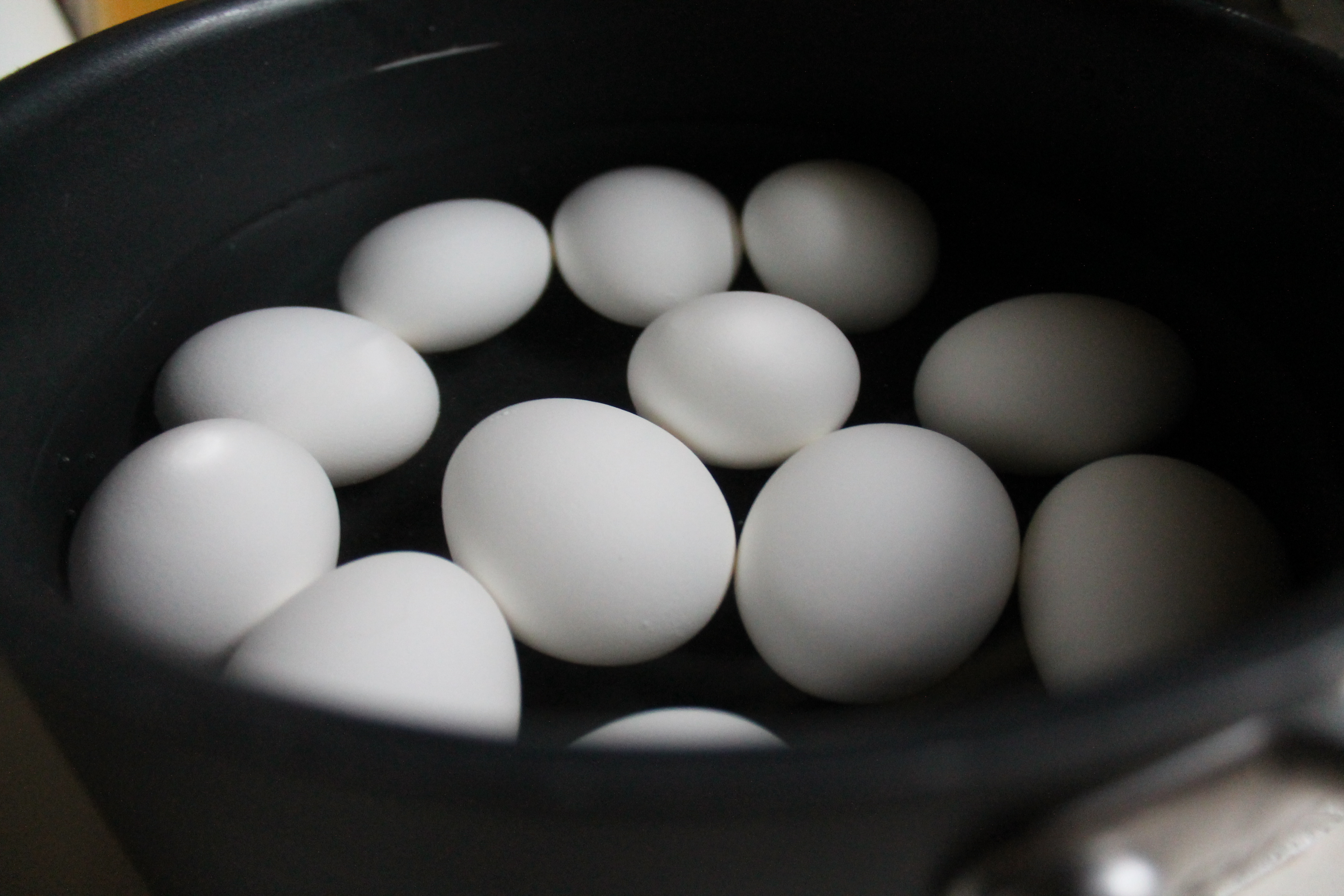 Start by boiling your eggs. I know everyone has their own special trick for hardboiling eggs just right, so feel free to go about this however you please! My preferred method is to lay the eggs the bottom of a pan (the pan should be large enough that the eggs all fit in a single layer) and fill them with juuuust enough cold water to cover the tops of all the eggs. Actually, some of the eggs might stick their rear ends up a millimeter or two above the water. That's also fine.
Set the pan on the stove over high heat and bring the water to a boil. Keep a careful eye, because we aren't starting the timer until the water boils. Depending on how hot your burner runs and how well your pan conducts heat, this could take anywhere from 5 to 9 minutes. As soon as the water starts boiling (really boiling…not just fizzing), set the timer for 9 minutes.
Remove the eggs from the heat and rinse with cold water. I don't bother with ice water, and I'll tell you why. I find warm eggs much easier to peel than cold eggs. And I eat a lot of egg salad. So I peel a loooooot of eggs. Every now and then I buy a carton of eggs that just won't peel smoothly, but 9 times out of 10 I come out with perfectly smooth eggs if I peel them while they are still warm. The other trick is to do the crunch and roll (you know, smush the egg lightly to crack the shell, but then roll the egg around until the whole shell is in little crackly pieces instead of leaving it whole). I also like to run them under cool water while peeling to help get all the tiny bits of shell off.
So hopefully, you have peeled your eggs without too much trouble. Cut them in half with a sharp knife, wiping the blade between each cut in order to keep the eggs neater. Set them aside.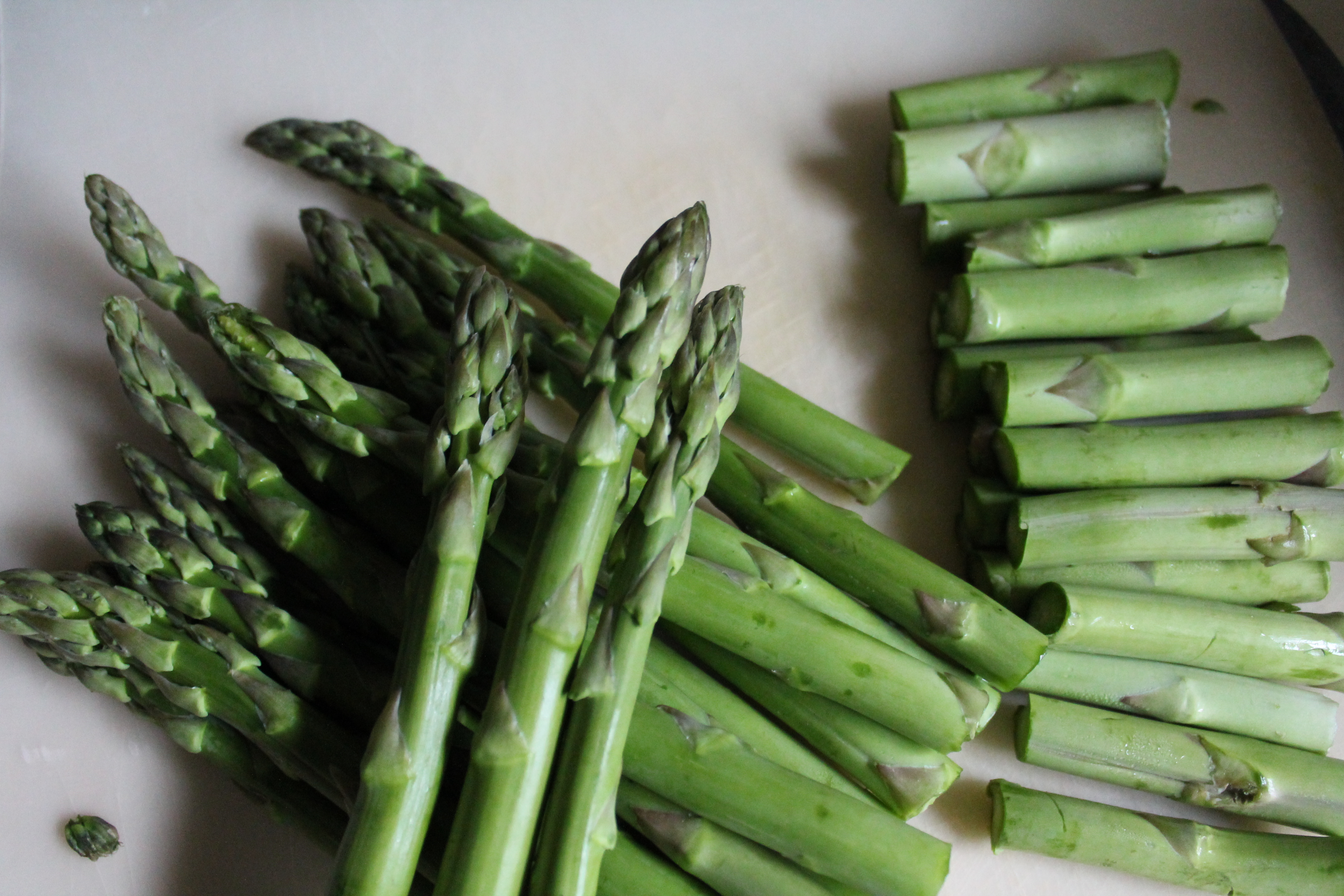 Blanch the asparagus. I found big, fat asparagus spears in the grocery store this week, so that's what I used. I only blanched 3 spears, because the original recipe called for 4 "medium" asparagus. But really, I would have liked a much stronger asparagus flavor in my eggs, so next time I will double it (this change is reflected in the recipe below). If you are using slender spears, I recommend at least 6 (about equivalent to my 3 fat spears) and possibly 12 (so the flavor is more distinct). And hey, it would be great to be able to garnish every egg, right?
If you have fat spears, then blanch (which is a fancy way of saying boil…) for about 3 minutes; if you are using slender spears, take that down to 1 minute. The goal is not to turn them into a stringy mess, but to get them soft enough to puree.
Cut the pointy ends off the blanched asparagus, leaving little pieces about 1¼″ long. If you have fat spears, cut them in half lengthwise. These will be the garnish for the filled eggs.
Take the rest of the asparagus and puree it. Because there isn't much there, a standard food processor will have a little trouble. I used my Magic Bullet and still had to work at getting all the bits pureed.
Now, we don't want to have very watery filling, and pureed asparagus is quite wet. Scrape the puree onto a paper towel and press to let the towel absorb most of the liquid.
Okay. Time to work on the yolks. I really prefer to puree my yolks in the food processor. Short of grating them (which seems error prone) or using a ricer (which I don't have), this is the only way I know to actually get the yolks smooth and powdery. No one likes a lumpy deviled egg.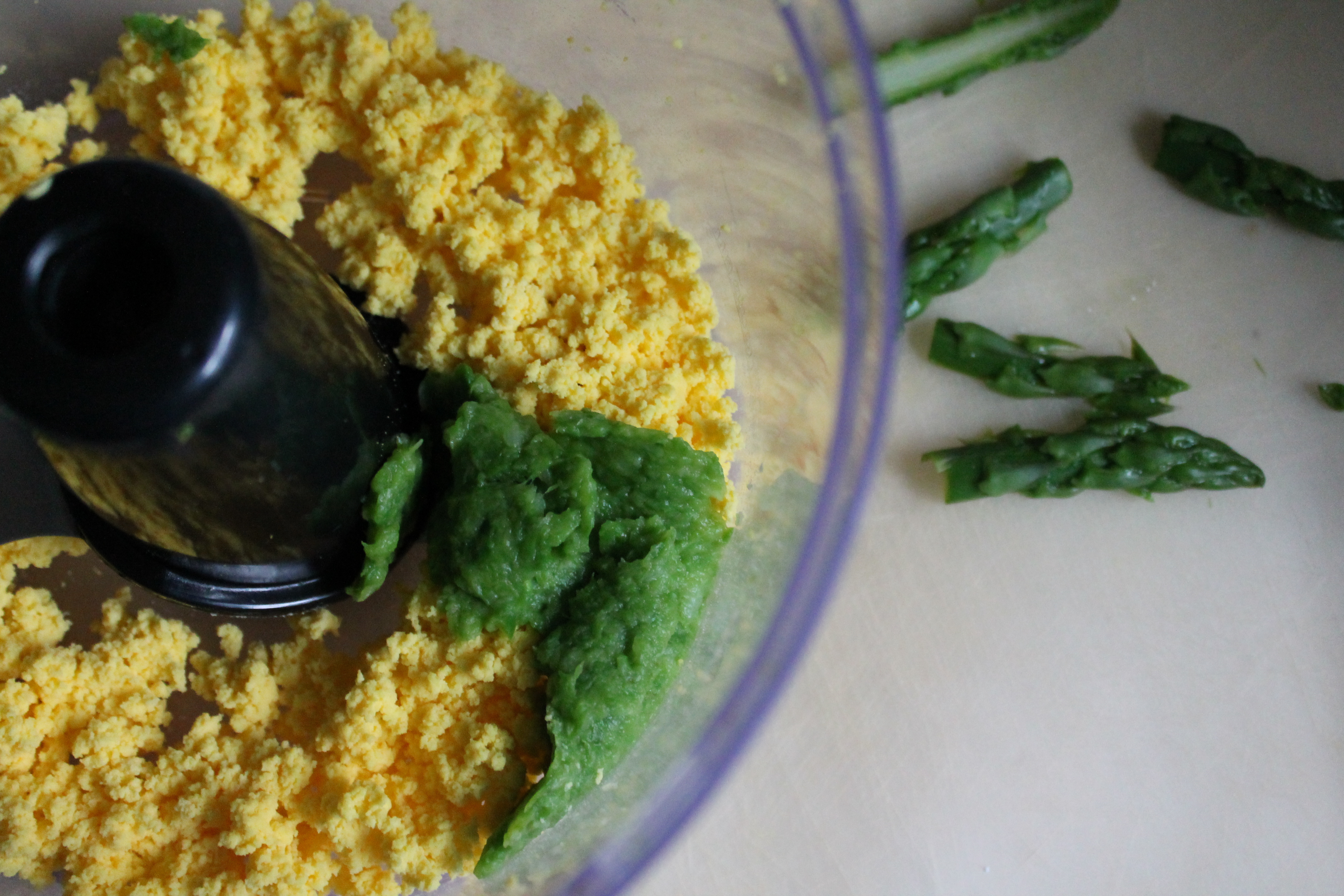 Pinch the eggs to release the yolks. Puree them until powdery (it's okay if they begin to clump back together), then add in the asparagus puree, crème fraîche (yes, I happened to have this on hand, but you could easily use sour cream or even mayonnaise or softened butter), chopped chives or scallions, Dijon mustard, lemon juice, salt, and black pepper. I went light on the seasonings so I could make sure the balance turned out right.
Puree until smooth. Taste and adjust seasonings if needed.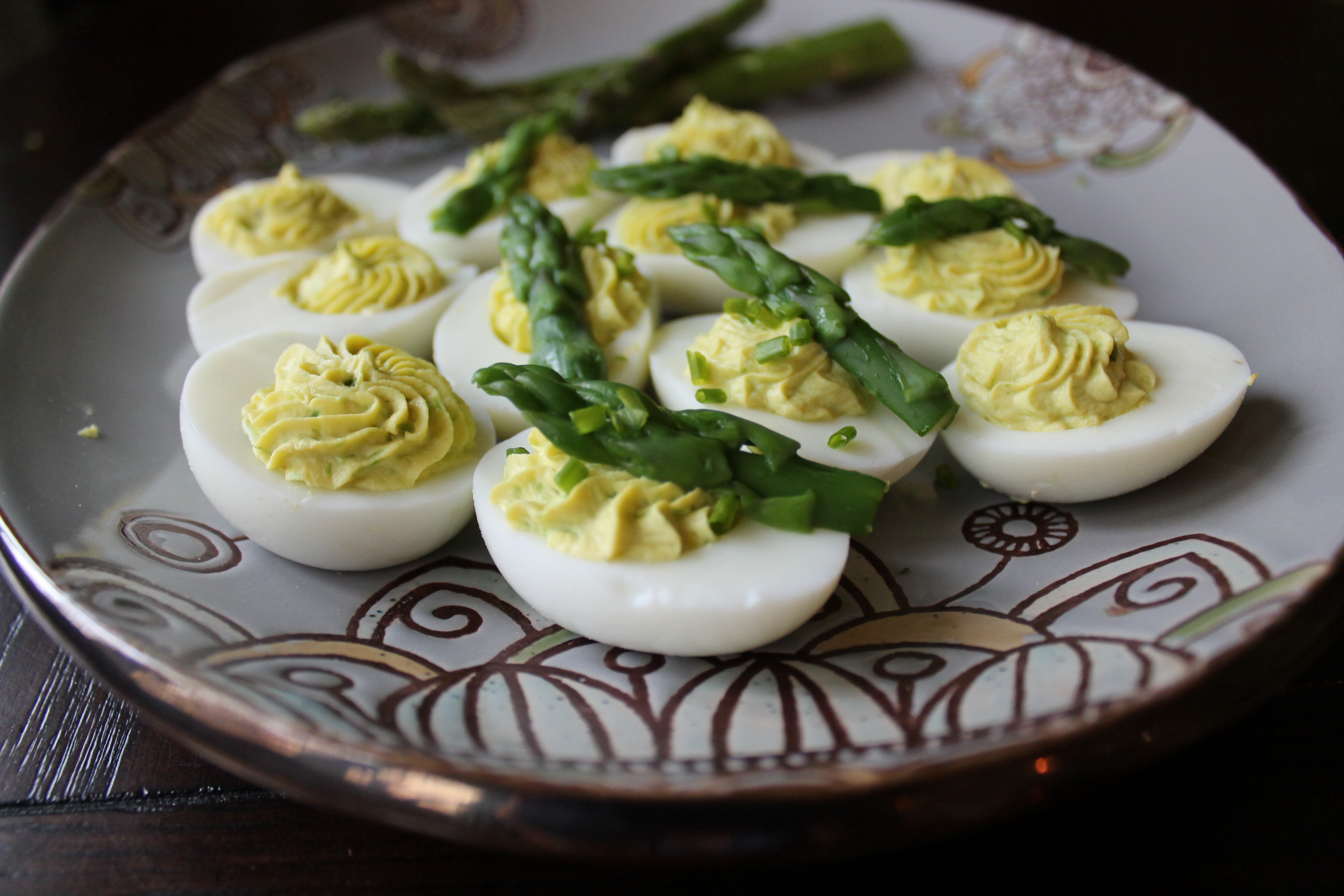 Pipe the filling into the empty egg whites (piping is pretty and easy, and actually neater than using a spoon! You don't have to use a fancy tip or even a piping bag; just cut the corner off of a small sandwich bag and go to town). Garnish with the asparagus tips and a few extra chives or scallions.
Yum. Asparagus earns a point back for Spring.
Asparagus Deviled Eggs
lightly adapted from Smitten Kitchen
makes 12
Ingredients:
6 eggs
6 fat asparagus spears (or 12 slender)
2 tsp. chopped chives or scallions, plus extra
3 tbsp. creme fraiche or sour cream
½ tsp. Dijon mustard
¼ tsp. lemon juice
salt and black pepper
Directions:
Hardboil the eggs. When they are cooked, run under cool water and peel while still a bit warm.
Trim the ends from the asparagus and blanch: 3 minutes for fat spears or 1 minute for slender spears. Run under cold water to stop the cooking.
Cut the points off the asparagus. For fat spears, slice the points in half lengthwise. Set aside to use as garnish.
Puree the rest of the asparagus. Transfer the puree to a paper towel and pat to remove all excess moisture.
Cut the hardboiled eggs in half and pinch to remove the yolks. Puree the yolks in a food processor. When fine and powdery, add in the dried out asparagus puree, chives, crème fraîche, Dijon, lemon juice, and seasonings. Puree until completely smooth and pale green.
Pipe or spoon the yolk mixture into the waiting egg whites. Garnish with the asparagus points and a pinch of extra chives.
Enjoy!
One year ago: Strawberries and Cream Cake
Two years ago: Trail Mix Cookies
Three years ago: Zucchini Bread