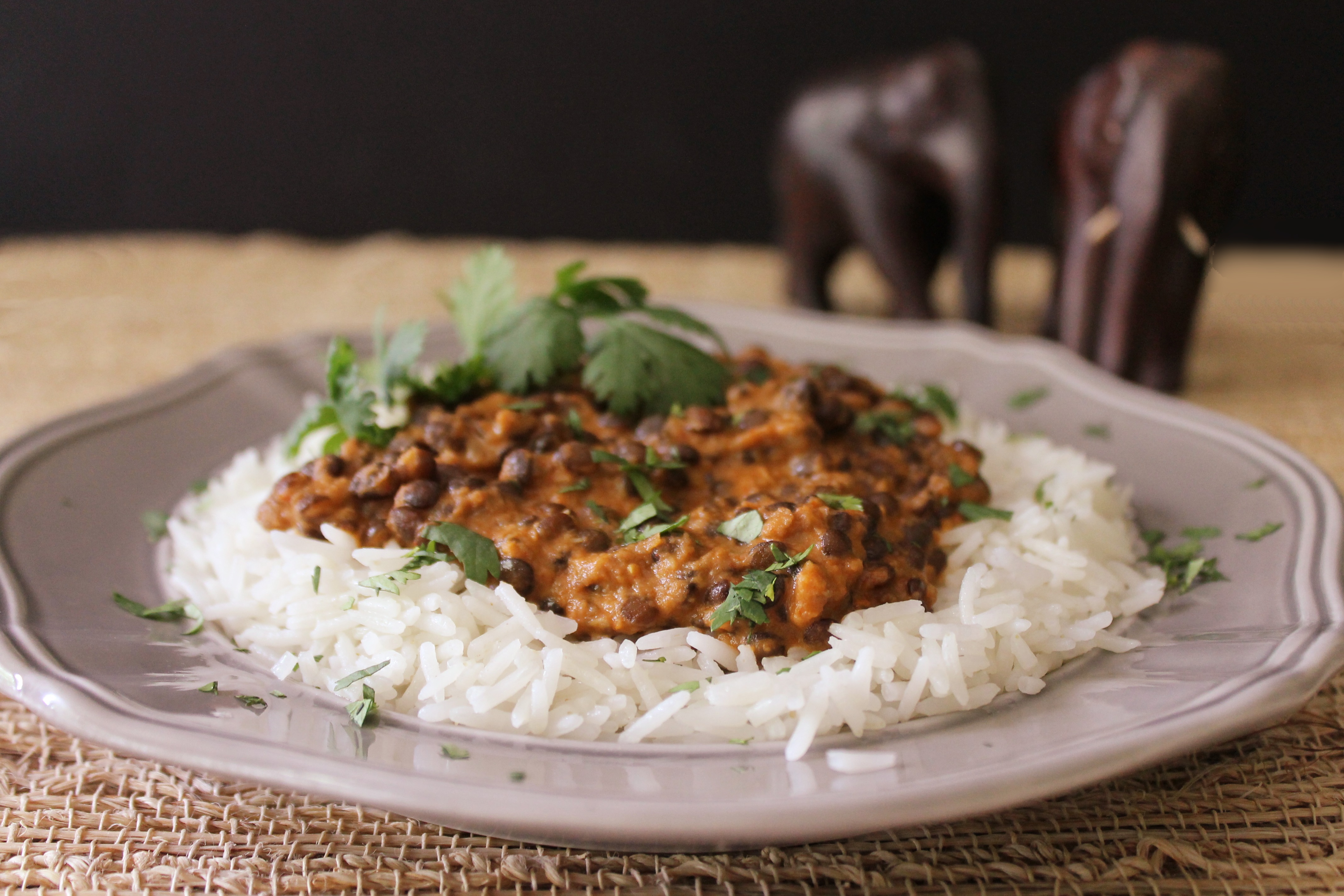 I've been thinking for a while that I should give dal another chance. The first time I made it, I used a crockpot recipe that turned out to be super boring and a little like eating dirt…and Dave said, "Well what do you expect? This is what lentils taste like."
But since then, I have discovered a love for both Indian food and lentils (perfect storm!). And the more people I share that sad dal story with, the more suggestions I receive for wonderful dal variations to try—as well as a few scoldings for my low opinion of dal in the first place.
So I got pretty darn excited when I found a simple and delicious dal recipe at The Tasty Cheapskate, my Secret Recipe Club blog for July! I really enjoyed perusing Jean's blog—and I really related to a comment she made in her food journal that her children do not eat particularly well. Yes, it's true…children of food bloggers do not necessarily eat wheatberry salads or fresh fruits or brussels sprouts or much of anything that isn't "baya. deh-yeee. zava!" (Oh. You don't speak toddler? In our house, that translates to "peanut butter and jelly sandwich.")
And to answer your next question, although this dal was delicious, my toddler spit out his first bite (though he did try two more bites after that!—they met the same fate). Oh well.
Dal is a great dish because it is inexpensive* and filling! In this dish, black beluga lentils swim in an aromatic, spicy, creamy tomato sauce. Serve with basmati rice or your favorite Indian flatbread and you've got a completely nutritious meal!
*Note: It is not common for me to accolade a meal for being inexpensive. However, as food prices climb and families grow, I am realizing more than more that budget needs to be a primary concern in how I cook and entertain. This is a work in progress for me: in principle I like the idea of paring back the food budget and focusing on the simple things in order to save money…though in practice I find that I can't live without goat cheese and Valrhona chocolate. Eep. But perhaps this dal is a step in the right direction! It would be an even bigger step in the right direction if I hadn't driven to Whole Foods especially to find beluga lentils, probably the least cheap variety. Oops.
I did a little reading, and Dal Makhani traditionally also includes red kidney beans. This version does not, though I suppose you could add them in if you are all about authenticity! Personally, I wouldn't recommend adding a thing. I restrained myself from tossing in other classic Indian aromatics, like onions and cumin, and I am so glad I trusted the original recipe, because it was quite tasty!
This particular dal was incredibly easy to make. Barely any prep work required, and most of the cooking time was hands off!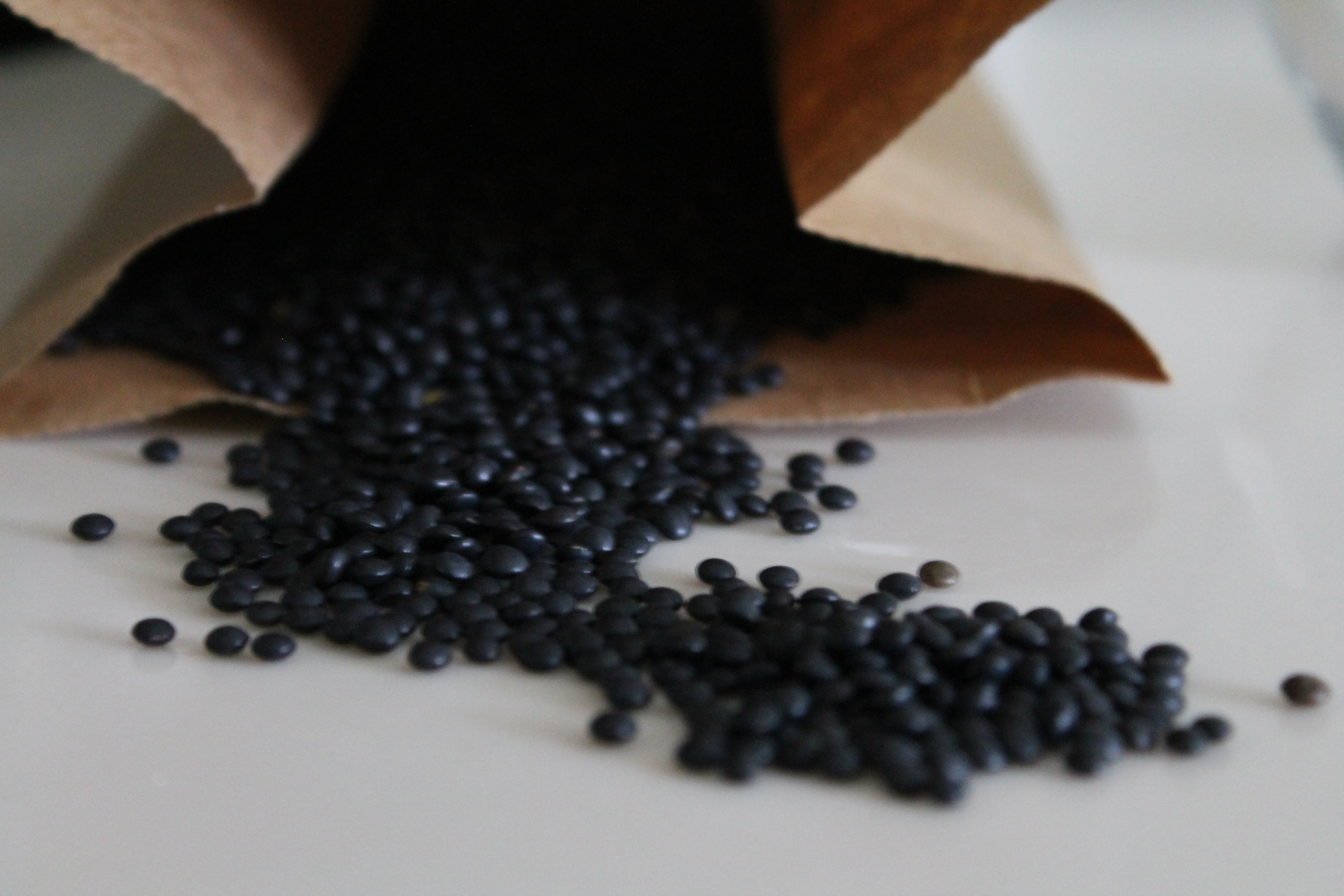 Rinse the lentils and remove any stones you find. I have only ever found one stone, but it would have been most unfortunate to bite into that in the middle of a meal…
Cook the lentils briefly in simmering water by themselves, so they get nice and plump.
Drain them and rinse them. (Yes, I rinsed mine both before and after cooking, because the cooking water from the beluga lentils was black, and it weirded me out a little. You could probably skip the second rinse if you choose a different type of lentil!)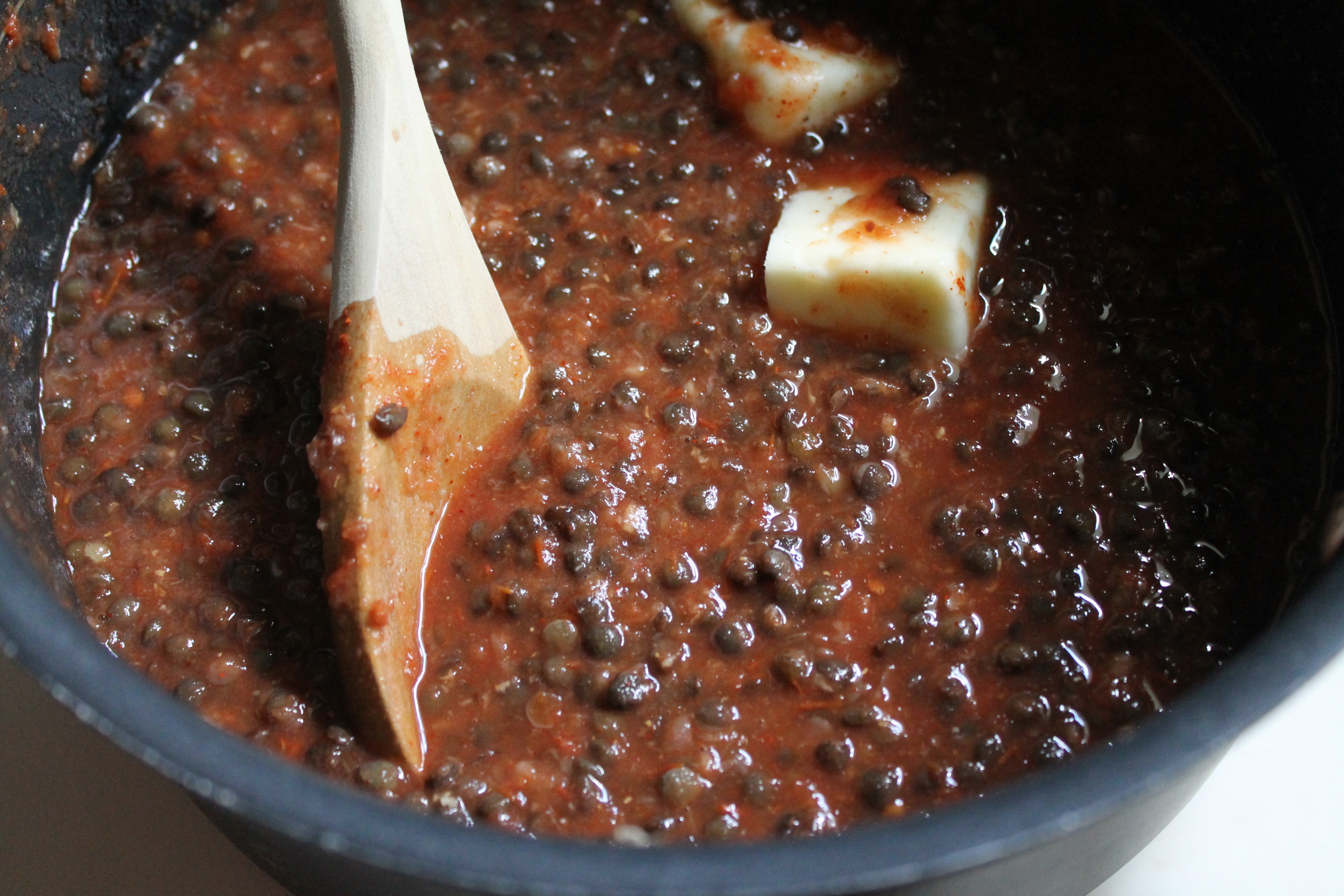 Return the lentils to the pot with the rest of the ingredients, save the cream and cilantro. Garlic (I used 3 of the largest cloves I have ever seen, and still I think I would have liked a little more in the end), grated gingerroot, spices, crushed tomatoes, water, and butter. Yum. This really isn't a vegan dish, and I don't recommend skimping on the fat unless you do want your lentils to taste like cardboard after all. Fat carries flavor! And butter isn't any worse for you than extra virgin olive oil, especially when you are heating it.
With the heat very low, cook the lentils in the sauce for 1 hour, stirring occasionally to keep them from getting gummy on the bottom. It's fairly likely that the moisture will all cook out before you hit the 1-hour mark, but rather than removing the pan from the heat early, I would recommend adding a few tablespoons more water. Indian food, in my experience, develops richer flavors the longer it cooks, so the extra cooking time will make your dal taste better!
Meanwhile, cook up some basmati rice! (You could totally also serve this dal with a flatbread, but in keeping with the spirit of eating less expensively, I decided to use up some of the basmati in my pantry rather than making a whole batch of naan.) I'm sure that anyone who cooks Indian food regularly would cringe at this, but I generally add butter and a few dashes of cumin and garlic powder to my basmati rice. I have never loved rice, and basmati has a particularly bland flavor by itself, so the butter and spices make it much more palatable for me.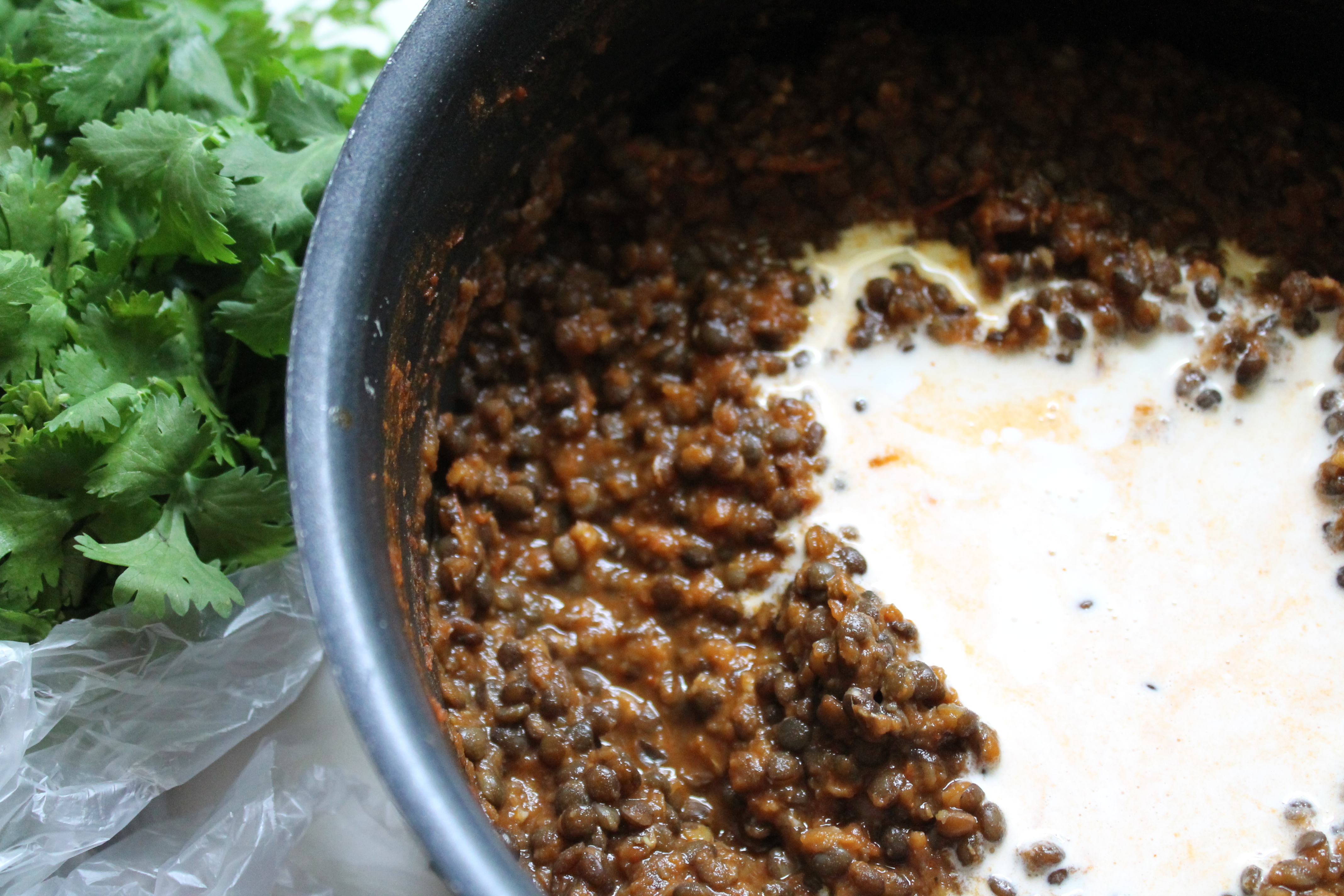 When the lentils have cooked for 1 hour and the mixture is quite thick and almost dry, stir in the cream.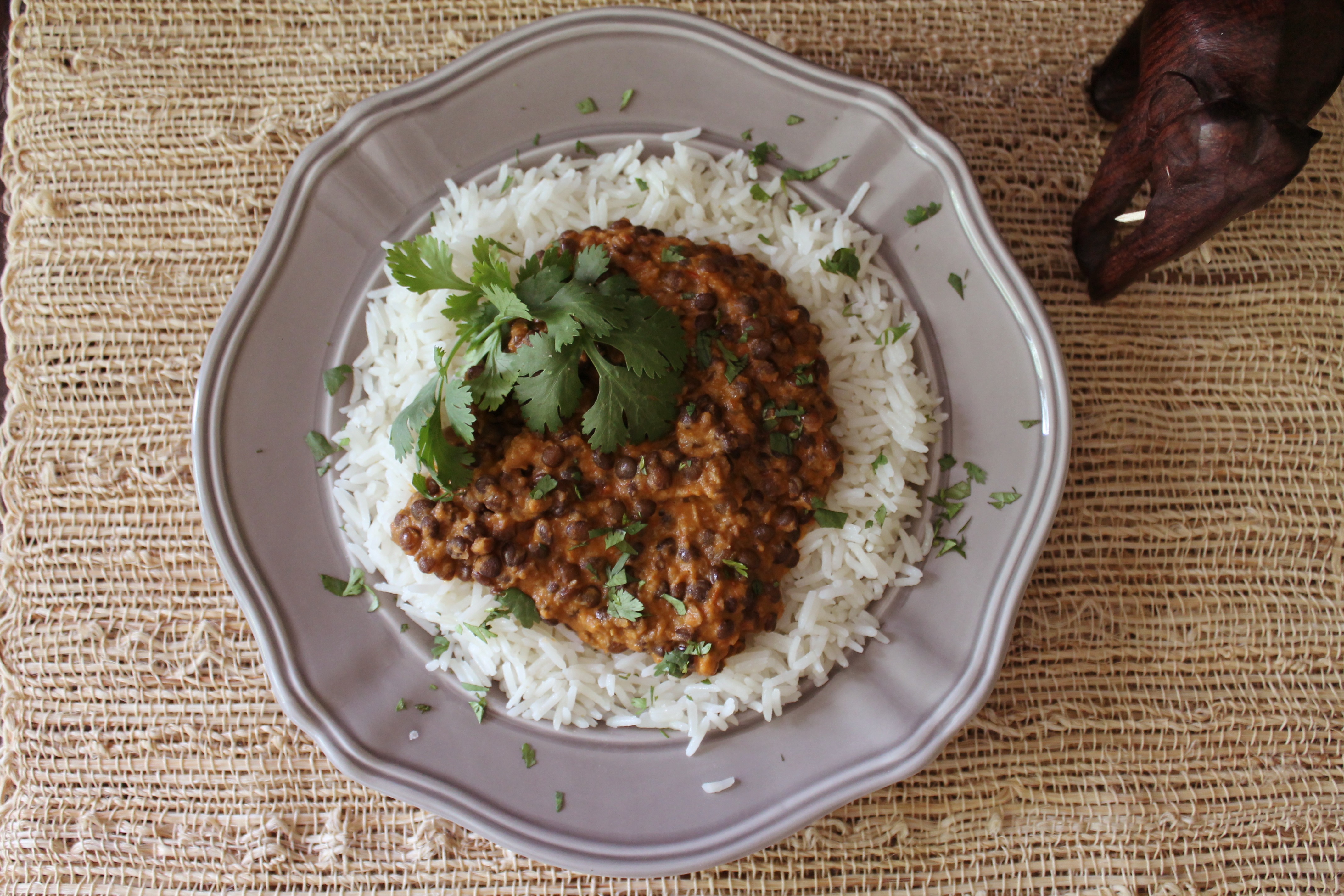 Sprinkle chopped fresh cilantro liberally over the dal and serve with the seasoned rice.
Dal Makhani
lightly adapted from The Tasty Cheapskate
serves 6
Ingredients:
1 cup dry black beluga lentils
1 14oz. can crushed tomatoes
4 large cloves garlic, minced
1 tbsp. fresh grated gingerroot (from about a 2″ piece)
¾ tsp. cayenne pepper
1 cup water, plus extra as needed
¼ cup butter
salt and fresh ground black pepper
⅓ cup heavy cream
¼ cup fresh minced cilantro
basmati rice or Indian flatbread, for serving
Directions:
Pick over the lentils and remove any stones. Rinse thoroughly. Place the lentils in large saucepan and cover with 2″ water. Bring to a boil, then reduce heat and simmer, uncovered, for 10 minutes. Drain and rinse the lentils again. Return them to the pot, mashing some of the lentils against the side of the pot to break them open.
Add the crushed tomatoes, ginger, garlic, cayenne pepper, water, butter, salt, and pepper. Cook for 1 hour over medium-low heat, until dal is thick and fairly dry. If the dal dries out before the hour is up, add up to ½ cup more water and continue cooking until thickened.
Remove the dal from the heat and stir in the cream. Taste and adjust seasonings as needed.
Sprinkle liberally with fresh cilantro and serve over basmati rice or with flatbread.
Enjoy!
One year ago: Miso-Glazed Salmon
Two years ago: Salmon in Yogurt-Chive Sauce
Three years ago: Mocha Macarons