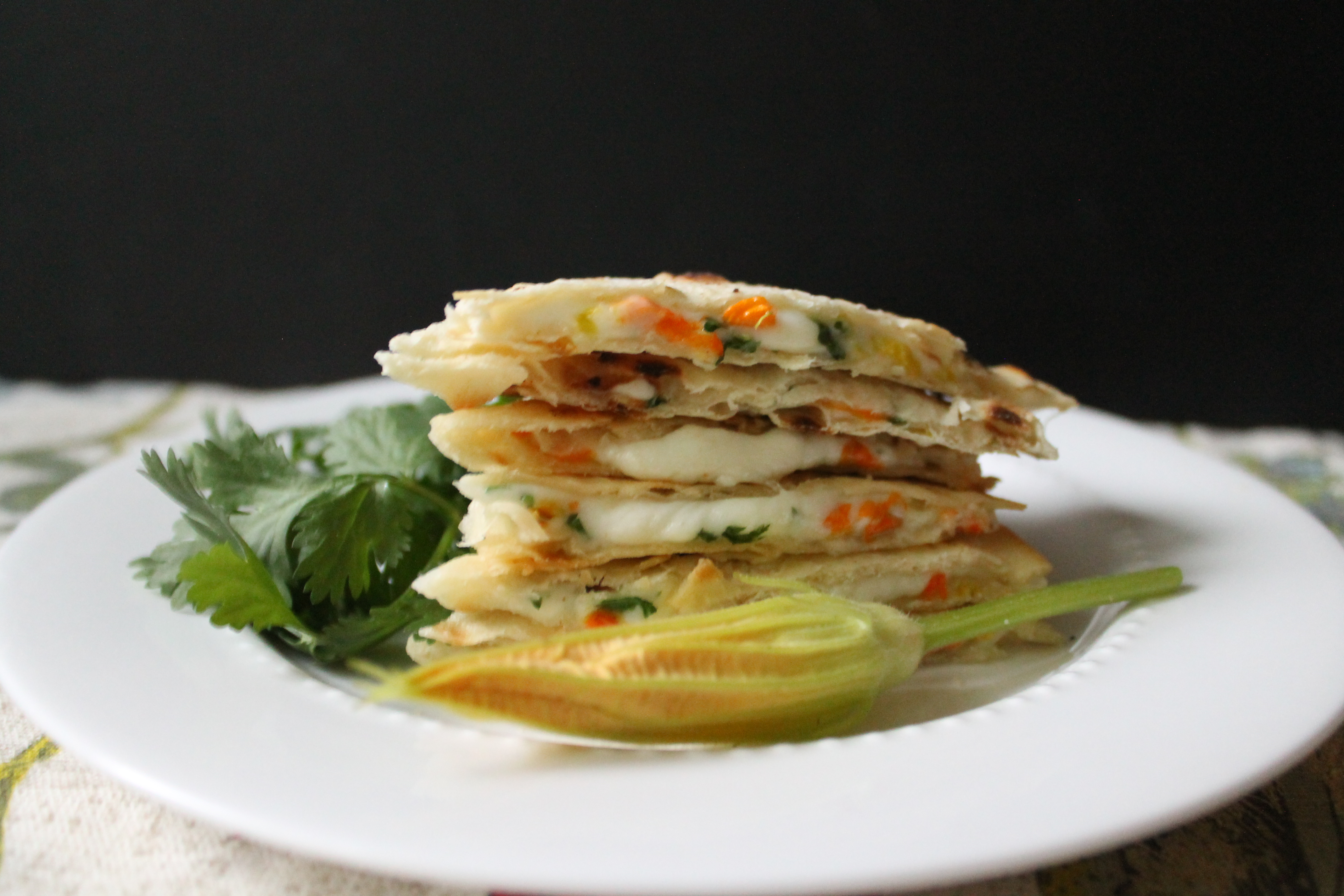 A while back, I mentioned that I am growing acorn squash this year! I have a little container vegetable garden on my porch, and almost everything I am growing is thriving.
Except, sadly, for my acorn squash. It all started out brilliantly: I had four plants that were green and leafy and growing like gangbusters. About a month ago, a crazy amount of blossoms started opening up and I got pretty excited for some squash to reveal itself. But…only two of the blossoms on all four of the plants sprouted squashes. After a while of not seeing any more little babies growing, I mentally threw up my hands and decided to start harvesting the blossoms. (Maybe that was my mistake? Who knows.)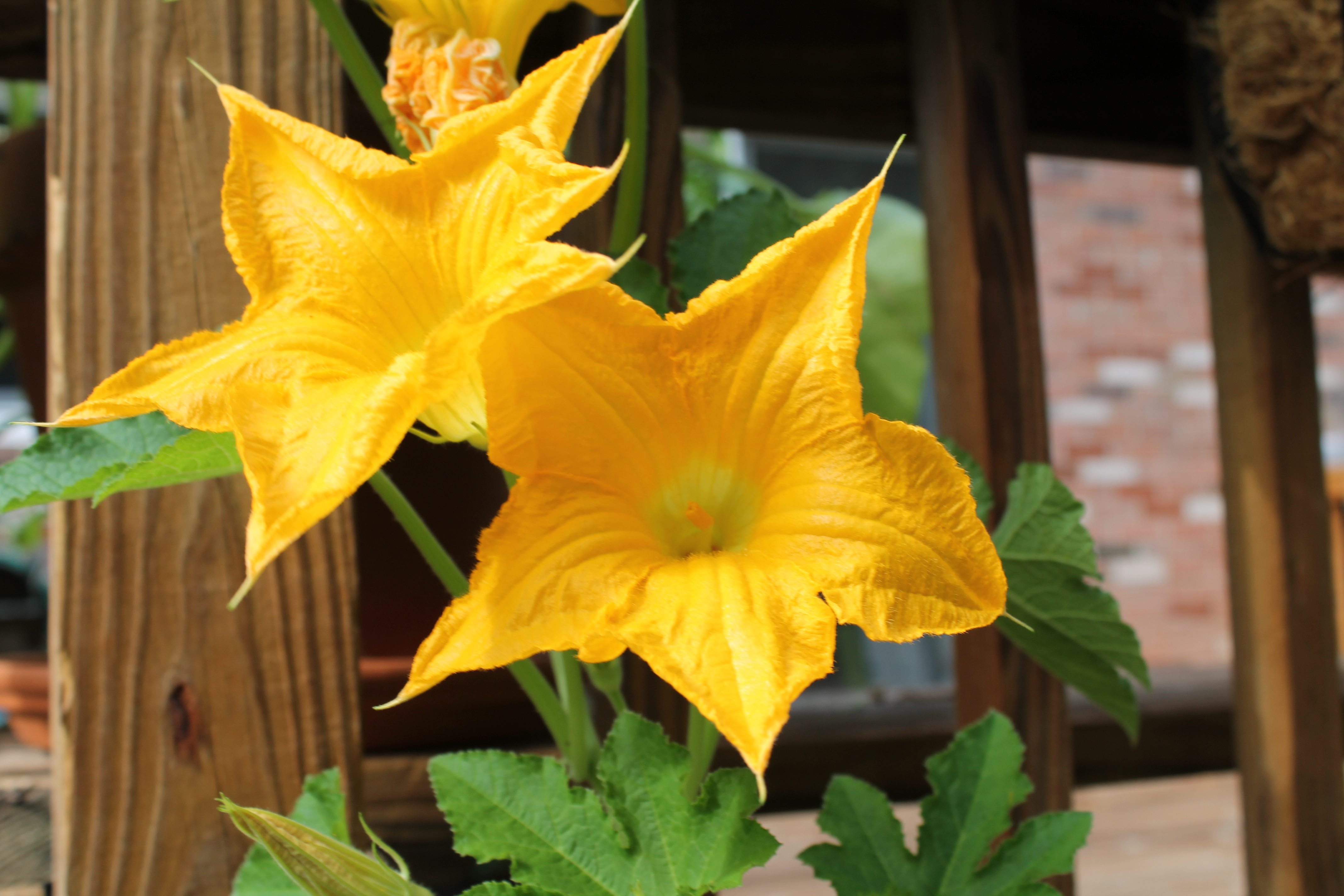 Immediately after harvesting my first bunch of blossoms, the plants started yellowing. I am not an experienced gardener, people. I was at a loss. Eventually I found that one of the vines was being eaten from within by a worm—and there went one of my two baby acorn squash (augh!). I still can't figure out what's wrong with the others.
So. Believe me when I tell you that these quesadillas were a labor of love. With these, I used up the last blossoms my poor, sad acorn squash seem like they are going to produce.
What a tasty way to go out!
Quesadillas are a fairly simple dish to put together! It's all assembly.
I tried squash blossom quesadillas a few times before I settled on my favorite way to make them. I am going simple, with homemade flour tortillas, shredded oaxaca cheese, chopped cilantro, and of course squash blossoms!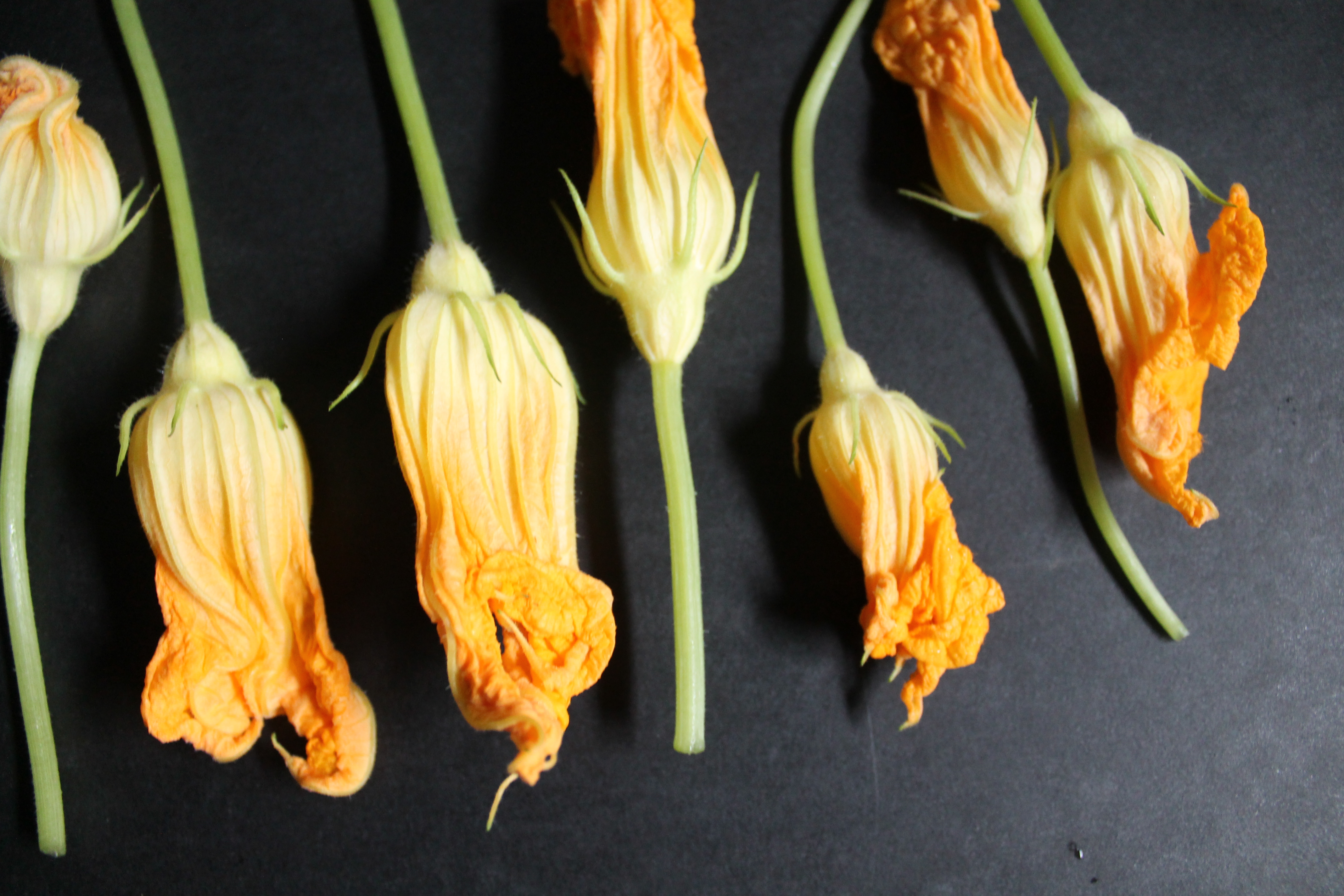 Squash blossoms have a very mild flavor, a little bit floral and a little bit earthy. They don't last long at all once you cut them from the vine, so plan to use them immediately after you purchase them (if you are going early in the farmer's market season) or snip them (if you are growing your own squashes).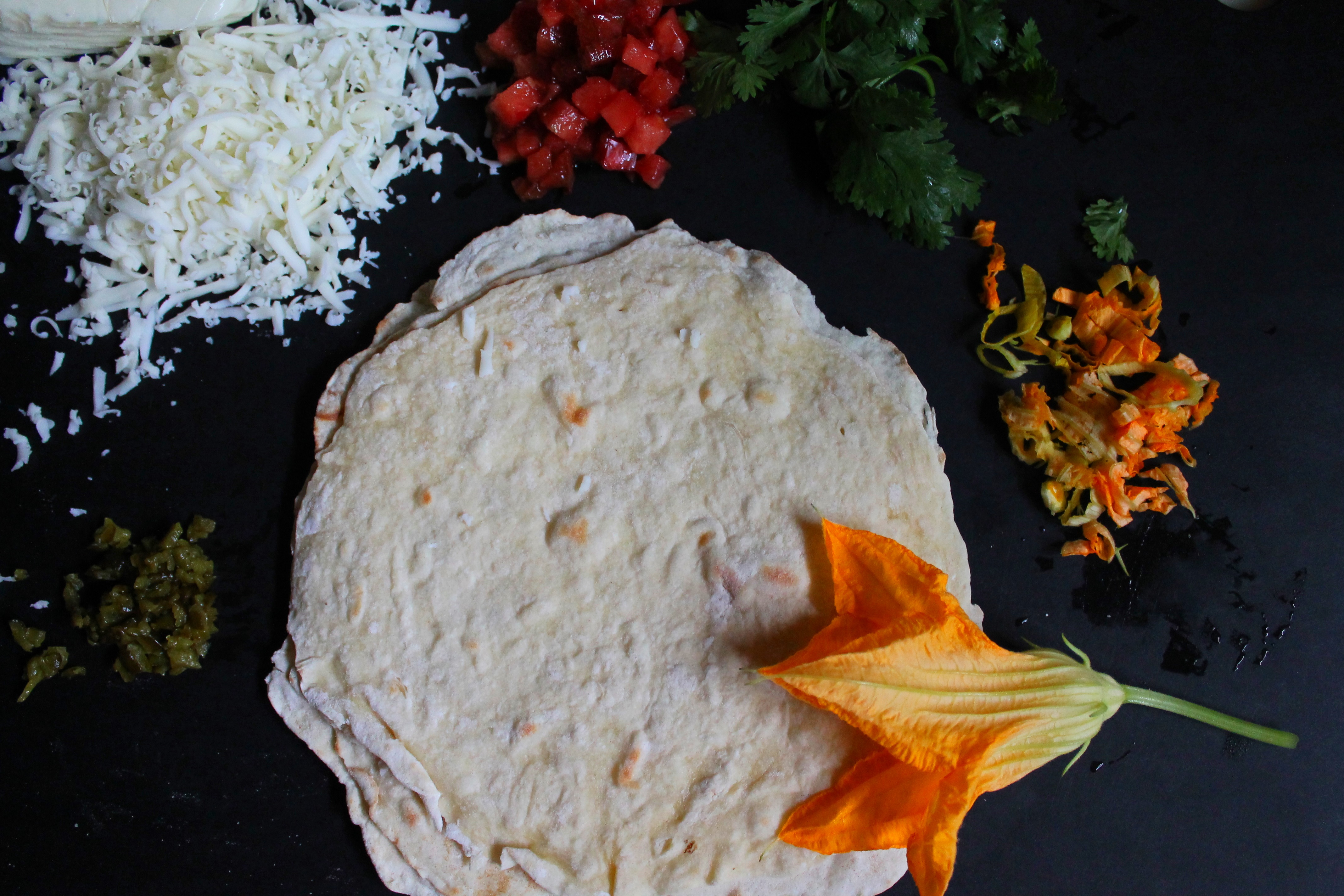 My quesadillas were fairly small, more snack-size than meal-size (at least, not without several extras, like beans and veggies!), and I used 2 blossoms per quesadilla.
So. Easiest snack ever! Remove the stamens from the squash blossoms, then thinly slice the flowers all the way to the base (toss the stem).
Chop up some cilantro. Shred some oaxaca cheese. This cheese is a little like mozzarella (which you could substitute, if you don't have access to Mexican-style cheeses near you), so it melts beautifully and tastes creamy and just slightly salty, not overpowering the squash blossoms.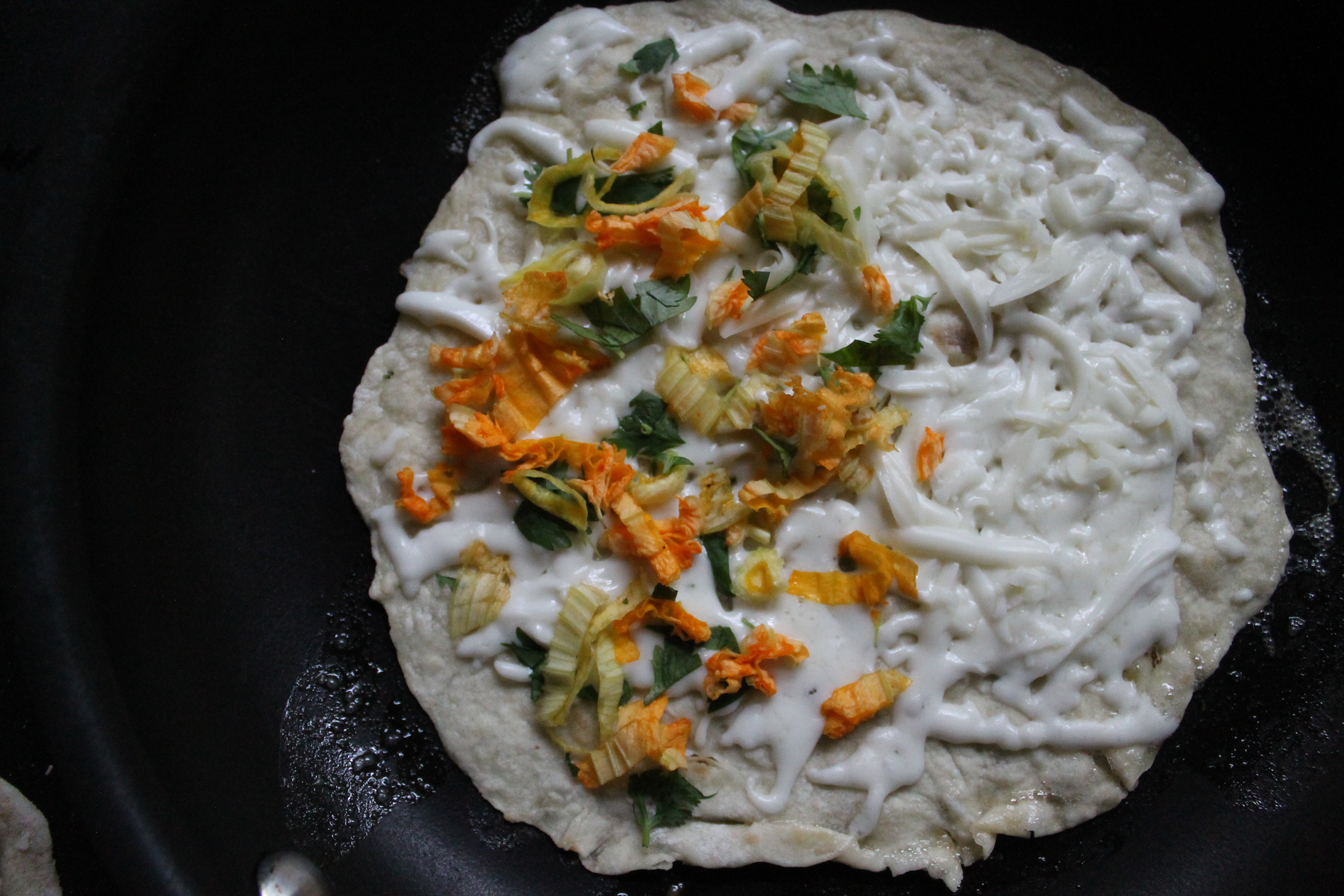 Sprinkle each tortilla with the shredded cheese, then drop cilantro and and squash blossoms over half of the tortilla.
Set the tortilla on a dry skillet over medium heat and allow the cheese to melt. Fold in half over the blossoms and heat for another minute or two.
Repeat to make as many quesadillas as desired.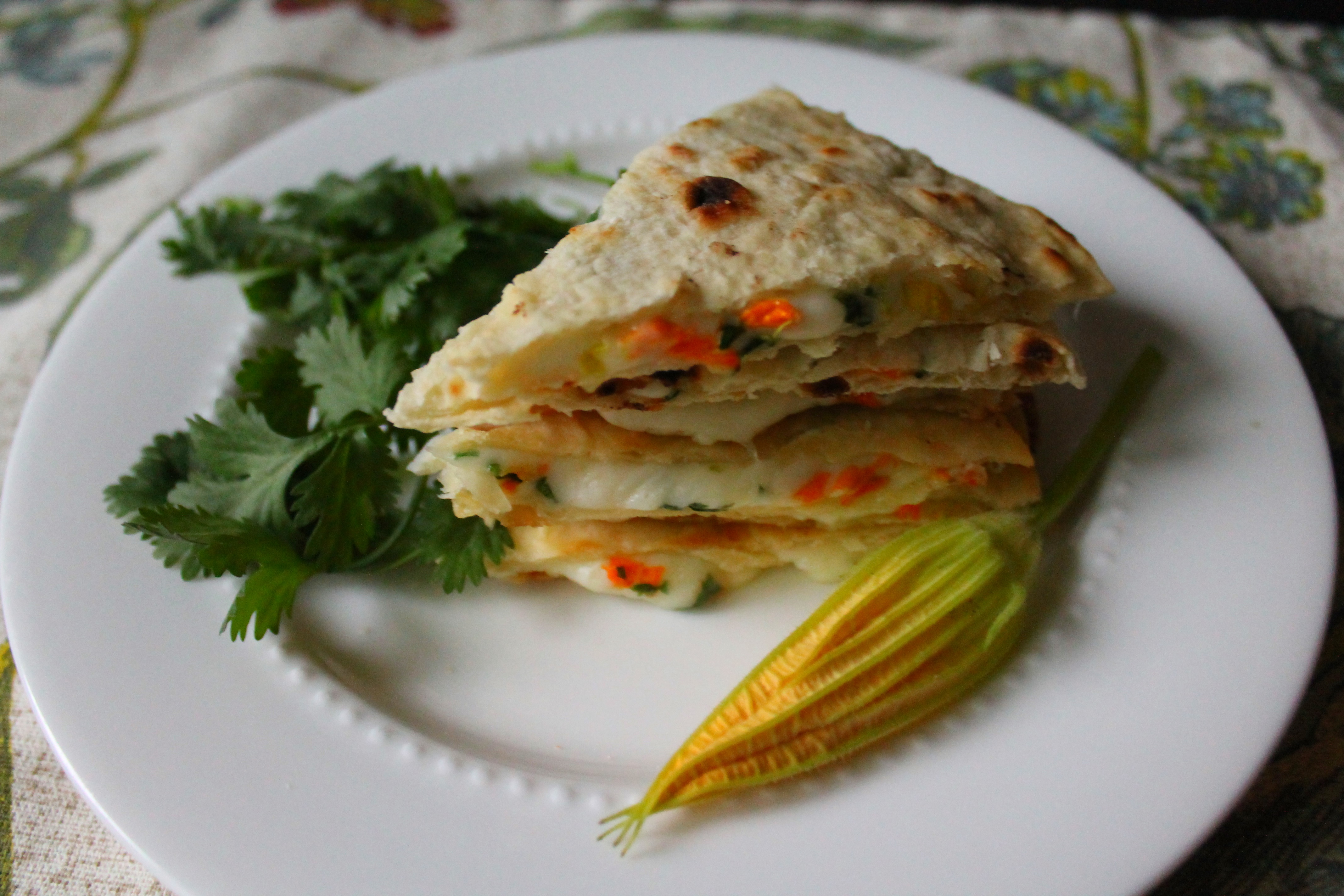 I served with sour cream and a fresh tomato-poblano salsa. Yum.
Squash Blossom Quesadillas
inspired by the Kitchn
makes 6/serves 3–6
Ingredients:
6 8″ flour tortillas
8 oz. oaxaca cheese, shredded
12 squash blossoms, stamen and stem removed, chopped
¼ cup chopped fresh cilantro
sour cream and salsa, for serving
Directions:
Heat a large skillet over medium heat.
Top the tortillas with a thin layer of cheese, about 2 squash blossoms, and a sprinkle of cilantro.
Transfer one tortilla to the hot pan and cook until the cheese melts. Fold in half and cook another minute or two. Remove from heat and slice. Repeat with the remaining tortillas.
Serve warm with sour cream and salsa.
Enjoy!
One year ago: Beet and Chèvre Salad
Two years ago: Salmon with Yogurt-Chive Sauce
Three years ago: Butter Pecan Ice Cream