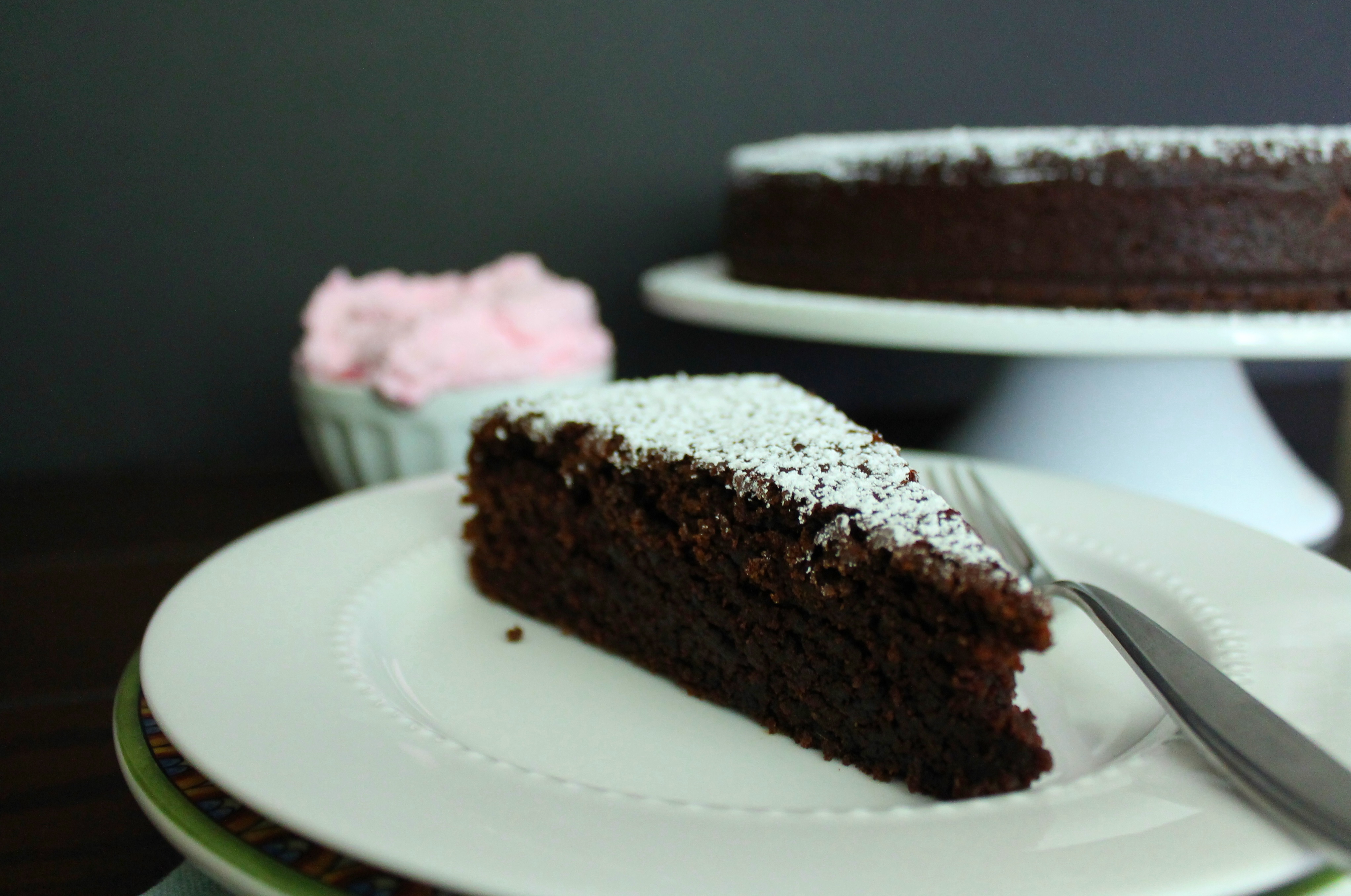 It's Secret Recipe Club time again, and this month I was so pleased to be baking with Rebekah of Family, Food, and Fun.
Do you ever come across someone's blog and immediately feel disappointed that they live so far away? As I was reading about Rebekah and perusing her recipes (oh my! so many delicious desserts), I just enjoyed how passionate she is in serving her family and the Lord and in being a great baker! Dare I say—she seems a little like me, a few years into the future!
In fact, many of the recipes on her blog are things I have made independently and loved or have dreamed of someday making.
I had such. a. hard. time. picking a recipe for this month because the cakes and cheesecakes were all mouthwatering. In the end, I chose beet cake, because it sounds so unusual. I don't know what it is about oddball desserts that just makes my pulse quicken (black bean brownies? chocolate prune cake? chocolate-date-nut-balls?)…maybe I just love the idea of cramming a vegetable or fruit unexpectedly into something that would otherwise be completely unhealthy.
Also…did you know that in the U.S., unless a sugar package is labeled "cane sugar" that it will actually contain beet sugar? Processed from sugar beets? When you think about it, I guess putting beets into a cake isn't that unusual after all! In fact…it could be delicious!
Please note, however, that this is not a sugarless cake. Far from it! I would love to tinker with a sugarless version of this at some point, but for now, I will just be content with all the antioxidants and vitamins and other health benefits that beets bring to the table.
This cake was firm and moist, just the way I like chocolate cake! This is a cake I would go to again and again when beets are in season, because it was simple and yummy, a perfect end to a summer meal—and I don't even feel guilty about serving it, because of the beets! My son got so excited when it came out of the oven that he ran around yelling, "Tate! Tate! Tate!" (do you speak toddler?) until I was finally ready to give him a slice. The look of pure joy on his face was priceless…and little did he know that I had managed to sneak a vegetable into him!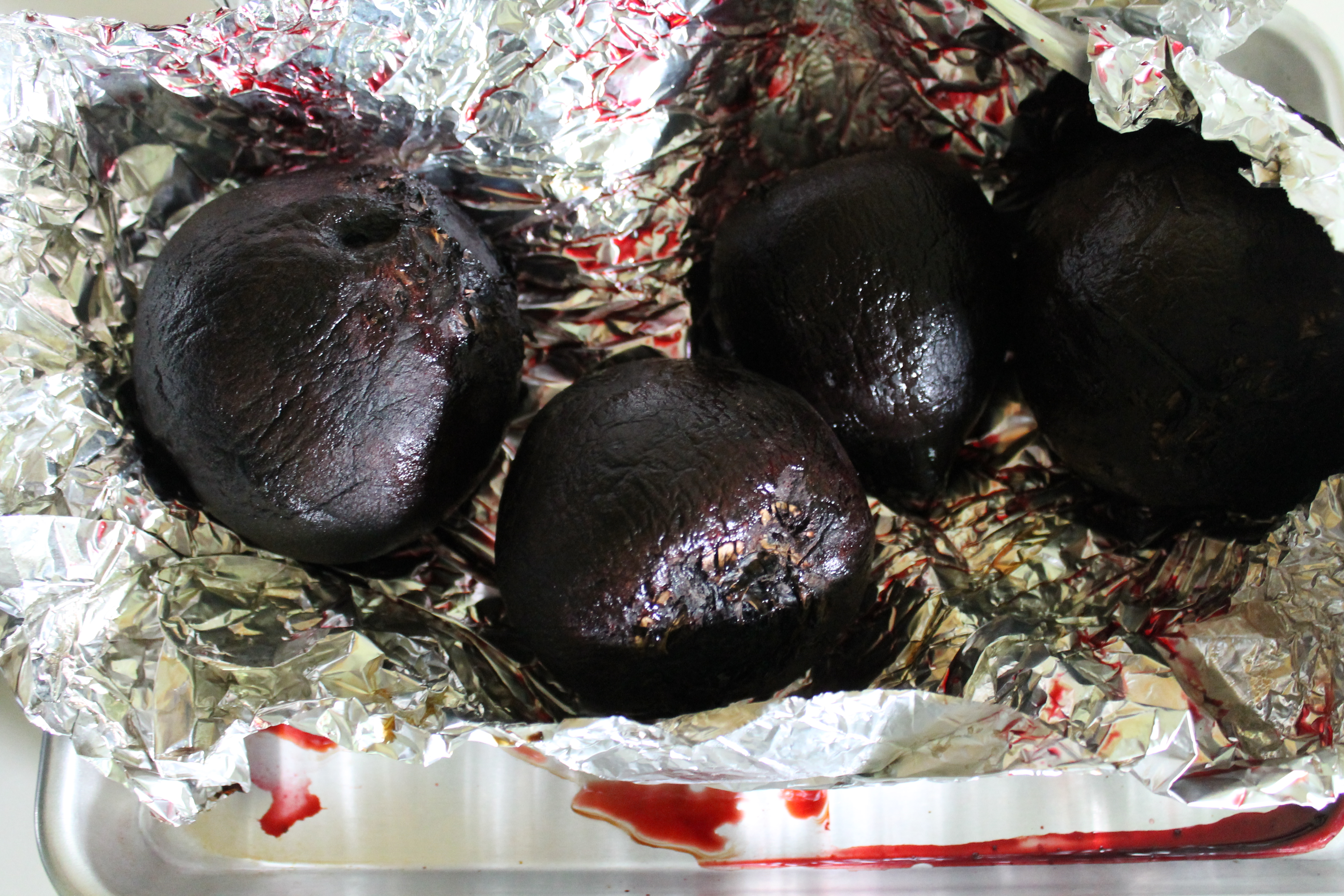 So, beets. I prefer to roast mine, because it is almost effortless. Simply wrap the beets tightly in foil and stick them in the oven for 45 minutes. Take them out and try to pierce one through the fattest part with a butter knife. Cooked beets should be easily cut with a butter knife, so if there is a lot of resistance, then they should go back into the oven.
I bought the world's largest beets at the farmer's market this past week, and because they were gargantuan, it took 90 minutes for them to become tender all the way through. (Wow, that's a long time.) But hey! I ignored them for 90 minutes and then they were perfectly softened!
I only used two of my enormous beets for this recipe, because the cake only requires 2 cups of puree. If you find beets that are significantly smaller than your fist, you may need five or six.
Let the roasted beets cool until you are able to hold them without gasping or doing a little hot potato dance. Then stick each beet under running water and rub the skin off. It will seriously come right off; no need to break out the peeler!
Trim the ends off each beet, then cut into chunks with a butter knife. Puree until smooth. I used my food processor because I don't have a proper blender, and while it did the trick, a blender would really have been ideal.
Set the beet puree aside to cool to room temperature.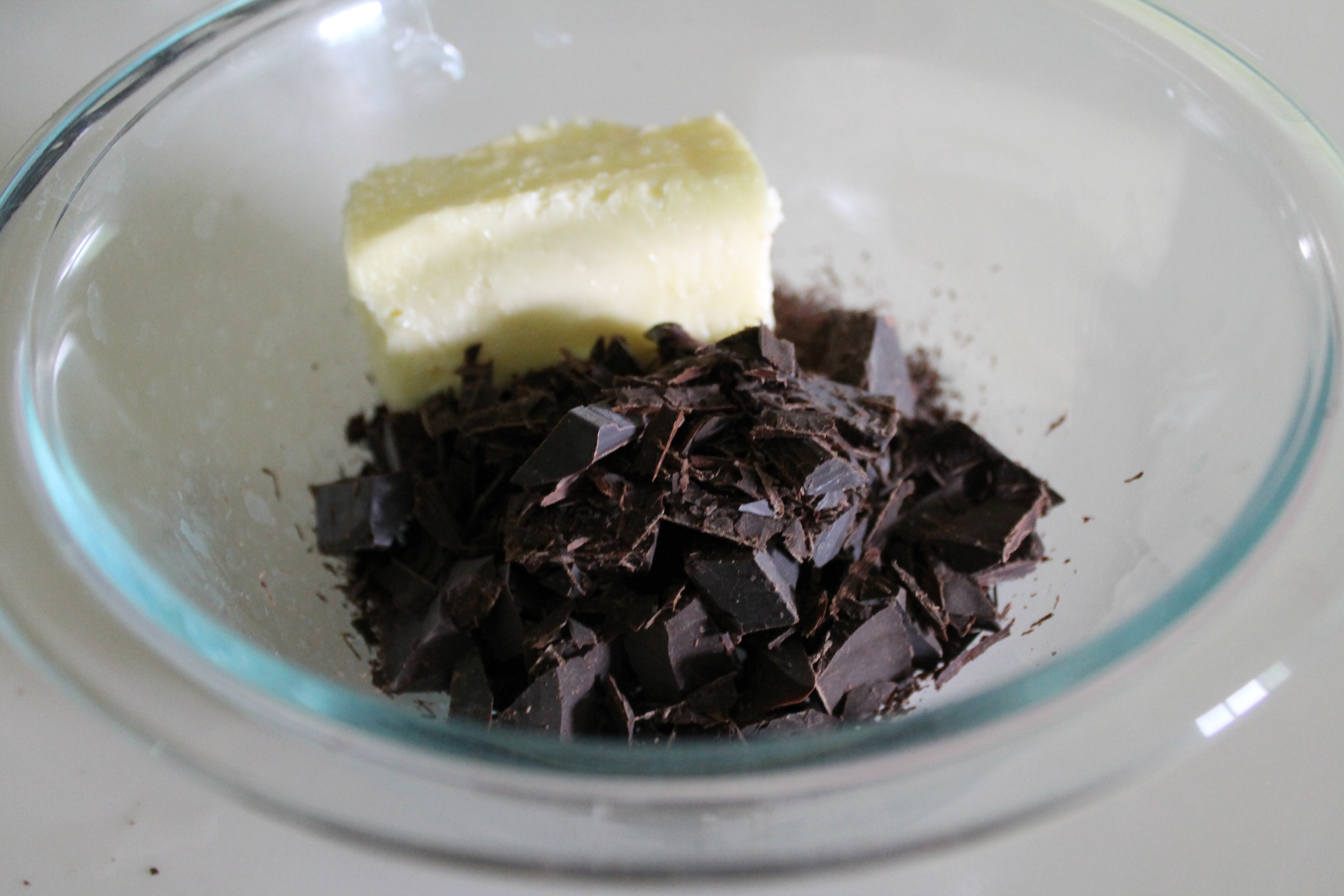 Meanwhile, melt unsweetened chocolate with a little bit of butter* in the microwave. I always start with 30 seconds in the microwave, enough to melt the butter without burning the chocolate, and then continue in 15-second increments, whisking in between, until the chocolate is completely smooth. Set it aside to cool slightly.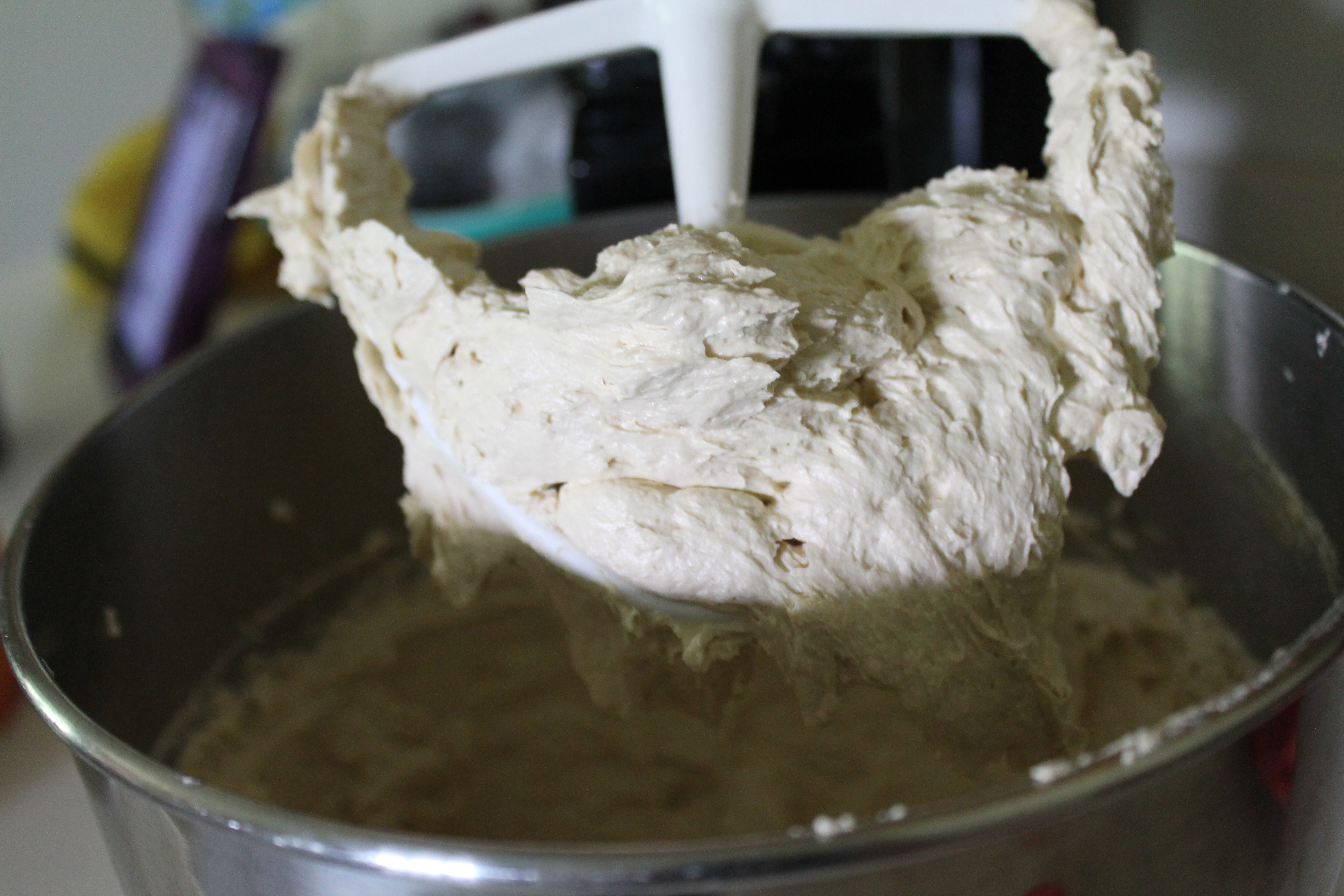 When you are ready to get baking, beat very soft butter* (mine had been on the counter for almost 24 hours) with brown sugar until it is light and fluffy.
*P.S., if you wanted to make this recipe dairy-free, coconut oil would be a great substitution for the butter. I try not to use more expensive ingredients like coconut oil unless I know I will be serving someone with a dairy allergy, but a chocolate-beet-coconut cake sounds delicious to me!
Add the eggs one at a time, scraping in between each addition.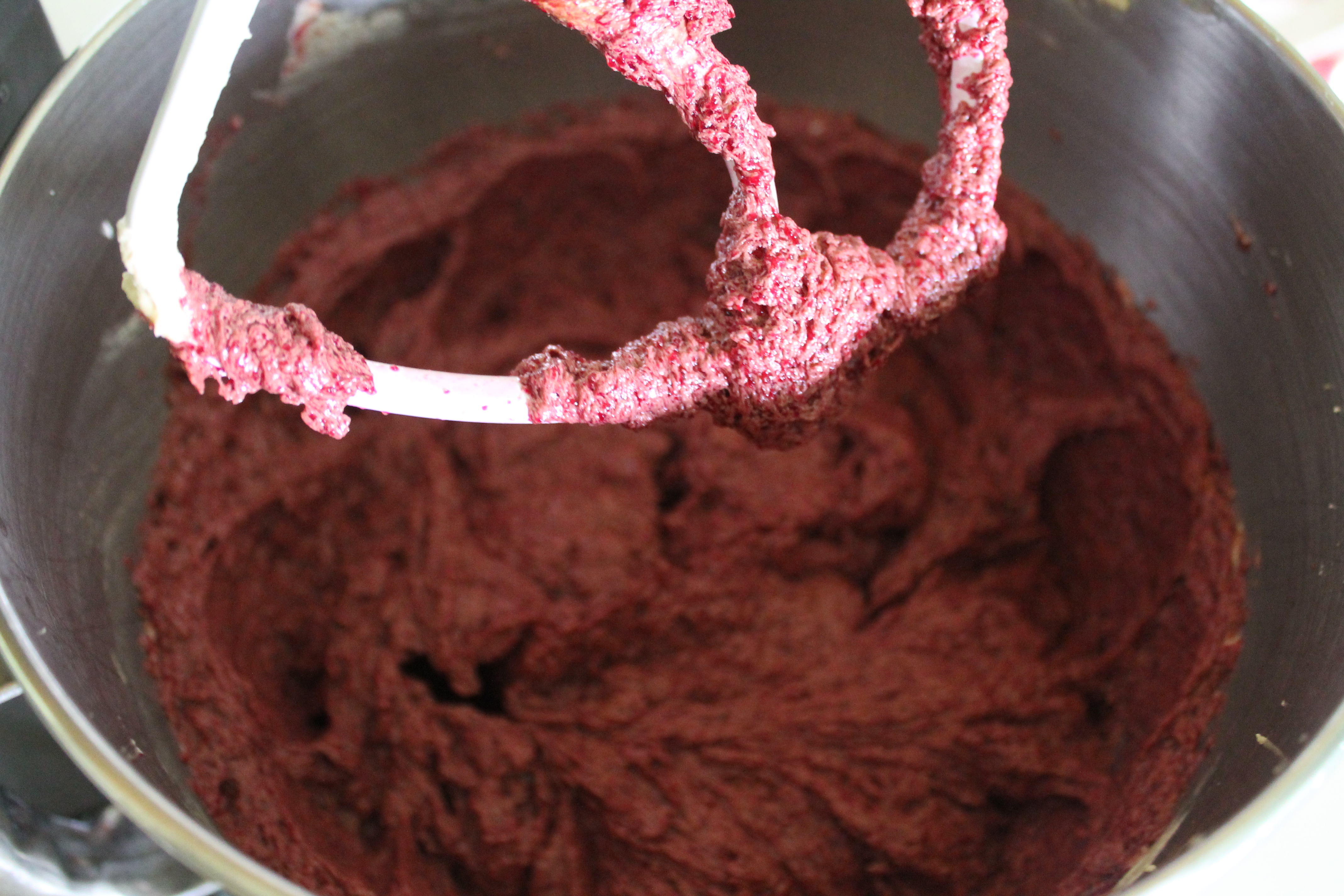 Now add the beet puree, the melted chocolate, and the vanilla to the bowl and stir until completely combined. It will probably look a bit separated, but that's okay!
In a separate bowl, whisk together the flour, cocoa powder, baking soda, salt, nutmeg, and espresso powder. The first time I made this cake, I used all flour and no cocoa powder, and I could definitely taste the beets in this cake. While it wasn't at all off-putting, and I stopped noticing the beet flavor after a few bites, I really wanted my secret cake vegetables to be more secret, so I subbed cocoa for some of the flour the second time around! Super delicious and chocolatey.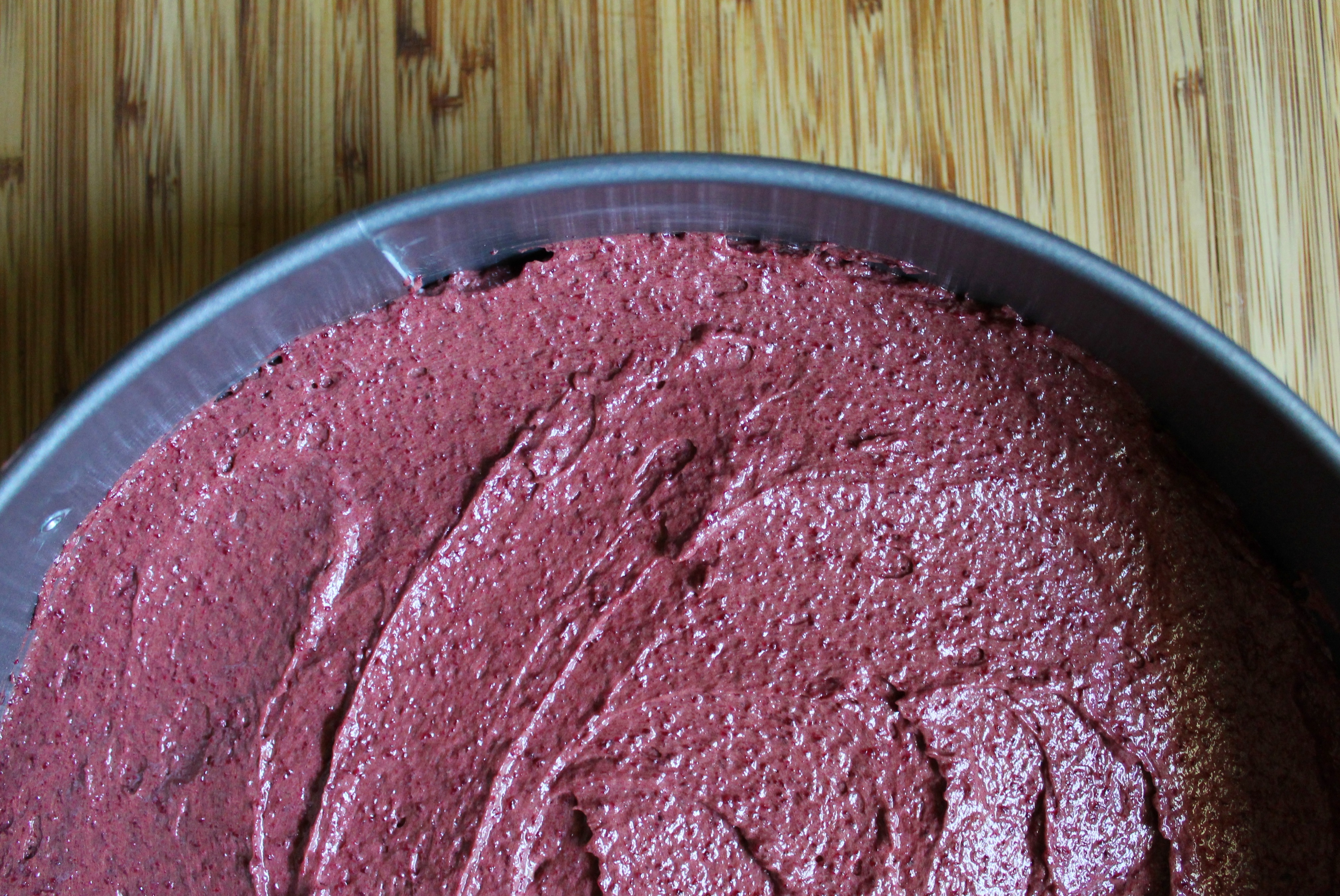 Add the flour mixture to the cake batter and stir until completely incorporated. Holy moly is that one purple cake batter. (Don't worry…it really looks like a normal, brown chocolate cake after it bakes.)
Scoop the cake batter into a greased 10″ springform pan. Of course, if you don't have one of those, you can use two 9″ cake pans and decrease the baking time (start checking at 30 minutes), or you could use a Bundt pan!
I have made this cake several ways, from a large, "everyday" cake (a simple, single layer cake, pictured here), to a frosted layer cake, to cupcakes. What I absolutely love about this cake is that it always bakes perfectly no matter what size or style pan I've used: moist with a light crumb, and flat on top (no unsightly cracks, dips, or domes)! Perfection, in my book.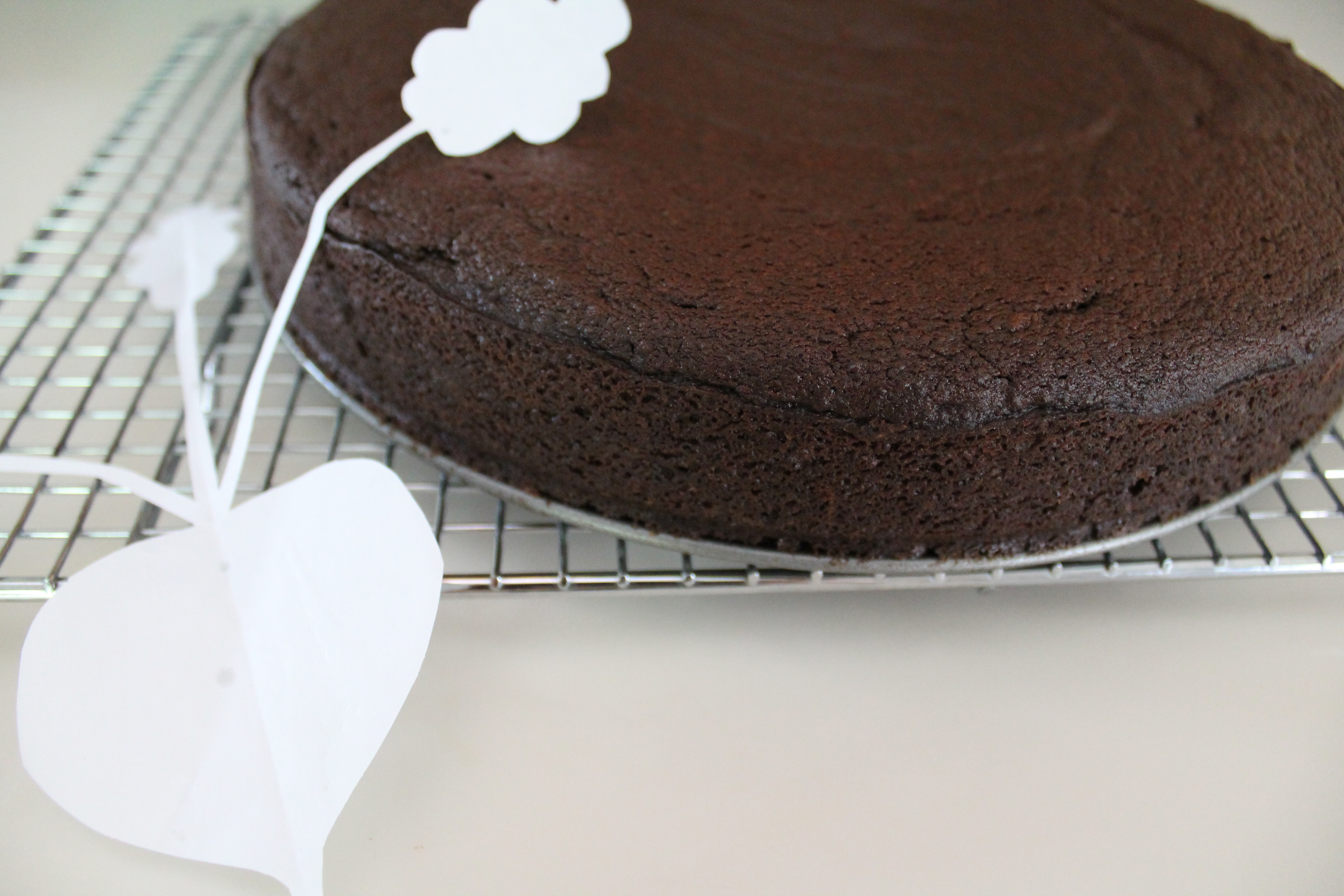 Bake the cake for 50 minutes at 375° (for a 10″ springform pan, or 325° for a Bundt pan), then check the center with a toothpick. The toothpick should come out completely clean; if it doesn't, continue baking another 3–5 minutes, or until the cake can pass the toothpick test.
Let the cake cool in the pan for 15 minutes, then remove the side ring to cool completely.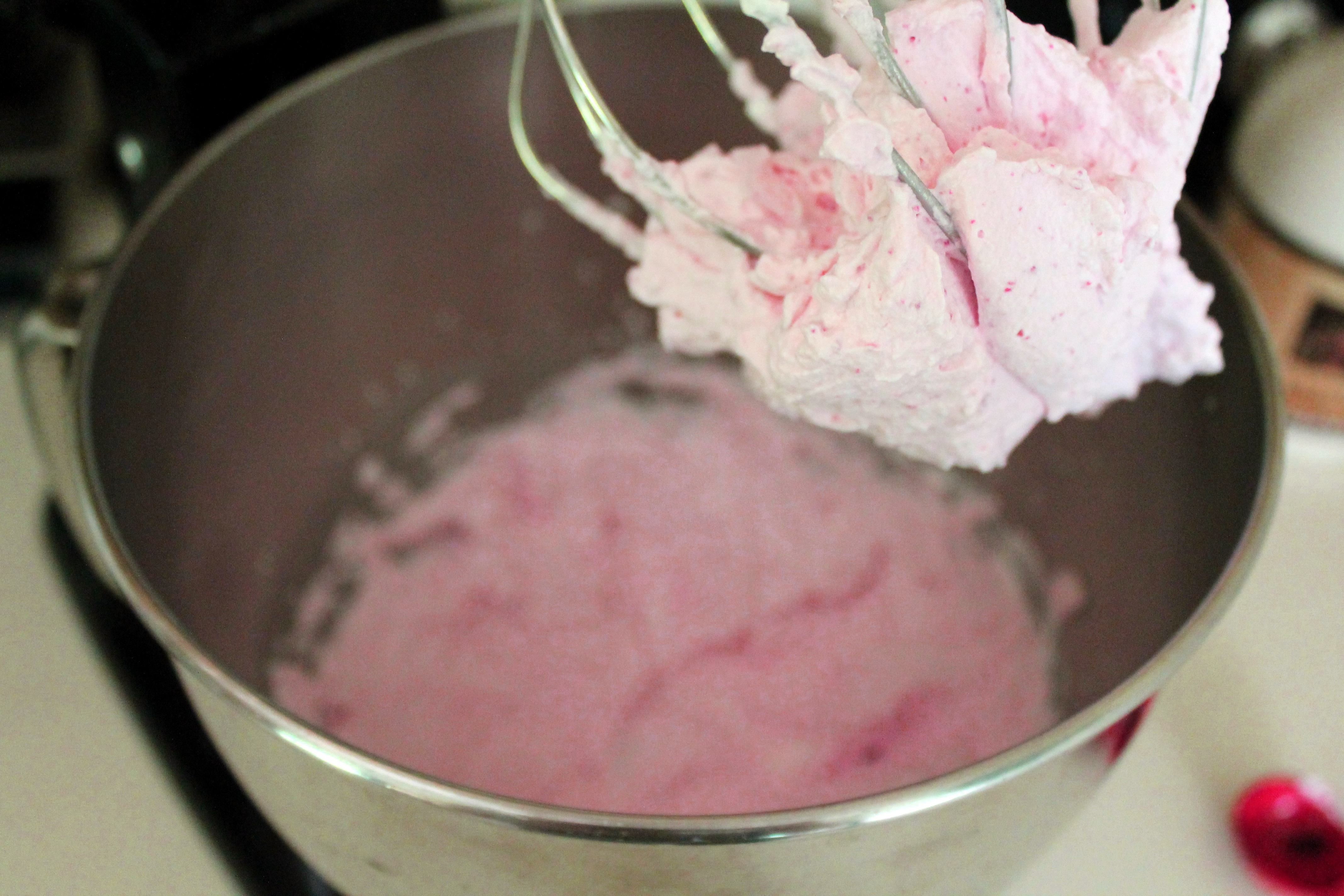 Meanwhile, make some beet whipped cream to serve with the cake! I loved Rebekah's idea of a beet glaze, but since I am trying to go lower sugar, I went in a slightly different direction. Whip 1 cup of cream to stiff peaks, then add a small spoonful of beet puree (if you have any left over; I sure did!) and a tiny drizzle of maple syrup or honey. Stir until the beet is completely incorporated. My beet whipped cream was less purple and more bubble-gum pink, but I did want the beet flavor to be subtle, so I resisted adding any extra beet to the cream. It was delicious on top of the cake!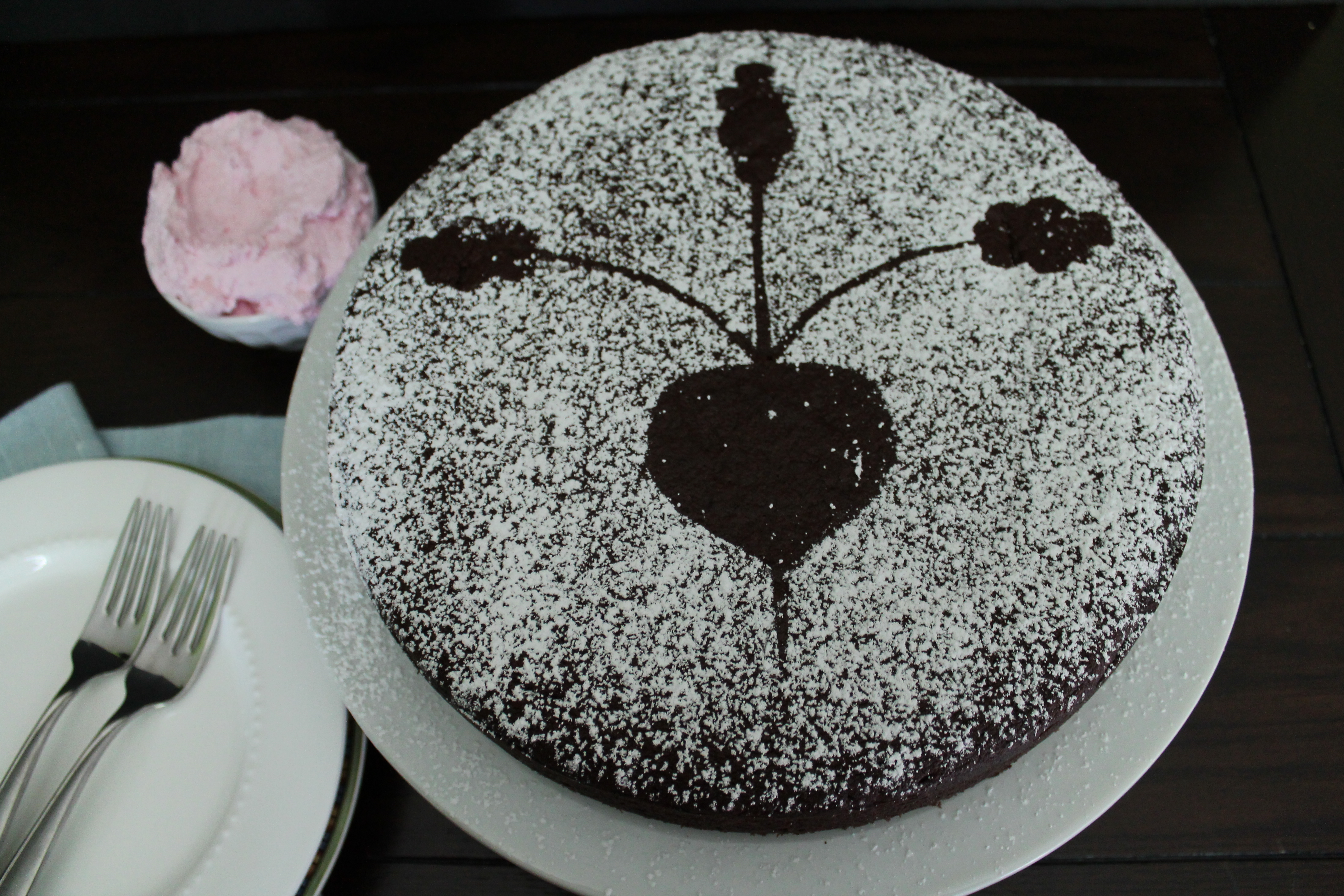 Transfer the cooled cake to a serving plate and sprinkle with cocoa powder or confectioner's sugar. I fell in love with the idea of making a beet design on top of my cake. That, of course, is totally optional. (And, if you skip the deco, you might be able to fool your cake eaters…I'm just saying.)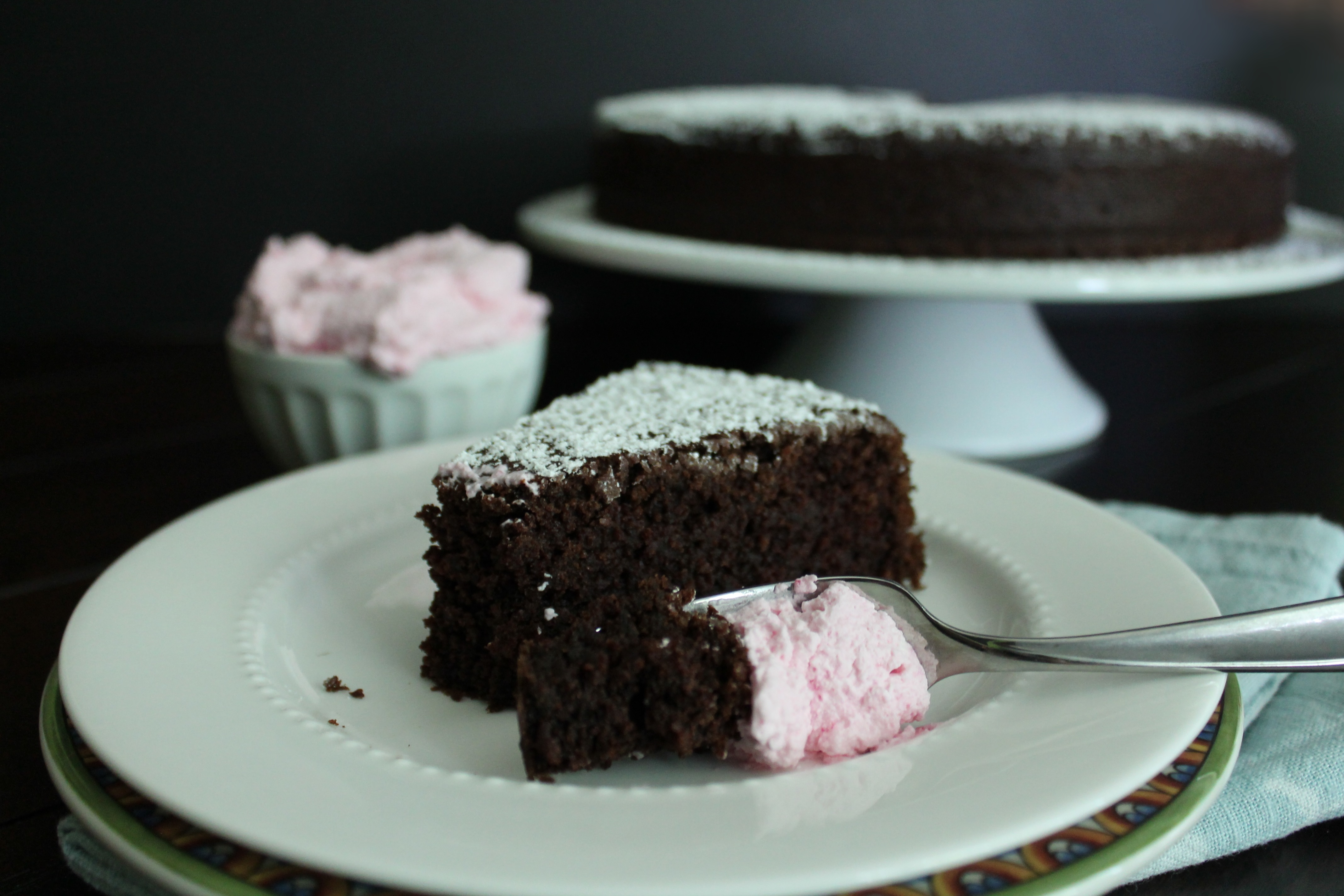 Serve the cake with the beet whipped cream.
Chocolate Beet Cake
lightly adapted from Rebekah's Family, Food, and Fun
serves 12–16
Ingredients:
1 cup unsalted butter, room temperature, divided
1½ cups brown sugar
3 oz. unsweetened Baker's chocolate
3 eggs
2 cups beet puree** plus 1½ tsp.
1 tsp. vanilla extract
1¾ cups flour
¼ cup cocoa powder
2 tsp. baking soda
½ tsp. espresso powder
¼ tsp. salt
¼ tsp. fresh grated nutmeg
1 cup heavy cream
1 tsp. 100% maple syrup
Directions:
Preheat oven to 375°. Grease a 10″ springform pan.
In a mixer bowl, cream ¾ cup butter with the brown sugar until light and fluffy.
Meanwhile, melt the unsweetened chocolate and the remaining ¼ cup butter in the microwave in a microwave safe bowl. Stir the chocolate until smooth. Set aside to cool slightly.
Mix the eggs one at a time into the butter and sugar, scraping the sides of the bowl between each addition.
Add the melted chocolate, 2 cups beet puree, and vanilla extract. Stir until evenly mixed through; the mixture may look curdled at this point.
In a separate bowl, whisk together the flour, cocoa powder, baking soda, espresso powder, salt, and nutmeg. Add the flour mixture to the beet batter and stir until completely incorporated.
Scoop the batter into the prepared pan.
Bake for 50–55 minutes, until a toothpick inserted near the center of the cake comes out clean.
Before serving, whip the cream to stiff peaks. Stir in the remaining 1½ tsp. beet puree and the maple syrup. Garnish the cake with beet whipped cream, slice, and serve.
**To make beet puree, wrap 2 very large or 5 medium beets tightly in foil and roast in the oven for 45 minutes at 450°. Check that they are easily pierced by a butter knife (if they are not, return to the oven until tender). Allow to cool slightly, then hold the beets under running water and rub the skins off. Chop into chunks and puree in a blender or food processor.
Enjoy!
One year ago: Baked Churros with Hot Chocolate
Two years ago: Marbled Mocha Coffee Cake
Three years ago: Feta Alfredo