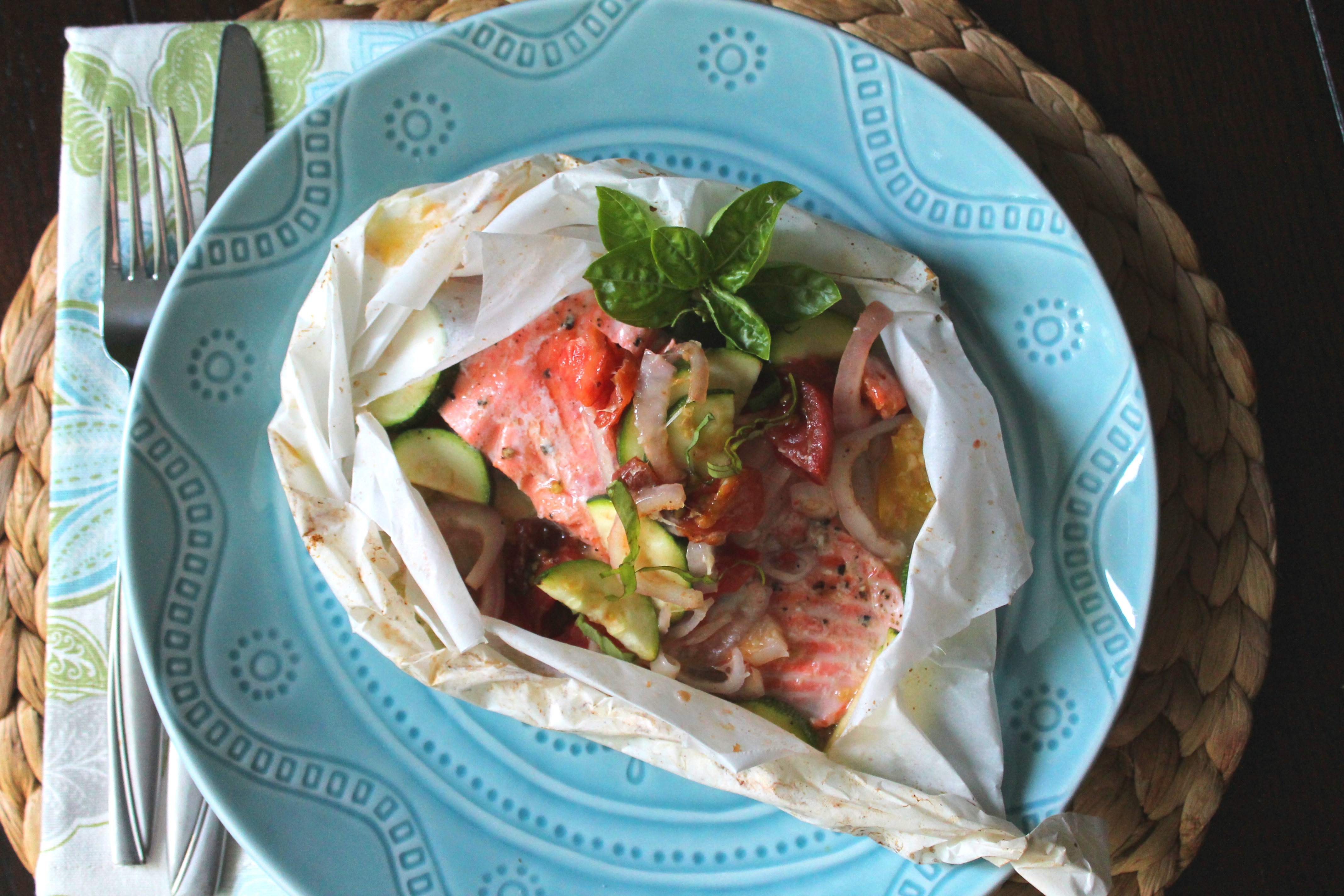 I suffer from side dish apathy.
I have such a hard time thinking up side dishes to serve or including them properly in a meal! The result is that I hardly ever make side dishes unless I am going to a potluck. My cooking style tends more toward making all-inclusive, veggie-heavy, one-dish dinners.
So this month for the Secret Recipe Club challenge, I was actually a bit stumped. Michaela, of An Affair from the Heart, and I are about as different in the kitchen as night and day: she loves cooking meaty dishes and serving fruity desserts, and I avoid both of those things like the plague (my picky eating strikes again)! She readily shares tons of beautiful side dishes, and I can barely figure out where to put a side dish on the plate. (But lest you think I didn't admire the beautiful centerpieces she makes when she entertains, you'd better guess again.)
When I came across a delicious side dish featuring summer's best flavors—and a Bonefish copycat, how exciting!—I immediately plotted a way to turn the simple side into a whole meal.
Baking fish (or even chicken) in parchment together with a huge pile of vegetables is fast becoming one of my favorite ways to put a meal on the table. I love that the meal is contained in a neat little parcel, how all the flavors mingle together as the fish cooks, and most of all, that there is so little effort and so few dirty dishes involved!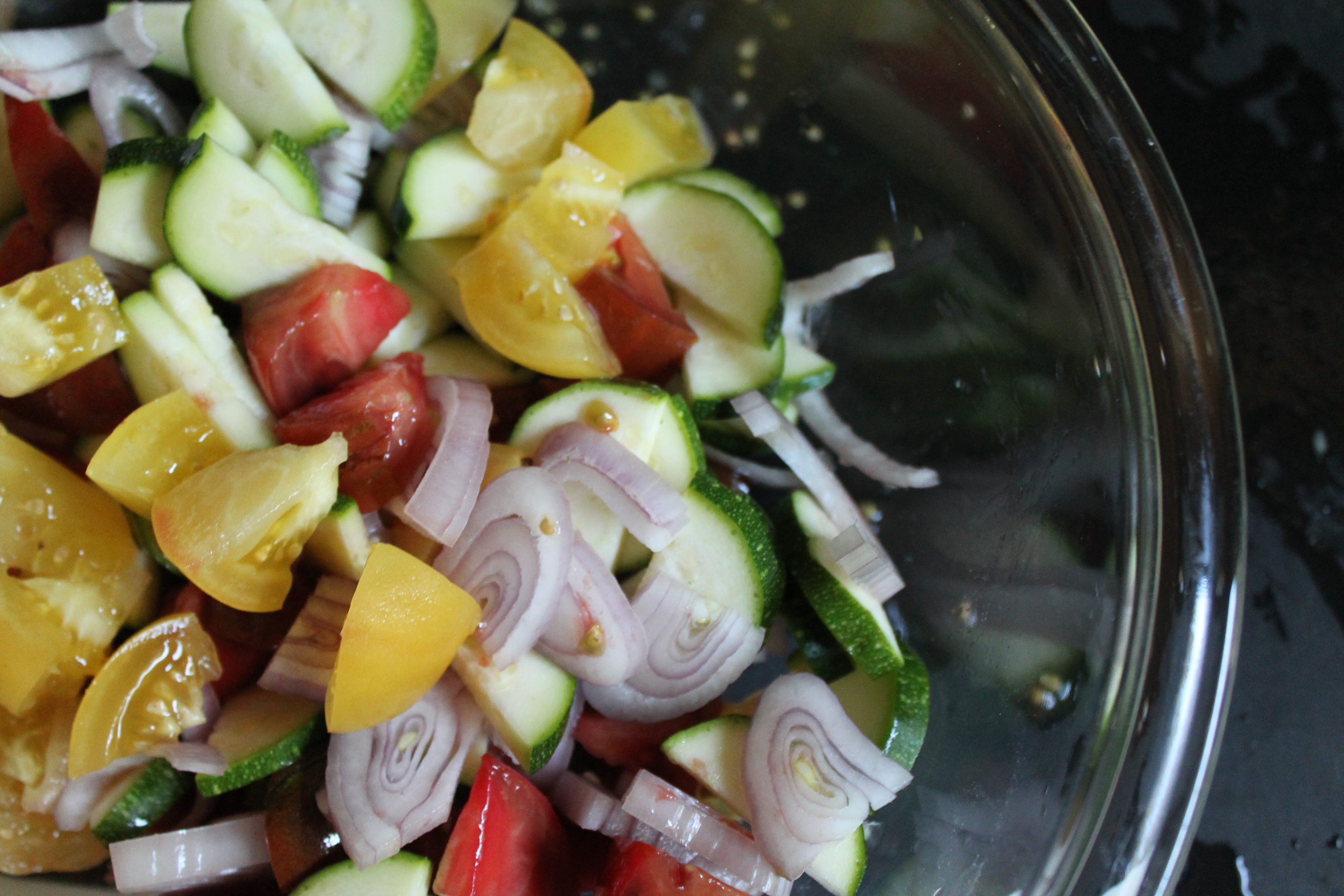 So, we start with prepping the vegetables. It took me about 5 minutes to chop up 4 small, ripe tomatoes; 2 small zucchini; and a shallot. Toss the veggies with a little sea salt, black pepper, and olive oil and move on to the fish! (Of course, if you would prefer to make the veggies as a separate side dish, you can always toss this mixture into a large pan and sauté for 5 minutes, until the shallots begin to soften, and then top with parmesan and basil.)
You can use any fish you like, but salmon is a favorite of mine. It has beautiful flavor and color, and while it absorbs the flavors of the veggies in the parchment packet, it still maintains some of its own integrity.
It's not strictly necessary to skin the fish, but if you do, then the bottom of the filet will be able to absorb flavor as well! I had the fish guy skin mine, because it's not a job I relish, myself.
Season the top of the fish with sea salt and freshly ground black pepper.
Now combine a chunk of butter, several dashes of garlic powder, and the juice of 1 lemon in a small bowl and microwave until melted together.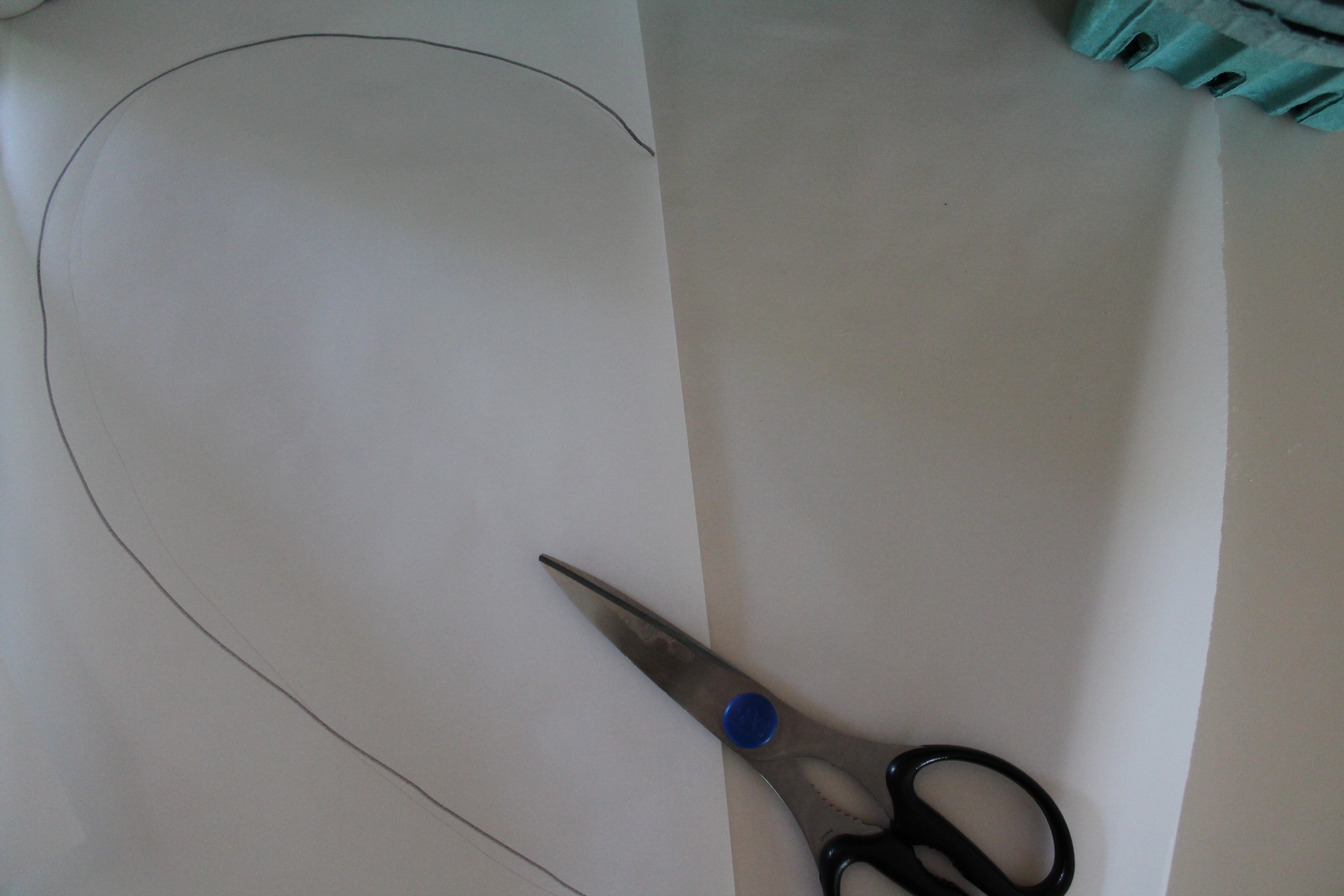 Let's assemble our parchment packets! First of all, cut 4 large rectangles of parchment into large hearts. I generally fold in half and trace half a heart on one side, then cut so that both sides end up roughly the same curvature. The heart shape will allow you to seal the parcel easily so everything can cook together.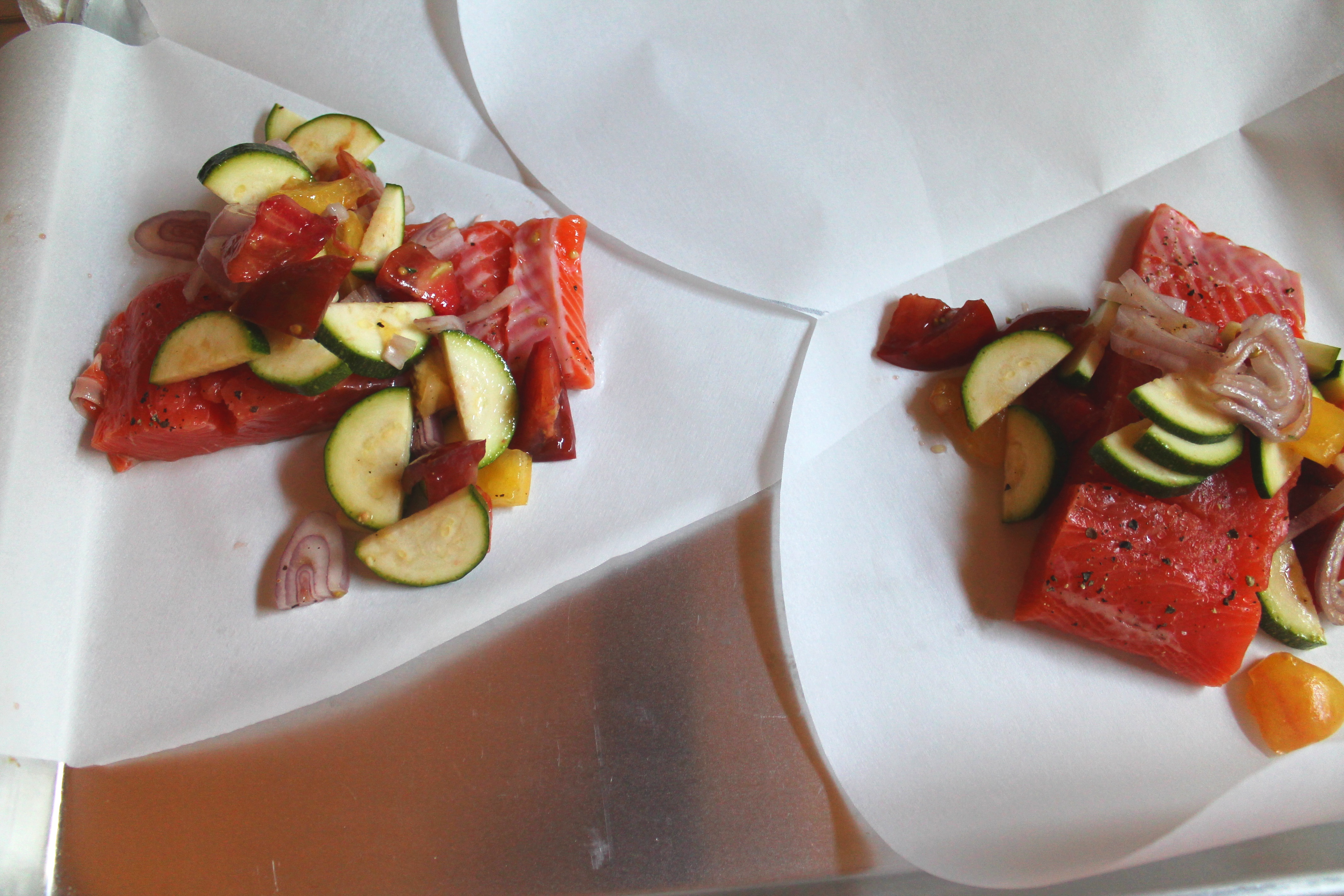 Lay a piece of seasoned fish on one side of each parchment heart. Drizzle a little lemon butter over the fish.
Top with the zucchini and tomato salad, then grate a layer of parmesan over the top.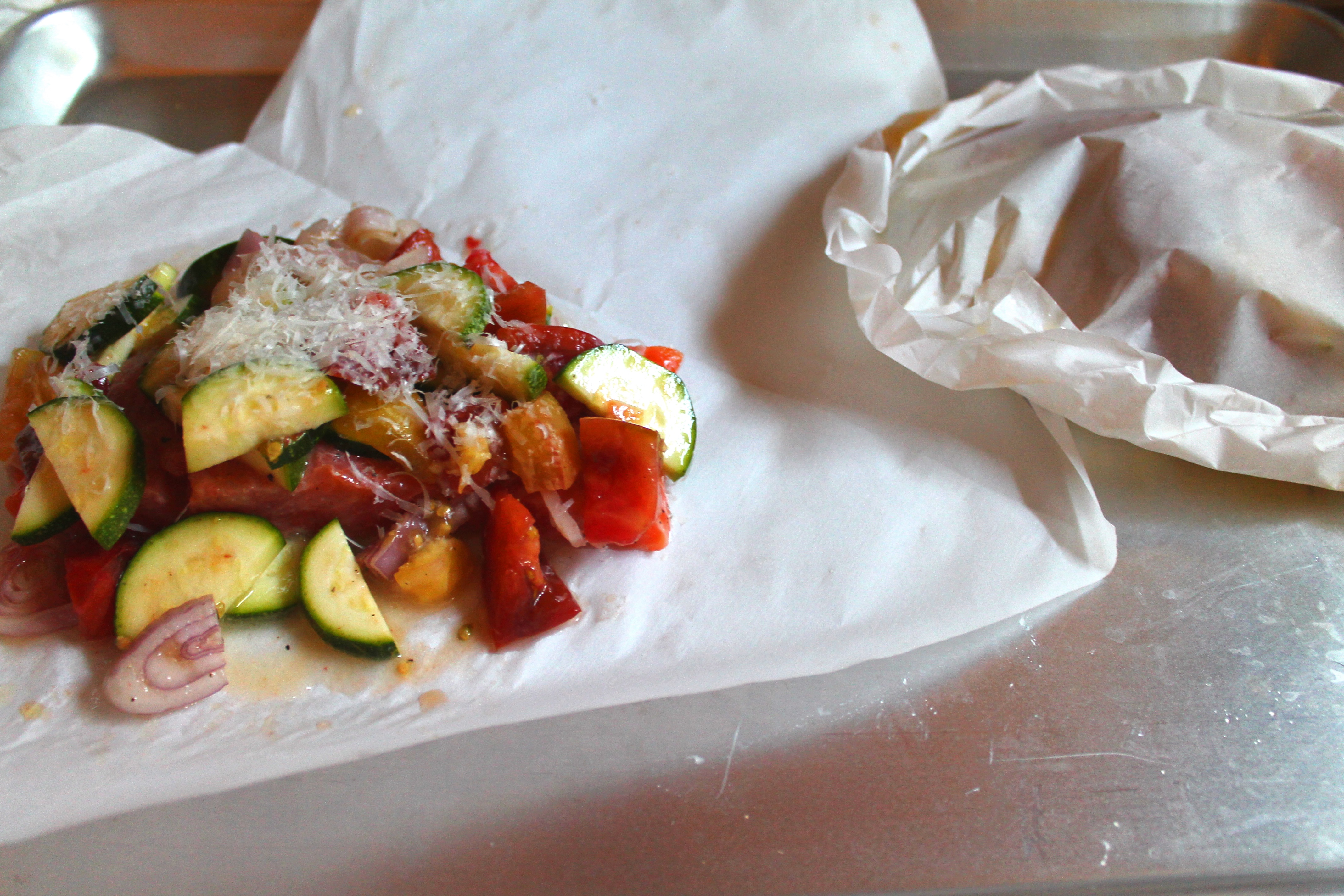 Seal up the parchment packets: fold the top half of the heart over the bottom; working from the (formerly) center dip in the heart, fold the top and bottom edges over each other, moving all the way to the point at the bottom; twist the point around itself to hold the crimped edges closed.
Ta-daa! Little dinner packets.
Bake for 10–12 minutes at 400°, depending on the thickness of the fish. Allow the packets to sit for at least 3 minutes, so the steam can dissipate.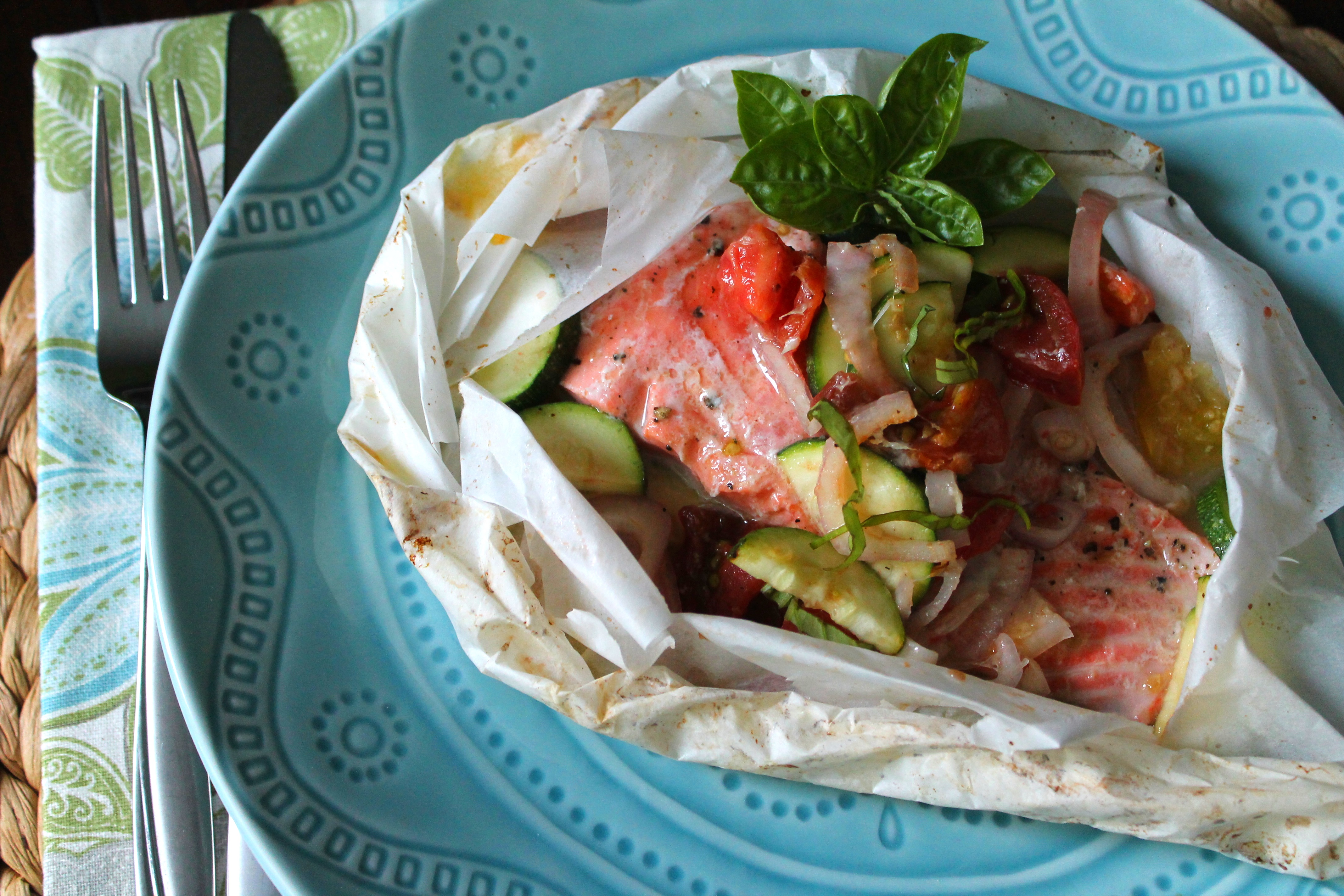 Cut the packets open on top and fold back the edges, leaving a sort of shallow paper bowl. Sprinkle the tops with fresh basil and serve.
Salmon en Papillote with Zucchini and Tomatoes
veggies adapted from An Affair from the Heart
serves 4
Ingredients:
2 medium or 4 small, ripe tomatoes
2 small zucchini
1 large shallot
1 tbsp. olive oil
sea salt and black pepper
4 6oz. salmon fillets
2 tbsp. unsalted butter, melted
1 lemon
¼ tsp. garlic powder
4 tbsp. fresh shredded parmesan
6–8 leaves fresh basil, slivered
Directions:
Preheat oven to 400°.
Cut the tomatoes, zucchini, and shallot in a large dice. Toss with olive oil and season with salt and pepper.
Season the tops of the fish with salt and pepper.
Cut 4 sheets of parchment paper into large hearts, approximately 14″ wide and 10″ tall. Lay a piece of salmon on one side of each heart.
Stir together butter, juice of 1 lemon, and garlic powder. Drizzle 1 tbsp. of the lemon butter over each salmon fillet.
Top each piece of fish with about 1 cup of the zucchini and tomatoes and 1 tbsp. parmesan.
Seal the parchment packets and set on a large baking sheet.
Bake 10–12 minutes, or until fish is cooked through. Allow the packets to rest for 2–5 minutes, then cut open the tops and sprinkle with basil.
Enjoy!
One year ago: Sweet Corn Risotto
Two years ago: Neiman Marcus Cookies
Three years ago: Chocolate Mousse Buttercream