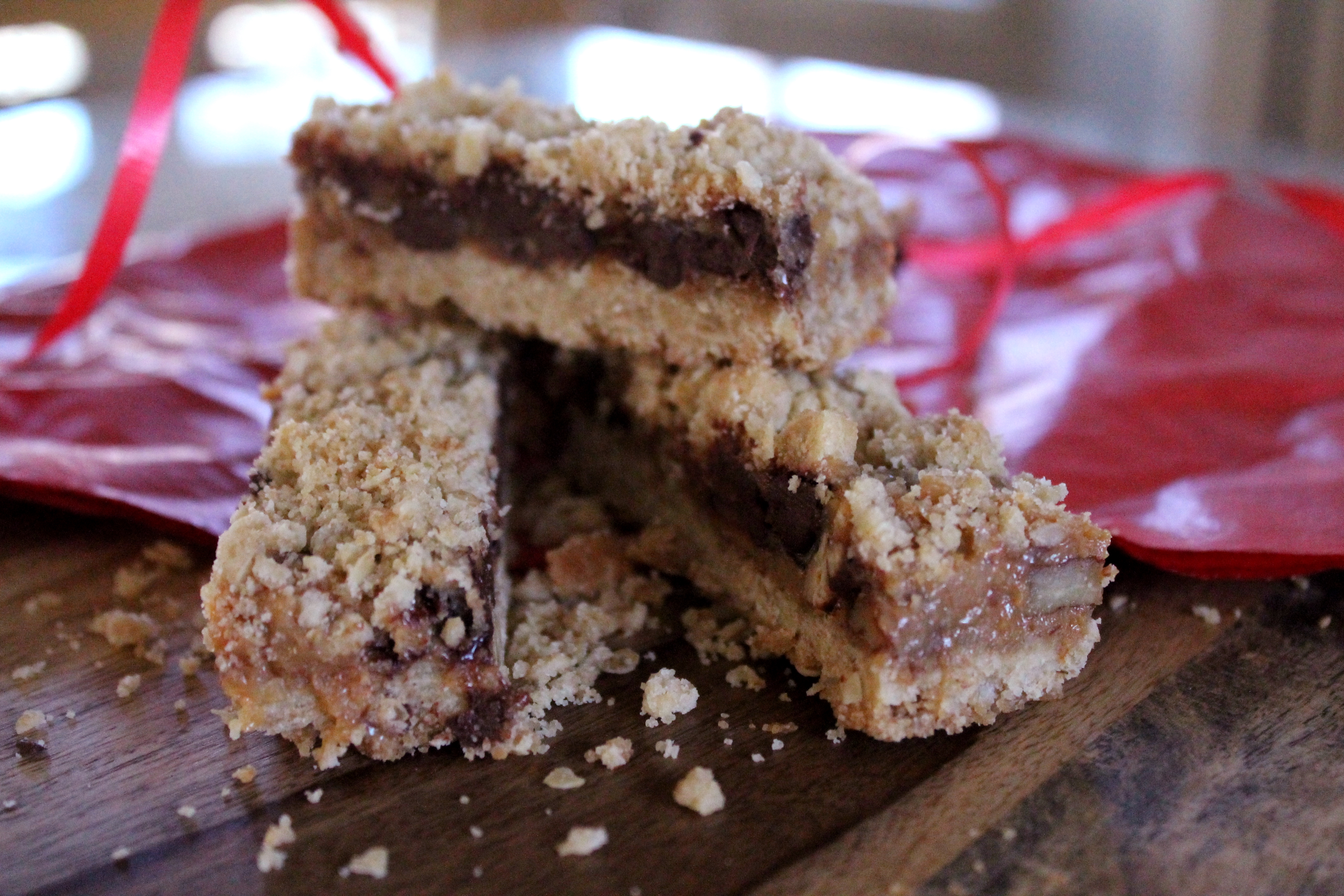 I have to admit that the last two months have been the busiest, most stressful two months I can remember.
I really am going to tell you all about that sooner or later…but for now I want to focus on the fact that the Christmas season is a horrendously busy, often unpleasantly stressful time of year for almost everyone! Between the decorating and the gifting, the planning and the gathering, who really has time to bake 12 different batches of cookies?
Baking Christmas cookies is a huge part of my Christmas memories. It's actually more important to me than decorating the tree (*gasp!*). My mother used to bake a dozen different kinds of cookies to give away to family and friends, and it's a tradition I just love to carry on.
But this year I am trying to be realistic. I am slowly realizing that, like most people in the world, I do not actually have the time to make six different recipes that require chilling, rolling, shaping, frosting…. What I need is simplicity!
And that is exactly why we must make turtle bars and we must make them now.
I was absolutely thrilled to be assigned the blog It Bakes Me Happy for the December Secret Recipe Club swap. Emily's recipes are simply drool-worthy. From fudge to butter cookies, her blog is a baker's playground!
But turtle treats call to me. In case you don't know, turtle is a bizarre name for a delicious flavor combination: chocolate, caramel, and pecans. You may have had turtle candies, which are sort of turtle shaped, with a few lumpy nuts covered in caramel and a chocolate shell.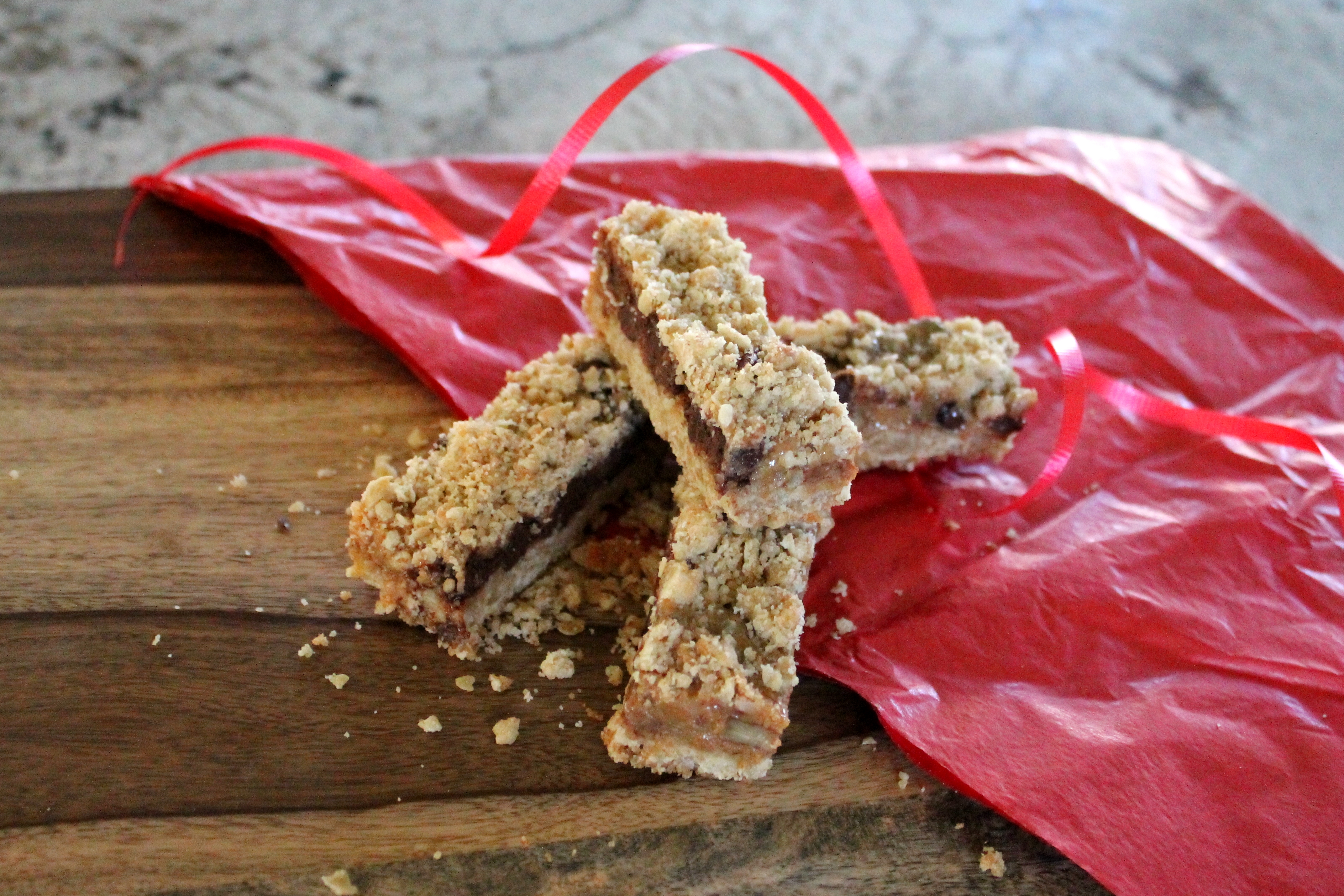 Here, we are taking the original candy concept and applying it to a bar cookie! These babies are sort of like revel bars with an oaty cookie base, a sweet marbled layer, and more oatmeal dropped on top. They take almost no time and no effort, which makes them perfect for this busy holiday season!
In a large bowl, mix together flour, oats, brown sugar, and melted butter until coarse and crumbly. I will admit that next time, I am definitely adding more butter (upping the total butter from ¾ cup to 1 cup). Calories be darned! I thought the cookie part of these cookies was a bit dry—the bottom was nice and crisp, but the top was more of a crumble that crumbled right off. Butter always adds some extra richness, and we can't go wrong with that!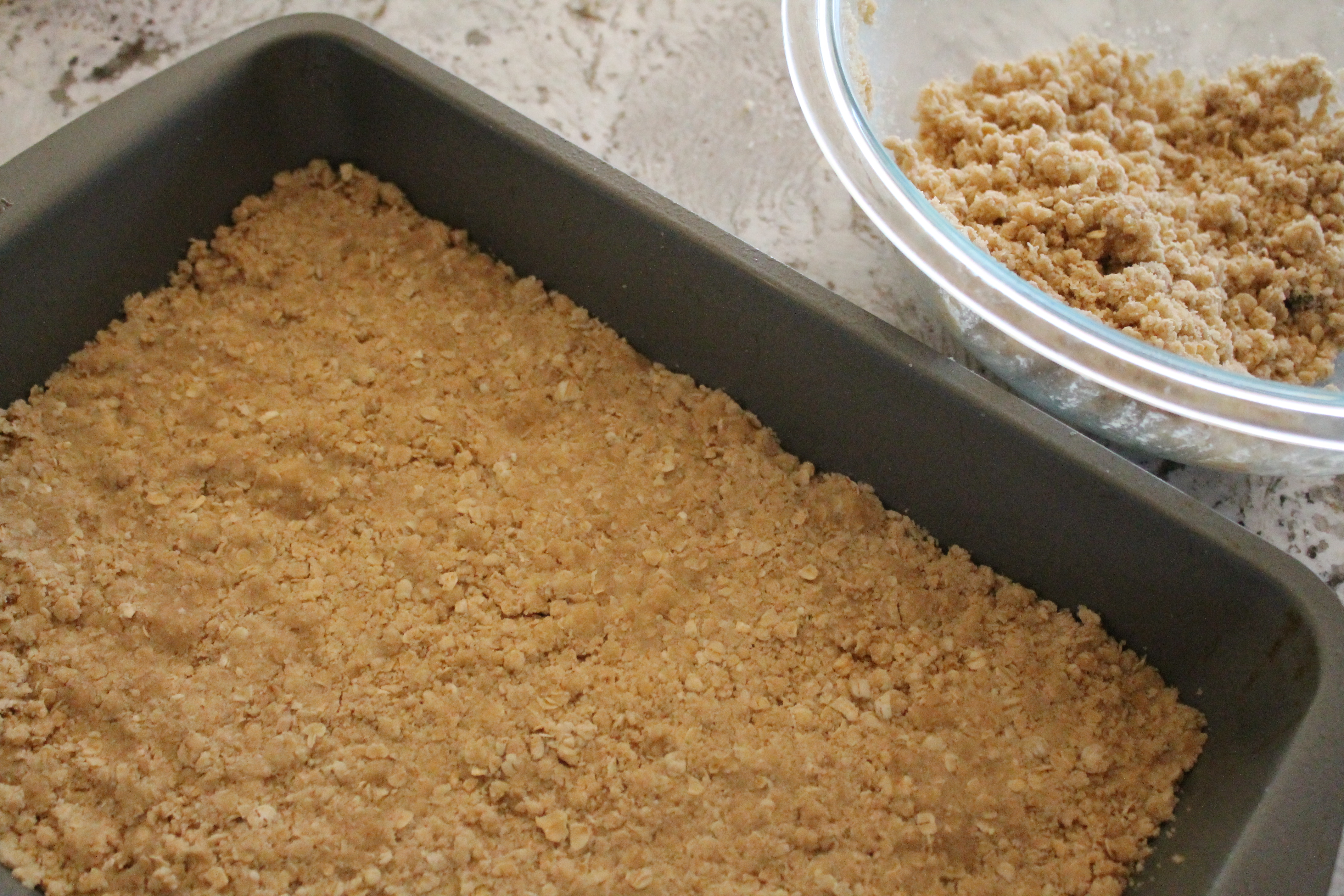 Press about two-thirds of the mixture into the bottom of a large baking pan. Bake this bottom layer about 10 minutes, just to set it.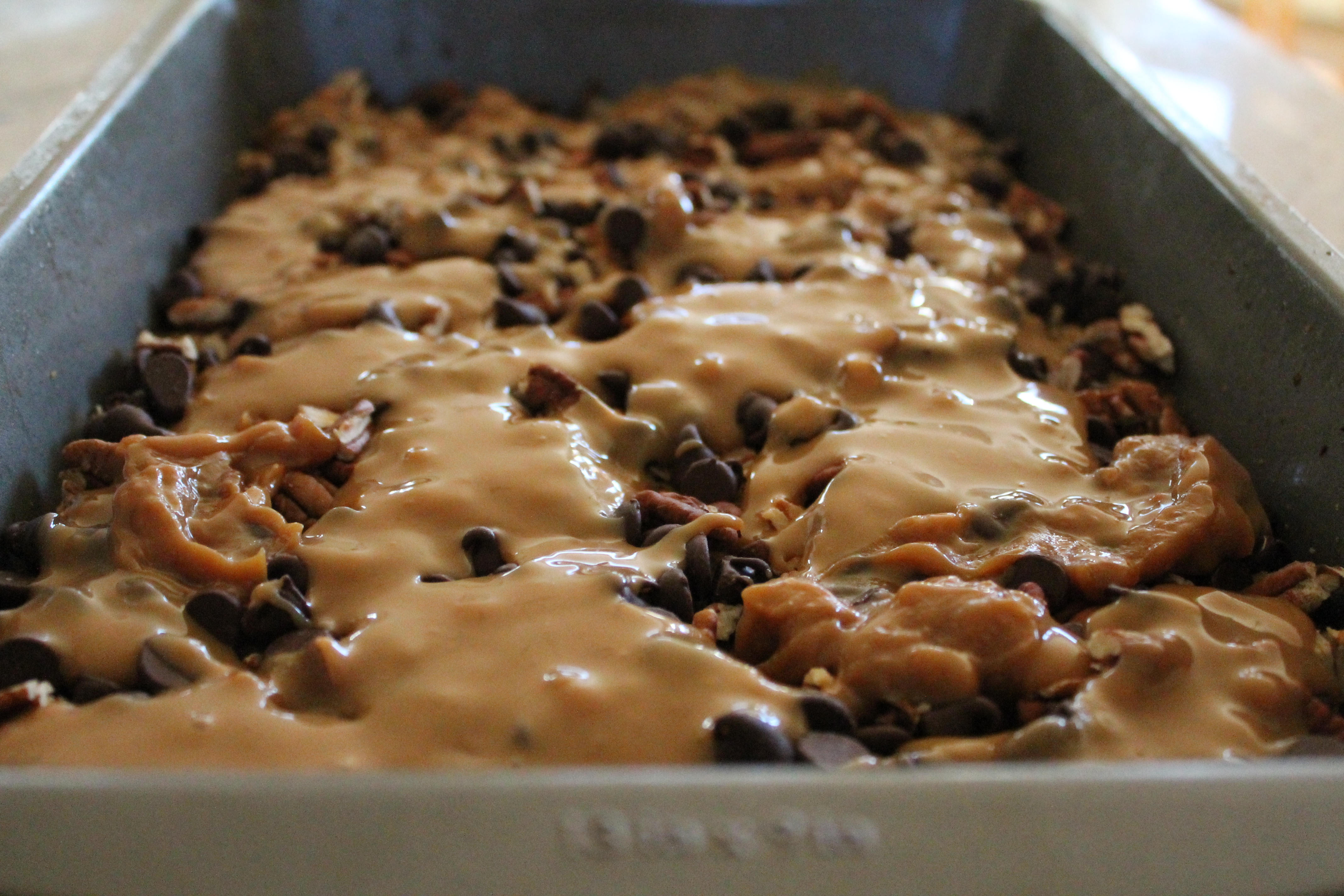 Now sprinkle on the chocolate chips, chopped toasted pecans, and dulce de leche.
I have learned that pecans are truly amazing if you toast them. Nowadays, I usually buy a big bag and toast them all at once, then stick the toasted nuts in the freezer until I need them. If you want to toast your pecans (which I highly encourage!), then spread them in a single layer on a cookie sheet and bake them for 8–10 minutes at 350°, tossing them once halfway. They should be slightly darkened and will smell absolutely amazing when they are done!
I also used homemade dulce de leche, which takes basically no effort (set it in the slow cooker and go to sleep!), but you could definitely substitute your favorite caramel sauce. I find that when I make dulce de leche (which I do simply because I am far more likely to have sweetened condensed milk in my pantry than caramel sauce), it is usually stiff and not pourable when I am ready to use it. No worries! Just set the open can over a burner on very low heat for 5 minutes and it will soften enough to pour. Though, as you can see…it didn't pour beautifully. Oh well!
Drop the remaining oat mixture on top of the sweet candy layer.
Bake the bars for 20 minutes, until the chocolate and caramel have oozed together and the cookie topping is set. Let cool completely before cutting.
Turtle Bars
lightly adapted from It Bakes Me Happy
makes 24 large bars
Ingredients:
2 cups flour
1½ cups quick-cooking oats
¾ cup brown sugar
¾ cup (12 tbsp.) salted butter, melted*
1 cup toasted pecans, chopped
1 cup chocolate chips
14 oz. dulce de leche or other caramel sauce
Directions:
Preheat oven to 375°. Lightly grease a 9″x13″ baking pan.
Combine the flour, oats, brown sugar, and butter in a large bowl, working the butter into the dry ingredients with clean hands until a sandy mixture forms.
Press two-thirds of the oat mixture into the bottom of the prepared pan. Bake for 10 minutes.
Sprinkle the pecans and chocolate chips evenly over the baked cookie crust. Drizzle the dulce de leche over top. Drop the remaining oat mixture in small clumps over the caramel drizzle.
Bake another 20 minutes, or until the cookie crust is lightly browned and set.
Let cool completely in the pan on a wire rack before cutting.
*Note: Next time, I will use 1 cup butter for a moister cookie layer.
Enjoy!
One year ago: Cream-Braised Brussels Sprouts
Two years ago: Butternut Squash Galette
Three years ago: Cookie Cutter Giveaway and Russian Teacakes