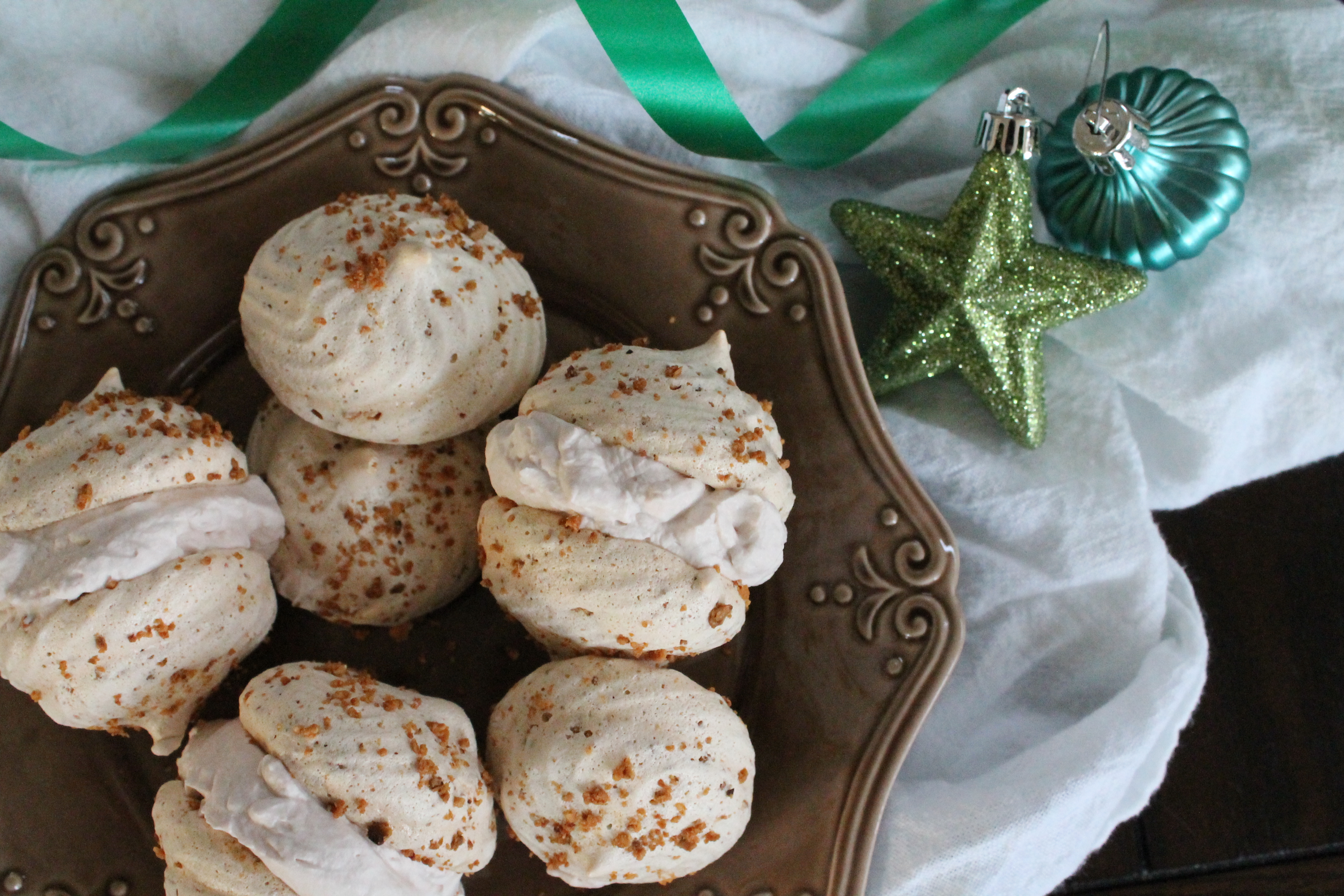 December is baking month. It's the month when I abandon any pretense of eating healthily and just enjoy cookies!
Which is exactly why I joined the SRC Cookie Carnival this year. Because what could be better than a blog exchange devoted to cookies during a month when that's all I do in my kitchen anyway?
I was so happy to find a recipe for hazelnut meringues over at Chit Chat Chomp.
Here's why: I really enjoy making cookies and treats to share during this holiday season. I have been known to host parties specifically devoted to sharing cookies I have baked. This year I packed a dozen cookies into little boxes and brought them around to my new neighbors. Hey, it's a season of giving! But I also have a growing contingent of friends and family with food allergies, wonderful folks who just can't eat cookies made with butter or wheat.
Meringues are a perfect solution for me! Meringues are delicious and easy. You can fill them with anything or nothing—though I must admit that I am partial to toasted hazelnuts! You can bake several batches in a day, or "forget" them overnight. Meringue cookies are just lovely!
Leigh over at Chit Chat Chomp hails from Australia and professes that she loves French treats but only recently grew into an appreciation for cookies. I was super tempted to make one of her yummy truffle recipes (also gluten free, but not so much with the dairy), but then I just couldn't resist these meringues!
In case you don't have a food scale or shrink in fear when you see the word gram, I "translated" this recipe into American measures while I worked. Be bold. Meringues, especially for non-macaron purposes, are fairly forgiving.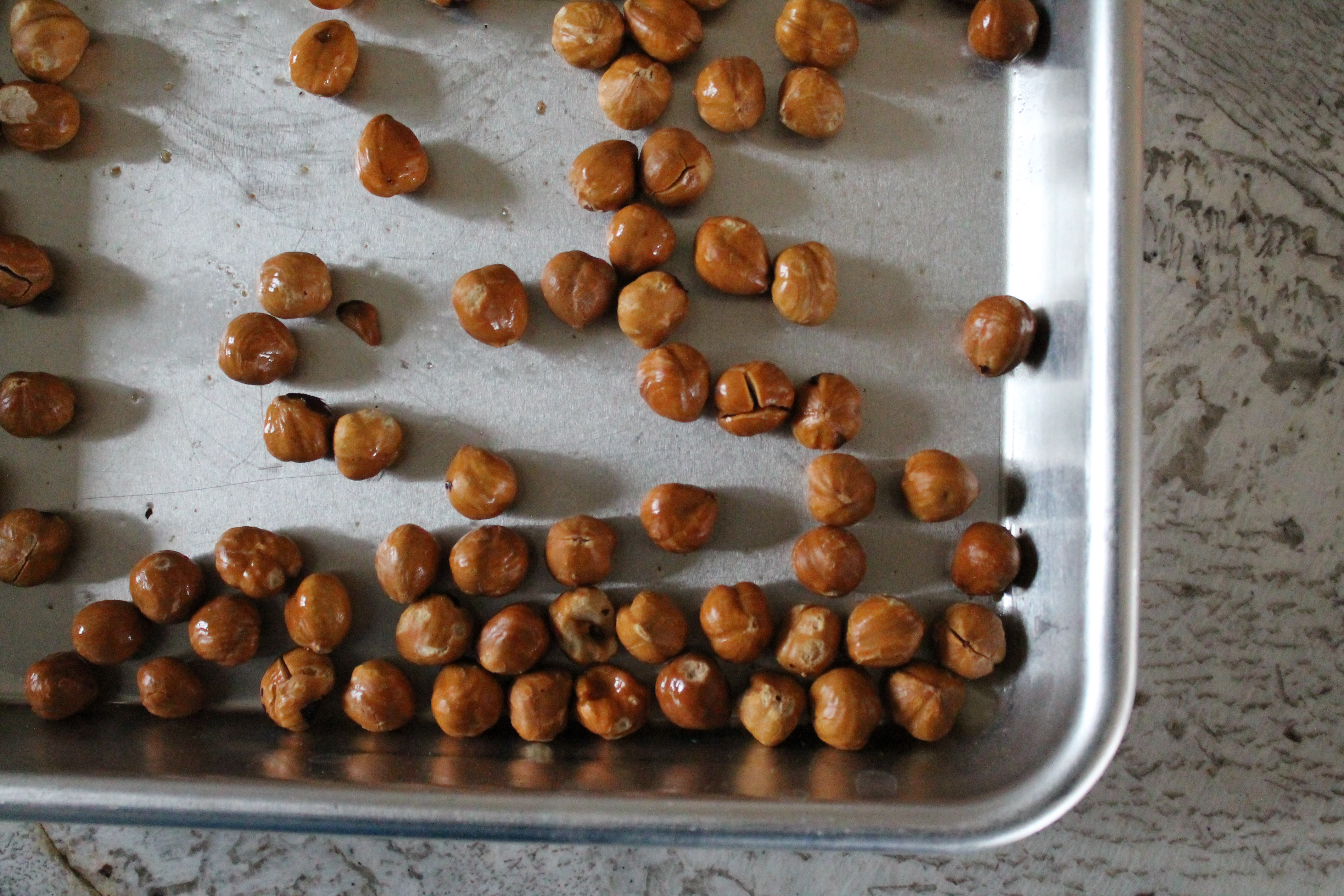 First of all, we must toast the hazelnuts. Raw hazelnuts taste almost like nothing…just a hollow shell of their delicious, toasty flavor. I toasted mine for about 20 minutes at 350°, shaking the pan every 5 minutes. When they were a deep golden color and very fragrant, I set them aside to cool and then processed them into crumbs in the food processor. We aren't looking to make a nut paste or flour here, but we do want to get them small enough to fold into the meringue later without leaving enormous chunks.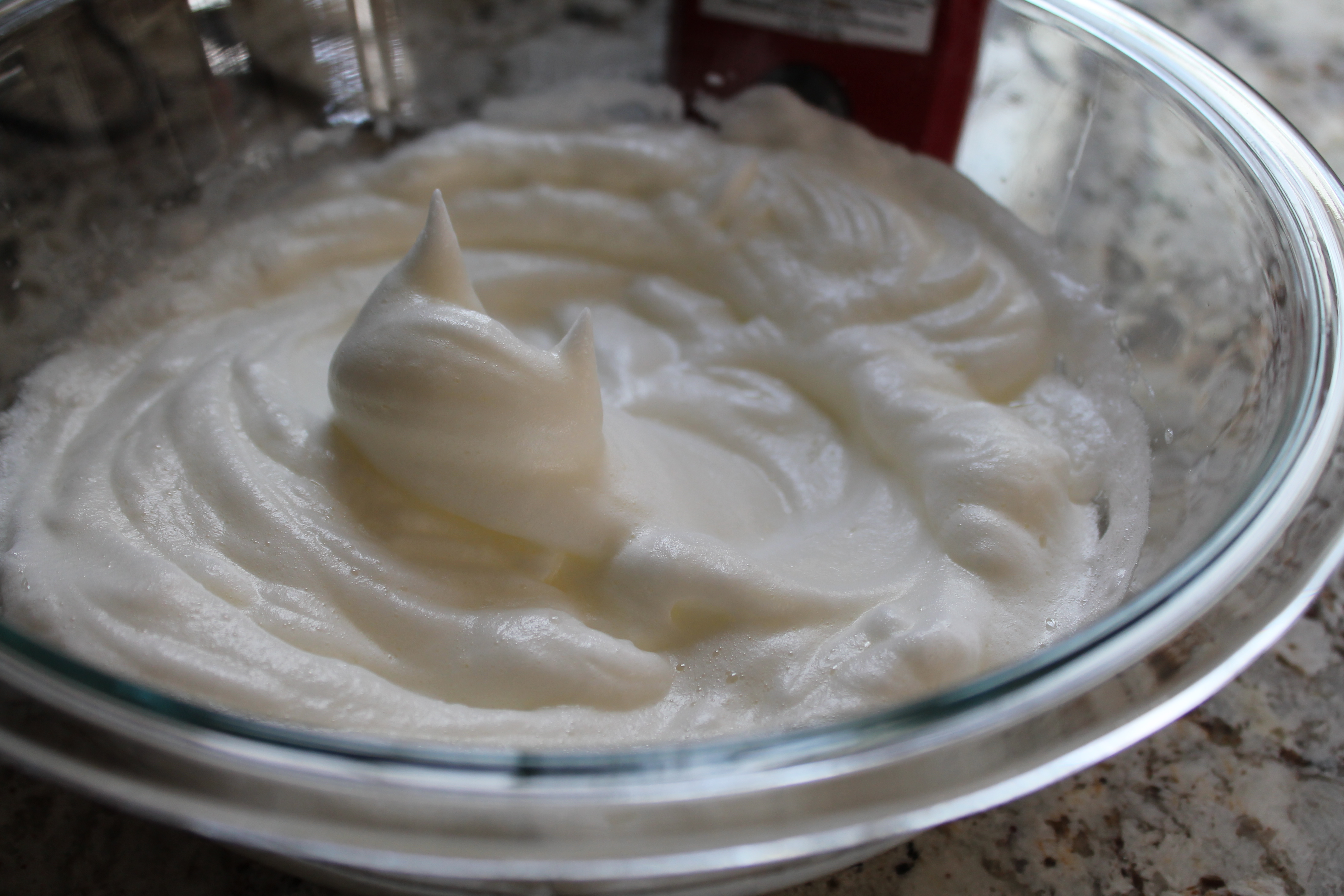 On to the meringue! Start by beating egg whites into soft peaks. I used my hand mixer (mainly because my stand mixer bowl was full of another cookie dough chilling in the fridge), and it worked out just fine!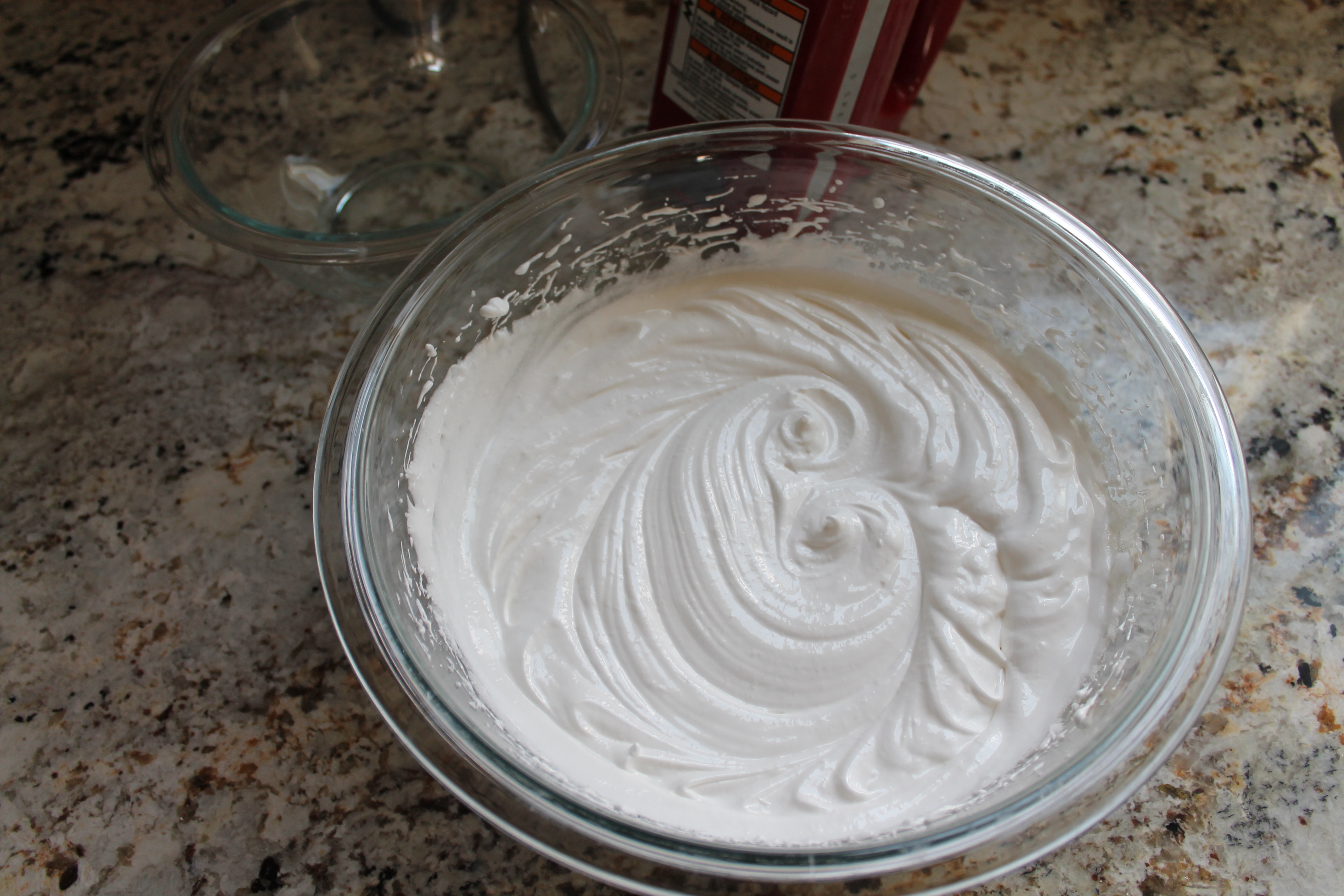 When the whites are stiff enough to hold their shape, gradually start pouring in the white sugar with the mixer running. The meringue will become glossy and stiff as it absorbs the sugar.
Castor/caster sugar, technically, is superfine white sugar. You can buy it special here in the States, or you can make it by whizzing regular white sugar in the food processor. I decided just to use regular white sugar, because this year I am all about the simple side of baking Christmas cookies!
The meringue is done when it is stiff enough to stay in place as you turn the bowl upside-down.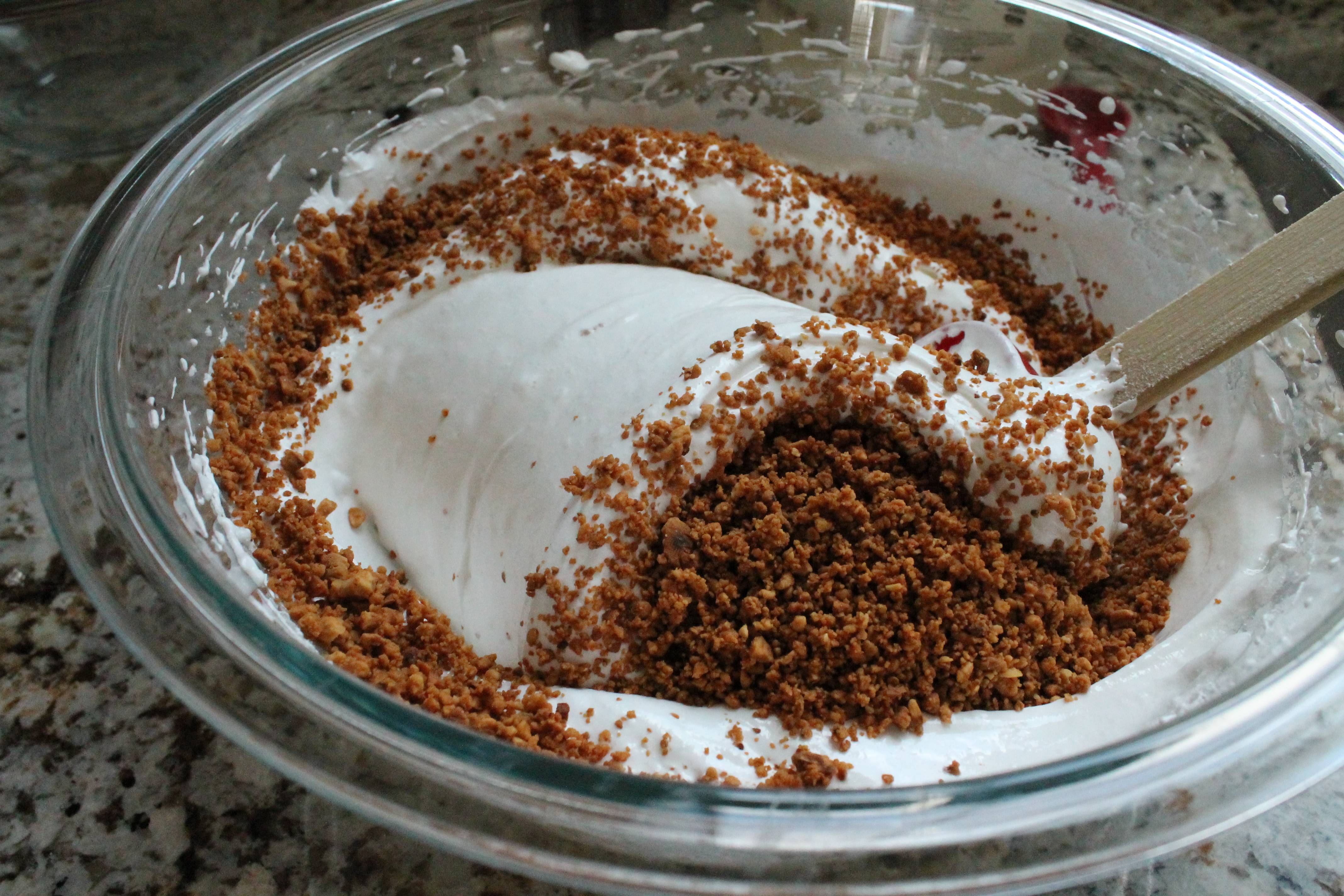 Now fold in vinegar and finely chopped hazelnuts. The meringue may seem a bit looser with the extra liquid, but that's okay!
Pipe or spoon the meringue onto cookie sheets in small mounds. They won't puff too much, but leave at least 1″ between them. You can garnish them with extra toasted hazelnut crumbles if you want, too!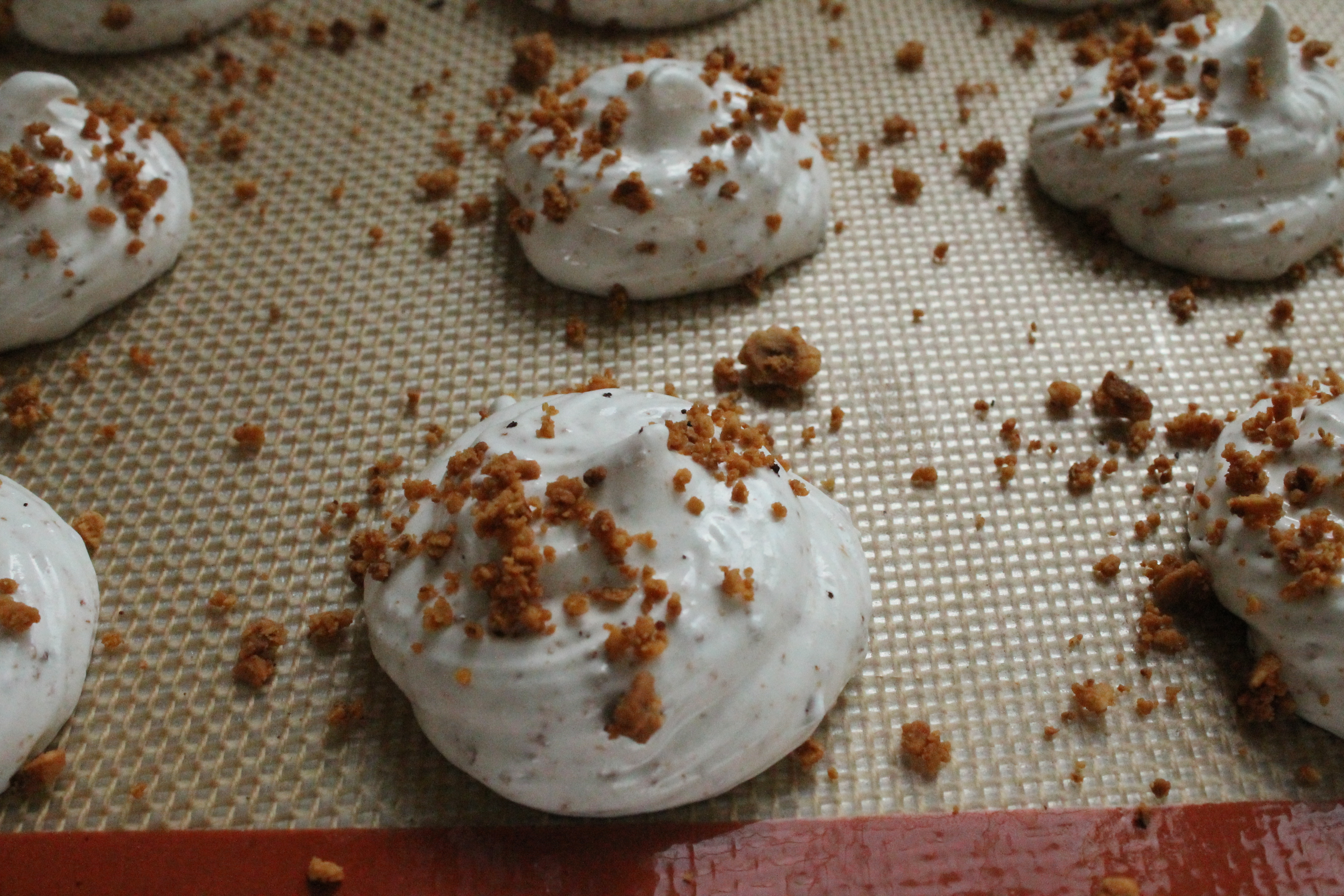 Bake for 1 hour at 300°. Here's where I admit that I'm still getting used to my new oven…because I was baking two trays of meringues at the same time, one above the other in the oven, I decided to test out the convection setting so they would bake evenly. FYI: Convection ovens circulate the air using a fan, so everything cooks a little more quickly and (theoretically) evenly no matter where it is in the oven. But…I neglected to check on my meringues early, so they were a little more thoroughly cooked inside than I normally prefer.
It's okay. I am thinking of them as Swiss. (On our honeymoon in Switzerland several years ago, we enjoyed a lot of meringue cookies that were light and perfectly crisp all the way to the center!)
But if you like your meringues to have a chewy, gooey center, you might want to take them out a little earlier than 1 hour.
Let them cool completely and store them in the fridge. Meringues age so beautifully in the refrigerator!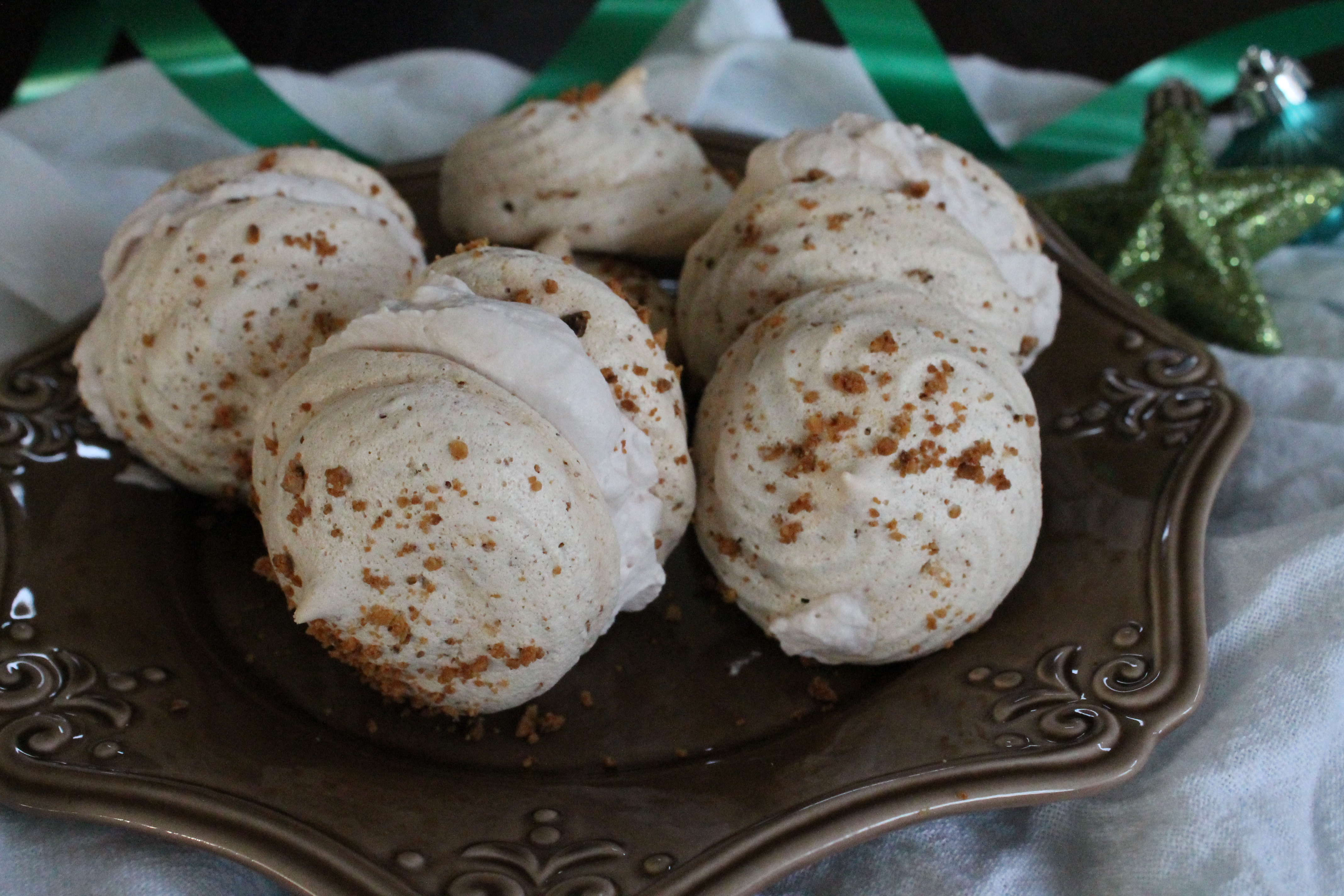 I did try a few of mine sandwiched with some Nutella whipped cream (obviously not safe for the dairy-free crowd), but I really liked them on their own as well. I included several plain meringues in the Christmas cookie boxes I brought to my neighbors!
Hazelnut Meringues
lightly adapted from Chit Chat Chomp
makes about 3 dozen
Ingredients:
⅔ cup/2⅝ oz./75 g. whole blanched hazelnuts, plus extra for garnish
4 large egg whites
1¼ cups/8¾ oz./250 g. sugar
1 tsp. white vinegar
Directions:
Heat the oven to 350°.
Spread the hazelnuts on a small, rimmed cookie sheet. Toast in the oven for 15–20 minutes, shaking the pan intermittently, until the nuts are fragrant and golden brown. Set aside to cool.
Lower the oven heat to 300°. Line two large cookie sheets with parchment or Silpats.
With an electric mixer, beat the egg white until they can hold soft peaks. Slowly add the sugar with the mixer running, beating until a glossy opaque meringue forms. The meringue should be stiff enough to hold its shape when the bowl is inverted.
Pulse the hazelnuts in a food processor until fine but now powdery.
Fold the hazelnuts and vinegar into the meringue.
Pipe or spoon onto the prepared cookie sheets in large mounds (about 1½ tbsp.) at least 1″ apart. Garnish with extra chopped, toasted hazelnuts, if desired.
Bake for 45 minutes–1 hour, or until the exterior is set and barely golden. Remove from the oven to cool.
Store the meringues in the refrigerator 24 hours before serving.
Enjoy!
One year ago: English Toffee
Two years ago: Butternut Squash Galette
Three years ago: Chocolate Peppermint Pinwheels