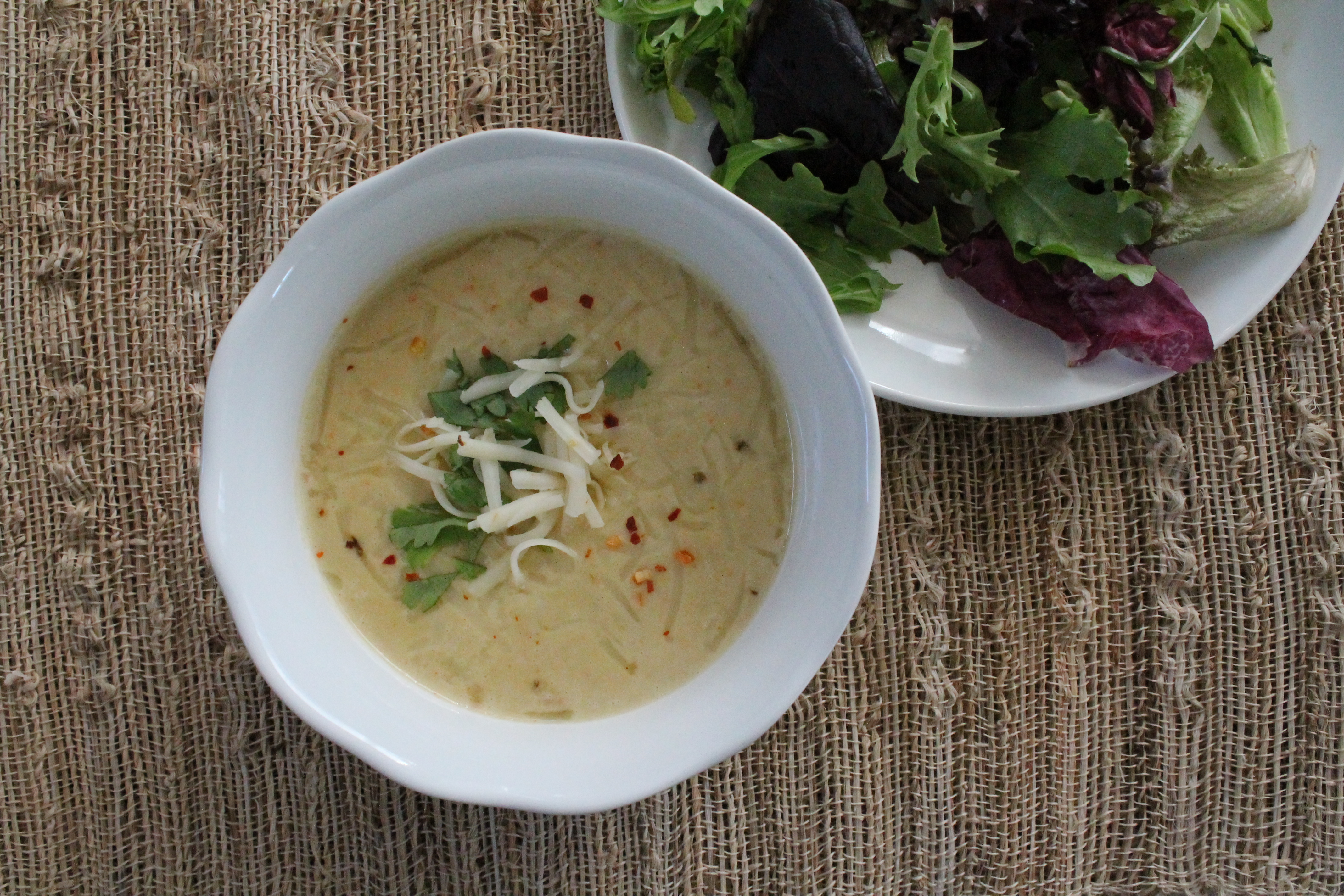 This pregnancy has definitely done something to my taste buds. For weeks I cringed at the thought of an egg (used to be one of my favorite foods). I suddenly find myself interested in eating Chinese food (one of Dave's favorite things), and I have discovered a love of potatoes!
I have held a grudge against potatoes for a long time. It just gets my goat that people treat potatoes as a vegetable and neglect their brightly colored roots, fruits, and leafy greens. Potatoes don't belong on a plate next to a slice of bread. Potatoes are starchy! They drive up blood sugar because the body treats them like carbohydrates!
But…I must admit…they are rather hearty for winter. And the body does need some starchy calories in addition to vegetable nutrients. And potato skins are actually quite full of things that are important to vegetarians, like vitamin B and potassium.
So when I found myself randomly craving potato leek soup, something I had only ever eaten once in my life before, I just went for it. I ate almost the whole batch by myself. And then I made another batch (with a few extra veggies, just because). I think I am hooked.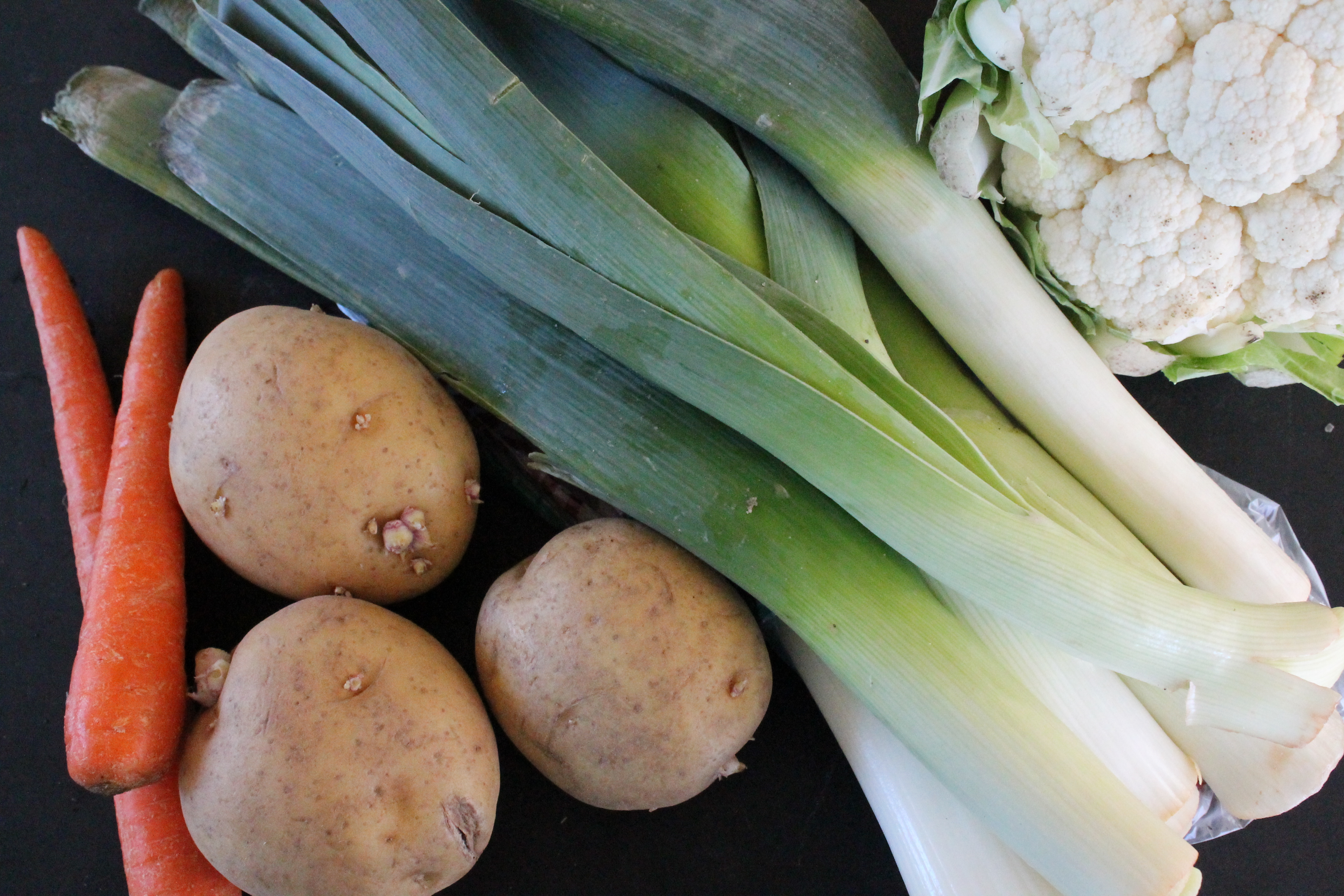 So, classic potato leek soup is basically just potatoes, leeks, and broth. I have had it that way, and I am not really one to buck tradition, but I just had to sneak a few extra veggies into this soup. If you are a purist, you could omit the carrots and cauliflower in my soup without sacrificing too much!
I like a heck of a lot of leeks here. Leeks really are the backbone of the flavor in this soup. A little oniony, a little garlicky…a little richness for the starchy, plain potatoes to absorb.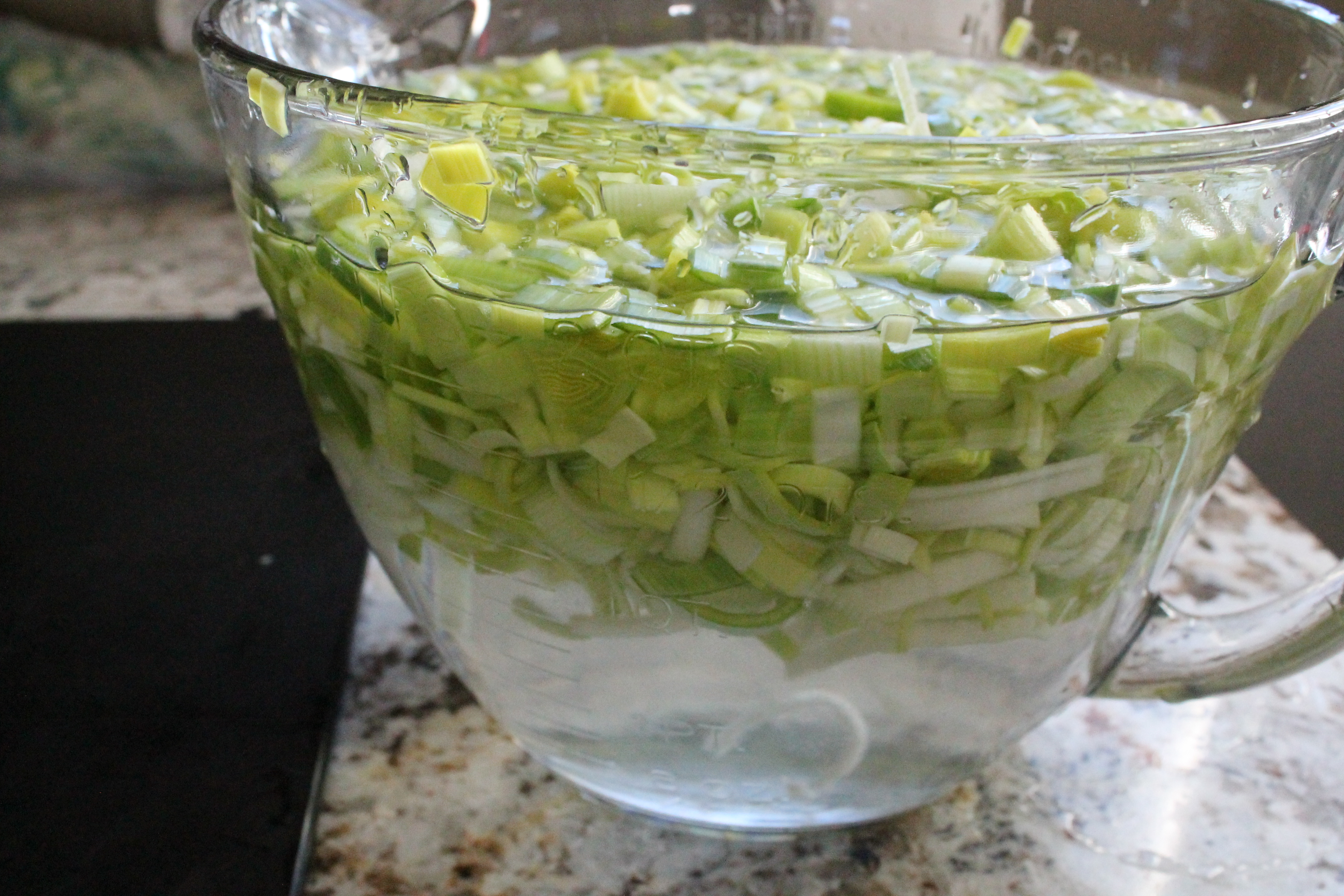 Leeks are just about the dirtiest vegetable around. Please make sure that you rinse them thoroughly, otherwise you may end up with a gritty soup! In fact, this batch of leeks had so much dirt when I as slicing them that I rinsed them twice. Rinsing is easy: just run cold water over the sliced leeks until they are floating about 2″ above the bottom of the bowl, agitate them with your fingers so that the grit falls to the bottom of the bowl, and scoop the clean leeks out of the top of the bowl with a slotted spoon.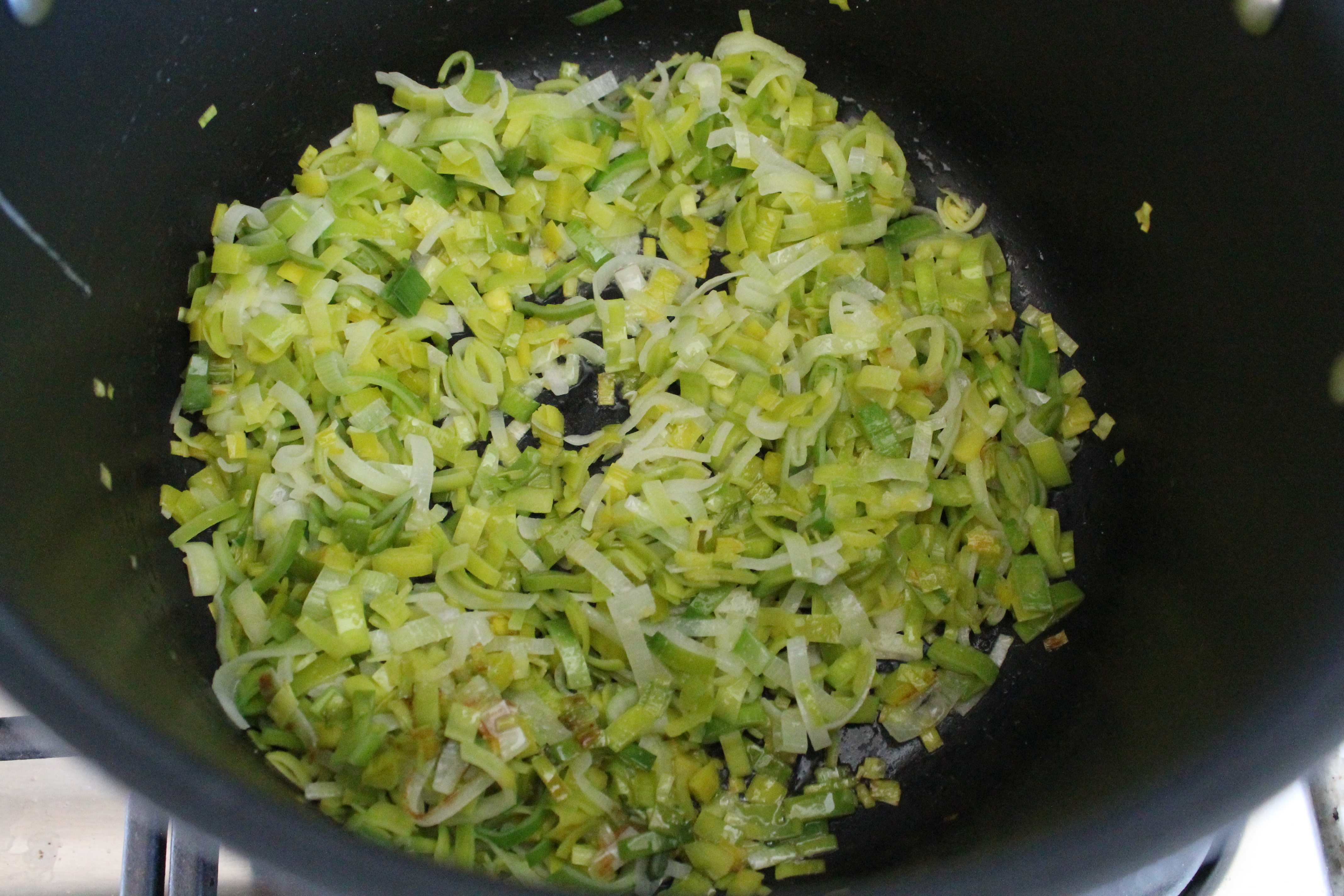 Cook the leeks in butter until they are tender and beginning to brown. I worked over medium heat because I am impatient, and it took about 10 minutes: just the amount of time I needed to peel and chop my other veggies!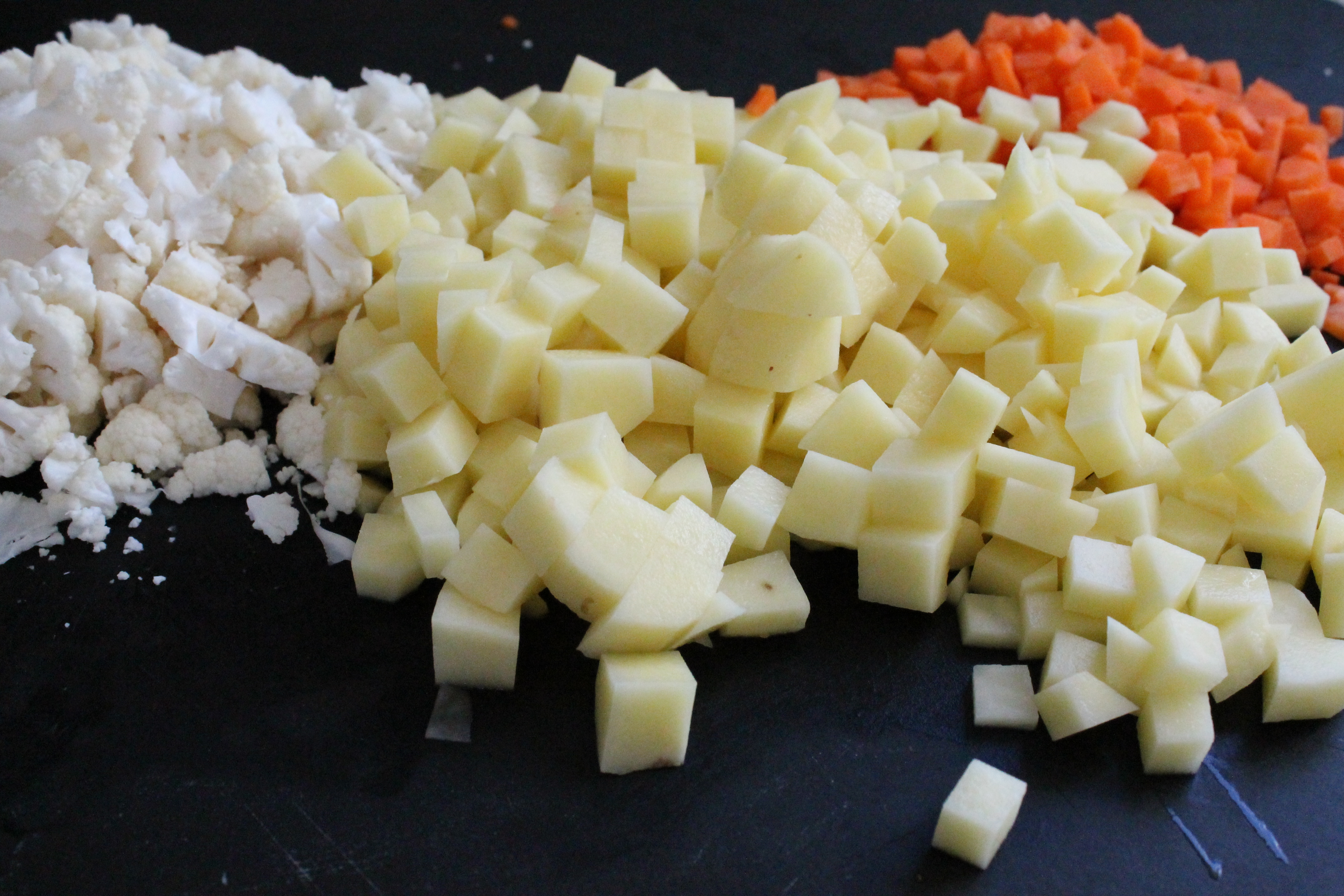 Potato soup wouldn't be potato soup without, well…potatoes. I used slightly over 1 lb. of Yukon golds, but any variety of potato would do. It's a lot of work to prep them, but buttery creamer potatoes are also delicious!
This time I diced the potatoes small, but I actually like them in a larger dice, so that the end soup (which is only partially pureed) has a bit more texture.
I added in some carrots and cauliflower and some all-important garlic (yes, garlic, even though we already used a ton of leeks). Here's why garlic is all-important: potatoes, by themselves, can be quite bland. Even rock stars like Yukon golds. They absorb the flavors of everything they are cooked with, though, and garlicky potatoes are just amazing. Garlic complements the creamy starchiness of this soup and prevents it from being a pale, boring puddle.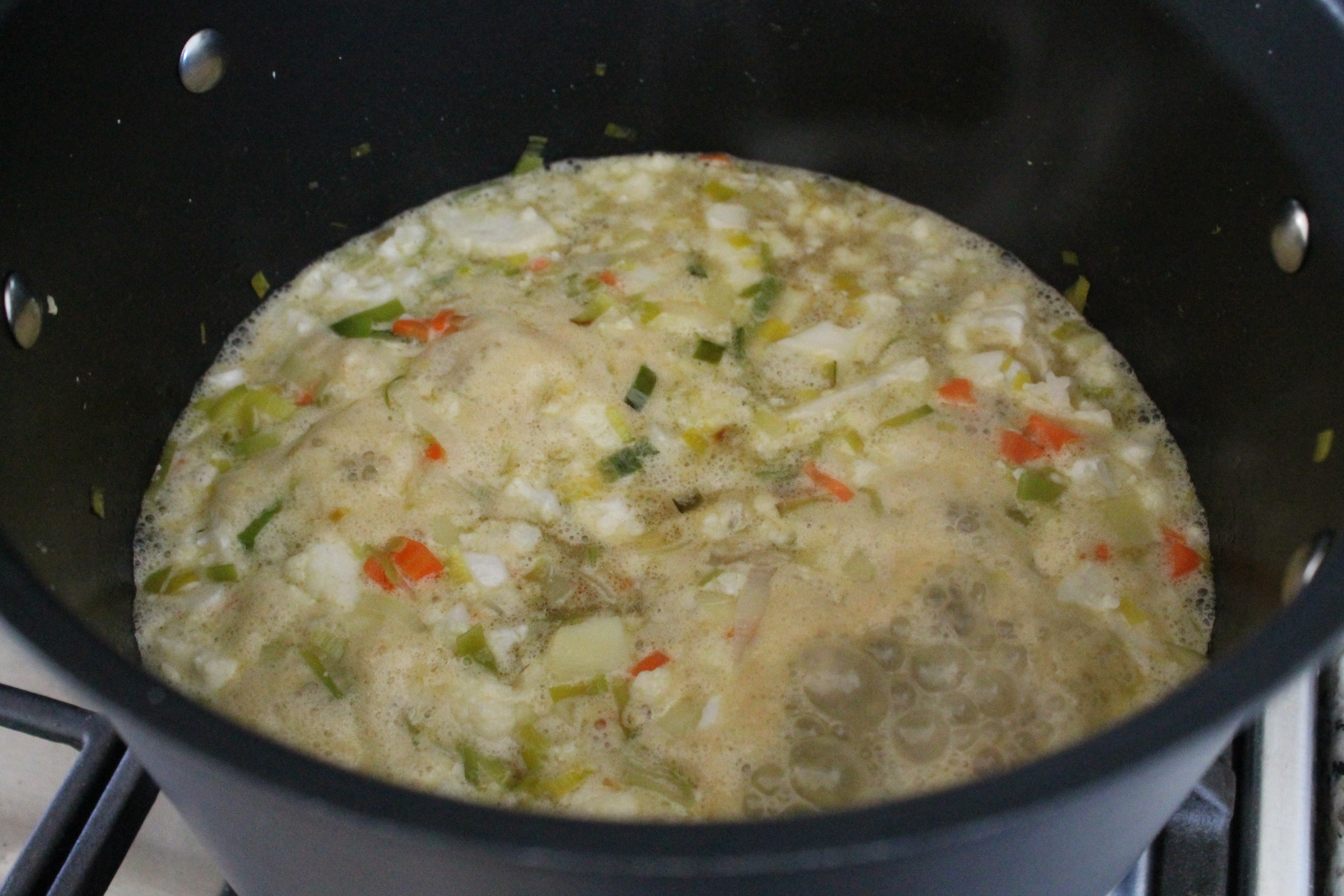 Add some veggie stock or some water to the stock pot. I actually went with a mix, because veggie stocks tend to be quite darkly colored…and, to be honest, they don't have much more flavor than water and salt. So! Season the broth with salt. (Be cautious if you used entirely veggie broth, especially if it wasn't low-sodium. You can always add more salt later.)
Bring the soup to a boil, then cover and simmer over medium-low heat for 45 minutes, or until the potatoes are completely tender.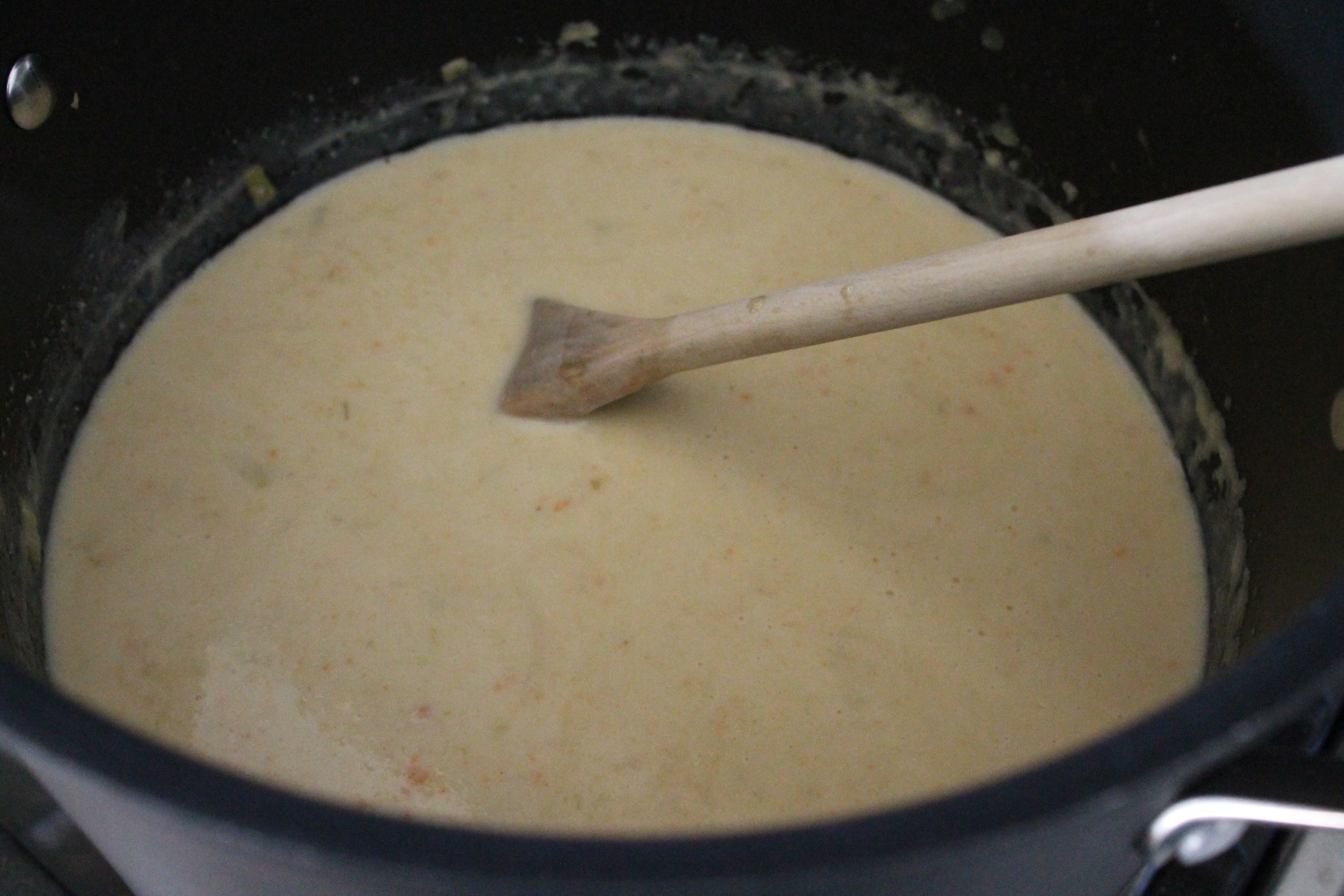 Remove the stock pot from the heat and partially puree the soup, either with an immersion blender (careful not to overdo it! This soup really is great with some chunks of potato still swimming around in it) or by transferring half of the veggies/broth to a blender and pureeing. Either way, be careful of hot spatters!
Now stir in the cream and milk. You could go for all cream here, but I wouldn't recommend using only milk. The fat in the cream is really a flavor carrier…and let's be honest: Potato soup was never going to win any nutrition awards anyway, was it?
Add a few dashes of spice (a bit of heat is wonderful against the starch and cream!) and a generous amount of black pepper. Taste and adjust the seasonings as needed (I added more salt and a bit more crushed red pepper).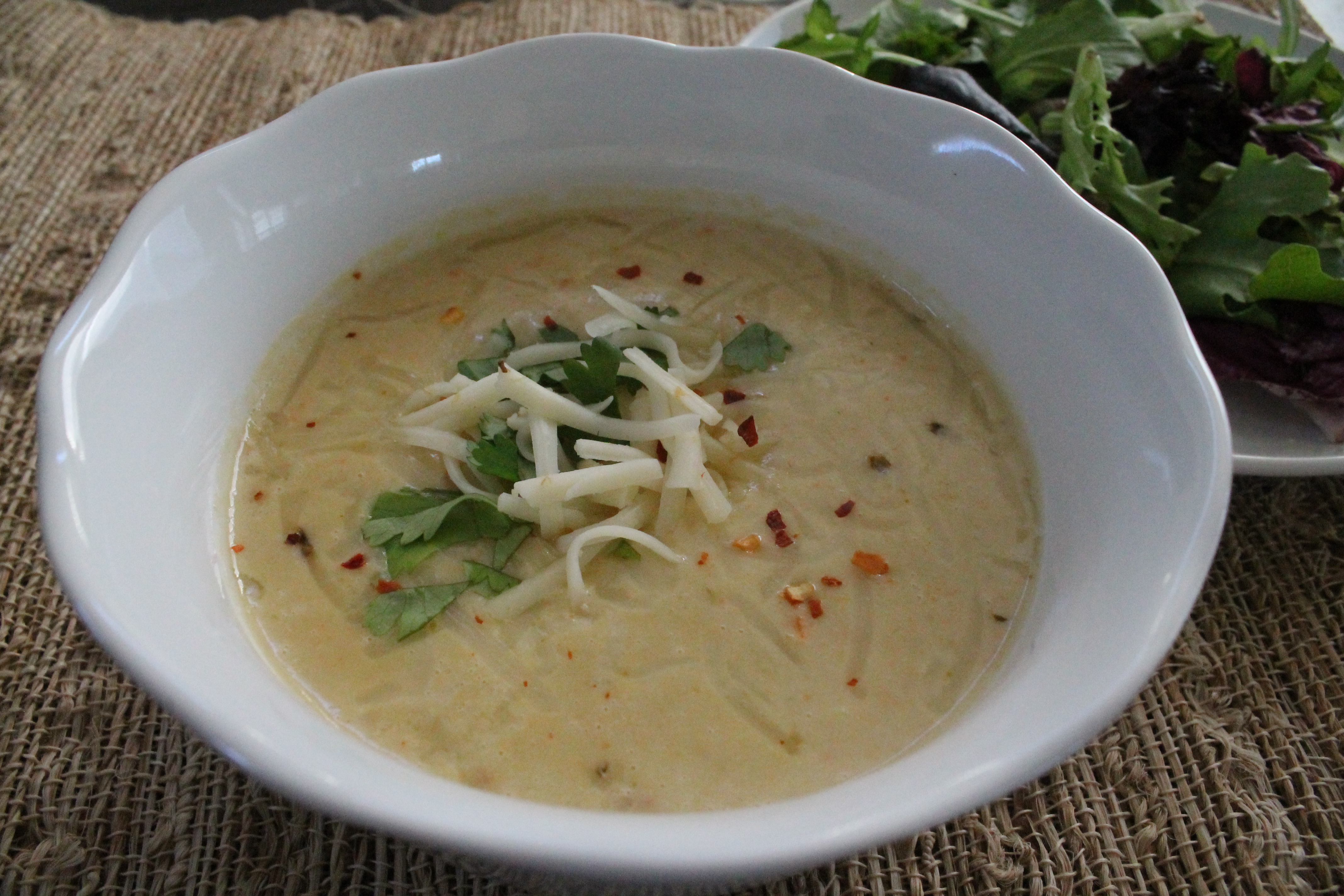 Just before serving, grate pepper jack (or, I suppose, cheddar) into the soup and stir well. Garnish each bowl with some extra pepper jack, a sprinkle of green herbs—chives would be ideal, but parsley or even cilantro will work—and maybe a dash of extra crushed red pepper.
This soup is so simple…it makes me feel laid back and warm. I love that I can ignore it for ages and it takes care of itself. Also, it is even better leftover than it is on the first night! Perfect for a winter meal!
Do me a favor, though…I know this is soup, and bread or crackers are a natural accompaniment. But just let the potatoes speak for themselves and serve yourself a side salad instead. Okay? Okay.
Potato Leek Soup
adapted from Alton Brown and The Pioneer Woman
serves 4–6
Ingredients:
5–6 leeks (about 1½ lb.)
¼ cup unsalted butter
salt
3–4 small Yukon gold potatoes (about 1 lb.)
2 small carrots
¼ head cauliflower
2 large cloves garlic, minced
4 cups vegetable stock or water
1 cup heavy cream
½ cup whole milk
fresh ground black pepper
dash of smoked paprika
dash of crushed red pepper
4 oz. pepper jack, shredded, plus extra for garnish
fresh herbs, such as chives or parsley
Directions:
Trim the dark green sections off the leeks. Slice in half lengthwise, then thinly slice crosswise into half-moons. There should be about 4 cups sliced leeks. Set the leeks in a large bowl and run water over them, stirring to help release the sediment.
In a stock pot, melt the butter.
Scoop the leeks out of the water using a slotted spoon, careful not to disturb the sediment at the bottom of the bowl. Add the leeks to the butter in the pot, along with a generous sprinkle of salt. Cook over medium heat for 10–15 minutes, stirring frequently to prevent them from burning.
Meanwhile, peel and dice the carrots and potatoes, and chop the cauliflower.
When the leeks are tender and just beginning to brown, add the prepared vegetables and the garlic to the pot. Cook for 1 minute.
Add the vegetable stock to the pot and increase the heat to medium-high. When the soup boils, reduce the heat to medium-low and cover the pot. Continue simmering until the potatoes are soft, about 45 minutes.
Remove the soup from the heat and puree with an immersion blender, either until completely smooth or until lightly chunky.
Add the cream, milk, and spices and return the soup to the heat another 10 minutes. Taste and adjust seasonings as needed.
Just before serving, stir in the shredded cheese. Garnish each bowl with extra pepper jack and fresh herbs.
Enjoy!
One year ago: Ginger Tamarind Brussels Sprouts
Two years ago: Spaghetti with Spicy Cauliflower Sauce
Three years ago: Melitzanosalata (Roasted Eggplant Dip)