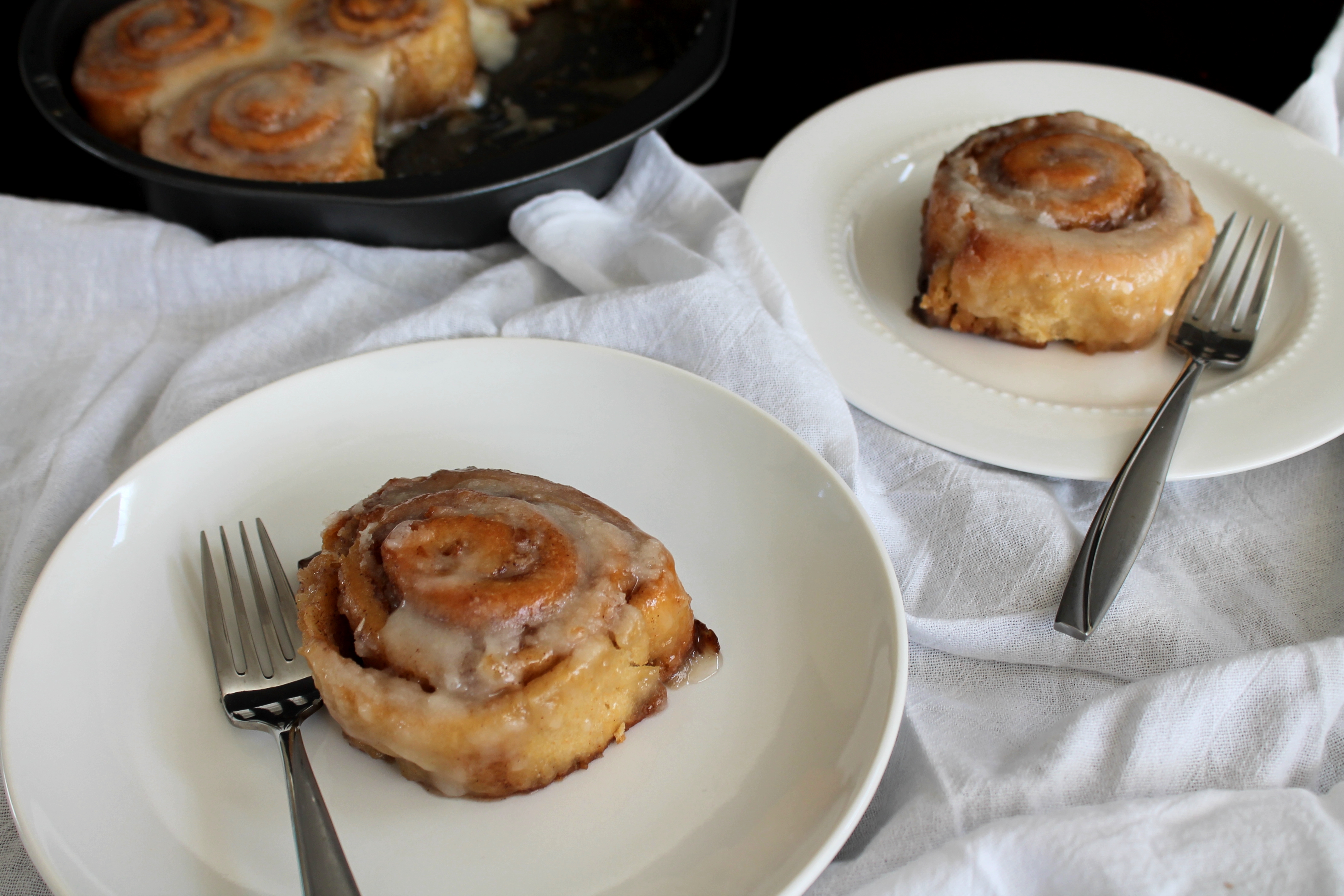 This past weekend, my nephew came to stay with us. He is just 3 weeks younger than Jake, so they have been lifelong buddies! Actually, they are about as different as can be: Jake loves animals and M is crazy about vehicles; M is a quiet daredevil and Jake is cautious but loquacious.
And my nephew is deathly allergic to dairy.
So I had just finished scrubbing the kitchen and hiding all the cheese when I realized that I hadn't yet baked anything for the March Secret Recipe Club challenge! Happily, Jessie of The Vanderbilt Wife had just the recipe for me to try: sweet breakfast rolls made with coconut! This recipe is even related to my very favorite cinnamon bun recipe, so I knew it would be a winner. Given that I had been in a panic about how to serve breakfast without any milk or butter already, I was so happy that these rolls swept in and saved the day!
By a weird twist of fate, I actually know Jessie from my childhood (surprise!): I was good friends with her sister when we were in middle school! It was so fun catching up with her via her blog, seeing her cute kiddos and recipes. I also look forward to reading some of her more Bible-focused posts.
These sweet rolls are just delicious. I have been on a bit of a coconut kick lately, but even if coconut isn't your most favorite flavor I think you will like these! The dough is sweet and yeasty, the cinnamon and coconut swirl is delicious, and the thick glaze just makes these sweet rolls gooey and heavenly. I used SO Delicious Unsweetened Coconut Milk Beverage, which I had on hand to use as a milk substitute—if you use canned coconut milk in these sweet rolls, then the coconut flavor will be much stronger.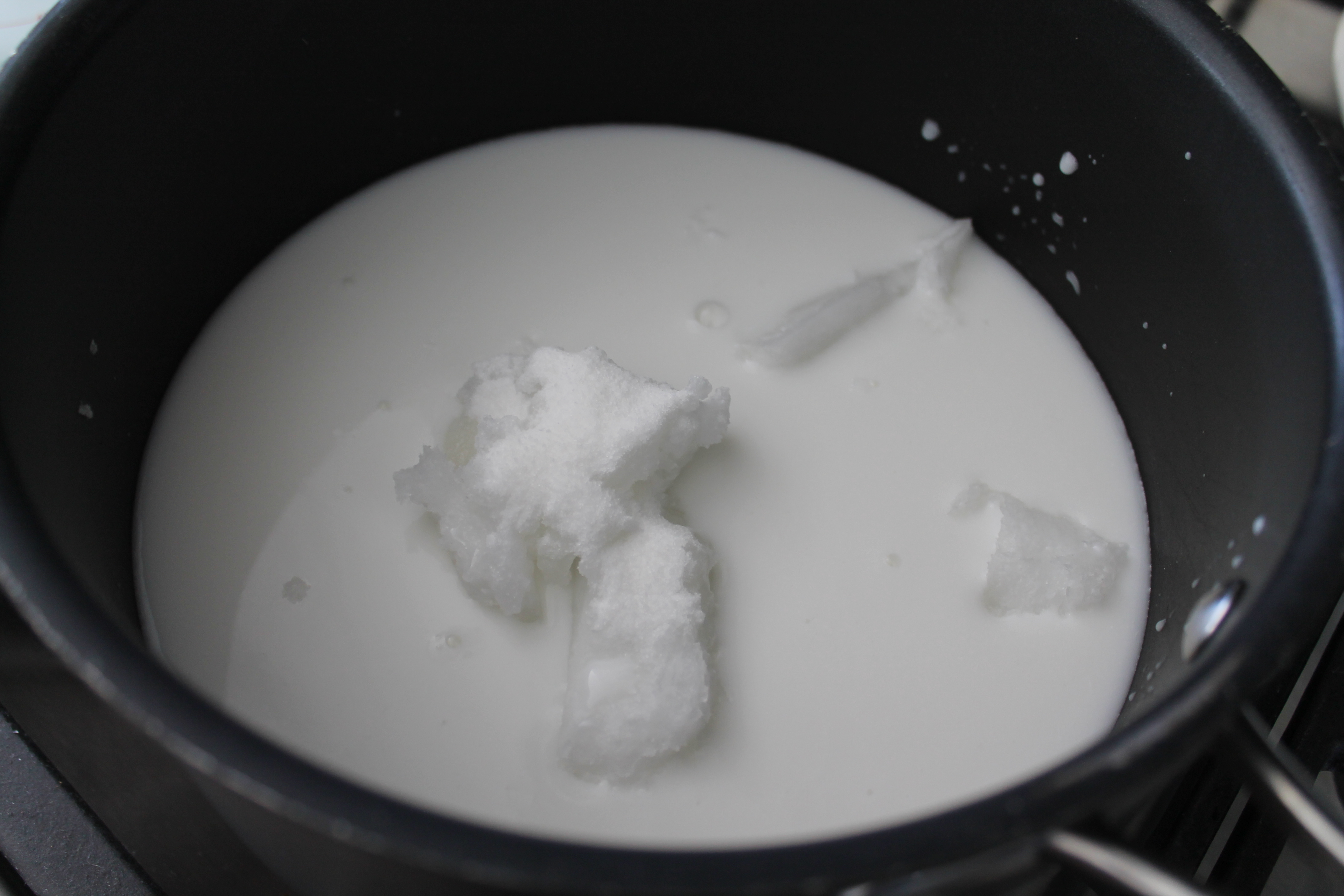 Start by warming the coconut milk, sugar, and coconut oil. Coconut oil is solid at room temperature, so the main goal here is just to dissolve the sugar and melt the coconut oil.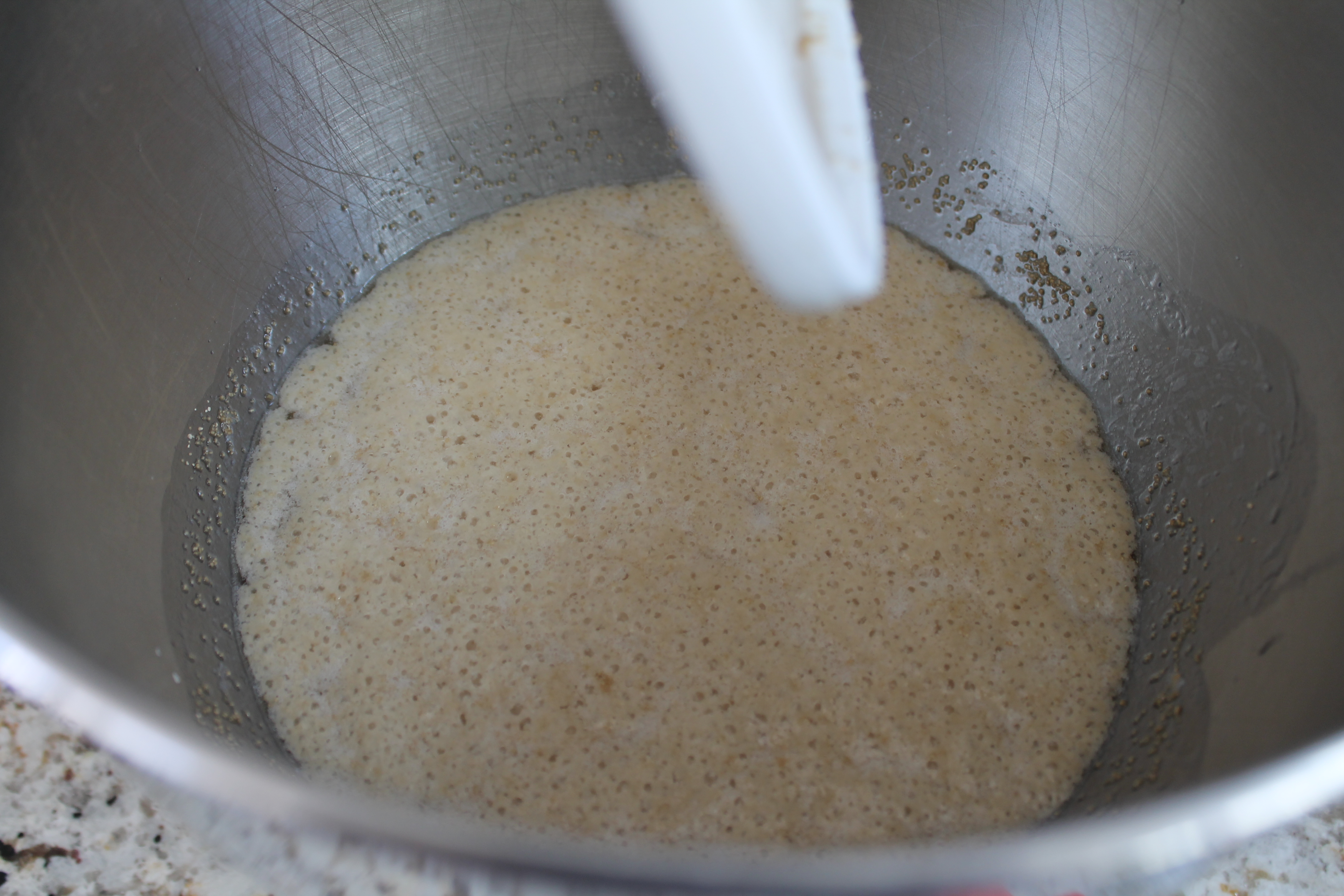 After the oil melts, the liquid will be a little too hot for the yeast—we don't want to kill our yeast! So pour the coconut liquid into a mixer bowl and let it stand for 10–15 minutes to cool. Then stir in the yeast and let it activate.
I tell you, my kitchen smelled so good when the yeast activated in that coconut milk mixture! Yum!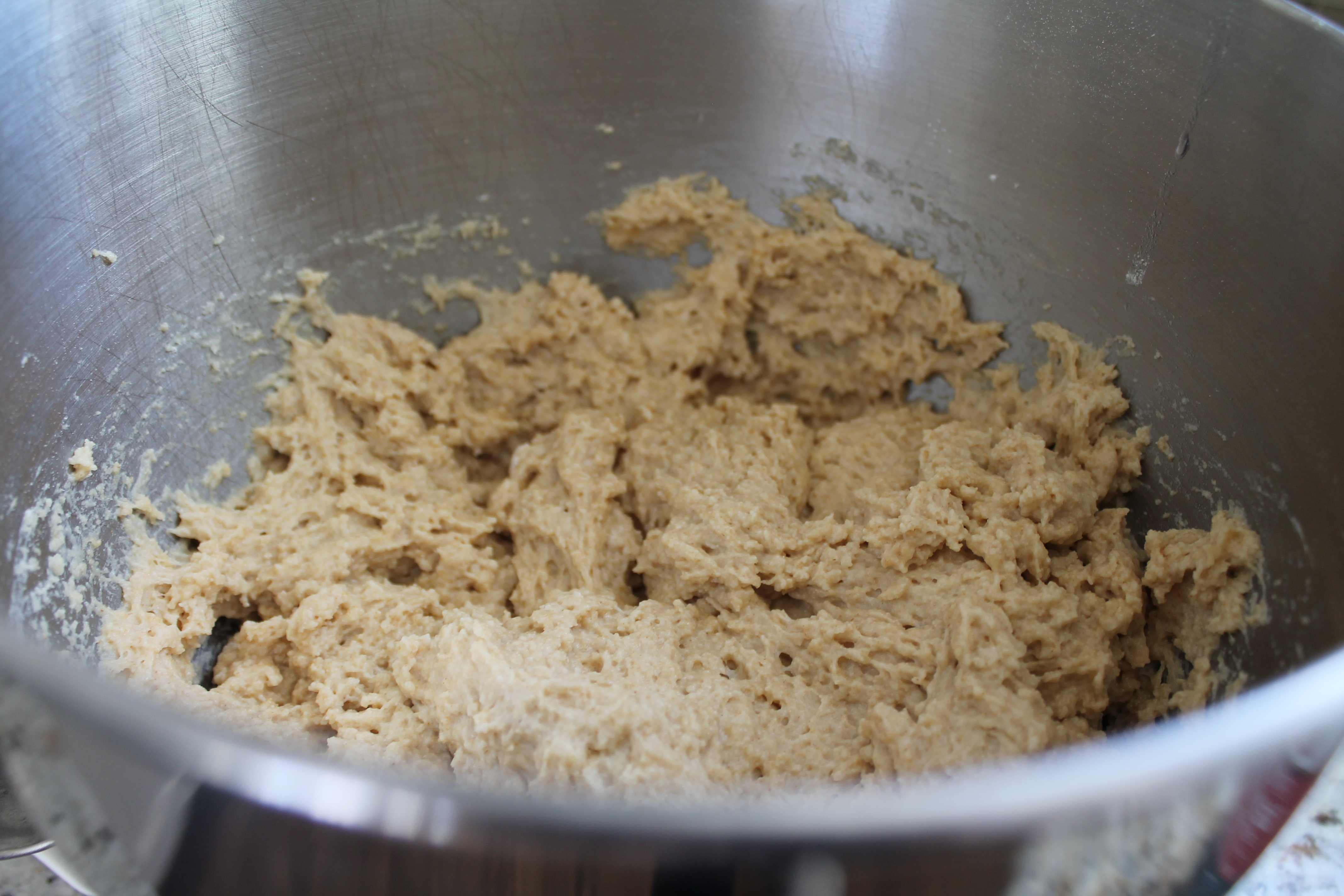 When the yeast is nice and foamy, add in the all-purpose flour and white whole wheat flour. You could, of course, use only one or the other, but I liked the combination of both because the light nuttiness of the whole wheat flour helps round out and balance the coconut, while the all-purpose flour keeps the bread soft and tender.
In addition to the flours, mix in the baking powder, baking soda, and salt.
Cover the dough with a kitchen towel and set it in a warm place to rise for 1 hour. During winter especially, I like to use a trick I learned from my grandmother for proofing bread: warm a cup of water in the microwave for 2 minutes to create a moist, warm environment for the yeast to grow, then stick the bowl of dough into the microwave to rise!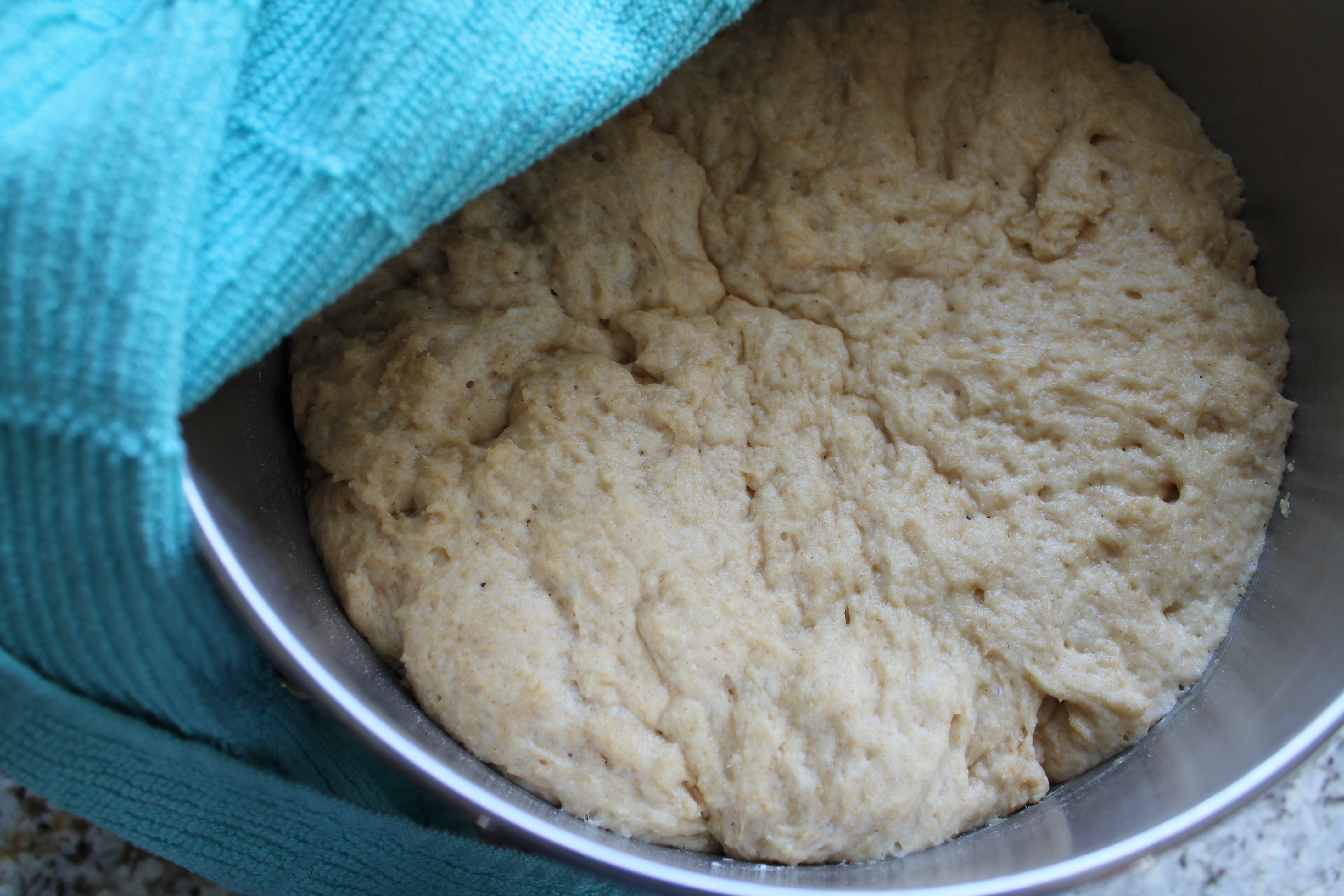 After the bread has risen, turn it out of the bowl onto the counter with the last ½ cup all-purpose flour. Knead the flour into the dough.
Lightly flour the working surface and roll the dough out into a large, wide rectangle.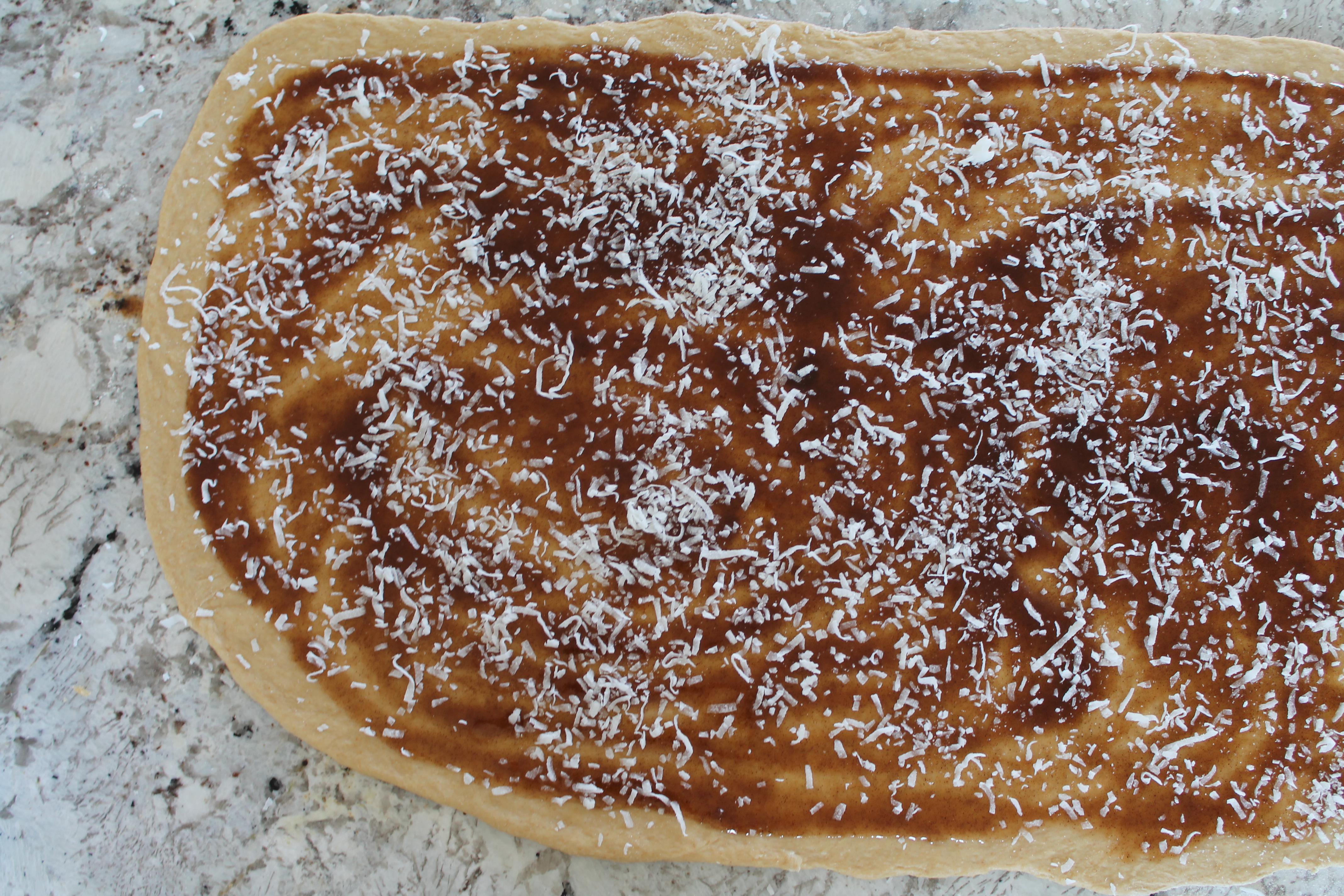 Melt 10 tbsp. Earth Balance vegan butter in the microwave. Definitely cover the bowl for this process, as Earth Balance pops a lot while it heats. You don't want your microwave to be covered in margarine! (Note: You could use coconut oil here if you really want to have a stronger coconut flavor in these rolls, but I didn't have enough coconut oil on hand for that, and I did want the rolls to appeal more widely even to those who aren't coconut-crazy. Earth Balance is vaguely butter-flavored, and its neutrality appealed to me for the filling here.)
Pour the melted margarine over the rectangle of dough, and top it with your cinnamon-brown sugar mixture. Use your hands to work the sugar and margarine together and spread them evenly over the dough. Sprinkle the dough with shredded coconut. I used about ½ cup coconut for just a hint of flavor and texture in each bite; it really didn't add that much, so next time I would probably use more!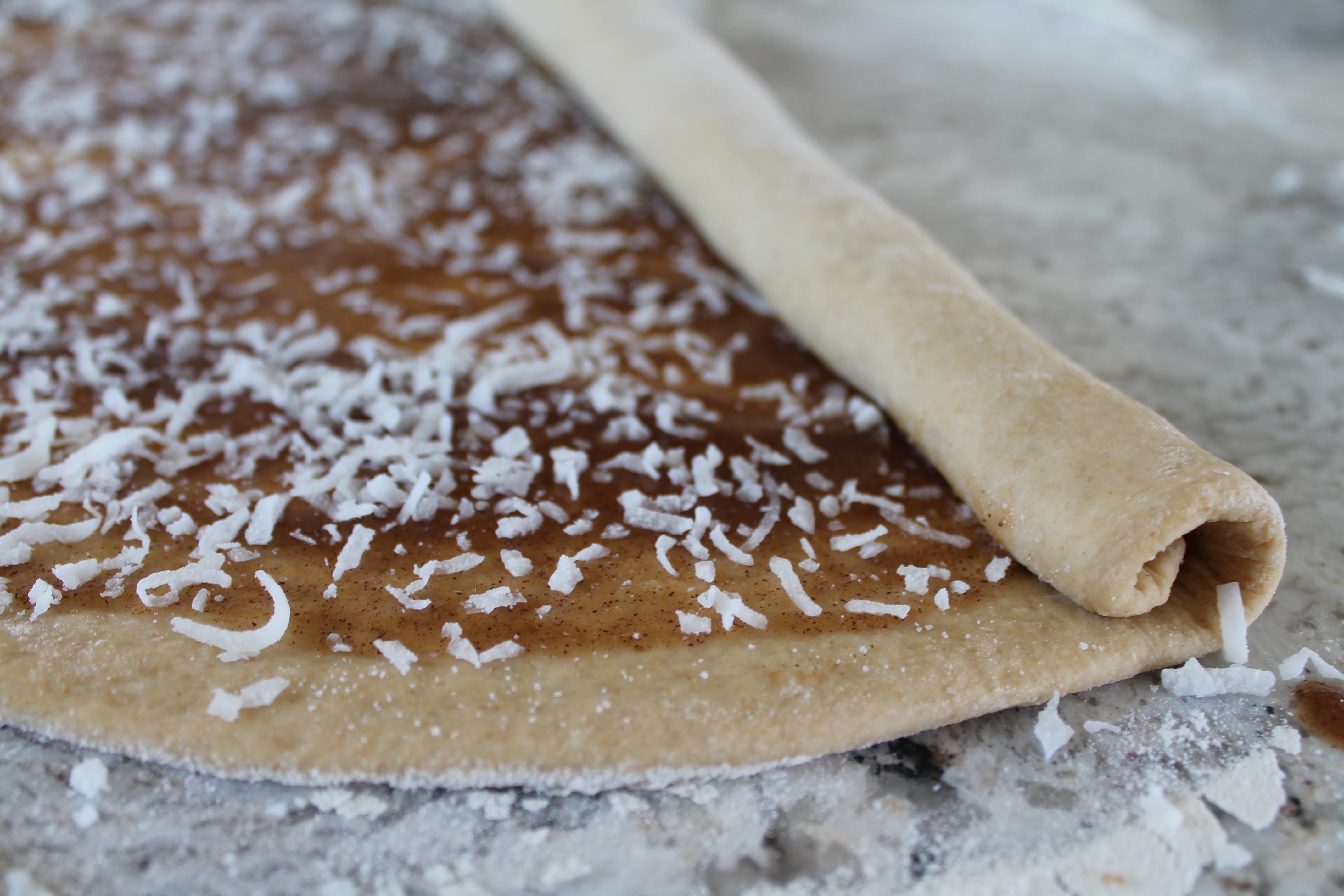 Carefully roll the dough up, jelly-roll style.
Using a very sharp knife, cut the long roll into 1½″ slices. I got 22 rolls out of my log, with slightly longer end pieces (because the ends are always a little sad and weird anyway). This recipe definitely makes enough to share with a crowd!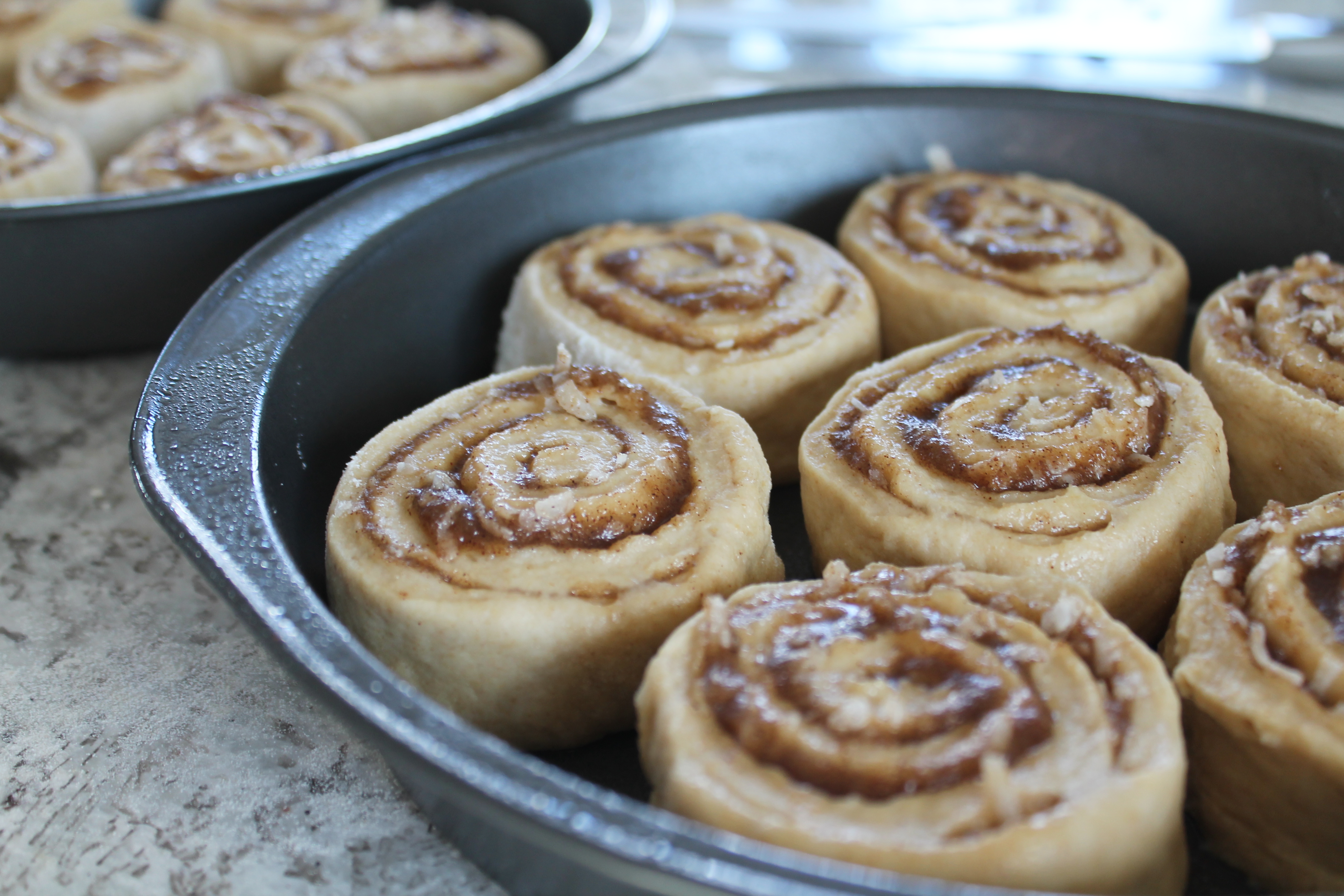 Transfer the slices to greased baking pans: I used 3 round cake pans greased with vegetable cooking spray, but you could also opt for a 9″x13″ dish, which would just about fit all of the rolls. Do remember to leave at least ½″ space between each roll so that they can continue to rise and ultimately bake evenly.
Let the rolls rise in the pans for 30 minutes or so before baking.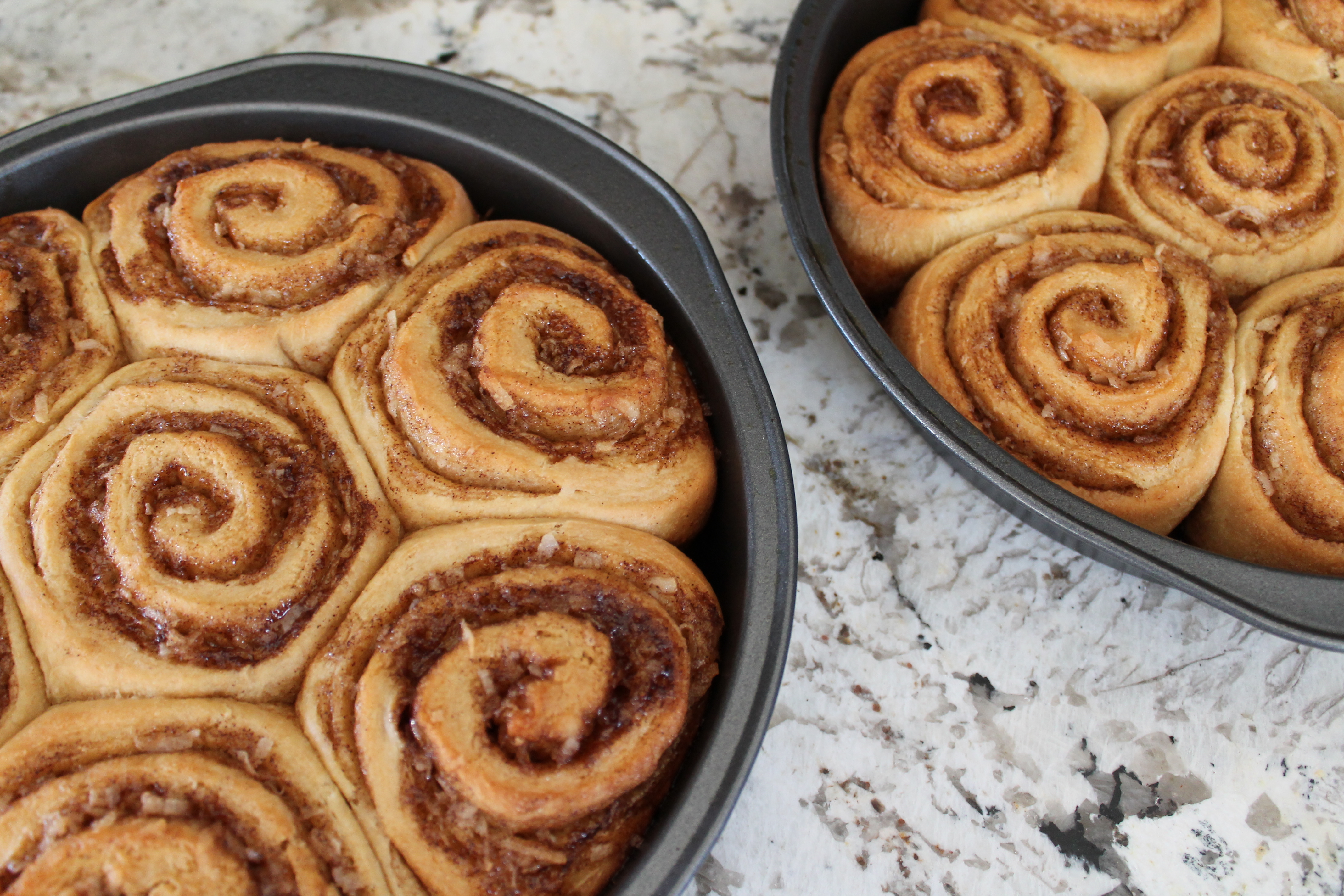 Bake at 375° for 18–23 minutes, or until they are nicely browned on top. Do check the center rolls to make sure they aren't still doughy!
While the rolls bake, mix together a thick coconut icing of melted coconut oil, coconut milk, vanilla, salt, and powdered sugar. If you use a hand mixer, you will be able to skip sifting the confectioner's sugar and also save your arm a lot of strain!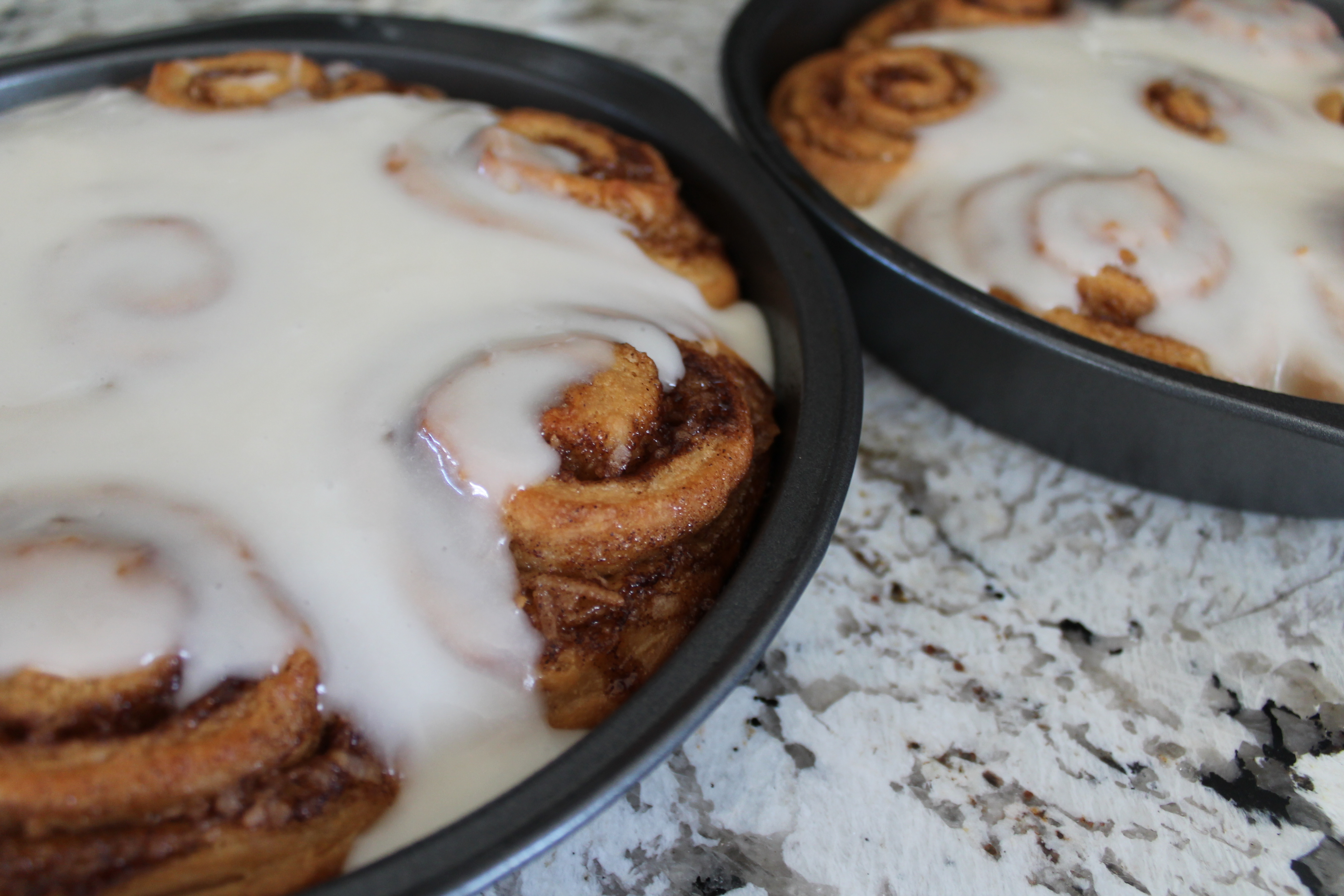 Pour the coconut icing over the hot buns and use a spatula to spread it evenly. This recipe makes a looooot of icing. I used it all, and my rolls were actually swimming a bit. Normally I like this (extra flavor! extra gooeyness!), but…toddlers. So you can choose to use it all or else reserve some of the icing for another use!
Let the icing set before serving. These rolls store really well in the fridge or the freezer (or in your neighbors' stomachs). And they are so delicious that no one would ever guess that they are vegan!
Coconut Sweet Rolls
adapted from The Vanderbilt Wife
makes 22–24
Dough Ingredients:
1¾ cups (14 oz.) coconut milk
½ cup sugar
½ cup coconut oil
2¼ tsp. active dry yeast
2½ cups flour, divided
2 cups white whole wheat flour
½ tsp. baking powder
½ tsp. baking soda
2 tsp. salt
½ tsp. vanilla extract
Filling Ingredients:
10 tbsp. Earth Balance vegan butter, melted
¾ cup brown sugar
2 tsp. cinnamon
½–¾ cup sweetened shredded coconut
Icing Ingredients:
¼ cup coconut oil or Earth Balance vegan butter, melted
½ cup coconut milk
3 cups confectioner's sugar
½ tsp. vanilla extract
¼ tsp. salt
Directions:
Combine the coconut milk, sugar, and coconut milk in a medium saucepan over low heat. Stir until the sugar dissolves and the coconut oil melts.
Transfer the coconut liquid to a mixer bowl and let it cool for 10–15 minutes. Stir in the yeast and let the mixture stand for 10 minutes, or until the yeast is foamy.
Stir in 2 cups flour, the white wheat flour, baking soda, baking powder, salt, and vanilla extract. Cover the dough loosely with a kitchen towel and set in a warm place to rise for 1 hour.
When the dough has doubled in size, knead in the remaining ½ cup flour.
On a lightly floured surface, roll out the dough to a 15″x30″ rectangle. Pour the melted Earth Balance over the dough. Mix the brown sugar and cinnamon together, then sprinkle the mixture over the dough. With clean fingers, work the Earth Balance and sugar together and spread it to the edges of the dough rectangle. Sprinkle shredded coconut over the cinnamon-sugar.
Working from the farthest edge/the long side of the rectangle, roll the rough into a 30″ log. Slice into 1½″ rolls with a very sharp knife.
Place the rolls into lightly greased baking pans and let them rise for 30 minutes.
Heat the oven to 375°.
Bake the sweet rolls for 18–23 minutes, or until the rolls are baked through and browned on top.
Meanwhile, mix together the icing ingredients using an electric hand mixer.
When the rolls come out of the oven, immediately pour the coconut icing over top and spread it evenly with a spatula. Allow the rolls to cool at least 15 minutes before serving.
Enjoy!
One year ago: Eggs Florentine with Smoked Salmon and Asparagus
Two years ago: Carrot Chickpea Salad
Three years ago: Crustless Mini Quiches