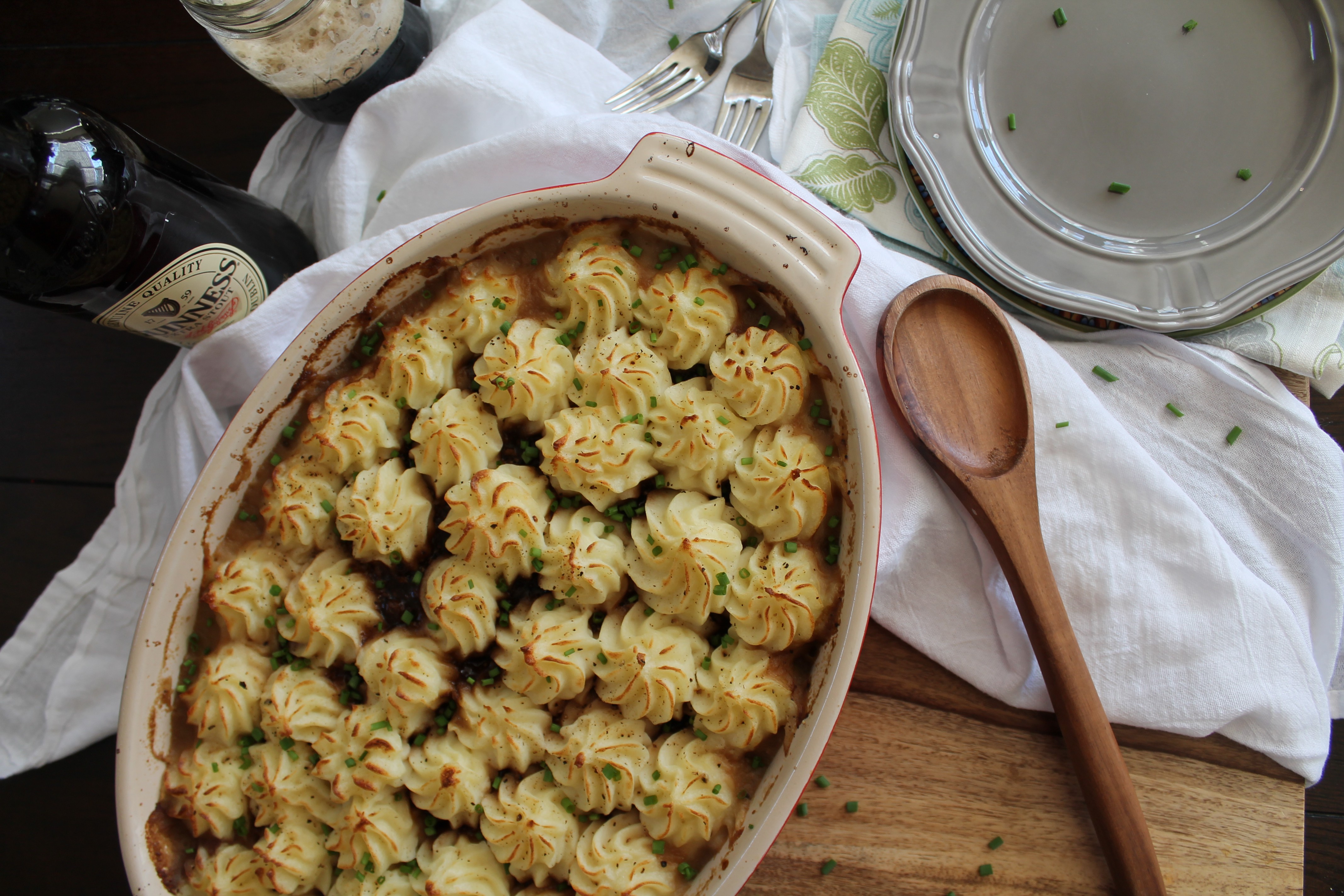 It's Pi Day again!
But this year, I thought I would do something a little unusual and make a savory pie. (Let's face it: I do not need another reason to eat dessert at this stage in my pregnancy.)
Shepherd's pie is a classic ground meat dish. It's as meat and potatoes as you can get. But thank goodness for the Moosewood Restaurant in New York, where Mollie Katzen dreamed up a way to make a delicious meatless version! I actually think this veggie-friendly shepherd's pie does a great job of mimicking its meatier friend by using shredded tofu, mushrooms, and soy sauce to build umami beneath a delightful layer of mashed potatoes.
So it's not quite a pie. Let's celebrate Pi Day anyway!
As always, making a respectable vegetarian version of a meaty dish requires a bit more prep. But in this case, the prep is no big deal as long as you remember to plan ahead! All you need to do is drain and pat dry the block of tofu one day before you plan to cook, then seal it up and freeze it.
On cooking day, take the tofu out of the freezer and let it thaw slightly on a paper towel.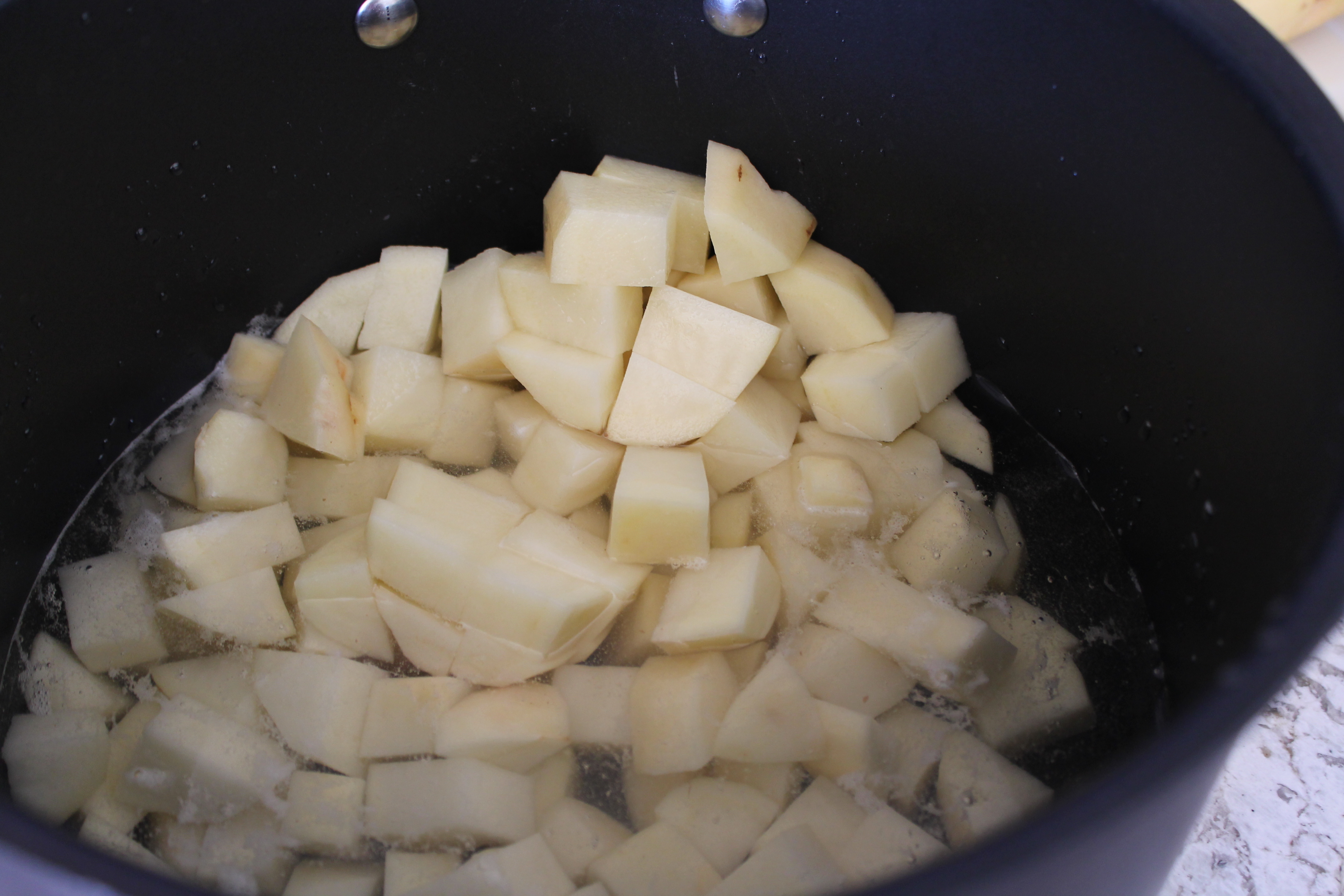 Meanwhile, peel, chop, and boil the potatoes. Yes, four Russet potatoes is a huge amount of potato, but we did manage to put all that starch to use on our pie!
Also, toast some walnuts in the oven. I like to spread my nuts on a cookie sheet and bake them at 325°, shaking the pan every 5 minutes or so to turn the nuts, until they are lightly browned and fragrant.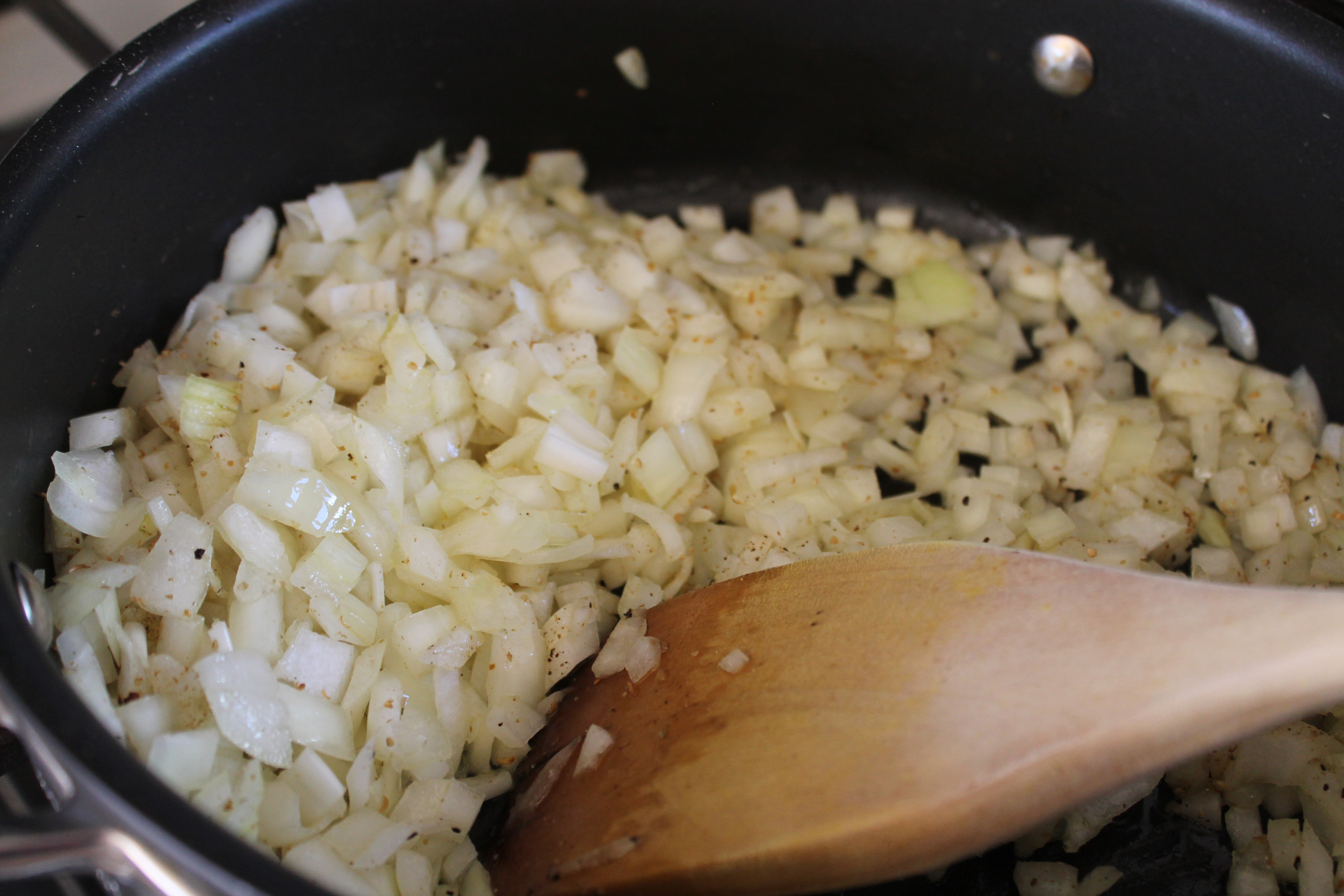 Chop up an onion and sauté it over medium heat with coriander and thyme. Sarah and I used dried, ground spices for this to try to keep it simple.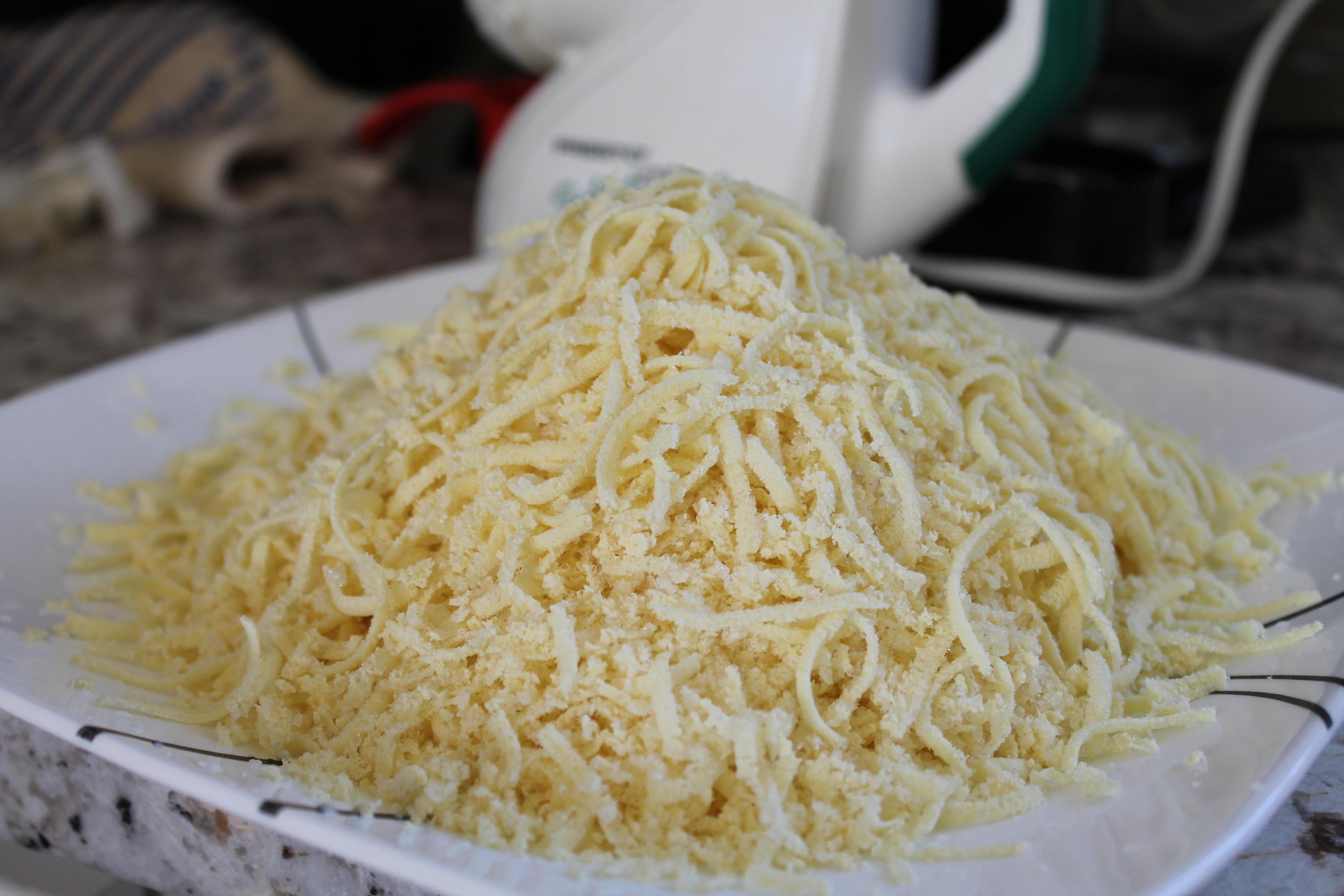 Grate the tofu. We used an electric cheese grater, because it does the job in a hurry! But the large holes on a box grater would also work well!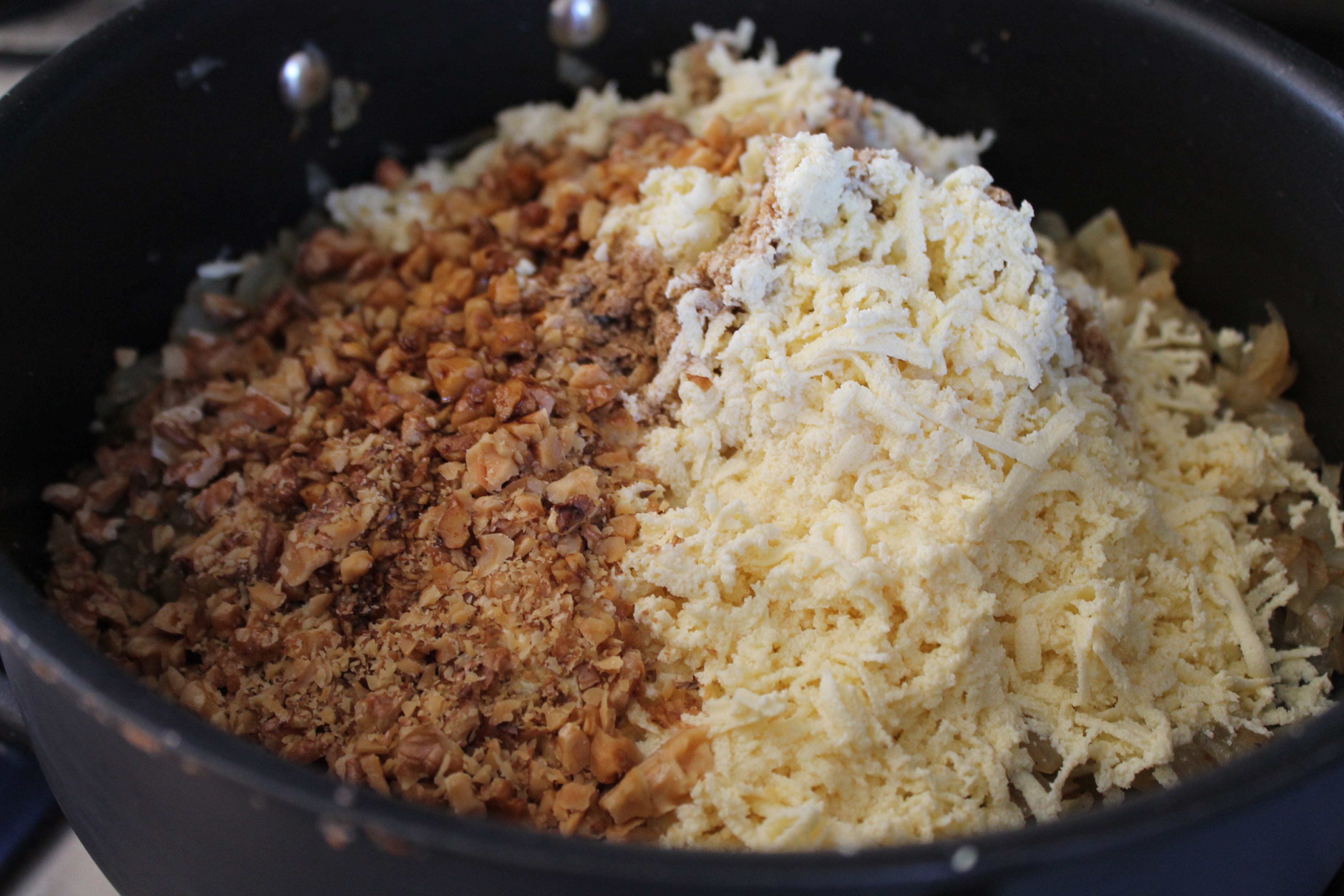 Add the grated tofu and the chopped, toasted walnuts to the onion mixture, along with some soy sauce and fresh squeezed lemon juice. The soy sauce is what gives this tofu dish its umami—and because soy sauce is so salty, you shouldn't even need to add any salt to the tofu! Cook the tofu mixture over low heat, stirring occasionally, until the liquid cooks off.
At this point, the potatoes should be tender. Drain them, and while they are still hot, mash them with butter and a clove of minced garlic. A stand mixer fitted with a whisk is ideal for this, but be careful not to over-mash them and turn them gummy. Stir in heavy cream (or milk…) and Dubliner cheddar (because it's almost St. Patty's Day). Taste and season with salt and pepper. You could also add some chopped fresh chives here for a bright, fresh flavor!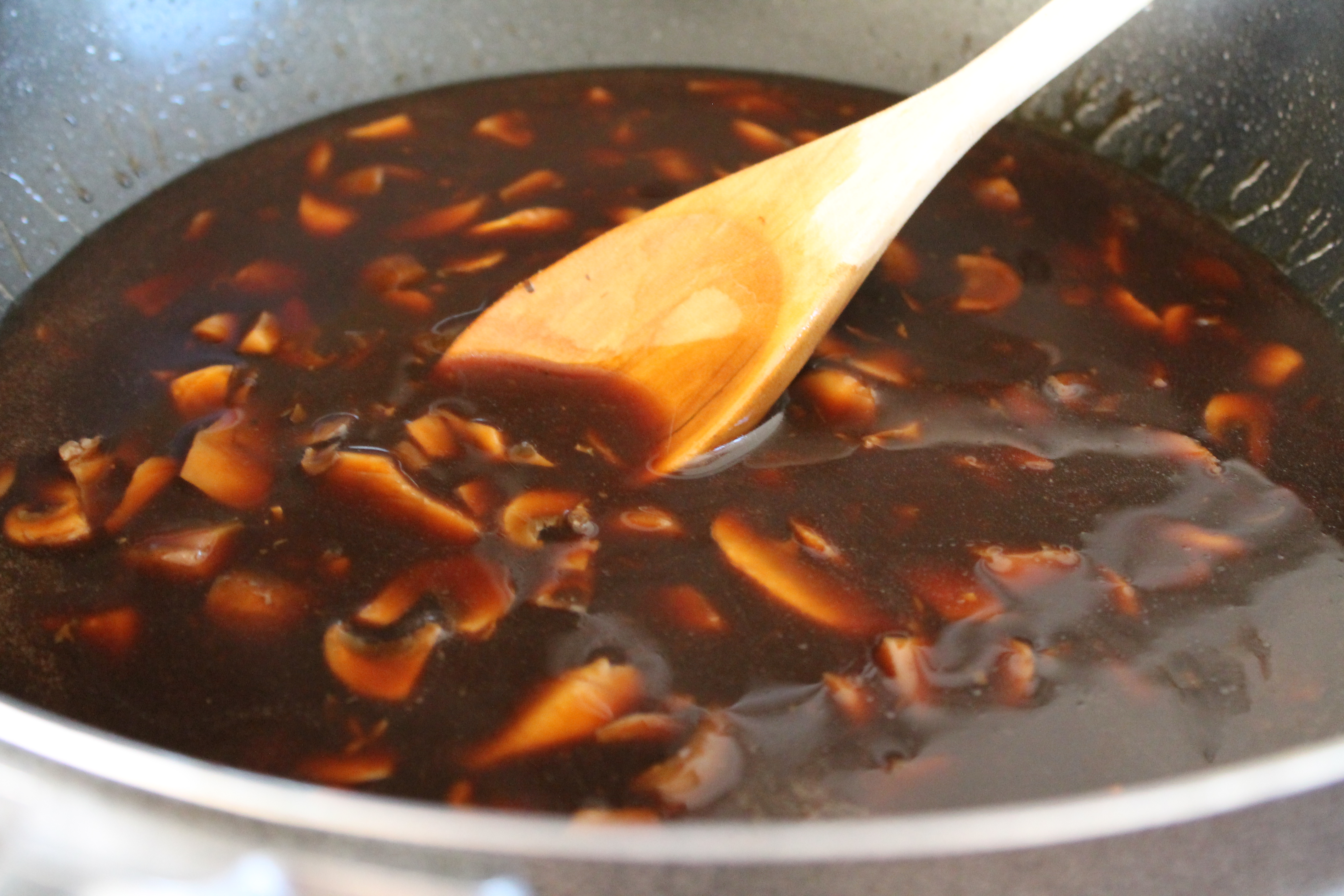 Now we are almost done! We just need to make some mushroom gravy. Chop up the cremini mushrooms. We went for a rough chop so there wouldn't be any large pieces in the final dish. Sweat the mushrooms in a pan with hot butter, soy sauce, and pepper.
When they start to brown and release their liquid, add the beer. We used a Guinness extra stout, and the final result was a bit bitter for my liking (but then again, I hate beer by itself), so next time I would probably add a pinch of brown sugar to balance it. You could also simply try a lighter beer, or even use some of the starchy potato water (assuming you read ahead and saved some). Let the alcohol in the beer cook off for about 5 minutes.
When you are ready, add in the cornstarch-water mixture. The gravy should thicken instantly. Feel free to continue cooking it over low heat if you have other components still underway!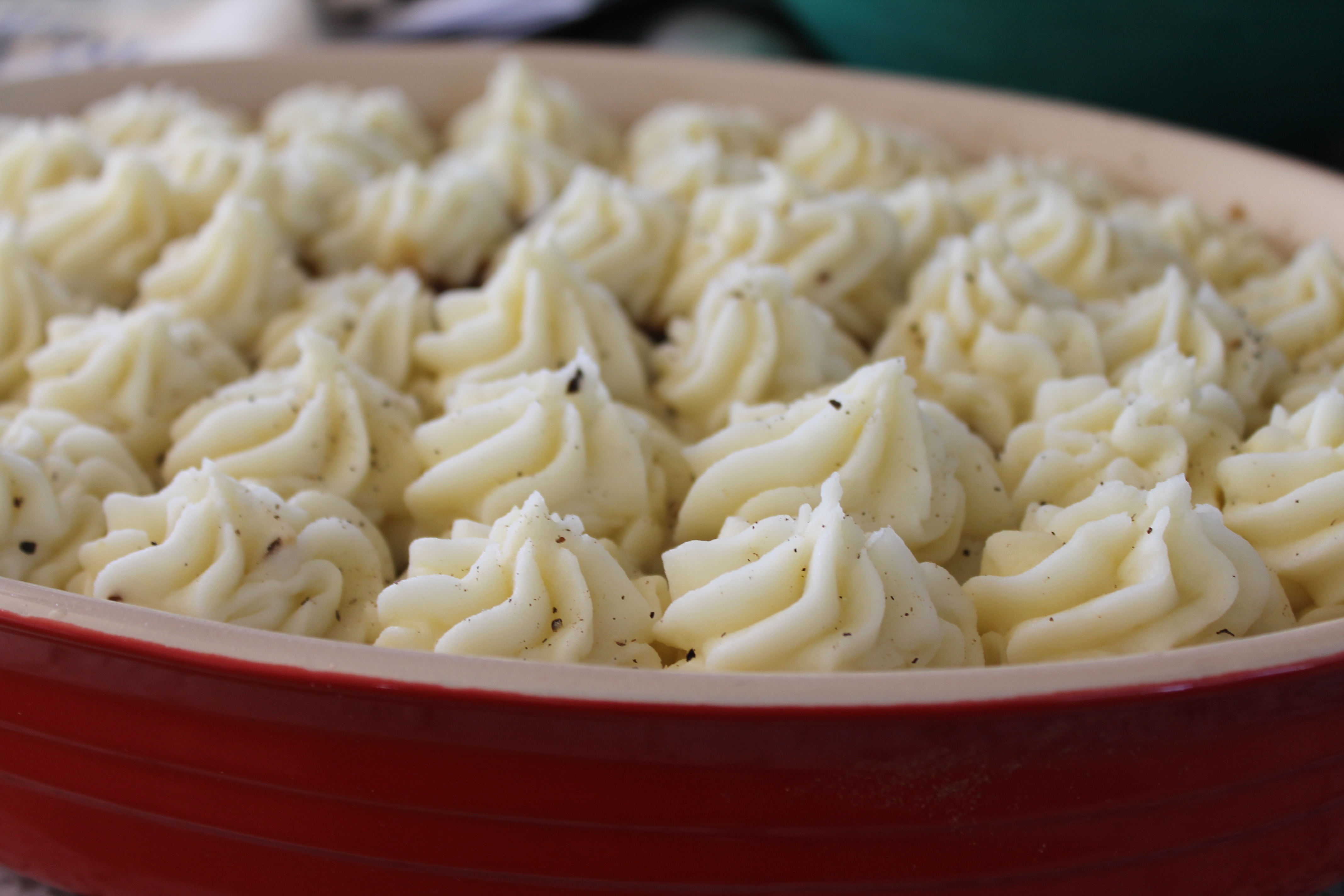 Now it's time to assemble the pie! Layer the tofu at the bottom of a large, greased baking dish. Pour the mushroom gravy evenly over the tofu, then spread the cheesy mashed potatoes over top. We piped the mashed potatoes over the mushrooms just to do something pretty!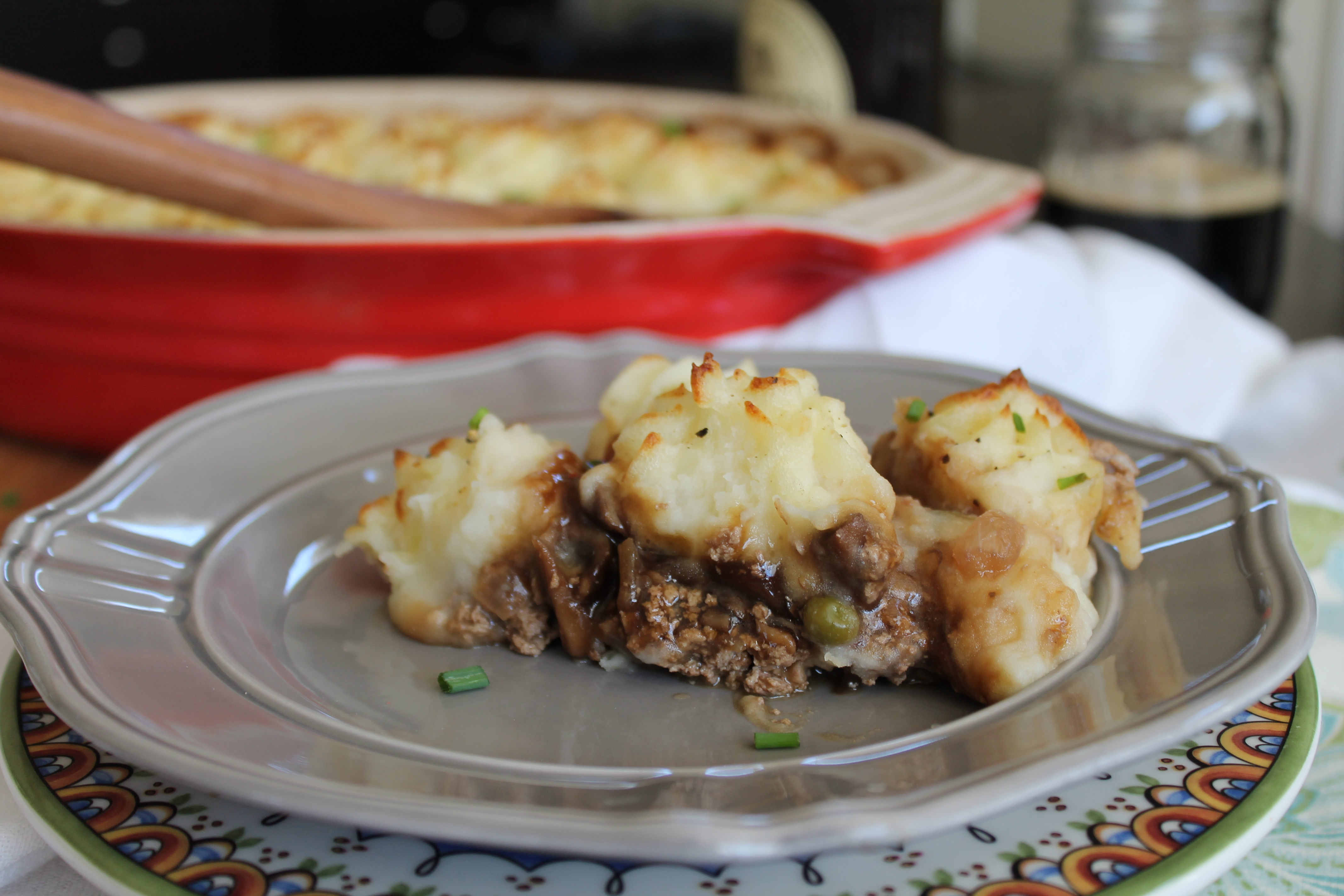 Bake the shepherd's pie at 400° for 15 minutes, then broil for 5 minutes to brown the tops of the potatoes. Let it cool for 10 minutes before sprinkling the top with fresh chopped chives and serving.
Savor each potato-ey bite!
Vegetarian Shepherd's Pie
adapted from Moosewood via Pechluck's Food Adventures
serves 6–8
Ingredients:
14 oz. extra firm tofu
4 Russet potatoes, peeled and cubed
2 tbsp. olive oil
1 large onion, diced
¼ tsp. ground thyme
½ tsp. ground coriander
fresh ground black pepper
¾ cup walnuts, toasted and chopped
1 tbsp. lemon juice
5 tbsp. soy sauce, divided
½ cup salted butter, cubed
1 large clove garlic, minced
½ cup heavy cream
4 oz. Dubliner Irish cheddar
2 tbsp. unsalted butter
8 oz. baby bella mushrooms, roughly chopped
12 oz. stout beer (or 1½ cups starchy potato water)
2 tbsp. cornstarch dissolved in ½ cup water
2 tbsp. fresh chopped chives
Directions:
At least one day before cooking the dish, prepare the tofu. Remove it from the container and pat it completely dry, pressing lightly to release extra moisture. Seal it in a Ziploc bag and freeze for 24 hours.
When ready to cook, remove the tofu from the freezer and let it thaw on the counter.
While the tofu thaws, boil the potatoes in lightly salted water for 15–20 minutes, or until tender.
Meanwhile, heat the olive oil in a large pan over medium heat. Sauté the chopped onion with thyme, coriander, and black pepper to taste until the onions are translucent.
Shred the tofu using the large holes of a box grater. Add the tofu and the chopped, toasted walnuts to the onion mixture. Stir in the lemon juice and 2 tbsp. soy sauce. Reduce heat to low and cook until the mixture no longer looks wet, stirring occasionally, then remove from the heat.
When the potatoes are tender, drain them (reserving some of the starchy potato water if desired in place of beer). While they are still hot, mash with the cubed salted butter and minced garlic. When the potatoes are smooth, stir in the cream and Irish cheddar. Add salt and black pepper to taste. Set aside.
Heat the remaining 2 unsalted butter in a skillet. Add in the mushrooms, remaining 3 tbsp. soy sauce, and fresh ground black pepper to taste. When the mushrooms release their liquid and the soy mixture starts to bubble, add in the beer (or reserved starchy potato water). Cook for 5 minutes, then stir in the cornstarch mixture. The gravy should thicken immediately. Taste and adjust seasonings (adding a pinch of sugar if the beer is too bitter) as needed.
Heat the oven to 400°. Lightly spray a large casserole dish with cooking spray.
Layer the tofu on the bottom of the dish, followed by the mushroom gravy, topped by the mashed potatoes.
Bake the shepherd's pie 15–20 minutes, or until the top becomes golden. Let the dish cool for 5–10 minutes, until the gravy stops bubbling.
Garnish with fresh chives and serve warm.
Enjoy!
One year ago: Coconut Cream Pie
Two years ago: Peanut Butter Cream Pie
Three years ago: Crustless Mini Quiches