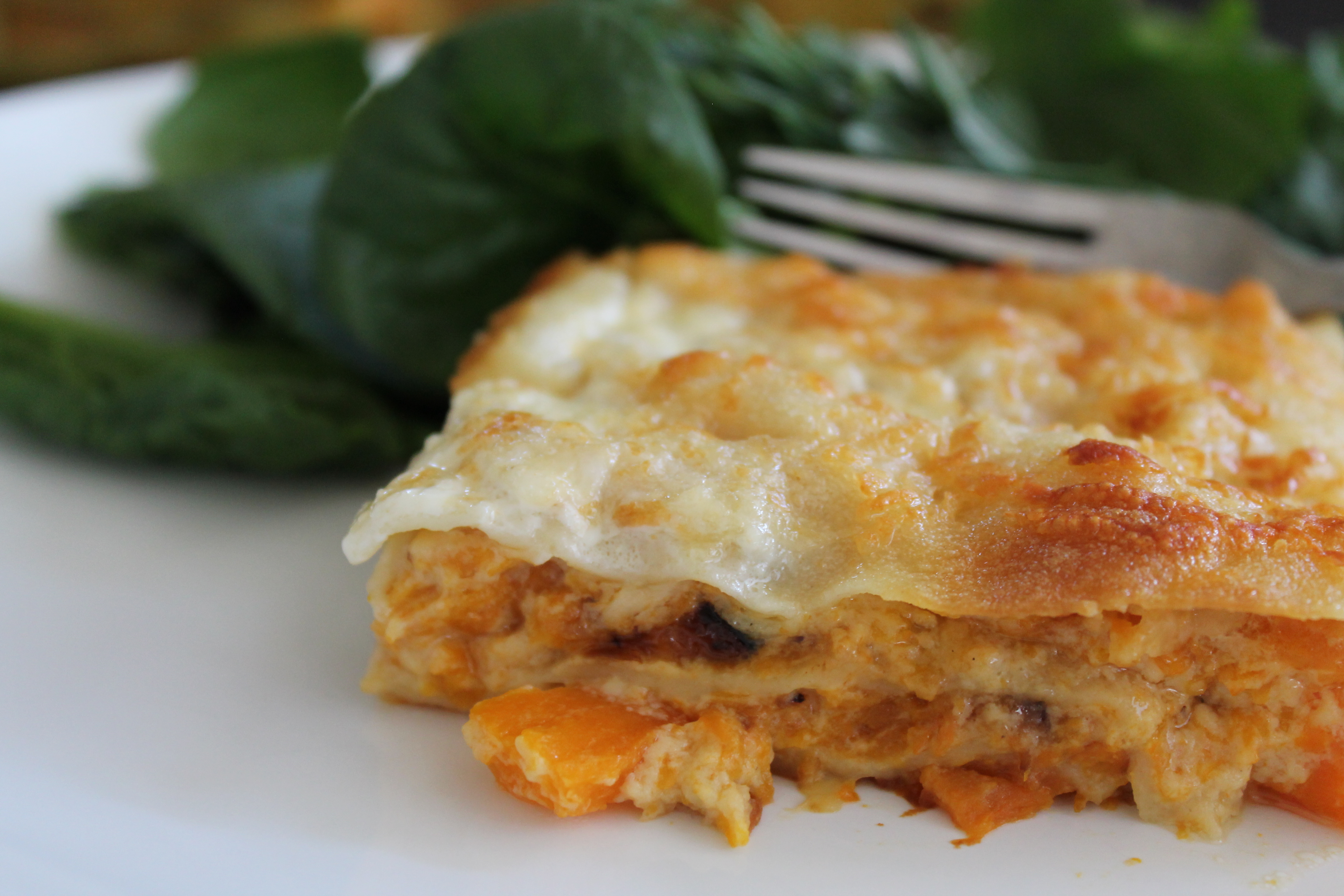 I am so excited about Spring, aren't you? Spring flowers and warm weather and kicking a soccer ball around with my son in our backyard…
But sometimes I just have a hard time saying goodbye to Winter. Especially this year, when I basically avoided my kitchen all Winter unless company came over or I had a hankering for dessert.
So today, on the very last day of Winter, I just can't resist sharing one final amazing dish with you: butternut squash lasagna.
This baby is so delicious, and so worth the effort! And because it is full of sweet squash instead of greasy meat and spicy tomato sauce, you could even get away with eating it in Spring. I'm just saying.

The reason I hardly ever make lasagna is that I actually find it super time-consuming. Not worth the effort that goes into it. In fact, I don't really understand when people refer to lasagna as a simple dish, because it seems like it involves so many components and steps that I am actually cooking all day long!
Well, this lasagna did take me a while, I won't lie. But I would totally do it again, because the result was fantastic! (And, if you don't burn some of your squash pieces and then spend 15 minutes trying to peel off the blackened parts, it actually isn't as time-consuming as it seems…) What I love is that there are really just two main parts to worry about before you assemble the lasagna: pasta noodles and béchamel with butternut squash in it.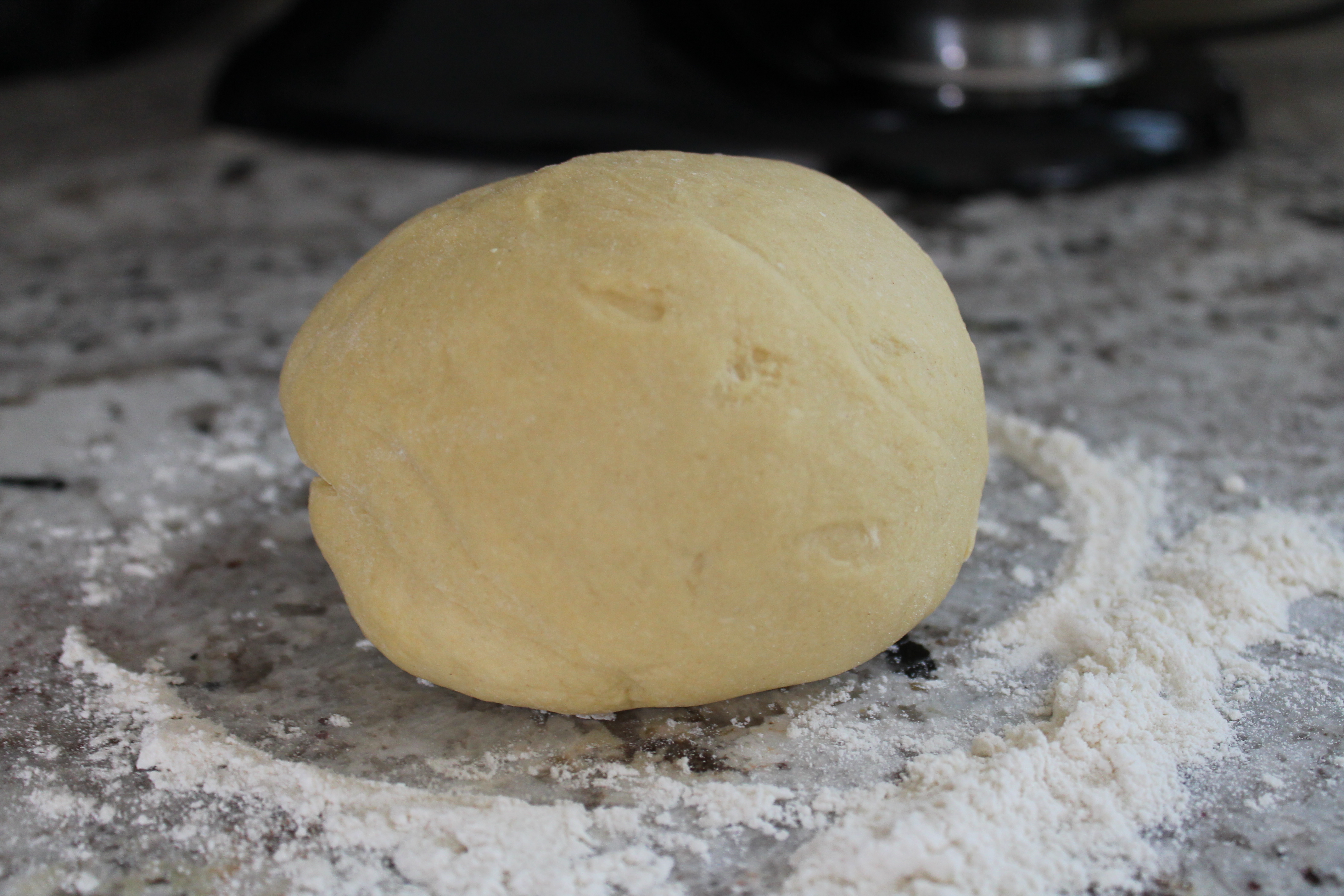 I had every intention of using pre-made lasagna noodles for this lasagna, to make my life easier. But when I got home from my second grocery store trip related to this lasagna and looked in my pantry, I realized that my stock of lasagna noodles had dwindled to 4…and so I made fresh pasta.
This is super easy, I swear! Just whiz flour and eggs in a food processor until it forms a ball, then knead the ball for 1 minute, wrap it in plastic wrap, and walk away to make the rest of the lasagna components. (The advantage of making fresh pasta is that you don't need to boil it! But, of course, you do have to take the time to roll it into sheets later. Feel free to use store-made noodles in your lasagna if you find that easier…but I may never go back!)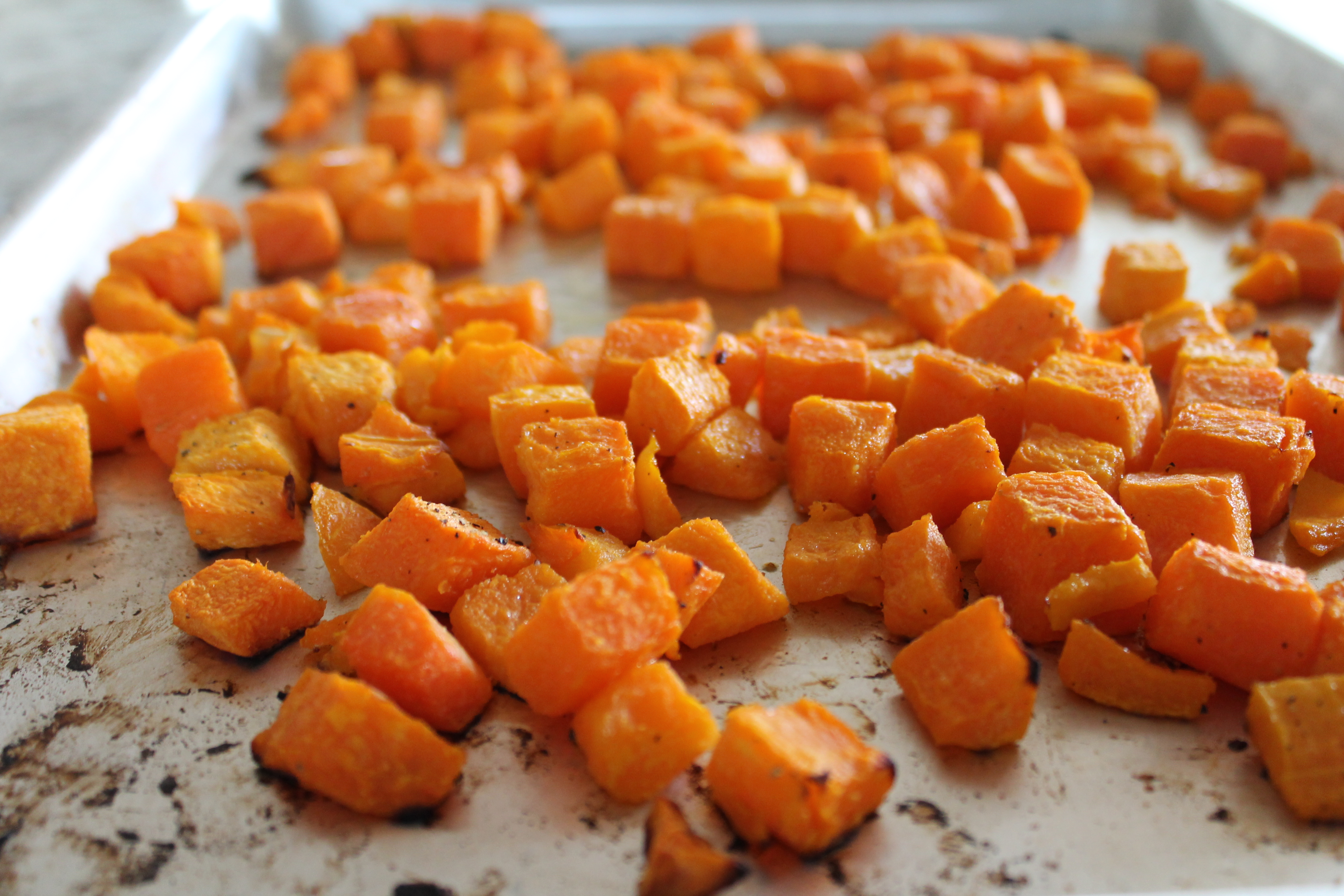 The first *real* step is to roast the butternut squash. I bought pre-cut squash pieces, because I knew that I would feel happier about making the lasagna if I didn't have to spend 20 minutes chopping at the very front. Toss the squash with olive oil and set them on two baking sheets.
Roast for 10 minutes, then season them lightly with salt and black pepper. Continue roasting for another 10–15 minutes.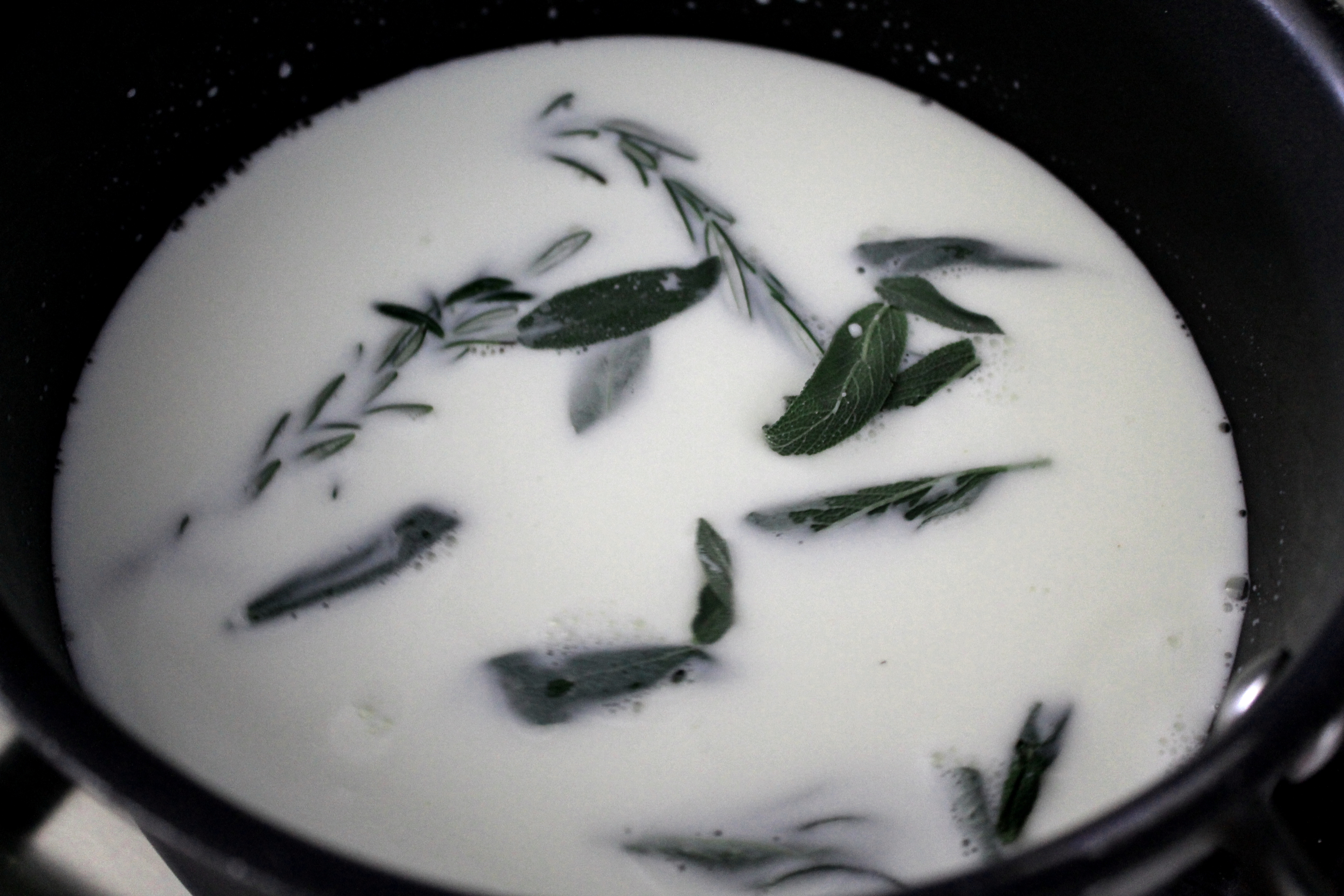 Meanwhile, make the béchamel! Start with an herbed milk. While the squash roasts, heat the milk over medium heat for 10 minutes, stirring occasionally, with a handful of fresh sage leaves and a large stalk of fresh rosemary.
Remove the milk from the heat and pour it through a strainer to catch the herbs. Set it aside.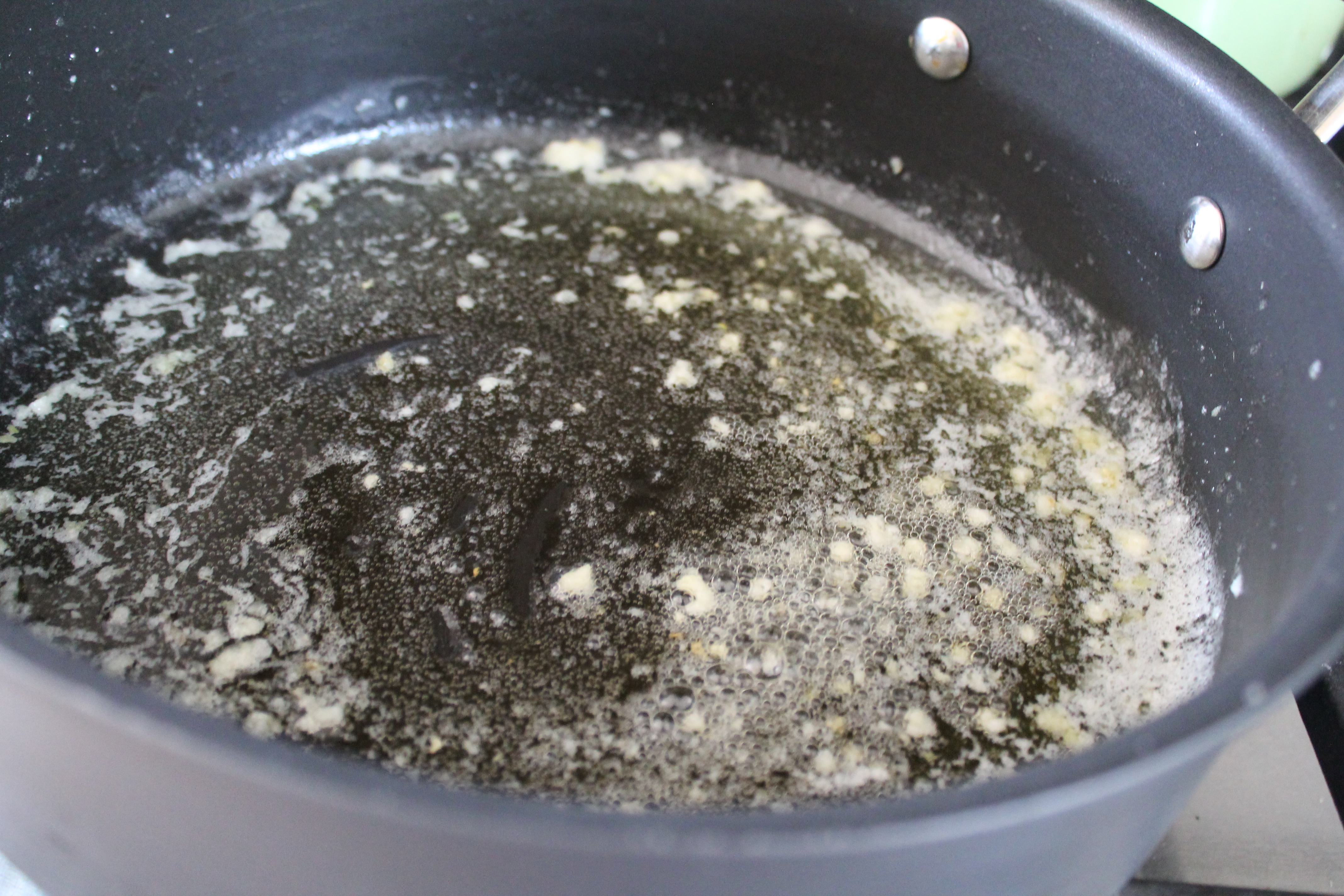 Now make a roux. Heat butter and garlic over medium heat in a very large saucepan. When the butter is fragrant and bubbly, whisk in the flour. Make sure to whisk until all the lumps are worked in. I like to add just about a tablespoon of flour at a time and work each bit in before I add more.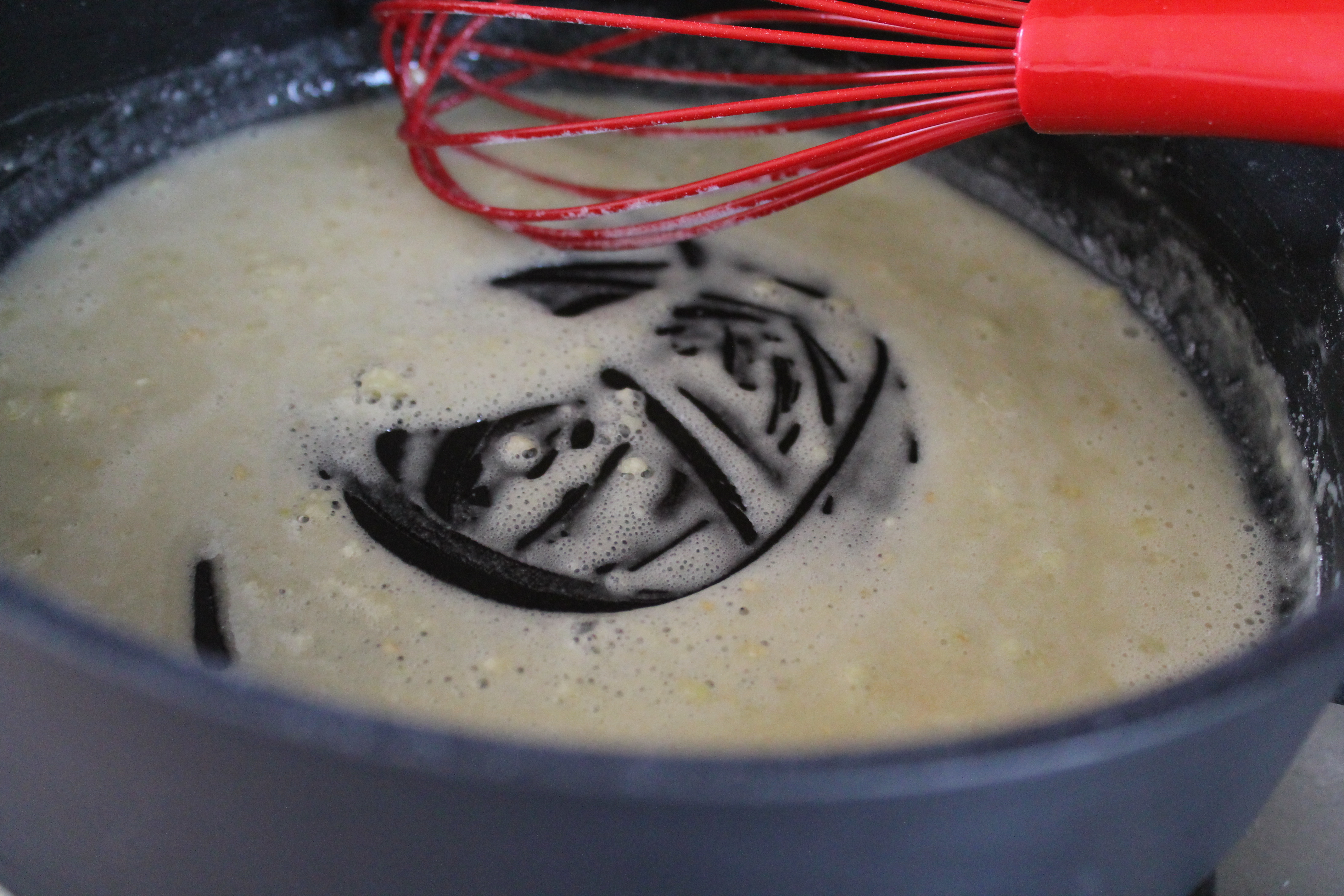 Cook the roux for a few minutes, stirring constantly.
Now add the hot milk, just a splash at a time at first, whisking until each splash is absorbed. As you whisk in the milk a little at a time, the roux will go through stages: first, it will look like a thick paste, then like mashed potatoes, then like a thick cream, and finally when it is loose and liquid, you can pour all the remaining milk into the pan.
Heat the sauce over medium heat, whisking regularly, until it thickens substantially. This took me about 10 minutes.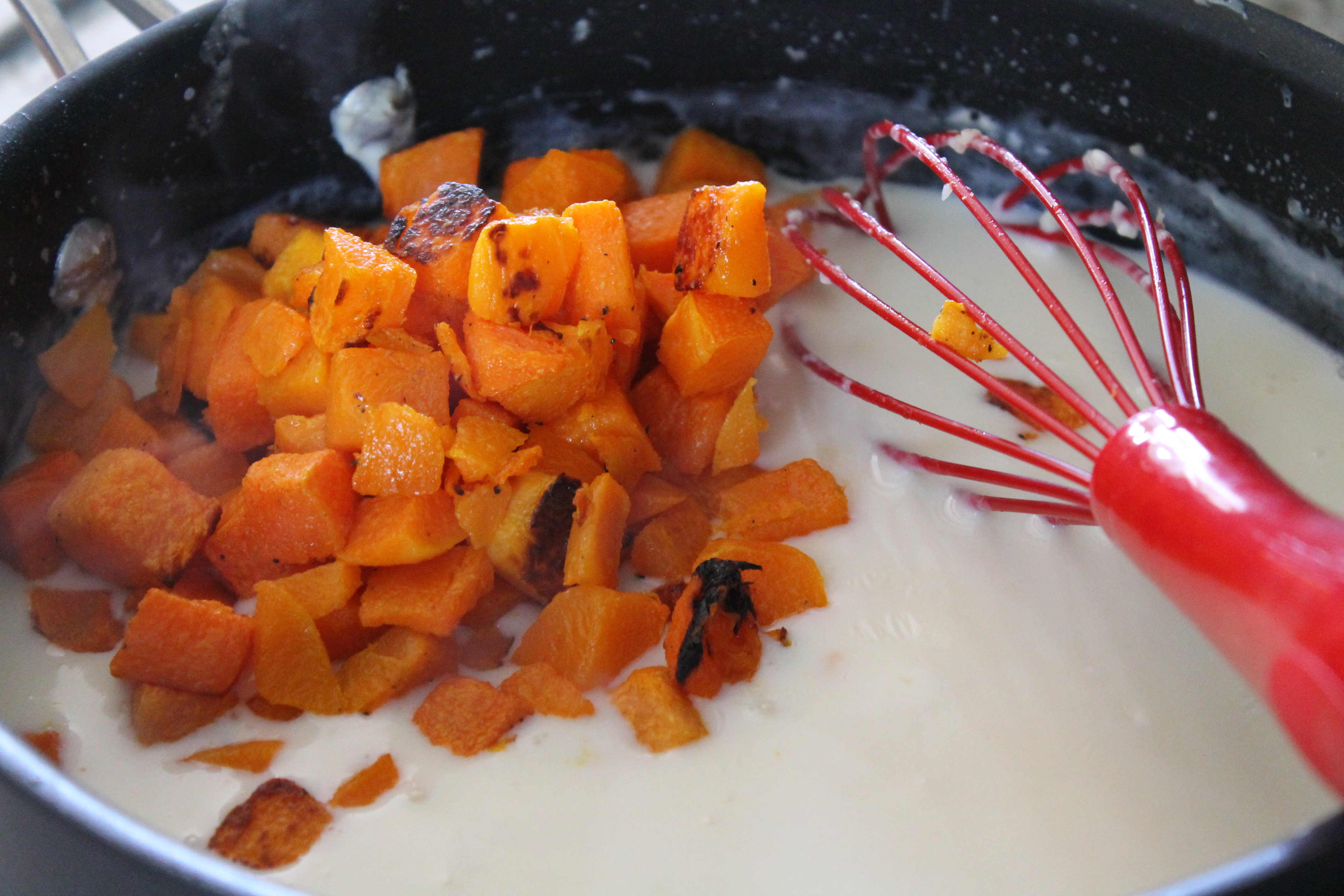 Add the tender, roasted butternut squash to the béchamel. I used a potato masher to mash up some of the squash into the sauce, because I wanted the end effect to be a bit thicker and smoother in the lasagna. Don't try to puree the sauce, though, because having some chunks of butternut squash throughout the lasagna is what gives it character!
Taste the sauce and add salt to suit. I added just a few small pinches so I wouldn't overpower the sweetness of the squash.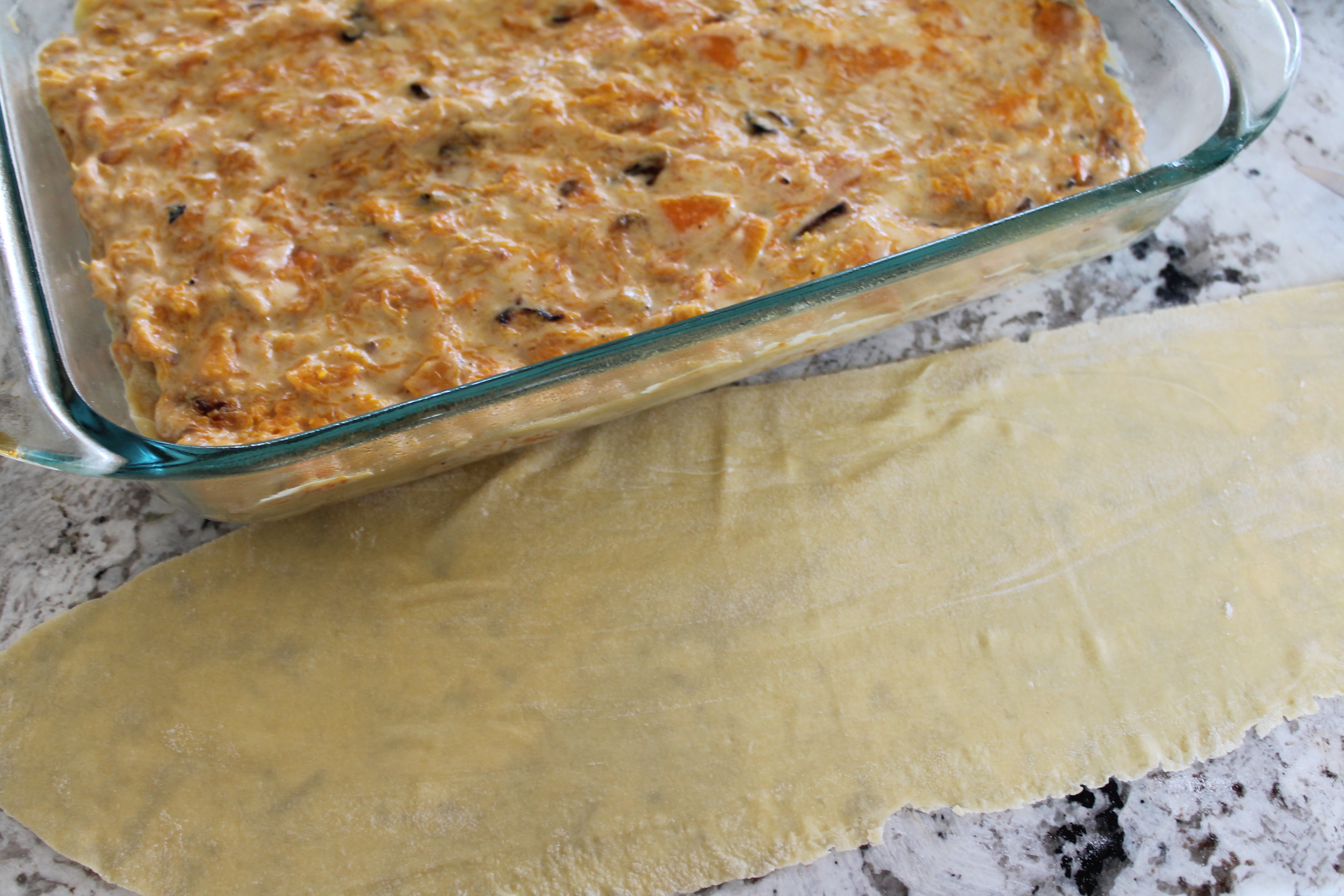 Now we can begin assembling the lasagna! Spoon about 1 cup of the butternut béchamel into the bottom of a greased 9″x13″ pan. Spread it thinly around the bottom of the pan; it won't cover completely or evenly, but that's okay!
If you made fresh pasta, you will need ½ lb., or half of the ball of pasta. Wrap the rest up and save it for later in the refrigerator or the freezer! Divide the ½ lb. you will be using into thirds. Roll out the first third, using plenty of flour. I have an amazing pasta roller that certainly aided this process: the goal is the get the pasta rolled super thinly so it will be delicate and delightful! I found that each third of pasta dough (or…sixth…if you will…) made a strip of pasta just long and wide enough that when I cut it in half, the two pieces completely covered the bottom of the baking dish. Perfect size!
If you are using pre-made noodles, then you should have boiled and drained 9–10 of them while you were making the béchamel.
Either way, layer the noodles side by side over the bottom of the baking dish.
Top them with half of the remaining butternut béchamel and ½ cup freshly shredded parmesan. (I went to the fancy cheese counter and picked up a container of freshly grated cheese, because again, I was trying to save on the time and effort associated with making a lasagna by not spending 10 minutes grating parmesan. You do you. Just DON'T use the cheese powder in the green can.)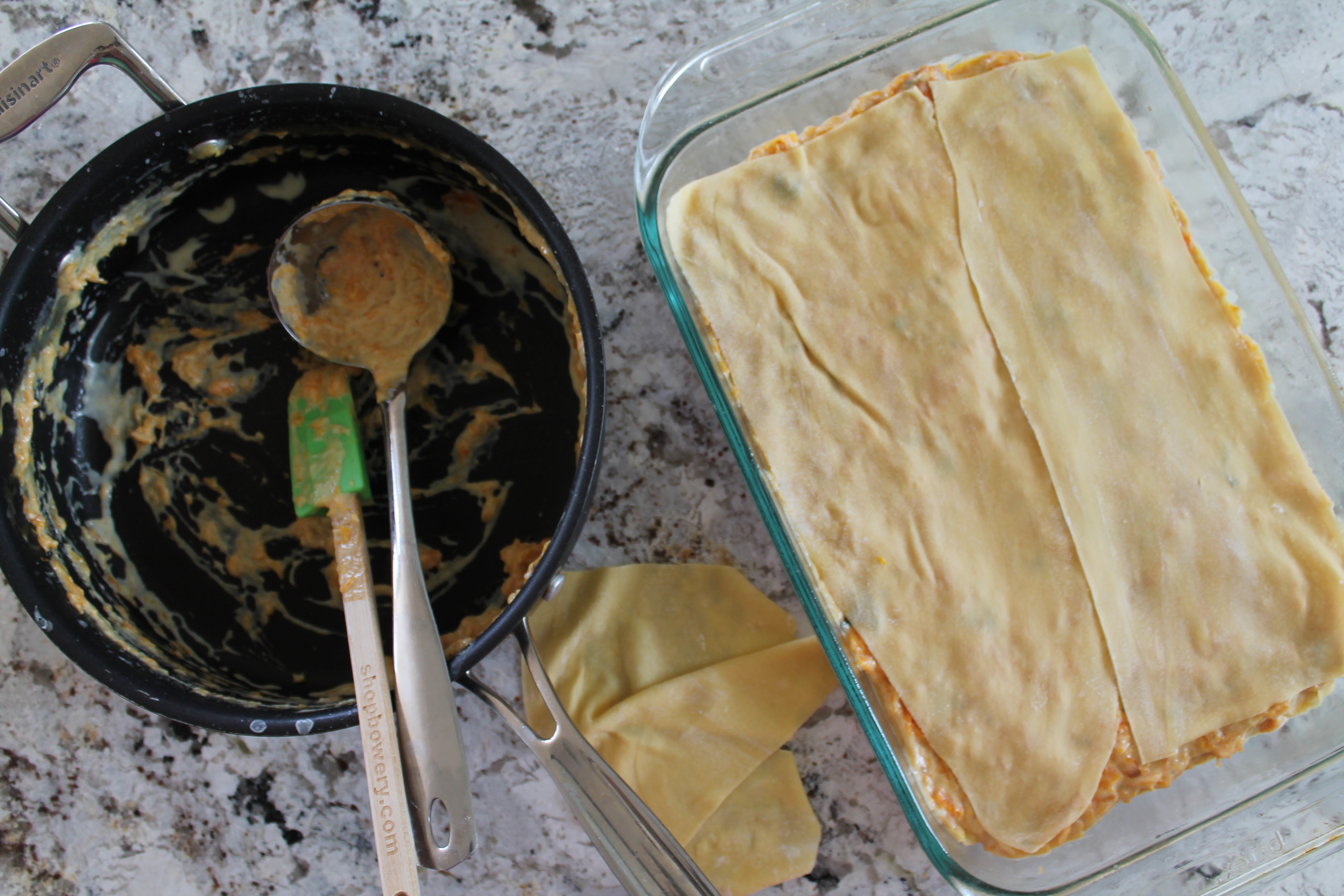 Repeat the layers: lasagna noodles, the rest of the butternut bechamel, and parmesan.
Now quick as you please, go whip some heavy cream into stiff peaks with salt. That's right. Savory whipped cream. I actually still thought this tasted delicious, and licked the beaters just as I would with sweetened whipped cream. Pregnancy?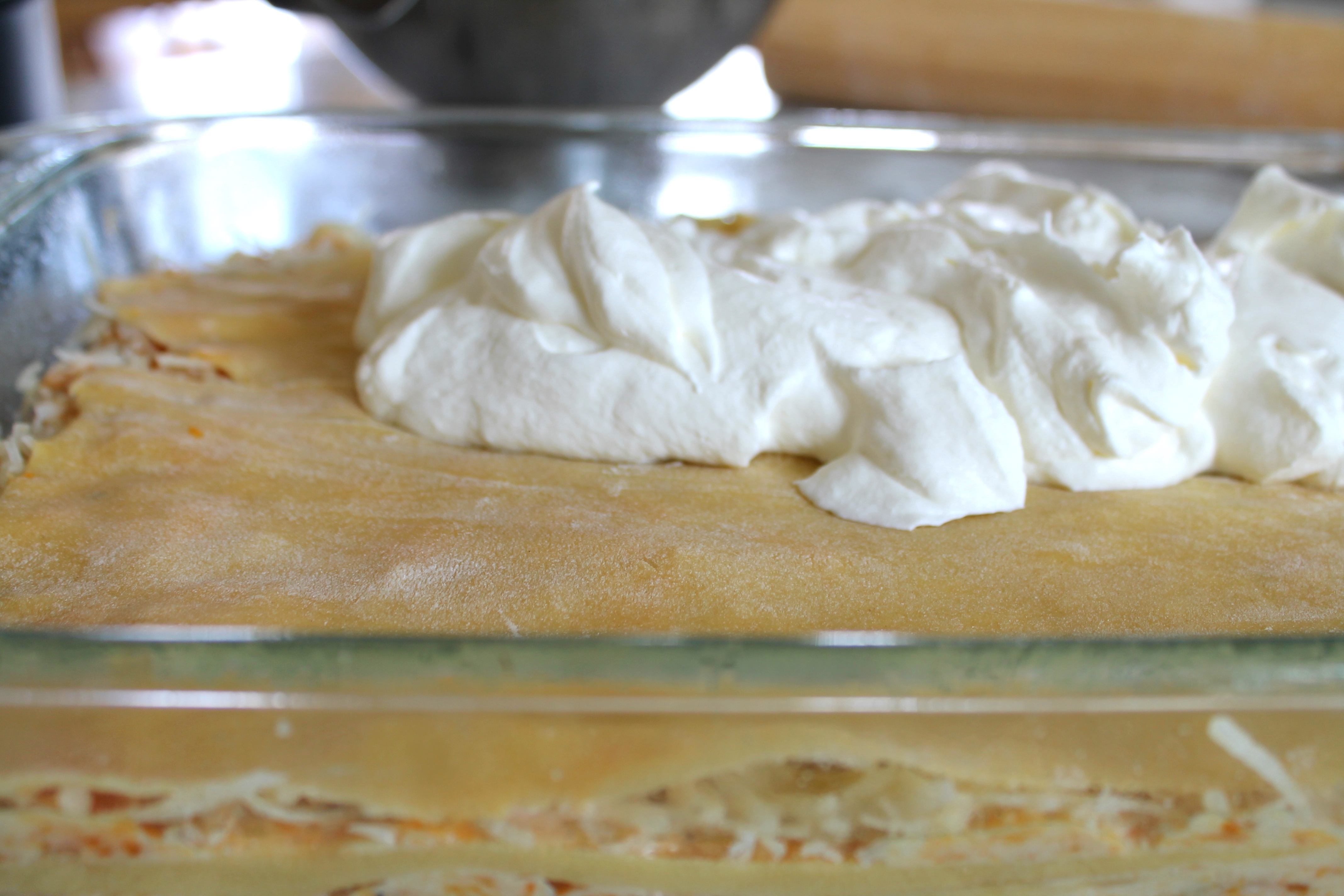 Lay the last of the lasagna noodles in the baking dish, followed by the savory whipped cream. Spread the whipped cream evenly over the lasagna. Top with a generous handful of freshly shredded parmesan.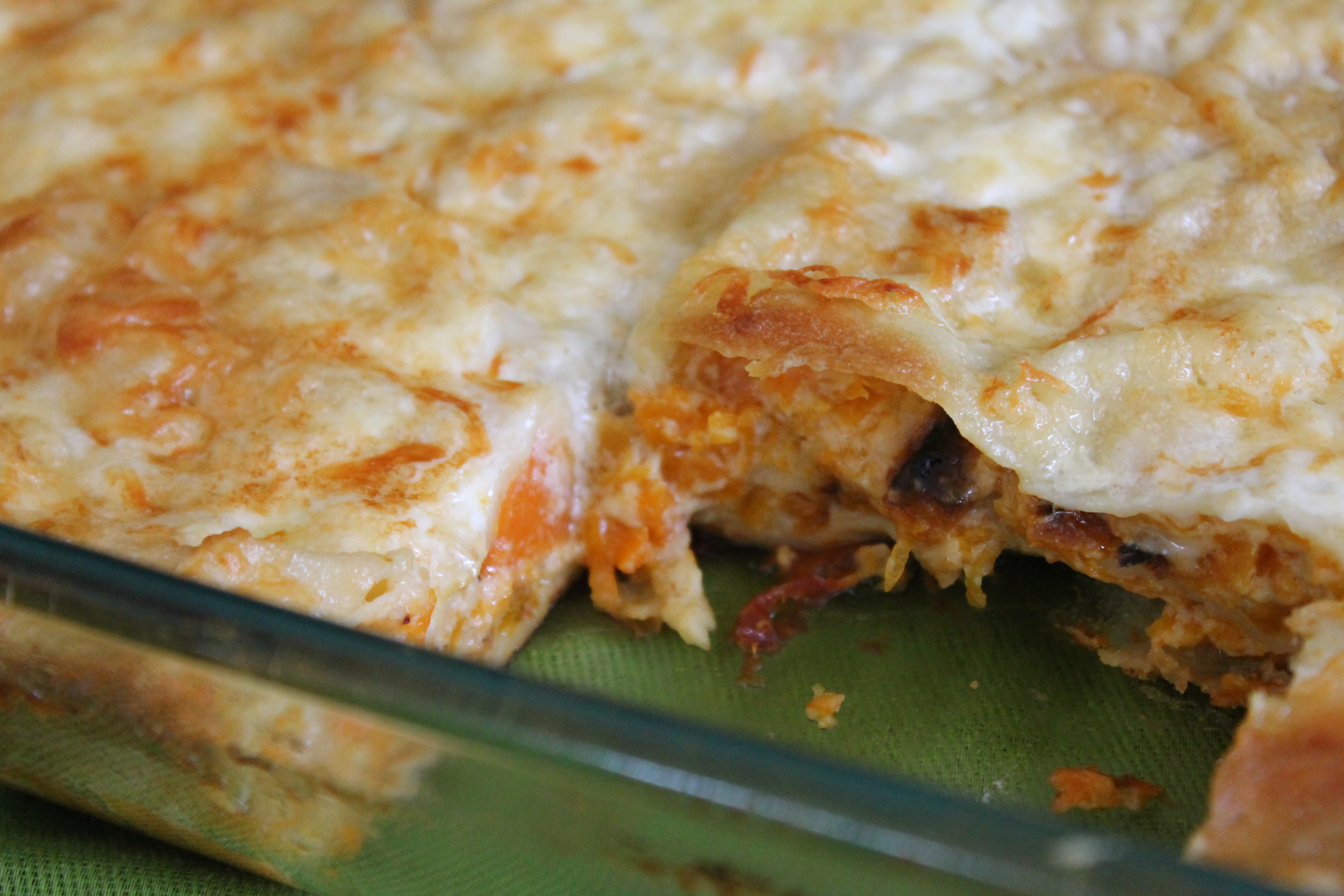 Cover the lasagna tightly with foil and bake for 30 minutes at 375°.
Remove the foil and continue baking another 10–20 minutes, until the cheese on top is browned and bubbly. Let the lasagna cool about 5 minutes before cutting and serving. Yum!
Butternut Squash Lasagna
barely adapted from Alexandra's Kitchen
serves 8–12
Ingredients:
2½ lbs. butternut squash cubes (from about 3 lbs. whole squash)
2–3 tbsp. olive oil
salt and black pepper
4 cups 2% milk
5–10 fresh sage leaves
1–2 large sprigs fresh rosemary
¼ cup unsalted butter
4 large cloves garlic, minced
¼ cup flour
½ lb. fresh egg pasta OR 9 lasagna noodles, boiled
1½ cups freshly shredded parmesan (about 4 oz.)
1 cup heavy cream
½ tsp. salt
Directions:
Preheat oven to 450°.
Toss butternut squash cubes with olive oil and spread on two large baking sheets. Roast squash in oven 10 minutes, then season with salt. Stir squash and roast 10–15 minutes more, or until completely tender and barely browned.
While the squash is roasting, milk and fresh herbs to a simmer. Heat over low heat for 10 minutes, then pour through a sieve into a large pitcher or lipped bowl. Discard the wilted herbs.
In a large, heavy saucepan, heat the butter and garlic until the butter is melted and beginning to bubble. Whisk in the flour a little at a time to form a smooth roux. Cook the roux, stirring constantly, for 3 minutes.
Whisk in the hot milk a little at a time, allowing the roux to absorb each addition before adding more. Allow the sauce to simmer about 10 minutes, whisking regularly, until thickened.
Add the roasted butternut squash and mash slightly with a potato masher to incorporate some of the cubes into the sauce. Remove the béchamel from the heat. Taste and adjust seasonings as needed. (This sauce may be made up to 3 days ahead of time and stored in the refrigerator with a piece of plastic wrap against its surface to prevent it from forming a skin.)
Reduce oven temperature to 375° and lightly grease a 9ʺx13ʺ baking dish.
If using fresh pasta, roll out into large, thin sheets with a pasta roller or by hand.
Spoon 1 cup of the butternut béchamel into baking dish and spread as evenly as possible.
Layer on fresh lasagna noodles or 3 boiled noodles, followed by half of the remaining butternut béchamel and ½ cup parmesan. Repeat these layers once more.
In a mixer bowl, beat the heavy cream with ½ tsp. salt until it forms stiff peaks.
Lay the last lasagna noodles into the baking dish and spread the salty whipped cream evenly over top. Sprinkle with the remaining ½ cup parmesan.
Cover the baking dish tightly with foil and bake the lasagna for 30 minutes. Remove the foil and bake 10–20 minutes more, until the cheese is golden and bubbling.
Let the lasagna stand for 10 minutes before cutting and serving.
Enjoy!
One year ago: Rugelach
Two years ago: Kale Chips
Three years ago: Monkey Bread