It's almost Easter!
For several months now, Jake's favorite "book" has been a Wilton cupcake decorating magazine. He found it on the cookbook shelf and immediately started asking me to "read" it to him, naming and describing all of the cupcakes from bubble-gum machines to bouncing babies to Christmas penguins. Now the poor cupcake magazine is more dog-eared than any other book in the house.
(In case you don't know, I have never been a fan of fondant. Or extravagantly decorating desserts purely for visual effect. I am a firm believer that food should be primarily tasty, and that efforts that don't affect the flavor are a waste of time.)
This cupcake book is entirely to blame for the fact that Jake has become obsessed with Easter eggs. Begging daily to do an Easter egg hunt (an event that he has never actually experienced…).
Because of this cupcake book, I am slowly realizing that I will have to let go of my ambivalence toward cute foods in favor of having fun with my kid.
Spring certainly does present a lot of fun (food) craft opportunities for little ones, so this week we decided to embrace the chocolate malt Easter egg and do a delicious art project! Jake had a blast decorating these cupcakes! Not only were these cupcakes cute and festive (perfect for a party!), but every part of them was tasty.

The chocolate cupcakes themselves are super simple. Martha Stewart's one-bowl cupcake recipe is my favorite, go-to recipe for chocolate cupcakes. It takes less than 5 minutes to mix the batter and get it into the oven! If I am going to take the time to do cutesy decorations on my baked goods, I definitely want all of the elements to come together quickly!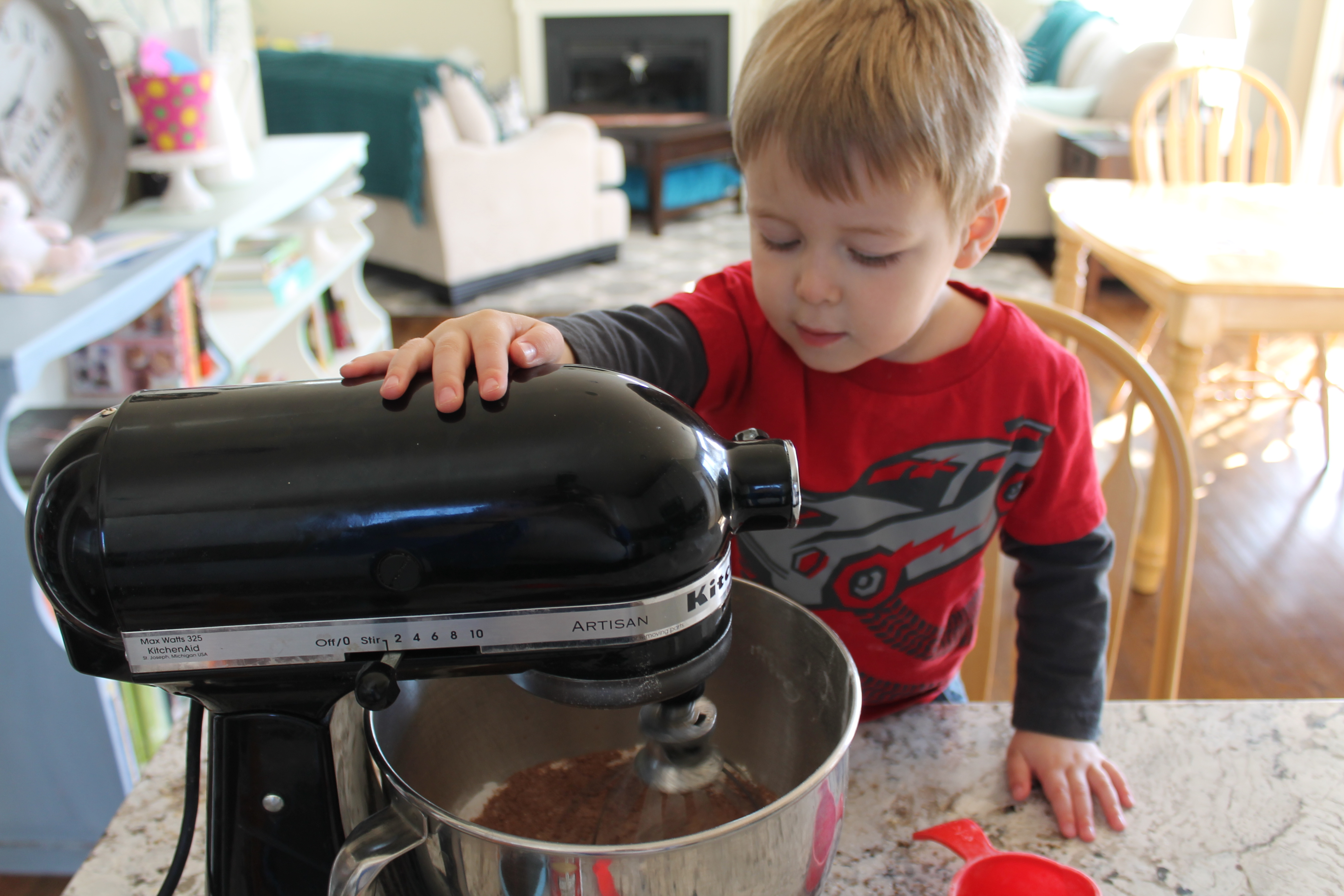 First, whisk together the dry ingredients in a large mixer bowl. This not only distributes the cocoa and leaveners evenly through the flour, but it also aerates in the same way sifting would.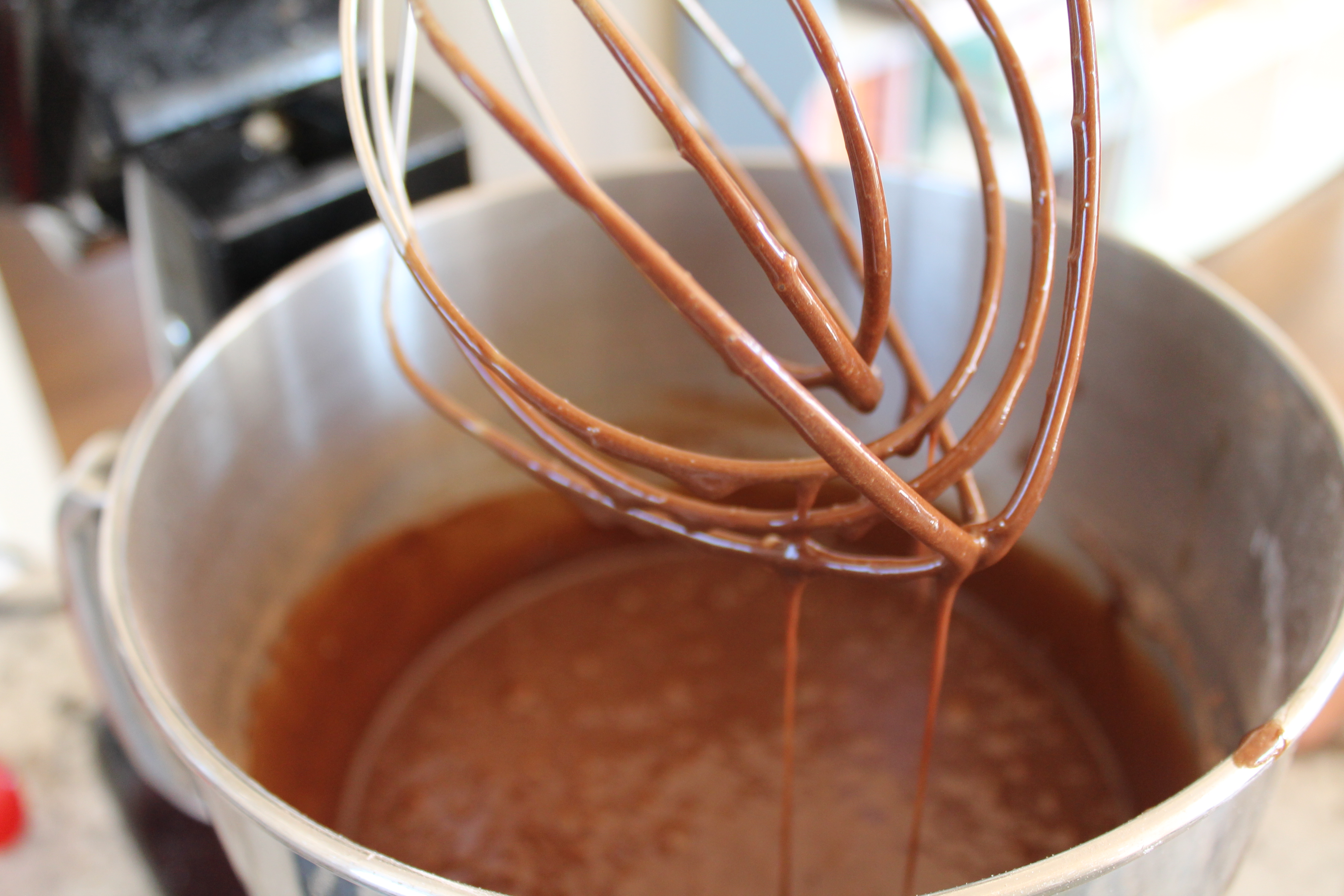 Next, add the buttermilk, eggs, warm water, and vanilla. Mix slowly until the flour is all combined, scraping the sides of the bowl as necessary. Then turn the mixer up to medium speed and beat for 3 minutes. The batter will be quite soupy.
Scoop or pour the batter into a lined cupcake tray, filling each cup about ⅔ full. I got 19 cupcakes out of this batter, but I could have gotten 20 if I scraped the sides of the mixer bowl clean.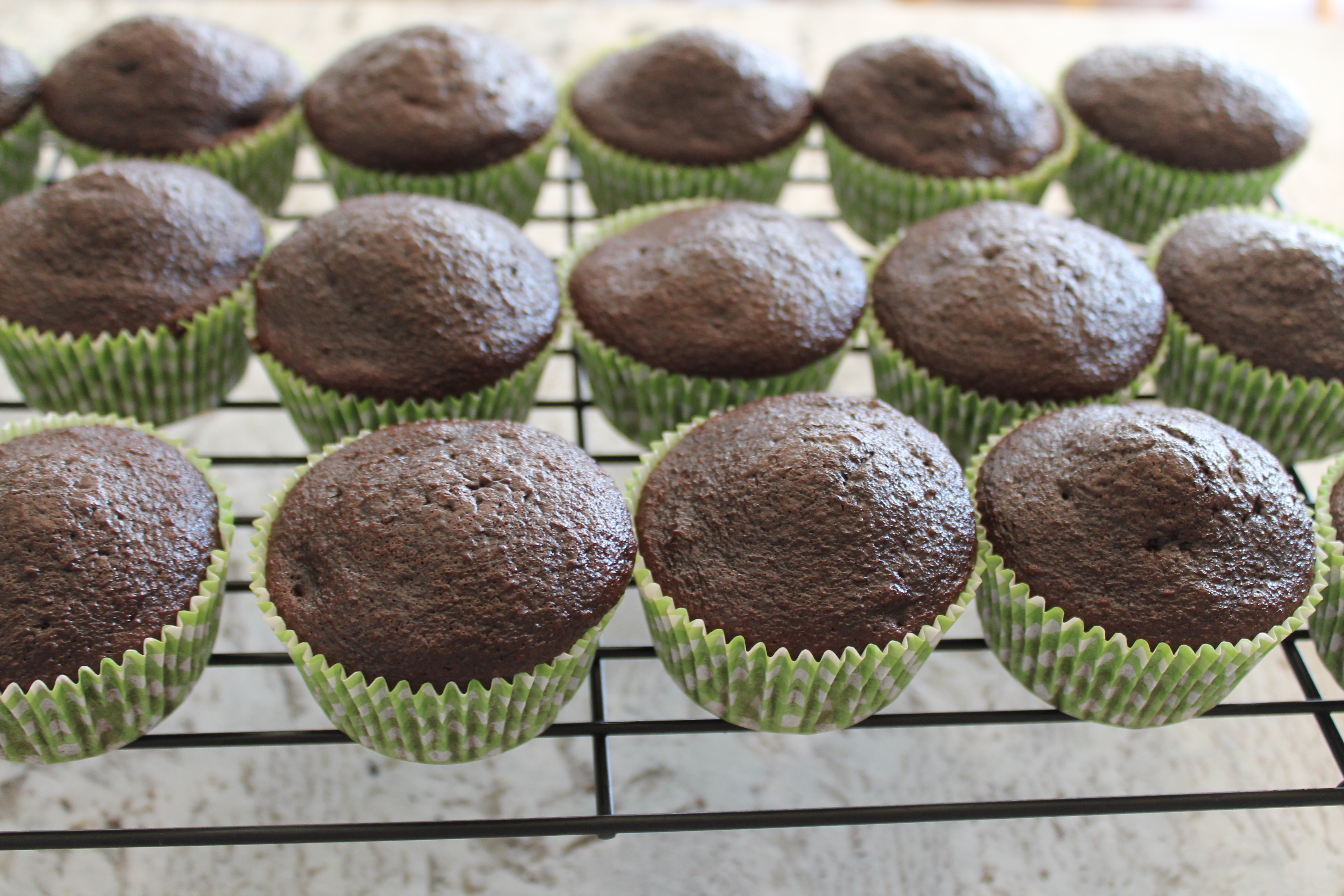 Bake the cupcakes for 18–20 minutes at 350°, turning the pans halfway.
Let the cupcakes cool in the pan for 5 minutes, then transfer to a wire rack to cool completely.
Once the cupcakes are cool, we can start decorating!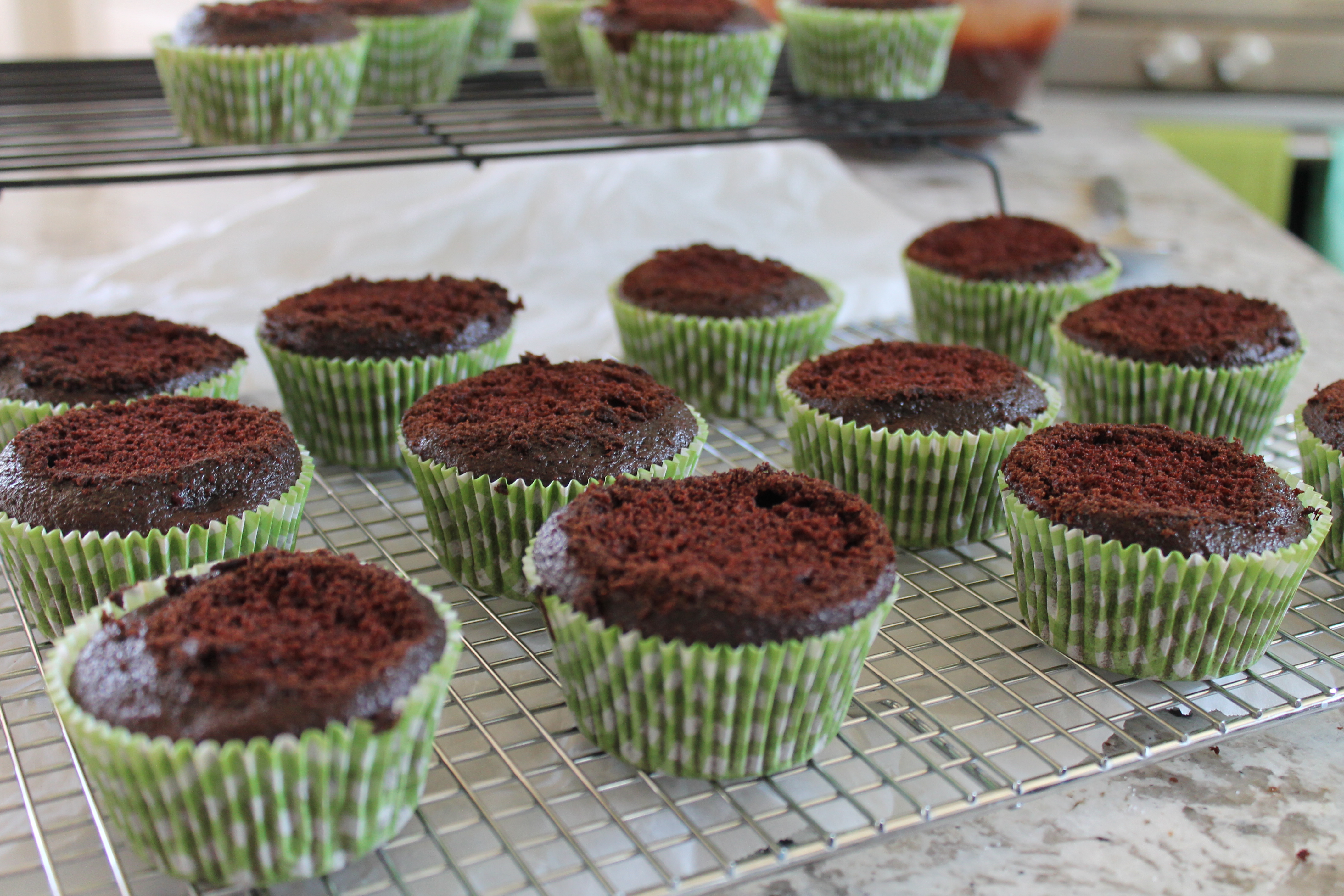 First, if you are planning to make a little egg nest, you will need a flat(ish) surface or else the eggs will roll right off the cupcakes. As the Martha Stewart recipe makes domed cupcakes, I achieved this by slicing off the very tops of all the cupcakes. I didn't cut all the way down to the cupcake wrapper, but I did aim to make a little plateau on every cupcake so that the malted eggs would have somewhere to nest comfortably. (And yes, I did eat all those cupcake tops. With some ganache on them. Yum.)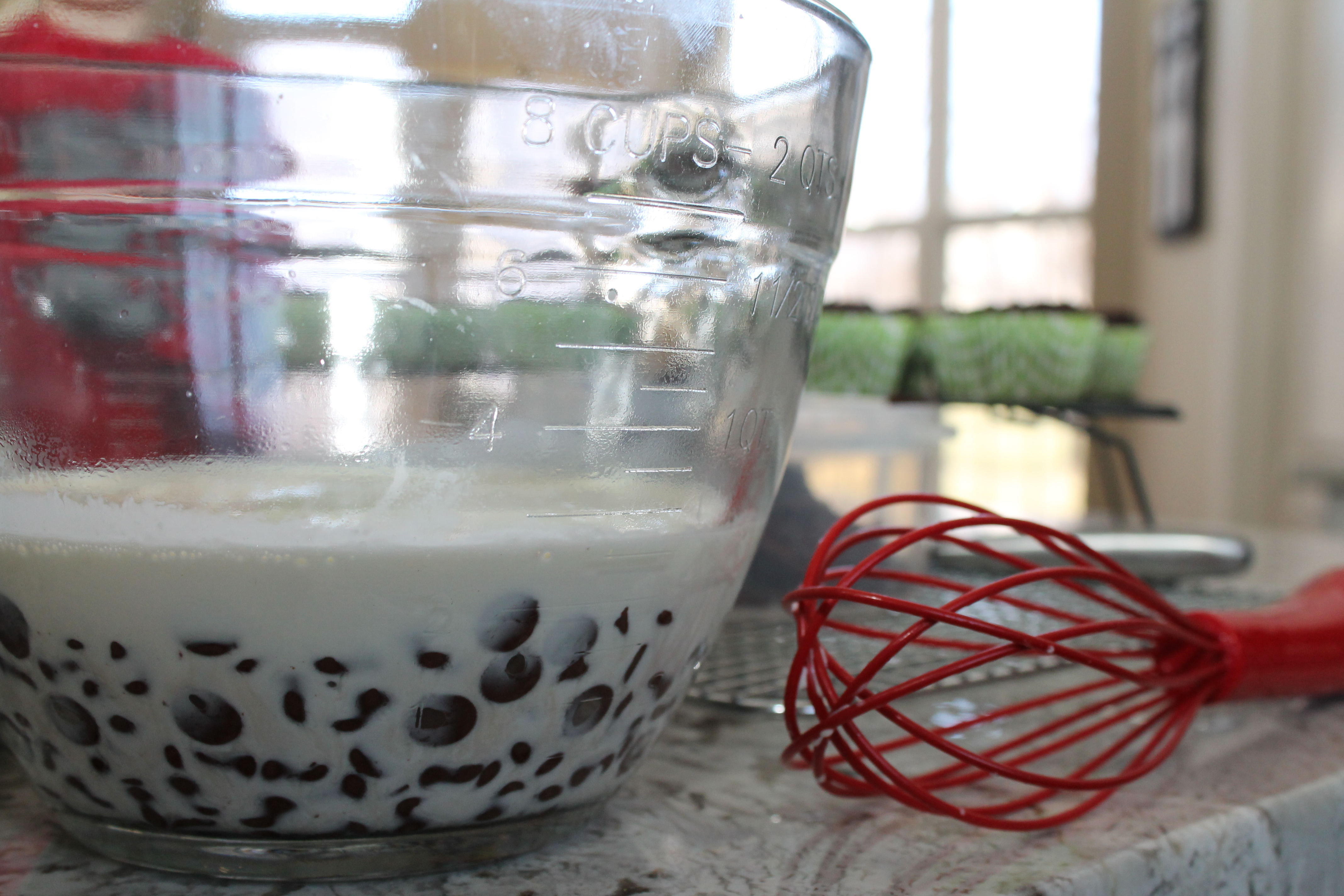 Now we make ganache! Seriously, this is easy. Almost as easy as the cupcakes themselves. Just heat heavy cream to a simmer, then pour it over a bowl full of chocolate chips. Let that stand for a minute or so, then stir until smooth. To achieve a nice, glossy look, and a ganache that will still be soft and supple when it sets, stir in a little bit of light corn syrup!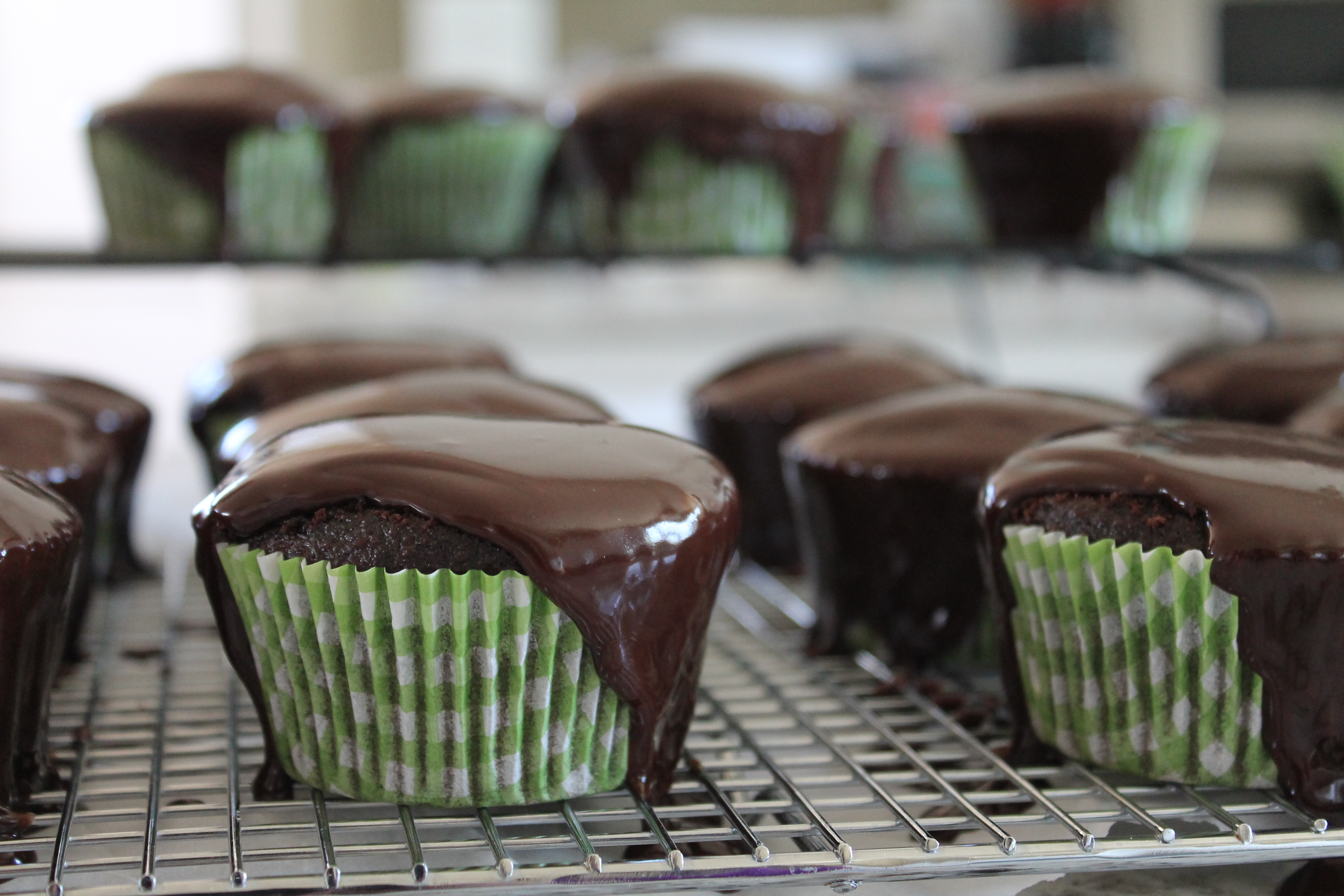 Spoon the warm ganache over the cupcakes and just let it smooth itself out and run down the sides of the cupcakes. Isn't this easier than spreading or piping frosting?? I used a large spoon and I had enough ganache for each cupcake to get a double dose of ganache. It dripped gloriously down the sides of the cupcake wrappers…which, of course, meant that every person who ate a cupcake would end up covered in ganache no matter what. A small price to pay!
While the ganache sets slightly, it is time to make the little egg nests! I tried two different nest styles: one, a more traditional "Easter basket" with green coconut grass, and the other a more "realistic" bird nest made with chocolate shavings to look like twigs.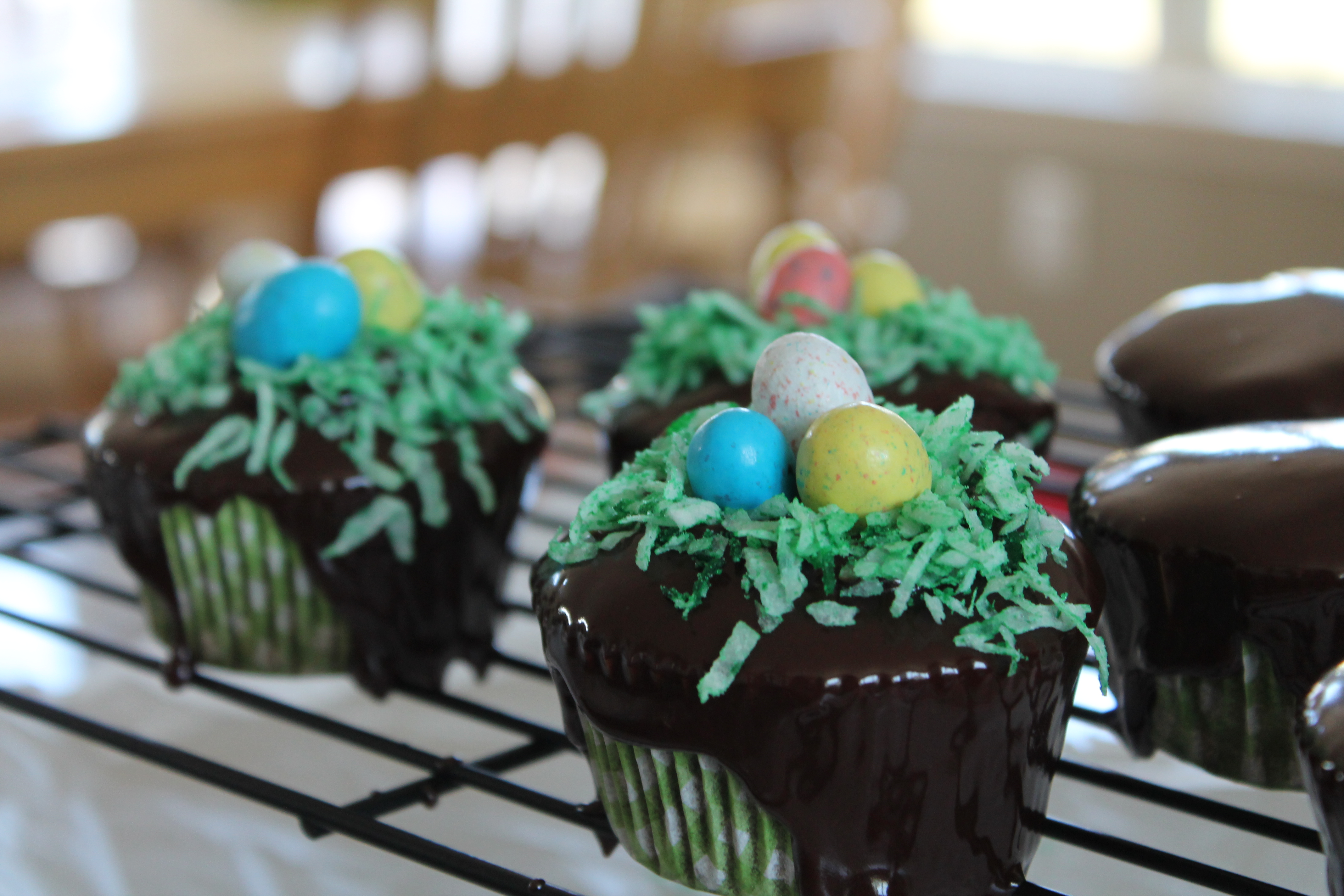 Jake had much more fun dyeing the coconut green—though he emphatically refused the paparazzi moments while he decorated these cupcakes—and I found that most of the kids made a beeline for the coconut grass cupcakes, even if they didn't like coconut. Green grass + Easter eggs is iconic! But not everyone likes coconut, and I definitely preferred the (slightly more effortful) chocolate shavings on my cupcakes.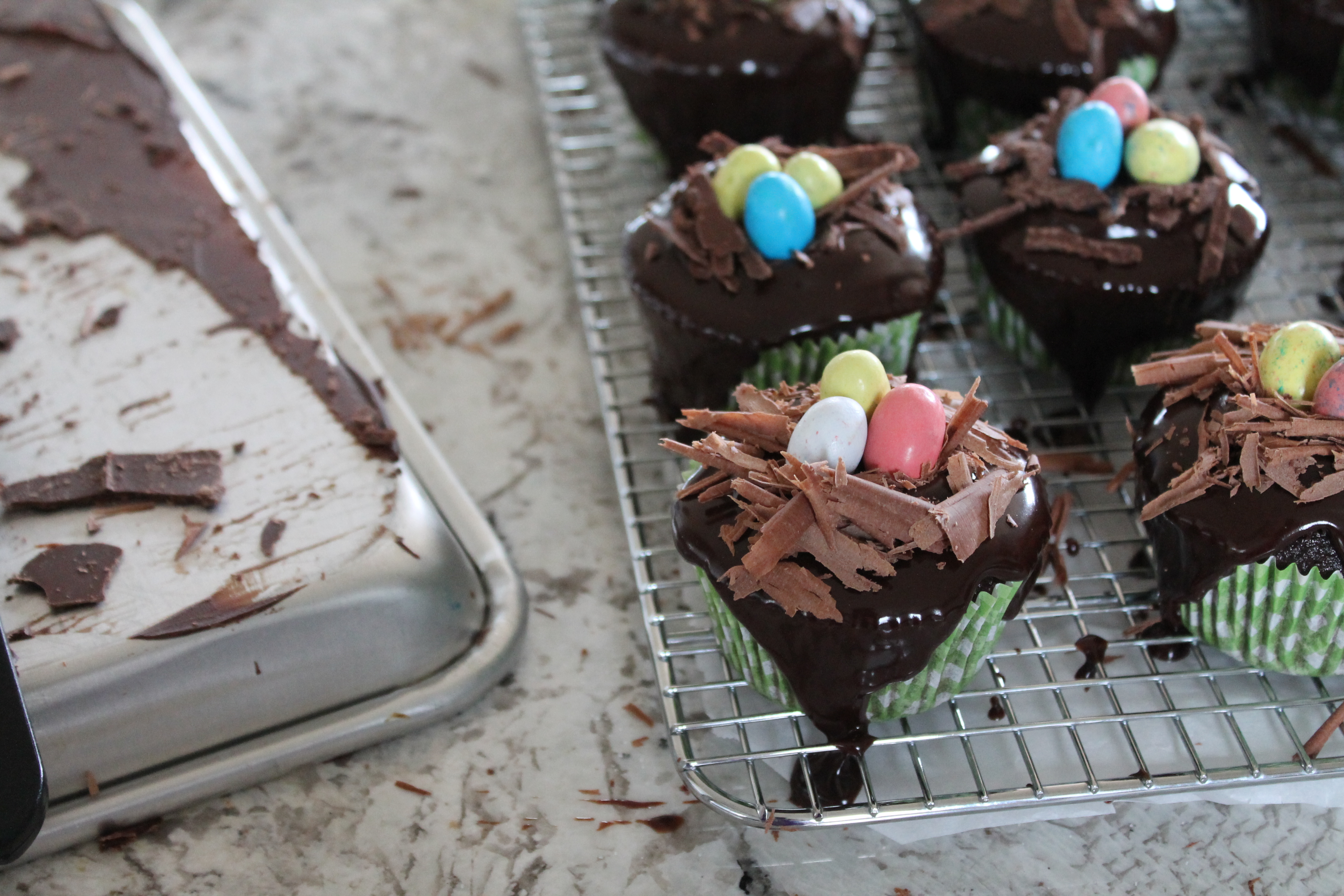 So. Toss some coconut with green food coloring, and/or melt some chocolate, spread it thin on a cookie sheet, then scrape it up into tiny curls or shards. Build a little edible nest atop each cupcake! The chocolate is messy—it is so thin the heat of your fingers can melt it quickly—so I was in charge of that while Jake was in charge of the green coconut (which, again, he liked better anyway).
Once each cupcake has a nest, you can nestle the chocolate malt Easter eggs in the center. I used three malt eggs per cupcake.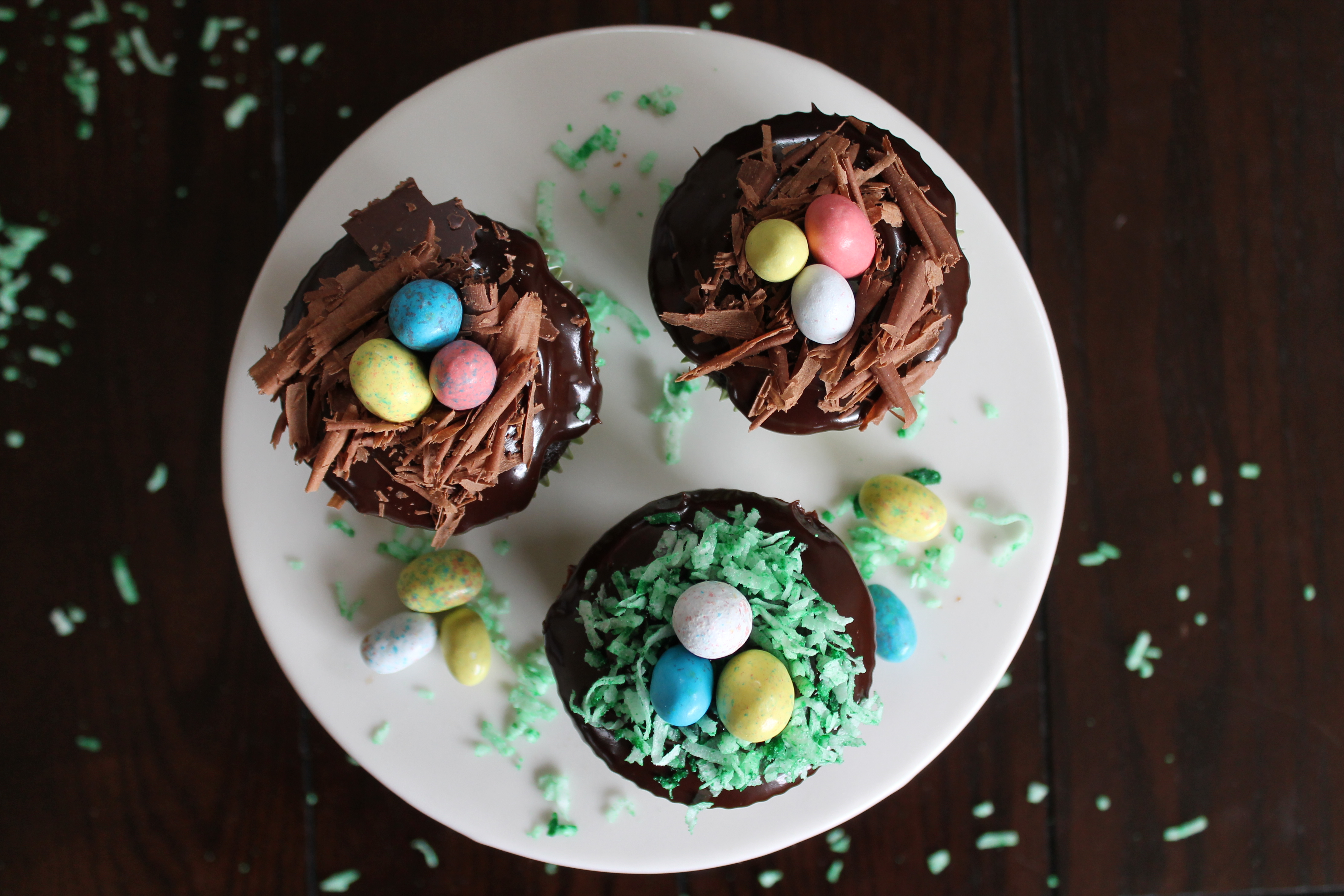 And ta-daa! Festive and yummy. Just in time for your Easter egg hunt.
Easter Egg Nest Chocolate Cupcakes
inspired by Annie's Eats
cupcakes from Martha Stewart
makes 18–20
Cupcake Ingredients:
¾ cup cocoa powder
1½ cups flour
1½ cups sugar
1½ tsp. baking soda
¾ tsp. baking powder
¾ tsp. salt
2 eggs, barely beaten
¾ cup warm water
¾ cup low-fat buttermilk
3 tbsp. vegetable oil
1 tsp. vanilla extract
Ganache Ingredients:
12 oz. semisweet chocolate chips
1⅓ cups heavy cream
3 tbsp. light corn syrup
Easter Topping Ingredients:
½ cup sweetened shredded coconut, tossed in green food coloring
chocolate shavings
chocolate malt eggs
Directions:
Preheat oven to 350°. Line cupcake trays with paper wrappers.
In a mixer bowl, whisk together the cocoa powder, flour, sugar, baking soda, baking powder, and salt until aerated and evenly colored.
Make a well in the center of the dry ingredients and add the eggs, water, buttermilk, oil, and vanilla extract. Stir to combine, scraping the sides of the bowl to incorporate all of the flour mixture. With the mixer on medium-high speed, beat the batter for 3 minutes.
Spoon the batter into the muffin cups, filling about ⅔ full.
Bake for 18–20 minutes, or until the tops of the cupcakes spring back when pressed lightly.
Allow the cupcakes to cool completely on a wire rack.
When the cupcakes are cool, carefully slice off the peaked tops with a sharp knife, and discard.
Make the ganache. Set the chocolate in a large bowl. In a small saucepan, bring the cream to a simmer, stirring occasionally. Pour the hot cream over the chocolate in the bowl and let stand for 2 minutes. Stir until smooth, then stir in the corn syrup.
While the ganache is still warm, spoon or pour it over the cupcakes.
Top the cupcakes with green coconut or chocolate shavings. Nestle 3 malted eggs in the center of each nest.
Best on the day they are decorated; consider waiting to add the coconut and malted eggs until shortly before serving.
He is risen!