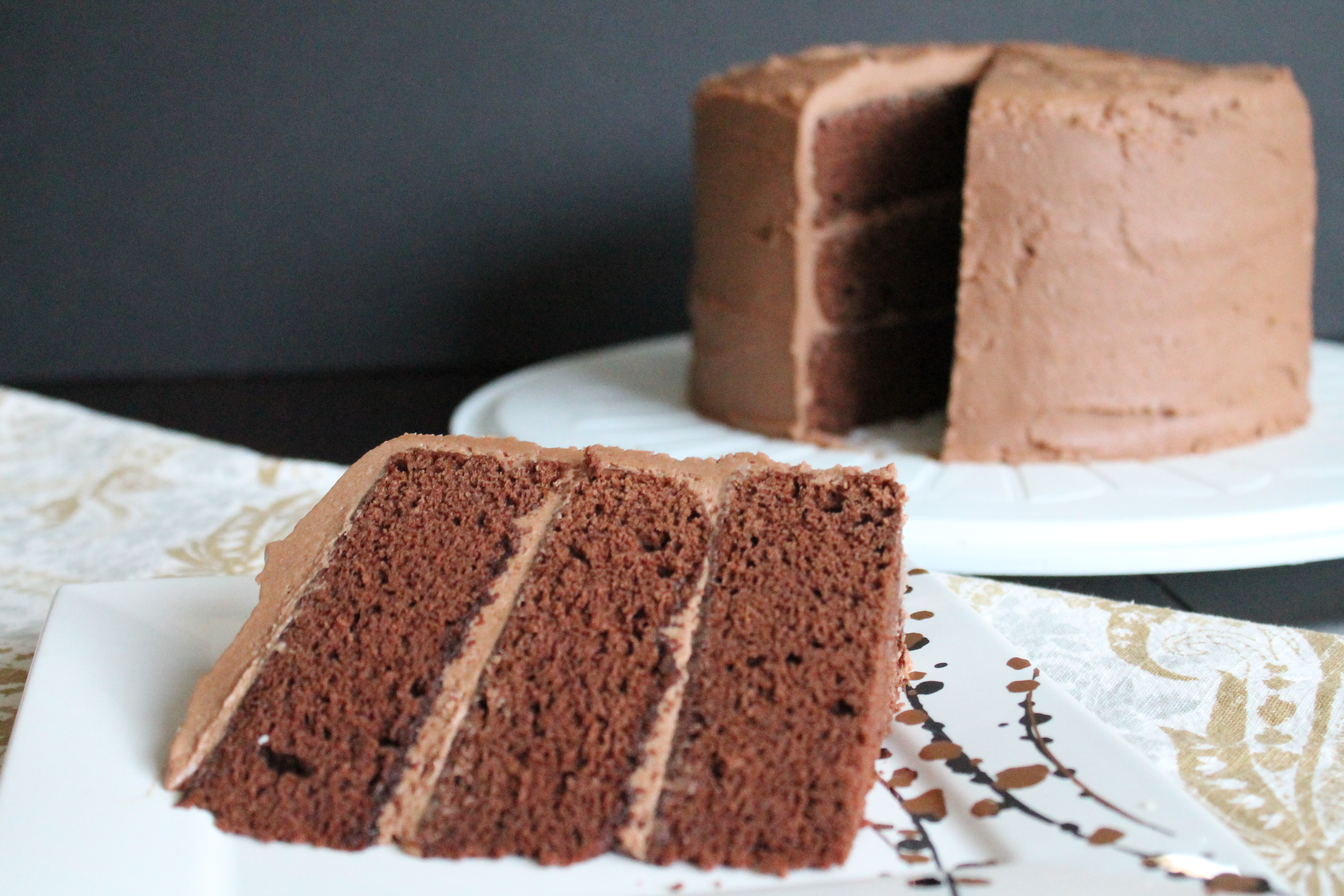 Happy Mother's Day!
Aren't moms the best? My mom certainly is! Last week she came to help out with the kiddos: she took over breakfasts with Jake so I could sleep in with the baby, and sent me off to take naps in the middle of the afternoon, and cheerfully ate soup from a can while we gorged ourselves on leftover pasta and enchiladas—all things she cannot eat. I might nominate her for sainthood.
So I thought that for Mother's Day, a day when we should all treat our mothers to much deserved praise and thanks and special sweet treats, I would share a delicious and indulgent, mom-approved cake recipe! My mom has several food intolerances, and so in honor of her, I bring you a lovely chocolate layer cake that contains no wheat or dairy!
You may know that it is fairly easy to make a cake without dairy. There are any number of fats and liquids that can be substituted for butter and milk, most of which you probably have in your pantry. But a gluten-free cake requires a little more planning and a lot more ingredients! Don't be intimidated. This cake always bakes beautifully. It is dense and chocolatey and wonderful! You won't miss the wheat flour.
Start by whisking together an enormous amount of sugar (hey, we are making three big layers here!), sorghum flour, brown rice flour, potato starch, cocoa powder (…are your eyes getting tired? this is a long list, but worth it!), xanthan gum, baking powder, baking soda, and salt.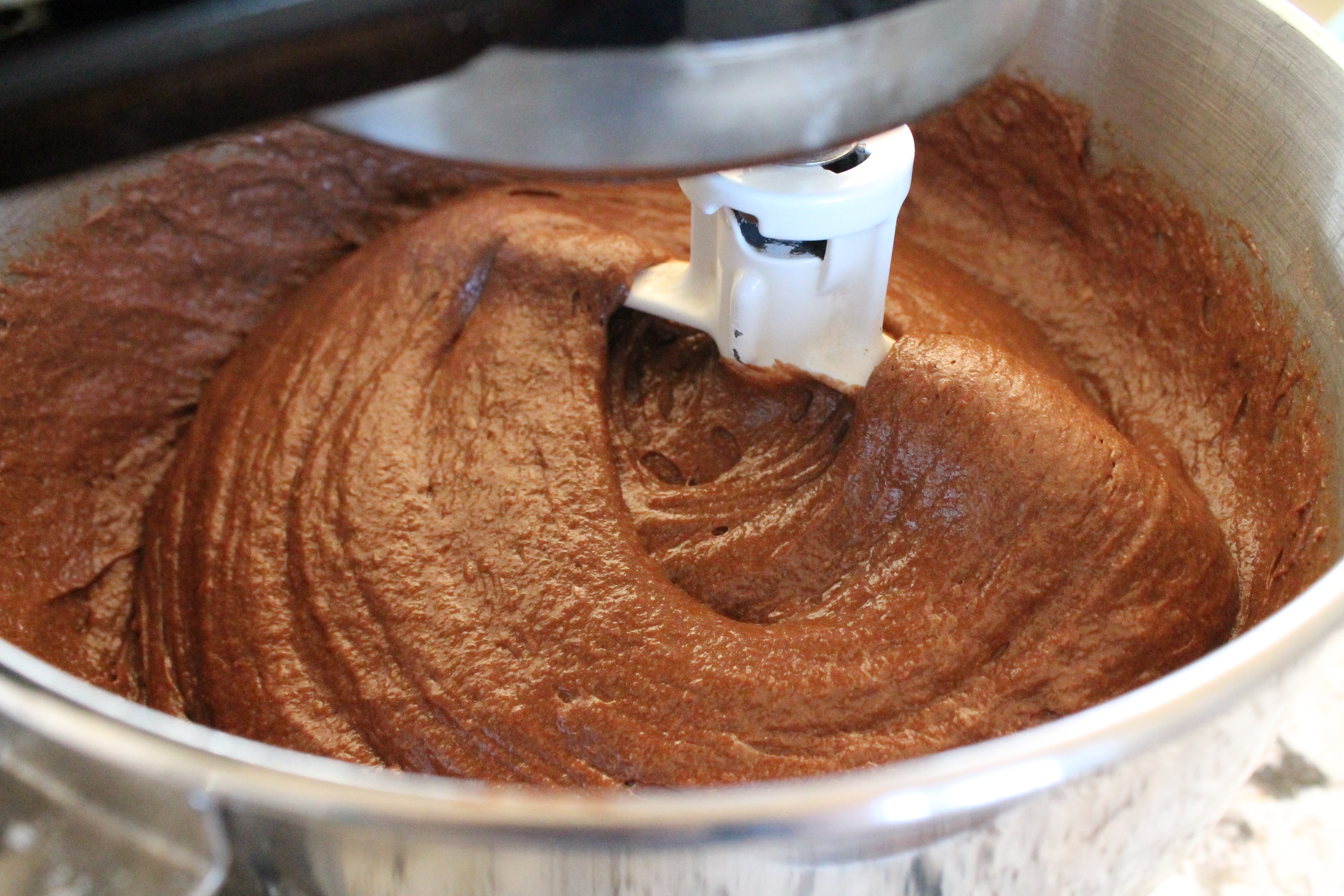 In a separate bowl, beat the eggs.
Add the eggs, melted coconut oil, vanilla extract, and black coffee to the dry ingredients and stir until combined. Scrape the sides of the bowl to ensure that all the dry ingredients are incorporated. Increase the speed on the mixer and beat for 2 minutes, until a stretchy batter forms.
Keep in mind that gluten-free batters are a very different consistency than wheat-based batters. They are thick and a little gelatinous, and a bit grainy if you lick the beaters.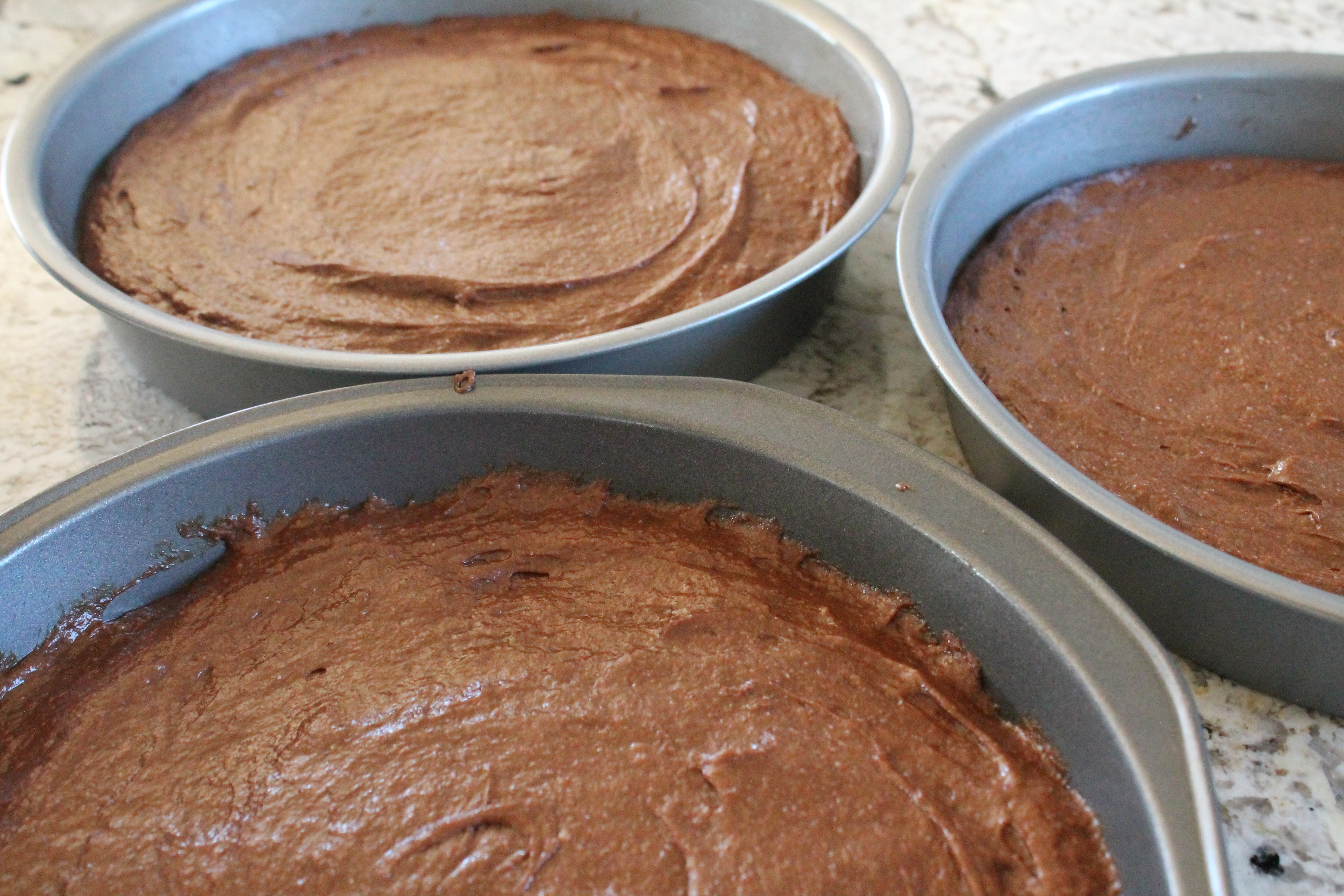 Spoon the batter into three greased and parchment-lined 9″ round cake pans. Use a spatula to spread the batter out in the pans, making as flat of a surface on top as possible. Any bumps or divets in the batter will not flatten out as the cakes bake, so the flatter the tops now, the more even the layers will turn out!
Bake the cakes for 30–35 minutes, or until the tops spring back when pressed. (The toothpick test does not work well for gluten-free cakes, but if your thumb leaves a print in the center of the cake you can be very sure it needs to bake longer!)
Let the cakes cool completely in their pans. They will shrink away from the edges a bit as they cool.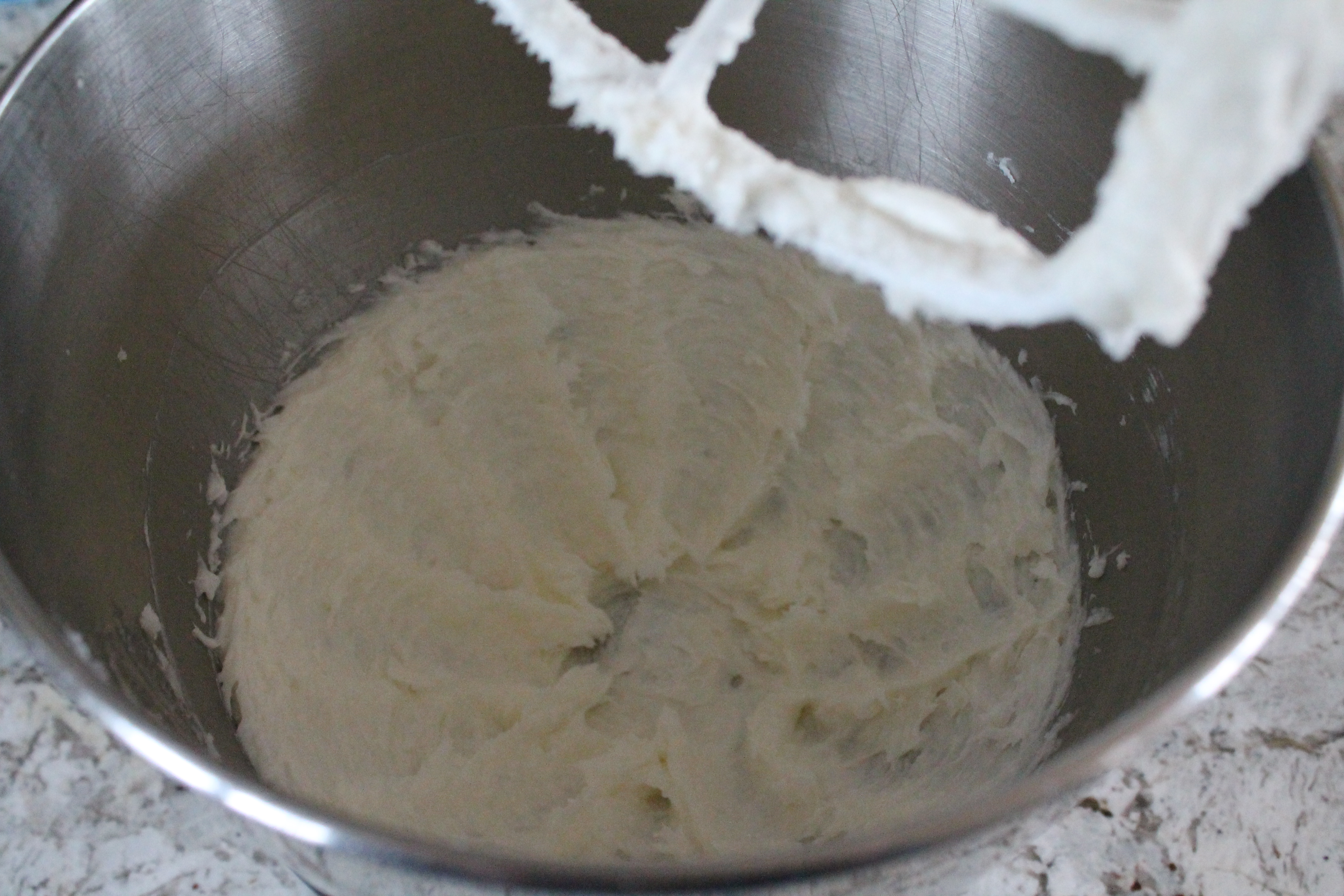 When the layers are cool, make the frosting! (Incidentally, this frosting is vegan!) Beat the coconut oil and Earth Balance vegan butter together until completely smooth and creamy. This will make a mocha-coconut flavored frosting; if you aren't a big fan of coconut, you can substitute Earth Balance for and equal amount of coconut oil. I have found, however, that I really prefer the flavor of the frosting with the coconut because it has more depth and richness than the Earth Balance alone.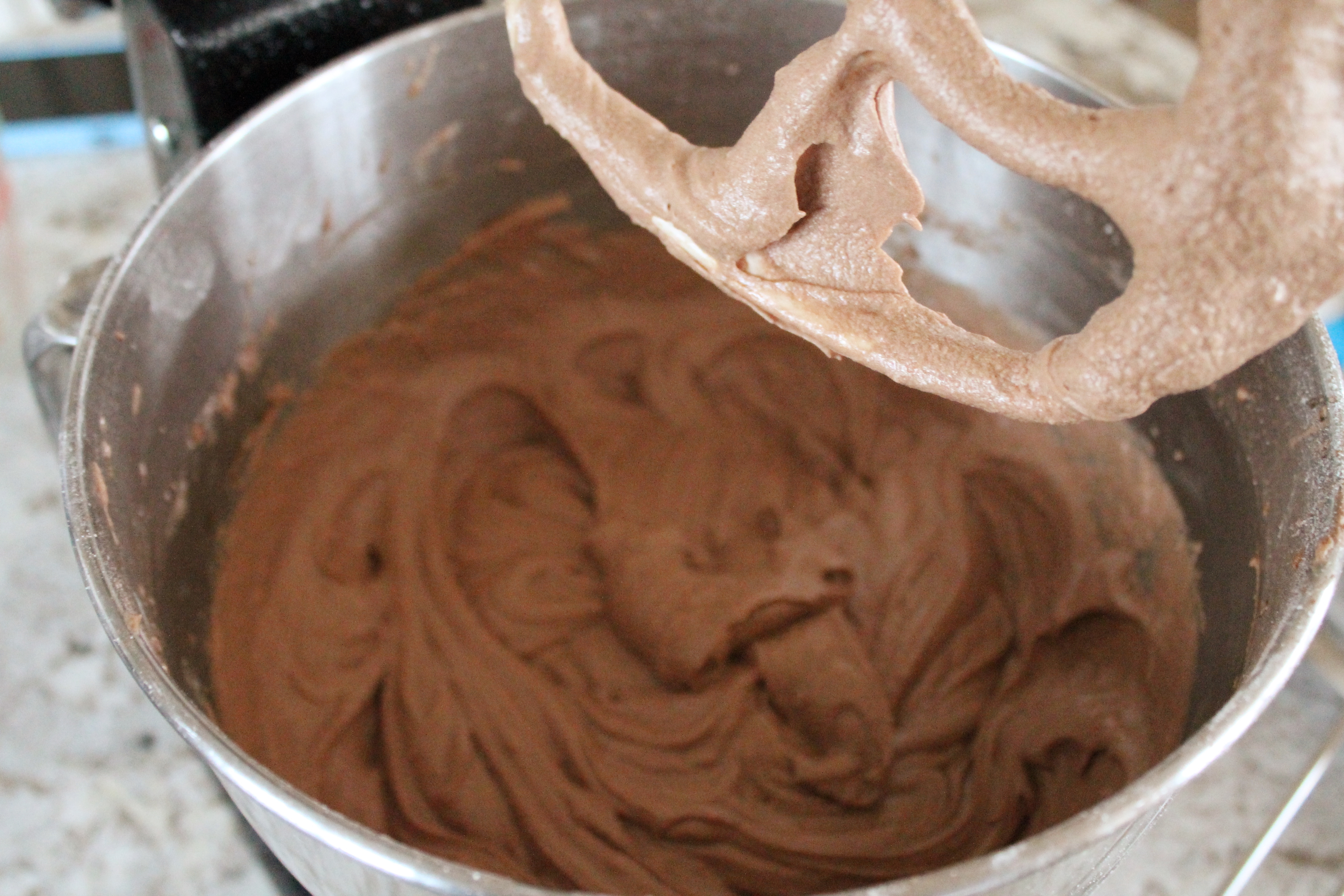 Add cocoa powder and beat again.
Slowly beat in the sifted confectioner's sugar, about 1 cup at a time, alternating with tablespoons of coffee, until the frosting is smooth and sweet and stiff enough to hold its shape.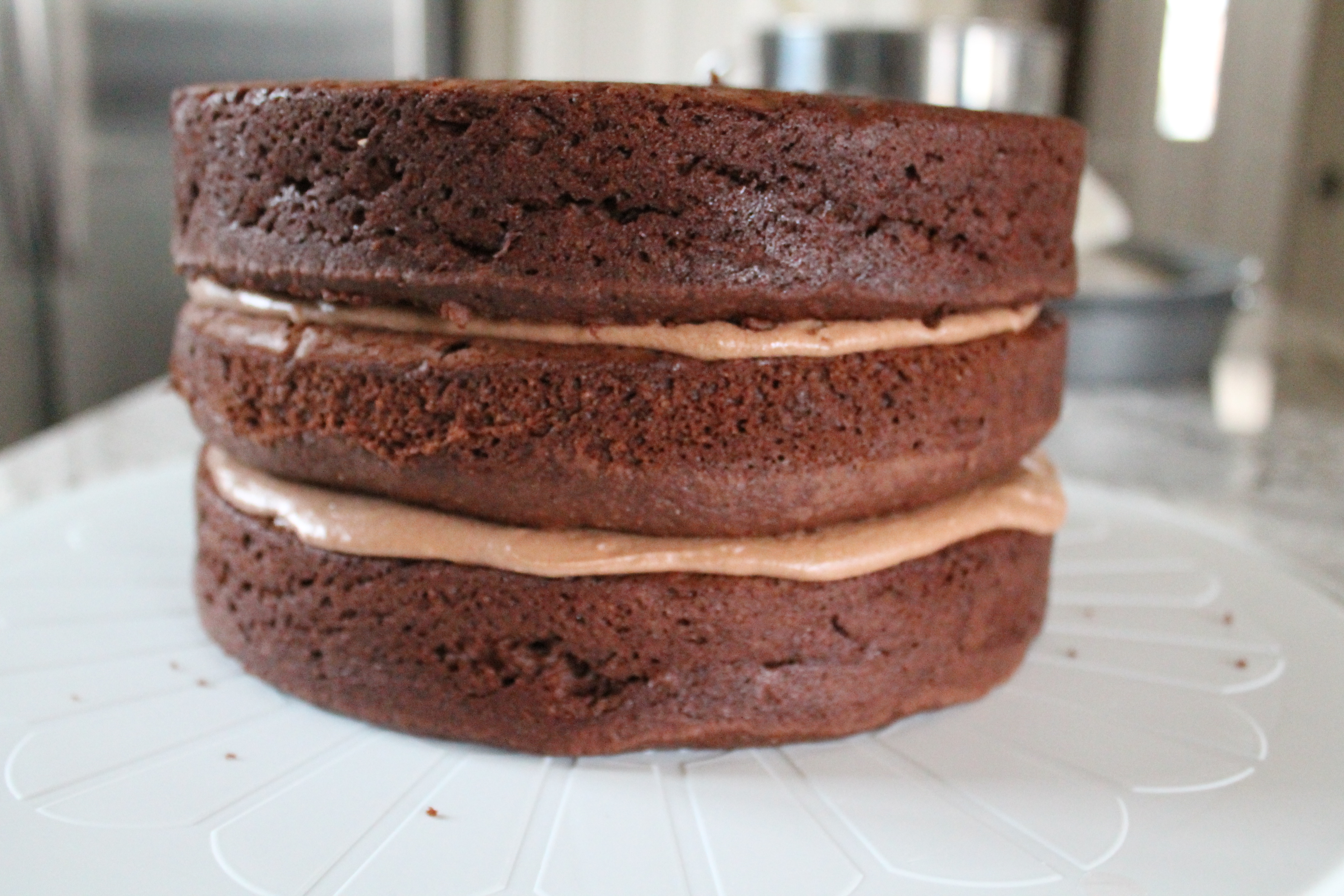 Frost the cake. Frosting a cake can be intimidating, especially when you are making a huge, tall cake like this one. There is always the possibility that the layers may slide around! To minimize this, I recommend chilling the cake after you spread the filling between the layers.
Frost the outside of the cake. You could keep it nice and smooth or make rustic textured swirls, whatever suits your style!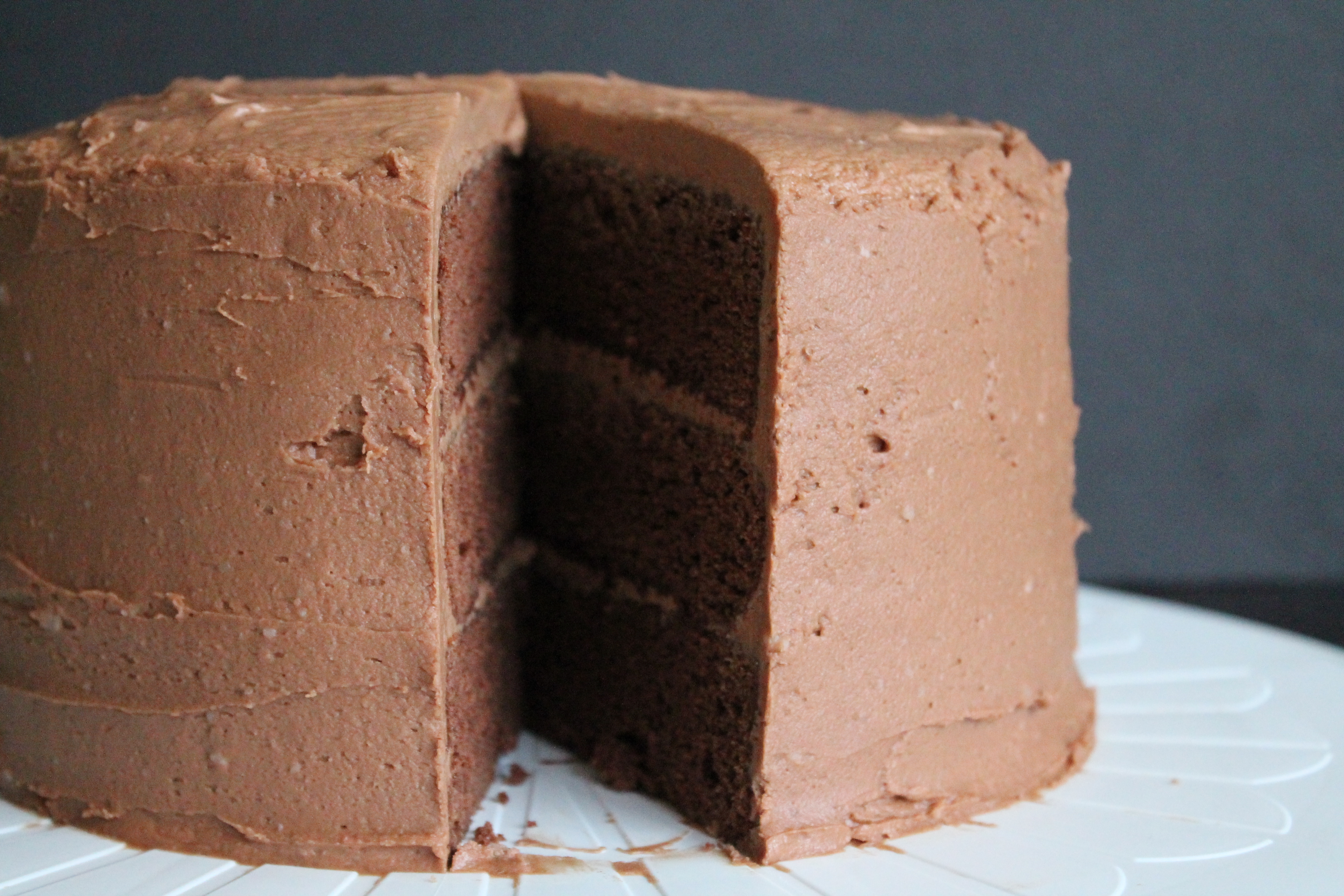 I always chill this cake before serving it. Maybe that's because my mom likes cold cake…but maybe it also helps the cake to stand nice and tall!
And voilà! A beautiful chocolate cake. Make it for your mother! She deserves to be celebrated!
Devil's Food Cake (Gluten-Free Dairy-Free)
adapted from Gluten-Free Goddess
makes one 9″ three-layer cake/serves 16
Cake Ingredients:
3 cups sugar
2 cups sorghum flour
1 cup brown rice flour
1 cup potato starch
1 cup cocoa powder
3 tsp. xanthan gum
2 tsp. baking powder
1½ tsp. baking soda
1 tsp. salt
4 eggs, beaten
½ cup coconut oil, melted
2 tbsp. vanilla extract
2 cups cold coffee or vanilla rice milk*
Frosting Ingredients:
¾ cup coconut oil
¼ cup Earth Balance vegan butter
4–5 tbsp. cocoa powder
2 lbs. confectioner's sugar, sifted
1 tbsp. vanilla extract
¾–1 cup cold coffee, as needed
Directions:
Preheat the oven to 350°. Grease three 9ʺ cake pans and line the bottom with a circle of greased parchment paper.
In a large mixing bowl, whisk together the sugar, sorghum flour, rice flour, potato starch, cocoa powder, baking powder, xanthan gum, baking soda, and salt.
Add in the eggs, coconut oil, vanilla extract, and coffee. Beat on medium-high speed for 2–3 minutes, or until the batter is smooth and stretchy.
Scoop the batter into the prepared cake pans and smooth out the tops with a spatula.
Bake on the center rack for 30–35 minutes, rotating the pans half way through. Test the cakes by lightly pressing on the center; they should spring back to their original shape.
Cool the cakes completely in their pans on a wire rack.
When the cakes are cool, make the frosting. Cream the coconut oil and Earth Balance. Add the cocoa powder and vanilla extract and beat to combine. Alternate adding 1 cup confectioner's sugar and 1–2 tbsp. coffee, beating well and scraping the sides of the bowl between each addition, until the frosting is stiff and smooth.
Frost the cake.
Store the cake in the refrigerator in an air-tight container.
*Note: Coffee enhances the flavor of chocolate, but any vanilla flavored non-dairy milk would work here, in part or in whole. Vanilla rice milk preferred for its neutral flavor.
Enjoy!