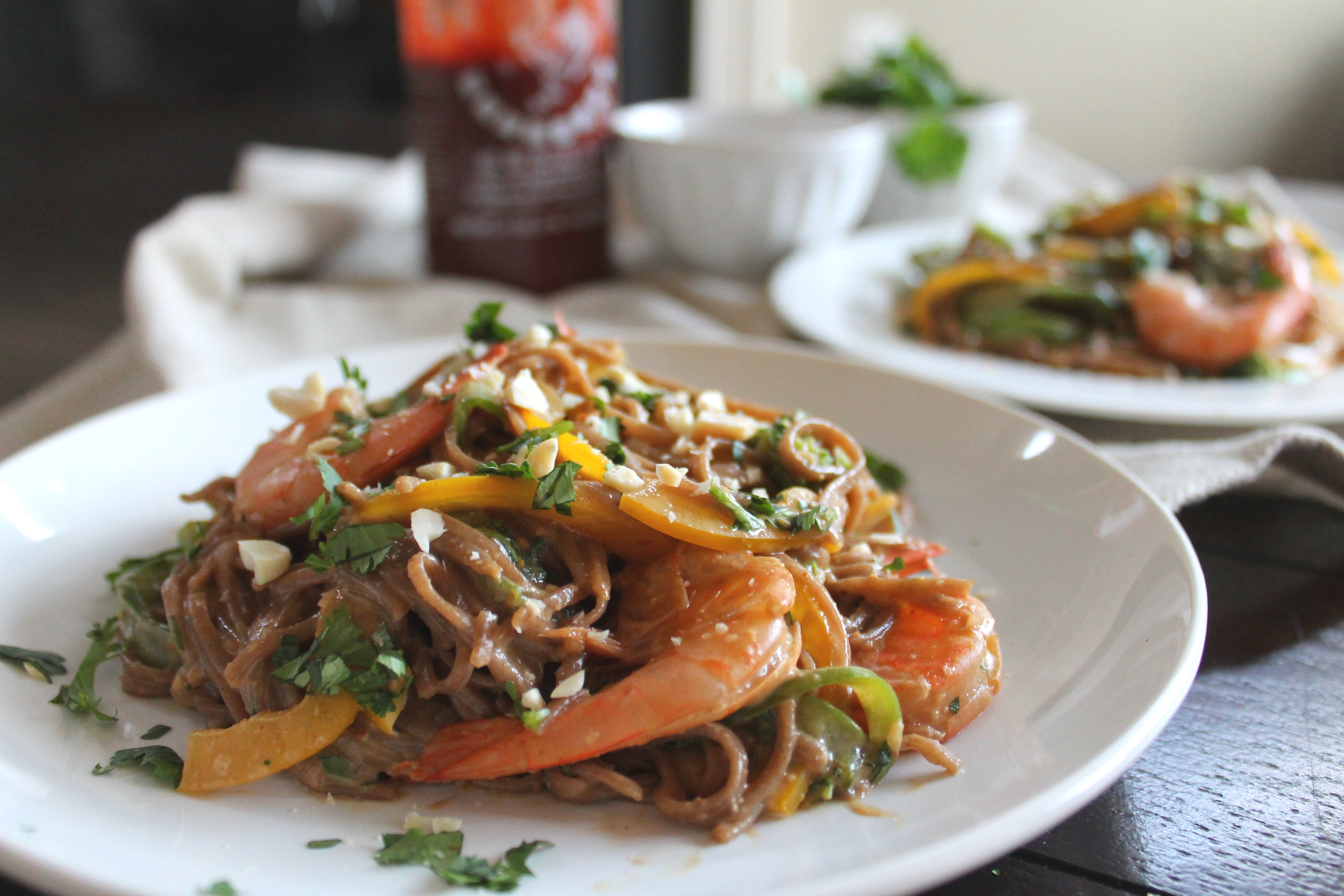 I can't believe my beautiful girl is 4 weeks old! But it was a long road in getting there (and I'm not just talking about sleepless nights)…did you know she was a week overdue?
I spent a lot of time during the last few weeks of my pregnancy doing one "last" adventure with Jake, one "last" trip to the store, one "last" load of laundry/other heinous cleaning chore… I sure was ready to meet my girl and stop being pregnant! But she was pretty cozy and reluctant to make her entrance. Finally, I decided to try smoking her out.
This meal was one of many versions of what I called "Get-Out-Of-Me-Baby" food: simple, spicy dishes that I hoped would somehow convince Caitlin that the outside world would be a welcome change.
(In case you wondered…the spicy foods didn't faze her. But this was still a delicious meal!)
Soba noodle dishes are generally very easy to prepare! Soba noodles take just a few quick minutes to cook, so I like to try to combine them with other speedy foods: in this case, bell peppers, broccoli, shrimp, and a quickie peanut sauce.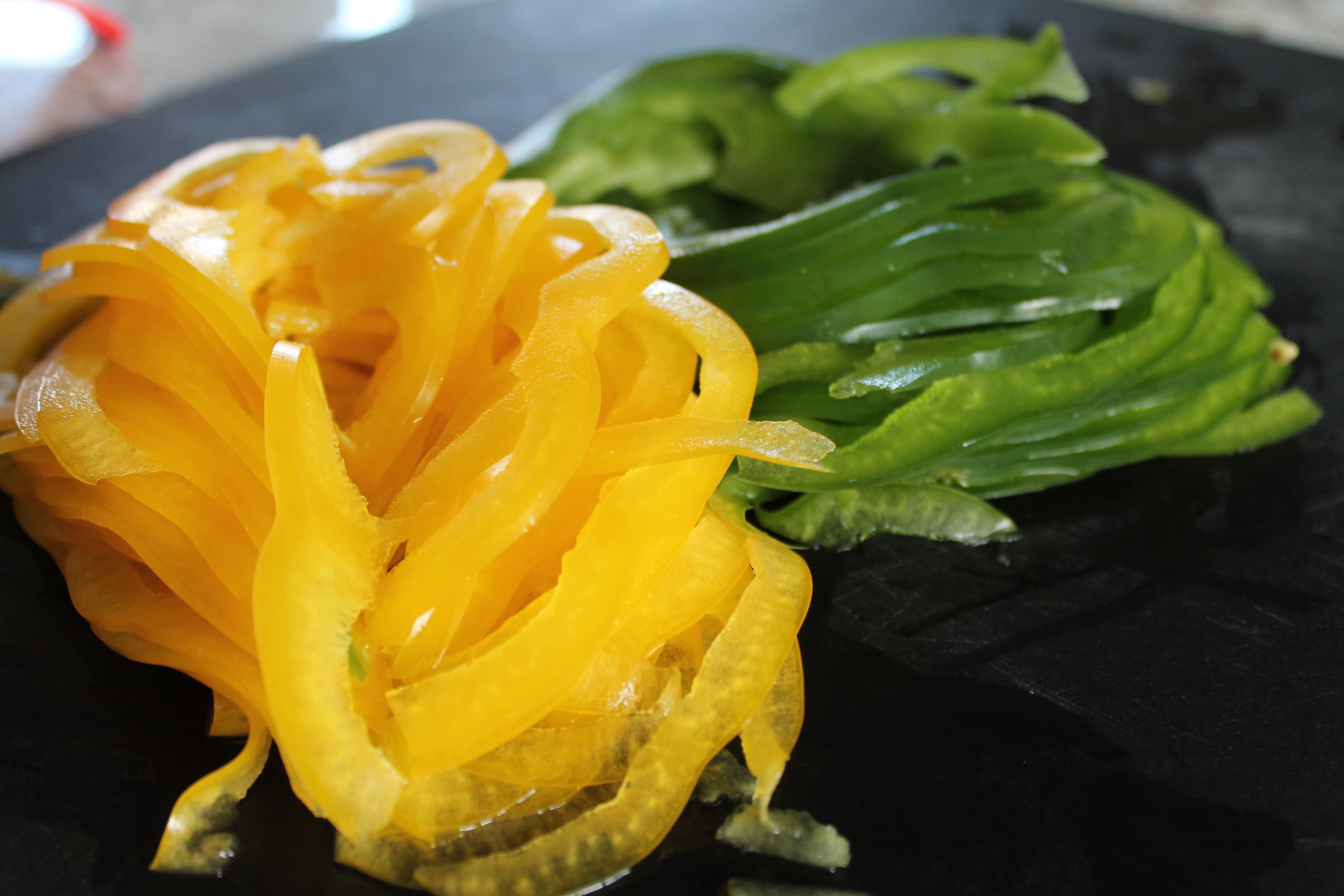 First, chop all the veg. Any color bell peppers will do; red would have been pretty, but what's on hand is pretty great, too! I saved time by slivering the peppers on a mandoline. Next time, I would probably cut them a bit thicker and toss them into the pan with the cooking shrimp—but the raw ribbons were good, too, just a little stiff next to the tender noodles.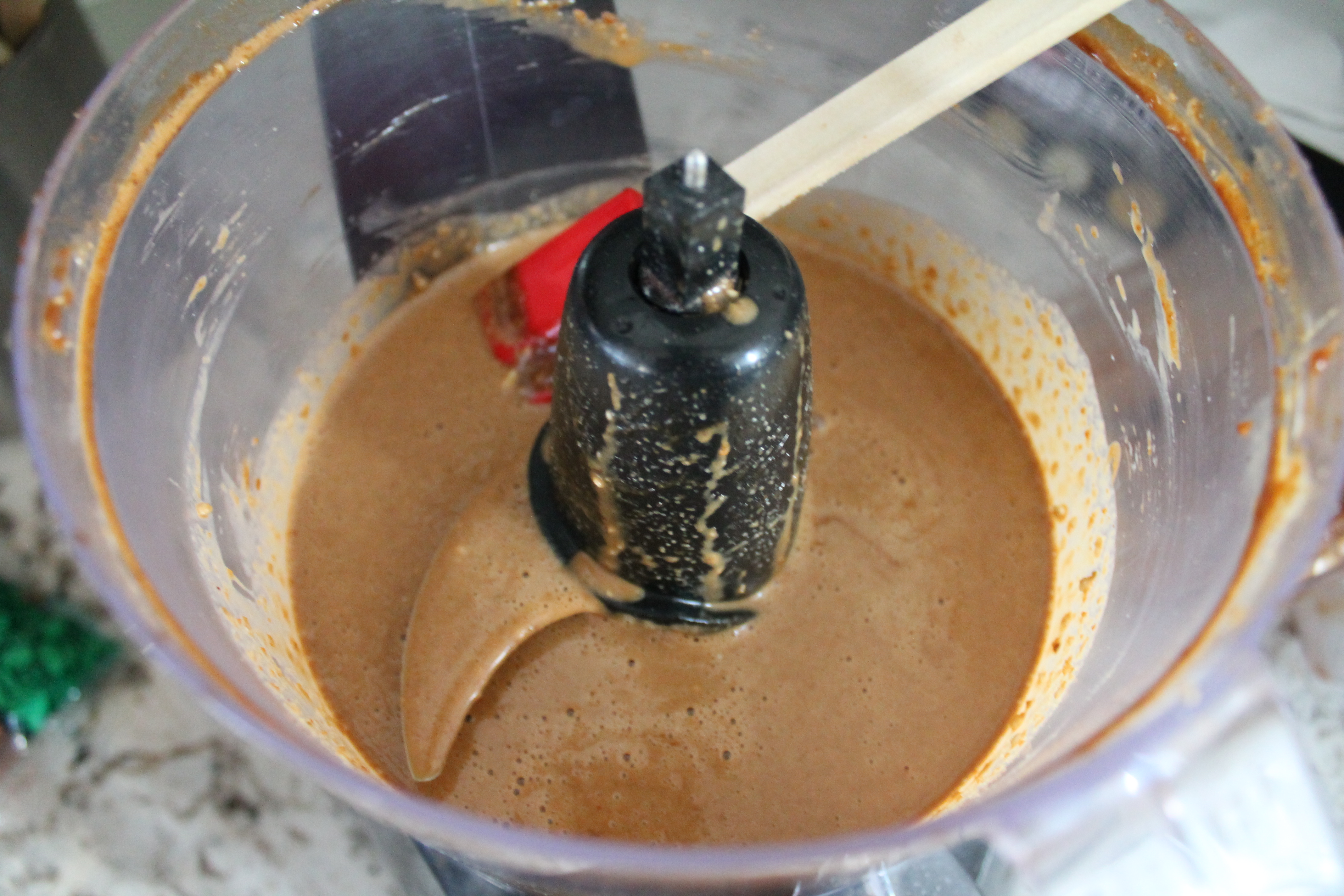 Now whiz together a peanut sauce. You will need (ideally all-natural) peanut butter, soy sauce, ginger, sesame oil, honey, garlic, a chile of your choice (as much or as little as you want to include; I used a whole jalapeño but I didn't keep many seeds because I was sharing this meal with a preschooler). Taste the sauce and adjust seasonings and flavors if needed. More garlic never hurt anyone! Also, if you didn't use a peanuts-only peanut butter, you may need to decrease the honey a little.
After you are satisfied with the flavor of the sauce, add in some raw, unsalted peanuts for texture. Of course, we will also crumble some peanuts over the top of the pasta! I kept my preschooler entertained by letting him skin all of the peanuts I had purchased at the Asian market, but in general I would recommend buying those suckers pre-skinned!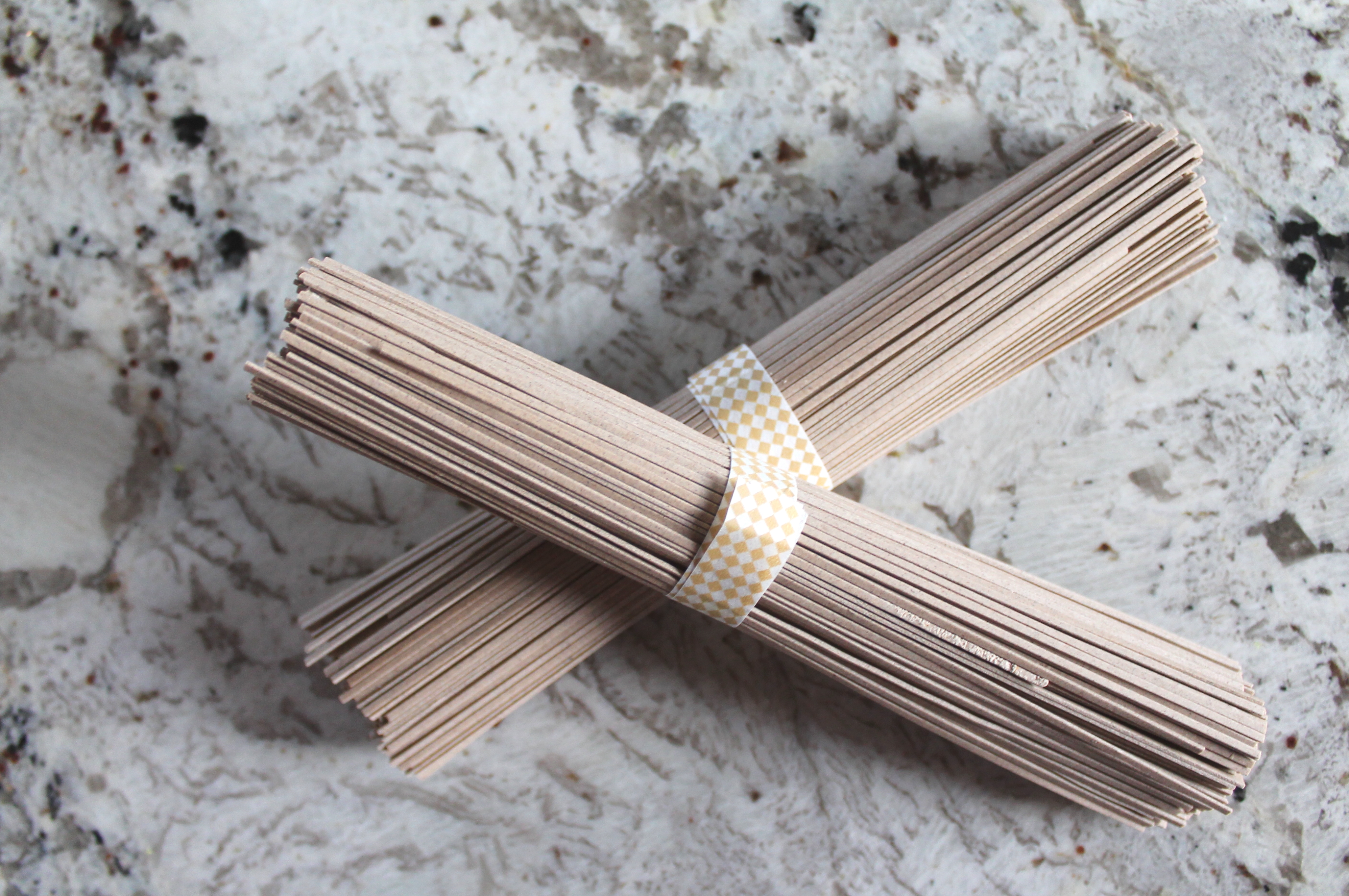 Now it's time to boil the soba noodles and fry the shrimp. These will take about the same amount of time: 4–5 minutes total.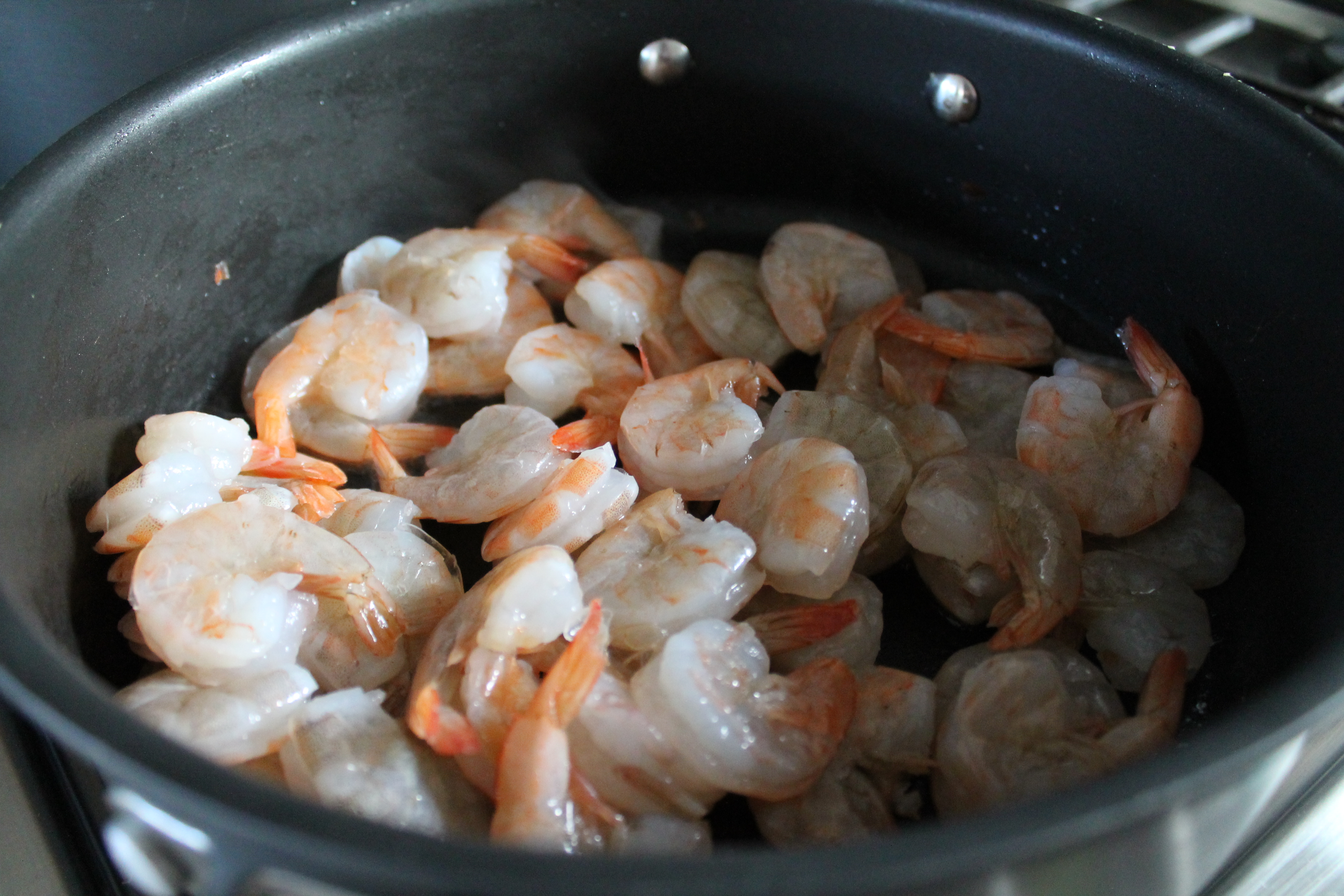 I used thawed-from-frozen 51-60ct. shrimp and cooked them with the shell on, which did increase their flavor but also made them very irritating to eat. I definitely recommend peeling the shrimp prior to cooking them (or, better yet, buying pre-peeled!). Make sure the shrimp are completely dry when you add them to the hot pan, otherwise they may end up a bit rubbery. If you like, you can toss your bell peppers in and stir-fry them with the shrimp, just to soften them slightly. Totally optional!
The soba noodles will cook through rather quickly. When they have been boiling for 2 minutes, toss in the broccoli florets. Cook another 2 minutes and then drain the noodles.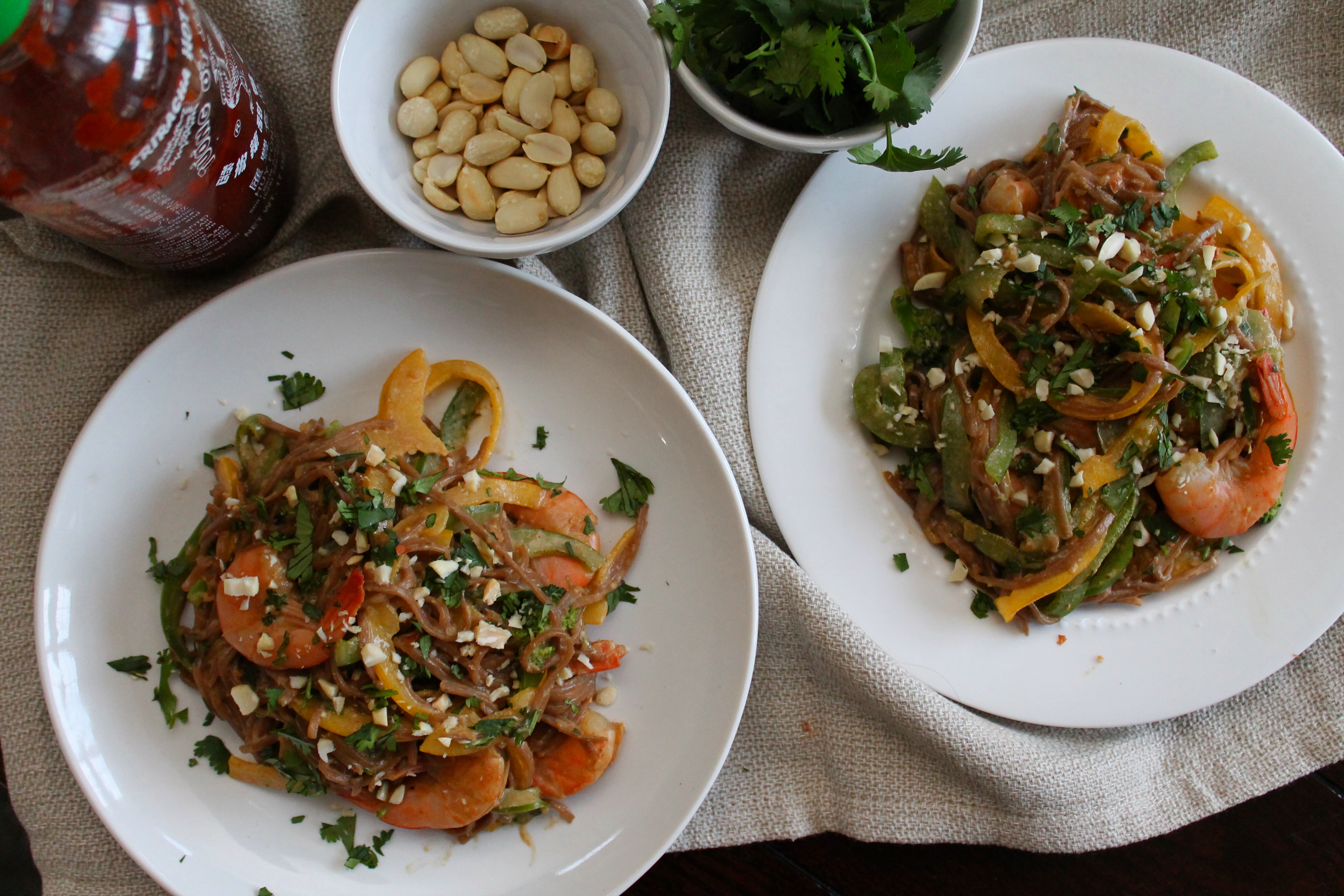 Now toss all the ingredients together! Garnish with chopped fresh cilantro (or…I suppose Thai basil and some lime juice may work, if you are cilantro-averse!) and crushed peanuts. Yum.
Plus, you know, if you are trying to eject a baby, you should definitely douse these noodles in Sriracha. Just saying.
Spicy Peanut Noodles with Shrimp
adapted from Pinch of Yum
serves 4–6
Ingredients:
2 bell peppers, any color
1 medium head broccoli
6 tbsp. all-natural peanut butter
5 tbsp. water
5 tbsp. low-sodium soy sauce
2 tbsp. sesame or other neutral oil
2½ tbsp. raw honey
3–4 cloves garlic, crushed
1ʺ ginger root, roughly chopped
1 jalapeño or other hot chile, seeds removed if desired
8 oz. soba noodles
1 tbsp. coconut oil
1 lb. small (51-60ct.) shrimp, peeled and deveined
½ cup raw, unsalted peanuts, finely chopped
fresh cilantro
Sriracha
Directions:
Julienne the bell peppers and trim the head of broccoli down to bite-size florets. Set aside.
In a food processor, combine peanut butter, water, sesame oil, honey, garlic, ginger, and jalapeño. Process until a smooth sauce forms.
Boil the soba noodles for 2 minutes. Add the broccoli florets and continue cooking another 2–3 minutes, or until the noodles are completely tender. Drain and set aside to cool slightly.
Meanwhile, heat the coconut oil in a large skillet. Cook the shrimp in the hot oil in a single layer, about 3–4 minutes, flipping them over halfway to cook both sides through. Immediately remove the shrimp from the heat.
Toss the shrimp, noodles, broccoli, bell peppers, and peanut sauce together.
Dish the noodles onto serving plates and top with chopped peanuts, cilantro, and Sriracha to taste.
Enjoy!