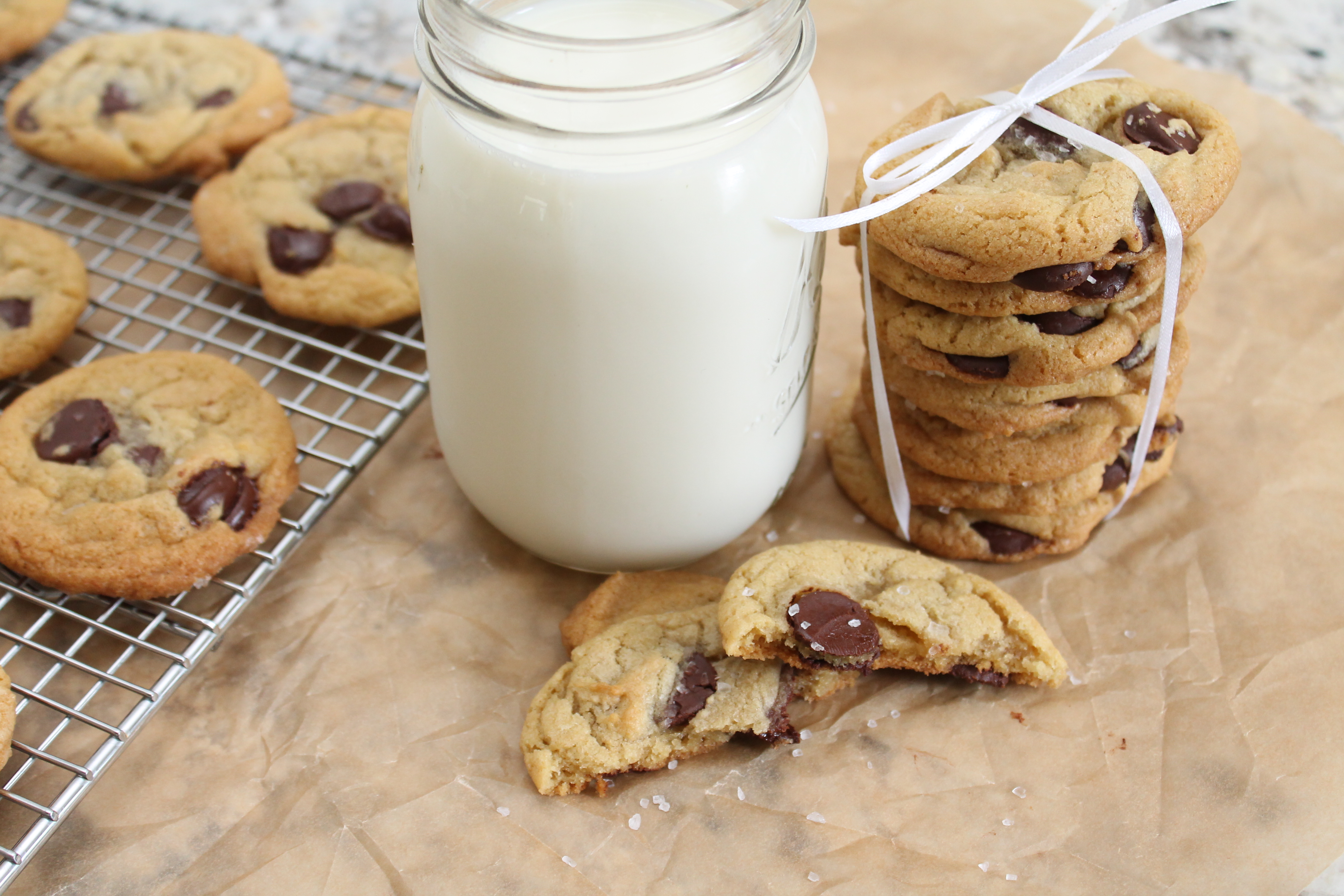 No matter how old I get, a good chocolate chip cookie always hits the spot.
I love chocolate chip cookies so much that I sometimes wonder why I named my blog after brownies. (Okay…I adore brownies, too. Let's just assume that my sweet tooth is insatiable and move on.)
Although no cookie recipe, no matter how unique or delightful, will ever convince me to completely abandon the Nestle chocolate chip cookie recipe I memorized as a child in my mother's kitchen, I have also spent many years of my adult life on a quest for new, interesting ways to enjoy a chocolate chip cookie.
Let's just call this the foodie version of chocolate chip cookies. With fruity olive oil and bittersweet chocolate and sea salt, these are about as grown up as a chocolate chip cookie can get. Grab a glass of milk and dig in!
I was so excited when I found this recipe on Miz Helen's Country Cottage, my Secret Recipe Club blog for June. I have been away from the SRC for a few months, acclimating to life with a new baby, and during that time (I am slightly embarrassed to admit…) I have done nothing in my kitchen except bake cookies and brownies. I was a little apprehensive about finding the time and energy to dive back in to the SRC exchange…until I scrolled through Miz Helen's blog and found that she has scores of delicious breads, pies, cakes, and other desserts on her blog! She even did a little miniseries called "What's in the Cookie Jar." Of course, she's not all about sweets…and I really should have steered clear of desserts in favor of something healthier, but I just can't resist an interesting chocolate chip cookie. What better way to ease back in than to bake something for my own cookie jar??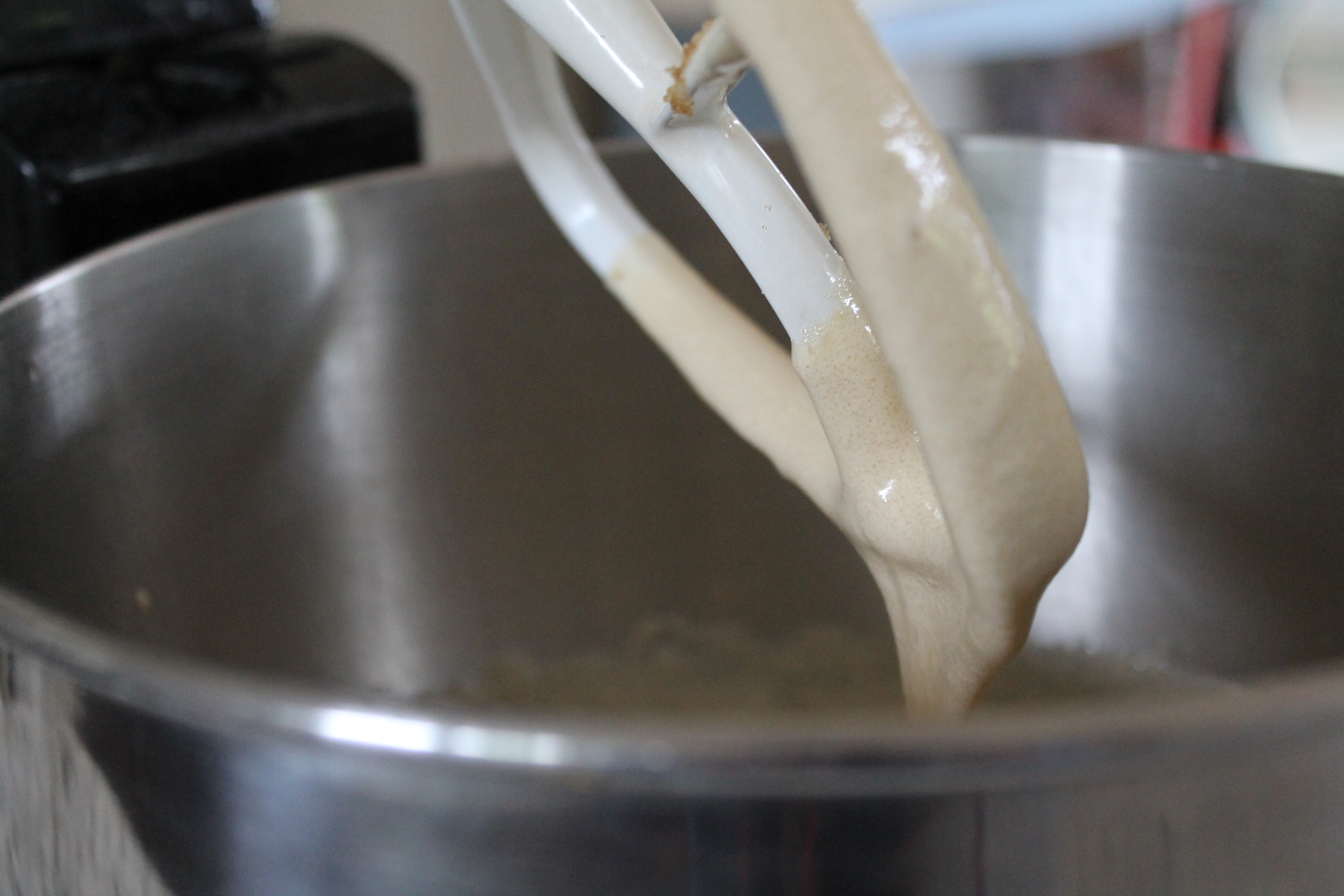 We are going to start this cookie recipe a little differently than the average chocolate chip cookie: instead of creaming butter and sugar, we are going to beat the sugar together with the eggs first. We obviously can't "cream" olive oil, but Miz Helen did comment that overbeating the olive oil could turn it bitter. Thus, in order to get the eggs nice and fluffy without ruining the fruity olive oil, we beat the eggs first.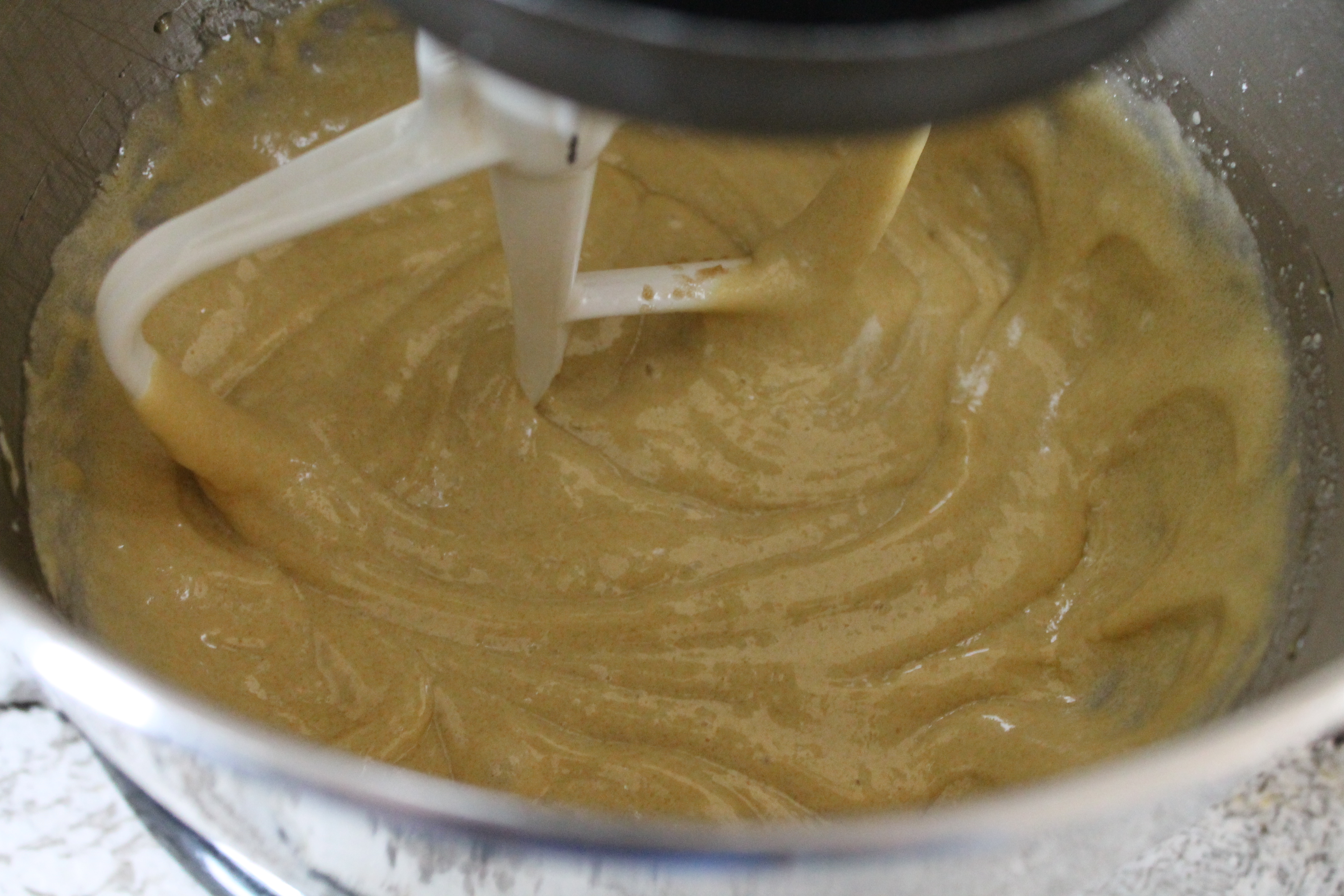 Stream in the olive oil with the mixer on medium speed. It will look a little curdled at first, but eventually the oil will emulsify into the egg mixture and it will turn smooth (and a bit yellow!). Stir in the vanilla extract.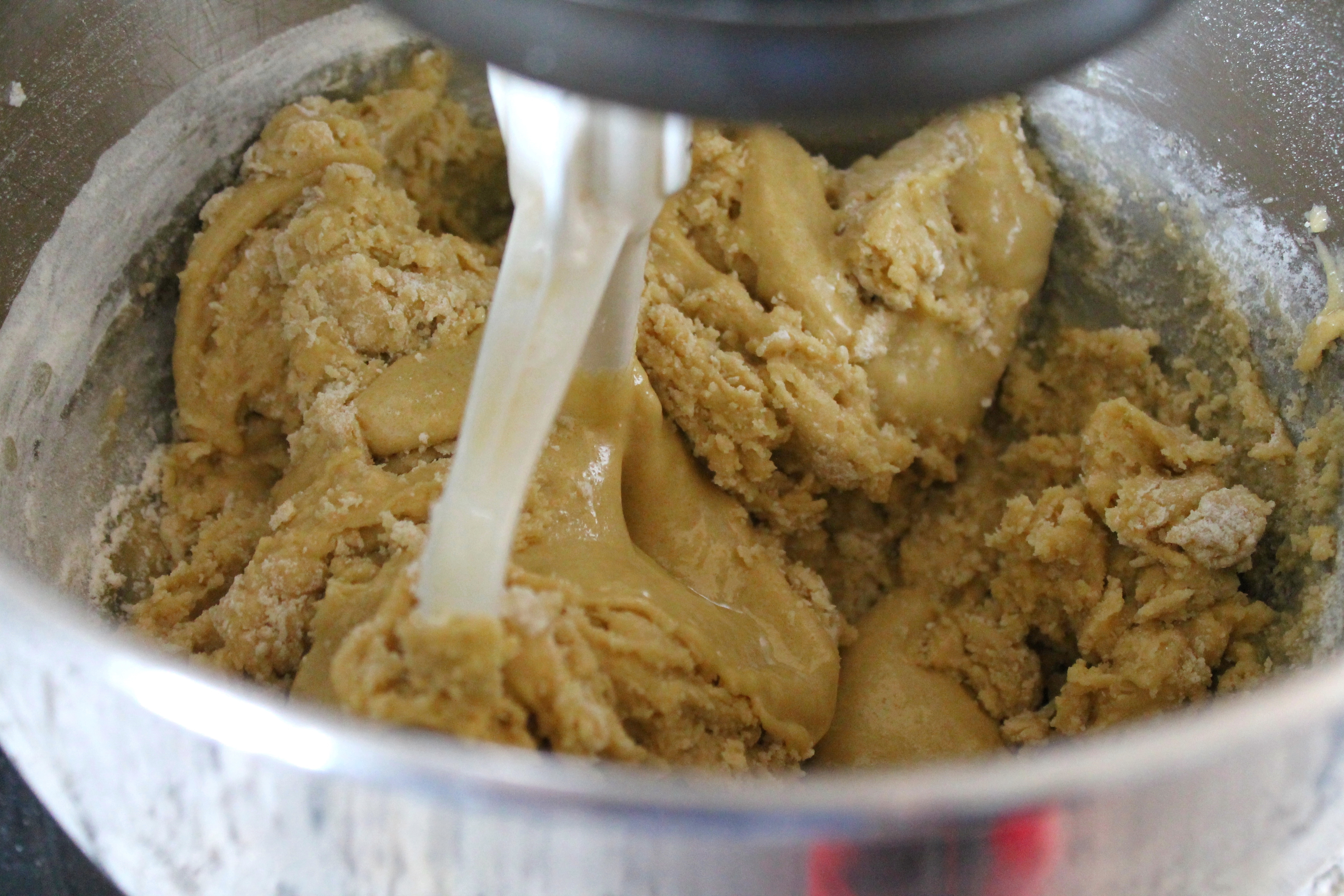 Now add in all the dry ingredients. Technically, it is a good idea to whisk the salt and baking soda into the flour before adding it in (this ensures that the cookies will be evenly leavened), but I often skip this when making cookies, because cookies should be simple to make! Plus, who wants to wash an extra bowl unless we absolutely have to?
Stir the dry ingredients in, scraping the side of the bowl at least once. The dough will be very soft and somewhat shiny from all that olive oil.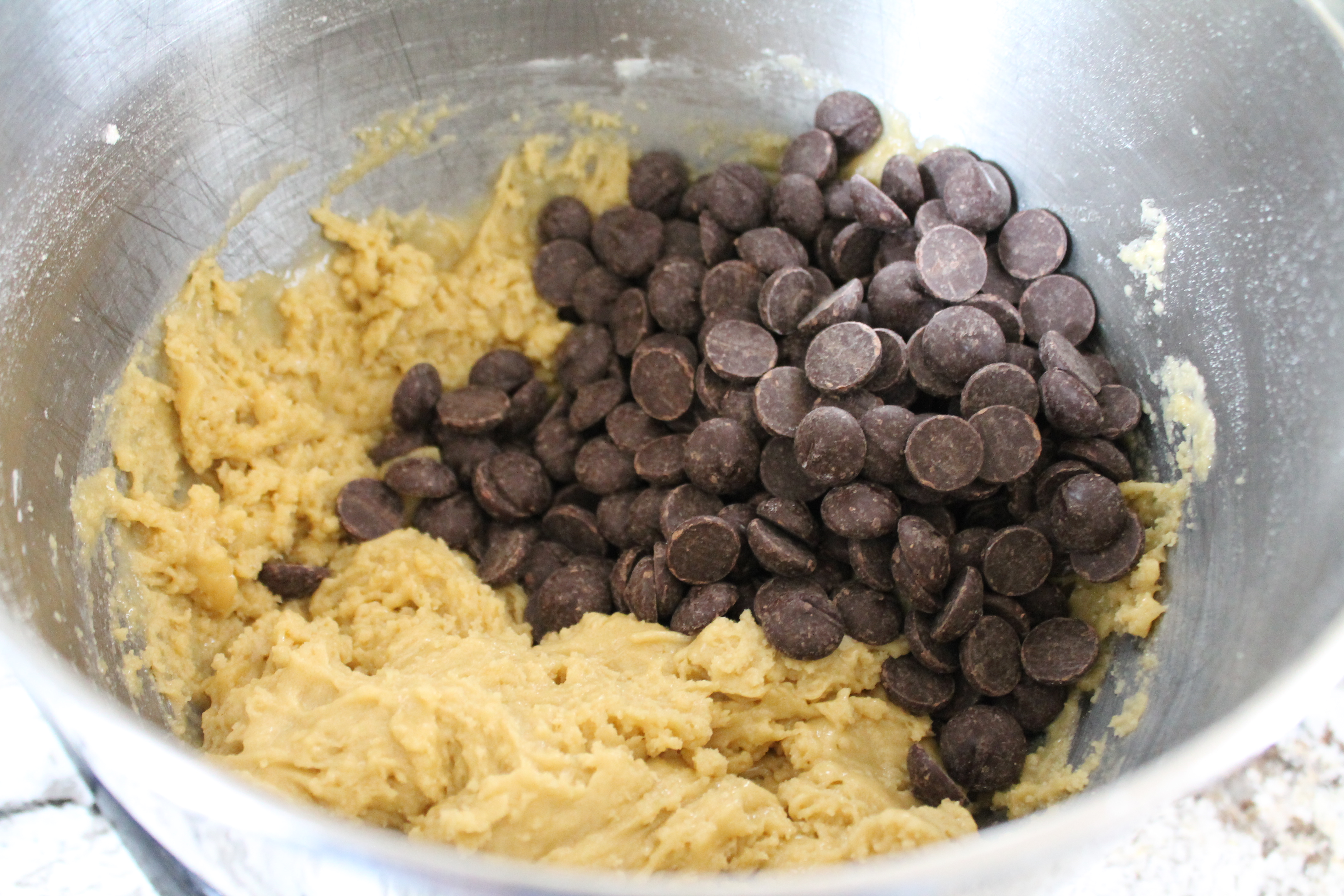 Stir in the chocolate chips. I highly recommend Ghirardelli bittersweet chocolate for these cookies. They take the flavor up a notch and contrast nicely against the sweet dough and salty crust. You can go for any other bittersweet chopped chocolate, or even semisweet chips if that's what you have on hand (or you could make these cookies for your dairy-free friends and use Enjoy Life chocolate chunks!), but bittersweet chocolate is pretty amazing.
You may notice after you add the chips in that they don't really cling to the dough well. This is because we are making an oil-based cookie, and oil behaves rather differently than butter at room temperature!
I chose to chill my dough a little (1 hour…longer would also be fine, as olive oil will eventually solidify in the fridge, thus making the dough firmer and easier to work with!) before baking, which I think helped the cookies retain their shape a little while still caramelizing delightfully on the edges. It didn't really do anything for the slippery chocolate chips issue, so I just shoved the chocolate chips back into the dough as I scooped out the cookies!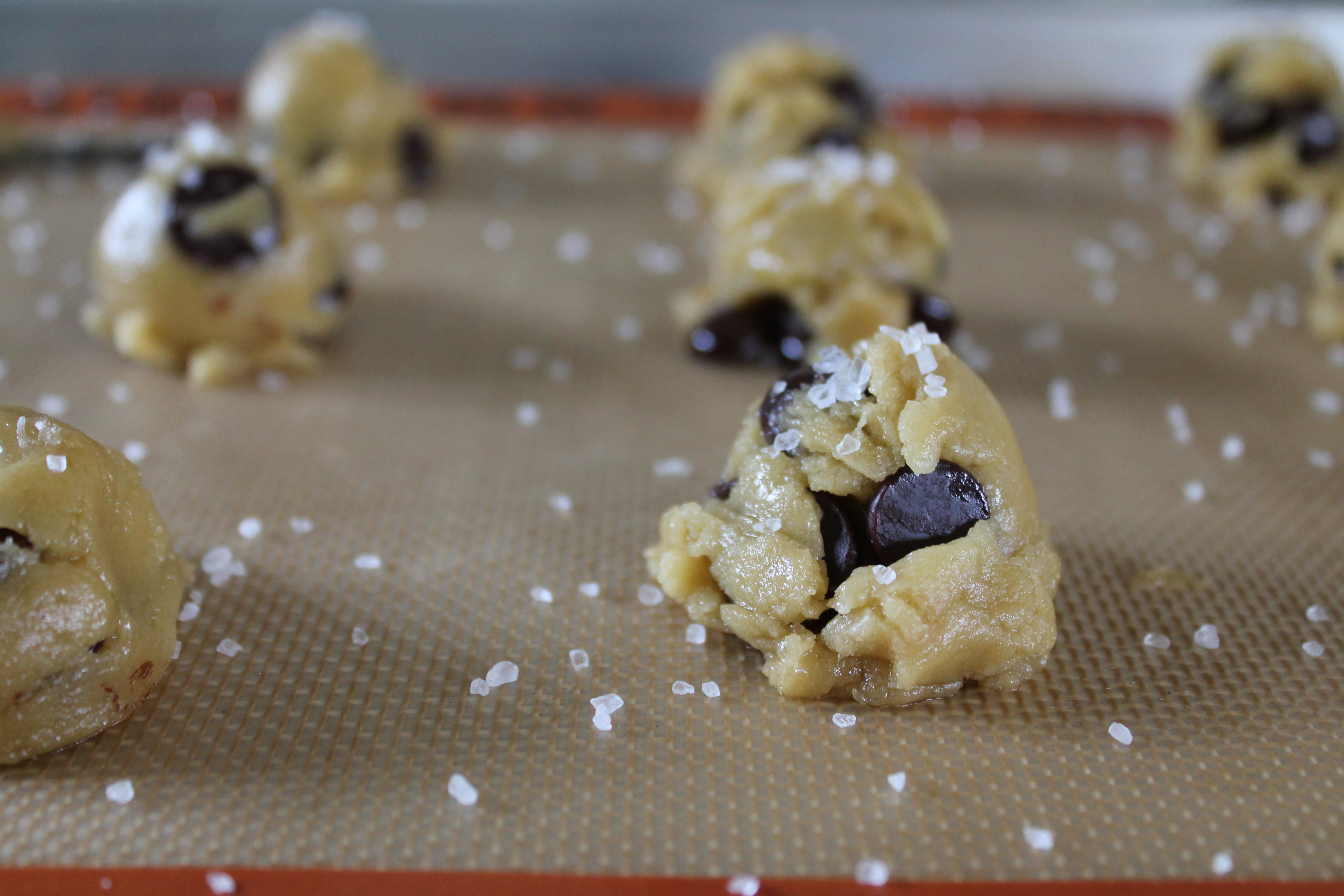 Scoop the dough out onto a lined cookie sheet by the heaping tablespoon, leaving at least 2″ between each.
Sprinkle sea salt over the cookies. Don't bother trying to press it in, and don't worry about all the stray salt granules (or flakes! I realized a bit too late that flaky Maldon salt would have packed an awesome punch and been would have been pretty) that fall off the cookies onto the sheet. Resist the urge to add more salt. I promise that 1 tbsp. is all you need for the whole recipe!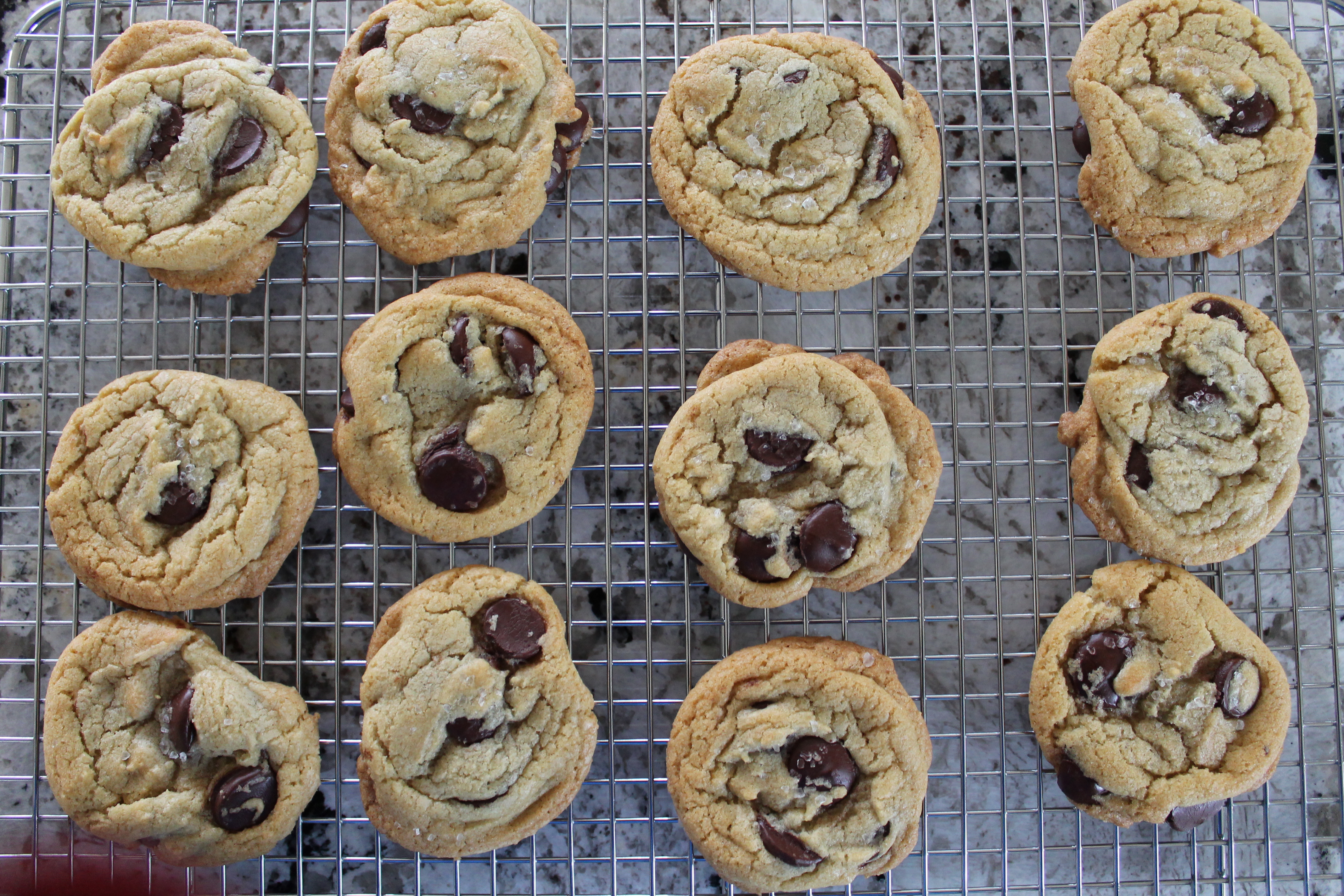 Bake for 10 minutes, until the tops and edges are lightly golden. Depending on your oven and whether or not you chilled your dough, you may need slightly less or more time, but for me 10 minutes produced absolutely perfect cookies.
When the cookies come out of the oven, they will be slightly puffed on top, crisp on the bottom, and tantalizingly soft in the centers. Let them cool on the sheet for 10 minutes.
I recommend brushing the extra salt off each cookie sheet before scooping out the next batch of cookies. I find that, when salting desserts, there is a really fine line to walk between an intriguing and delicious flavor contrast and, oops, just salty dessert. We don't want to have truly salty cookies, just a barely salty crust on top. (And, of course, my husband disapproves of all salted desserts, so…I have to walk that even narrower line at my house!)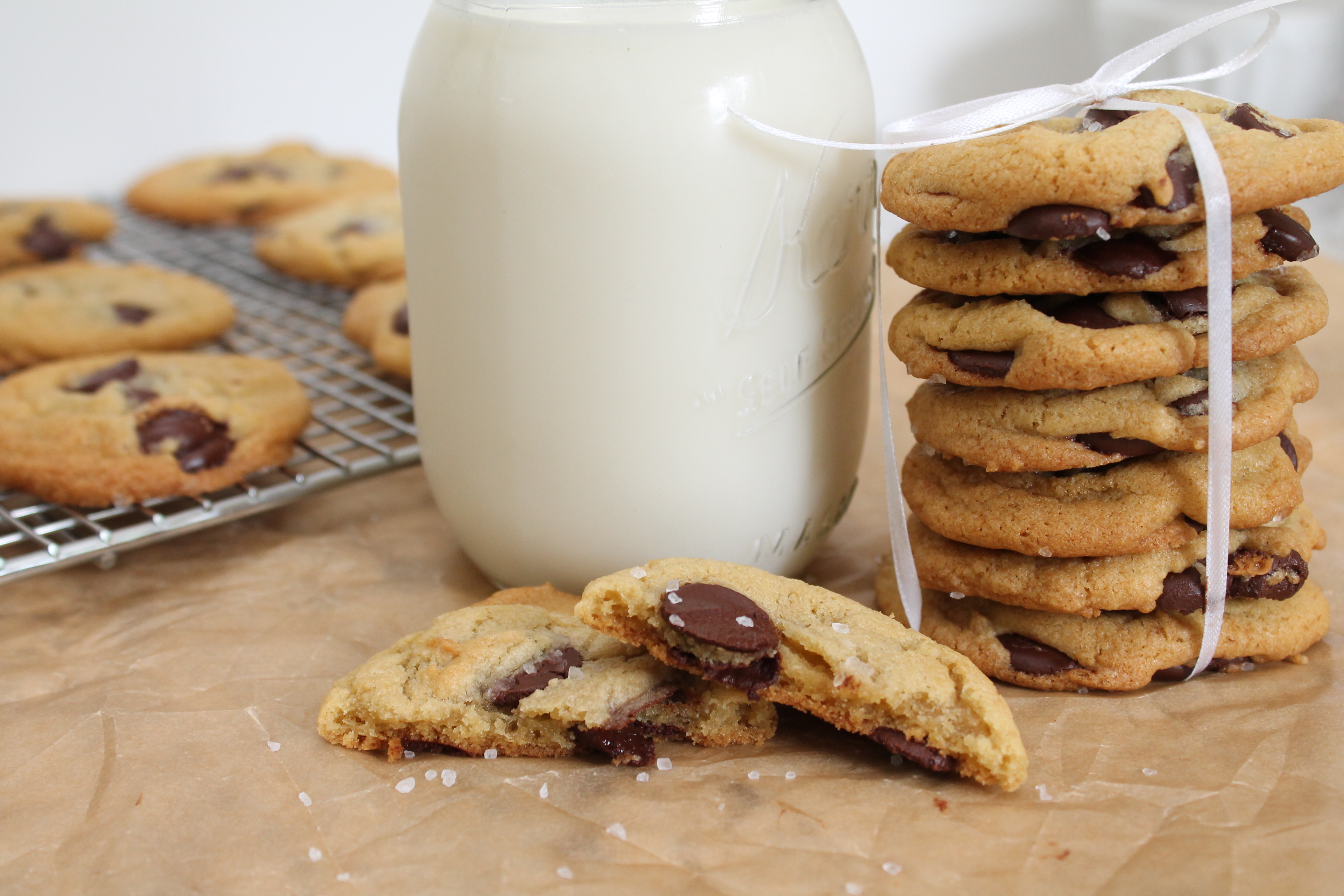 I think these cookies are the perfect texture! The olive oil flavor was fairly mild once the cookies were baked, but nevertheless these cookies, slightly offbeat and rich, are stunning!
Olive Oil and Sea Salt Dark Chocolate Chip Cookies
lightly adapted from Miz Helen's Country Cottage
makes 4 dozen
Ingredients:
2 eggs
¾ cup sugar
¾ cup brown sugar
1 cup extra virgin olive oil
1½ tsp. vanilla extract
2½ cups flour
1 tsp. table salt
1 tsp. baking soda
10 oz. (1¾ cups) Ghirardelli bittersweet chocolate chips
1 tbsp. coarse or flaky sea salt
Directions:
In a mixer bowl fitted with a paddle attachment, whip the eggs and sugars together until thick and pale. Stream the olive oil in with the mixer on medium-low speed, stirring until completely smooth. Stir in the vanilla.
Add the flour, table salt, and baking soda to the bowl and stir to combine, scraping the sides of the bowl as needed.
Stir in the chocolate chips.
Chill the dough at least 1 hour or up to 2 days.
When ready to bake, heat the oven to 375°.
Scoop the dough by the tablespoon onto parchment- or Silpat-lined cookie sheets. Sprinkle with a small amount of the sea salt.
Bake for 9–12 minutes, or until the edges of the cookies are set and lightly browned. Let the cookies cool for 10 minutes on the sheet before transferring to a wire rack.
Enjoy!