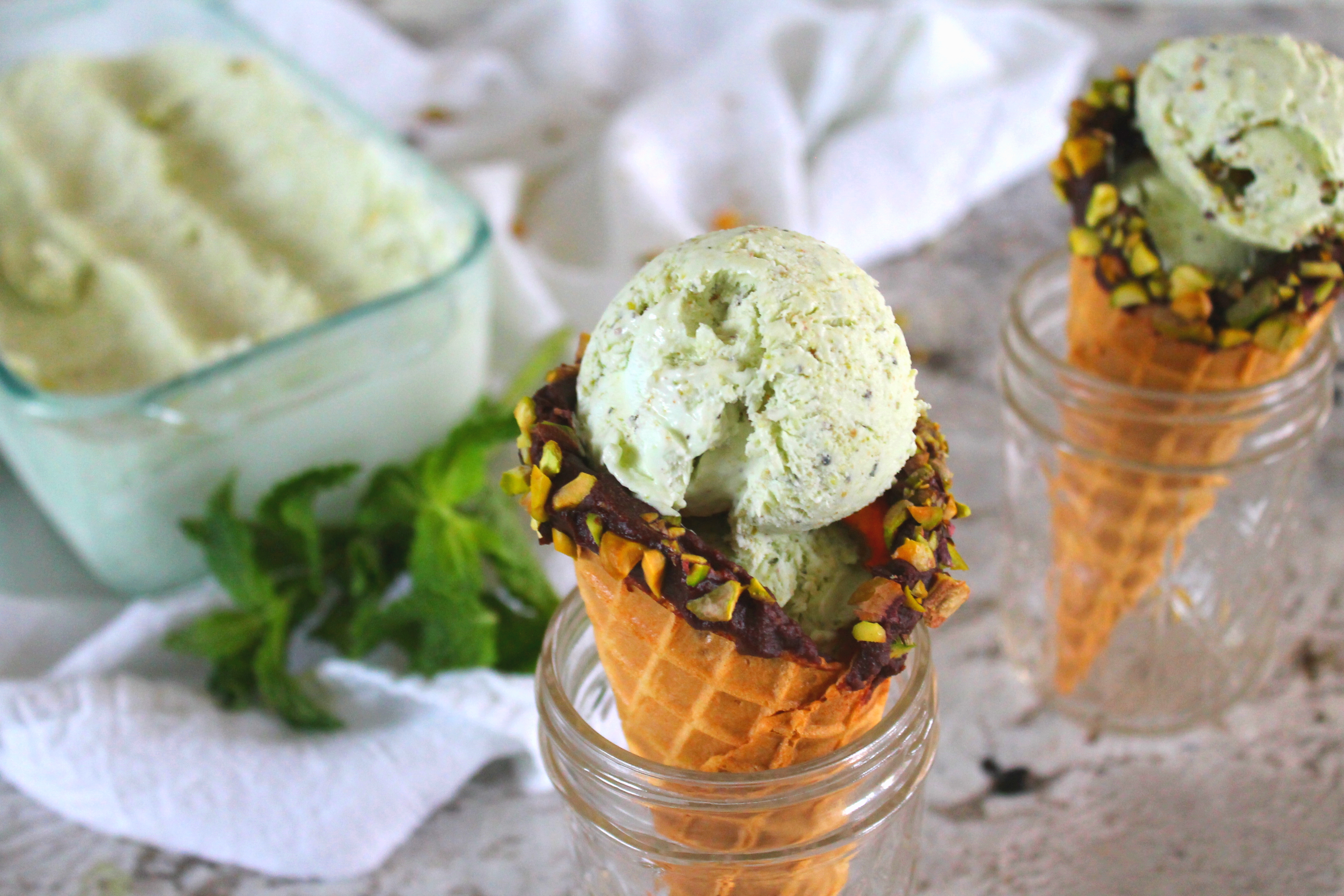 Over the last month or so, Jake has developed quite an obsession with the book Should I Share My Ice Cream? by Mo Willems. He carries it around the house with him. We read it at least once a day and up to four or five times in a row, if we have the patience. Jake likes to sit down to read the book aloud (quite accurately, I might add) to his baby sister, and he has on many occasions just recited various sections to himself when the book isn't on hand.
Get your cold ice cream for a hot day!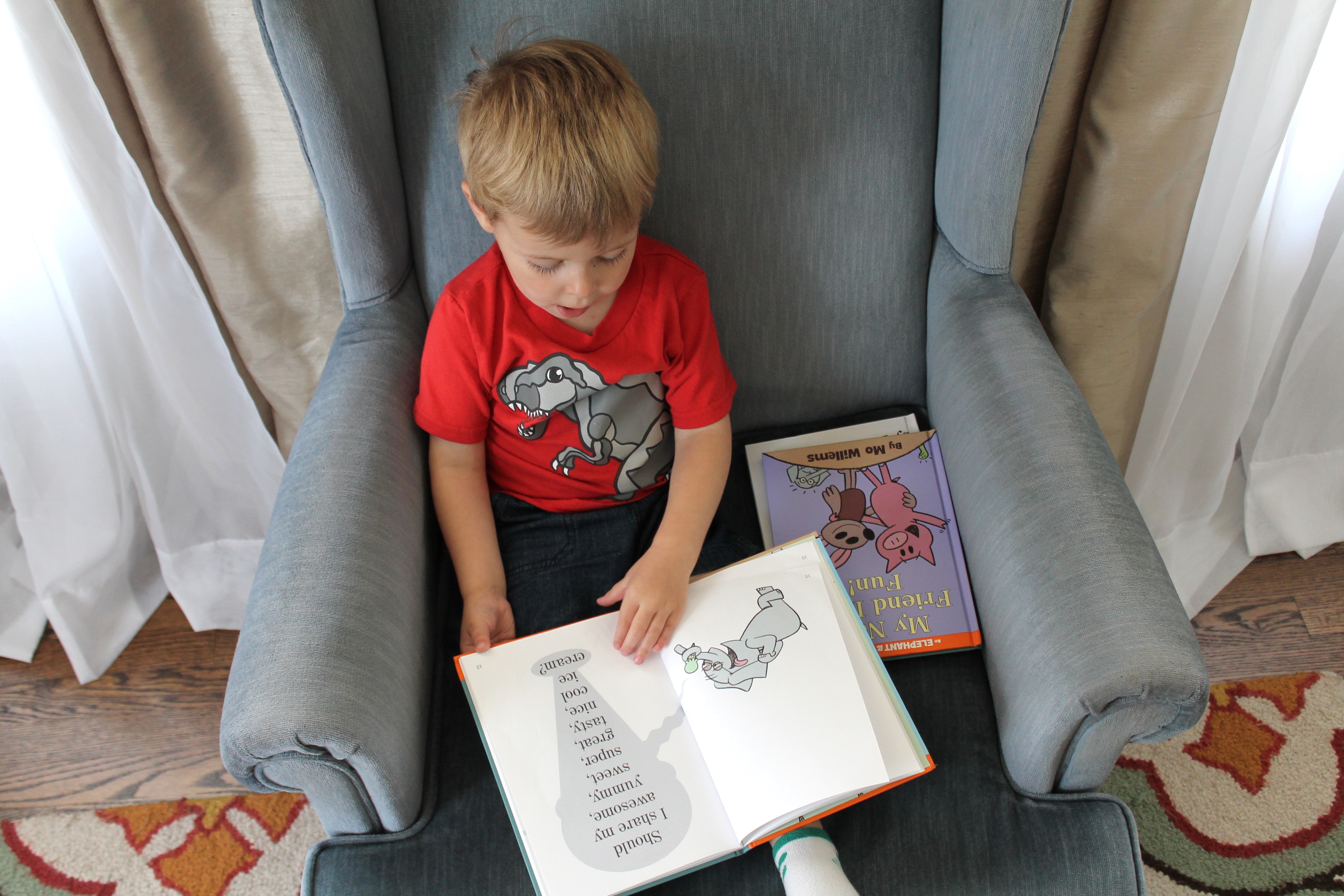 I have to admit that I love this book, and not just because I am amused that all Jake's favorite books are somehow about dessert. The crisis Gerald goes through, trying to decide whether he can bear to share his very favorite thing, the greedy rationalizations partnered with loyalty and affection for his best friend—they ring so true!
But it has always puzzled me that Gerald's ice cream is green. I mean…green. (Maybe because real elephants are herbivores?) Nothing against mint or pistachio or matcha ice cream, particularly…I am just surprised to see such a grown-up color in a children's book.
But maybe this is a good thing: expanding my kid's horizons in the name of ice cream and reading!
I told Jake we would make Gerald's ice cream…and then we set out to combine two classic green flavors, with tremendously delicious results!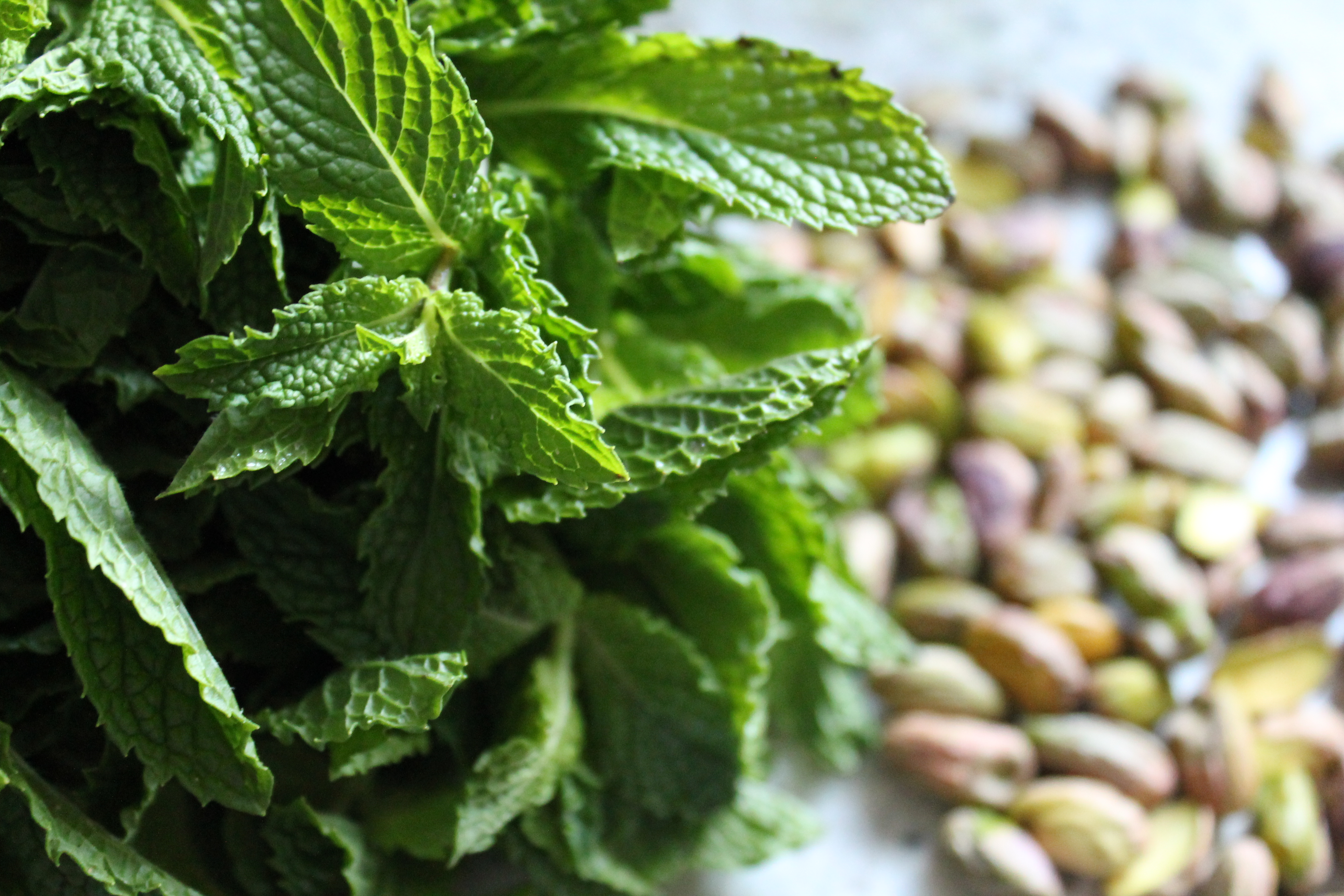 This no-churn ice cream is simple and delicious. I used mint leaves (elephants are herbivores, after all!) plus crème de menthe syrup (ummm…real boozy stuff would be good, too, but this is ice cream for kids, so reign it in!) as well as roasted, unsalted pistachios. The flavor was sweet and mild: I could taste both nuts and mint, and neither overpowered the other. Success!
The hardest part of making this ice cream is shelling the pistachios, but maybe you have a husband and preschooler who are eager to help you, too, and can make light work of it! I really do recommend using unsalted pistachios. While a small pinch of salt adds depth to sweet flavors, the amount of salt in salted pistachios would just turn this ice cream gross.
Blitz the nuts in a mini food processor until fine and powdery. Do the same with the mint leaves, then quickly stir both into the sweetened condensed milk, ideally before the mint turns brown. I slightly failed at that, so my ice cream could possibly have been greener if I had worked faster!
Beat the whipping cream until stiff, then beat in the crème de menthe. If you can't get your hands on crème de menthe or even the syrupy version, a bit of peppermint extract plus food coloring works just as well! You will lose a tiny bit of sweetness and your ice cream will be a bit sharper if you go that route.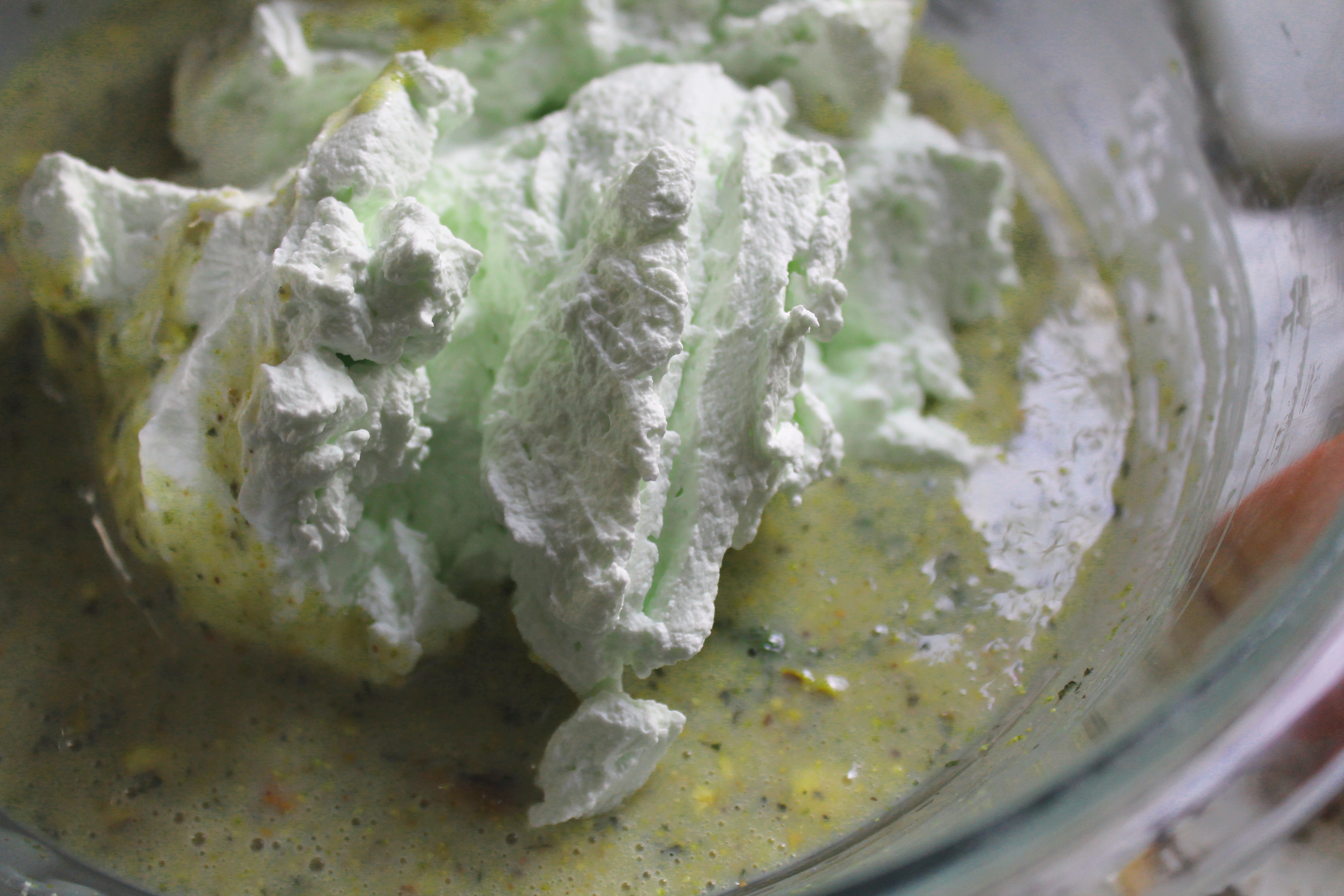 Fold the minty whipped cream into the sweetened condensed milk. Yes…the two colors of the two different parts look kind of gross together. Sorry. It turned out lovely and green in the end!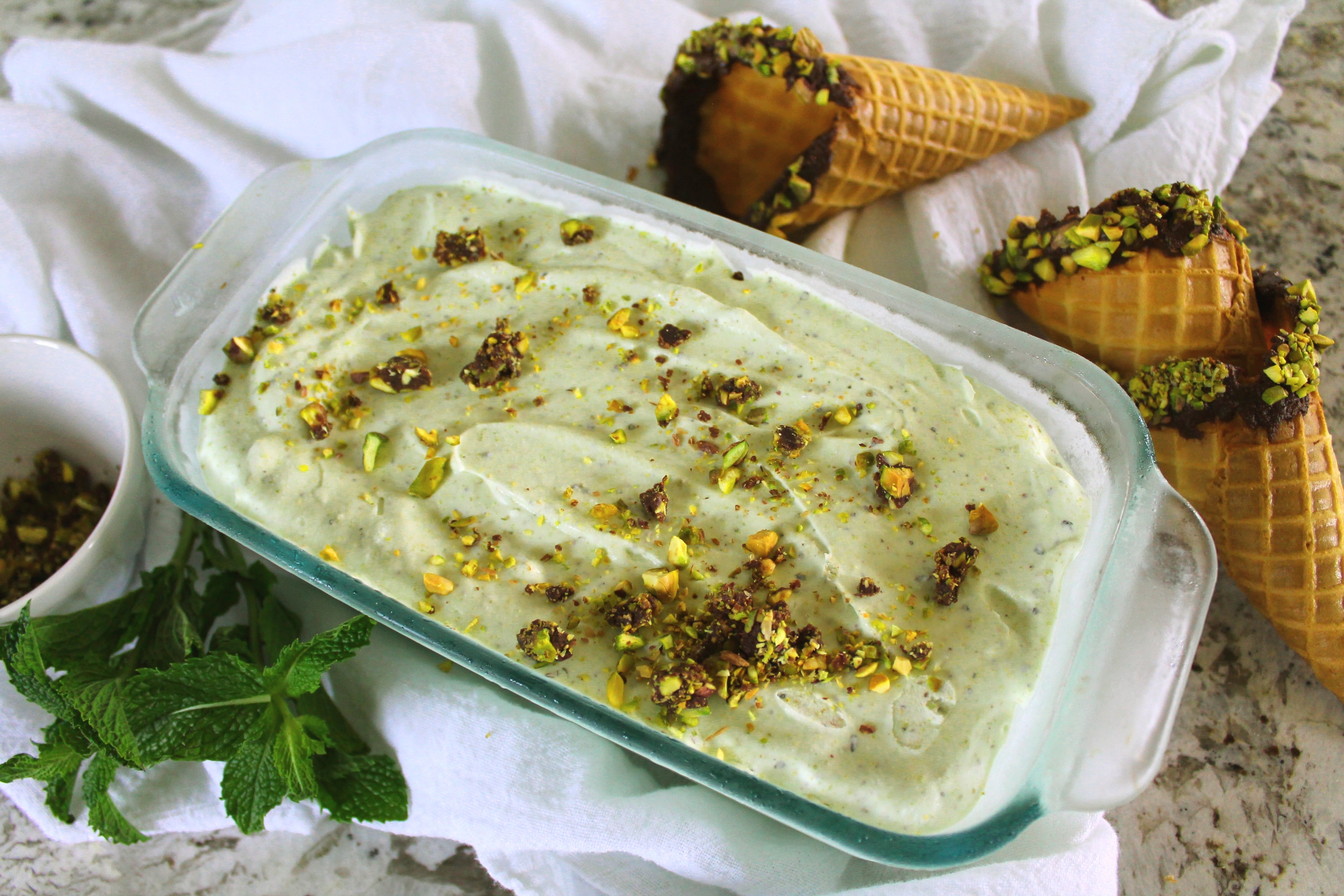 When the mixture is smooth (albeit slightly textured from the ground nuts and pureed mint), scoop it into a large container, cover tightly, and freeze for 6 hours. If you are the sort of person who likes crunchy pieces of nuts in their ice cream, you can fold in some extra chopped pistachios prior to freezing! I prefer my ice cream to be nice and smooth and creamy, so I skipped the extra nuts.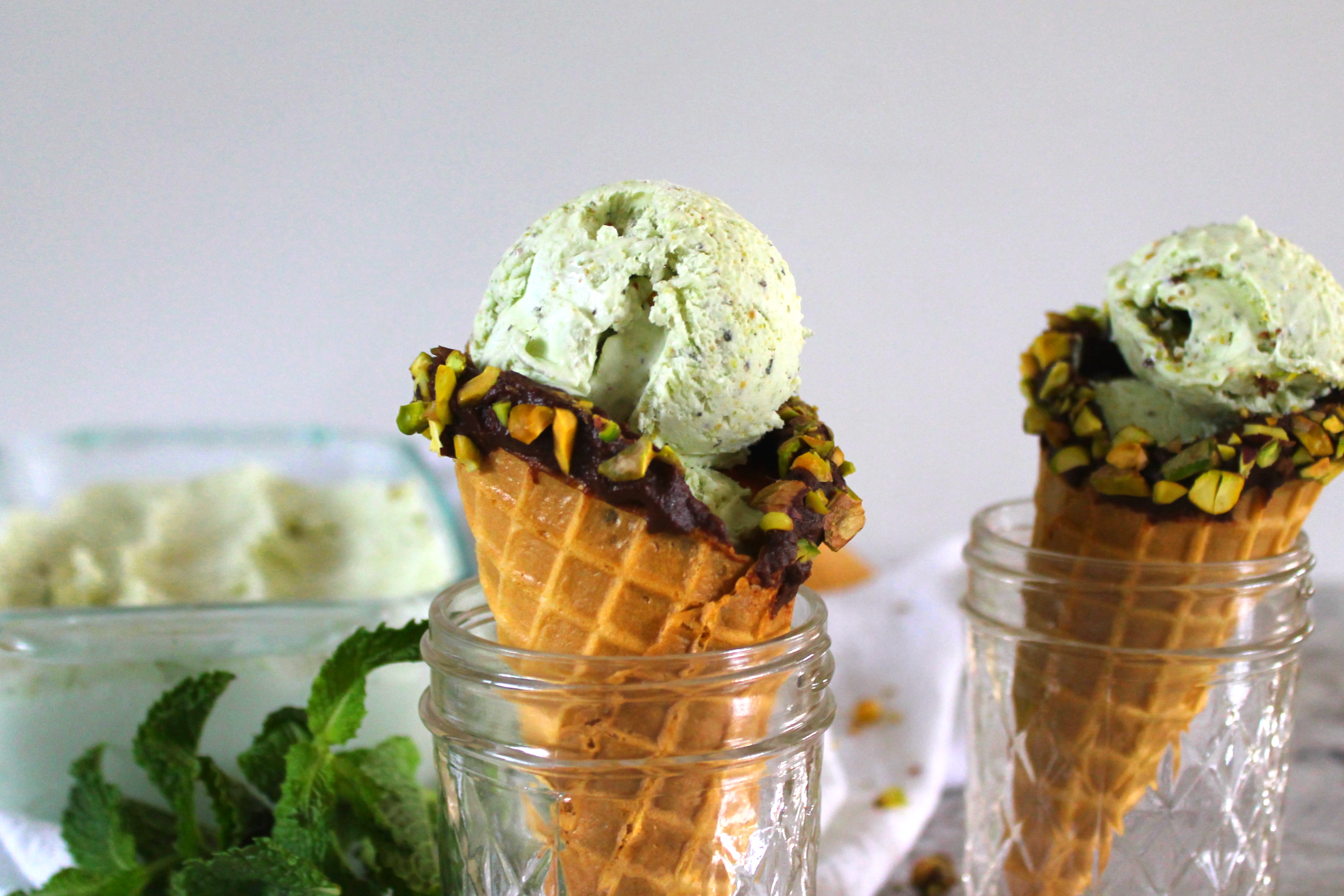 We served our ice cream in cones, à la Should I Share My Ice Cream—but we also dipped our cones in chocolate and rolled in pistachios! The bitter notes of dark chocolate really complement this sweet ice cream well.
Should you choose to share your ice cream, I think you and your best friend will like this flavor. It is very yummy!
No Churn Mint Pistachio Ice Cream
heavily adapted from Top with Cinnamon
makes about 1 qt.
Ingredients:
⅓ cup shelled, roasted, unsalted pistachios, plus ⅓ cup (optional)
⅓ cup packed fresh mint leaves
1 14oz. can sweetened condensed milk
pinch of salt
2 cups heavy cream
2 tbsp. crème de menthe
Directions:
Pulverize ⅓ cup pistachios and puree the mint. Combine with the sweetened condensed milk and salt in a large bowl and stir until well combined.
In a mixer bowl, beat the cream until it forms stiff peaks. Add the crème de menthe 1 tbsp. at a time and beat to combine, scraping the edges of the bowl to work in all the cream.
Transfer the whipped cream to the bowl with the sweetened condensed milk. Fold together, trying not to deflate the cream. Continue folding until the mixture is smooth and there are no small lumps of whipped cream.
If desired, chop the remaining ⅓ cup pistachios and fold into the ice cream.
Scrape the ice cream into a wide, shallow container with an airtight lid. Freeze for 6 hours before scooping.
Enjoy!