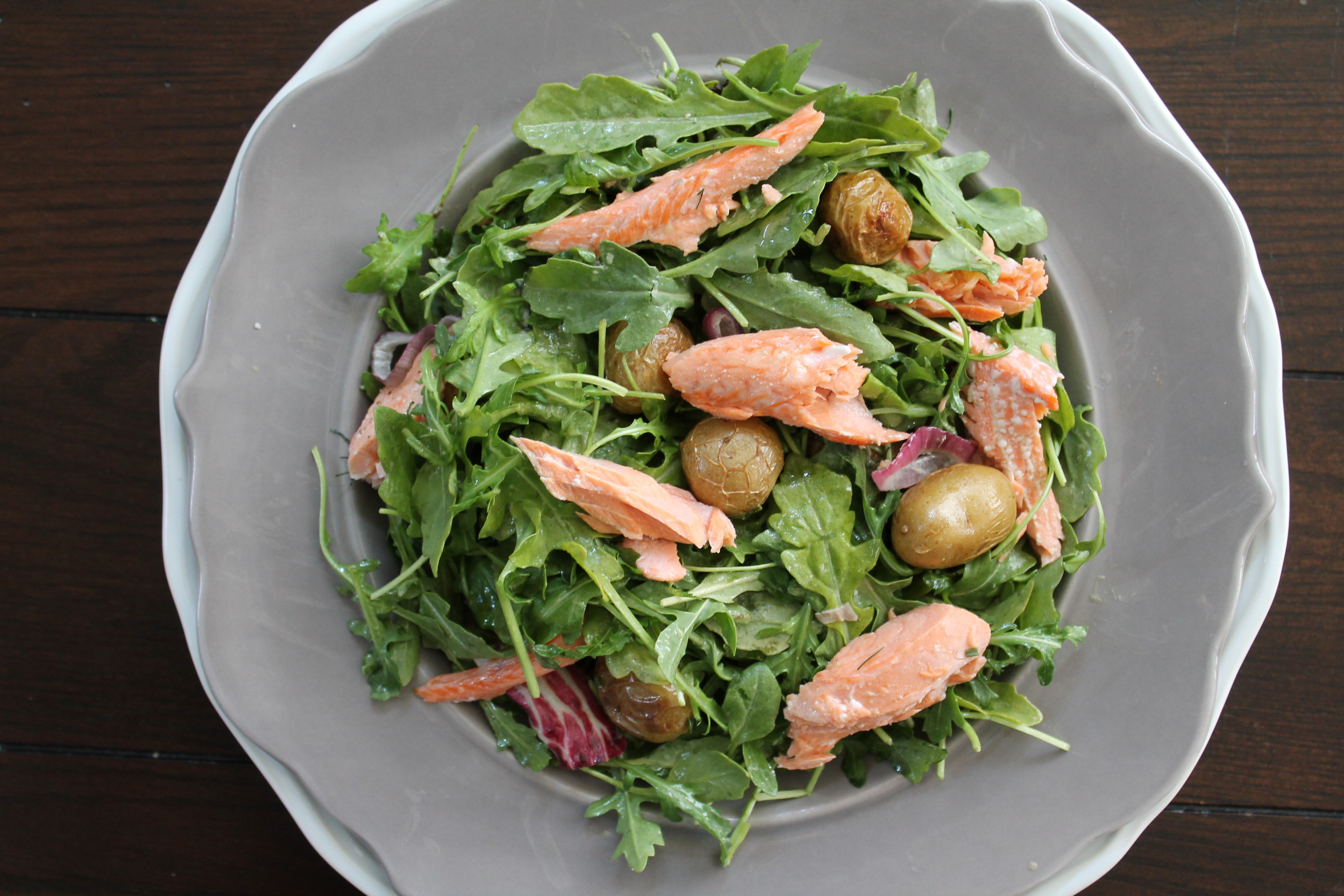 Don't you love dinner salads? And lunch salads? And salads in general?
I have been really craving some salmon salad lately. So I made some.
You should, too. That is all.
This salad is pretty darn great. First of all, it meets my main criteria for making a salad: there is very minimal prep and it makes a ton of food.
Here's the thing: as a pescetarian/vegetarian, most of the foods I cook on a regular basis require quite a bit of chopping and prep work. I've realized recently that it is way harder to be a vegetarian than not, simply because of how many ingredients are typically required to make vegetarian dishes! (In case you were wondering…it's more! More veggies, more chopping.) This has kind of broken me a little…I actually hardly ever make salads at home, even though I love salads, because I want all that prep work to result in something more indulgent than salad.
So this salmon salad, with flaked, roasted salmon a super simple vinaigrette, and tiny (rather than chopped) potatoes, is genius for me. And it makes enough food for several meals! Huge bonus.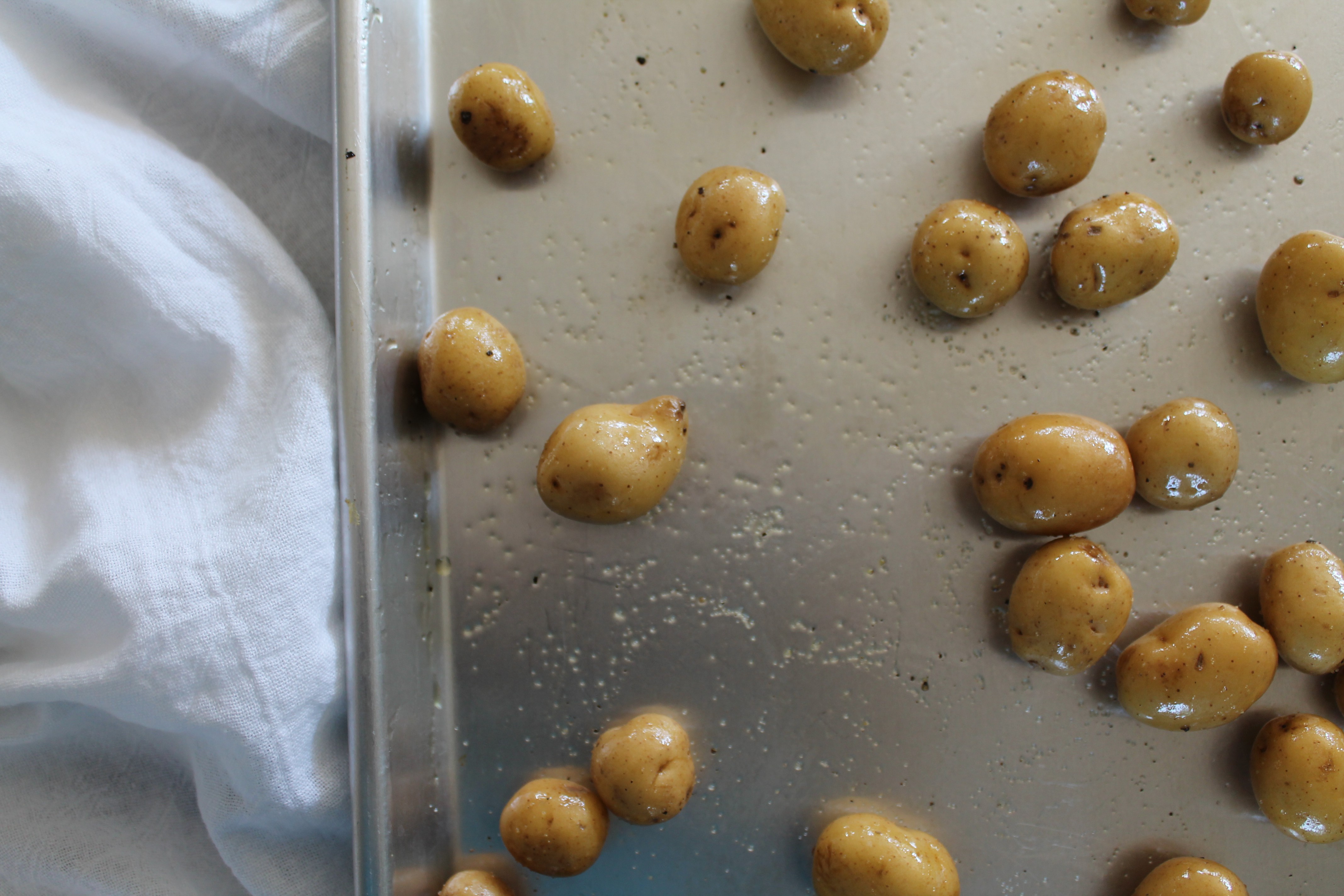 So. Toss the new potatoes with olive oil, salt, and pepper. Drop them on a cookie sheet (I prefer unlined, to get a nice browning on the bottom, and for the salmon later) and roast them for 10 minutes at 450°.
Meanwhile, very lightly brush your salmon flank with olive oil. Season with salt and black pepper.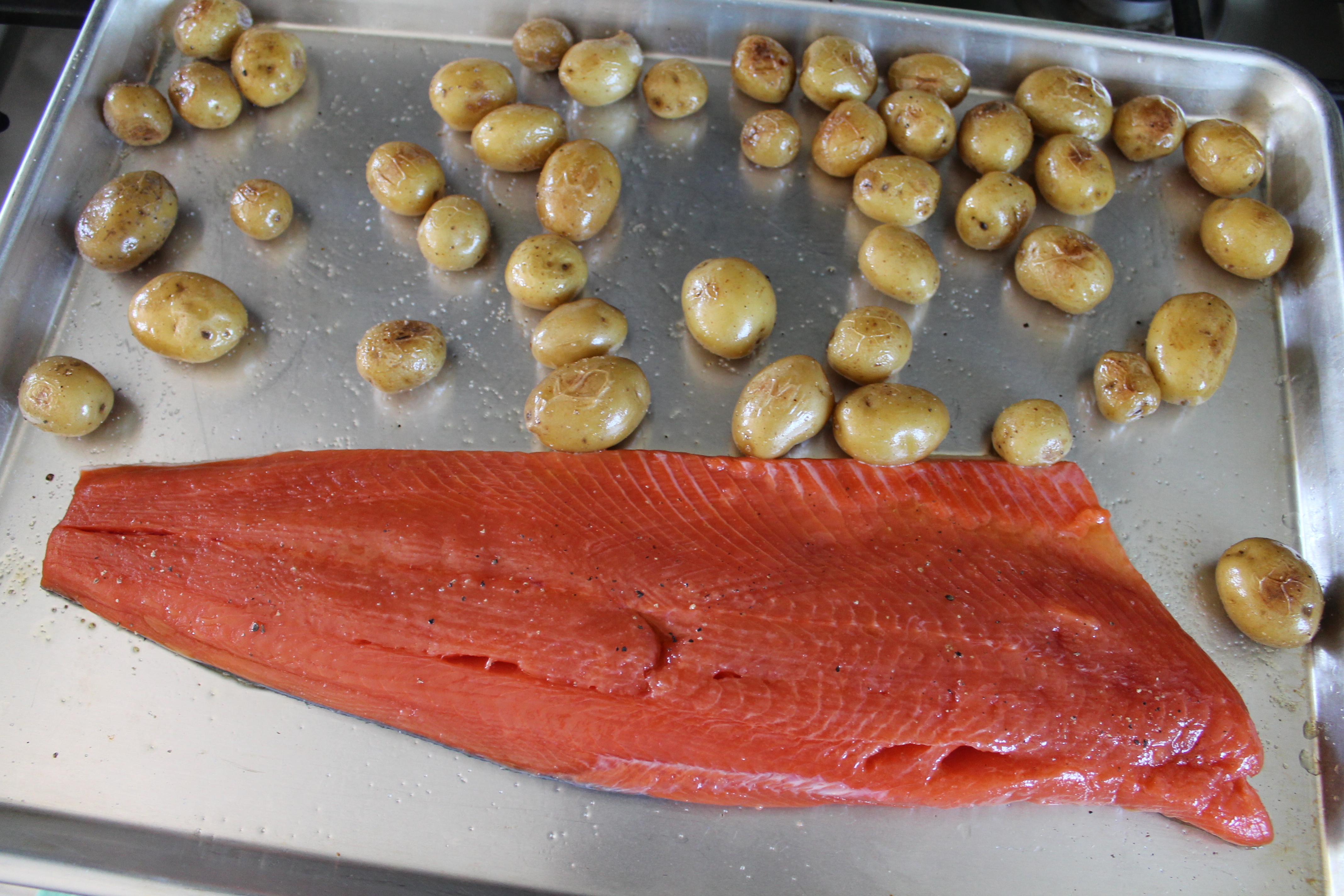 Pull the potatoes out of the oven and shake them around on the pan. Notice how the bottom sides are now a bit browned? Yay! Shove them over a little and drop the salmon flank, skin side down, on the pan. Roast the whole shebang another 10 minutes.
Do you like shallot? I do. I sliced a shallot and tossed the slices over the salmon and potatoes when there were 5 minutes left on the clock.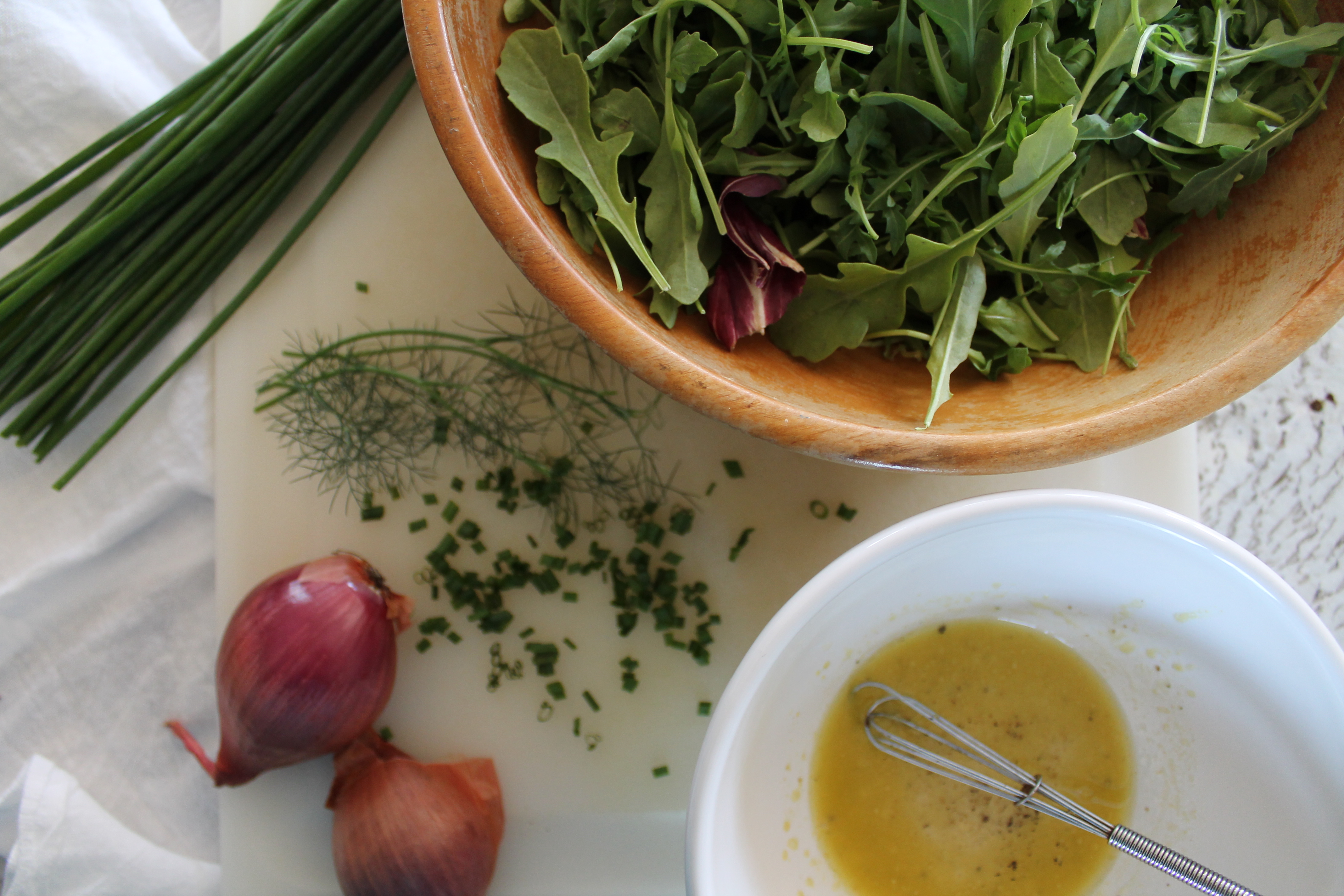 That still gave me plenty of time to whisk together a quickie herb vinaigrette. All you need is white wine vinegar, a spoonful of Dijon mustard, olive oil, fresh chives (snip with scissors!), and fresh dill (just roughly tear the fronds!). Add a little salt and pepper and whisk vigorously for about 30 seconds or so until it comes together into a thick emulsion. Yum.
Toss the dressing with arugula (or rocket, for you Brits). I really recommend doing this only for the amount of salad you are about to serve. Greens wilt quickly once they are dressed, so if you are serving lunch for two, save half of the arugula and half of the dressing in separate containers for later! This will keep your salad as fresh and delicious as possible, even left over.
Pull the roasted salmon and potatoes out of the oven. Carefully slide a spatula between the fish skin (which, with any luck, is stuck to the bottom of the baking sheet) and the flesh. They should separate easily even if the skin is not stuck to the pan. Transfer the salmon to a cutting board and gently pull apart into large flakes with to forks. If the fish is cooked completely, this will be a very easy task.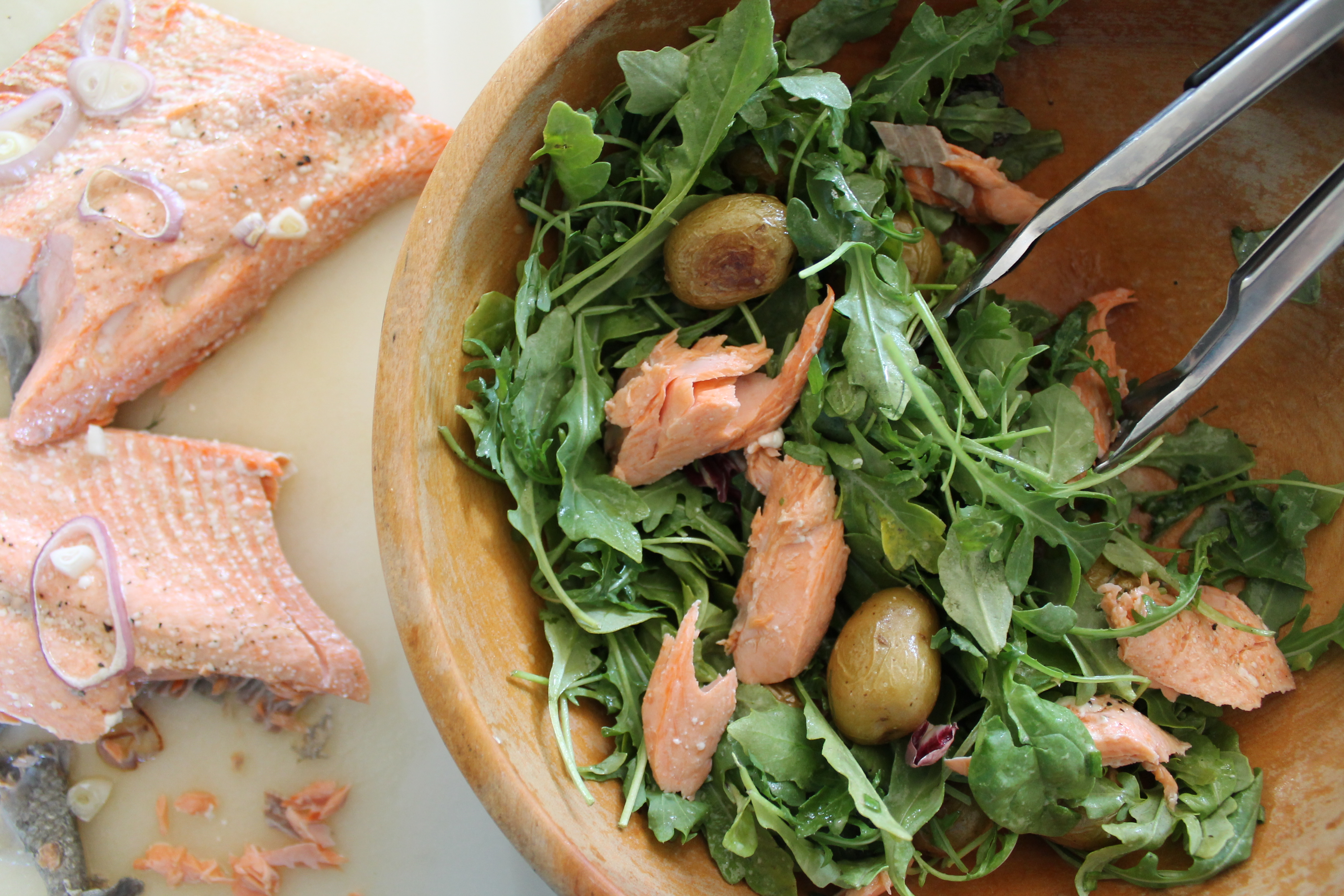 Add the flaked salmon and the potatoes (as much as suits the number of people you are serving immediately) to the greens and toss. Remember, if you are only serving half the greens at this time, you should obviously also reserve half of the salmon and potatoes!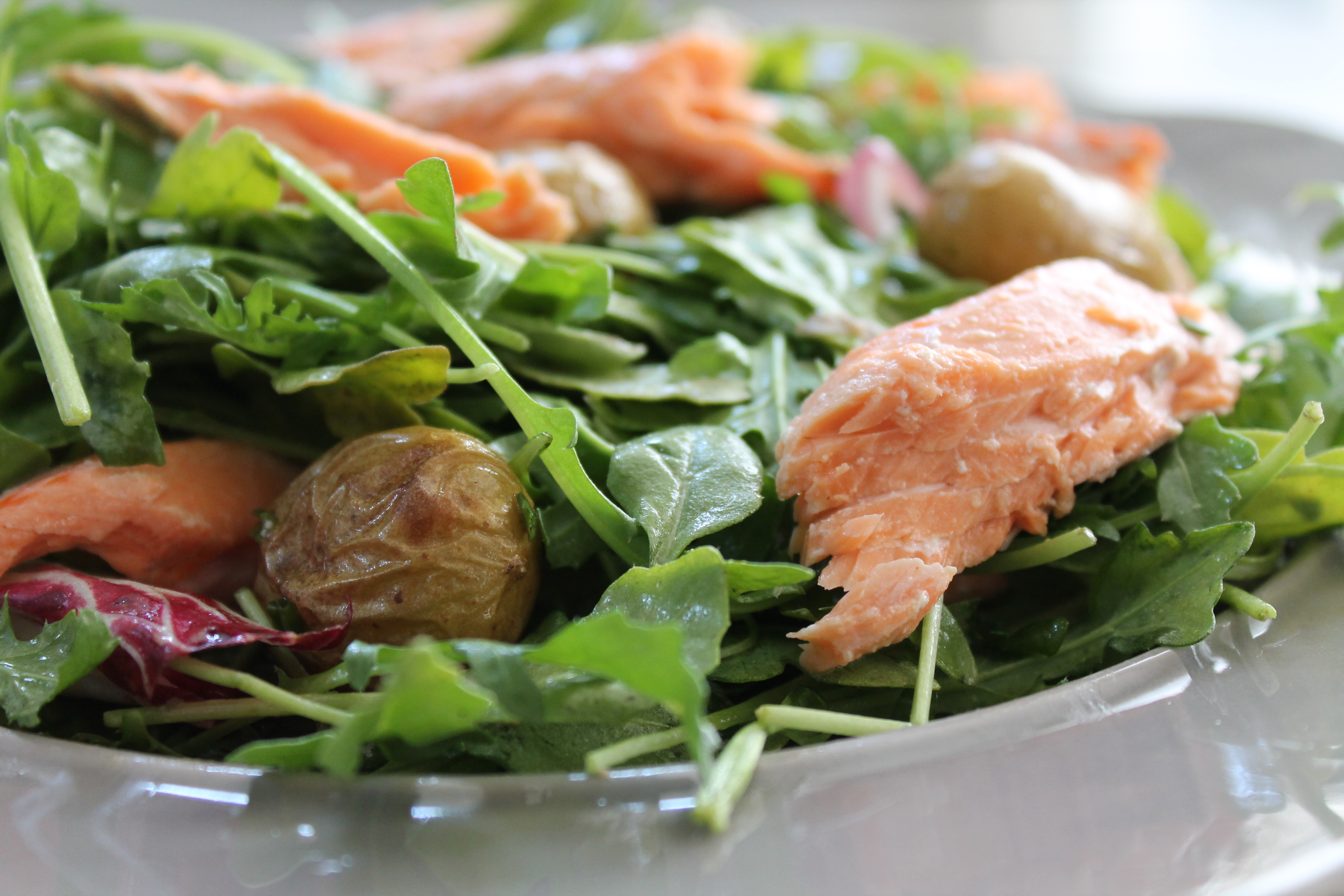 And we are done! A delicious and healthy salad, all thanks to minimal prep work and mostly hands-off cooking!
Salmon and Arugula Salad with New Potatoes and Herb Vinaigrette
lightly adapted from Martha Stewart
serves 4
Ingredients:
1 lb. new or creamer potatoes, washed
3 tbsp. plus 1 tsp. olive oil, divided
salt and black pepper
1 lb. salmon flank
1 small shallot, thinly sliced
3 tbsp. white wine vinegar
1 tbsp. Dijon mustard
¼ cup snipped fresh chives
2 tbsp. torn fresh dill
10 oz. baby arugula
Directions:
Preheat oven to 450°.
On a large, rimmed baking sheet, toss the potatoes with 1 tbsp. olive oil. Season to taste with salt and pepper.
Roast the potatoes for 10 minutes.
Meanwhile, barely brush the top of the salmon with olive oil, no more than 1 tsp. Season lightly with salt and pepper.
Pull the potatoes out of the oven and shake the pan to turn them. Push the potatoes to one side of the pan and add the salmon, skin-side down to the other side.
Return to the oven for 5 minutes.
Pull the baking sheet out of the oven and sprinkle the shallot slices over the salmon and potatoes. Continue to roast the salmon until cooked through, another 5–10 minutes. (It takes most fish about 10 minutes per inch of thickness to cook; if your fish is about 1″ thick at the thickest point, it will be done after 10 minutes. If it is thicker, add a few minutes to cook it through completely so that it will flake easily. When in doubt, it is usually better to slightly undercook rather than overcook fish.)
While the fish roasts, whisk together vinegar, Dijon, the remaining 2 tbsp. olive oil, and the fresh herbs until thick and uniform. Season to taste with salt and pepper.
Toss the dressing with the greens.
When the fish is cooked through, remove it from the oven. Separate the flesh from the skin by sliding a spatula or angled scraper between the two; they will separate easily. Pull the flesh into large flakes using a fork.
Combine the salmon and potatoes with the dressed greens and serve immediately.
Enjoy!