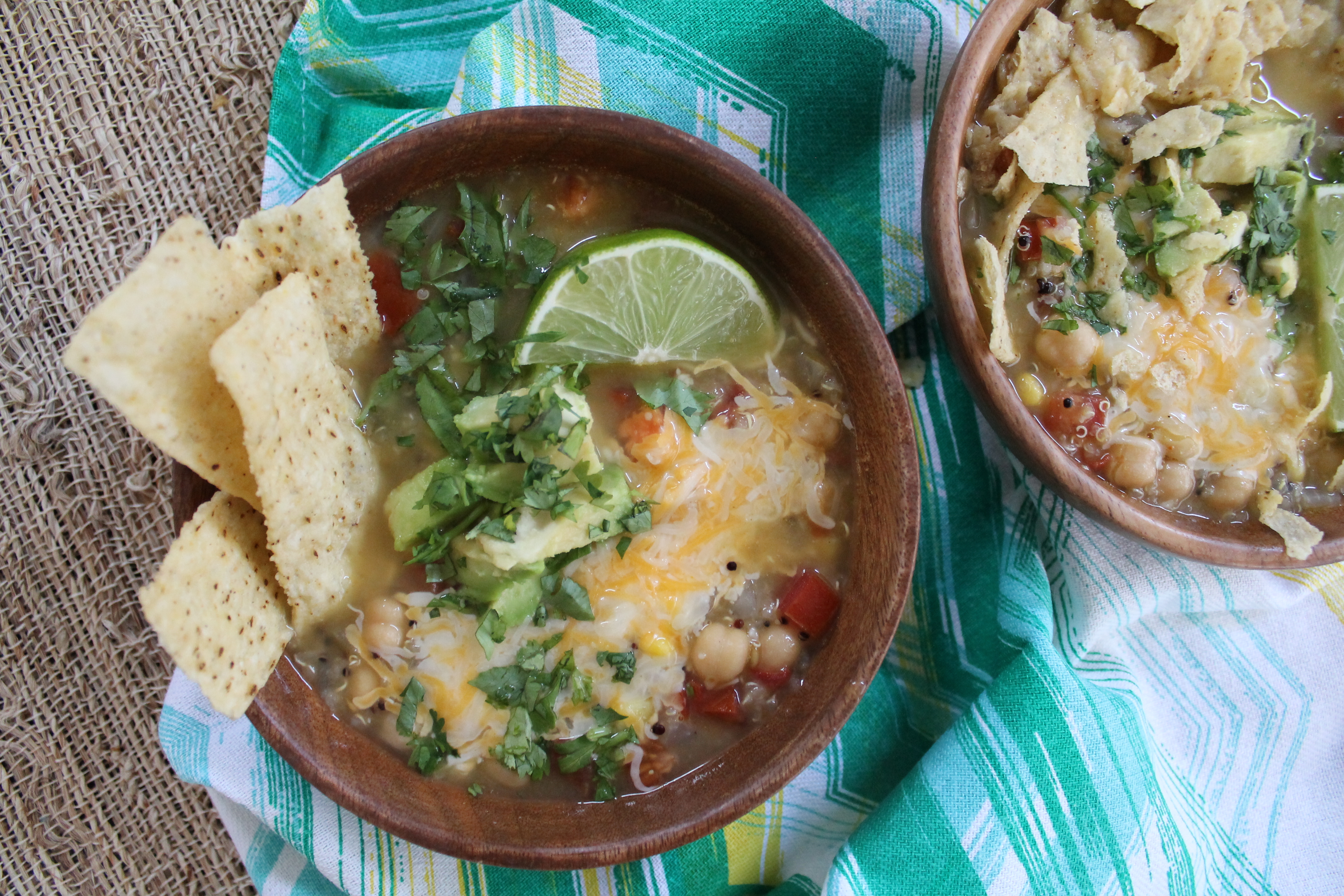 When I was a kid, my mom used to make this amazing white chili. It was a football season/New Year's Eve tradition for us.
My brother and I totally loved it, because we always ate this chili with a mountain of Cool Ranch Doritos (old school flavors are best, baby) and an avalanche of shredded cheddar cheese on top. I remember my dad crushing the chips into little shards with his big bear hands, like they were nothing, and piling them into our bowls.
One of the great tragedies of being a vegetarian now is that for years, I haven't had that chips-in-my-soup experience.
Until I stumbled across a vegetarian recipe for tortilla soup!
This soup is so tasty, and it just gets better and better with time. I actually recommend eating it left over (is that weird?) because the flavors keep building.
Just like the nostalgia.
This is a really simple soup to make. It cooks all in one pot, the list of ingredients is fairly short, and there is very little chopping. Hooray!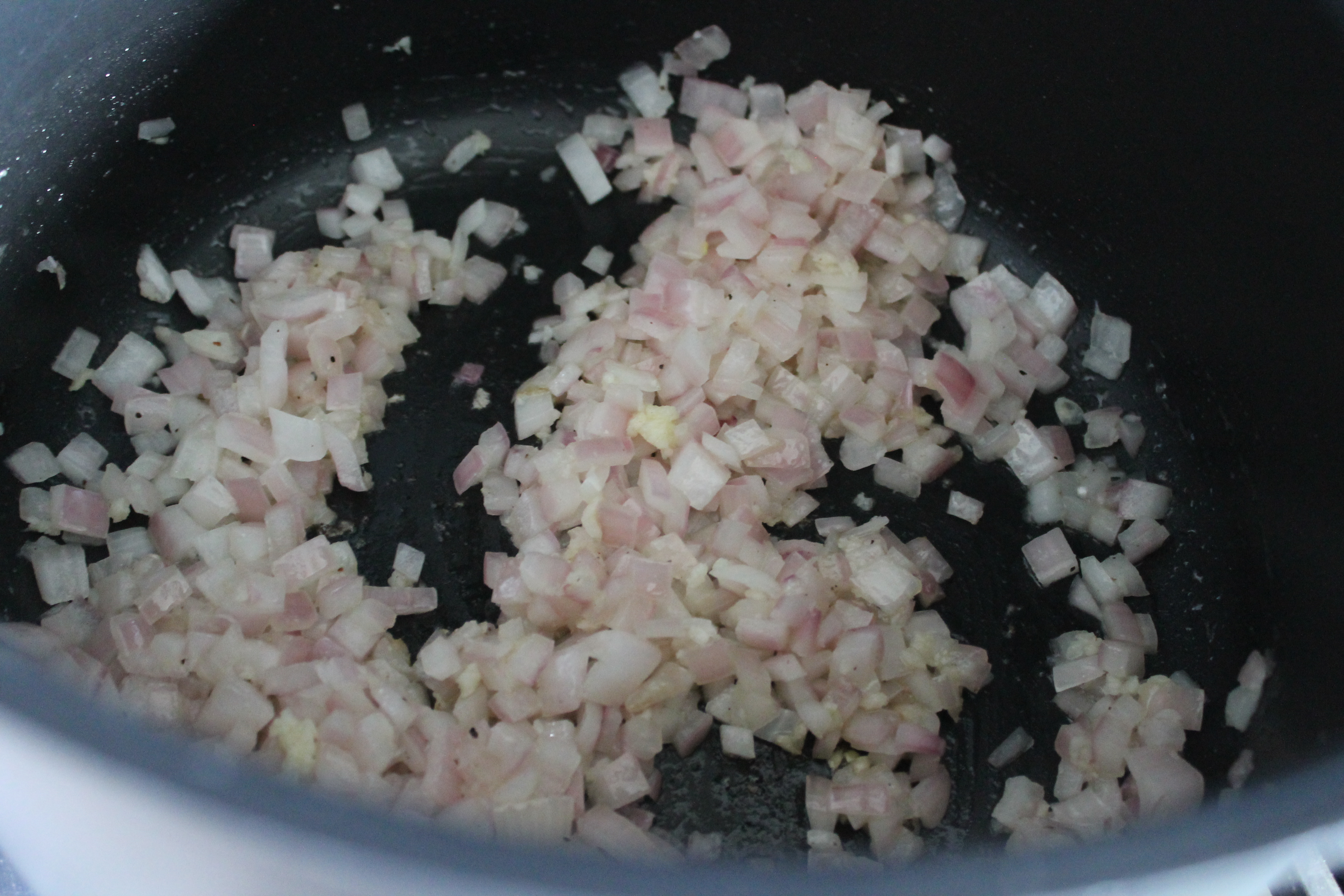 Chop up an onion and drop it into a large stockpot with some olive oil, a few cloves of minced/pressed garlic, and salt and pepper. Let the onions soften until translucent, stirring every now and then, and meanwhile chop up some tomatoes!
I think this soup is a great use for the last of summer's bounty, but if you are making it mid-Fall or mid-Winter, and you are weirded out by out-of-season tomatoes, you can go ahead and use a can of diced tomatoes! This even saves you some prep time.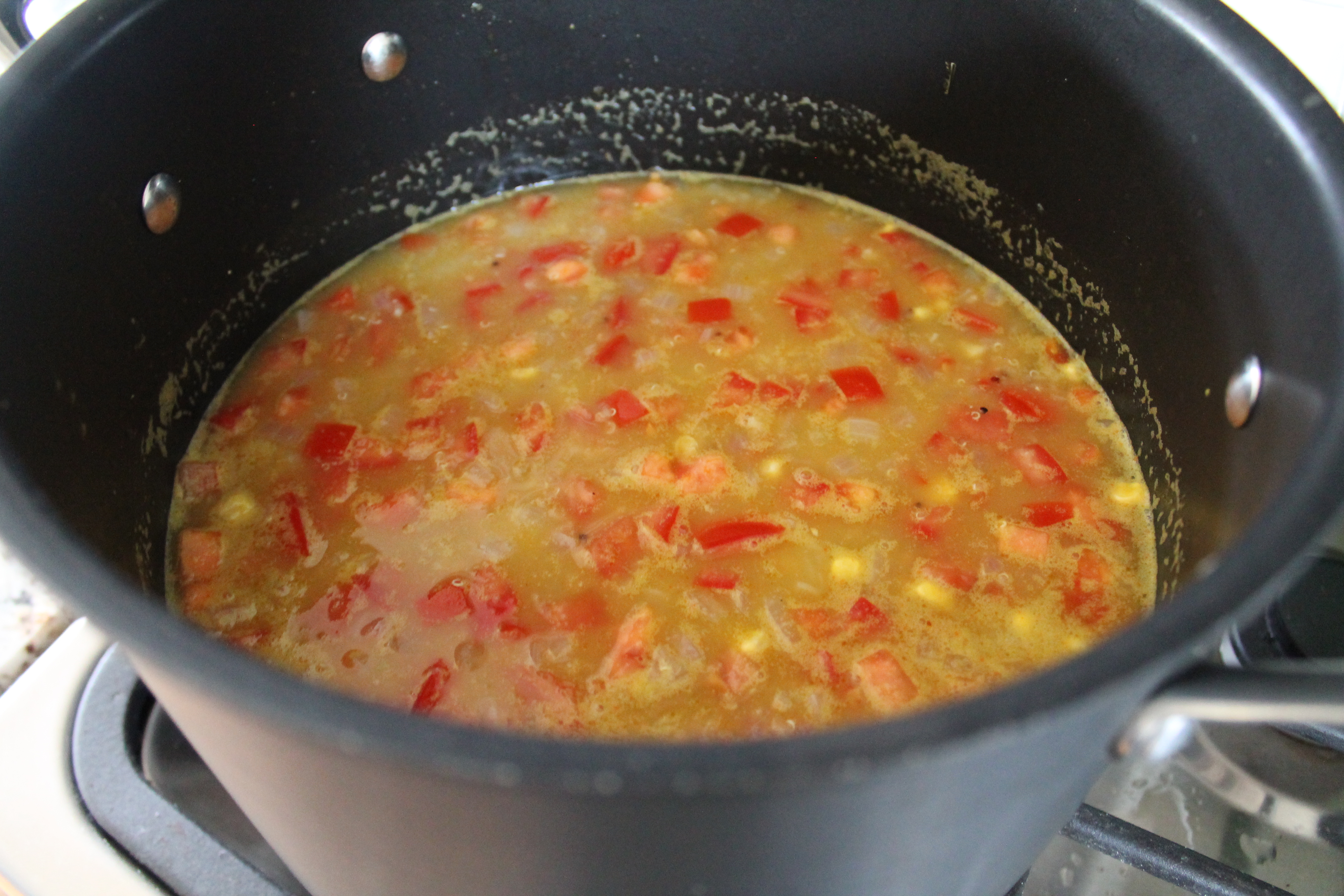 When the onions and garlic are fragrant and soft, add the veggie stock. I actually used 6 cups of stock and 2 cups of water, because it's what I have on hand. If you are using full-sodium broth, then I definitely recommend a mix with some water so that you can control the seasonings a bit better.
Add the quinoa as well, and bring the soup to a boil. Let it simmer for 10 minutes or so, after which (surprise! speedy!) the curlicues on the quinoa will be popping out, signalling that it is done.
Toss in your drained chickpeas, the chopped tomatoes, and some corn (frozen is fine, but if you have any fresh ears left from the farmer's market, even better!).
Let the soup simmer, covered, as long as you like. The longer it simmers, the more the flavors develop. Do taste it for salt and pepper, but don't be alarmed if it still seems a bit boring.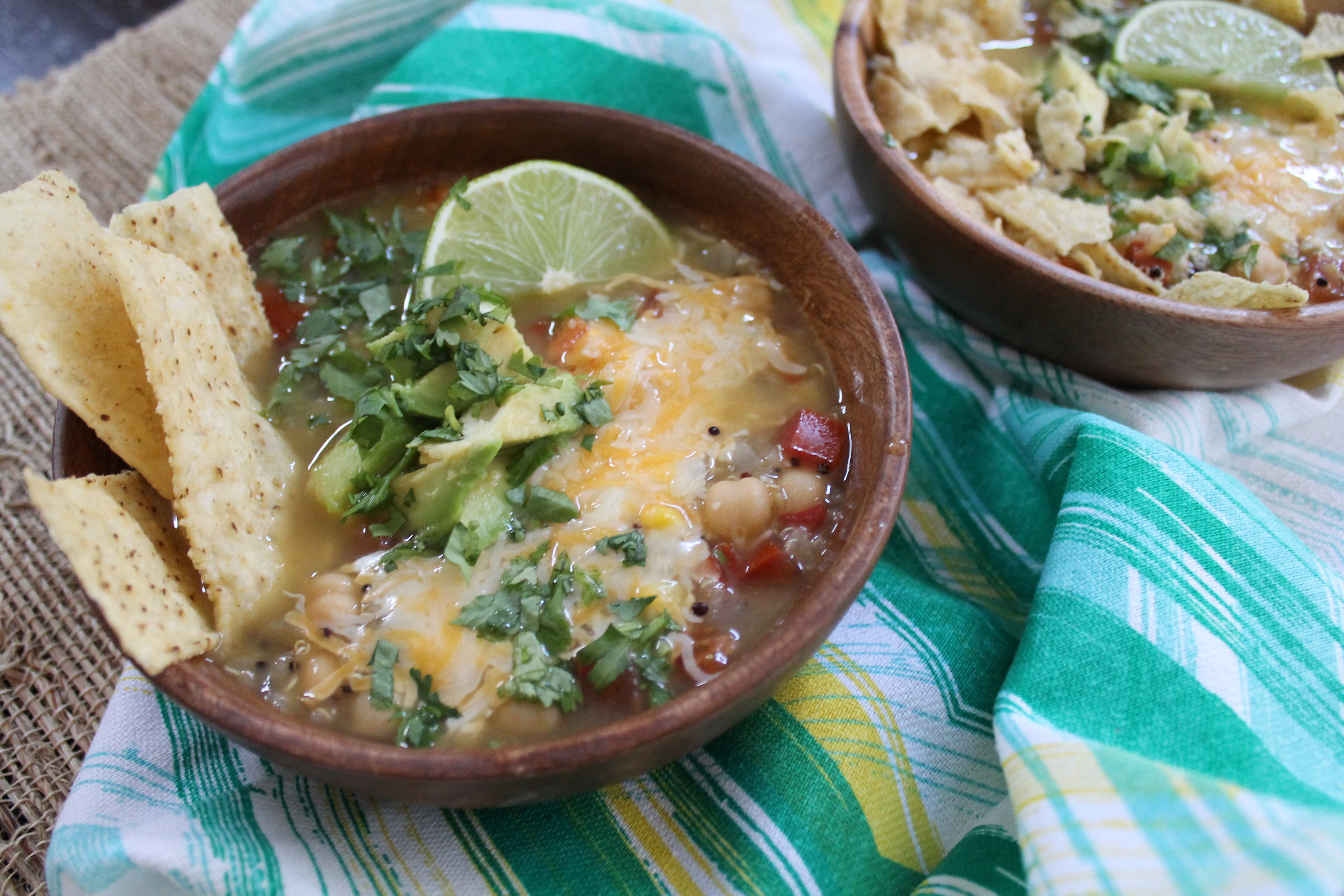 This soup really is all about condiments and toppings, and I'm not just talking about the tortillas here. The kickers for this soup are lime, lime, and more lime! Cheese is also pretty brilliant, and the bright tang of fresh cilantro and creaminess from avocado round out the whole meal.
Before serving this soup into bowls, squeeze a lime (or two, if your limes are a bit stingy) into the pot. This is essential. Without the lime, you will be eating the soup and thinking, "meh, this is all right, but I won't cook it again." With the lime, you will have a totally respectable and tasty vegetarian version of a classic soup!
Serve with tortilla chips for each person to crush into their soup individually. Because nostalgia. (And also because they will get soggy if you mix them in ahead of time.)
Quinoa and Chickpea Tortilla Soup
lightly adapted from Real Simple
serves 8
Ingredients:
3 tbsp. olive oil
1 red onion, diced
3–4 cloves garlic, minced
salt and black pepper
8 cups low-sodium vegetable broth
1 cup quinoa
2 15oz. cans chickpeas, drained and rinsed
3 medium ripe tomatoes, diced (or 1 14oz. can diced tomatoes)
1 cup corn kernels (fresh or frozen)
juice of 1–2 limes, plus extra for serving
1 cup shredded cheddar
¼ cup minced fresh cilantro
1 ripe avocado, diced
tortilla chips, crushed
Directions:
In a large stockpot, heat the olive oil over medium-high heat. When hot, add the onion, garlic, salt, and pepper, and cook, stirring regularly, about 4 minutes, or until translucent.
Add the vegetable stock and quinoa to the pot and bring to a boil. Lower the heat and simmer, uncovered, for 10–15 minutes, until the quinoa is tender and the curlicues have popped.
Add the chickpeas, tomatoes, and corn to the pot and heat until warmed through. Continue to simmer the soup, covered, as long as desired up to 1 hour.
Before serving, season the soup with lime juice. Taste and adjust as needed.
Serve the soup topped with cheese, cilantro, avocado, and crushed tortilla chips.
Enjoy!