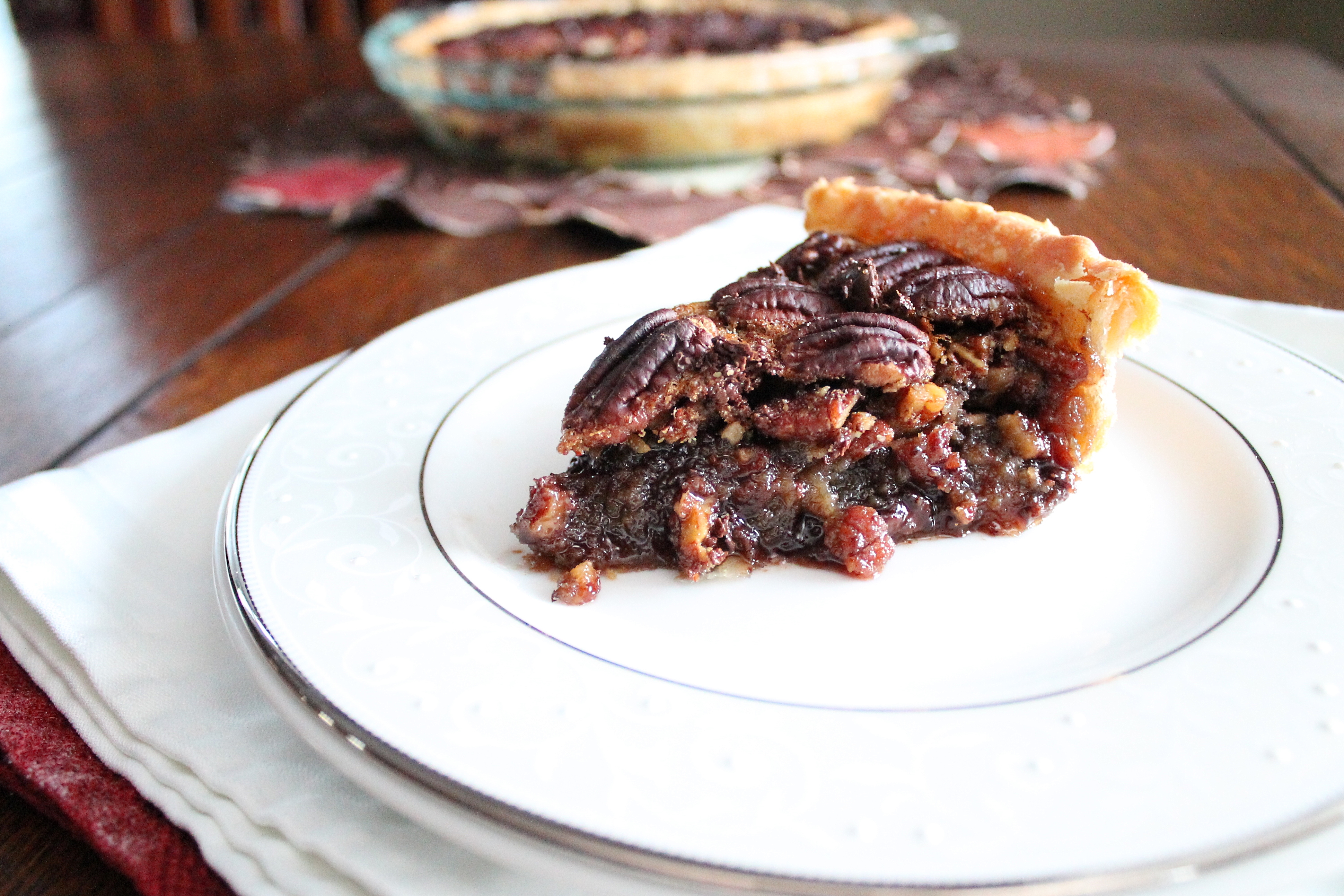 Well, I missed the Kentucky Derby this year…both because I don't really care for televised sports and because I had just had a baby.
So I suppose this shouldn't really be called "Derby Pie." I should probably call it something else…like "Pecan Pie Straight from Heaven," or "Most Delicious Pie That Will Ever Cross Your Lips," or "Why-Would-Anyone-Ever-Deign-to-Eat-Another-Pie-That-Doesn't-Include-Bourbon Pie."
Seriously. Where have chocolate and bourbon been all my life when I was eating plain, regular pecan pie? I have always loved pecan pie at Thanksgiving, but this pie is truly a marvel.
As Fall is pie season…I highly recommend you start baking.
This takes pecan pie to a whole 'nother level.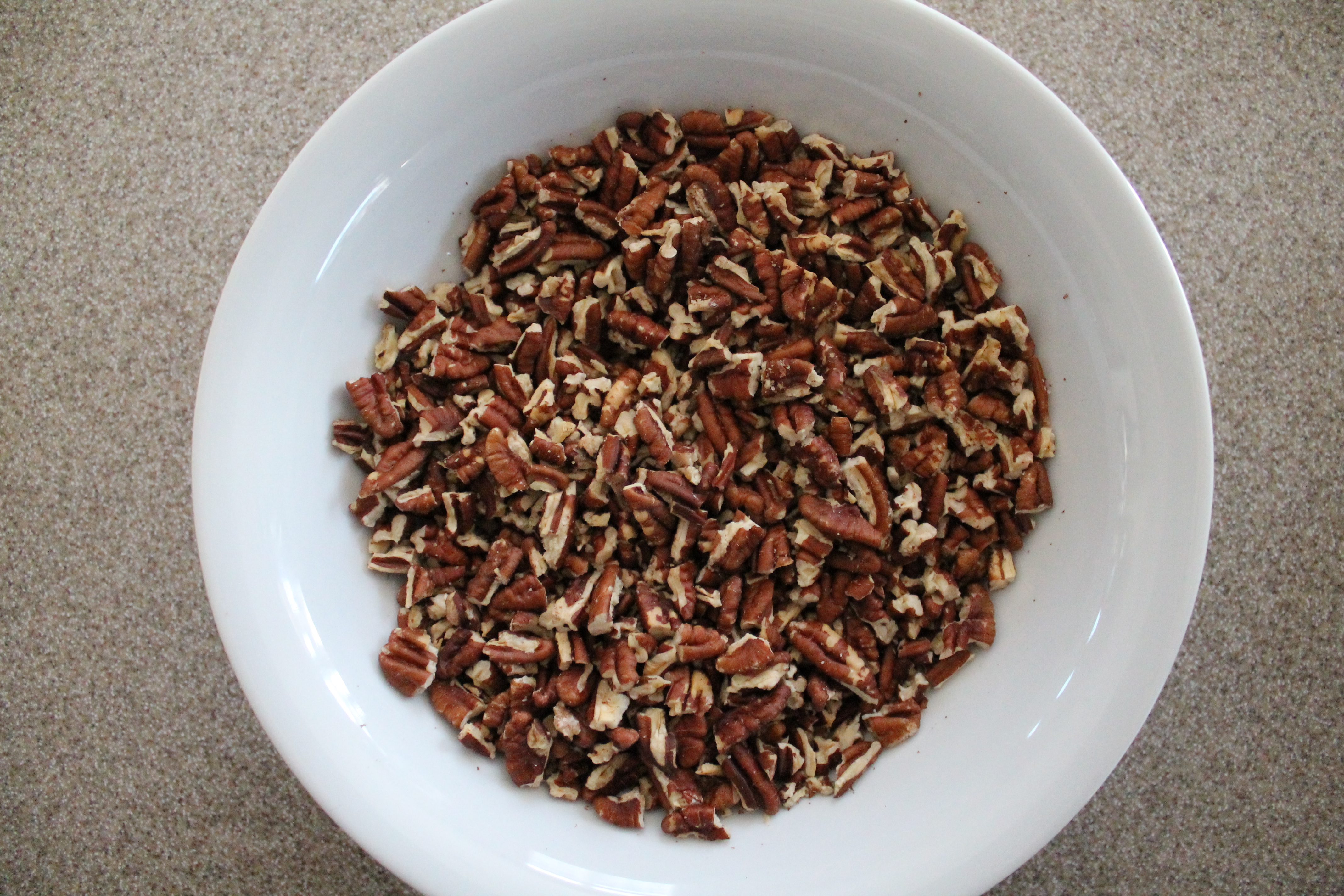 Start by toasting your pecans. Toasting really brings out the flavor of the nuts, and it only takes an extra minute of effort! Just pop them in a warm oven for 8–10 minutes, shaking the pan halfway so they toast evenly. When the nuts are dark brown and fragrant, pull them out.
I highly recommend breaking up about two-thirds of the nuts. (You can make the pie with unbroken halves, but it will be really hard to slice and serve!) Reserve about two-thirds of a cup or so of pecan halves so you can make a beautiful decoration on top of the pie!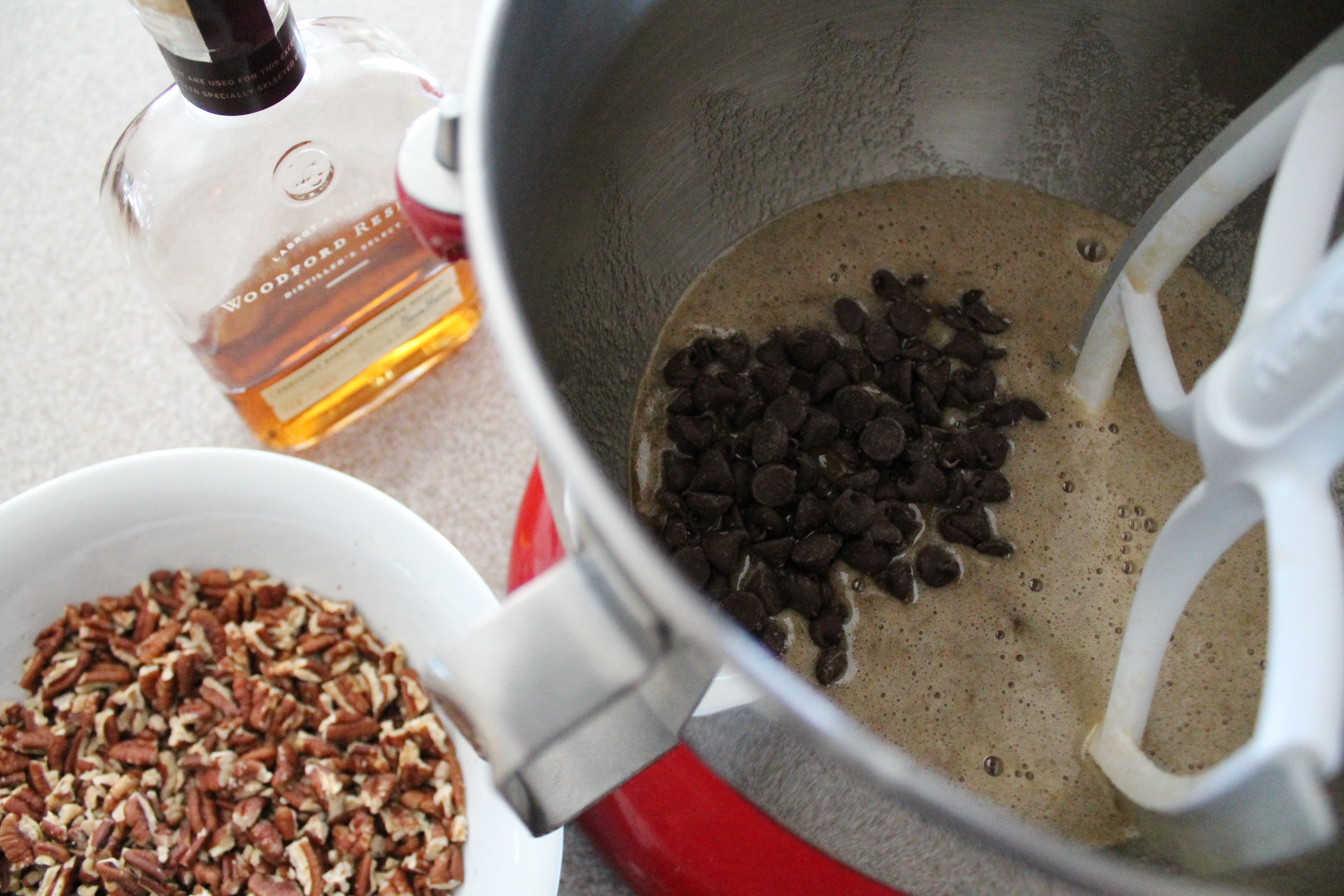 Now we make a quick brown sugar custard. Whisk eggs until barely frothy, then add brown sugar (I prefer light brown, but dark brown would make a deeper, more molasses flavor if you like that sort of thing), corn syrup (just do it), vanilla, melted butter (salted! because this sweet pie needs balance), more salt, and yes: BOURBON.
Don't be surprised, as you are gobbling this pie up later on, if the bourbon flavor gets stronger and stronger as you eat toward the crust. I have no real explanation for this—did the crust soak up the liquor? am I just taking bigger bites? is this pie a gateway drug?—but it's a well documented phenomenon.
Stir the broken pecans and chocolate chips into the custard.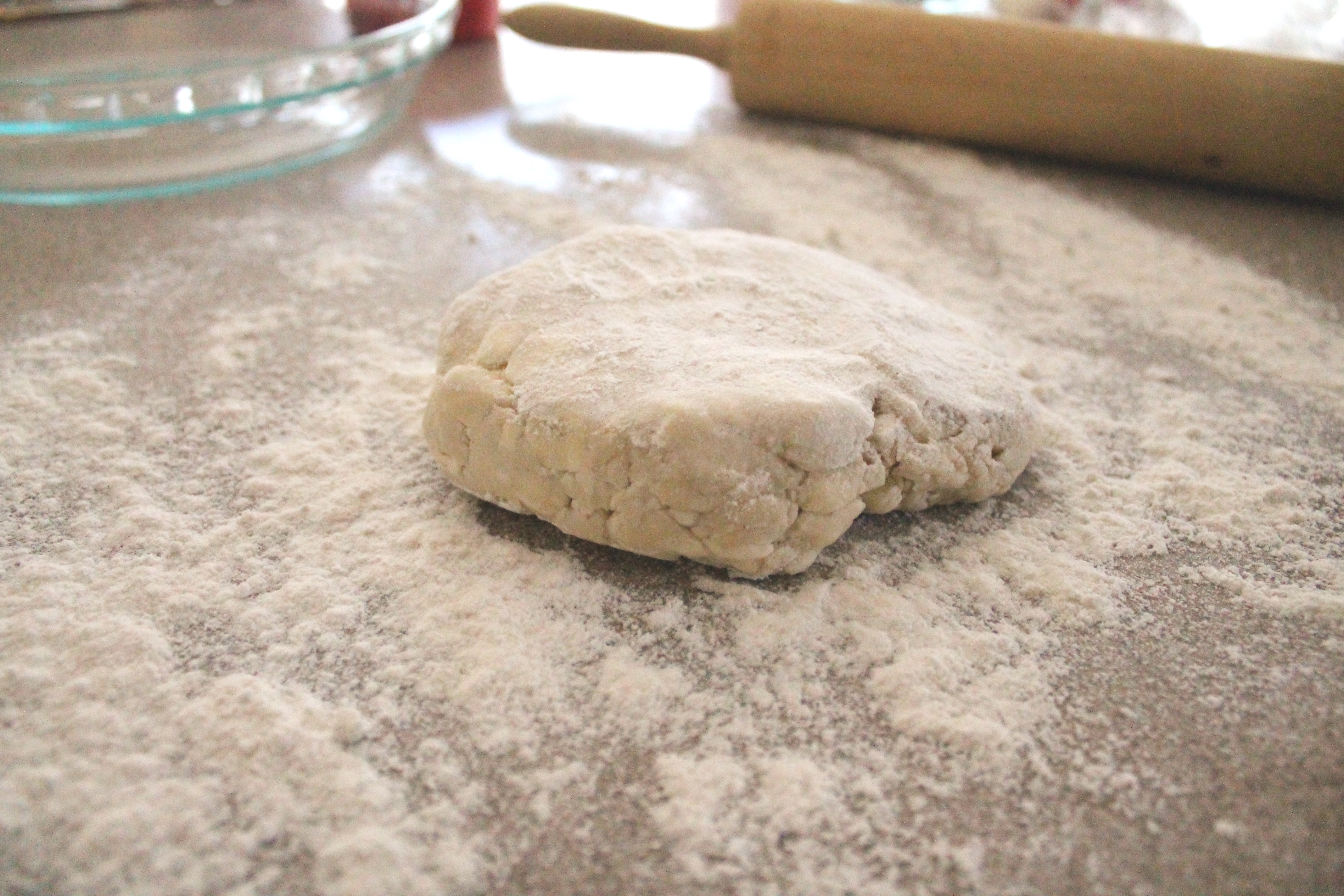 Let's assume you already made your pie crust, okay? And it chilled while you were making your pie filling. And then you rolled it out and laid it in your largest pie plate and it's going to be delicious!
Pie crust is easy to make. My favorite tutorial for pie crust is over at Smitten Kitchen. She does such a good job that I have never written a tutorial for this, myself. But my version of her recipe is posted below, and it only requires 4 ingredients: flour, butter, salt, and icy cold water. It's perfection.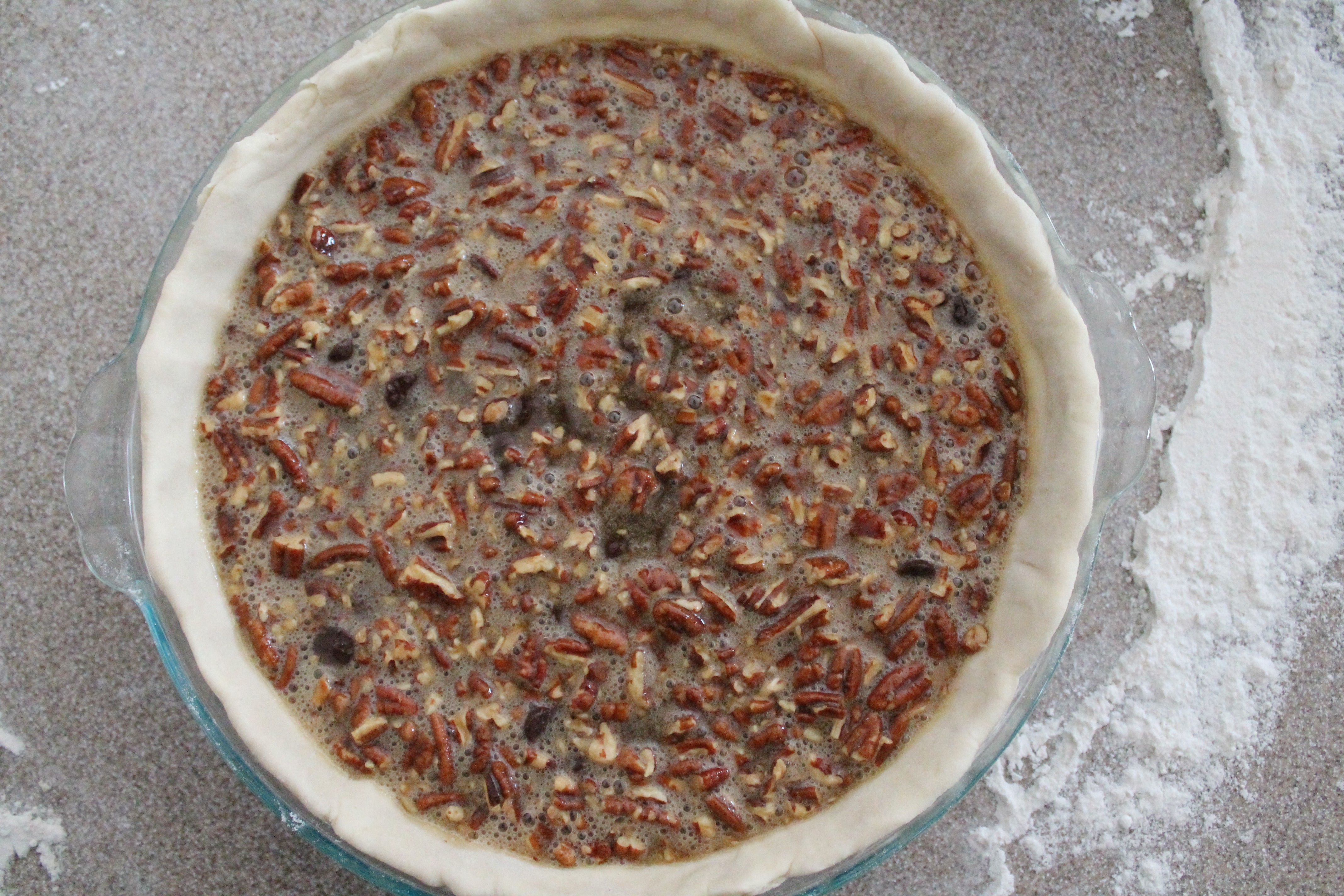 Moving on. Pour your pecan-brown sugar custard into the unbaked pastry shell. (If it sat on the counter for a few minutes while you prepped your pastry, just give it a quick stir to redistribute the nuts and chocolate.)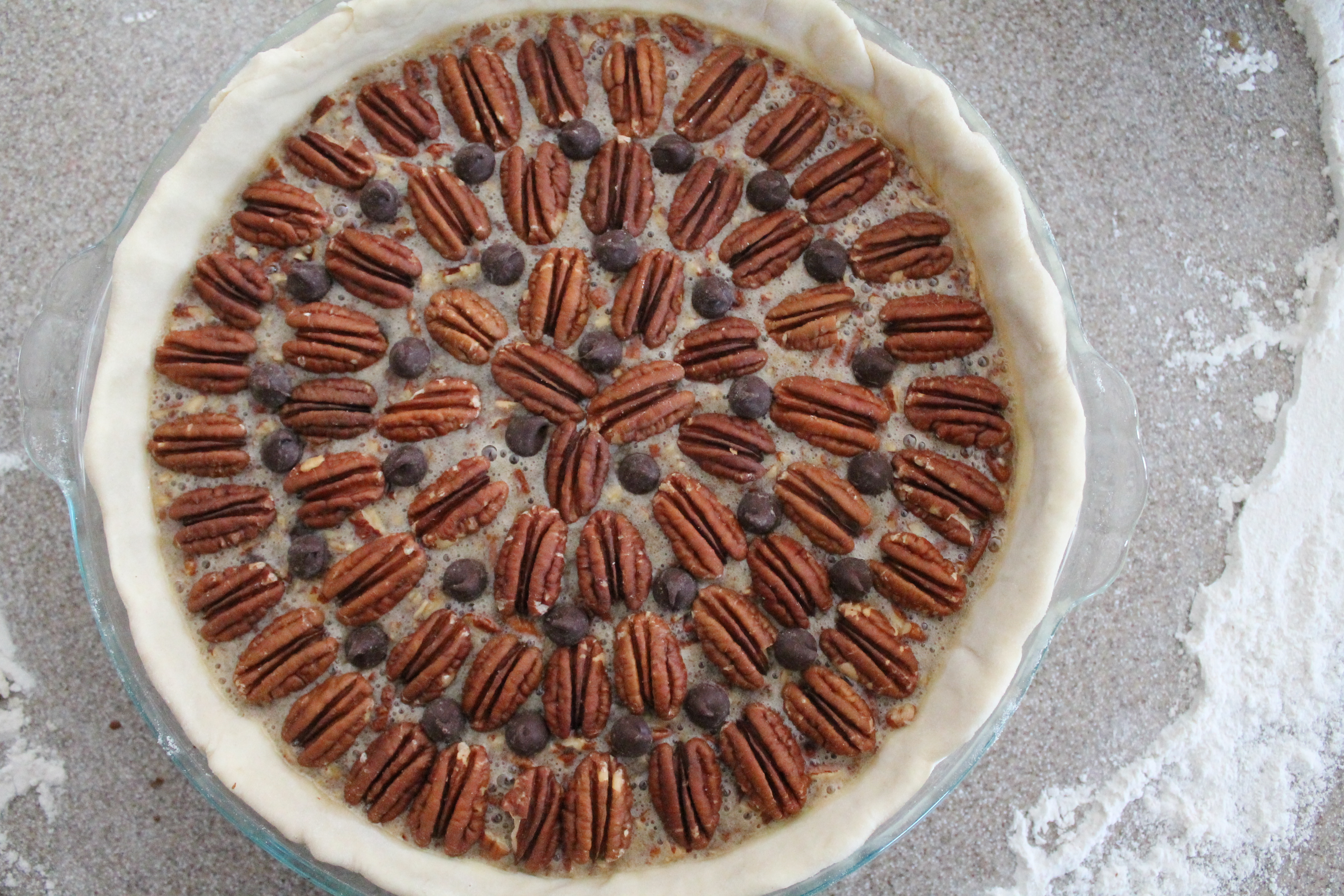 Top the pie with the rest of the toasted pecan halves. If you're into the decorative thing. If you are really into it, you could also make some concentric rings with the chocolate chips, too!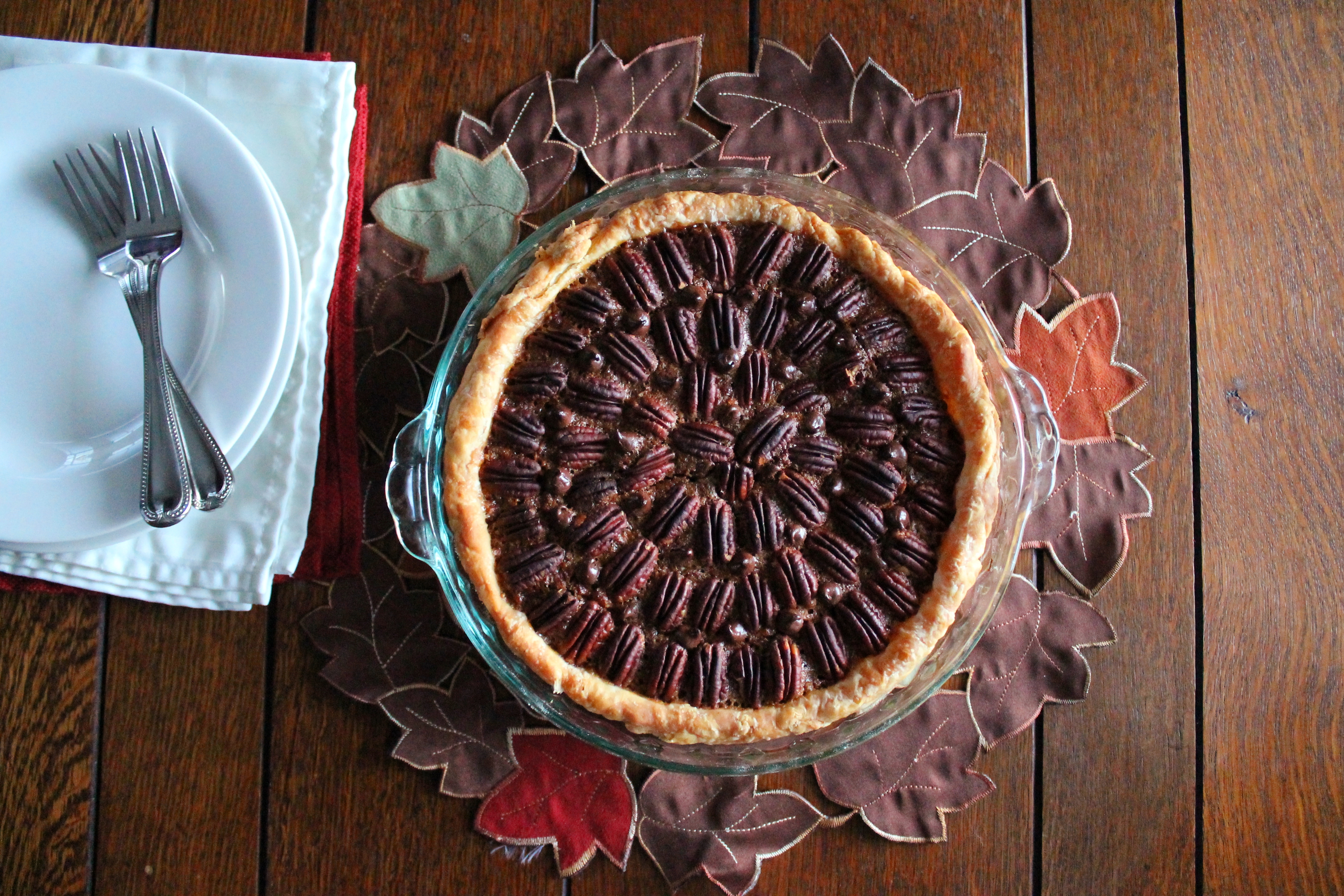 Bake for 45–50 minutes. The center of the pie should not jiggle significantly, and the edges will be all puffed up in the heat of the oven. We do want the custard to set, but we don't want to overbake it and cause it to get a bit curdled.
If you find that the crust is getting too brown but your pie needs to continue baking, you can drape a strip of foil around the edge of your pie plate to protect it from burning while the pie bakes.
Cool completely before cutting and serving with generous mounds of softly whipped fresh cream. Because what good is a pie that is not smothered in whipped cream? (New traditions may arise—bourbon in my pie—but some things will never change….)
Derby Pie
lightly adapted from Food & Wine
makes one 10″ pie/serves 12–16
Crust Ingredients:
1¼ cups flour
½ tsp. salt
½ cup cold unsalted butter, cubed
¼ cup ice water, plus extra as needed
Filling Ingredients:
10 oz. pecan halves, toasted
3 eggs
¾ cup brown sugar
⅔ cup light corn syrup
1 tsp. vanilla extract
2 tbsp. unsalted butter, melted
3 tbsp. bourbon
½ tsp. salt
¾ cup semisweet chocolate chips
Directions:
Make the pie crust. Whisk together the flour and salt. Cut in the cold butter with a pastry cutter, until about pea size. Using a fork, whisk in the ice water a tablespoon or so at a time, until the dough comes together. Add a few extra tablespoons if necessary to get the dough to clump.
Dump the dough out onto a clean work surface. Knead 4–5 times, just to work in the shaggy bits of flour and get the pastry to come together.
Press the dough into a round disc and wrap with plastic wrap. Chill in the fridge at least 30 minutes.
Meanwhile, make the pie filling. Set aside ⅔ cup toasted pecan halves. Break or chop the rest into small pieces.
Beat the eggs with the brown sugar, corn syrup, vanilla, melted butter, and bourbon. Stir in the broken pecans and chocolate chips.
Heat the oven to 375°.
Roll the chilled pastry out into a thin round. Transfer to a 10″ pie plate. Fold the edges under and crimp.
Pour the pie filling into the pastry shell. Top with the custard mixture decoratively with the remaining pecans.
Bake for 40–45 minutes, or until the center of the pie is set and does not jiggle.
Let cool completely before slicing.
Enjoy!