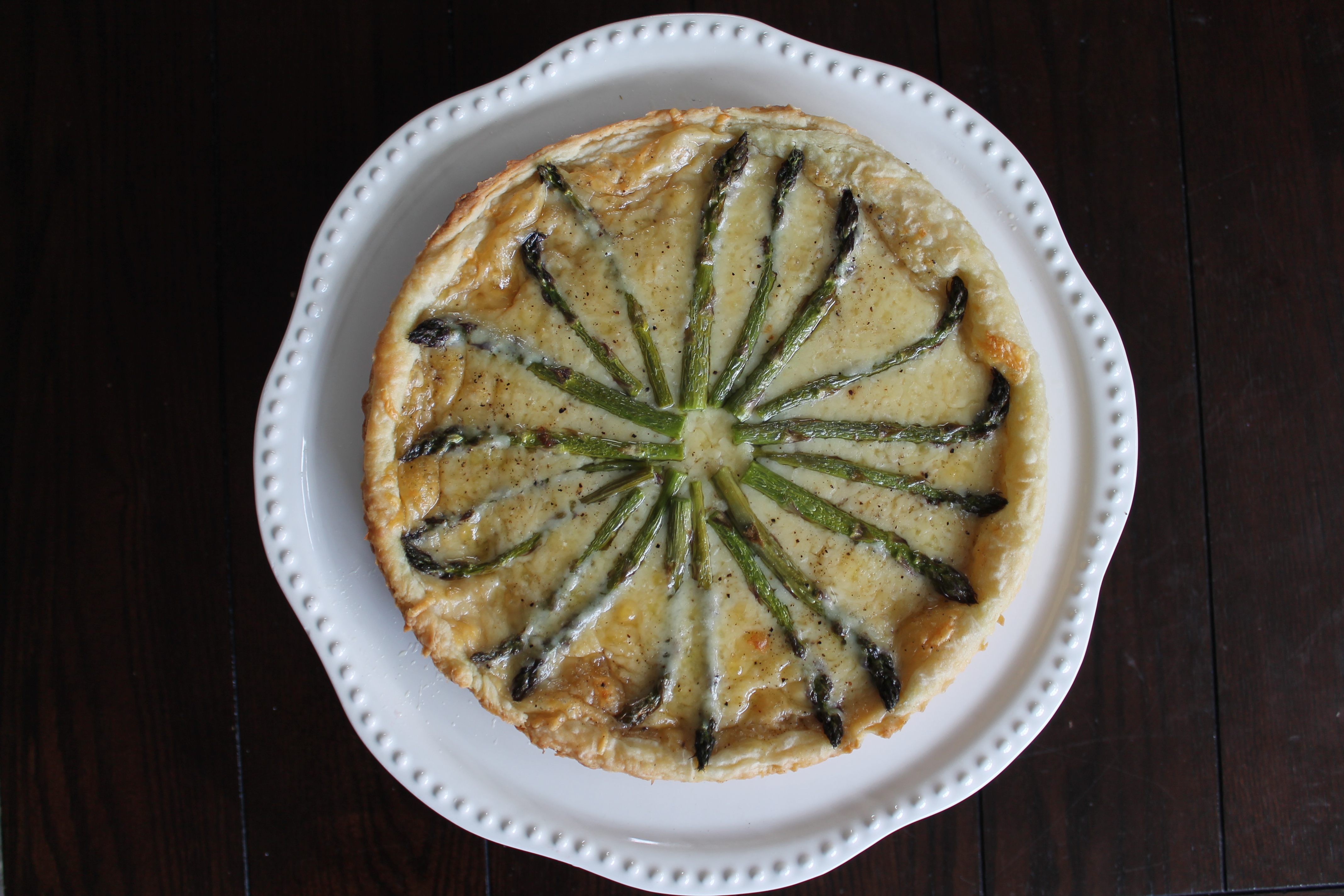 Gruyère cheese has a special place in my heart.
When Dave and I were on our honeymoon, we visited the town of Gruyères. We toured the cheese factory (!) and ate a very winey pot of fondue. Simple and delicious. We went to the castle and admired all of the artwork and the gardens and the ancient armor. And then we wandered down the cobbled streets and decided we needed even more fondue.
Let's pause to acknowledge the fact that I speak German pretty fluently and French…barely at all. And Gruyères is definitely part of French-speaking Switzerland. Where no one speaks German and very few people speak English.
So. Dave and I found a place to eat, and we were so excited for our dinner! We ordered this interesting-sounding fondue called raclette. 
Haha. Guess what? Racler means "to scrape" in French. And raclette turned out to be a block of cheese under a heat lamp, which we scraped off as it melted and spread it on potatoes. (Dave wishes me to inform you that it was a whole bucket full of new potatoes. A bucketful.) After we conferred very awkwardly with our waitress (language barriers are real!), we laughed it off and ate the simplest meal in the history of our relationship together. Not exactly fondue, but definitely an amusing (and, um, expensive) story!
But my take-away? Gruyères is a simple place for real people. Makes sense that the most amazing cheese in the world is best served simply! Like in this easy and delicious Spring tart.
I stumbled across this recipe by Nichole of Cookaholic Wife, my Secret Recipe Club blog for May, quite by accident. Nichole and I have a lot of things in common, such as a compulsive love of lists and a desire to feed everyone around us. Although our culinary tastes are quite different, Nichole had many reicpes that tempted me. I had originally planned to bake Cinnamon-Sugar Pull Apart Bread, but as I was scrolling through some of her recent posts, this tart called to me with the strong pull of nostalgia, and I totally went for it.
This tart is so incredibly simple. The flavor of the cheese comes through so strong you can practically taste the Swiss countryside.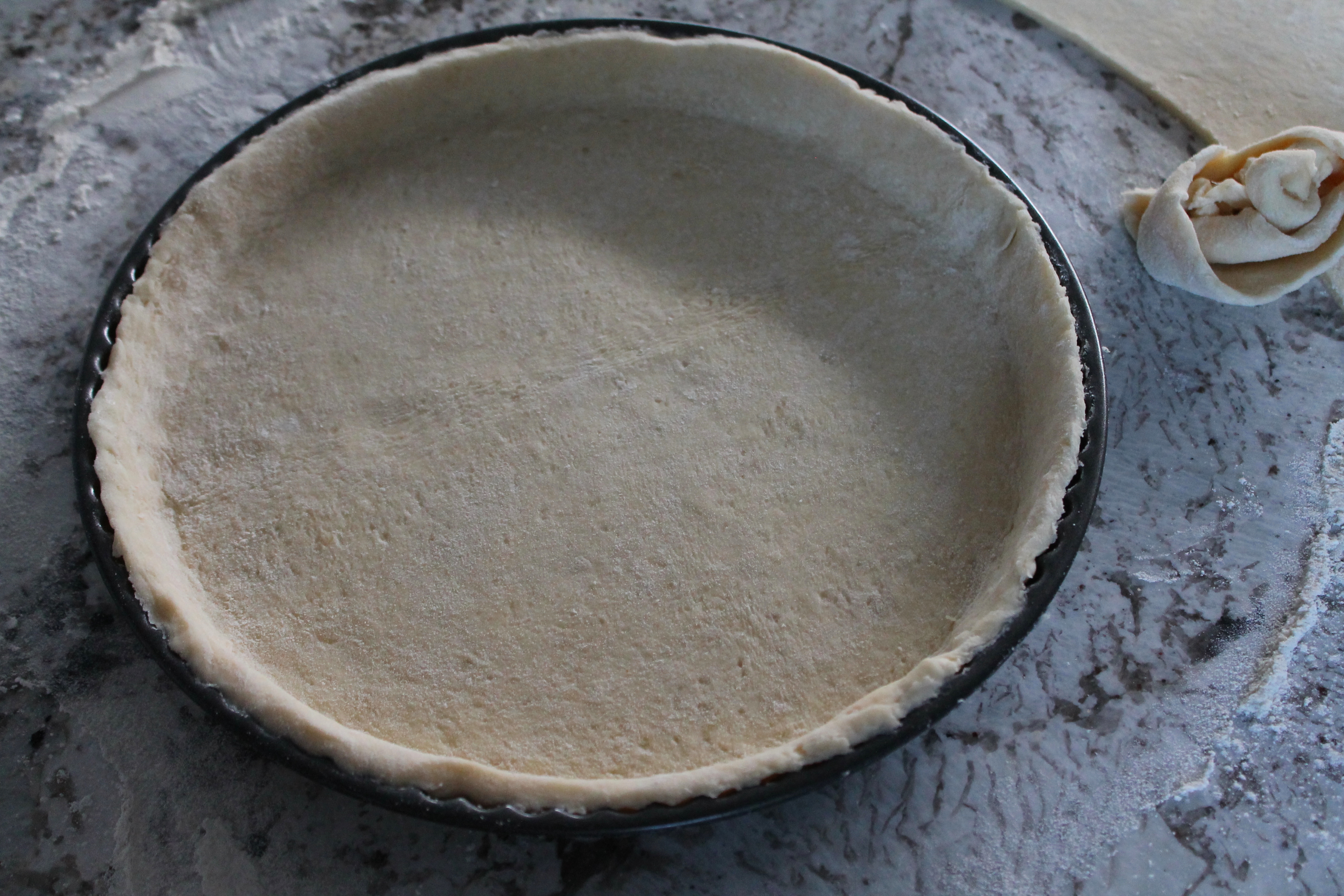 There are so few steps to making this. First, roll out some puff pastry. I love to make my own puff pastry (more on that later) because I can control the ingredients and the flavor is so much better. All butter all the time!
I made my tart in a round, fluted tart pan. You could also bake this as a rectangle in a quarter sheet pan, or really as any shape you like, arranged on a flat baking sheet! To make your tart in a round pan, roll out the puff pastry dough (or…unfold it…) and then arrange it in a tart pan. Roll your rolling pin over the rim of the pan to cut off the excess.
I always prick my crusts with a fork so that they will bake more evenly.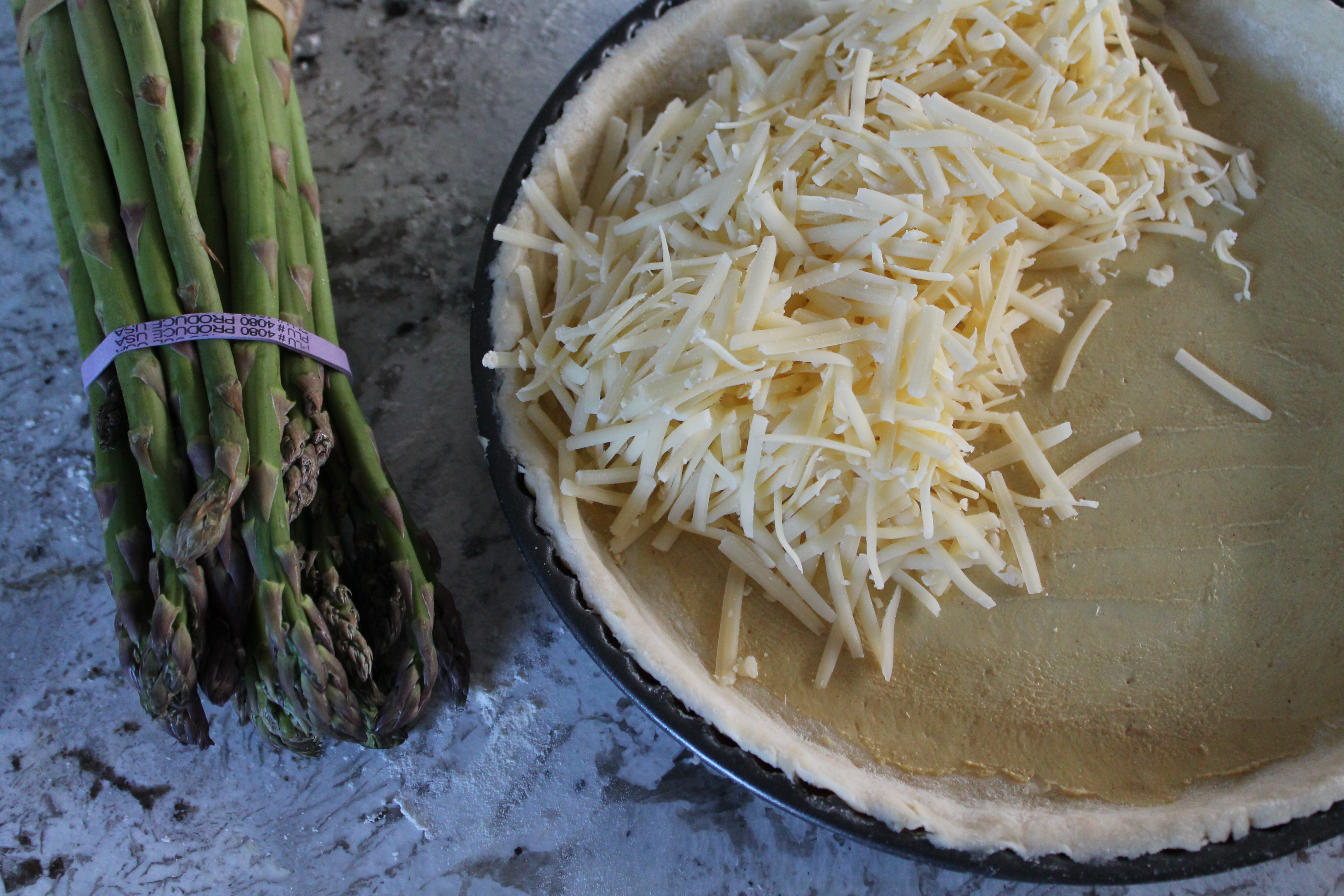 Then simply spread a bit of Dijon over the base of the crust, followed by a generous layer of shredded la gruyère. Season this with salt and pepper.
Next time, I may toss the cheese with the mustard and seasonings all at the same time, because spreading the mustard so thinly has the potential to tear the puff pastry. I also wonder whether slightly coating the cheese with mustard may help with how much oil it releases while baking.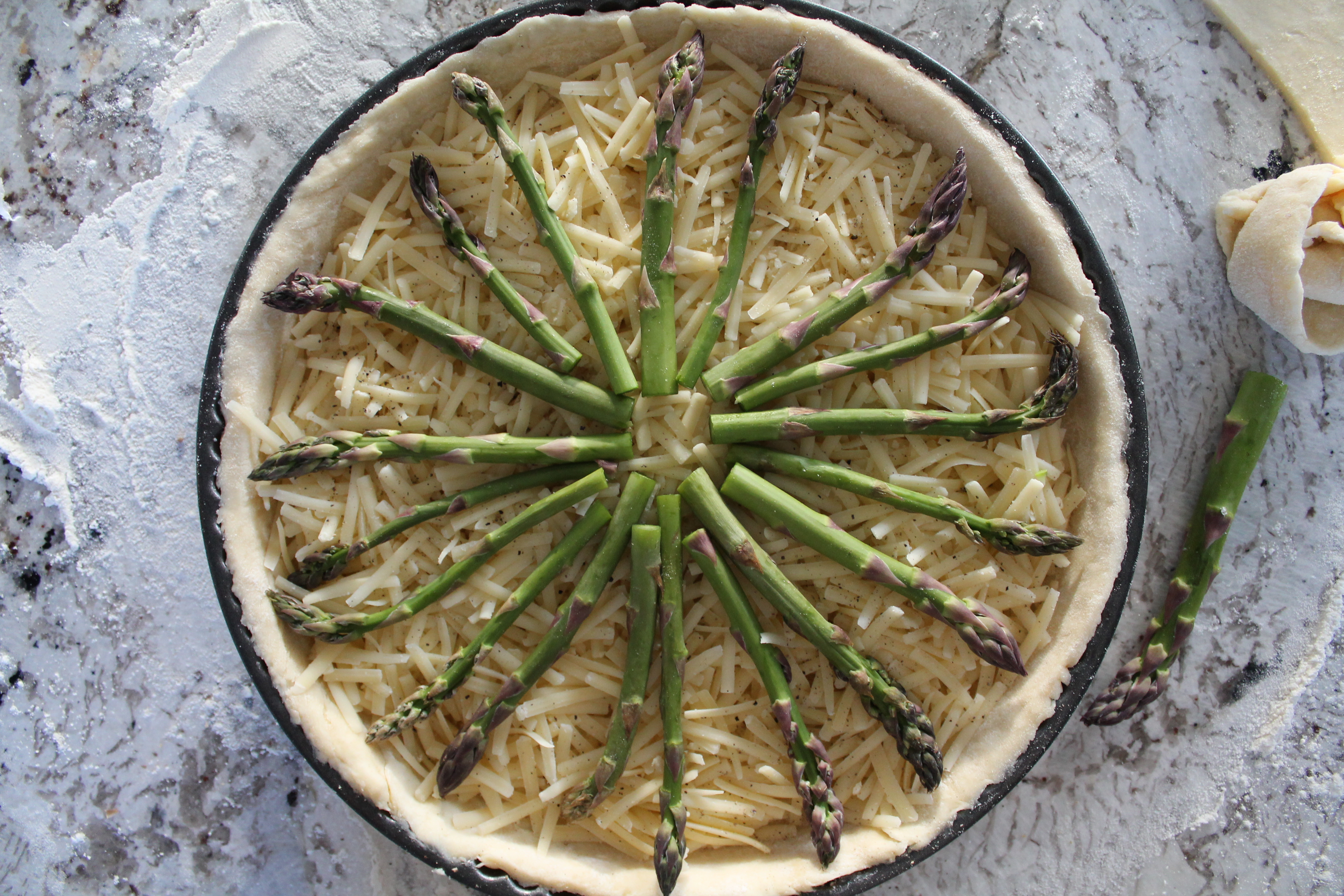 Okay. You have a cheese filled crust. All that's left is asparagus! I cut my asparagus into approximately 4″ spears and arranged them in a circle.
Bake this for 20 minutes at 400°. Easy peasy. I do wish my crust had browned slightly more, but I didn't want to make the cheese so ridiculously chewy that I wouldn't be able to cut the tart, so I avoided overbaking.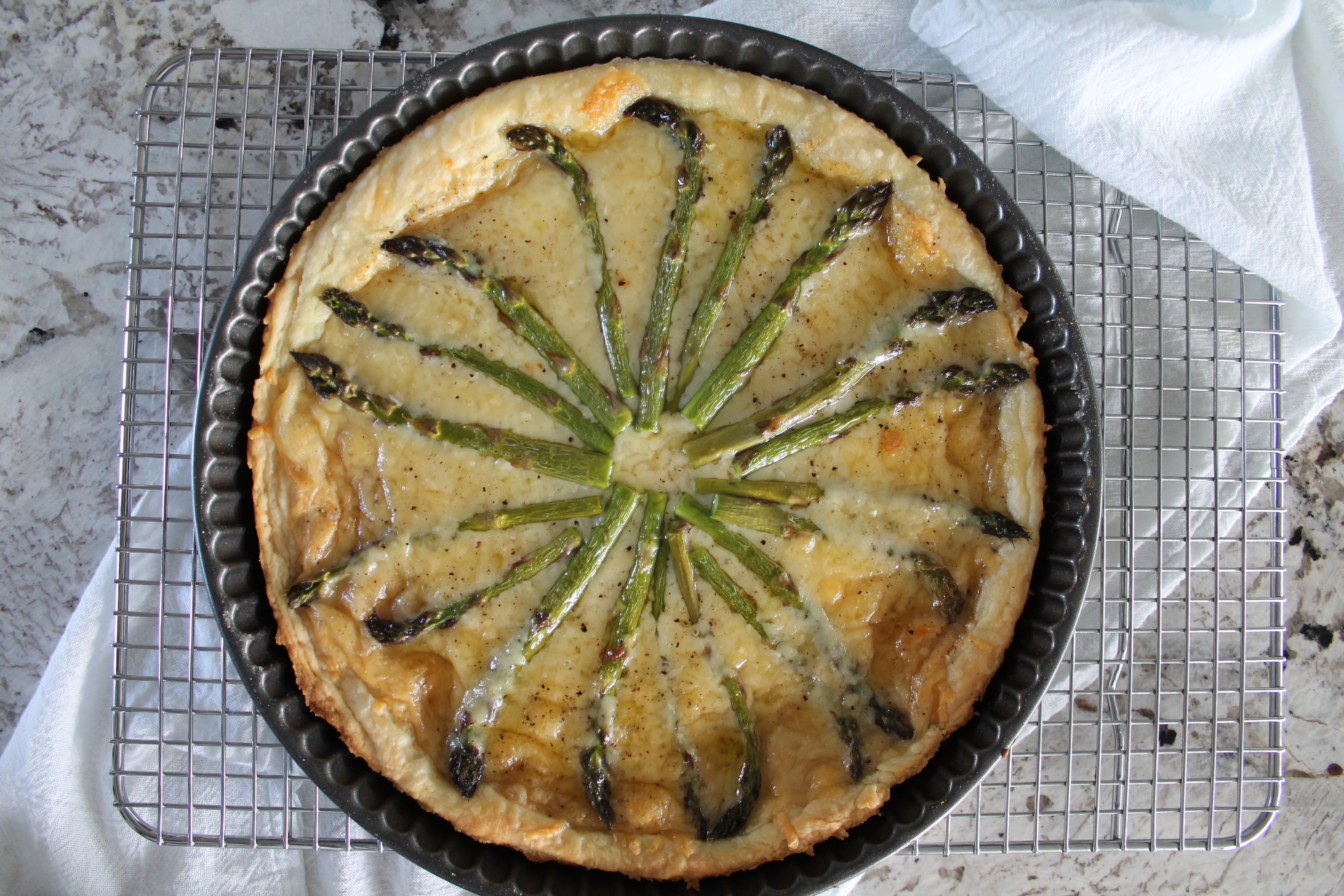 This tart was so perfect, and so easy to make! I shared it with some friends for brunch, and I would definitely make it again. P.S., it's also great leftover and cold! The wonders of la gruyère.
Gruyère and Asparagus Tart
barely adapted from Cookaholic Wife
serves 6–8
Ingredients:
1 lb. all-butter puff pastry, slightly colder than room temperature
1–2 tbsp. Dijon mustard
6 oz. gruyère, coarsely shredded (about 2 cups)
salt and fresh ground black pepper
½ lb. thin asparagus spears, trimmed to about 4½″ long
Directions:
Preheat the oven to 400°.
Roll the puff pastry out into a large square about ¼″ thick. Carefully transfer the pastry to a 10″ round tart pan, or other pan with a removeable base. Gently tuck the pastry into the dish, then run a rolling pin around the rim of the dish to cut off the excess pastry. Prick holes in the base of the pastry using a fork.
Spread the mustard evenly over the bottom of the pastry.
Distribute the cheese in the pastry shell, then season lightly with salt and pepper.
Arrange the asparagus spears in a circular pattern, with the end of the spear pointed out toward the edge of the crust.
Bake the tart for 20 minutes, or until the crust is golden and the cheese is melted and puffed.
Allow to cool for 5 minutes before cutting with a very sharp knife to serve.
Enjoy!