It has been a long while since I've written about a birthday party on Savored Grace. But my beautiful, vibrant daughter Caitlin turned 4 (!), and I can't wait to share her art party with you!
Dearest Caitlin, I know how you hate to have anyone say anything special about you. (Words of affection are not your love language.) But I hope you know how much I love you, and that I will never, ever stop loving you no matter what! I enjoy your enthusiasm, and your love of "making Valentines" by cutting papers into tiny, tiny shards, and how you turn everything from reading to cleaning up into a silly game. You feel everything in a big way, and you are stubborn to your core. I'm glad you are my daughter, and I'm glad we could celebrate you in a special way!
Because Caitlin loves art (especially when stickers are involved), we threw an art party!
This party was one of the easier ones I've ever done. After a brief scroll through Pinterest, I decided to use paint color cards from Home Depot to make all of our invitations and decorations. Hooray, free things! And no, no one gave me any weird looks when I grabbed 200 paint chips and stuffed them into my purse.
We went rainbow. Because art is every color! This year, Caitlin's birthday fell on the day before Easter, and as you may remember, I went all out for Holy Week this year. We held her party earlier, so it would feel special and separate from Easter, but on the day of her party the house was half decorated for Holy Week and half for her birthday. Fittingly, a lot of our Easter decor was multicolored, which worked with the rainbow color scheme of Caitlin's party.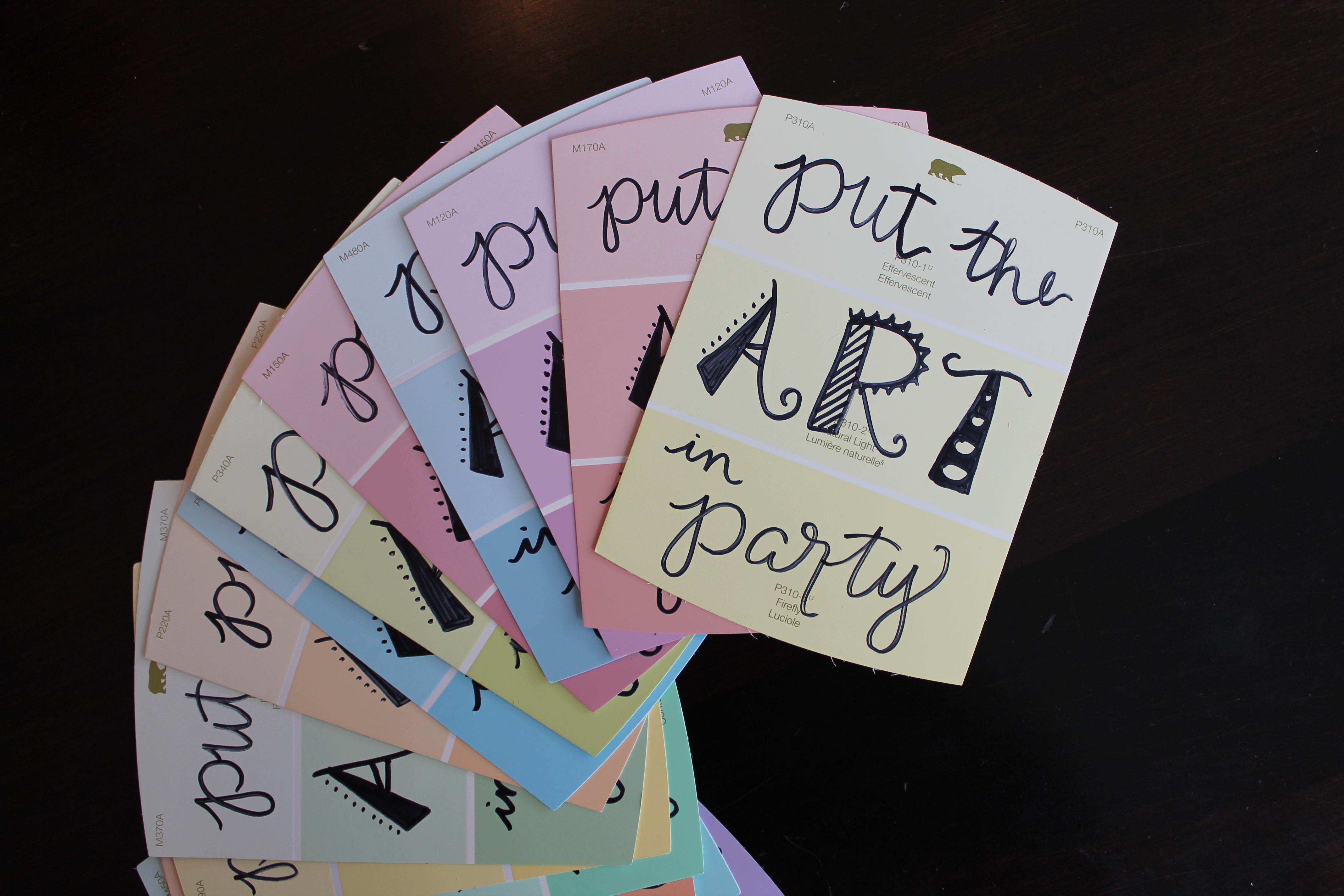 I hand-wrote the invitations and printed the details on the back of the paint cards.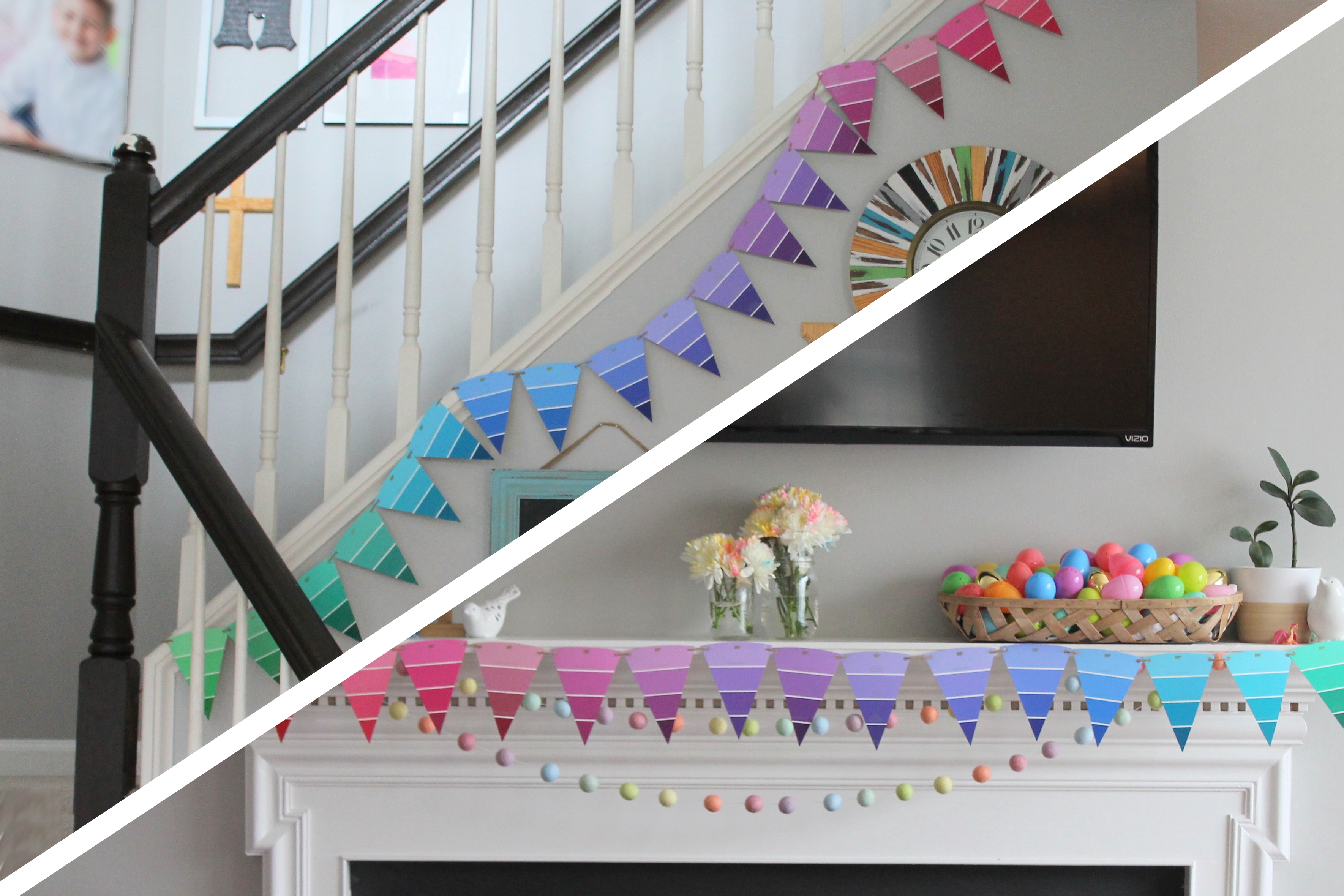 My mom and I spent about two hours trimming the paint cards into triangles and stringing them on some jute twine I already had. We hung the pennant banners everywhere from the staircase to the bookshelves in the living room!
I cut out two large 4s from a big piece of leftover cardboard we had, and glued paint chips all over them. These went on the front door, and the door next to the kitchen table, where everyone could see it as they walked in.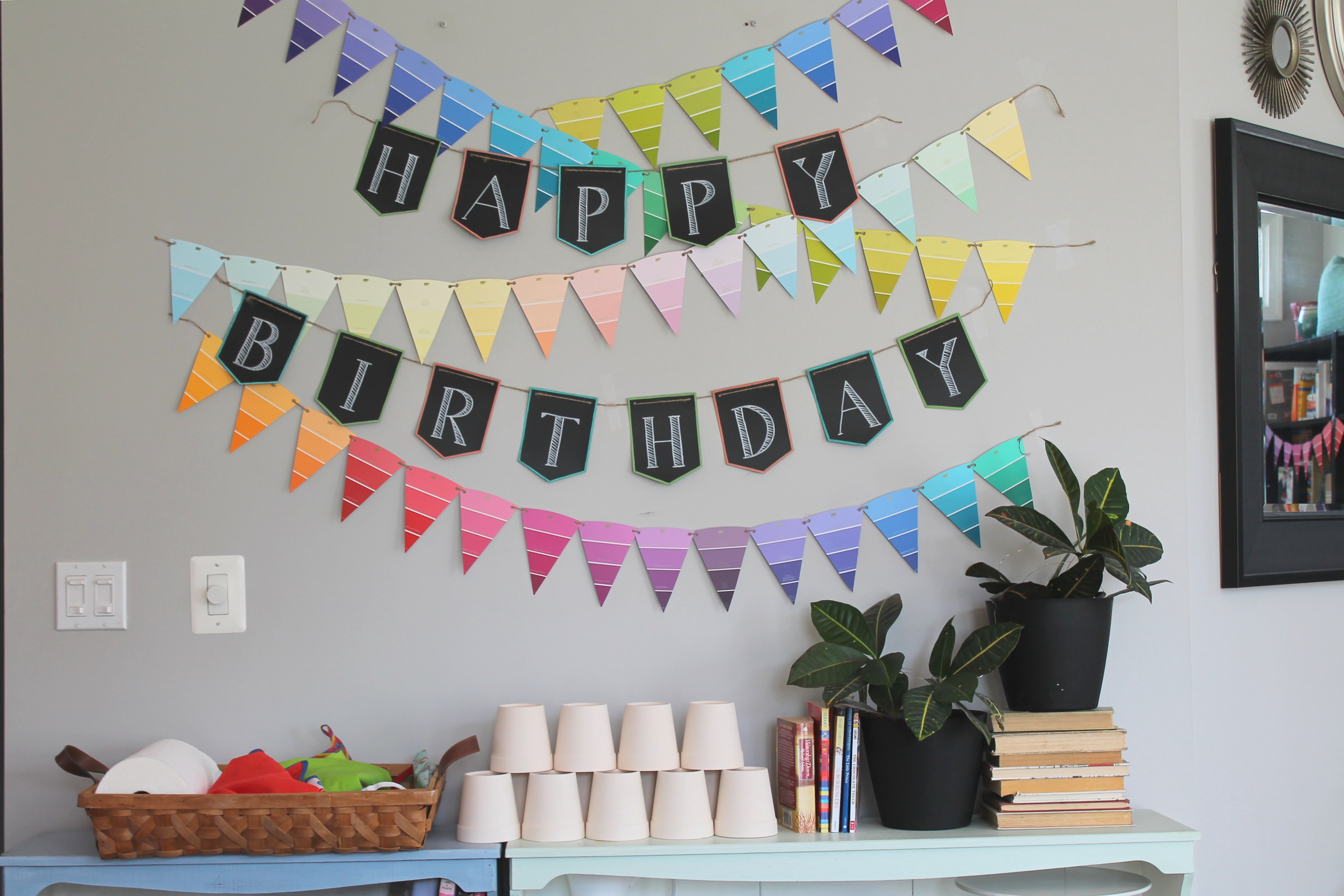 And, of course, I made a birthday banner wall, reusing the birthday sign I made for Jake's 5th birthday and covering the wall with rainbow pennants.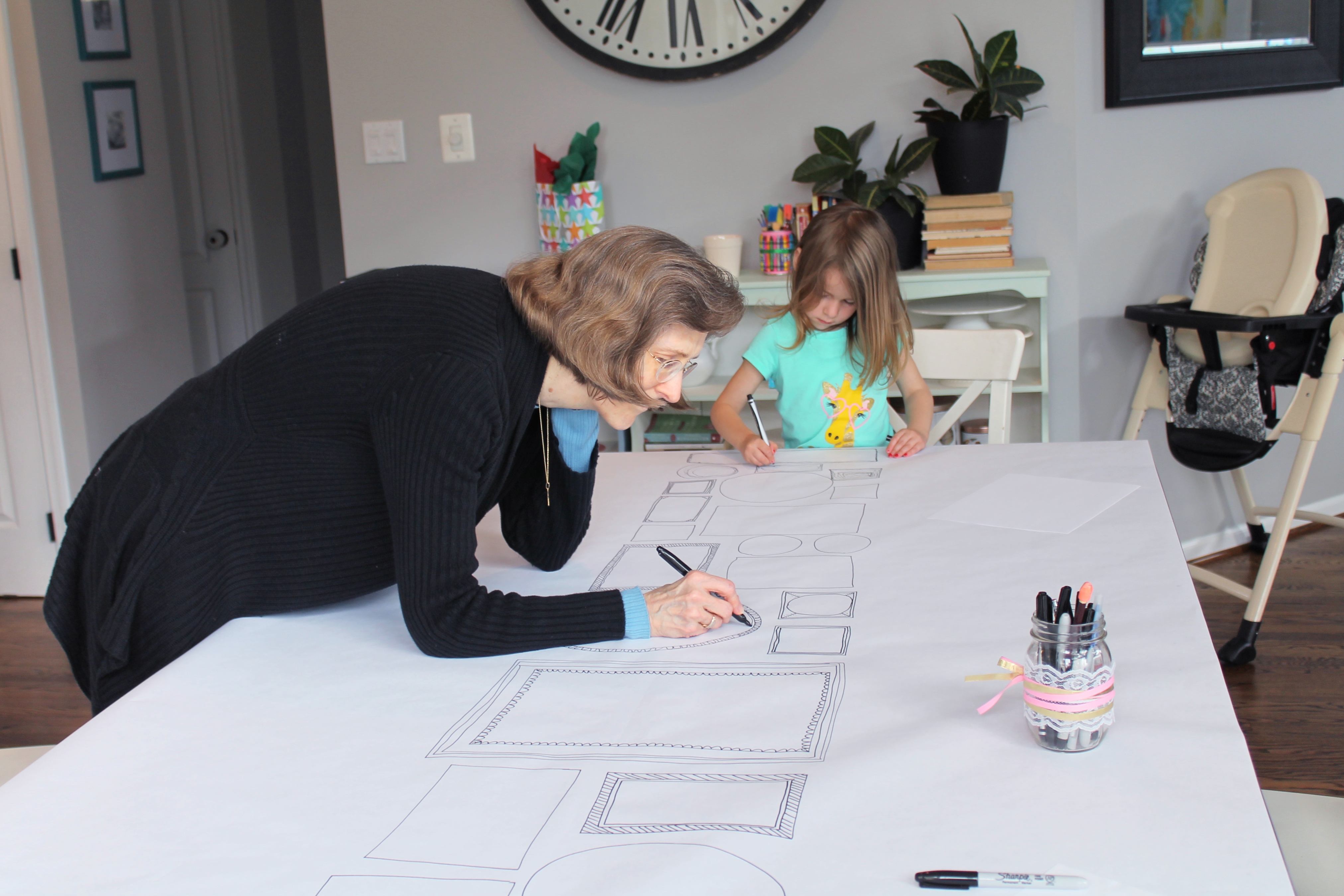 Probably my favorite part of the whole entire party was the table cover. I taped together two long strips of Elmer's banner paper and then taped them down to the table. Down the center of the table, I drew randomly sized and shaped frames with a black Sharpie, like a table runner of sorts.
Then, my mom, the kids, and I drew designs in the frames.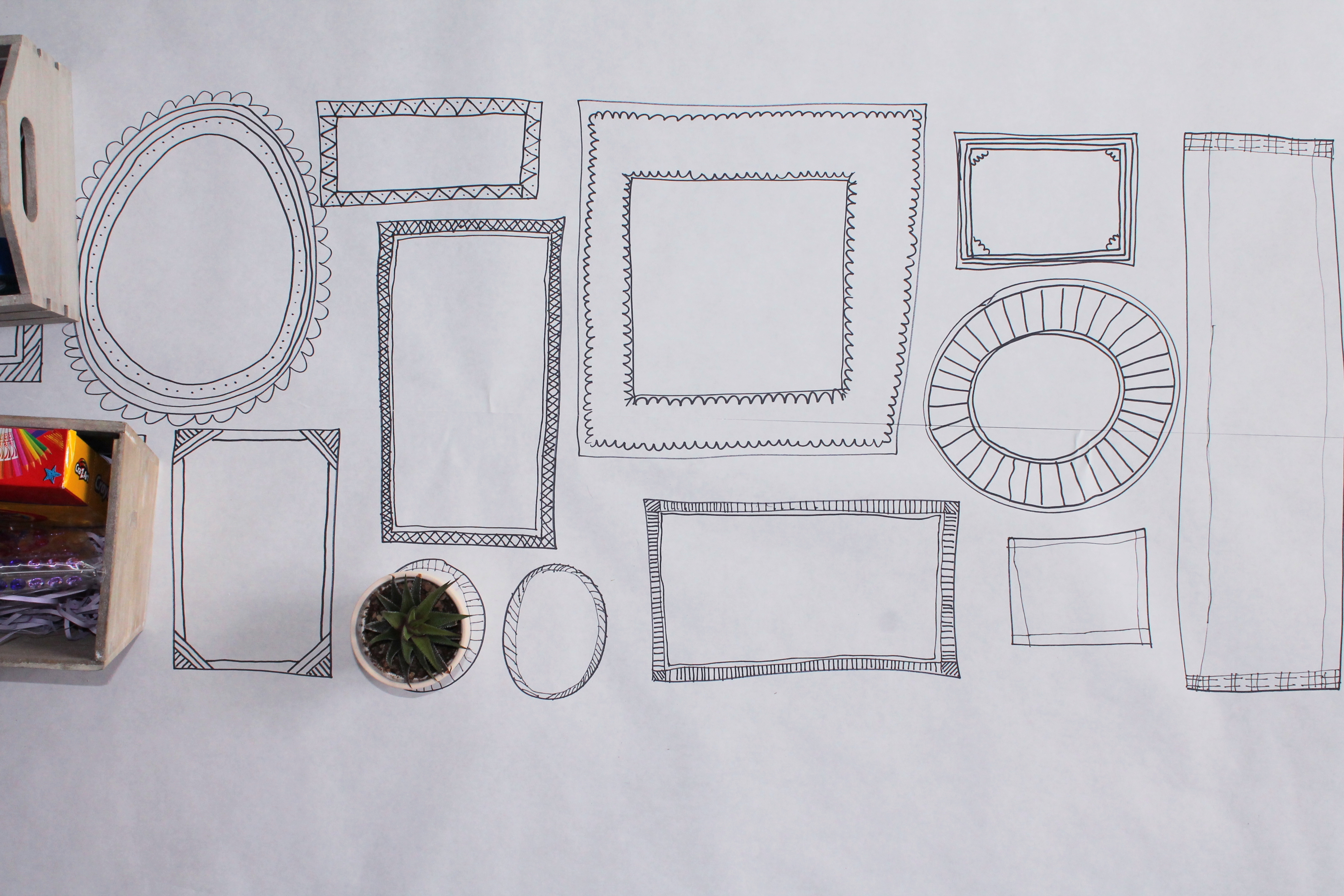 It was freehand, so it was unique and all the shapes were a little wiggly. I loved it! It came out looking exactly the way I hoped, and I thought it was so special that the kiddos helped make it!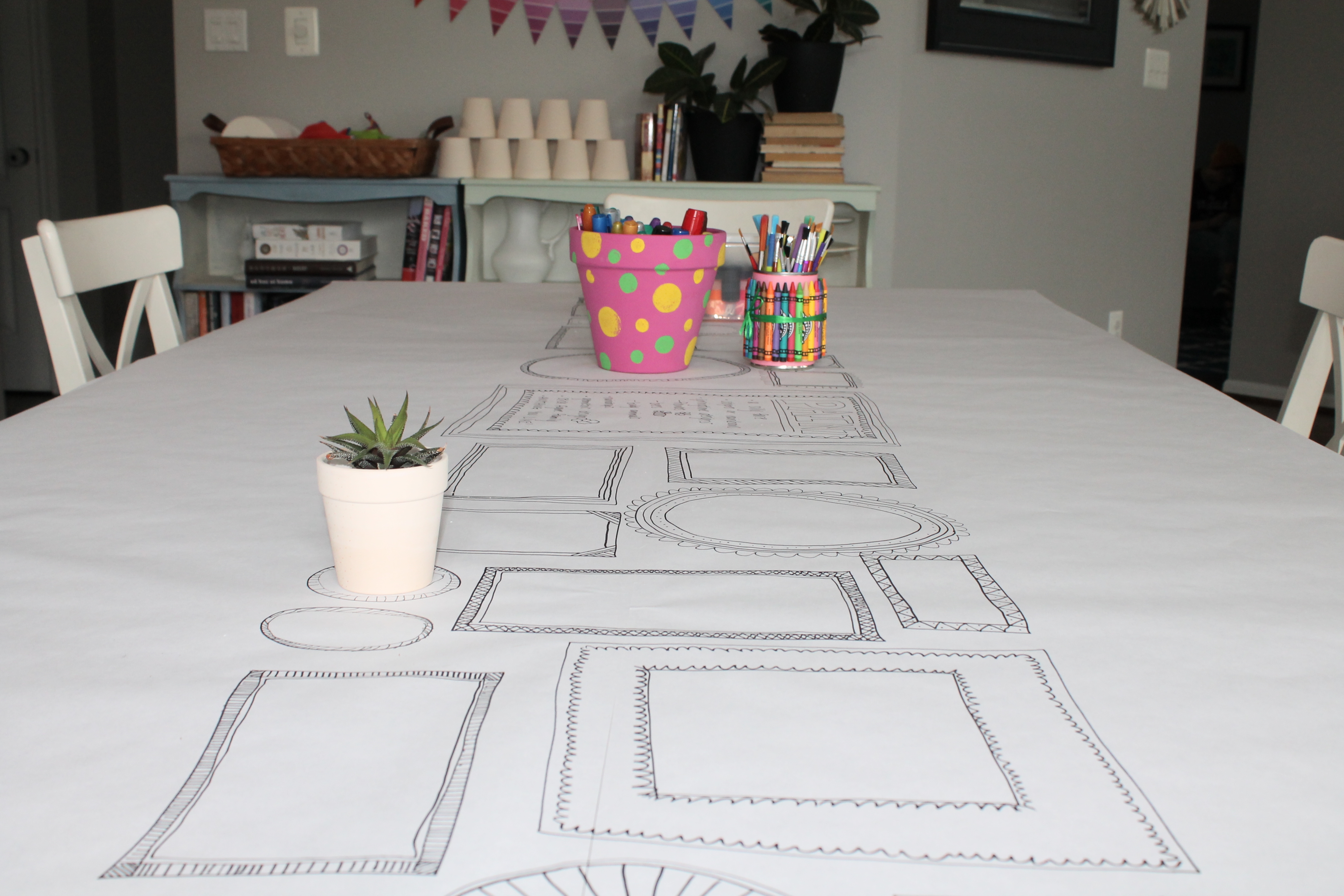 I do wish, in retrospect, I had placed the items on the table I knew were going to go there, so I could have "framed" those items.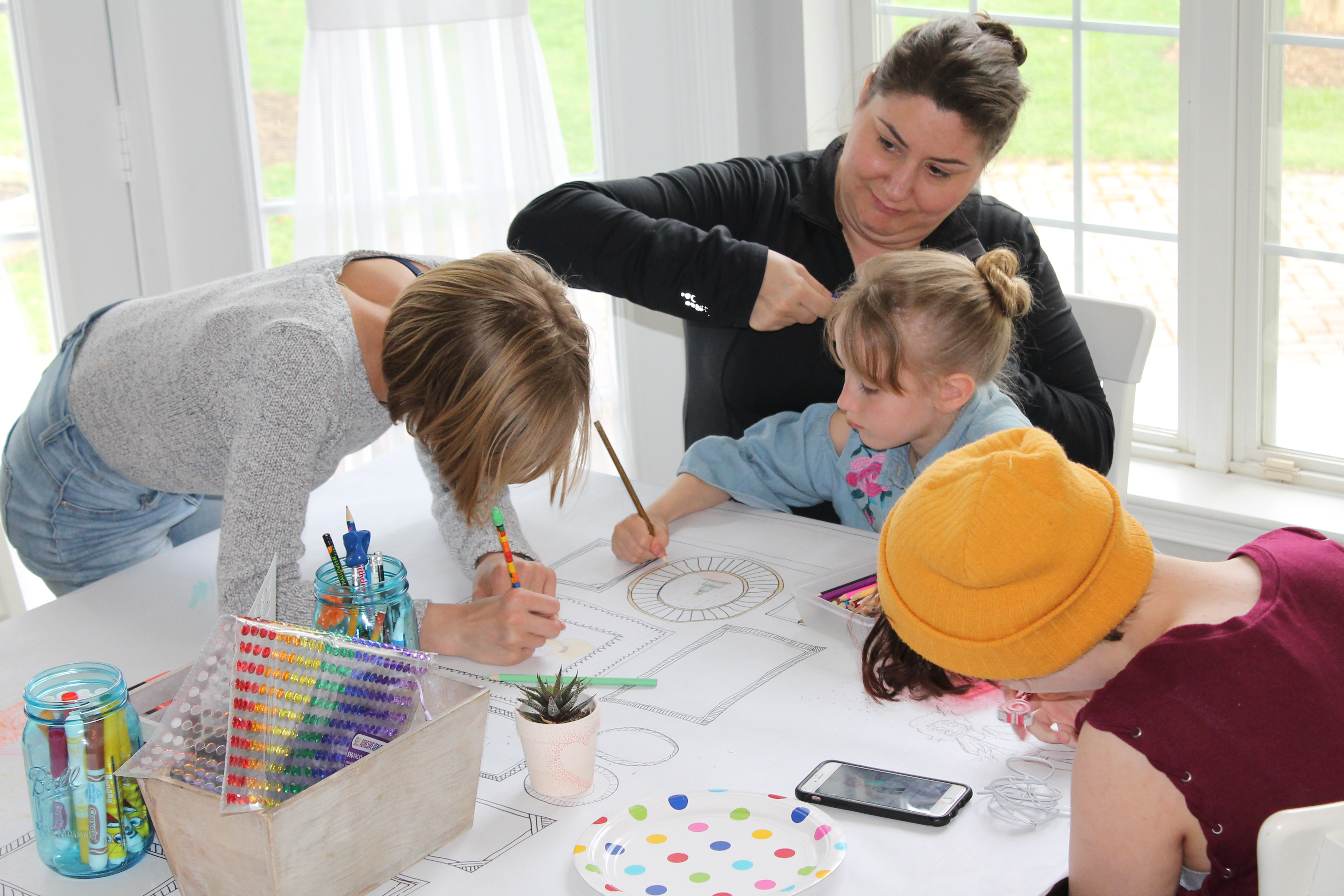 But even though I didn't do that, I loved the way the table looked. It invited kids (and adults) to come and draw with the colored pencils and crayons I had on the table for doodling.
But as cool as the doodling was, it was only the warm-up for the main activity: painting.
YIKES.
Have you ever imagined letting a bunch of kids loose in your house with paint?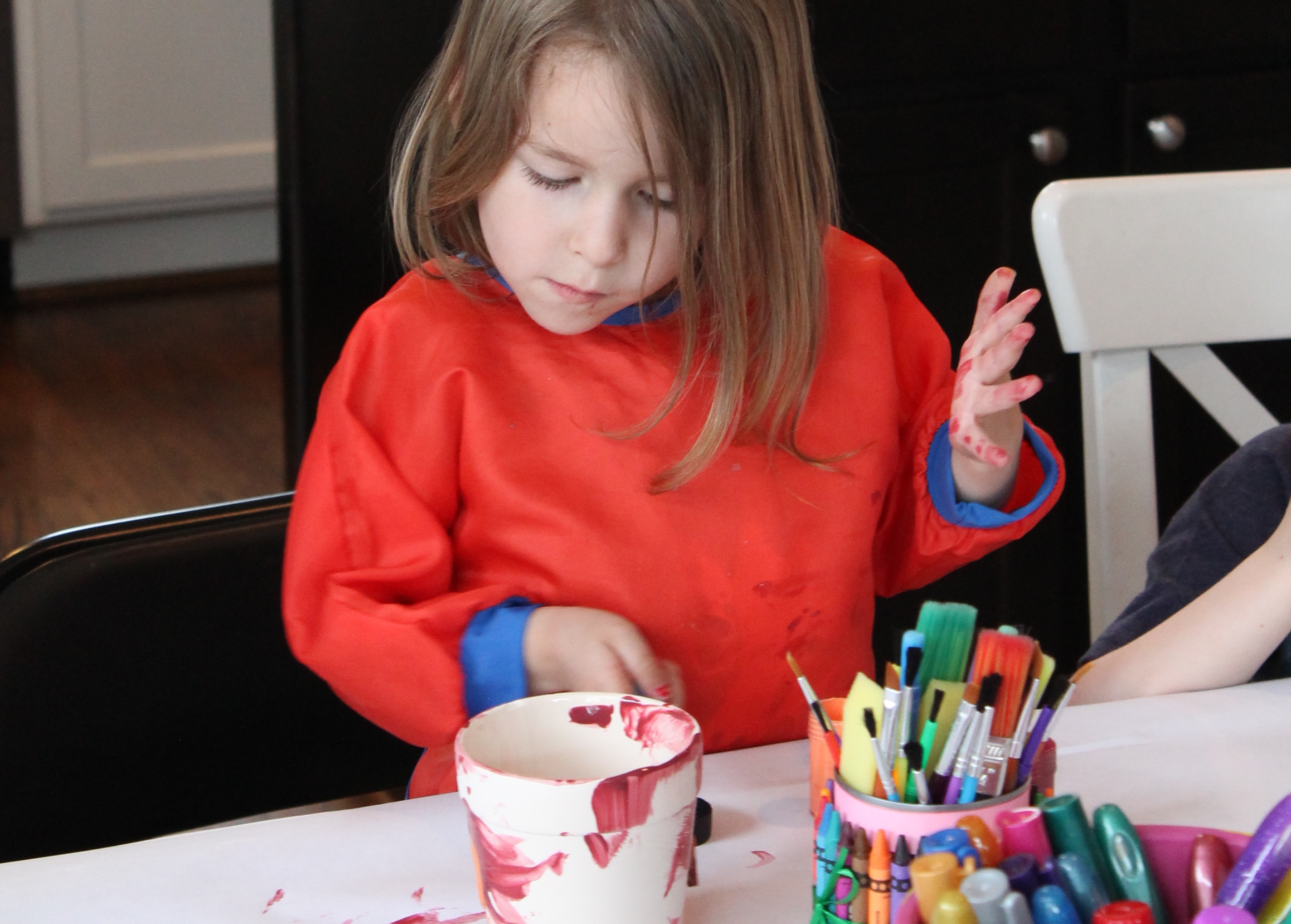 I was a little terrified, but Caitlin was so excited to paint at her party that I decided to give it a try. We decided to paint flower pots, which felt seasonal (it was April) and simple.
Here are my tips for painting at a kids' party:
Limit the number of children. Caitlin was turning 4, so she was allowed to invite 4 friends. Of course, we also invited all of our family, which includes several young kids, so there were more than 4 kids painting.
ADD MORE ADULTS. My kids are still young enough that when we have a birthday party, we invite their friend and their friend's whole family. Hey, I am not ready to deal with a large pack of preschoolers hyped up on cake by myself. Plus, having other adults around makes the party a whole lot more fun for me! It was particularly useful for the art party. Although whole families also means extra kids, it also comes with at least one adult to help supervise their own children. Do you know how many parents want their kid to smear paint all over someone else's house? Exactly ZERO.
Use tempera paint. Tempera paint is washable with soap and water. A thousand times yes.
Borrow smocks and aprons. We are the proud owners of two little smocks and one child-size apron, which was not enough for every child who would need one, so we asked around and borrowed a few extra! You could even request that each child bring his or her own smock (write it on the invitation!) if you feel awkward about asking friends who might not be attending the party to let you borrow party supplies. (I have also seen some really cute smock-party-favor bundles on Pinterest, but since our party favors were the flower pots, I didn't want to get carried away buying a ton of extra items!)
Do not ask preschoolers to do a very specific activity. This is just my personal philosophy. I know many preschoolers thrive with goals and step-by-step instructions for art projects, but I knew I didn't want to deal with corralling a bunch of kids to do the exact same thing at the same time. I like to let my party activities be a little more free-form, especially when everyone is essentially doing their own individual project anyway. The result was that each kid could paint as long or as little as they liked, and then go outside to run around (thank you, April, for beautiful weather). I was able to buy fewer supplies (because not every kid would need the same color paint at the same time), do less work ahead, AND spend less time hovering to make sure it was going well. I simply set out flower pots, a bunch of paint, brushes, and water. Done.
Set up a drying station. Our drying station was outside, in the corner of our patio, where it wouldn't be in the way of outdoor play and nothing was likely to be knocked over. Paint takes forever to dry, especially when little kiddos layer it on thick, so an area for finished products to rest is a must.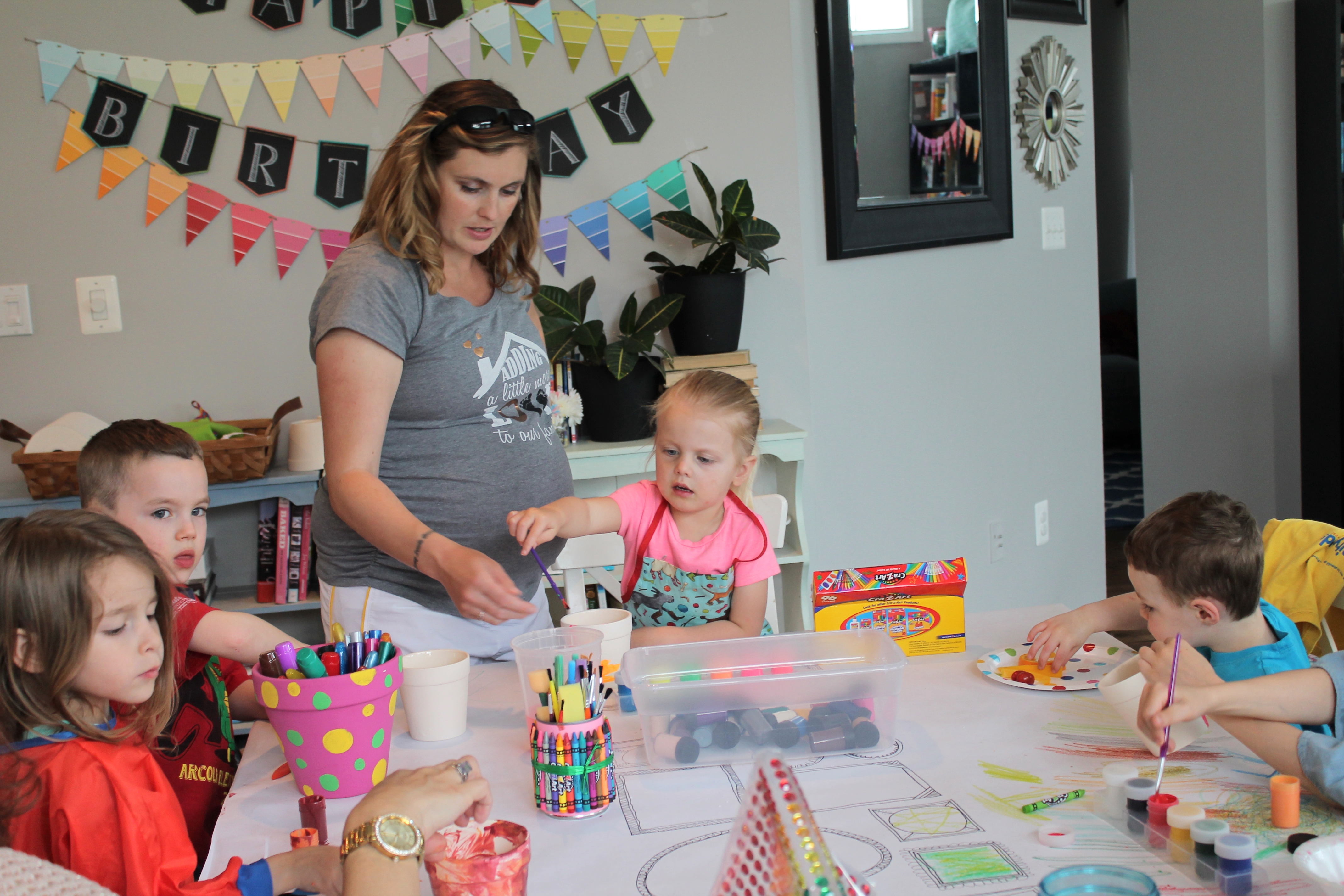 Some of the kids made really intentional designs on their flower pots, like stripes and polka dots, and some basically did the paint version of scribbling, but everyone was happy. And, heck, they painted all over the paper on the table, BUT NO PAINT GOT ANYWHERE ELSE IN MY HOUSE.  It's seriously a miracle.
Some of the adults painted with the kids, and some of the adults hung out, chatting and eating rainbow snacks.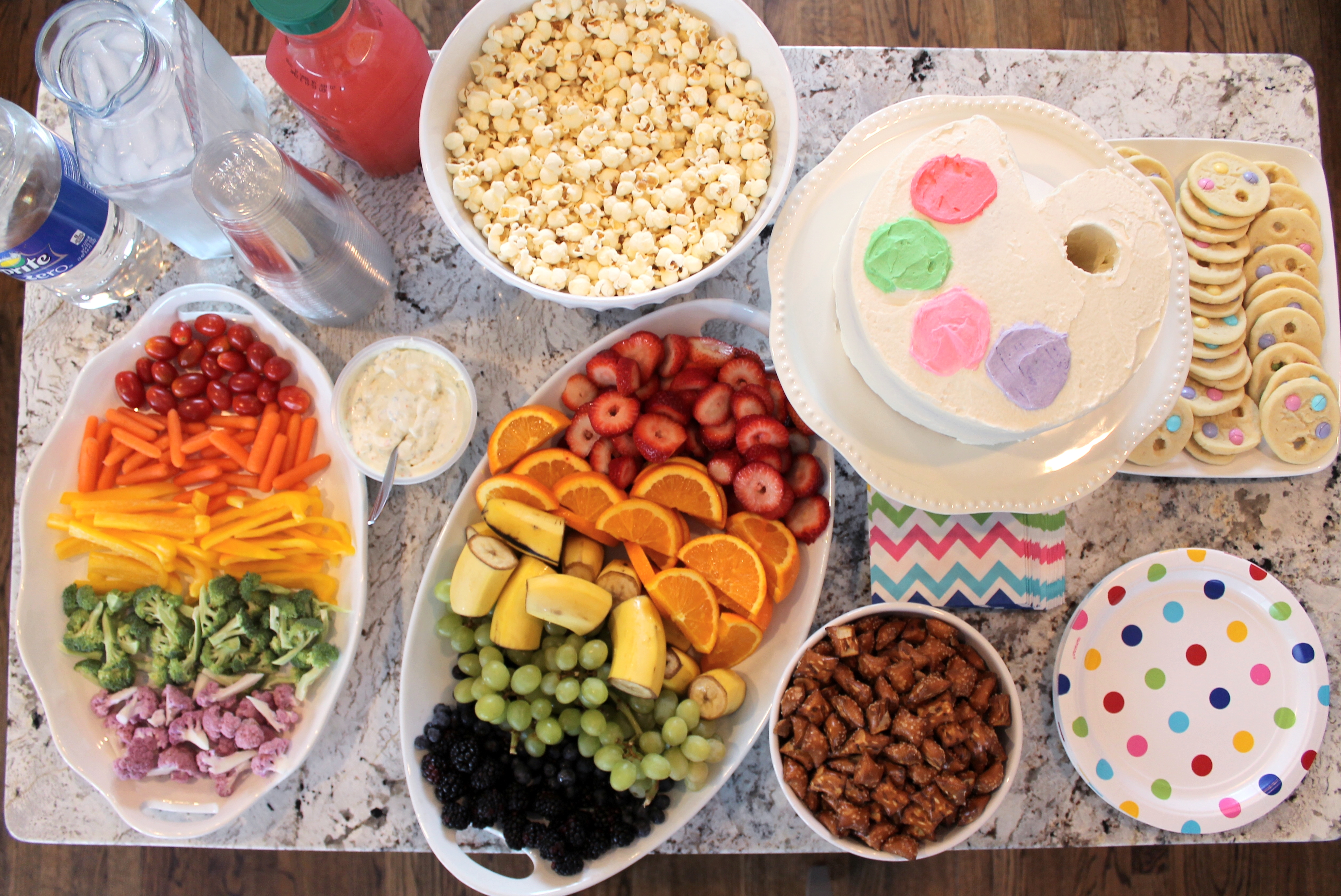 I really wanted to go simple with food. The party was in the middle of the afternoon, so I knew I didn't need to provide a meal. I decided to do a veggie platter, a fruit platter, a few crunchy snacks (popcorn and peanut butter-filled pretzels), and sugar cookies. Those sugar cookies are supposed to look like artist's palettes…but I didn't get too fussy with it, so, as my dear husband put it, "Why is there a hole in those mm cookies?"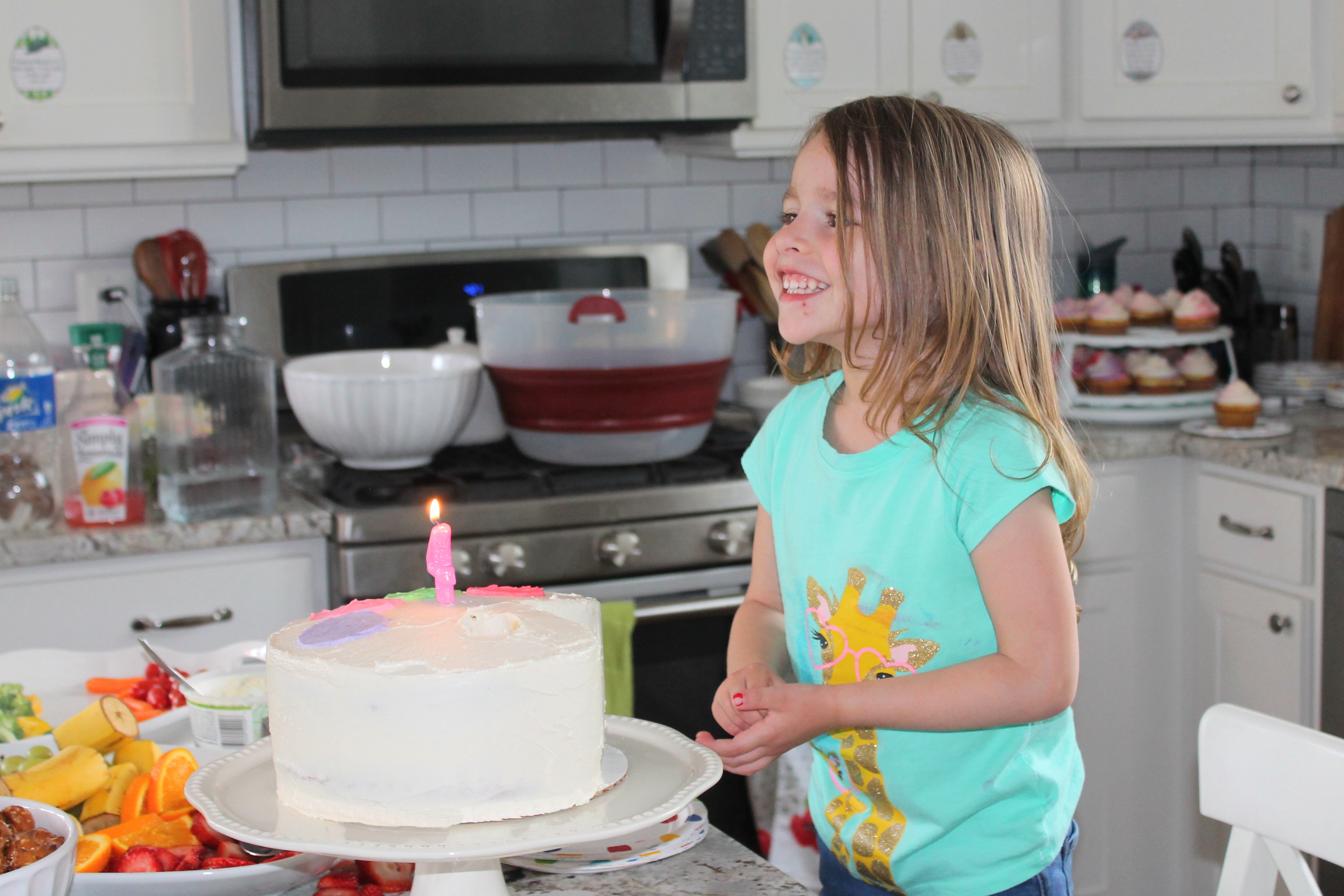 I made a layer cake (slightly more like an artist's palette…slightly…) as well as cupcakes! I kept it as easy as possible, because that's how I survive throwing a birthday party while also managing three children. Real life. Cake and cupcakes were both Funfetti, and they were awesome.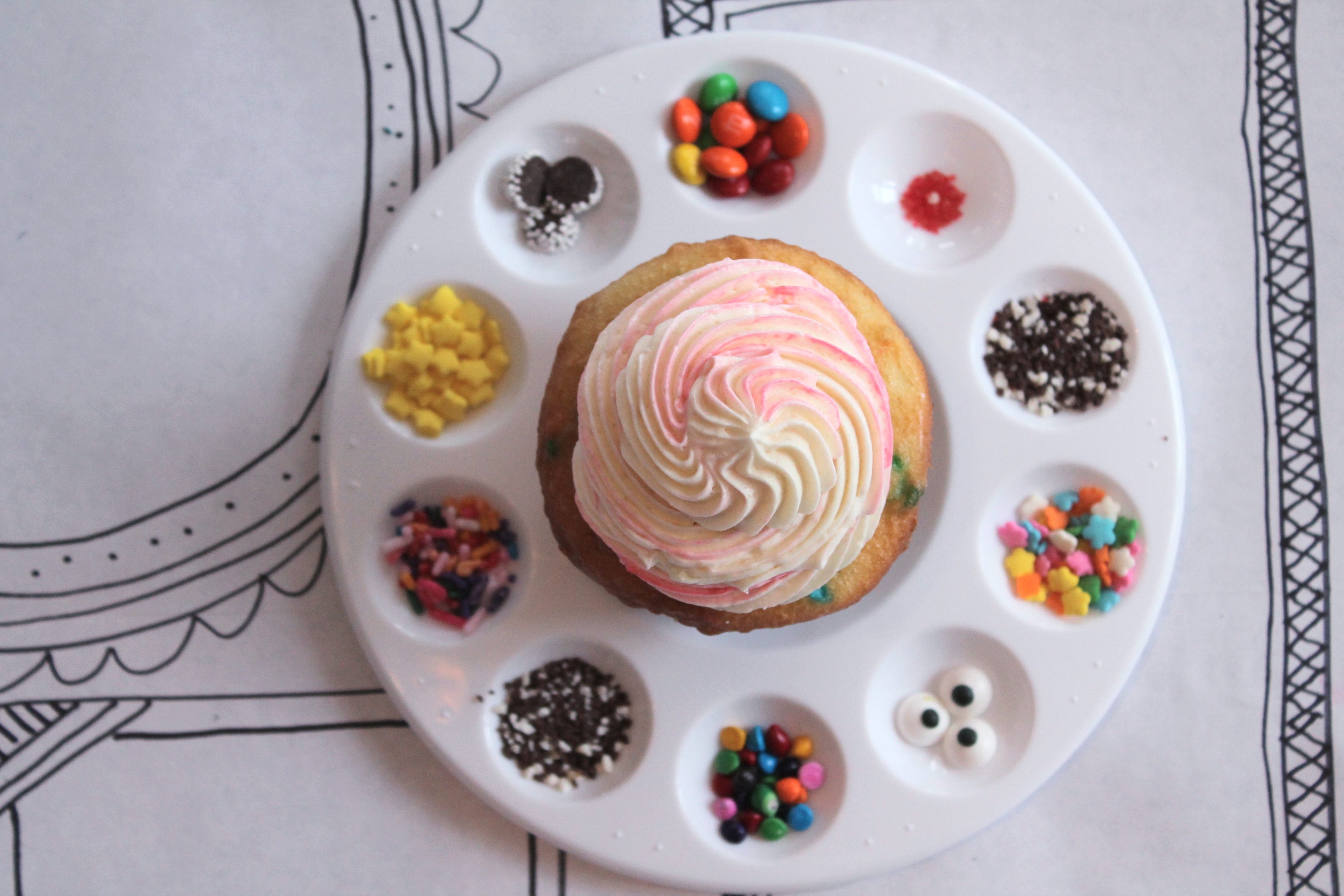 Caitlin really loves sprinkles. So we turned cupcakes into an art activity! I bought these plastic artist palettes and my nieces helped me fill them with colorful sprinkles and sugar eyeballs and mini mms.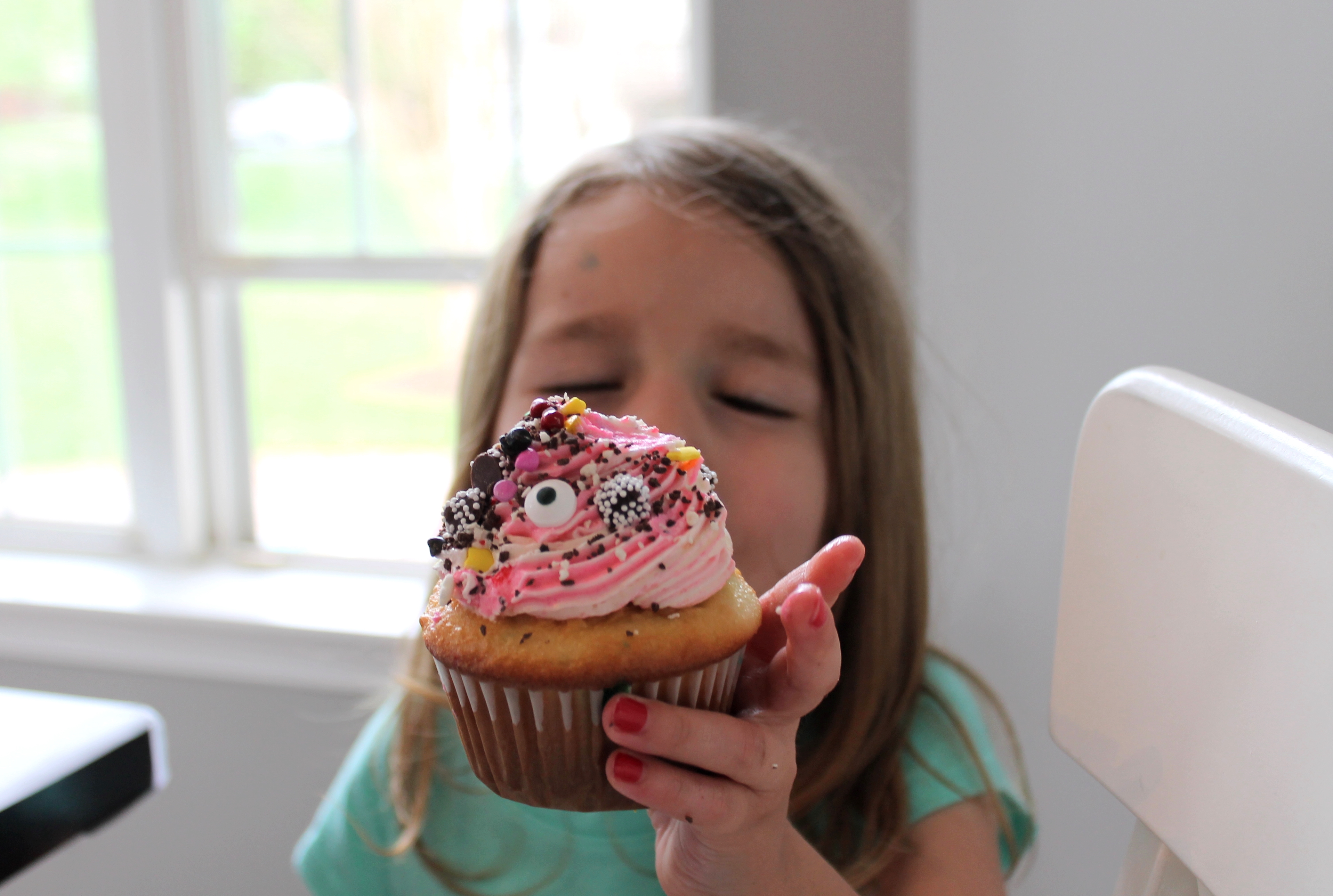 After we sang happy birthday to my darling daughter, we handed each kid a plate with a cupcake, and they got to decorate their cupcake with sprinkles! (Or eat the sprinkles by the handful. Anything goes.)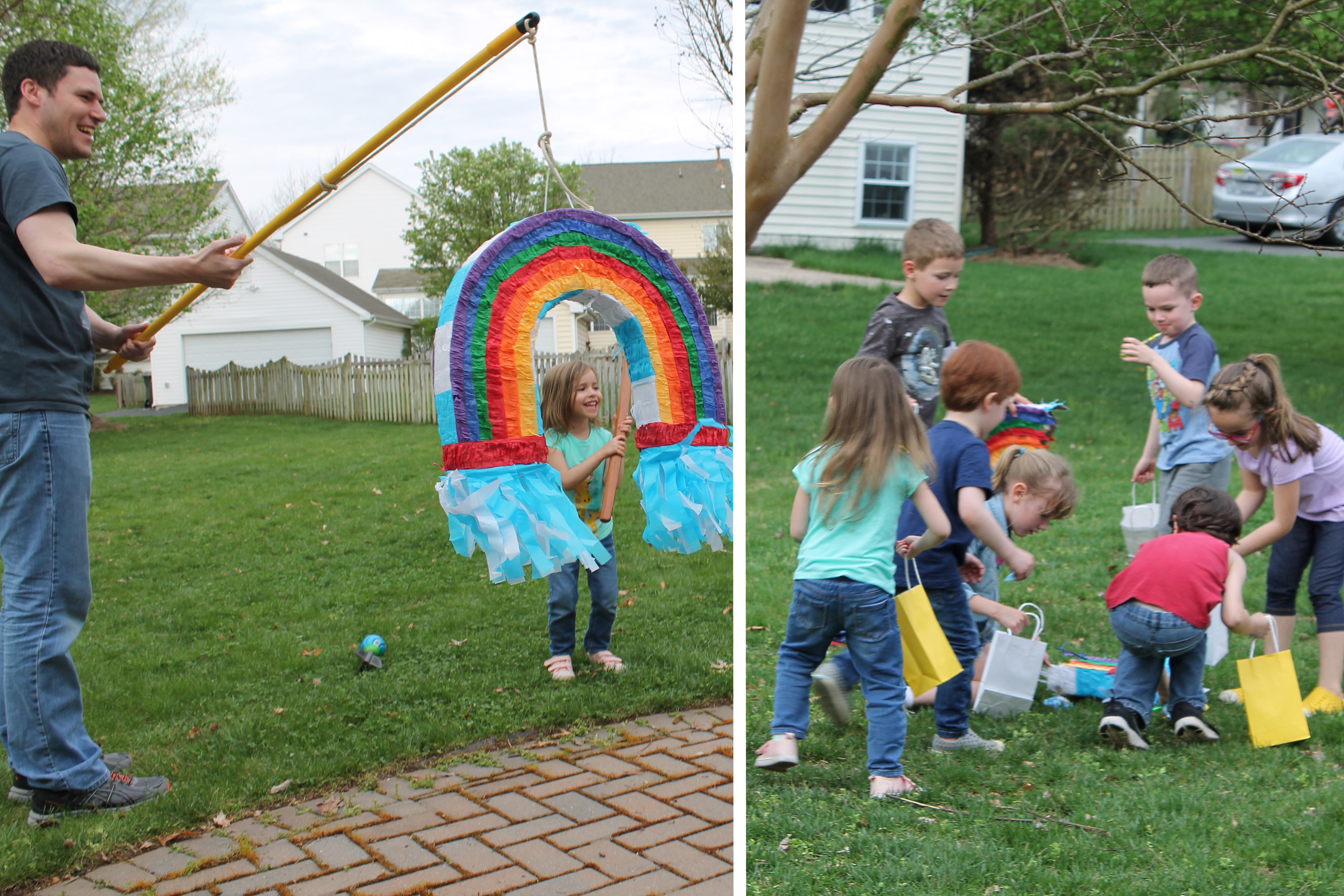 We opened presents, and then we headed outside to break open a rainbow piñata, full of chocolate candy and colorful pencils.
Every kid loves a piñata! I really wish I had gotten a video of the collective scream of excitement when the candy went flying across the yard!
This party was really like a balm to my soul. After Jake's 5th birthday, I had shared that I felt a bit burned out by big kids' parties. I still am glad I went through that time and took a break from the hoopla of planning and executing a Pinterest-worthy party. My kids both had a year without a big shindig, and we all needed that. But celebrating Caitlin with friends and paint and a million sprinkles turned out so fun, for her and for me! I loved the fellowship with other parents as much as I loved seeing the pride on the kids' faces as they set their finished pots out to dry.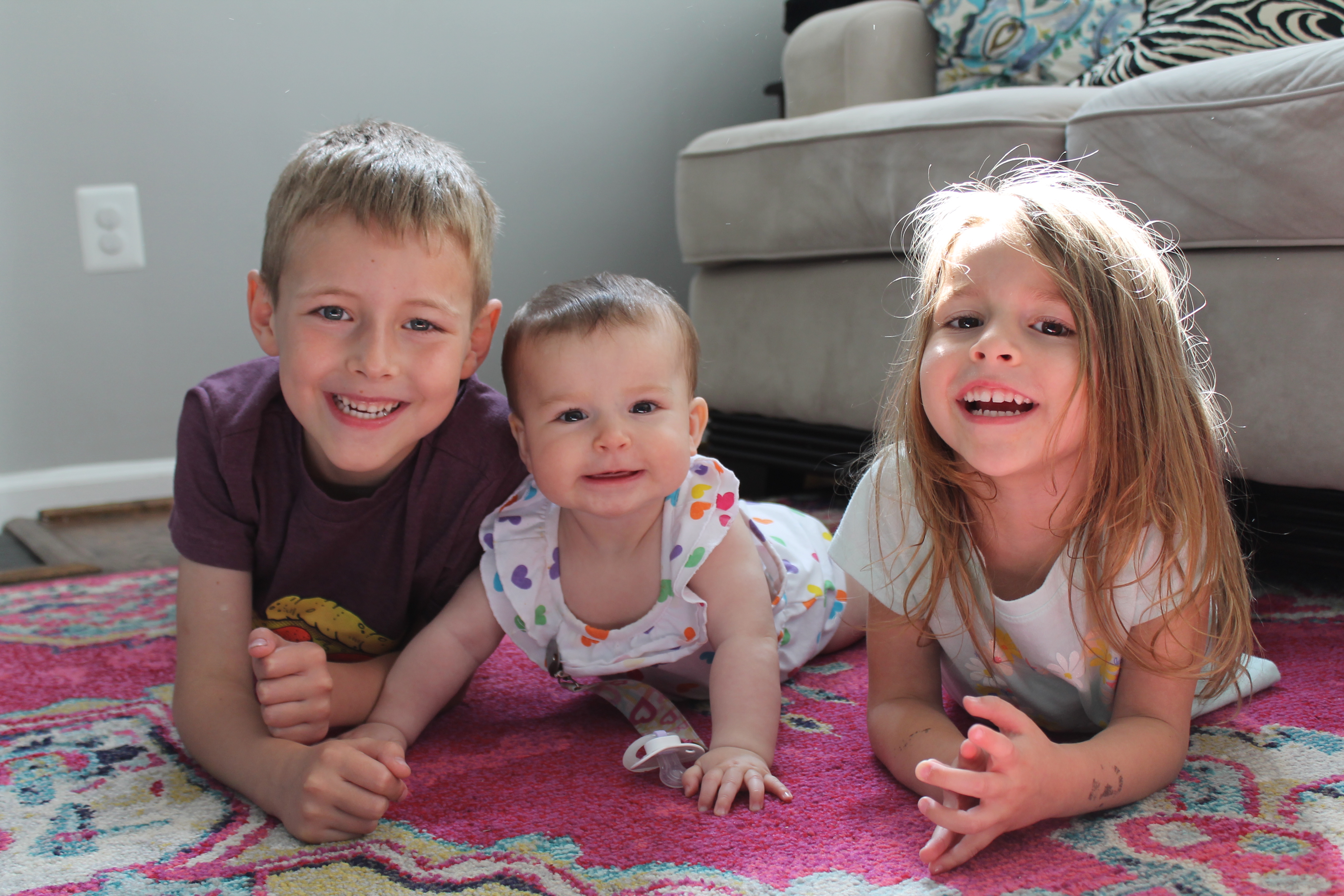 Happy birthday, sweet girl. I am SO glad you are my daughter, and I can't wait to see what the next year holds for you!
♥ Mommy