It's hard to believe 2019 is already halfway over! This year I am marking the months by the way my sweet baby girl is growing, and the time just seems to fly.
I'm also measuring time by how well I'm doing with my happiness project.
I admit that I have struggled a bit to keep up with the monthly challenges. In March, I was supposed to learn something…but I didn't. In May I was supposed to focus on healthy eating, and I did—but then June arrived, and in the midst of celebrating my tenth anniversary, I abandoned the healthy eating again.
I'm sure no one is surprised that maintaining resolutions is difficult! However, I am making excellent progress on my 19 for 2019, and one of the items on my list is reading!
My goal every year is to read 52 books, or one book per week. I stick with that number from year to year, no matter how many books I read in the year before, because I want to be realistic with my time. No one ever enjoyed reading when they felt like that had to accomplish it or else.
I also am working on my 2019 reading challenge! This year's challenge is going much more smoothly than last year's—I'm well over halfway to the finish line with the 27 challenges! Not every book I've read has been for the challenge, because I really like to have freedom in choosing my next book, but I have completed 19 of the challenges so far.
In addition to challenge books, I've read another 14 books, bringing my first-half total to 33. I started the year off with The Lunar Chronicles, and they definitely deserve some credit for the high volume of reading because they were quick and exciting to read! It has been a great year so far, and I have truly enjoyed almost everything I've read.
If you're curious what else I've read this year and what I would recommend, keep scrolling!
---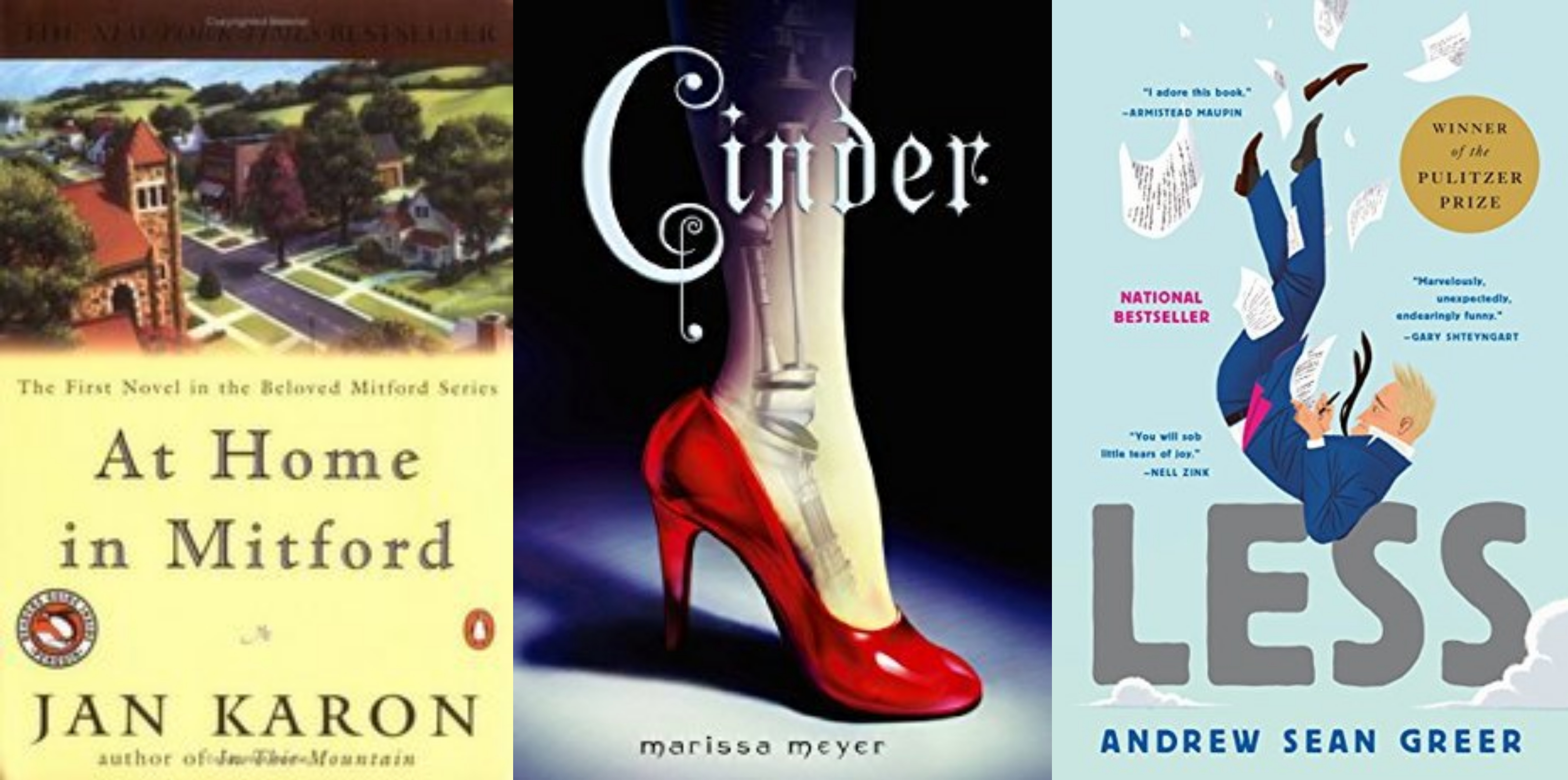 At Home in Mitford by Jan Karon.
Loved ♥♥♥♥♥
I first picked up this book because I remembered seeing my Nana reading it, and to be honest, I had no idea it was inspirational Christian fiction. I fell in love with the small town of Mitford right away, with the caring but oddly bumbling Father Tim and the townsfolk he makes a point to be in community with. This book is a bit of a slow read because each scene is so short, but I needed to be able to put it down to deal with my crazy children, so that actually turned out well for me. Yes, some of the action was a bit unbelievable, but I didn't mind a bit of melodrama. Thoroughly enjoyable, and full of nuggets of spiritual wisdom! Gave me a new respect for pastors.
Cinder by Marissa Meyer*.
Enjoyed ♥♥♥♥
Wow was this a fun read! I fairly flew through it, finishing in one day, because the story was so captivating. At first, I was not sure how well the story of Cinderella could merge with a futuristic space saga and a side hustle of robotics and a deadly epidemic. But the classic tale of Cinderella, a young girl who is hated by her adopted family, forced to work to support their needs, who catches the eye of a prince by chance and wins his love, offered a thread of familiarity throughout. Cinder was a reasonable and capable girl even to the end of the story, which is fairly surprising for YA fiction. I especially loved the ball scene toward the end, and the "shoe" Cinder left behind when she made her escape.
Less by Andrew Sean Greer*. (Audible)
Liked ♥♥♥
One of my literary goals is to read more prizewinners. Less won the Pulitzer, an award which I consider to be fickle and confusing, in that the books on its list don't tend to fit any patterns (length, writing style, theme, political agenda, etc.) except that they are often heavy. But Less is a satire, so despite my misgivings about the Pulitzer, I went for it. And I mostly enjoyed this tale, sort of a coming-of-age story, if you can come of age when you are middle-aged. I did not like the promiscuity and sex, but that is pretty typical of me; I did like the idea that it is still possible to do something new and meaningful even when you think that your best and brightest ideas have faded. I also loved the ending. This story was about giving up, and also persisting, at the same time.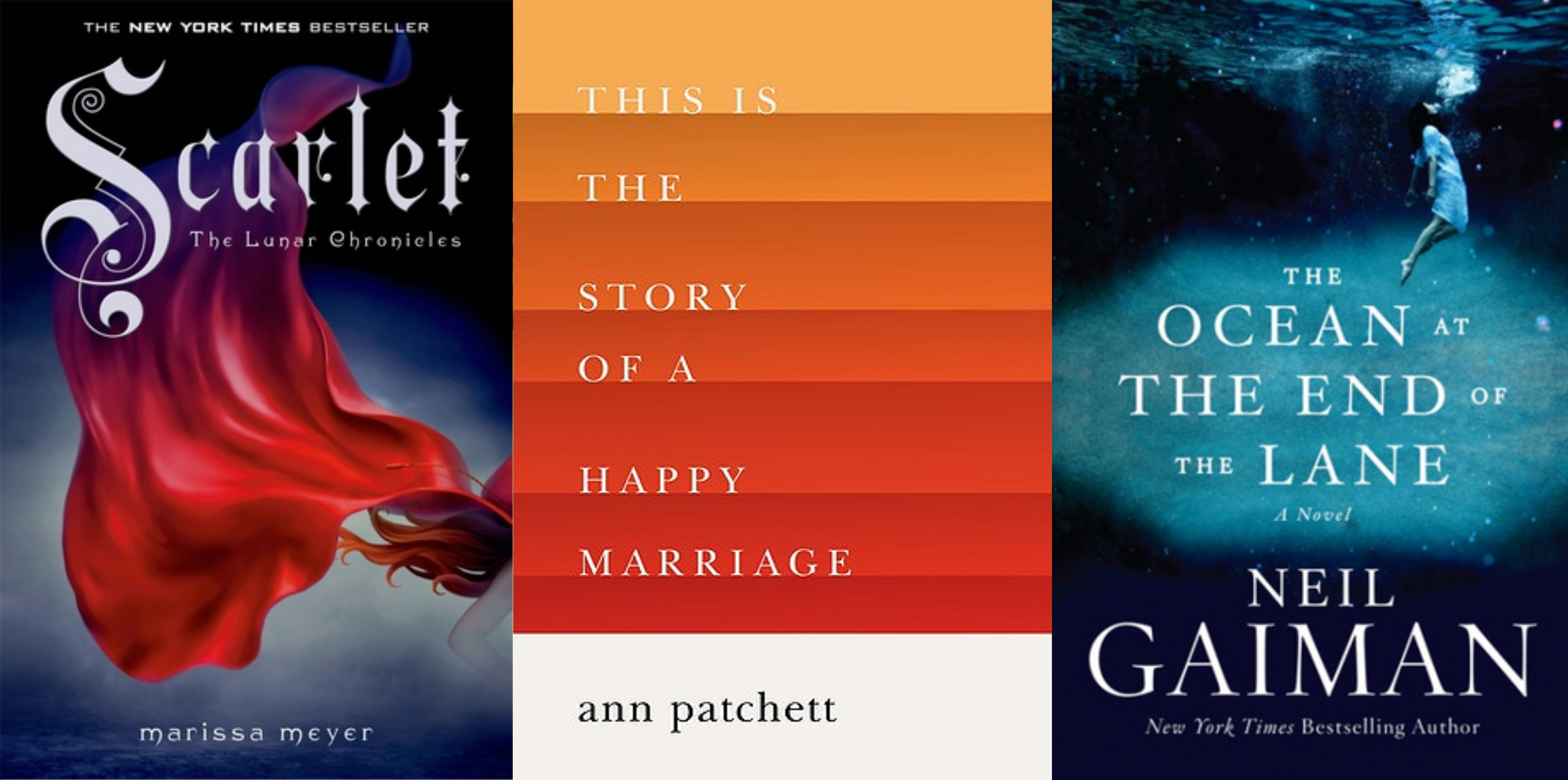 Scarlet by Marissa Meyer.
Liked ♥♥♥
I admit that I didn't like this second story in the Lunar Chronicles as much as I liked Cinder. It felt a little jumpy as it transitioned back and forth between the ongoing story of Cinder and the new character, Scarlet, and the story and personality of Scarlet were not nearly as well-developed as Cinder's. Throughout, I felt like Scarlet was unnecessarily belligerent and overconfident, and then a romance popped up out of nowhere (well, it is YA fiction, so I knew it was coming, but it sprung up quite suddenly in the story). Still an enjoyable read, but it didn't catch me the way Cinder did.
This Is the Story of a Happy Marriage by Ann Patchett. (Audible)
Enjoyed ♥♥♥♥
This collection of essays won me over! The essays were obviously oriented toward memoir, which is a genre I really enjoy. But where I expected to learn the story of Patchett's happy marriage throughout, as the title suggests, these essays were actually largely oriented toward sharing what it takes to be a writer. I loved it! I learned so much and ultimately felt so encouraged by the lessons Patchett learned along her way. And yes, eventually she did get around to telling the story of her marriage.
The Ocean at the End of the Lane by Neil Gaiman*. (Audible)
Enjoyed ♥♥♥♥
Oh, Neil Gaiman, you are always a delight. Especially when you narrate your own books, which you do beautifully. This story was told in the first person, in retrospect, about a magical fight between a family of women who lives down the lane and an otherworldly monster, through the eyes of a young boy whose home life is lackluster and emotionally stilted. I love the worlds Gaiman imagines and his attention to detail in storytelling.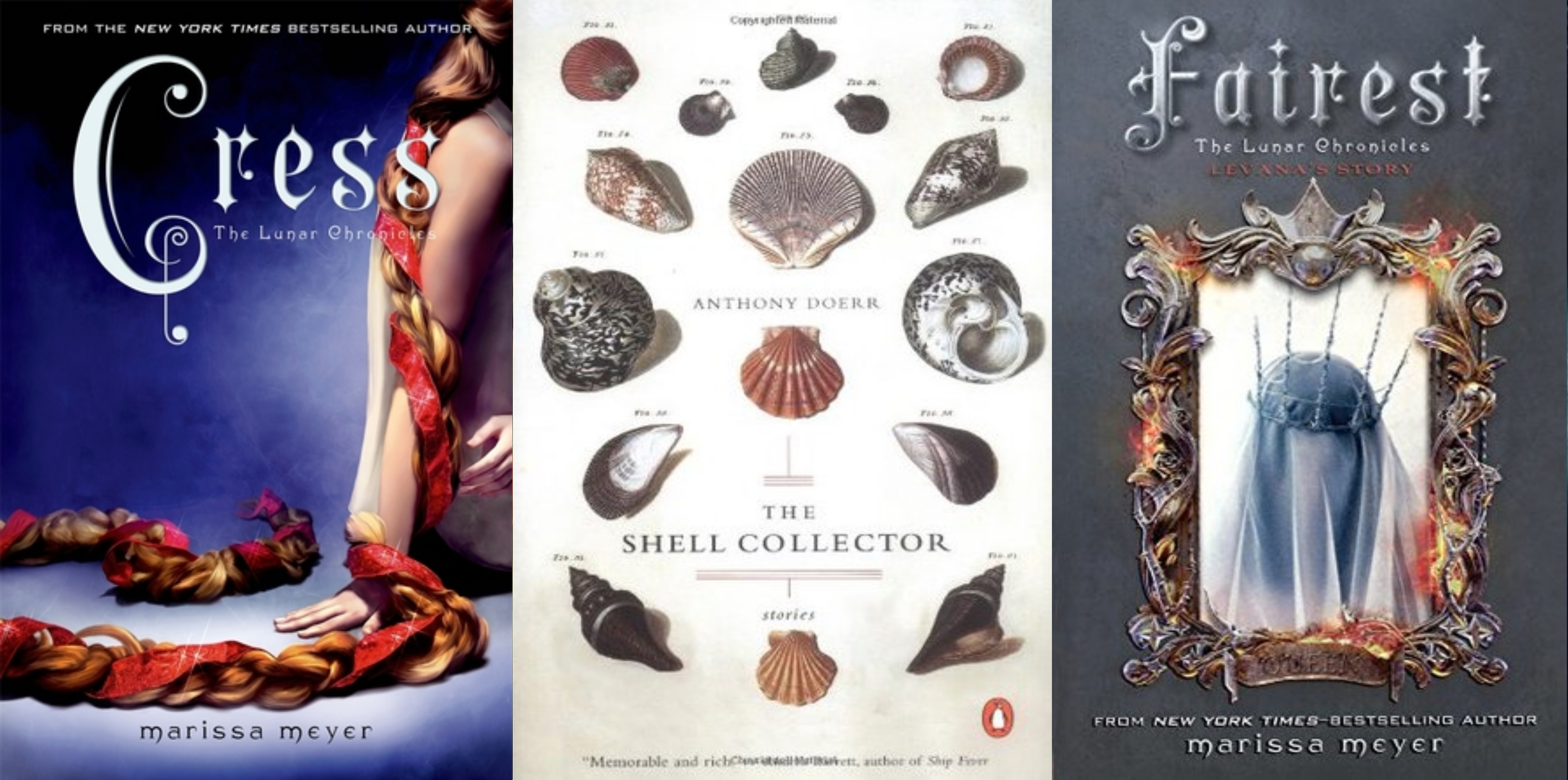 Cress by Marissa Meyer.
Enjoyed ♥♥♥♥
This third story in the Lunar Chronicles sucked me right back in after the somewhat disappointing experience of Scarlet. With three storylines, it felt more like an ensemble just waiting to come together. I loved how sweetly naïve Cress was, and the hopeless love she felt for Thorne actually worked for me. The plot connected only briefly with the fairy tale Rapunzel (each story is less and less correlated to a fairy tale), but the characters really took on a life of their own, complete with misunderstandings and the rash actions of youthful hero complexes.
The Shell Collector by Anthony Doerr*.
Tolerated ♥♥
To be honest, short stories are not my favorite medium. I like to really dig into a story, and short stories often feel too abrupt. Anthony Doerr writes beautifully, and the stories in this volume were bound together by the loose threads of water/fishing and nature and travel. They were often unsettling or disquieting, ending in places that felt somewhat incomplete (although this felt purposeful, to keep the reader seeking). I particularly liked two stories at the end of the collection, "The Caretaker" and "Mkondo," but some of the others felt tedious to me. Honestly, although the writing really was lovely, and Doerr paid attention to the kind of detail that makes a story come to life, I was glad to be able to put this book down and move on to the next.
Fairest: Levana's Story by Marissa Meyer.
Liked ♥♥♥
This book felt a little like a tangent to me (and I don't think it was part of Marissa Meyer's original plan for the Lunar Chronicles). It was set decades before the main series, and explained how Levana came to be such a wicked queen. I almost wanted to like her and sympathize with her, but she just kept choosing to close herself off and commit horrible acts one after the other. The story was interesting, but it seemed unnecessary.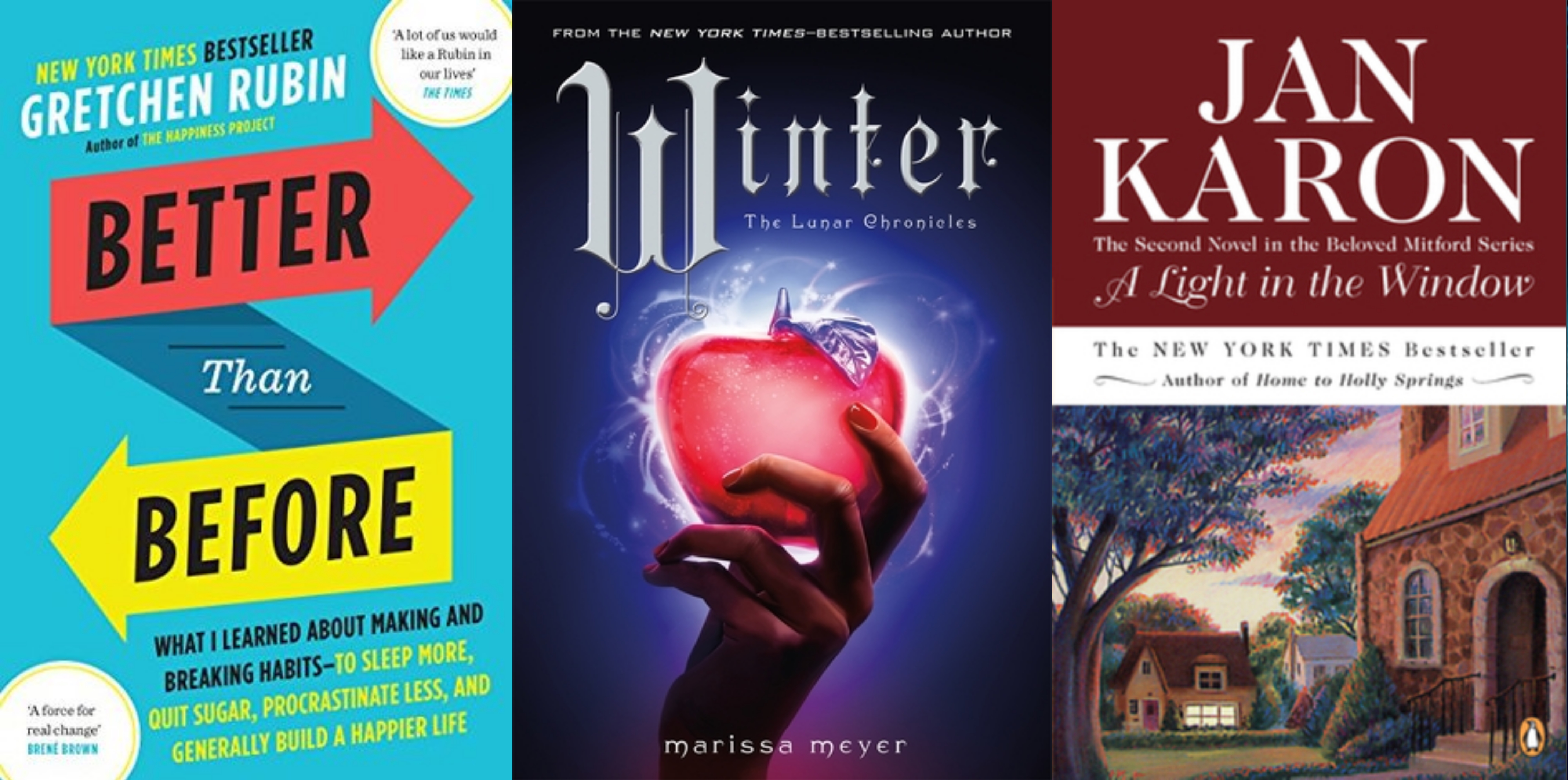 Better Than Before: What I Learned About Making and Breaking Habits – to Sleep More, Quit Sugar, Procrastinate Less, and Generally Build a Happier Life by Gretchen Rubin*.
Liked ♥♥♥
I found this book both interesting and confusing. Gretchen Rubin starts by setting up a framework for how people typically respond to expectations, and says that once you figure out which type of person you are, you will be able to correctly use habit-forming strategies to do the things you want to do. My problem was that I don't fit neatly into her categories (is it possible to be both an Obliger AND a Rebel? Doesn't seem likely…and no, I don't mean an Obliger in rebellion). I did enjoy the time I spent contemplating my natural responses, and there were several strategies I think I can use, especially the strategies of convenience and inconvenience. Unfortunately, I think it's likely I will continue to flounder a bit in establishing the habits I want to.
Winter by Marissa Meyer.
Enjoyed ♥♥♥♥
The conclusion to the Lunar Chronicles was wonderful! While it did seem like the plan to overthrow Levana was slapped together a bit haphazardly, I enjoyed that Marissa Meyer took a few surprising turns and allowed some hard, irreversible events to happen in this book. Winter was an interesting character, and I worry about her sanity, but even so she was determined and interesting. I enjoyed learning about the Lunar society, I thought all the characters really pulled their weight, even beyond their fairy tale beginnings, and I thought the way the book ended was graceful and thoughtful.
A Light in the Window by Jan Karon.
Enjoyed ♥♥♥♥
This second book in the Mitford series was just as absorbing as the first. I got several meaningful nuggets of wisdom from the book, which Jan Karon worked in using quotes, sermons, and conversations. Father Tim continues to be a bit bumbling, and sometimes incomprehensible to me—he seems to let himself be bullied by strangers, and he spends the nervous energy on protecting himself from people he cares about. Nevertheless, I give him credit for working to make changes and open his heart even in his twilight years! This story was enjoyable and sweet, and like the first, it was constructed in short scenes, which made it perfect reading against a backdrop of my crazy children.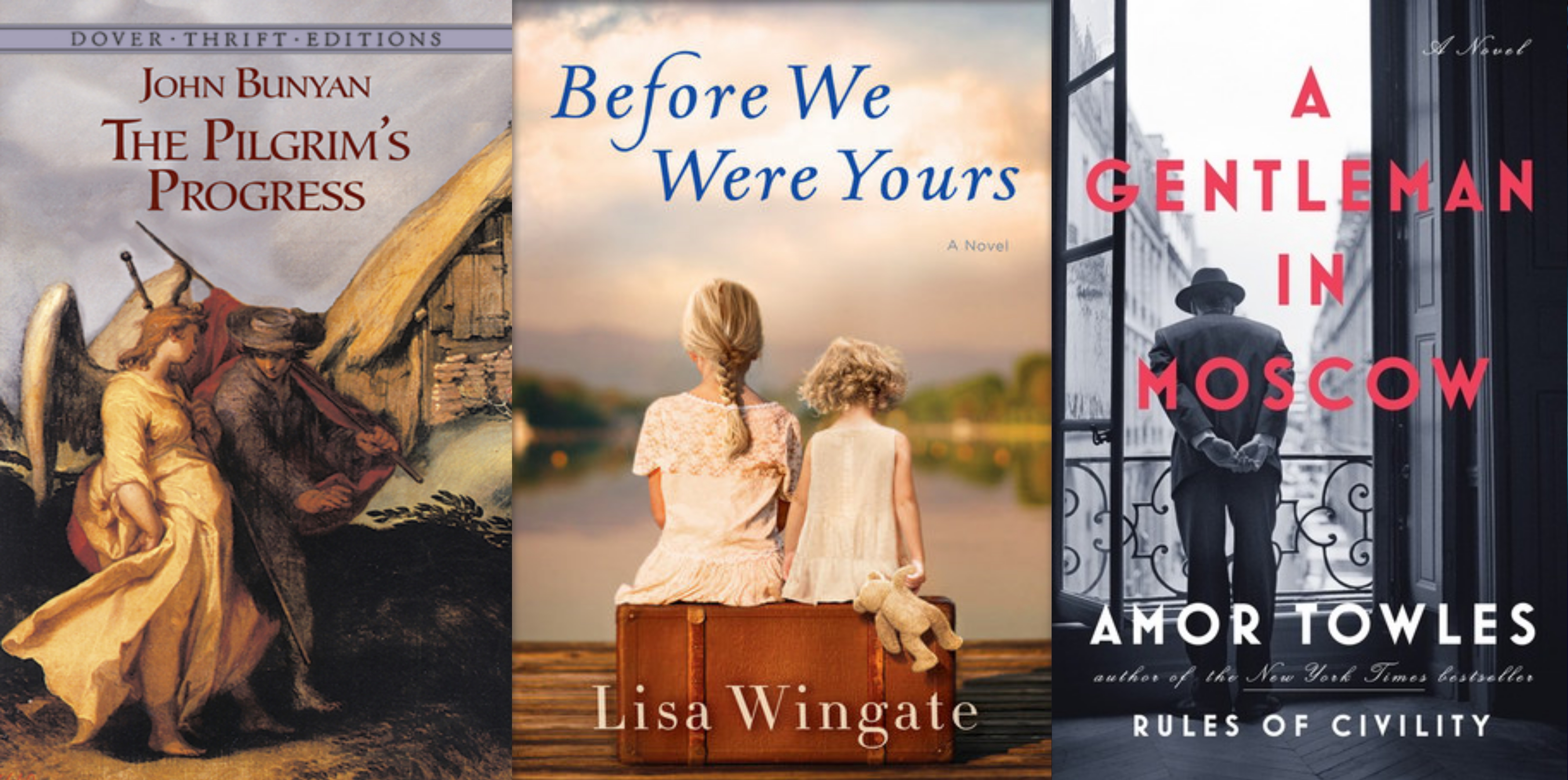 The Pilgrim's Progress by John Bunyan*. (Audible)
Tolerated ♥♥
This is a story told in two parts: the first, following Christian, who journeys from the City of Destruction to the Celestial City; and the second, following his wife and children, who make the same journey after Christian has gone to glory. Initially, I found this book fascinating. I loved that the characters were named after their defining traits, such as Pliable and Legality and Hopeful. The ways these characters acted and spoke gave me a lot to think about in my own faith walk. However, I truly could have done without the second half of the story, which just seemed…repetitive. And not nearly as insightful. In the second story, it seemed that John Bunyan condemned his original character, Christian, for struggles in the walk of faith, which was a bit depressing, given that I think most people (myself included) sometimes misstep or have feelings of doubt.
Before We Were Yours by Lisa Wingate*. (Audible)
Enjoyed ♥♥♥♥
This story was truly heartbreaking. To her credit, Lisa Wingate made me feel devastated by the horrible things Rill and her siblings had to endure at the hands of the Tennessee Children's Home Society. I enjoyed the two different timelines as the story unfolded toward a place where it met in the center, but the actual reveal at the end was a letdown compared to the rest of the book. Don't pick up this book expecting anything lovely, other than the miracle that someone who was abused and had everything stolen from her, her childhood above all else, could ultimately choose to let it go.
A Gentleman in Moscow by Amor Towles*. (Audible)
Loved ♥♥♥♥♥
Amor Towles has done it again. This story was stunning. A Russian noble has been sentenced to spend the rest of his life in a grand hotel (though certainly not in the grandest part of the hotel), and he learns to make the best of it and make his presence there meaningful, even across decades and major cultural shifts. I was able to feel Rostov's indignation and his careful consideration and his quiet joy. Towles very carefully set up scenes throughout that feel like natural snapshots of life, and only later you find that they are much more important. We are the sum of our experiences. We are what we know and who we know and what we plan to do about it. I couldn't imagine that this book would compare to Rules of Civility, but it was wonderful.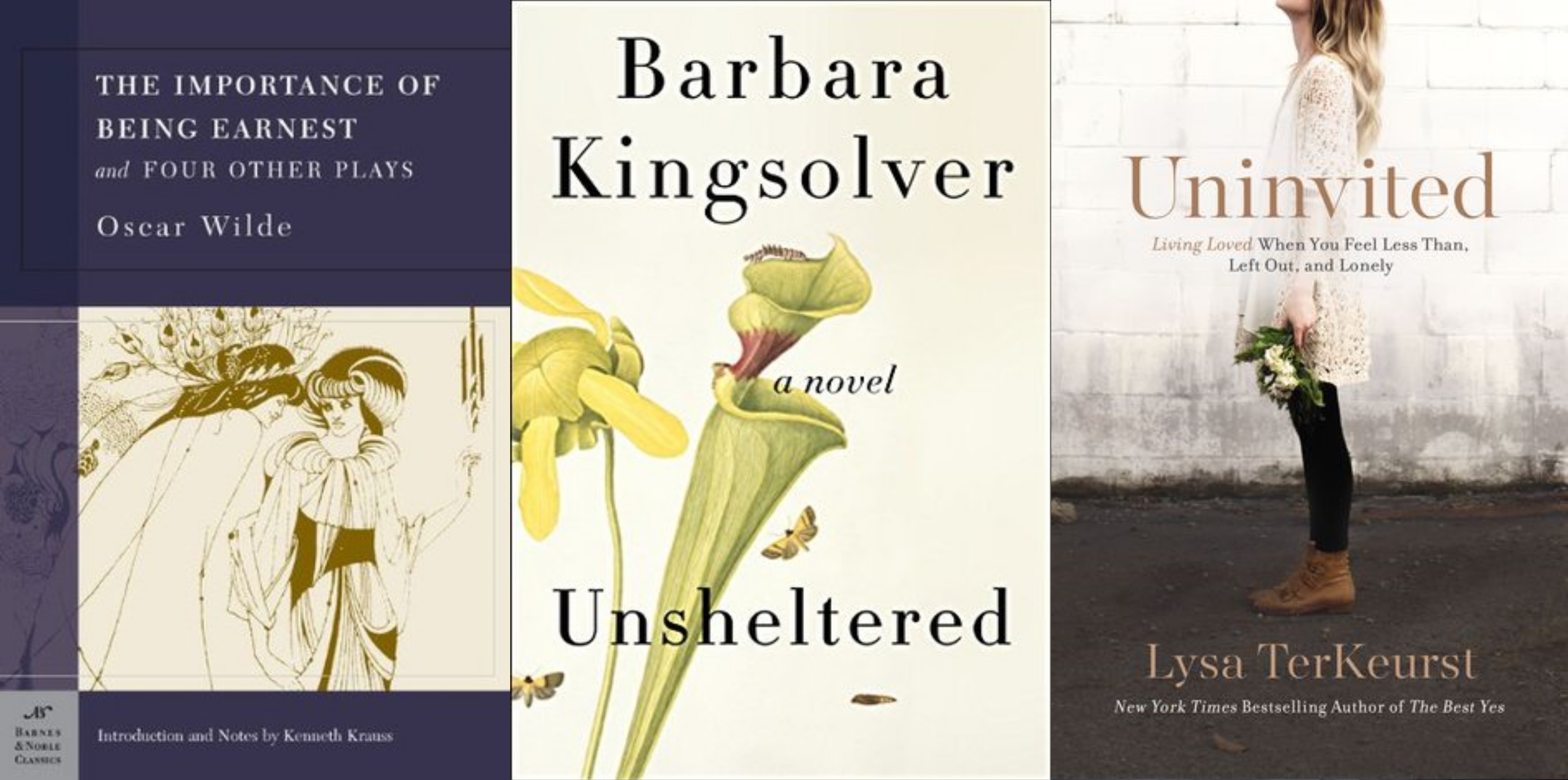 The Importance of Being Earnest and Four Other Plays by Oscar Wilde*.
Enjoyed ♥♥♥♥
I literally laughed out loud through half of "The Importance of Being Earnest." It was an utterly ridiculous comedy in which almost everyone is the straight man, and I loved it. My enjoyment of Earnest far outweighed my enjoyment of the others plays ("An Ideal Husband," "Lady Windermere's Fan," "A Woman of No Importance," "Salomé"). I did enjoy "A Woman of No Importance" once I managed to keep track of all the characters—especially entertaining were the interactions between Lady Caroline and her husband John. I would be interested in seeing these plays on the stage or screen again now that I've read them.
Unsheltered by Barabara Kingsolver. (Audible)
Loved ♥♥♥♥♥
The two stories that wove together in this book were so interesting! The first story is a modern-day woe following a family that has been completely let down by their pursuit of the American dream, finding themselves in a house that is literally falling down, struggling to forge and maintain relationships with each other despite past bitter disappointments. The second story dives into the mid-19th century, following a science teacher whose family doesn't respect him or the scientific process and a female biologist who helps him stay the course of his conscience instead of going with the flow of fearmongers around him. I always love Barbara Kingsolver's attention to literary detail, and even though this story came to some unsettling conclusions, I loved every minute of listening to her soft narration.
Uninvited: Living Loved When You Feel Less Than, Left Out, and Lonely by Lysa TerKeurst.
Tolerated ♥♥
This book disappointed me a little, possibly because I had such high expectations for it. I'm not sure how to communicate this without seeming to make light of someone else's feelings of rejection and fear; and I have certainly struggled with feeling invisible and unwanted, myself. But this book felt like a how-to (say these words, make this list, pray this prayer, etc.) when what I wanted was an encouragement for my heart, and conviction for my own sinful attitudes. I think Lysa has had many very real rejections in her life, and I am amazed at what she has overcome…but some of the examples she wrote about really felt like she was scrambling for something to fill pages which ultimately didn't seem related. There were a few great nuggets of wisdom, like not attributing your own thoughts to other people, and looking to God for emotional fulfillment rather than to other people. Maybe this just wasn't the book for me!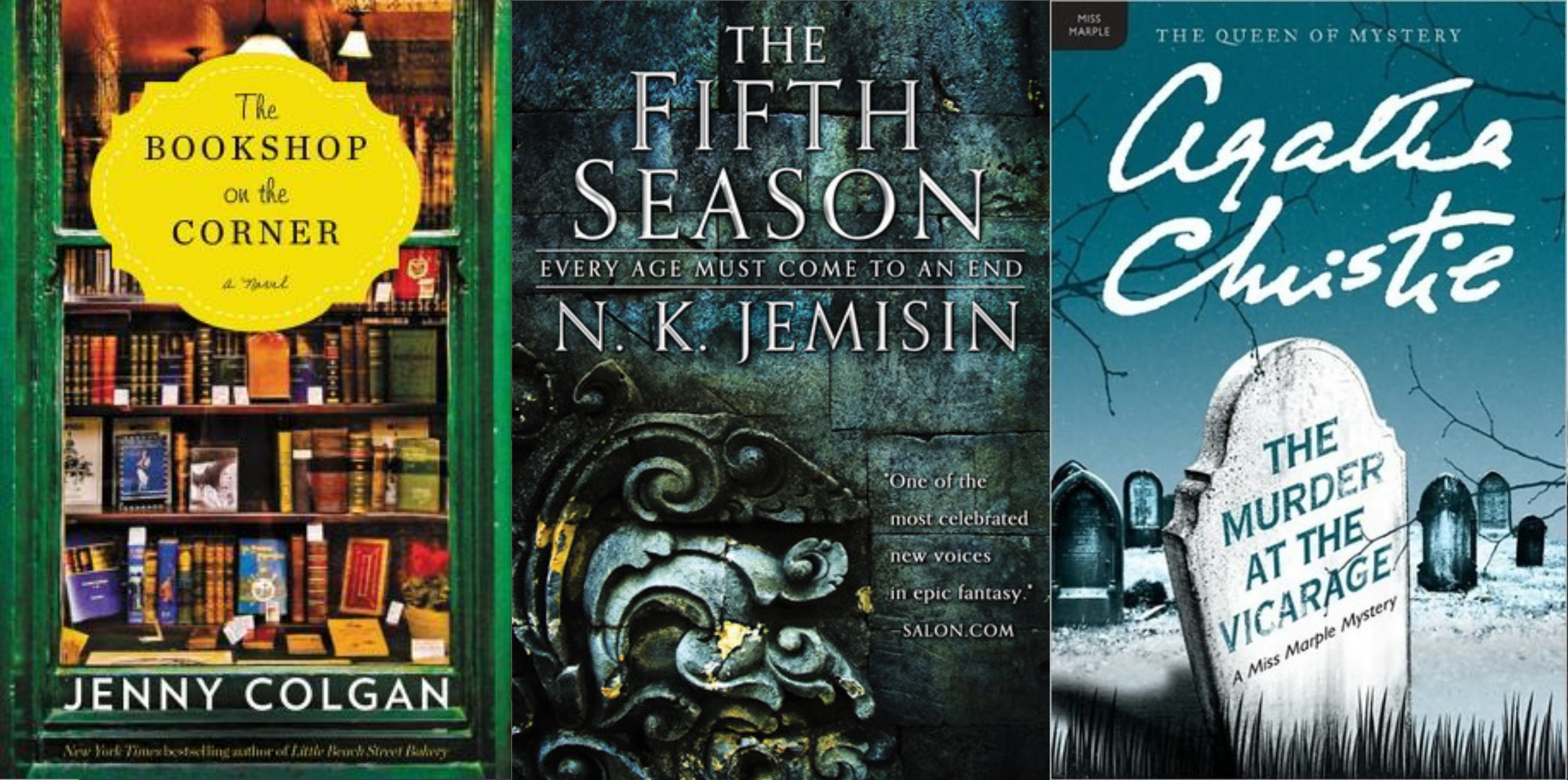 The Bookshop on the Corner by Jenny Colgan*. (Audible)
Liked ♥♥♥
A very sweet story about a girl who has had her nose so far in a book her whole life that she struggles to see what's real in front of her for what it is, until she strikes out on her own to start a mobile bookshop in rural Scotland. Obviously the whole setting is highly romanticized, and the author overuses adverbs like completely and incredibly, but this story was easy and fun to read! I do wish the romance at the end amounted to more than sex, but it wasn't crude and it didn't make me blush, it just fell a little short of expectations.
The Fifth Season by N.K. Jemison*. (Audible)
Loved ♥♥♥♥♥
Oh my goodness, this book was absolutely excellent—and so was the narration by Robin Miles! The story (the first in The Broken Earth trilogy) was set in a distant future, at the end of the world. The world is fundamentally broken, and a terrible fault has been opened in its surface that has set off a "season," or a time of unpredictable weather and hardship for all life on earth. I loved getting to know the three orogene women in this story and trying to learn the rules of the world in which they live. It was a story of fear and resilience and power, of love and self-love. It was magnificent, and totally worthy of the Hugo award. Can't wait to listen to it again (which is high praise from me, as I don't often reread novels).
Murder at the Vicarage by Agatha Christie*.
Enjoyed ♥♥♥♥
I'm growing into an Agatha Christie fan! This was my first Miss Marple, and although Marple didn't seem to be the key player (I guess I'll have to read on in order to understand her role better), I really enjoyed the story. This is the story of an unpopular Colonel who is murdered in the vicarage when no one is at home. Everyone in the village has some idea about who did it and why, not least the observant neighbor, Miss Marple; and as always, there are many people with a motive and possible means to accomplish the crime. Agatha Christie does project the answers to a few questions as the investigation progresses, which helped to keep even a terrible detective like me feeling good about herself, but she always keeps me guessing about how the murder was accomplished until she is ready to reveal her hand.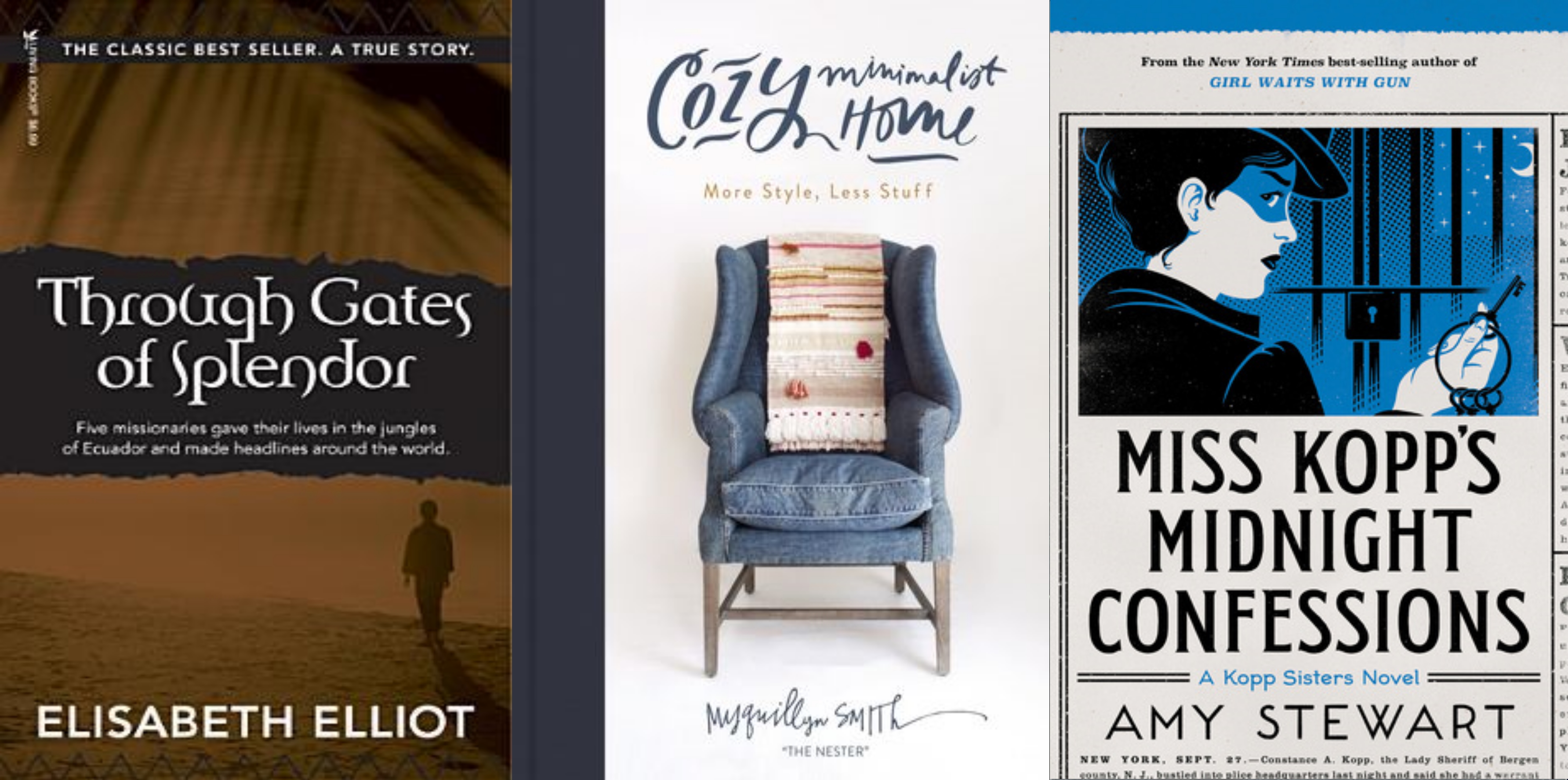 Through Gates of Splendor by Elisabeth Elliot*.
Enjoyed ♥♥♥♥
I was worried that this book would be a chore to read, but it was very engaging! I almost can't believe there have ever been people who so wholly devoted themselves to doing God's work, no matter the cost (this includes the wives and families, as well as Jim Elliot and the other missionaries who ultimately lost their lives in Ecuador in the late 1950s). I enjoyed learning about how missions worked in a time when infrastructure for missionaries, and even modern conveniences, were much less established. They were creative and determined and honestly reminded me of the ingenuity of my grandfather as they went about their work, both physical and missional. I was surprised about the way their work progressed…they reinvented their purposes and tactics regularly, which seems very different from the way I envisioned missions work. All in all, an emotional and compelling story that inspired me to consider what the familiar aspects of my life are worth, and what God might call me to if I hold them loosely.
Cozy, Minimalist Home: More Style, Less Stuff by Myquillyn Smith.
Enjoyed ♥♥♥♥
I do not consider myself a minimalist, but I do love decluttering. Much of this book was a little too extreme for me (I could not, in this phase of life with little kids, empty out an entire room and take a month or more to test out what items really belong back in it), but I do love the idea of "DESYs" or designated empty surfaces. I also like the idea of using large scale items to make a space feel homey without being cluttered, and making sure the items in our homes are useful and meaningful!
Miss Kopp's Midnight Confessions by Amy Stewart.
Liked ♥♥♥
This third installment of the fictionalized life of Constance Kopp, one of the first real-life female deputies in the U.S., meanders along at a walking pace. I obviously am enjoying this series enough to keep reading it, despite the very slow unfurling of the action. In this novel, it was interesting to learn more about how women were judged at a different standard from men around the time of the first World War, deemed unable to take care of themselves, contribute helpfully, or be trusted to be honorable on their own. I can see parallels to modern society, in which culture is changing faster than the laws, and a more conservative older generation (somewhat like myself) are a little scared about losing their familiar way.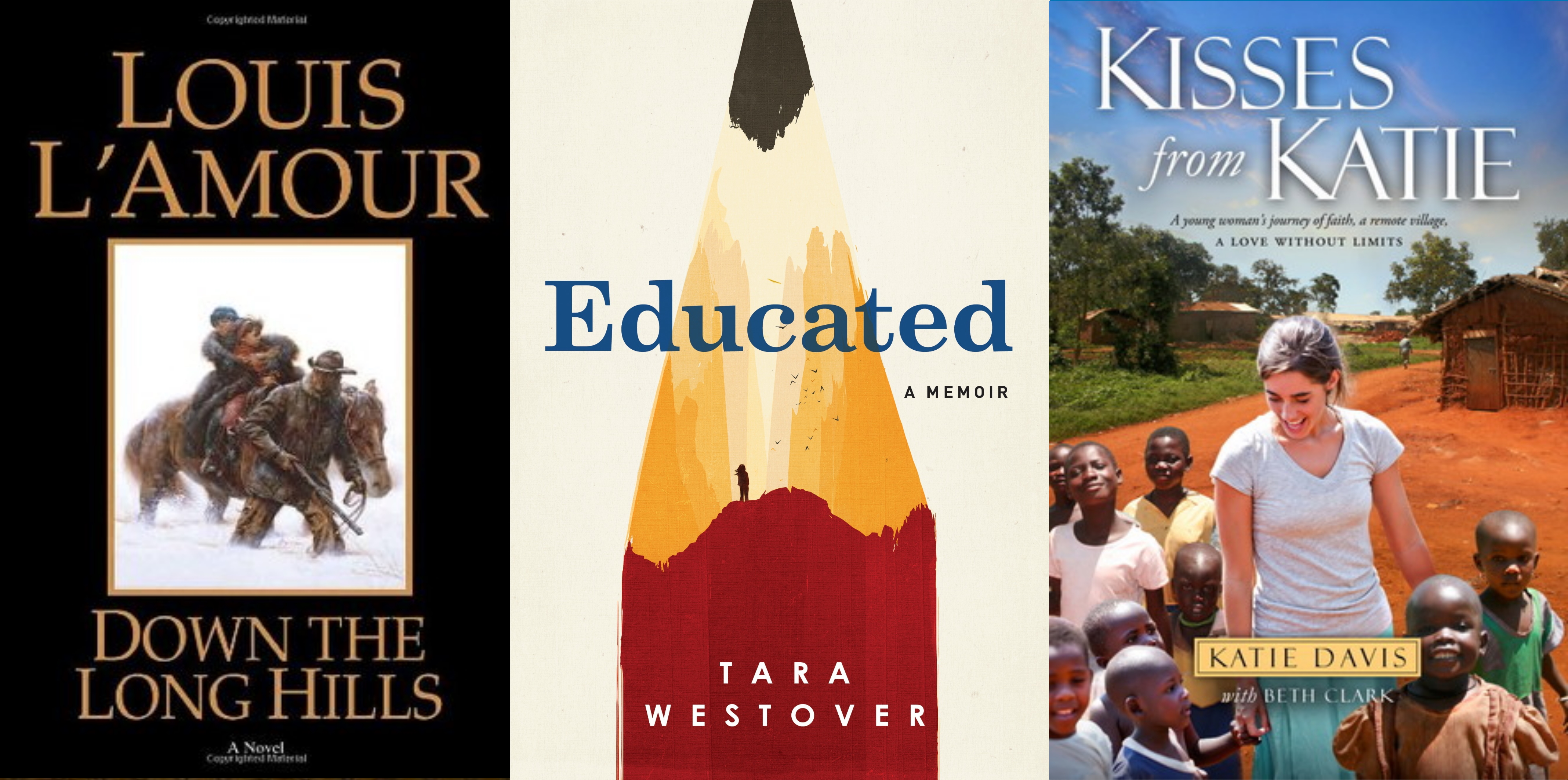 Down the Long Hills by Louis L'Amour*.
Enjoyed ♥♥♥♥
I had never read a western before, and I didn't expect to like this one very much, but this quick little read was surprisingly interesting! The story follows two young children who must survive the wild west without any adults to help. I truly enjoyed L'Amour's descriptions of the landscape as well as all the survival techniques he shared. It made me wonder how long I would last in the wilderness (not long, I think!). The story was quick and kept moving, and I was rooting for the two kids the entire time!
Educated by Tara Westover*. (Audible)
Enjoyed ♥♥♥♥
To say I enjoyed this book is…a little misleading. Tara's story is gripping and horrifying, and very well told. But (probably because it was horrifying…) I often felt like I was forcing myself to keep listening. The things her parents and her family put her through as a child were abusive and neglectful in ways I honestly cannot fathom. That being said, I would be lying if I didn't point out how uncomfortable I felt that she was obviously telling their story, too, without their permission or blessing, and the rest of the family is obviously not painted in a flattering light. Her story ended in a hard place, which felt very real, because who among us is in the middle of happily ever after? But I felt like I got to witness something (that may or may not be accurate, as Tara herself often points out) that maybe was private, that maybe shouldn't have been for public consumption.
Kisses from Katie: A Story of Relentless Love and Redemption by Katie Davis*.
Enjoyed ♥♥♥♥
I can honestly hardly even believe Katie Davis's story. I literally cannot wrap my mind around moving across the world alone at age 18, to a place where modern comforts are unheard of and disease and poor hygiene run rampant. I can't imagine seeing the needs there and wanting to stay and wanting to start an organization to do more, and believing that even though I do not have the resources, God will provide. And then, to take in 14 orphaned girls on top of the ministry and to do the hard work of raising them!? This is seriously one of the most captivating stories of faith and trust that I have ever heard. I loved reading how Katie poured her fears and her needs into the Lord, how she made mistakes but still looked to God to make a way through, how she was unquestioningly willing to make her entire life about anything that Jesus asked of her. I am convicted and inspired.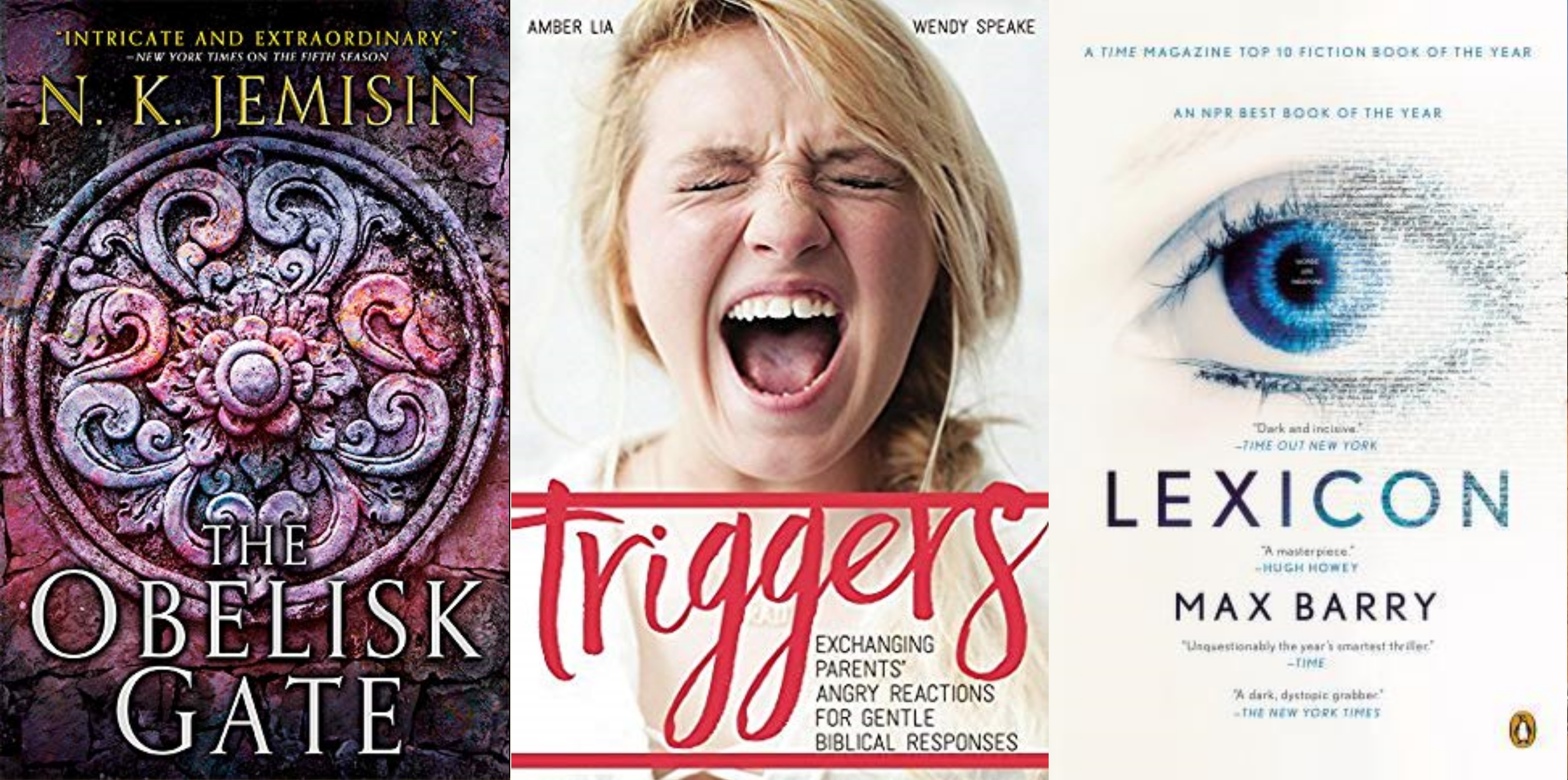 The Obelisk Gate by N.K. Jemisin. (Audible)
Loved ♥♥♥♥♥
This story picked right up from where The Fifth Season left off, and it was excellent! Heated action mixed well with introspection. We learned more about the world right along with Essun and Nassun, and many of the assumptions I built in the first book of the series came into question as I read this book. What is actually the good here? Who should I trust? In this book, the disparate histories of orogenes and the seasons and obelisks began to coalesce toward a larger purpose. I felt anxious throughout, wondering whether Nassun was safe, wondering whether Essun would put the pieces together, wondering if anyone could maintain a personal connection that would help. Robin Miles continued to be a wonderful narrator.
Triggers: Exchanging Parents' Angry Reactions for Gentle Biblical Responses by Amber Lia and Wendy Speake*.
Enjoyed ♥♥♥♥
Like moms everywhere, I struggle with anger. This book was so helpful in pointing out what kinds of things may be triggering my emotions, and also in suggesting ways to redirect those feelings. I love the idea of preparing my responses ahead of time, and also the idea that my purpose as a parent is to teach my children to be independently capable and wise, rather than to make them do what I want. This book addressed things others do that make us mad (external triggers) and things that happen inside us that cause us to blow up (internal triggers). Not all of them resonated with me, but over all, I got a lot out of this book, and it made me feel less alone in my struggle to respond graciously and with love!
Lexicon by Max Barry.
Loved ♥♥♥♥♥
This was my second time through the novel Lexicon, and it was just as thrilling as the first time! The story follows a young man, Wil Parke, who finds himself in the middle of a deadly fight, with no idea who the players are or how he got caught in it. It also tracks a young girl, Emily Ruff, who is learning to use her persuasive gift to control others…but first she must learn to control herself and her curiosity. There are words and promises and internal demons on this fast-paced journey of self-discovery. I literally could not put this book down.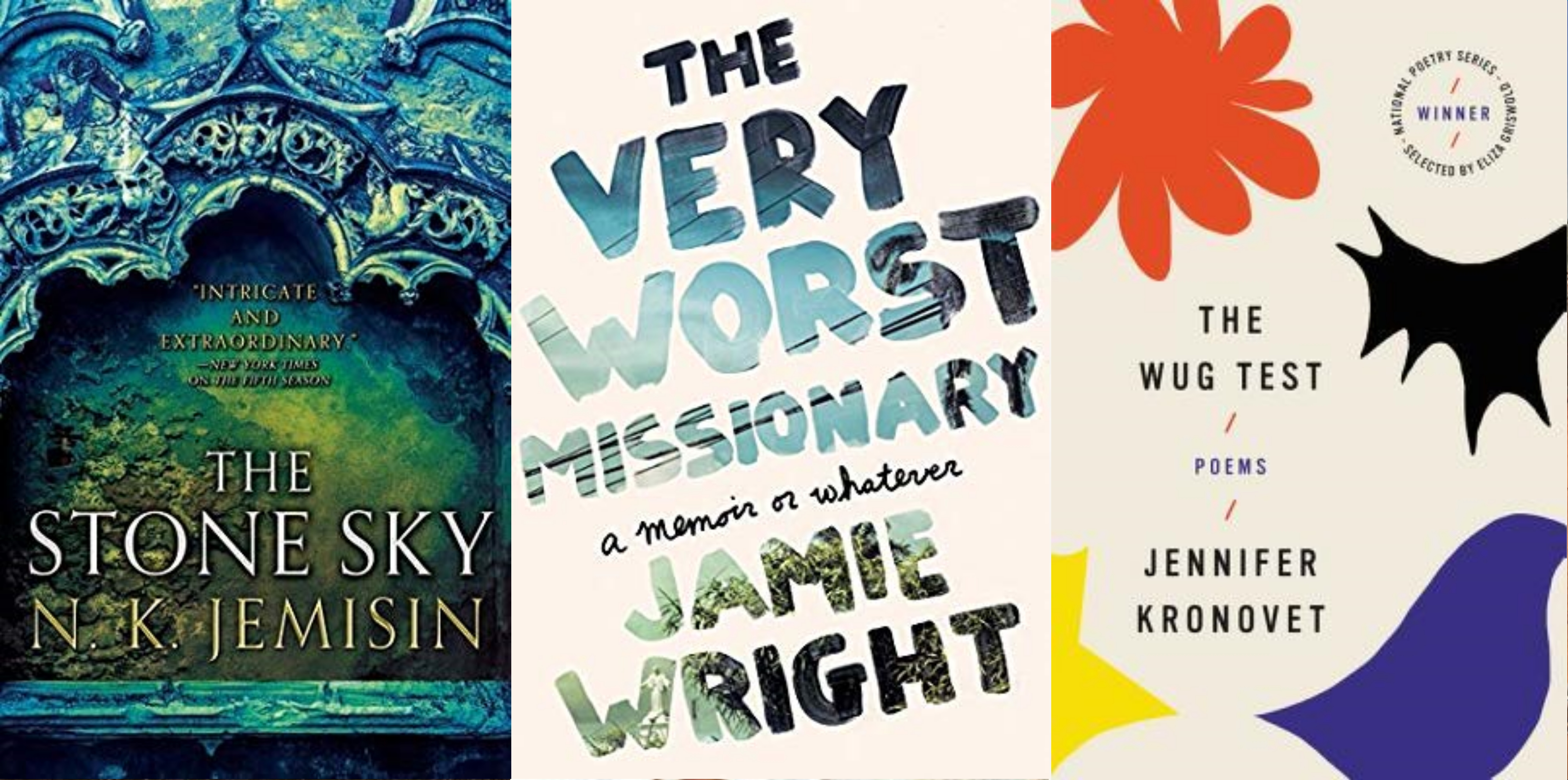 The Stone Sky by N.K. Jemisin. (Audible)
Enjoyed ♥♥♥♥
The third and final installment in The Broken Earth trilogy. I was so very eager to read this book, but like all endings, I found it a little disappointing. I loved that Jemisin found a new angle for the story, and went past second and third person tellings into first person tellings (through the eyes of a Stone Eater). But I found that as all my questions began to find their answers, they were not as clear or compelling as I'd hoped. Still a very engaging and interesting read, and I thought it ended very elegantly, but it was a bit of a let-down to find out why the world was as it was.
The Very Worst Missionary: A Memoir or Whatever by Jamie Wright*.
Enjoyed ♥♥♥♥
This book really made me think. Jamie Wright is definitely crass and occasionally inappropriate (and one of the first things I pondered is why our culture believes people are "more authentic" if they are less well mannered), but she does shine a bright light on major challenges in the modern evangelical church. Questions such as, "Why has church become a homogenous place in the U.S.?" and "What is the real purpose of world missions, and are we equipped to achieve it?" This book made me uncomfortable in good ways, and I recommend it to anyone who has ever desired to grow or share their faith or find their God-given calling.
The Wug Test: Poems by Jennifer Kronovet*.
Enjoyed ♥♥♥♥
This title immediately called to me. If you ever studied linguistics, you will know why. And if you ever studied linguistics, you will enjoy this slim little volume! The running theme of a boy learning language for the first time in adolescence is engaging, and the lyrical descriptions of various theories and linguistic skills made me feel right at home in a way I haven't since college. Short and lovely.
*Starred books were all part of the 2019 Reading Challenge
---
What are you reading these days? If you are doing the reading challenge with me, I'd love to catch up with you on Instagram or Facebook! Tag your reads under #savoredgracebookclub or #readingwithsavoredgrace.