My six-year-old son recently reported to me that my favorite food is salad.
Salad? I thought. No way. My favorite food is not salad. It's cheese.
In fact, my dirty secret is that I don't actually like to make salads.
You know what I'm talking about. If I have to spend an hour chopping things or cooking multiple different elements, I want to end up with something that feels more…indulgent than salad. As a result, I've been stuck hard for months in the bagged salad rut.
But as I got to thinking about my son's statement, I realized he might have a point. I almost always order salads at restaurants. And then I rave about them. I never wish I had ordered something else. It's really hard to disappoint me with a big dinner salad.
So I decided to give it another whirl at home. I pulled out a former favorite from my childhood: the southwestern salad. When I was a kid, this was a throw-it-together-last-minute kind of meal. We used canned meats and jars of salsa and piled our plates high.
I wanted to remake this salad, add a few new favorites (avocado!) and leave off things I knew my family wouldn't eat (canned tuna).
I still dumped store-bought salsa and ranch dressing on it, but also, a big squirt of lime juice. Keeping it simple…but a little more special.
And no one was surprised at all when I loved this salad so much the first time that I put in a little more effort the next time by adding roasted sweet potatoes. And holy moly, before I knew it, I was spending time chopping and roasting…for a salad.
I like to do all the prep work ahead of time, though. That way, when dinner rolls around, I am still just throwing a salad together at the last minute, pulling containers out of the fridge and piling everything on a plate. Because even though I acknowledge that salad makes a great dinner, I still want it to feel easy at 6:00.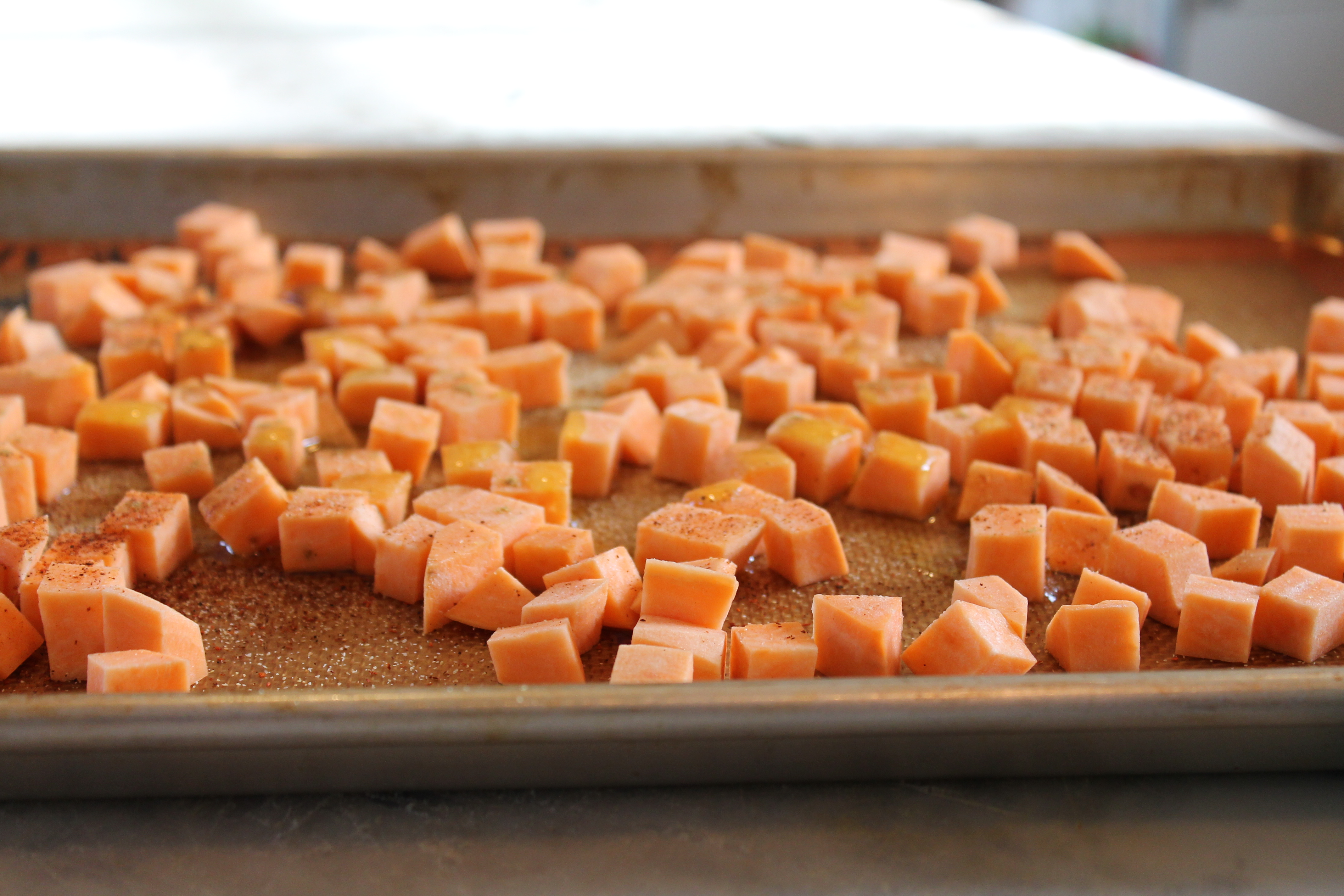 It is summer. It is July. It is hot. So I must recommend that you start your sweet potato roasting at the coolest time of day possible. Maybe you feel like that's 7am. Maybe it's 10pm. Either way it doesn't matter because you should totally get all the cooking done way before you plan to serve dinner.
Peel and cube a sweet potato (I like pretty small cubes, less than 1″). Toss the cubes with olive oil, cumin, garlic powder, a pinch of coriander and smoked paprika, and salt. Roast for 30 minutes at 425°, tossing once in the middle. The edges of the sweet potato should be browned and crisp.
When you pull the sweet potato out of the oven, squeeze half a lime over the pan and toss to mix.
You can store this sweet potato for up to a week in the fridge. As I said, I really like to do the roasting ahead of time, because I do not want to be all over the place when I'm trying to serve dinner (and I do not want my oven on if it's sweltering outside).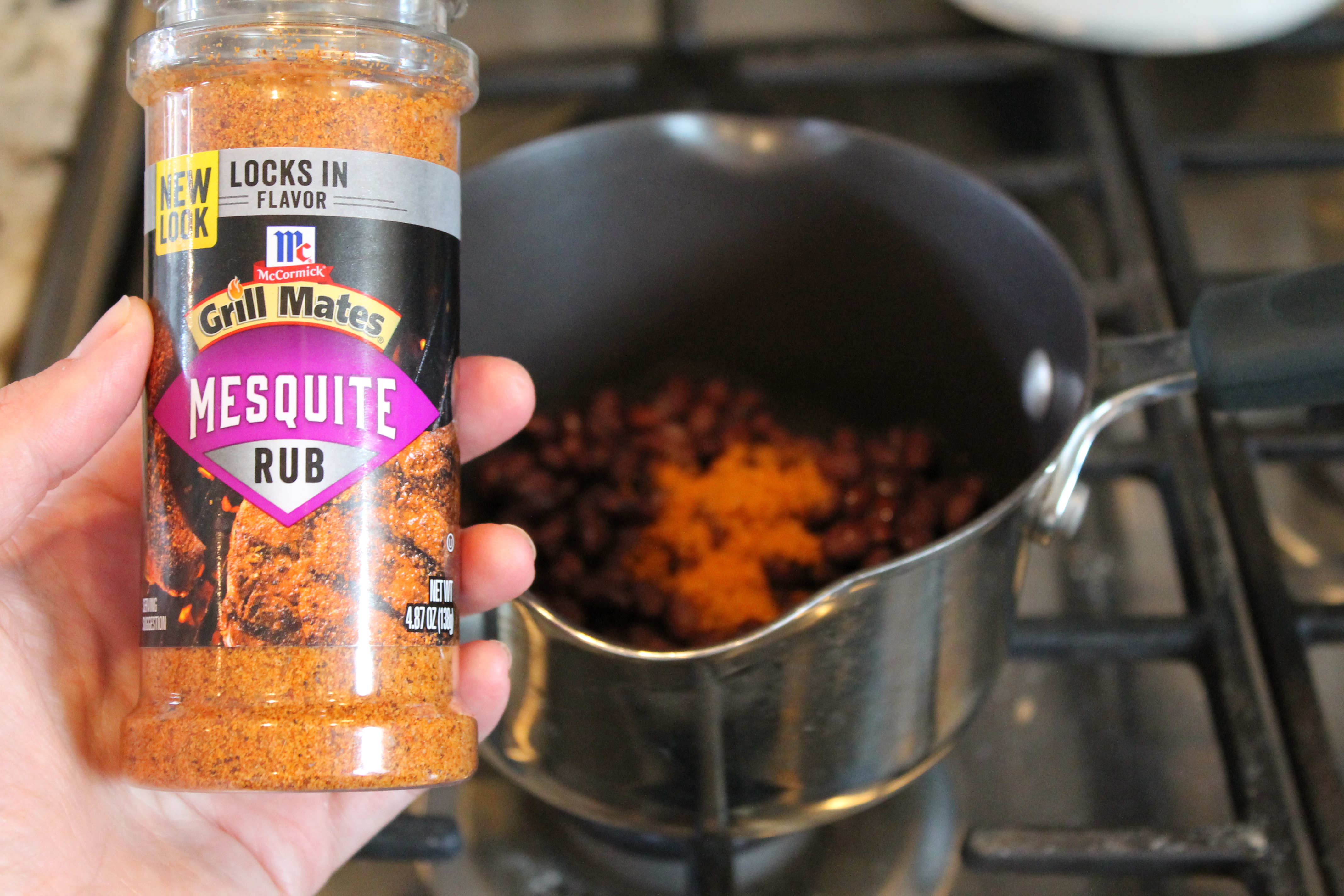 While the sweet potatoes are roasting, rinse a can of black beans and toss it into a pot with a swirl of olive oil, a splash of water, and half a teaspoon of mesquite seasoning. This will give your beans an extra zing and a smoky tang without being overwhelming! Throw in a handful of frozen corn and let the pot warm until the liquid has cooked down and everything is lightly saucy with smoky, spicy mesquite.
The beans, too, can keep in an airtight container in the fridge (although it is lovely to have warm beans on your salad if the weather isn't boiling). Just remember—if you do prep the beans ahead but want to warm them at dinner time—canned beans can contain traces of aluminum from being in the can, and therefore they should not be warmed in the microwave.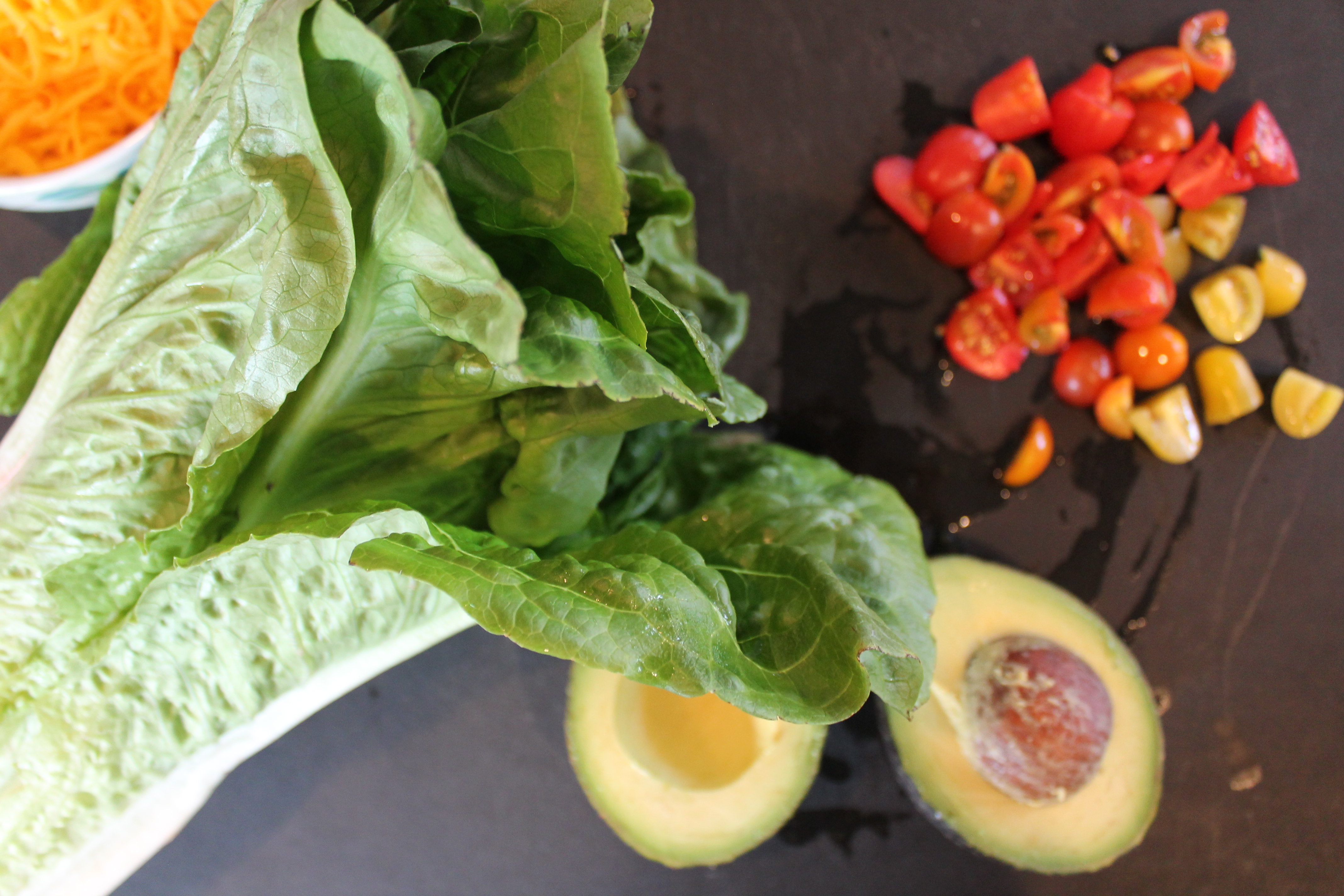 Now all that's left is a bit of chopping. To my romaine lettuce, I usually add an avocado and a generous handful of chopped tomatoes. And don't forget shredded cheese!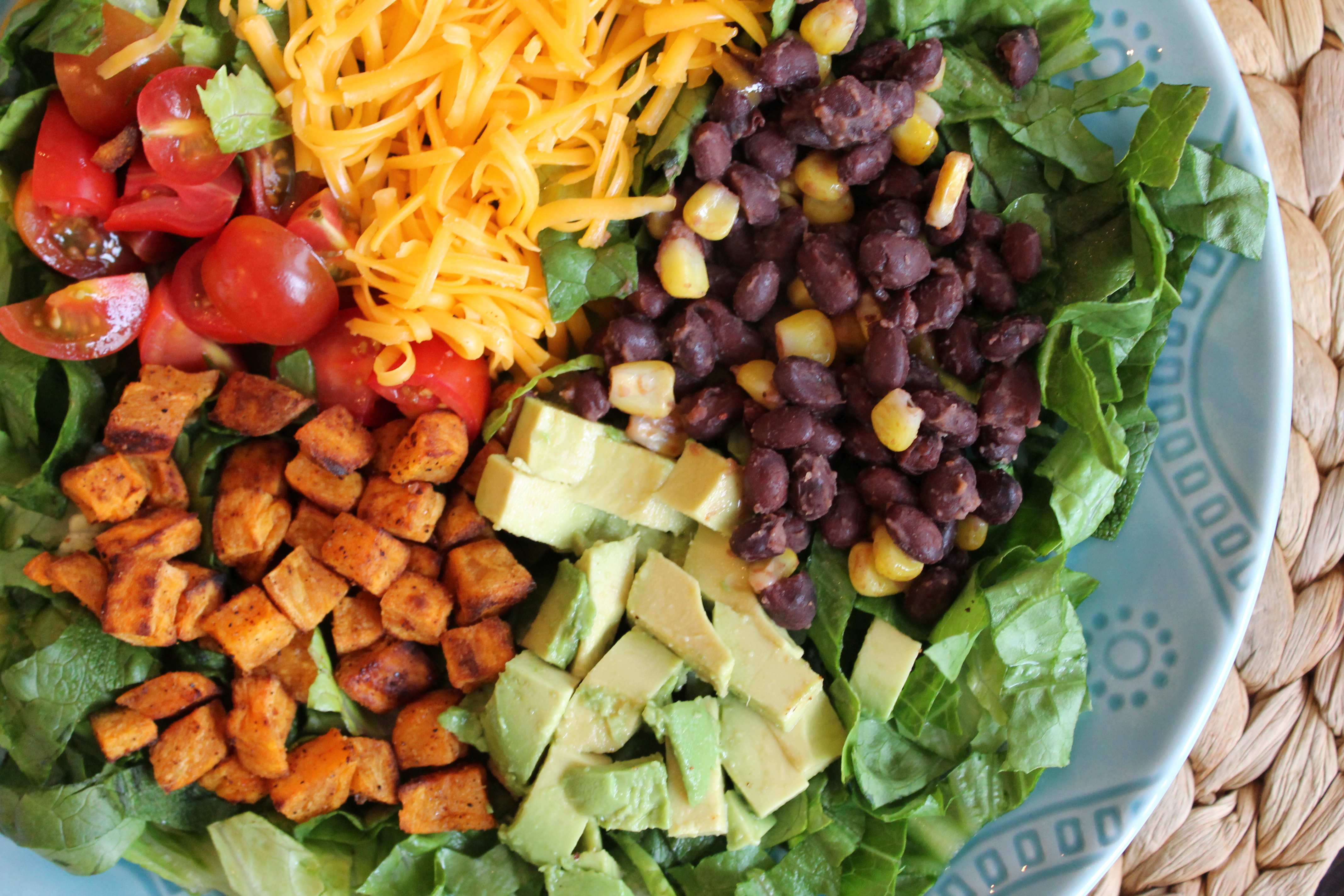 For this meal, I let everyone crowd around the kitchen island and toss food directly from the containers onto their own plates. (No, I do not usually assemble my salad to look like wedges of ingredients. That was just for you.)
Spoon a generous amount of your favorite salsa onto your salad, followed by another generous drizzle of your favorite ranch dressing. I love to finish up with a squirt of lime, because the hint of sour really brightens the heavy creaminess of ranch.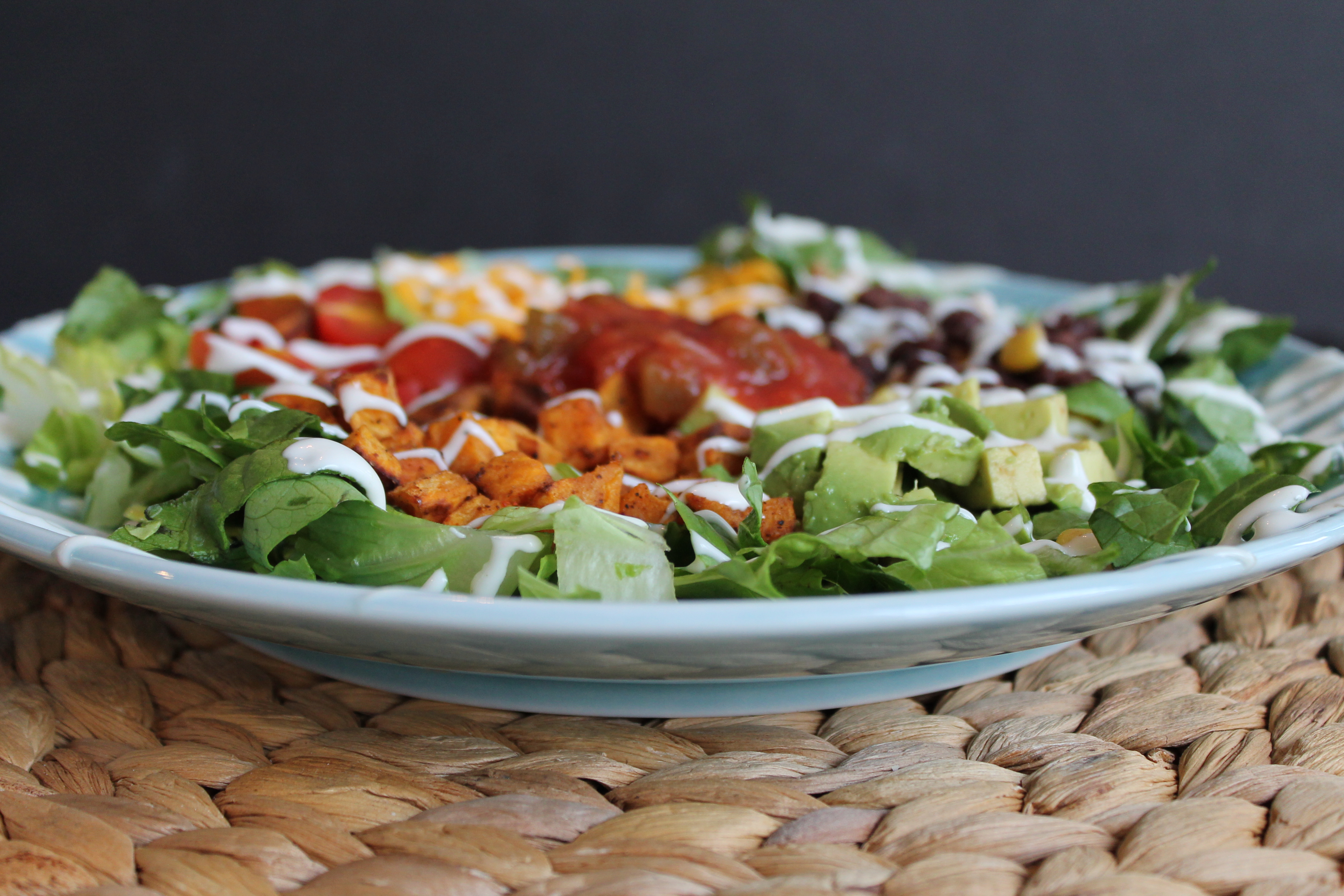 So…yes. By the time I turned this into my version of a perfect salad, it involved pans of roasted sweet potatoes and pots of beans. It got a little more complicated. But the end result was so worth it!
Go forth and make salad.
Southwestern Salads with Cumin-Roasted Sweet Potato
Ingredients
Cumin-Roasted Sweet Potato
1

medium

sweet potato,

peeled and cubed (medium dice)

2

tbsp.

olive oil

1

tsp.

cumin

½

tsp.

garlic powder

pinch

of

coriander

pinch

of

smoked paprika

salt and fresh ground black pepper

½

lime,

juiced (about 1 tsp.)
Salad Fixings
1

can

black beans,

drained and rinsed

1

tbsp.

olive oil

½

tsp.

mesquite seasoning

¼

cup

frozen corn

2

heads

romaine lettuce,

well chopped

15-20

cherry or grape tomatoes,

halved

1-2

large

avocados,

diced

½

cup

shredded cheddar

mild salsa,

to taste

ranch dressing,

to taste

1

lime,

cut into wedges
Instructions
Cumin Roasted Sweet Potatoes
Heat oven to 425°. Line a rimmed baking sheet with foil or a Silpat.

Toss the cubed sweet potato with olive oil and seasonings and lay flat on the prepared baking sheet.

Roast for 25 minutes, shaking the pan at least once partway through to encourage even browning.

Toss the sweet potatoes with lime juice and set aside.
Salad Assembly
In a small pot, combine the black beans, remaining 1 tbsp. olive oil, and mesquite seasoning with about ¼ cup water. Heat until bubbling, stirring occasionally. Add the corn and stir to combine. Continue to heat until the liquid has reduced to a thick coating. Remove from heat.

Distribute lettuce on 4 plates. 

Top generously with the roasted sweet potatoes, cooked beans, tomatoes, avocado, and cheese. 

Pour prepared salsa and ranch dressing over the salad, as much or as little as desired. Spritz with lime juice from the wedges.
Notes
The sweet potatoes and black beans may both be prepared ahead of time and stored in an airtight container in the refrigerator up to 1 week.
Enjoy!
♥ Melissa