As many of you know, I am not a fruit eater. I know, I know, that sounds crazy, especially for someone who spent 7 years as a vegetarian.
I will tell you point blank that I have never missed fruit. I am in no way sad about "missing out" on fruity desserts, I have no problem picking your precious strawberries and craisins out of an otherwise perfectly delicious salad.
The only time I ever felt envious of less picky eaters was when smoothies went green. I wanted in on that, badly.
But, of course, I will never, ever voluntarily eat a banana…and most green smoothies are full of bananas, to mask the green flavor. Which, in my opinion, is moving in the wrong direction.
So here's my compromise: apples.
Apples are super sweet. People always say that bananas are the sweetest fruit, but a medium-size apple actually contains more natural sugar than a medium-size banana, and its glycemic index is lower! This means that when you eat an apple, it causes less of a blood sugar spike than when you eat a banana. Plus, bonus, you can more easily eat apple skin than a banana peel, which means you get more fiber! Apples are high in vitamin A (eyesight), vitamin C (immunity), vitamin E (antioxidants), and vitamin K (blood clotting & bone density). Apples can reduce cholesterol and fight viruses. No wonder they say an apple a day keeps the doctor away.
Ditch the bananas.
(Not that I am biased against bananas or anything.)
Anyway. About two years ago, I set about finding a green smoothie recipe I could actually enjoy, and here it is! I always love eating my greens for breakfast, and you should, too!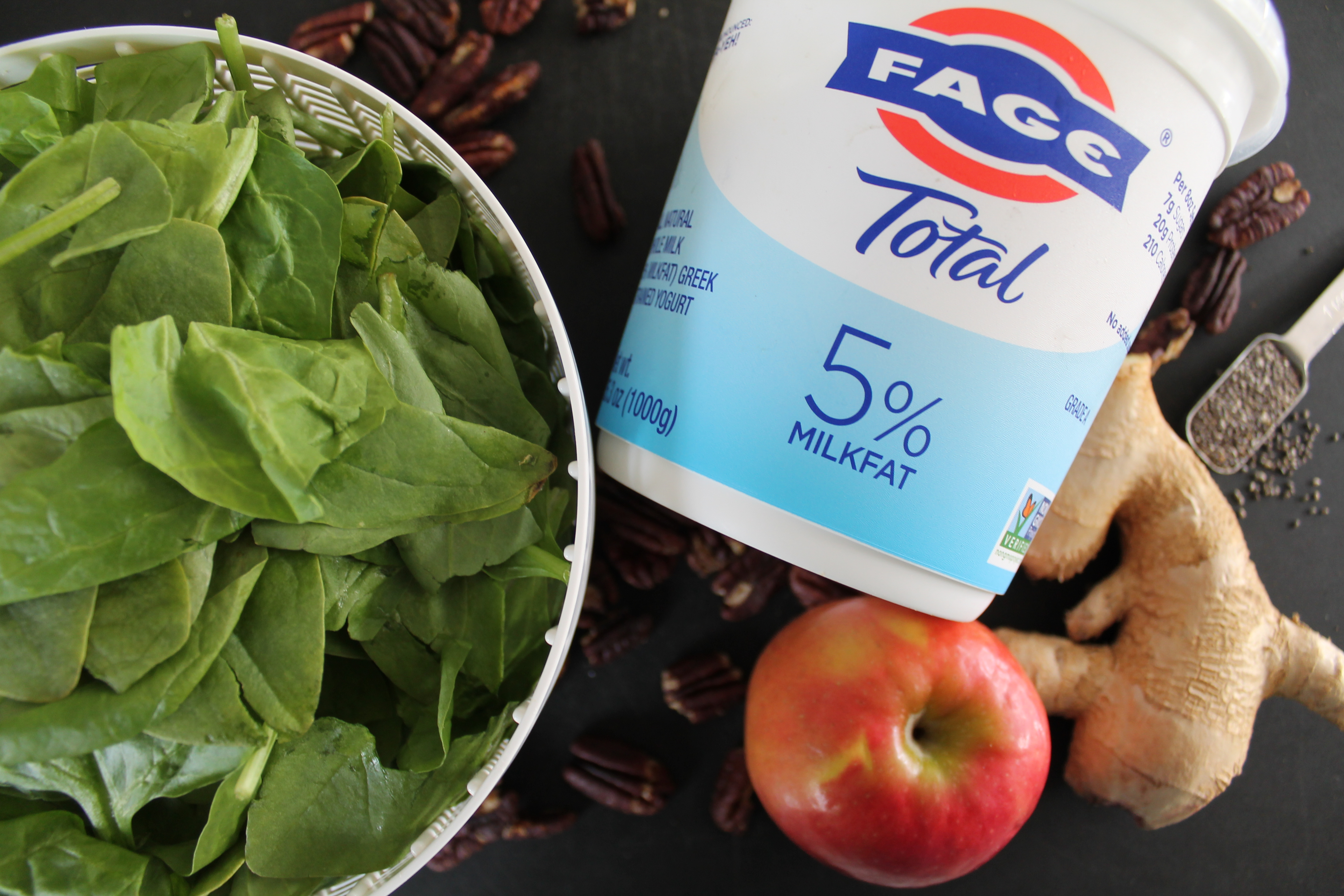 This smoothie is full of spinach, ginger, toasty nuts or nut butter, whole-milk yogurt, and apple. There are no additional sweeteners like honey, but I find it rich and mildly sweet, which is just perfect for me.
Before you ask, I have tried all kinds of substitutions and omissions for different dietary requirements, and they are all gross. This smoothie really, really wants the creaminess of yogurt, otherwise the mouthfeel is something akin to liquid salad (note: I do not enjoy non-dairy yogurts, and typically do not spend the money on them, so I have not tested this recipe with non-dairy yogurt, but I have tested this recipe subbing avocado, extra coconut milk, and ice cubes for the yogurt, and I truly prefer the whole milk Greek yogurt!).
The best nuts for this are toasted pecans, but almond butter will do in a pinch; but don't skip the nuts, or you will be missing out on a rich, dark flavor that balances out the bright sweetness of the apple.
Sure, you could substitute kale or any other green, but I recommend a baby version if you do, because kale has a much tougher texture and stronger flavor than spinach, which is what I always use.
If you do not have an especially powerful blender (I use a NutriBullet), then you may want to peel your apple before dropping it into the blender. I also recommend chopping up the ginger before adding it in, because even with a very powerful blender, those gingery fibers are hard to get completely smooth!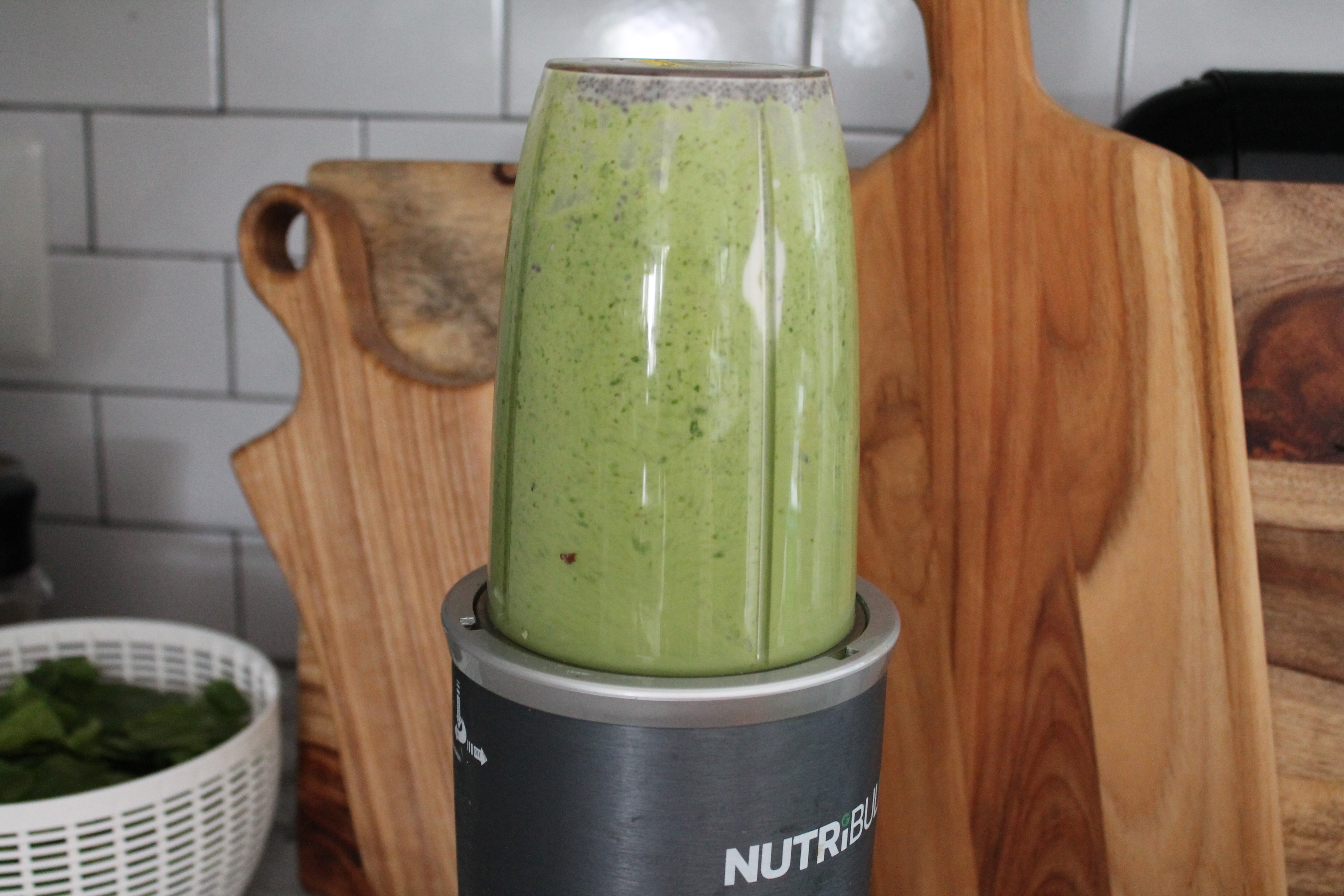 So. If you've ever made a smoothie, you know it is easy! Just throw all your ingredients into the blender and whiz until smooth! I usually put my greens on the top and all my heavier ingredients on the bottom, but that probably doesn't make much of a difference in the grand scheme of liquifying everything!
If you like a really cold smoothie, throw in a few ice cubes at the end!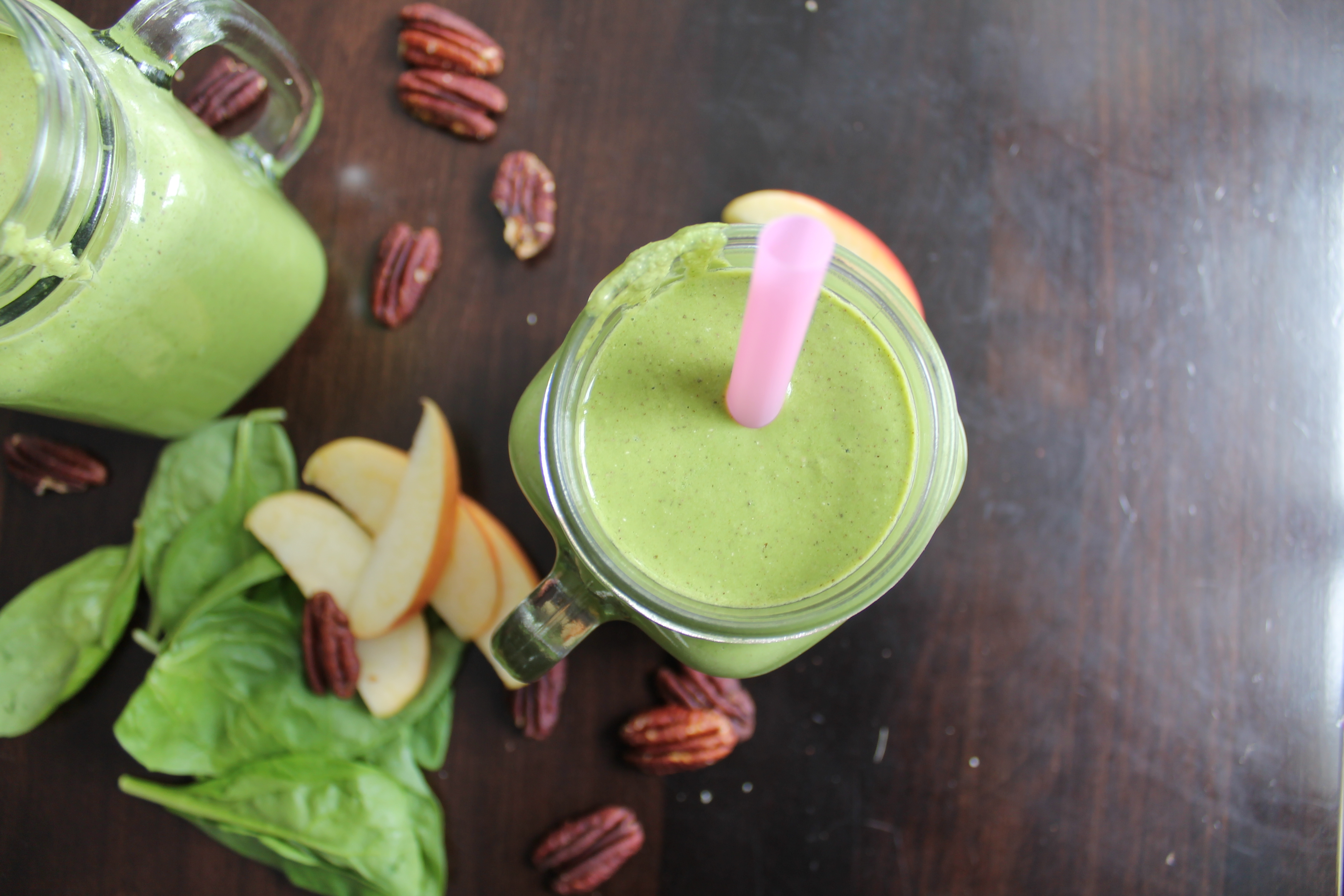 And breakfast is served. This smoothie is full of fiber, healthy fats, naturally occurring sugars, and many vitamins and minerals. It's also anti-inflammatory, thanks to the hearty dose of ginger!
Creamy Green Smoothie with Apple and Ginger
Ingredients
½

cup

unflavored, unsweetened non-dairy milk of choice,

such as almond milk or coconut milk

2-4

tbsp.

whole milk Greek yogurt

1-1½

packed cup

baby spinach

½

large

Gala apple,

cored (and peeled, if desired)

6-8

pecan halves,

toasted

½

inch

fresh ginger,

peeled and roughly chopped (about 1 tsp.)

1

tsp.

chia seeds
Instructions
Throw all the ingredients into a high speed blender. Blend until smooth.

If you like an especially cold smoothie, throw in a few pieces of ice at the end and blend again.