It's probably a sin to admit this, but…I don't really like crusty bread.
*gasp!*
Crackly crusts hurt my mouth. I don't like it when the soft center of the bread squashes as I try to bite into it.
I'm basically a bread pariah.
This is probably why I love sandwich loaves so much. By their nature, they are sturdy and have soft crusts. And let's be honest, if I could only eat one kind of food for the rest of my life, it would probably be sandwiches.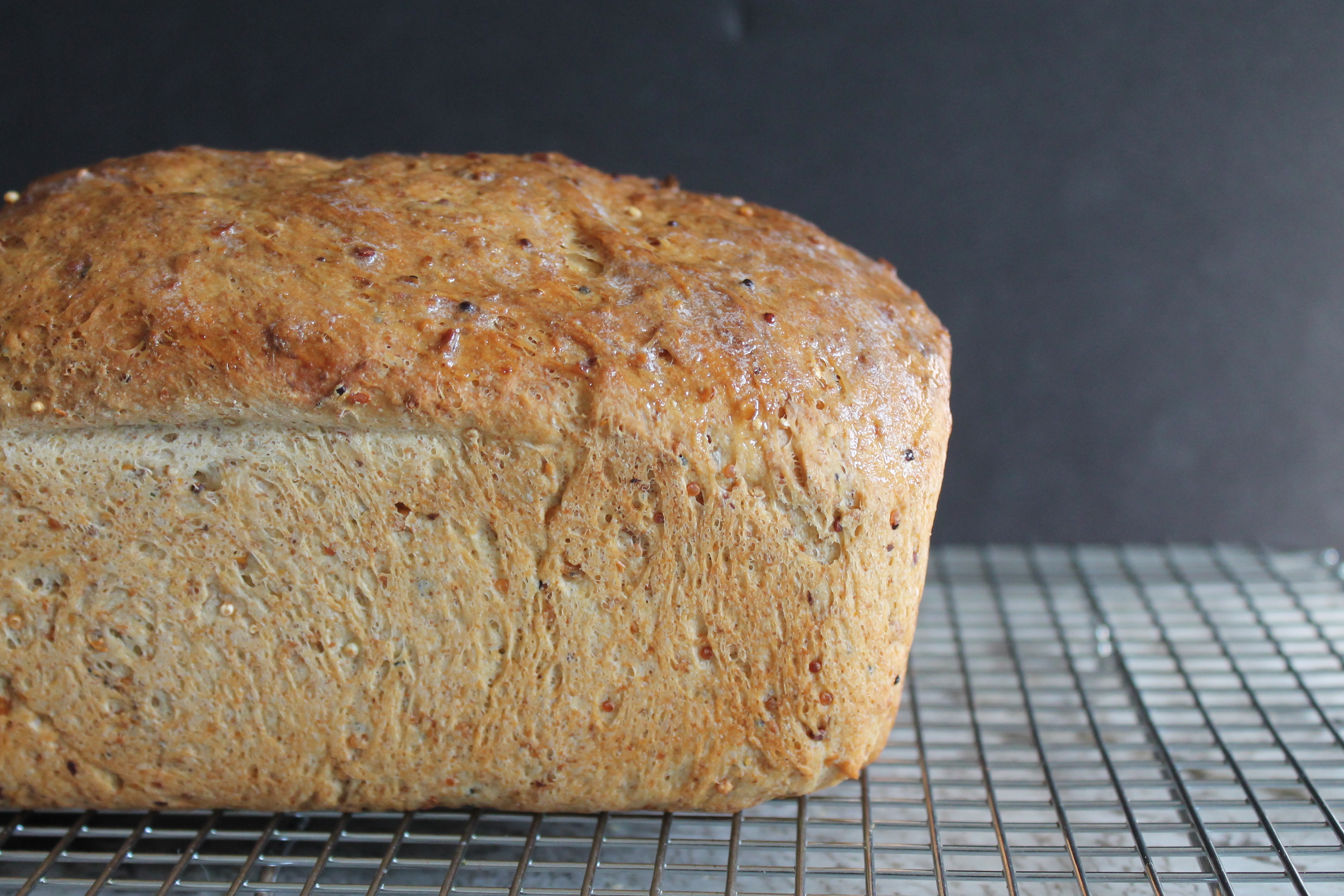 I've been trying to find the perfect whole grain sandwich loaf recipe for years. And I'm happy to report that I finally found a multigrain bread that I would make again and again! (And I have. #thankyoucoronavirus)
Here's what I like about this bread: it makes a light, airy loaf, full of whole grains. It's grainy but doesn't taste like a health food. My kids will eat it happily.
It also uses comparatively little yeast and flour, which is ideal while so many ingredients are scarce.
This recipe makes a smaller loaf, which I think is ideal in homemade breads, because they are not full of preservatives to help keep them softer for longer. You can make 8-10 sandwiches out of this loaf, depending on how thinly you slice. That lasts 3 days in my house, which sounds short if you think you want to serve sandwiches every day of the week, but is perfect in terms of bread texture!
Let's start baking.
This is an all-day bread, I'm afraid. But hey, most of that is ignoring the dough, so don't stress!
First, we soak the porridge.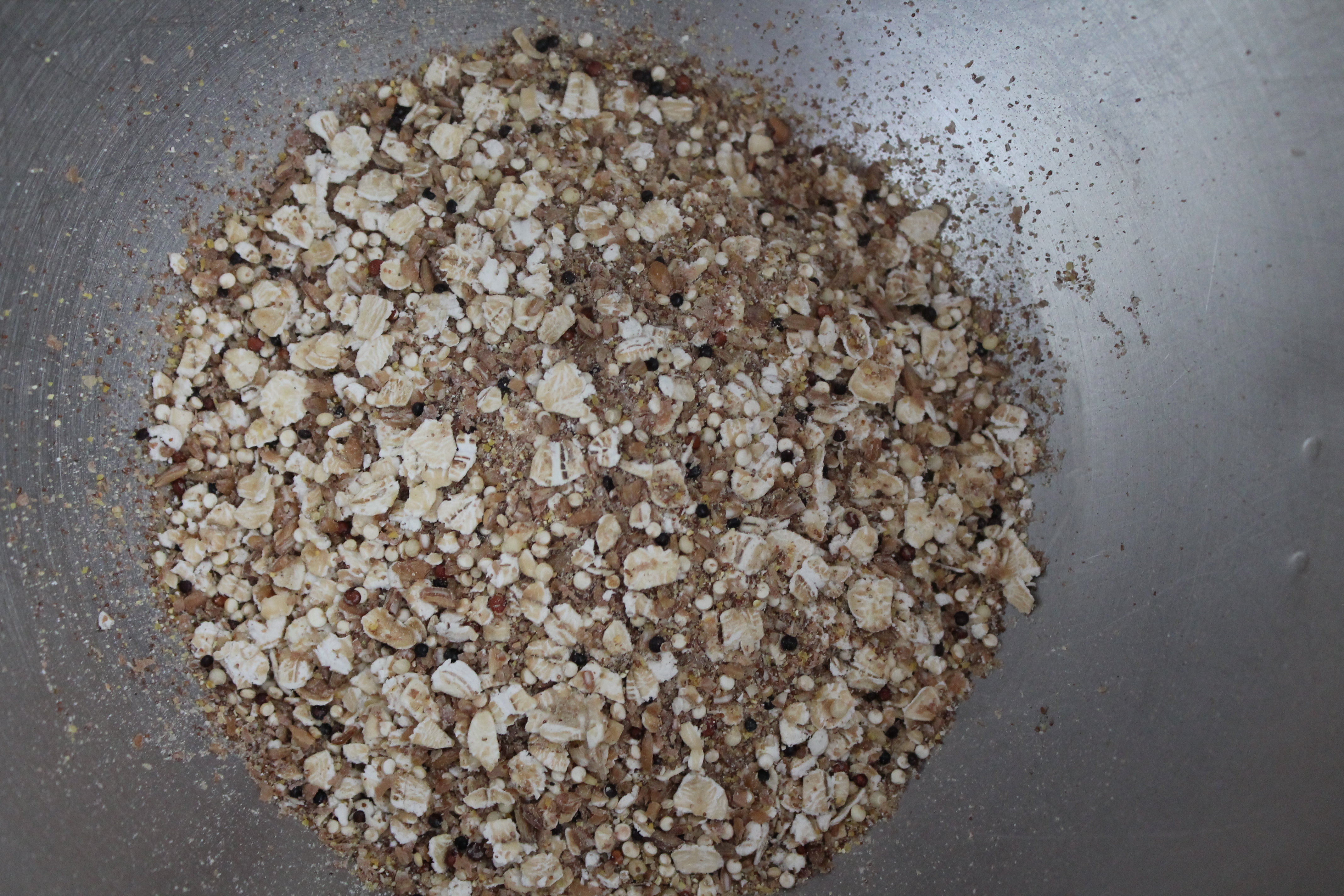 I make my own grain mix, which was a combination of whole grains and flours. I use what I have on hand, aiming for seven grains (because America's Test Kitchen recommended Bob's 7-Grain Hot Cereal mix in their original recipe). The grains I usually use are: rolled oats, wheat bran, quinoa, millet, bulgur wheat, teff, and cornmeal. I have made this cereal mix several times, and lately, I've been having to get a little more creative as I run out of things (#thankyoucoronavirussupplychain). The beauty of making your own grain blend is that you can tailor it however you like to use whatever you have. You could add whole grain rice, spelt, or barley, or if you're desperate, you could mix in a few special flours like rye flour. I believe Bob's mix is pretty uniform in size, but mine is not. No matter, it will all even out!
We measure this by weight. Yes, sorry, you do need to measure by weight. I can tell you that my mix is about ½ cup plus 2 tbsp. in volume, but if you make a different mix than I have, your volume might be different.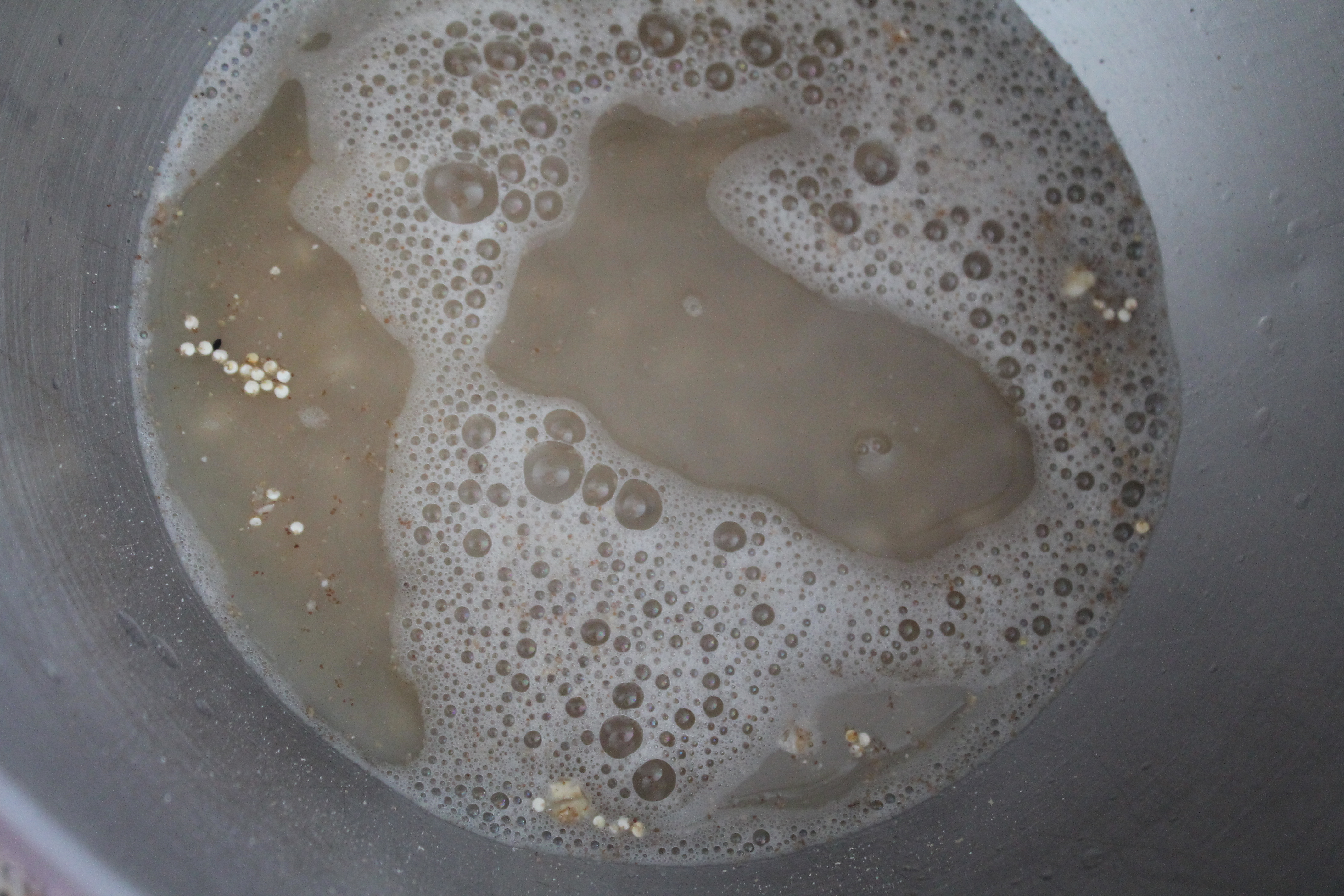 So. Measure 3 oz. of your grain mix into a large mixing bowl, and then pour 1¼ cups boiling water over it. Set a timer for an hour and let it soak until the water has cooled nearly to room temperature.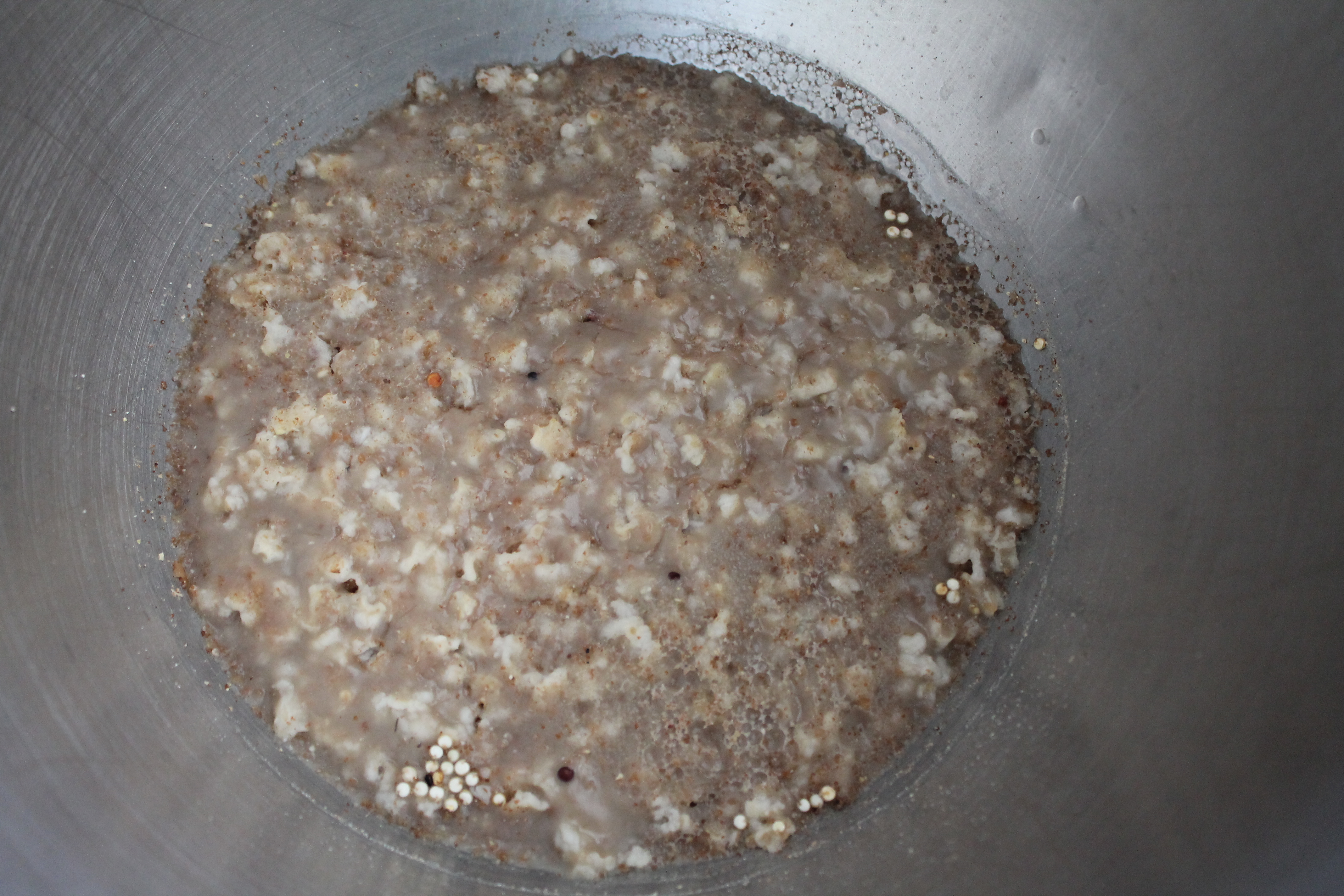 When the hour is cup, come back and stir the mixture. It will be quite thick! Sprinkle yeast over it. You can use either active dry yeast or instant yeast. Instant yeast will start producing gas bubbles right away, while dried yeast needs to soak for 10 minutes to wake up. If you used dry yeast, stir it in and wait 10 minutes. For active yeast, go ahead and move on.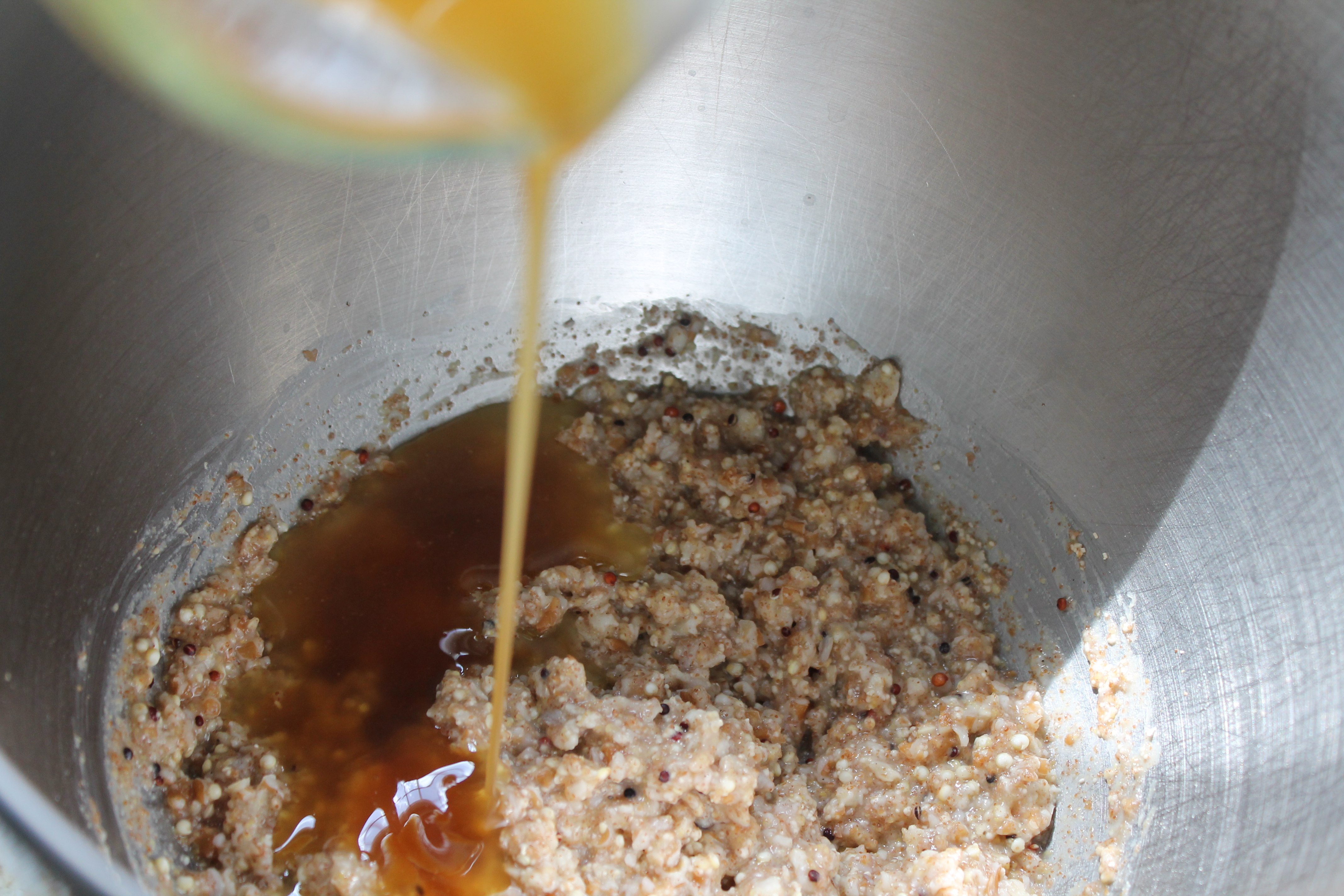 Stir in melted unsalted butter and honey. Guess what? Salt inhibits yeast a bit. Normally this isn't such a big deal, but the yeast has to work really hard in a whole grain loaf to help the bread keep rising against all the weight of the heavy grains. If you don't have unsalted butter, use a neutral-flavored oil instead.
I usually mix the honey and butter together before adding them to the grain mix.
Next, whisk together your flours. I prefer white whole wheat flour for flavor, but you can use unbleached whole wheat flour just as well. Or, heck, you could use rye or spelt or any other kind of whole grain flour you still have on hand. (Surprise! Rye flour does not have a strong flavor; all the rye breads you are thinking of are flavored with caraway. So you will not end up with the classic rye bread taste if you use some rye here.)
You can use exclusively all-purpose flour if that's all you have. If you use only white flour, you will likely need to add extra because it is lighter than whole grain flour.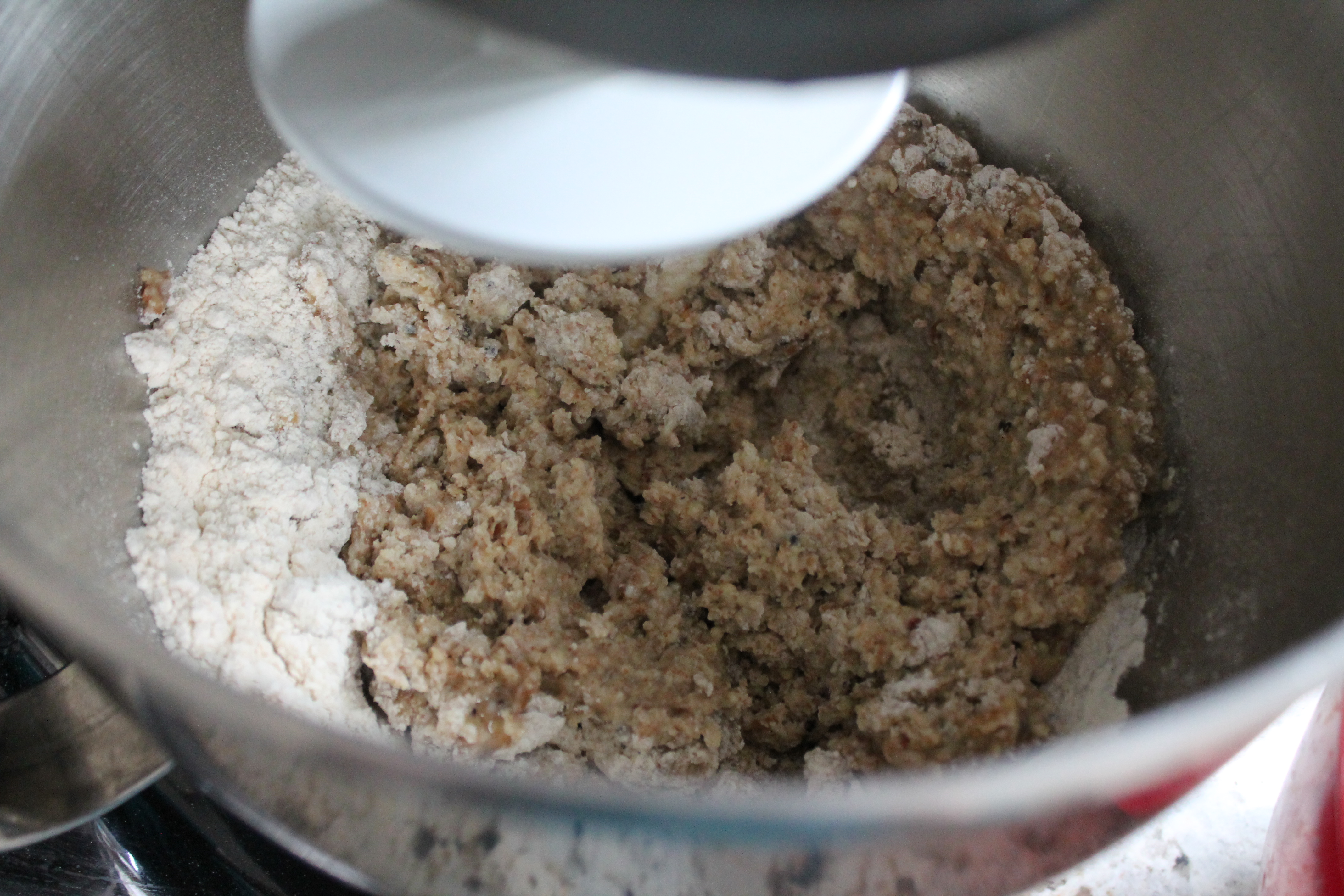 Add the flour to the cereal mixture about half a cup at a time, stirring in between with the dough hook. You probably won't need to scrape the sides of the bowl, because as the dough gets thicker, it will grab all the extra bits of flour around the edges.
When you have added all the flour, take a look at the dough ball. It should be tacky, but not sticky, and it should be able to shape into a ball. If it appears dry, add 1-2 tbsp. water. If it is still clinging to the edges of the bowl rather than the dough hook, add flour a few tablespoons at a time until the dough can hold a soft shape.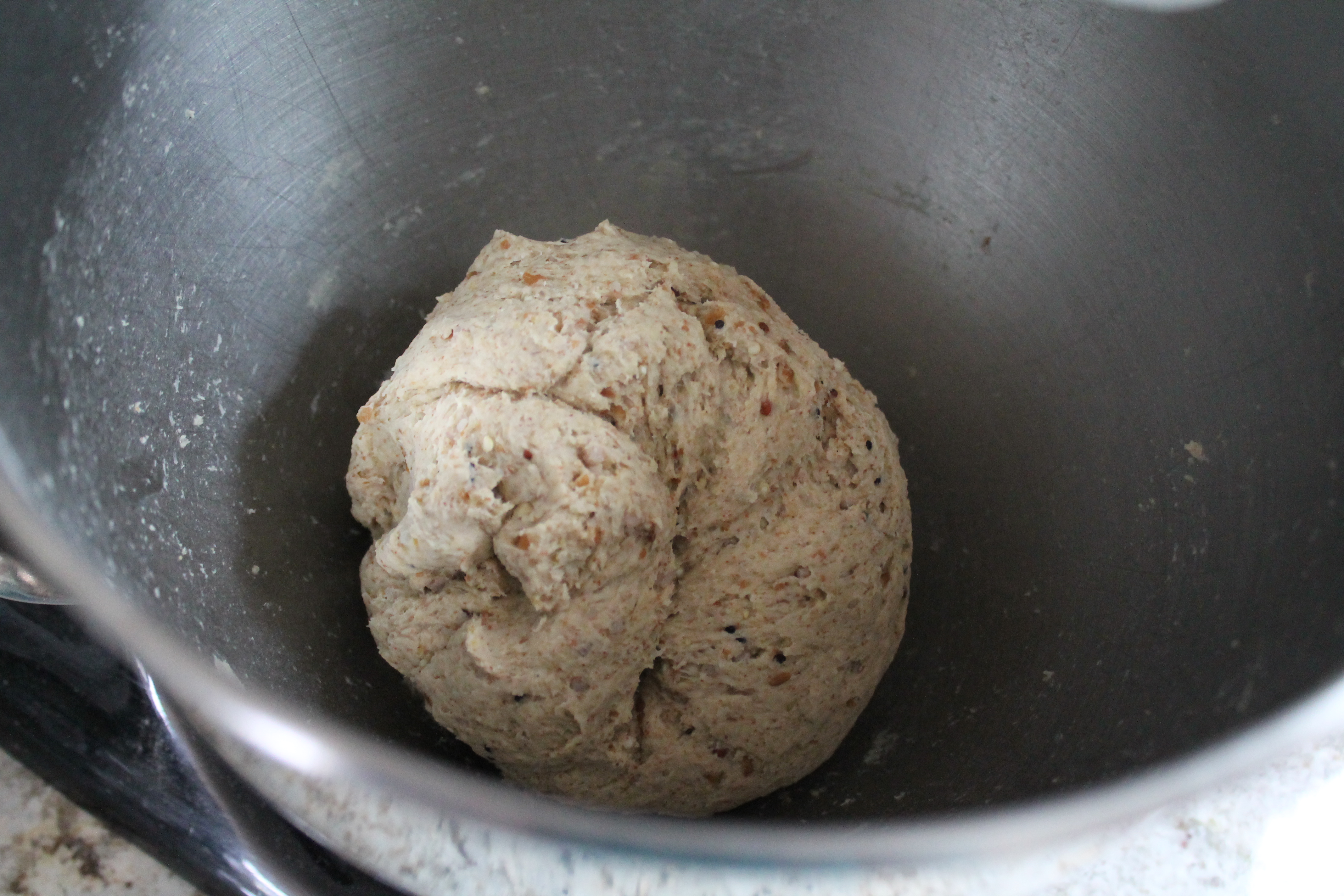 Knead for 5 minutes with the dough hook.
Cover the bowl with plastic wrap and let it relax for 20 minutes.
After 20 minutes, stir in the salt. Get it mixed in real well.
By this time, the dough should be firm, a bit stretchy, and somewhat sticky. I end up with a fine film of dough on my hands when I knead, but it's not so sticky that my hand is swallowed.
So. Hand kneading! Just a little, don't panic.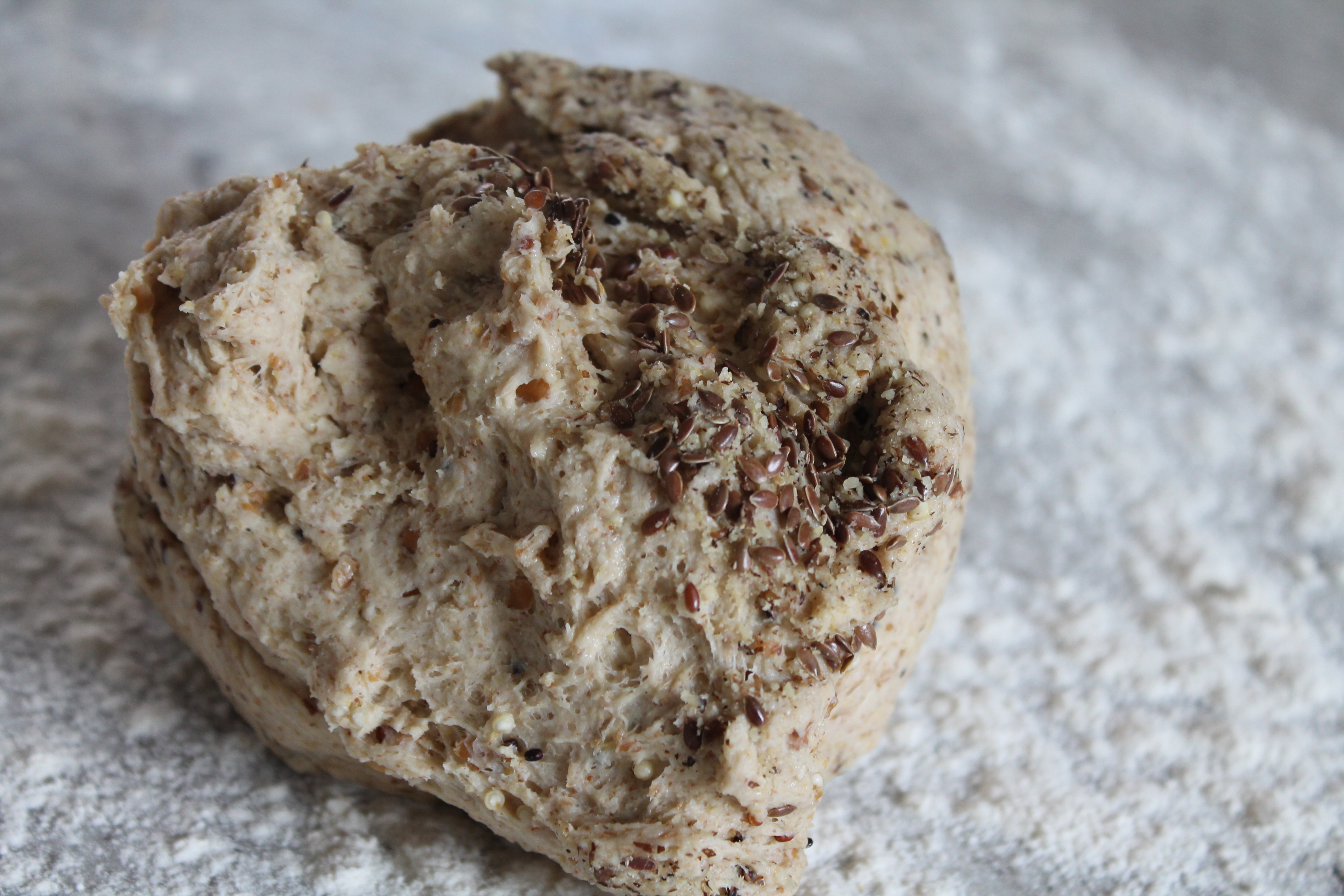 Dump a few seeds or finely chopped nuts onto a clean counter and lay the dough ball on top. Knead the dough several times, until the seeds/nuts are worked through the dough.
(As you can tell, in this picture I also floured the counter. That's not necessary, but if your dough is feeling super sticky, you can definitely knead on a floured surface!)
Personally, I knead in a tablespoon of walnut "flour," which is just finely chopped walnuts (not actually ground into a flour) and a teaspoon of flax seeds. I love putting walnuts into things, both because they are very good for you, and because my daughter Caitlin is required to eat walnuts regularly as part of ongoing allergy recovery (but she would never eat a whole walnut—yes, I am sneaky). Other options include sunflower seeds, sesame seeds, or even pepitas.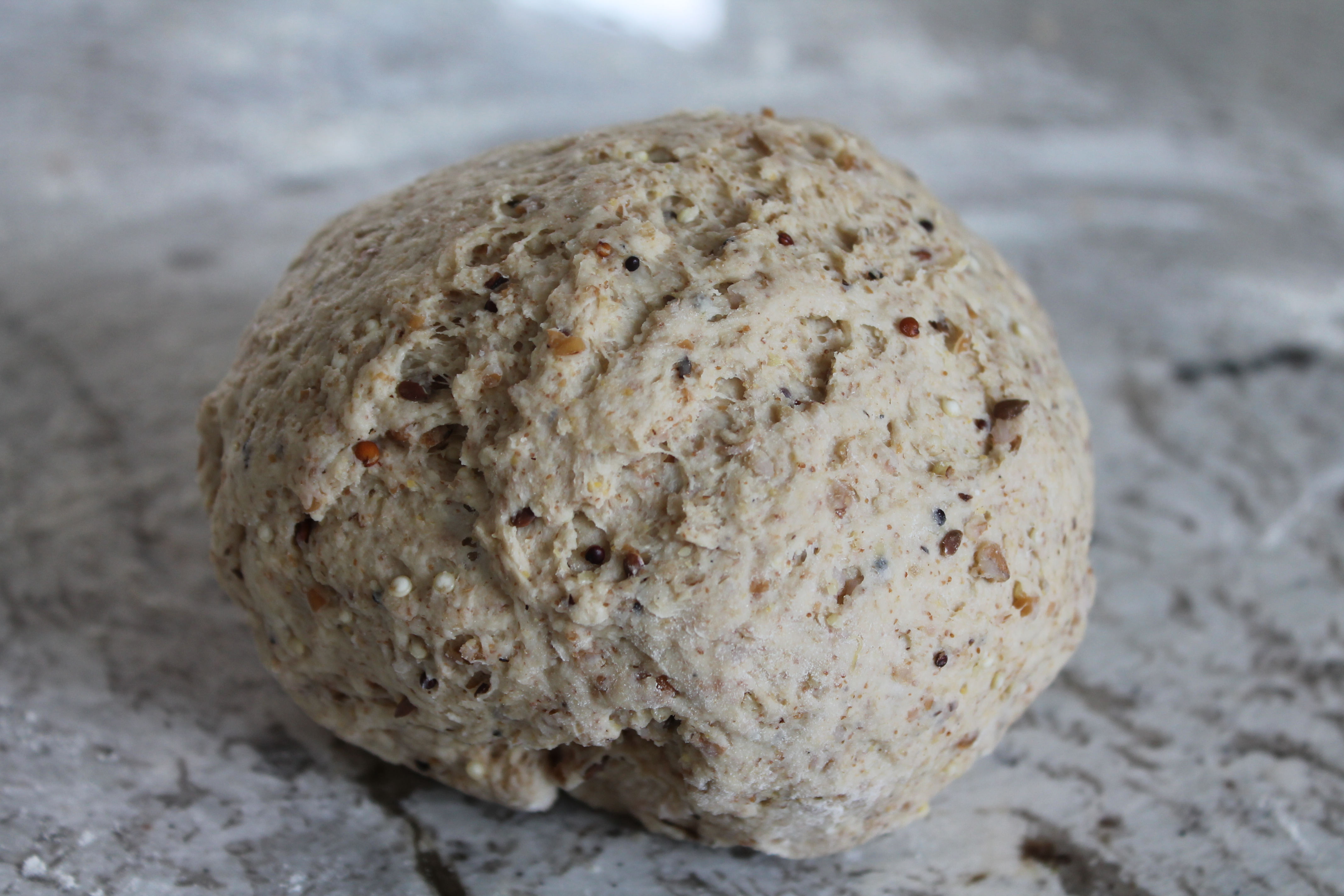 Shape into a ball and drop the ball into a large, lightly oiled bowl. Turn the dough around to coat with oil, then cover the bowl tightly with plastic wrap.
Set in a warm place to rise for an hour.
I like to sit my dough in the oven and turn the oven on to 100° (or "Bread Proof" in some ovens). If your oven can't go that low, then the next best trick is to use your microwave to create a warm environment. Fill a mug with water and then microwave it for 2 minutes. The inside of the microwave will get steamy, and the water will hold head for quite a while. Stick the bowl of dough into the warm microwave with the water and shut the door. Come back in an hour.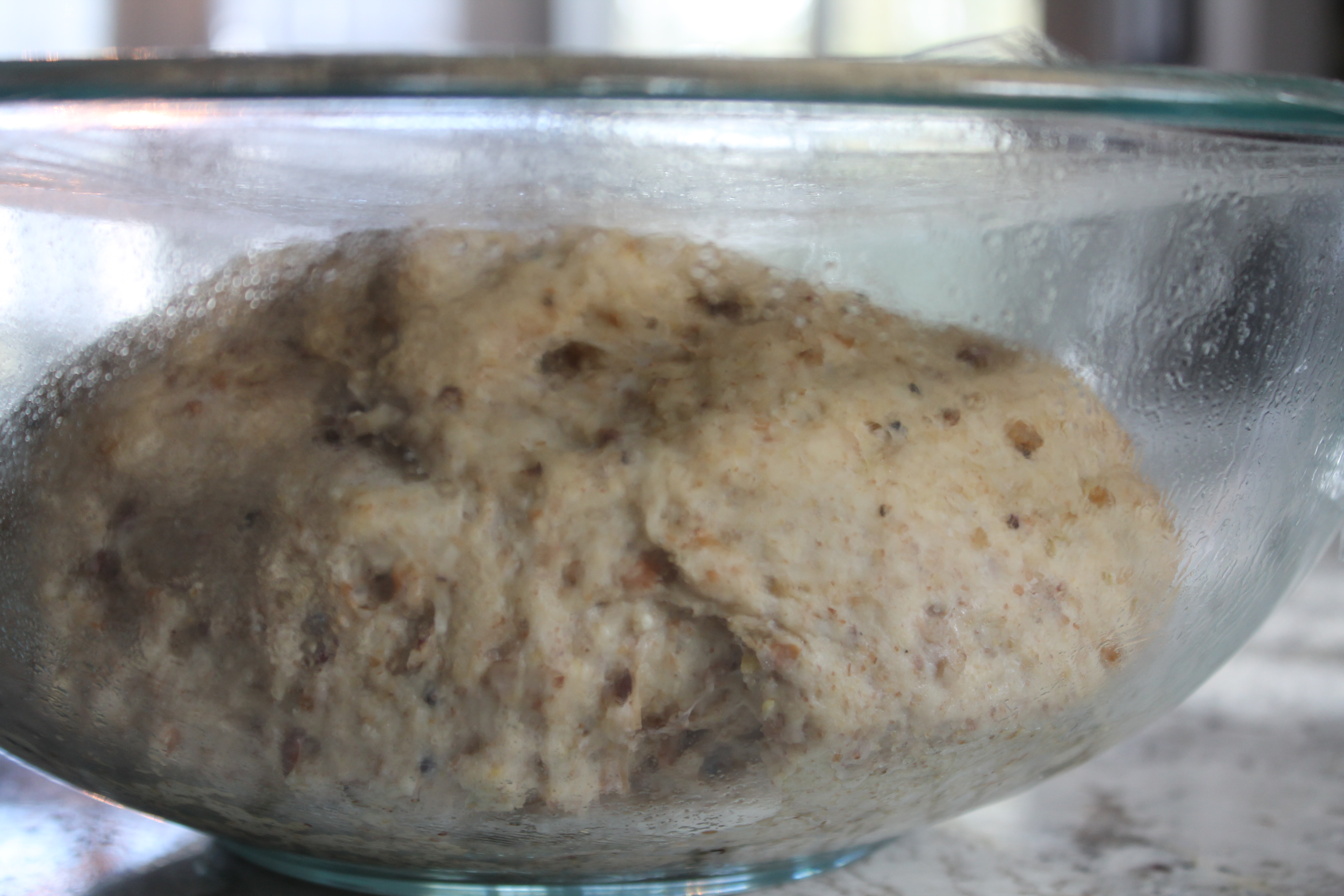 When the dough has doubled in size, it's ready to shape into a loaf.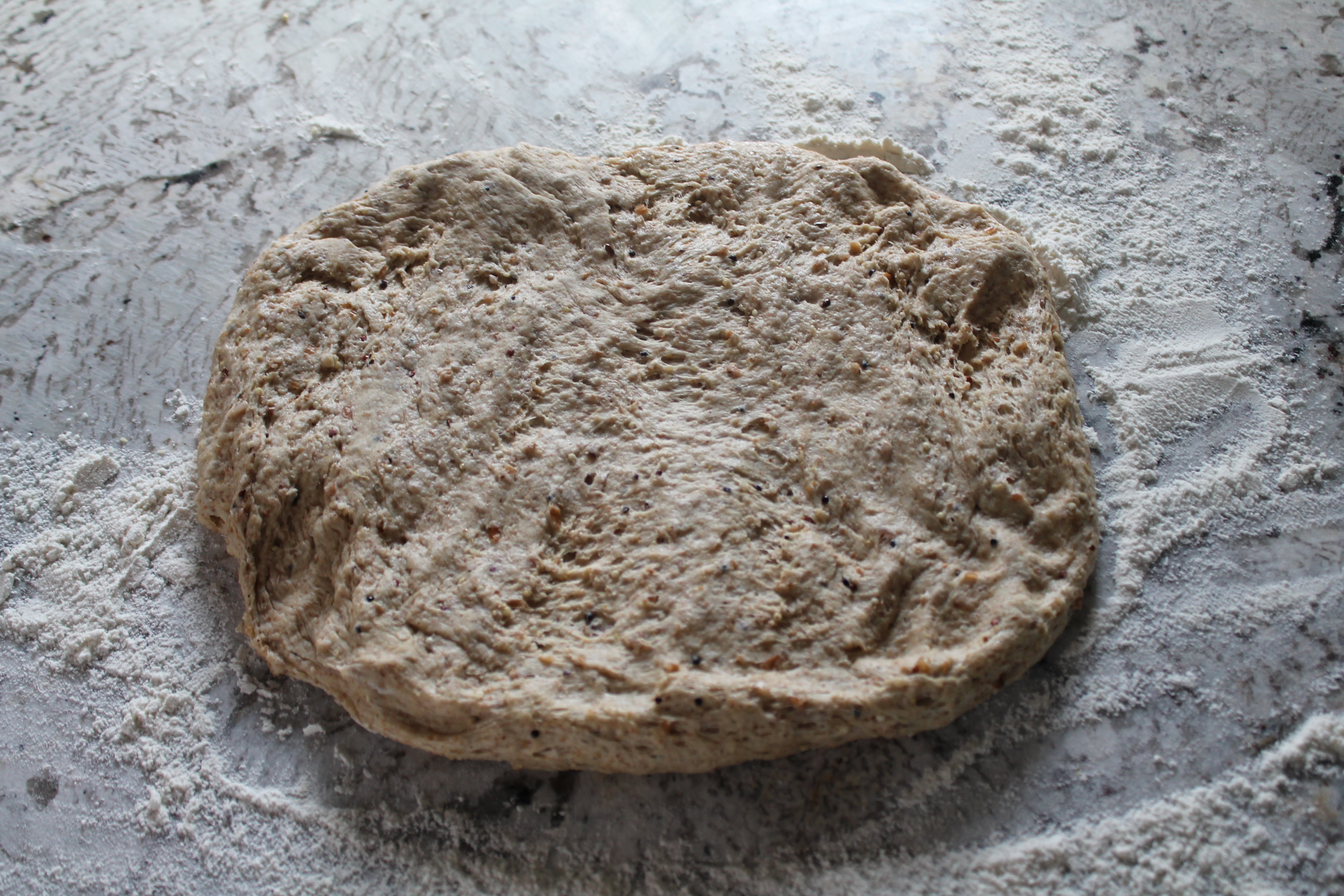 Turn it out onto a clean countertop and press it out into a rectangle. You can just use your fingers; no rolling pin required. Aim for about 8″ long by 10″ wide. Roll it up into an 8″ log.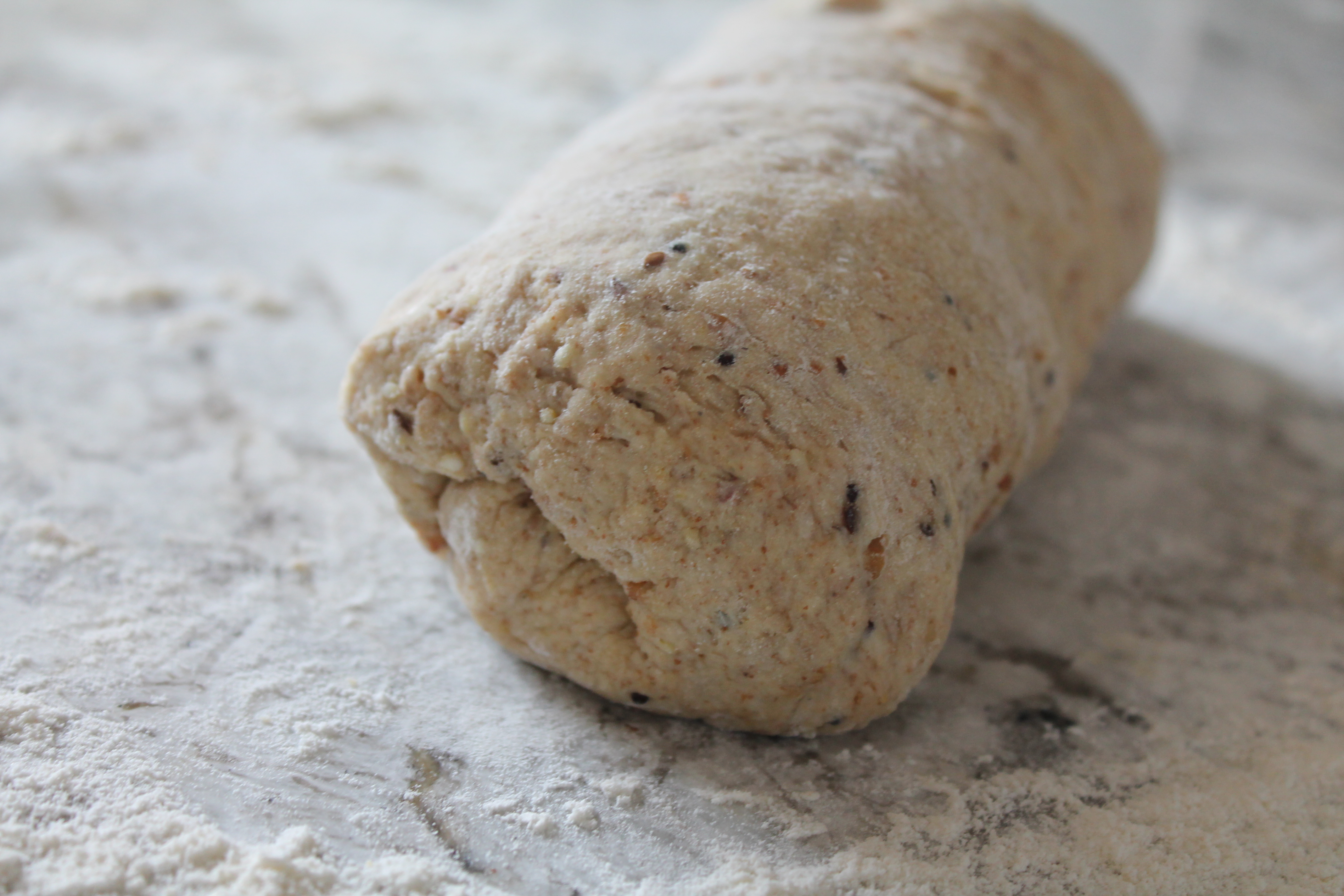 Place the log, seam side down, in an oiled loaf pan.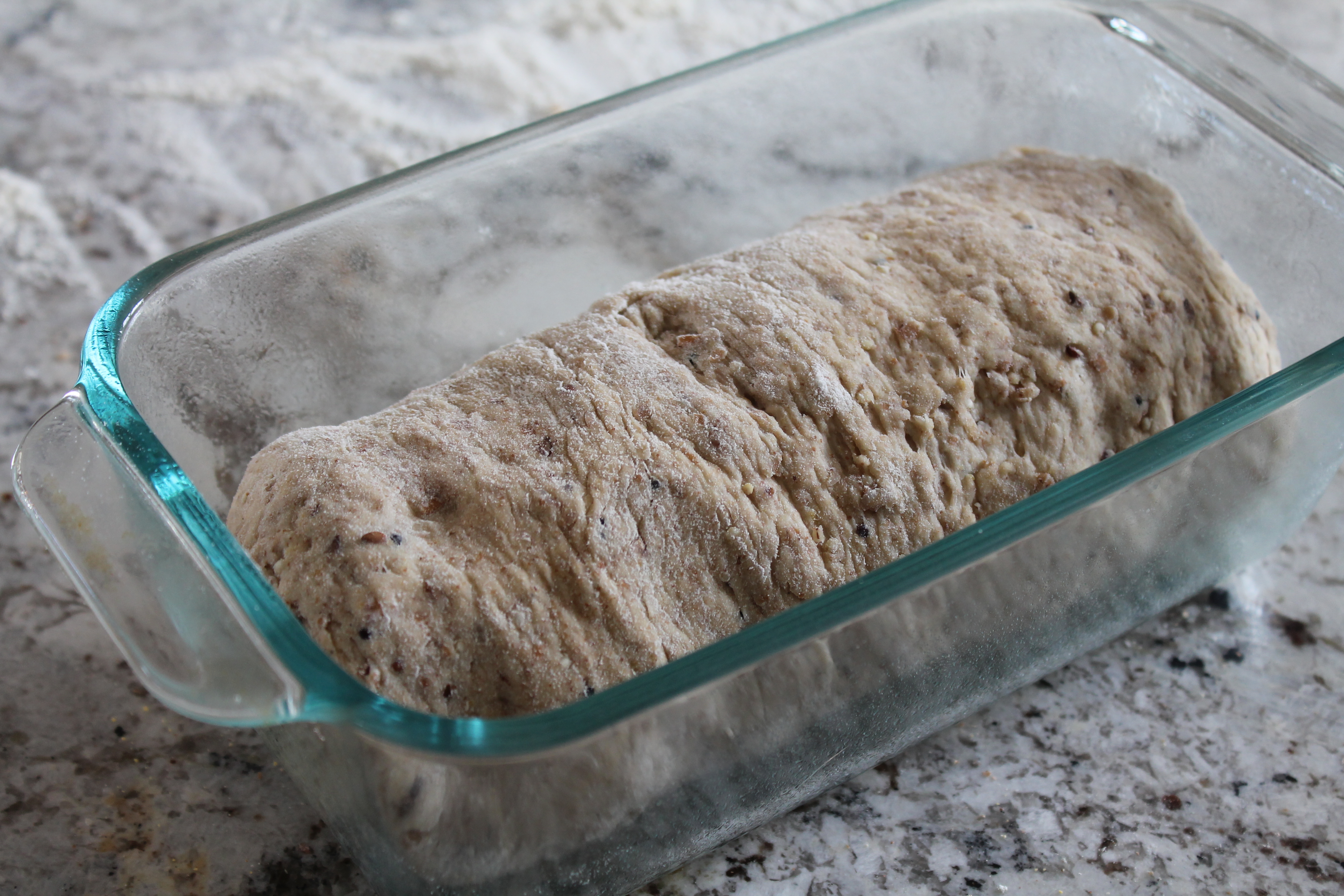 I have a Pyrex 1.5 qt. glass loaf pan, and it seems to be the perfect size for this recipe. It's about 8″ by 4½" (think classic loaf size, not wide-pan).
Spray the top of the dough with oil and cover the pan loosely with plastic wrap. Let this rise in a warm place for another hour.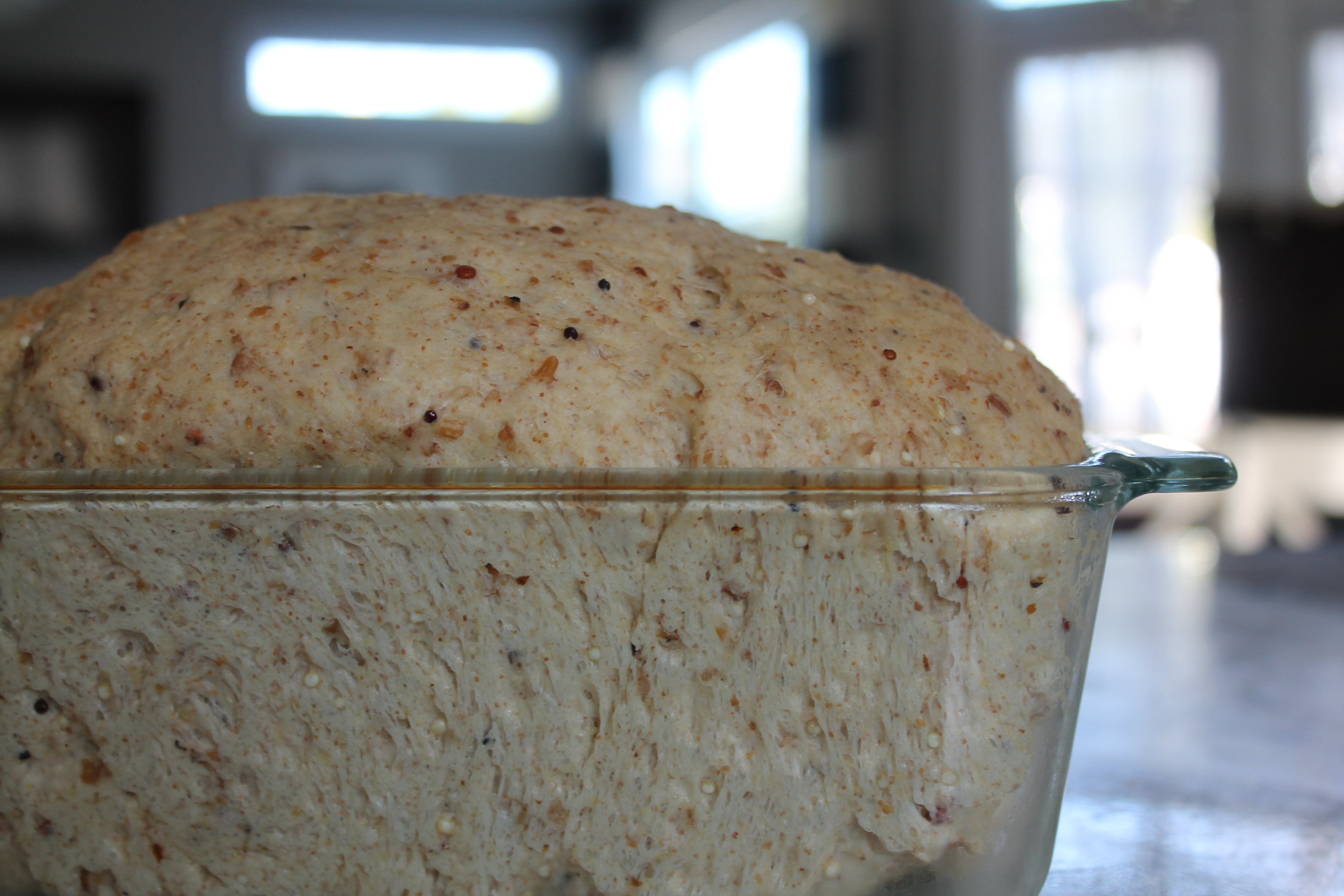 When the top of the loaf is domed, at least 1″ higher than the rim of the pan, and maybe barely starting to expand over the sides, heat the oven to 375°.
Bake the bread in the heated oven for 35 minutes, until golden on top.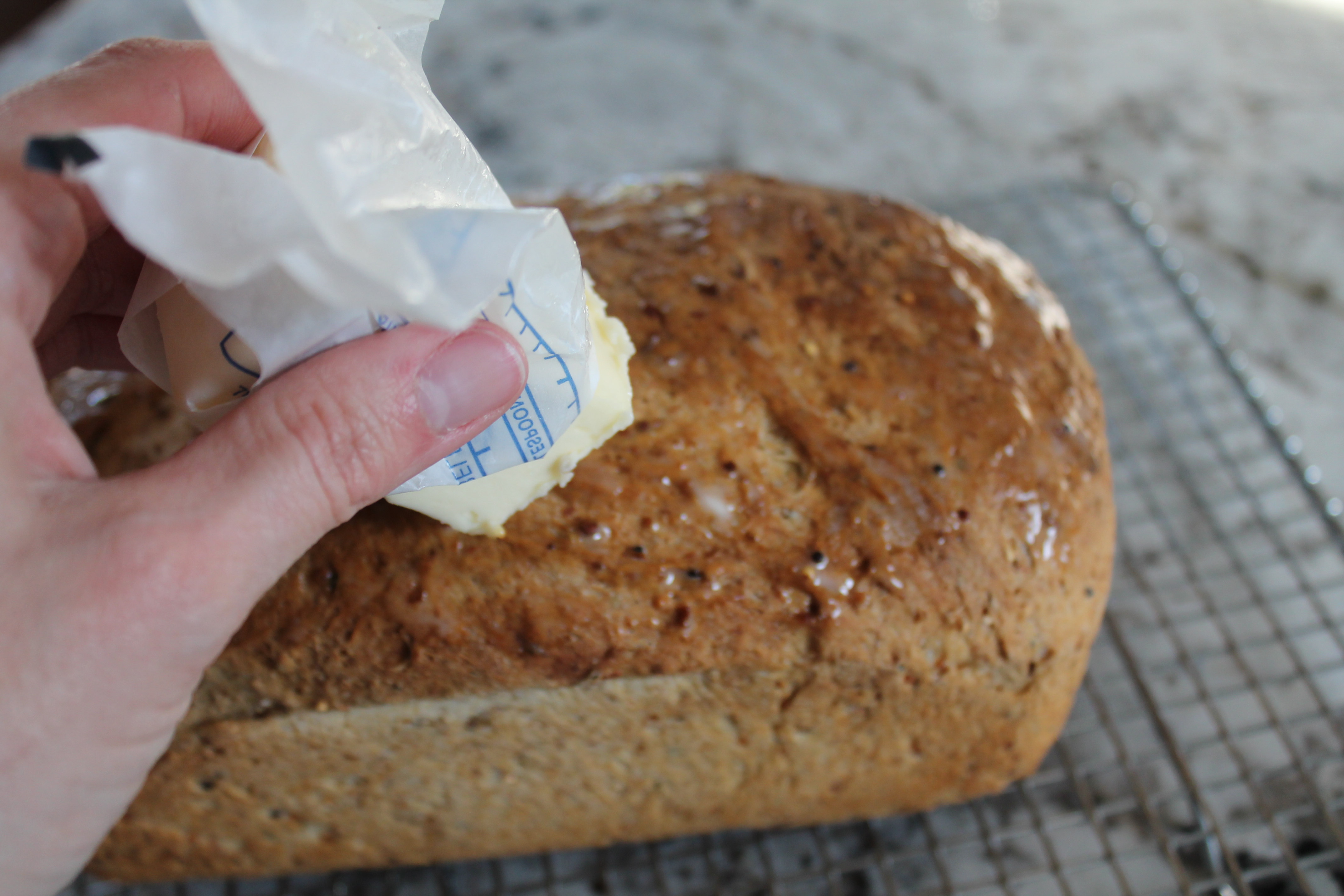 Immediately turn the loaf out onto a wire rack to cool. Brush the top with butter so it will be nice and soft.
Important: DO NOT cut into this loaf until it is completely cool. Wait at least an hour. Two is better.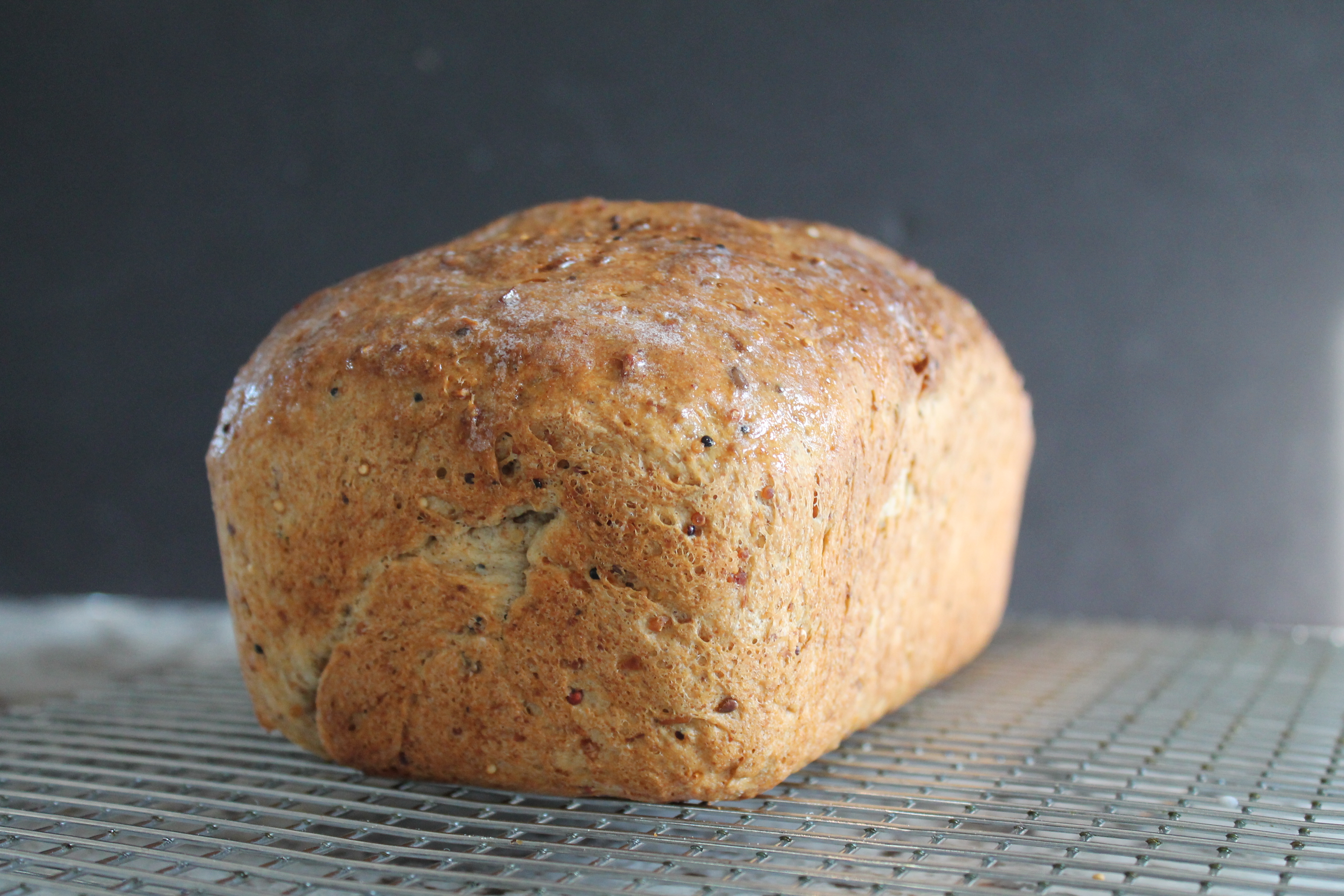 I know, I know, warm bread is the best. But I don't want you to squash the lovely crumb by slicing it hot. Trust me: wait. You want this for sandwiches, right? Let it cool.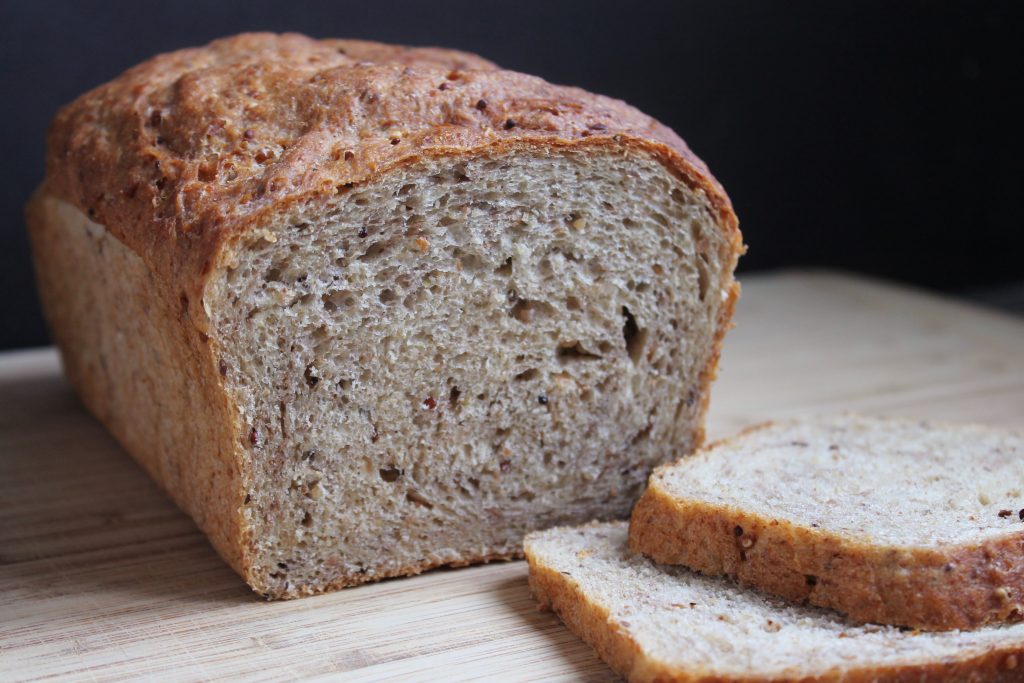 When the loaf is cool, all the steam from inside will have distributed itself nicely and the loaf will be soft and sturdy. Use a serrated knife to slice in ½″ slices.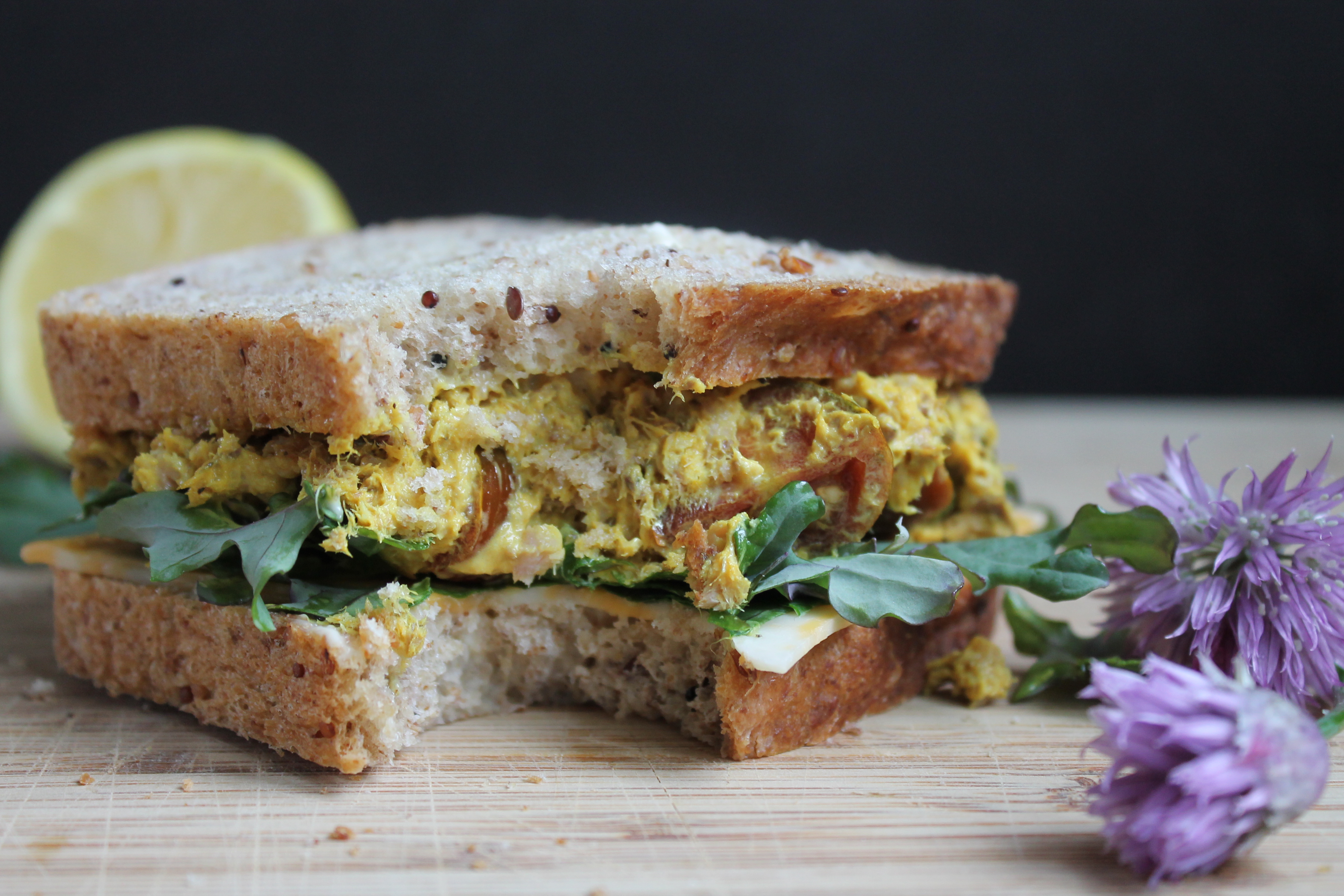 And then pile it high with your favorite sandwich fillings and dig in!
Multigrain Porridge Bread
Ingredients
7-Grain Porridge Mix
¾

cup

quick oats

¼

cup

wheat germ

¼

cup

bulgur wheat

2

tbsp.

teff or teff flour

2

tbsp.

millet

2

tbsp.

quinoa

2

tbsp.

cornmeal or stone-ground grits
Bread
3

oz.

7-grain porridge mix

(between ½ and ¾ cups)

1¼

cups

boiling water

1¼

tsp.

active dry or instant yeast

2-3

tbsp.

honey

2

tbsp.

unsalted butter,

melted and cooled

1½

cups plus 2 tbsp.

all-purpose flour

½

cup

white whole wheat flour or whole wheat flour

1

tsp.

salt

4

tsp.

mixed seeds and/or finely chopped nuts,

such as flax, walnuts, sunflower, hemp

salted butter,

for top of baked bread
Instructions
Place the porridge mix in a stand mixer bowl. Pour the boiling water over the cereal and let stand for 1 hour to come to room temperature.

Sprinkle the yeast over the cooled porridge mixture. If you used active dry yeast, stir and let stand for 10-15 minutes. If you used instant yeast, no need to wait!

Stir in the honey and butter.

In a separate bowl, whisk the flours together. Using a dough hook, stir the flour into the wet ingredients, about ½ cup at a time, until all the flour has been incorporated.

Knead with the dough hook for 5 minutes. Dough should form a somewhat sticky ball. Cover with plastic wrap and let rest for 20 minutes.

Stir in the salt. If the dough does not clear the sides of the bowl, add a few tablespoons of flour. If the dough is dry rather than tacky to the touch, add a tablespoon of water.

Spread seeds and finely chopped nuts on a clean work surface. Turn the dough ball out onto the seeds and knead until the seeds are worked evenly through the dough.

Place the dough in a lightly oiled 4qt. bowl. Roll the dough to coat in oil. Cover the bowl with plastic wrap and let rise in a warm place until doubled, about 1 hour.

Turn the risen dough out onto a lightly floured surface. Gently spread into a rectangle about 10″x8″. Roll up into a log and pinch the seam to seal.

Lightly oil an 8″x4″ (1.5qt.) loaf pan. Transfer the log to the loaf pan, seam side down. Spray or barely baste with oil and cover lightly with plastic wrap. Let the loaf rise for 45-60 minutes, until domed over the edge of the pan.

Heat oven to 375°.

Bake the risen loaf for 35-40 minutes.

Remove from the pan immediately and place on a wire rack. Brush or rub the top with butter until it glistens.

Let the bread cool completely before slicing, at least 1 hour.
Notes
*Note: Making your own porridge mix is a totally optional step (you could easily buy a 7-grain hot cereal mix such as Bob's Red Mill or Arrowhead Mills). However, it's very easy to make your own porridge mix, and you technically don't even need to measure. Just aim for about half oats and then throw in whatever other whole grains you have on hand by the spoonful! If you don't have all the grains I use, you could substitute brown rice, barley, spelt, farro, or anything else you may have on hand! Pulse any large grains in a food processor a few times to break them down. If you do follow the recipe I shared as I wrote it, it makes enough porridge mix for 2-3 loaves of bread!