Ages ago, I stumbled across a recipe that combined hummus and avocado together—two flavors I probably never would have thought to eat in the same bite. I always thought of hummus squarely within the tradition of Middle Eastern foods, while avocado belongs to the cuisines of South and Central America.
But ever since I threw all caution and geographic boundaries to the wind, I have been hummus+avocadoing all manner of foods.
My new favorite is to throw them together on a veggie burger!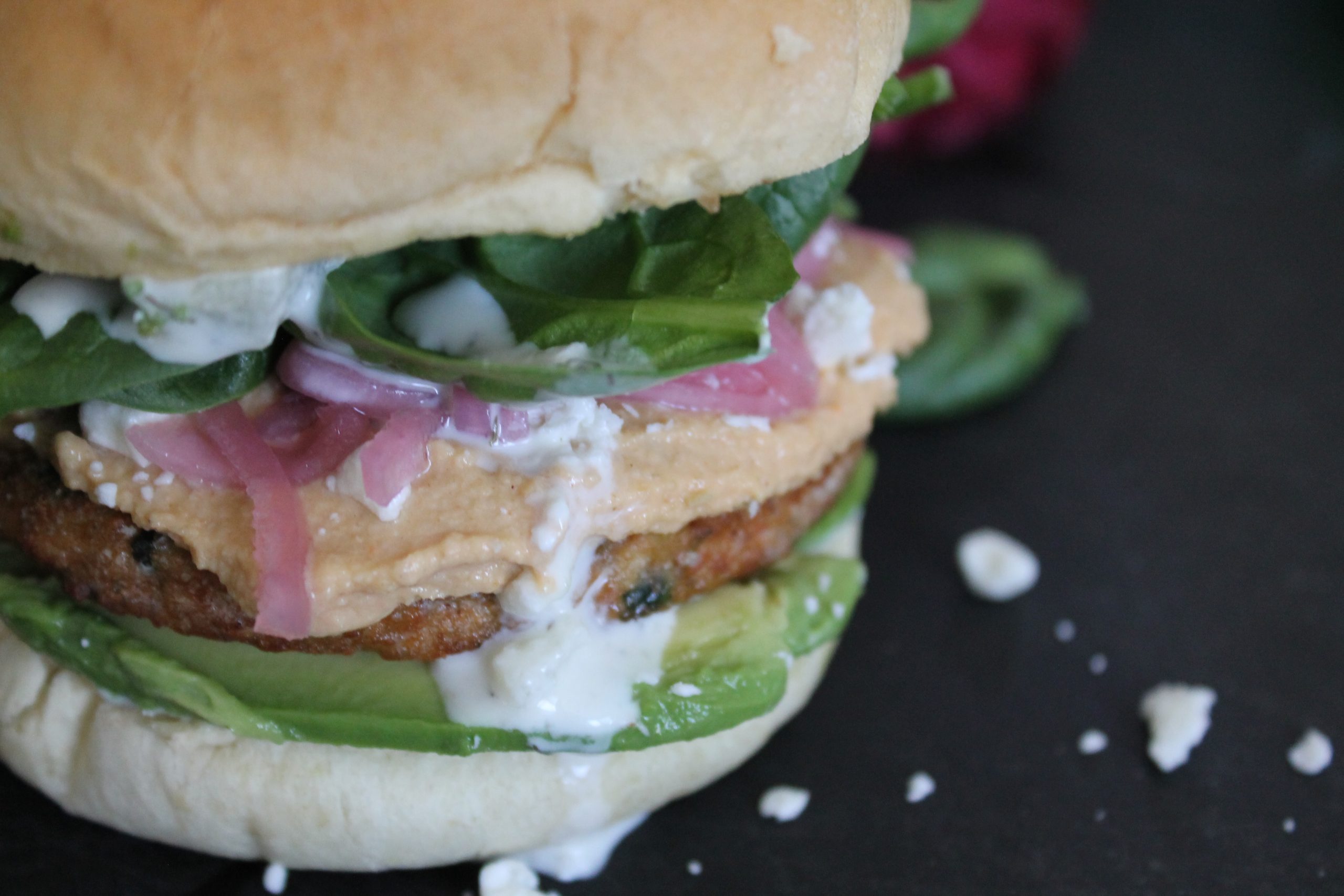 This burger is vaguely Mediterranean, with roasted red pepper hummus, avocado, feta, and tzatziki. Plus, you know I added the most universally delicious condiment ever: pickled onions!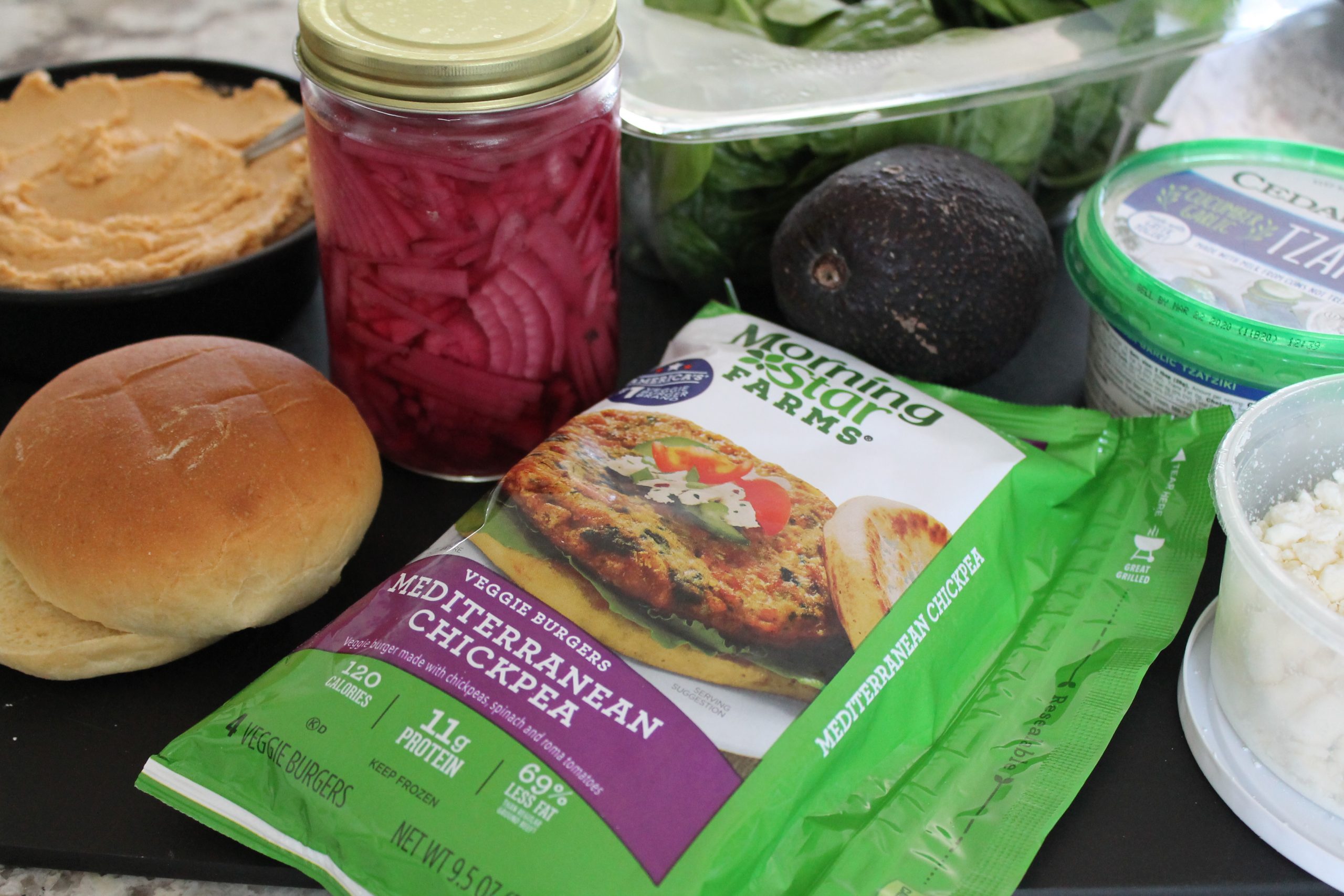 I confess: I did not make my own veggie burger. While veggie burgers are pretty much my favorite food, and I love loading them up with a tower of interesting toppings, I now tend to buy premade burgers and customize from there. This is my concession to the fact that I have three small kids. As delicious as homemade veggie burgers can be, I love the speed and ease of preparing dinner when I don't have to make every single item from scratch! This time, I used Morning Star's Mediterranean Chickpea burgers.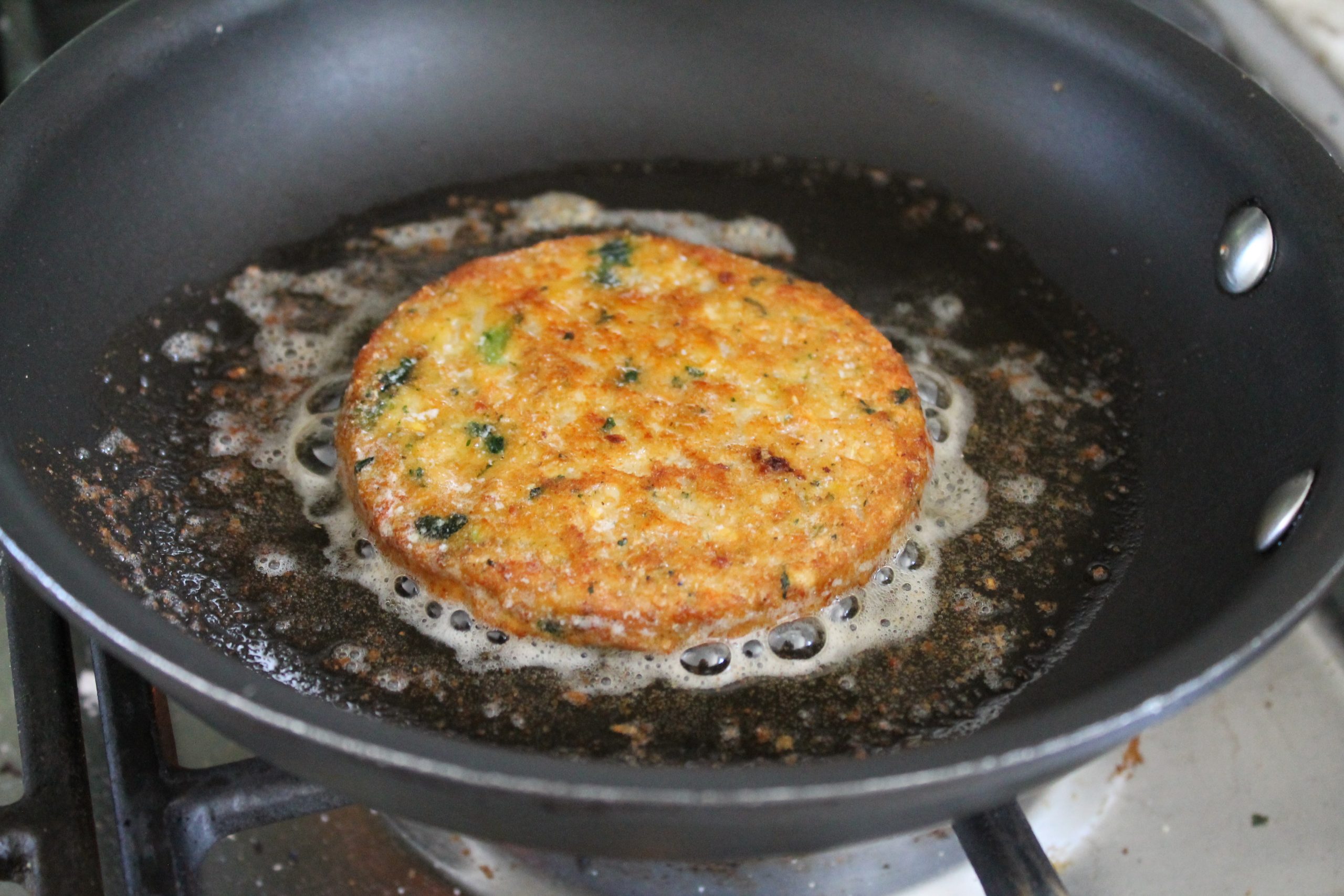 I usually sauté my veggie burgers in a little butter for richness and browning.
Meanwhile, toast your buns!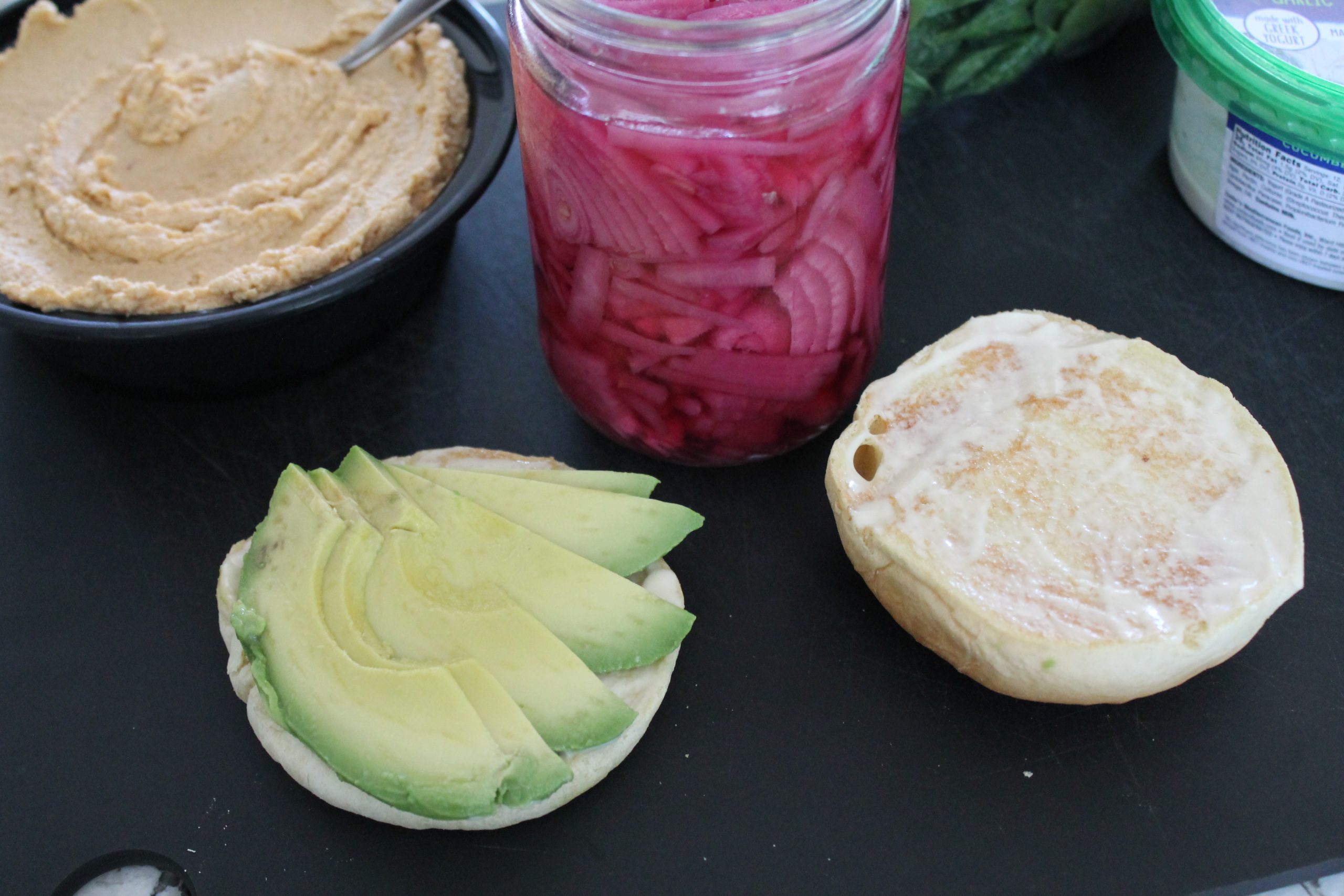 Spread the buns with a thin layer of mayo—or, if you have it, garlic aioli! I could take a bath in garlic aioli. It's so good.
Thinly slice an avocado and layer it on the bottom bun. Top that with the cooked veggie patty and a generous layer of hummus.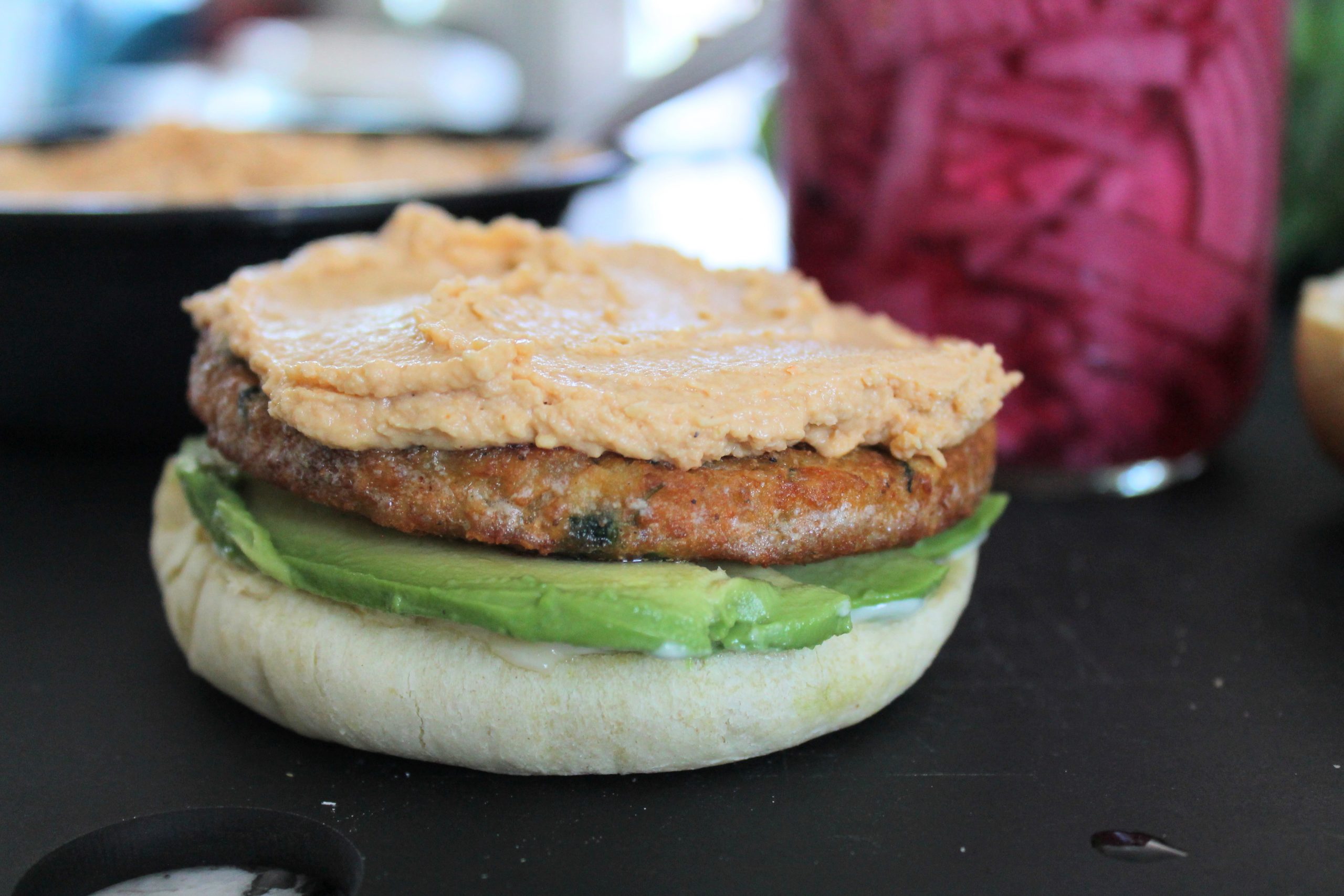 I make my own hummus. Lately, I have been adding several slivers of roasted red pepper when I puree, for a hint of sweetness and an extra boost of veggies. Of course, you can also buy roasted red pepper hummus very easily!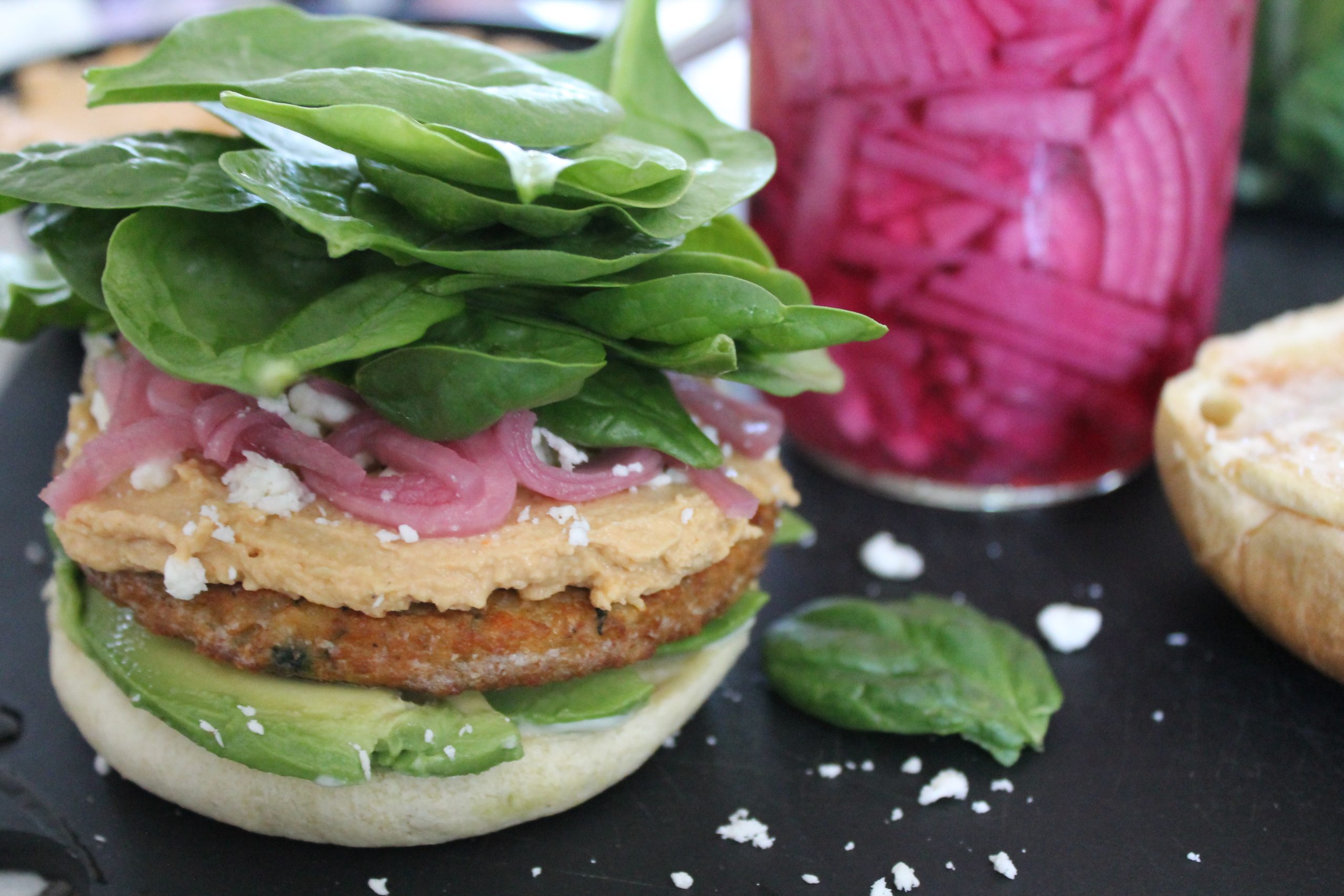 Top with feta, pickled onions, baby spinach, and a generous drizzle of tzatziki. Tzatziki is a delicious Greek yogurt sauce with cucumbers and dill. If you want to get a little more fancy, you could toss the spinach with the tzatziki so that the flavors really blend, but I am often too lazy for that.
And you're done!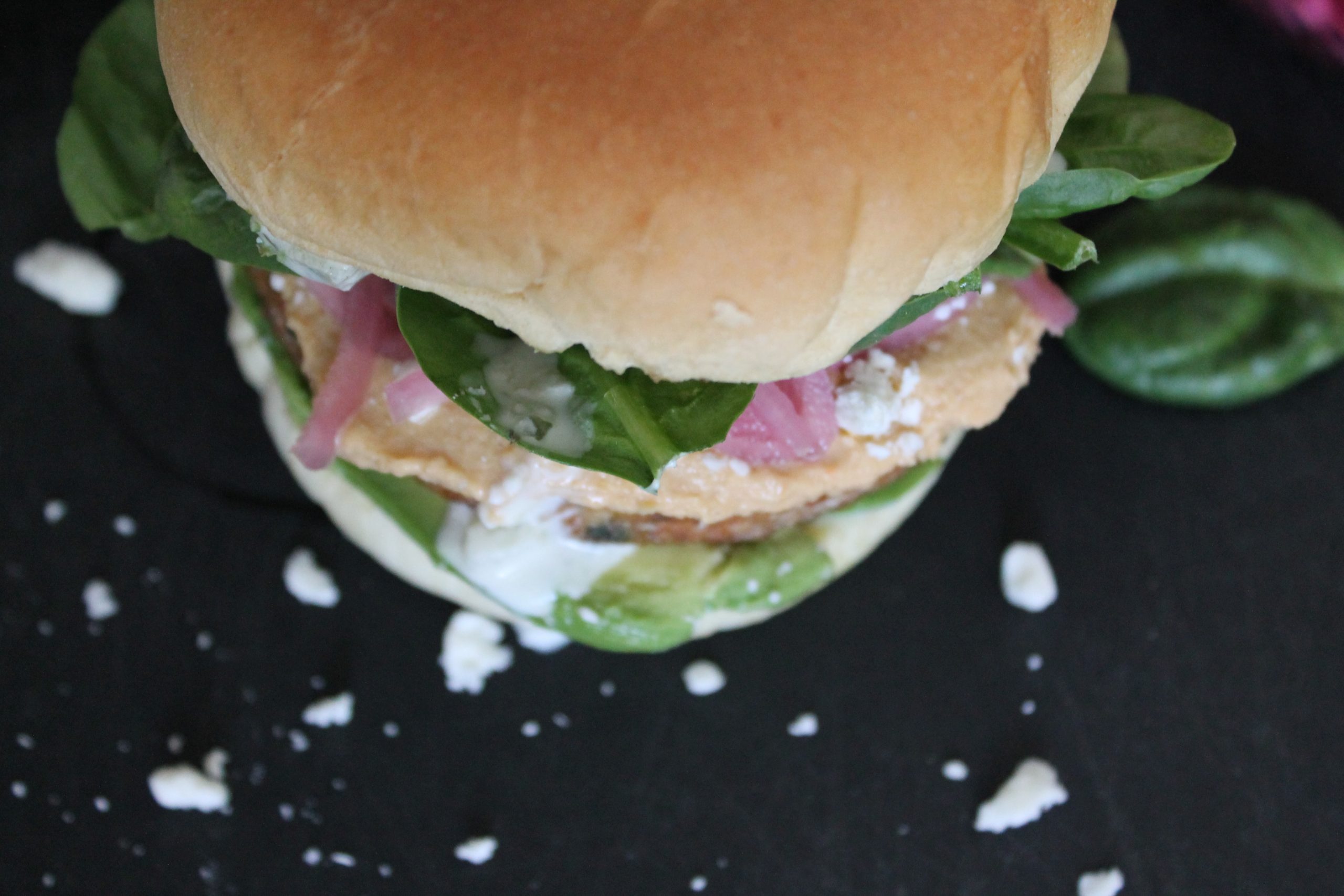 I admit that I love coming up with interesting burger toppings. Fancy veggie burgers are one of my favorite meals. Sometimes I just set everything out on the table (even including a few extras) and call it a "burger bar." Then my family can add toppings as they like!
I have been enjoying this particular flavor profile once or twice a week for the last month. (It's addictive.) I hope you give it a try!
Hummus and Avocado Veggie Burgers
Ingredients
2

tbsp.

salted butter

4

Morningstar Mediterranean chickpea burgers

(or your favorite veggie burger, ideally with a neutral flavor profile)

4

burger buns

2

tbsp.

garlic aioli or mayonnaise

1

large

ripe avocado

½

cup

creamy hummus

or roasted red pepper hummus

2-4

tbsp.

feta crumbles

¼

cup

pickled red onions

1-2

cups

baby spinach

¼

cup

tzatziki*
Instructions
In a large saucepan, melt the butter over medium heat. Sauté the veggie burgers, about 4 minutes per side, until browned and cooked through. (Morningstar burgers are meant to be cooked directly from the freezer, and the purpose of cooking is just to warm through. If you are cooking a fresh or homemade veggie burger, your cooking time will vary; be sure not to get the pan too hot or the burgers will blacken.)

Meanwhile, toast the burger buns.

Spread the toasted buns with garlic aioli or mayonnaise.
Notes
*You can usually buy tzatziki in the same place you would find hummus or refrigerated salad dressings. Look for a version that contains dill, garlic, and cucumber for the most delicious results!
Enjoy!
♥ Melissa